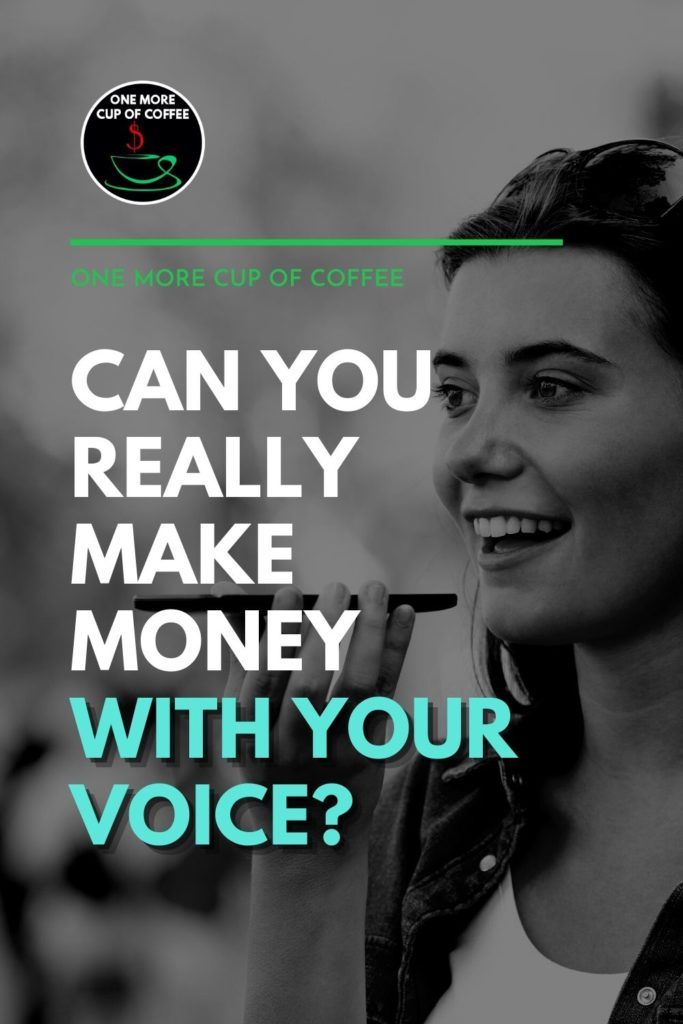 You don't have to be a famous singer to make money with your voice.
If you've been trying to figure out a side-hustle you can start quickly, with a little upfront cost, then read on.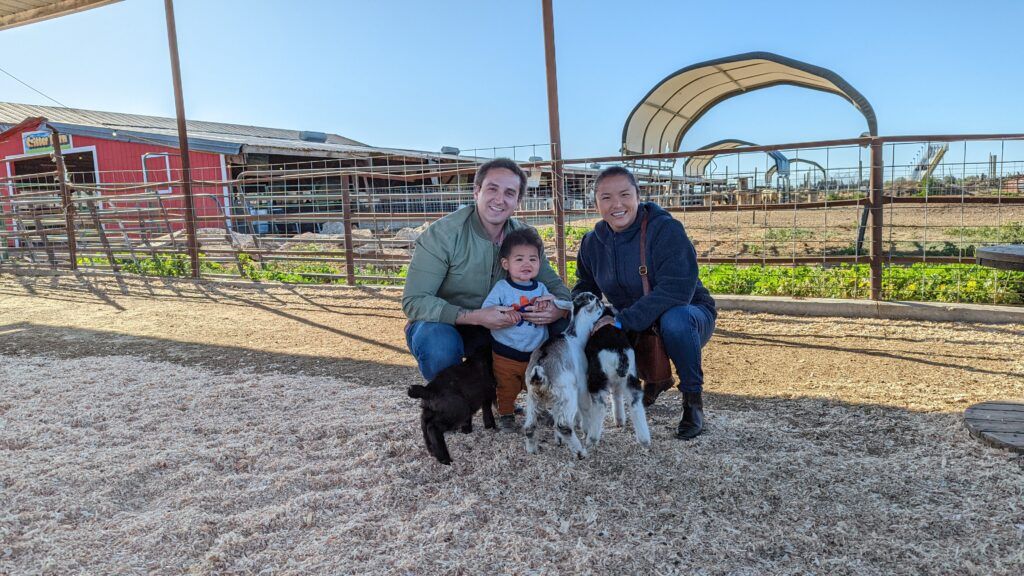 Are You Ready To Work Your Ass Off to Earn Your Lifestyle?
Are you tired of the daily grind? With a laptop and an internet connection I built a small website to generate income, and my life completely changed. Let me show you exactly how I've been doing it for more than 13 years.
Making Money With Your Voice
So then, let's talk about the idea.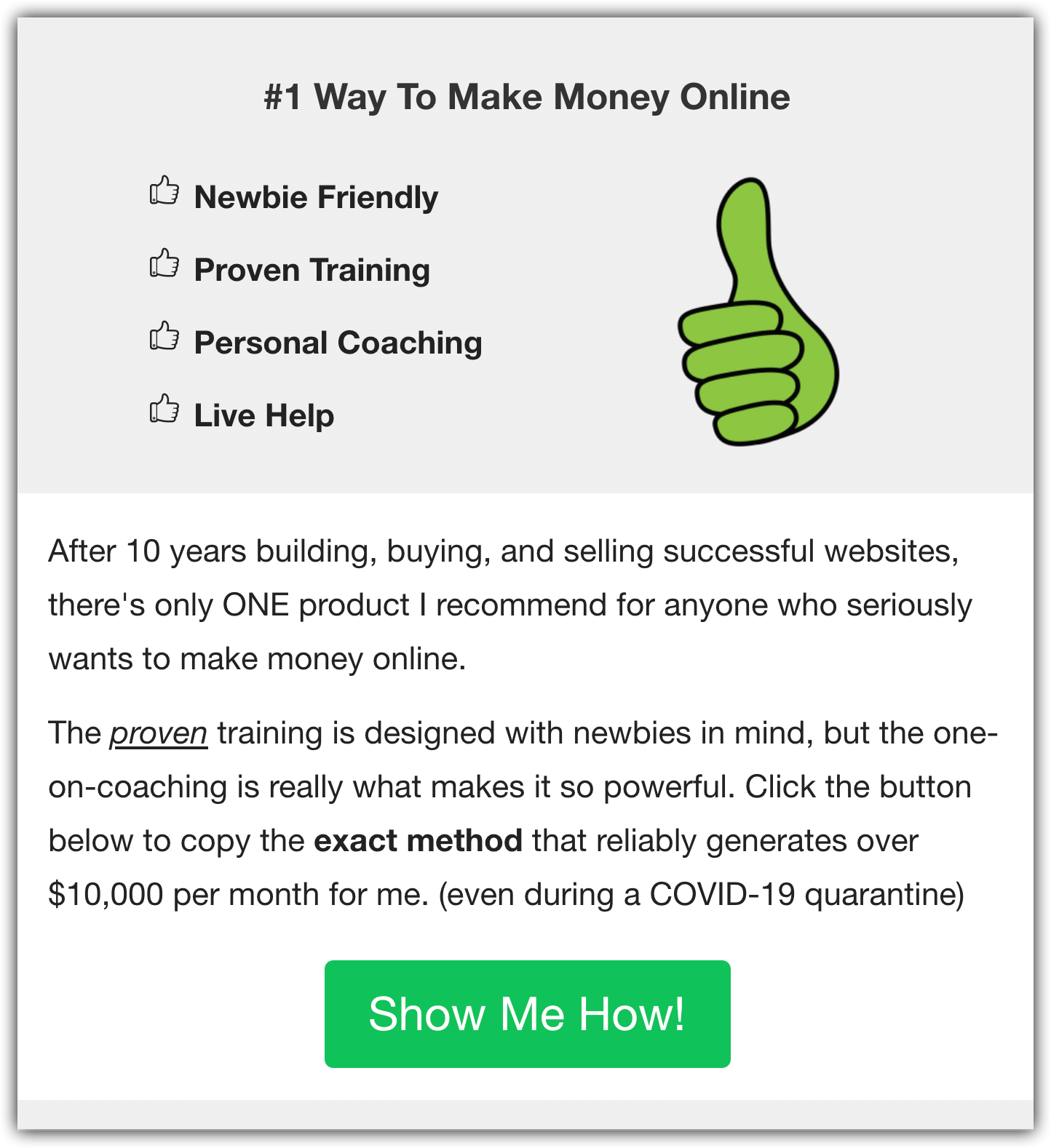 "The Man with The Golden Voice"
You might remember back in 2011, a man named Ted Williams was recorded at a busy intersection doing "his great radio voice".
At the time, Ted Williams was homeless. He would stand at that busy intersection panhandling to get the things he needed. Besides the clothes on his back and sign he held in his hands, Ted Williams didn't have much else.
That video was uploaded to the web and quickly went viral. It gained the attention of media outlets, which led to Ted Williams landing a great gig with Nabisco. From there he earned enough to get his own apartment and get off the street for good.
Because of that video, it is estimated that Ted now earns
$1 million a year with his voice
.

So I think we can safely say that it is indeed possible to make money with your voice.
What do you need to get started? Apparently not much. Although Ted's rise to voice acting riches involved a great deal of luck, many of us are fortunate enough to have more resources starting out, therefore not needing to rely on luck nearly as much as Ted.
How to Make Money with Your Voice
We are lucky enough to be living in a time where just about anything is possible thanks to the internet. More people are finding freedom from 9-to-5s and following their passions than ever before.
So if you want to make money with your voice, there is really nothing stopping you. All you need is a little guidance to get you going in the right direction.
Here are a few ways you can get started…
Voice Acting
When you think of voice acting, you probably think of radio networks and TV commercials. But opportunities for voice talent go beyond that.
Here are some industries that hire voice talent:
Ad agencies
Healthcare organizations
Financial firms
Brands (big or small)
Publishers
Entrepreneurs
And that's just to name a few!
Companies of all sizes hire voice actors to do things like radio and TV ads, presentations, events, video games, and all sorts of other things. And these can be high-paying jobs too.
In fact, Voices.com reports that talent working in broadcast areas (radio, TV, etc) stand to earn anywhere from $200 per hour all the way up to $1,000 per hour. Non-broadcast (events, inner-office communications, etc) voice acting could earn you as much as $100 per minute!
But organizations that need voice talent don't usually post ads in Craigslist. So how do you find these types of gigs?
Voice Talent Marketplaces
Voices.com and Voices123 are online marketplaces for organizations to find and hire voice talent. Voice actors simply set up accounts that feature a profile and portfolio. Organizations looking to hire will post their jobs and browse the site in search of the right person.
Both websites are what voice actors refer to as "pay to play networks". That means you have to pay if you want to set up an account and bid on jobs there. Organizations have to pay to post their jobs as well.

For voice actors, the fee is $400 per year. Voices.com offers a monthly subscription for those who don't want to fork over that kind of money upfront. The monthly rate is $49.95, which comes out to be more than $600 per year.
Either way, you cut it, that is a lot of money for anyone who is actively looking for work, so you'd better be serious about this before signing up!
That said, veteran voice actors all agree that this is the best way for newbies to find serious clients. And I'll admit, both services have an enviable client roster with names like MTV, Nickelodeon, Pixar, The History Channel, and plenty of other recognizable brands.
But don't worry if you aren't ready for the pay to play networks yet. I have a few other options that you might actually like better.
General Freelance Sites
Like the voice-specific marketplaces, websites like UpWork, Elance, and others also allow voice actors to post a profile, portfolio and bid on work. The main difference in these websites is that they are for any type of freelance workers and they do not require upfront payment to join.
Just like the other sites, you create an account, fill out your profile, and start bidding on jobs.
Voice talent on these sites can earn anywhere from $5 per hour to a little over $100 per hour. Obviously, that is not nearly as much as the voice-specific marketplaces, but it might be a good place to start.
I have used these websites before to hire voiceover work, but generally, I will not hire the highest-paid actors because the work I do does not require a high level of quality. "Okay" is just fine for what I need.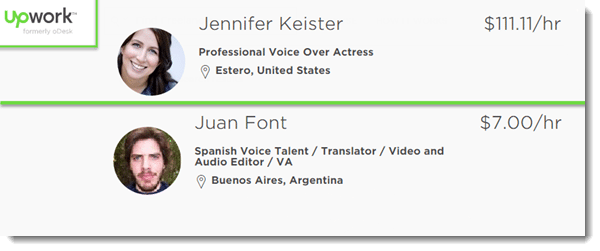 Though $5 doesn't seem like a lot of money, you can also try fiverr.com. This is where I started hiring when I was on a shoestring budget and actually got a very cool radio-style introduction done for my podcast. It cost me just $5.
There are people getting regular work on Fiverr, so it's nothing to scoff at if you just want to make some money. To be fair, most of the gigs I find are cookie-cutter style gigs, with limitations on how long a script can be or how many changes can be made. Knock out a few of these per day and that could make up whatever extra you need to pay the rent or for food.
Narrating Audio Books
Good audiobook narrators are highly sought after, especially among self-publishing authors. This is because authors know that a good narration will help their book reach a much wider audience.
Books like Steve Jobs by Walter Isaacson and The Martian by Andy Weir owe most of their success to the narrators (Dylan Baker and R.C. Bray).
If you want to get started narrating audiobooks you can offer it as part of your services on freelance marketplaces like the ones mentioned above. But you might want to try ACX instead.
ACX is a marketplace specifically for audiobook narration. Like the other marketplaces, ACX requires you to set up a profile and portfolio. You will also need to include a five-minute demo. ACX wants to be sure all their narrators know how to record a quality audio file, so this five-minute demo serves as an audition.
You can set your own prices at ACX, between $5 per hour, all the way up to $1,000 per hour. However, most narrators (and authors) prefer the royalty split option.
A royalty split simply means you split a percentage of the audio book's sales with the author. This royalty split option is what I'm opting to do with my new Kindle book on how to make money in affiliate marketing.
Narrators who choose this option receive 20% of the audio book's revenue for a minimum of seven years. You can imagine how well you would do if you connect with a few good authors. It's the real beginning of passive income, especially if you do it in volume!
Beyond Voice Over
Voice over work is not the only way to make money with your voice. With just a little creativity, you could find plenty of other methods.
Let's take a look at some…
Lip Reading?
If you don't think you can make money lip-reading, think again. In fact, you can make money with bad lip reading.
If you are not a big YouTube watcher, you may have missed Bad Lip Reading, a YouTube channel that has gained a lot of attention lately.
This is a perfect example of implementing a little creativity and making money with your voice. You could easily do this with screen recording software and a mic.
The Bad Lip Reading YouTube channel has over 5 million subscribers and almost 1 billion views total. The video above has over 4 million views on its own, and some of their other videos gain as much as 33million.
These guys do bad lip-reads of everything from politicians to NFL players and popular TV shows and movies. You may be thinking, "Well, that idea is already taken, what do I do?"
I just wanted to include this as an example to show you how thinking outside the box can lead to big results.
Podcasting
Podcasting has exploded in recent years. It seems like everyone I talk to is starting a podcast or already has one.
Podcasting has a low barrier to entry, which means you can get started with very little cost and basic equipment. And unlike the freelance marketplaces, no one has to choose or hire you.
If you have something you love talking about, and the desire to make money with your voice, Podcasting is a great option for you.
A laptop with a mic and an internet connection is just about all you need. You will also need some editing software but some of the most popular editing tools are free or relatively cheap.
Here's a link to my current favorite podcast, The Biggest Problem in The Universe.
How does it work?
Podcasting is similar to blogging. But instead of writing, you talk.
Find a topic that interests you and start talking. Record, edit (optional), then upload it to your hosting account.
There are all types of formats you can follow. You can find people to interview or do a solo podcast. When you record episodes you publish them to your website and/or podcast networks like iTunes, Stitcher, and SoundCloud.
But podcasting alone won't make you any money. Just like with blogging, you will have to find ways to monetize your content.
You can seek out sponsorships but you need thousands of listeners to make that happen.
Affiliate marketing, which is by far the most efficient and most popular way to monetize podcasts.
When I started my podcast (I don't do it anymore), I learned from Podcast Answerman. That links to an entire FREE course on how to get set up relatively cheaply and easily.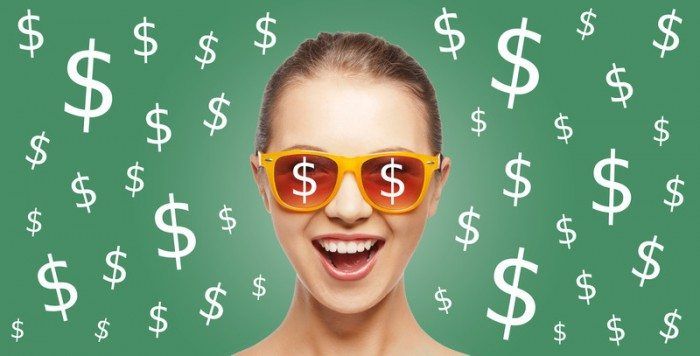 Your Voice + Affiliate Marketing = $$$
If you read all the voice acting stuff and thought, "This sounds a lot like a job," well…you would be correct. Freelance voice acting is just freelance work, and you'll float between employers like any other type of freelancing. You cannot earn passive, residual income in the way you can with affiliate marketing.
Passive, residual income simply means you create something once that continues to pay you no matter where you are or what you are doing. For this, there is no better option than affiliate marketing.
I've tried a lot of things to make money online but affiliate marketing is the only thing that ever brought me success. And it isn't just me. Many successful online business owners start in one field, then move to affiliate marketing to automate parts of their business.
Let me share another example with you…

John Lee Dumas is a prolific podcaster and host of the Entrepreneur on Fire podcast. He releases monthly income reports to help his audience learn how to better their businesses by looking at his failures and successes.
His last income report for February 2016, shows that he made well over $30,000 from affiliate marketing in one month.
And remember, this was all done with his voice!
How Does it Work?
During his podcast, John simply mentions tools or services he uses and recommends. That's it. He collects a percentage of each sale he helps create. He advertises special links that contain affiliate codes that track how many sales his podcast is generating.
You don't need a podcast to do this though. However, you do need to drive traffic to your links. I do this with a website. YouTube, Twitter, and Facebook would be more potential traffic sources.
Affiliate marketing is how I earn money online. I started as a newbie in 2010, and now work full time from home advertising products on a few different websites.
Make Money with Your Voice
There are thousands of different side hustles you could do to earn some extra money on the side, and which one "clicks" for you depends on your personality and goals. However, there's one side hustle that makes an insane amount of money and works for anyone.
Starting an affiliate website is an incredible way to earn extra money because you can do it from your home on a laptop, and work on your business in the evenings and on weekends. The income potential is huge, and it's easy to scale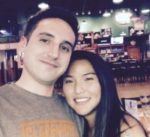 Nathaniell
What's up ladies and dudes! Great to finally meet you, and I hope you enjoyed this post. My name is Nathaniell and I'm the owner of One More Cup of Coffee. I started my first online business in 2010 promoting computer software and now I help newbies start their own businesses. Sign up for my #1 recommended training course and learn how to start your business for FREE!