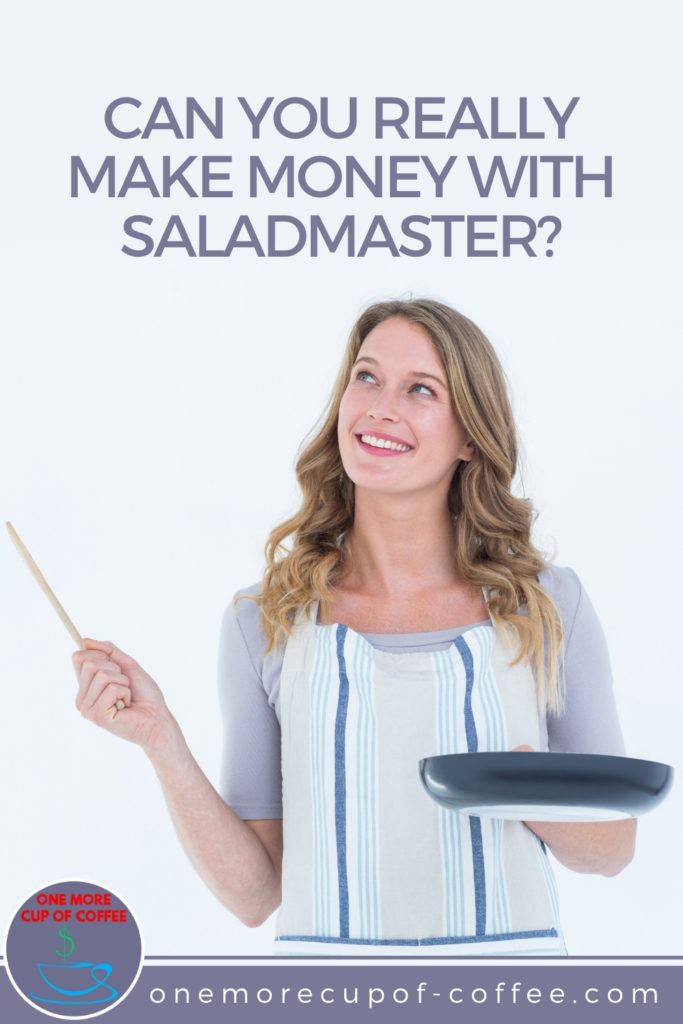 Saladmaster Review
Company Name: Saladmaster
Costs: Not Provided
Rating: 20/100
Do I Recommend Saladmaster?
The one thing Saladmaster has going for it is good products. Unfortunately, their selection is also very expensive and the ongoing costs and requirements for being a distributor are high.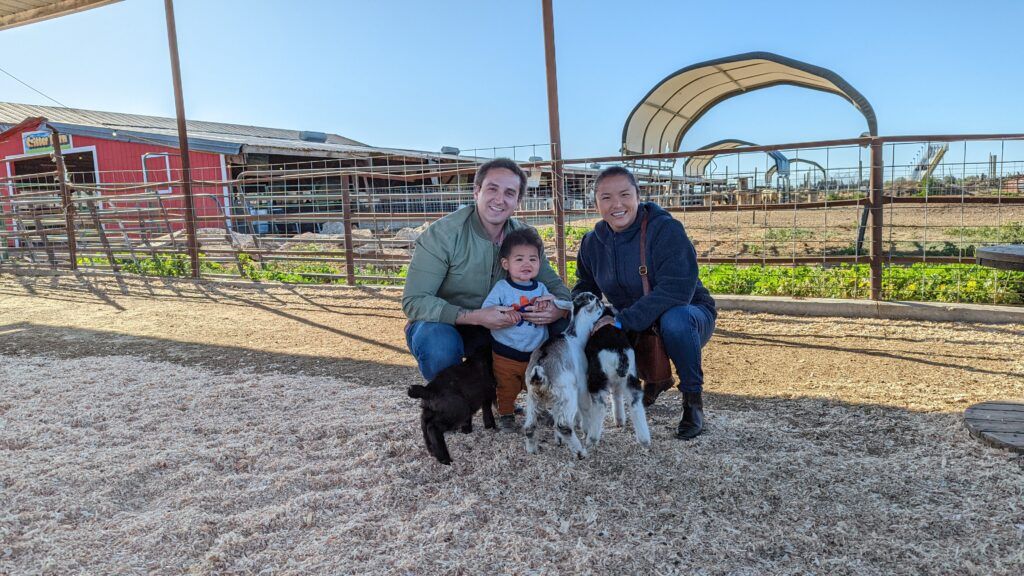 Are You Ready To Work Your Ass Off to Earn Your Lifestyle?
Are you tired of the daily grind? With a laptop and an internet connection I built a small website to generate income, and my life completely changed. Let me show you exactly how I've been doing it for more than 13 years.
As a result, you can make money with Saladmaster but I still don't recommend the company. After all, you can promote high-quality cookware through affiliate marketing, which has considerably more potential in the long-term. In my opinion, you'd be better off creating a food-related website and promoting products related to a food niche you're interested in.
What Products Does Saladmaster Sell?
Saladmaster specifically focuses on cookware that is designed to be high quality and functional. The products are also made in the United States, using Swiss and American stainless steel. Those decisions make the products seem appealing, especially for people who prefer American-made items for their homes.
The products cover most areas that you would expect, including pots and pans, bowls, griddles, accessories, and even electric skillets and a food processor. There are also various sets that let customers fully set up their kitchen in one go, ranging from simple to complex.

The idea is an appealing one. After all, the tools you use can have a major impact on how good your recipes turn out. At the same time, many people are passionate about cooking.
But still, the main selling point that Saladmaster has is quality. After all, there are many different kitchenware brands on the market to suit every budget and style preference. The ones from Saladmaster may look nice but they're not revolutionary.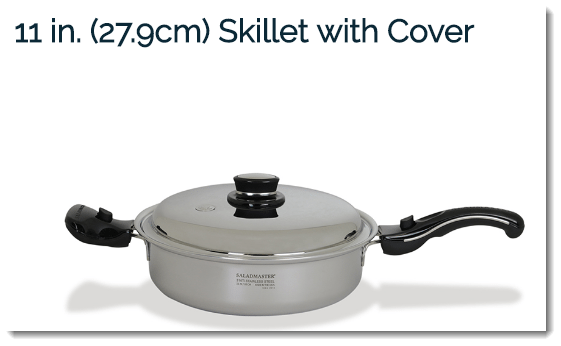 So, at the end of the day, these may be high-quality pots and pans – but they're still just pots and pans. That aspect is going to limit your audience, especially as some people will already have fully stocked kitchens.
The website also doesn't list retail prices, making it difficult to look at the cost. For that matter, some reviews suggest that even the catalogs don't offer the prices, which is a concerning pattern. In fact, that seems to be a consistent approach for this brand, with reviewers saying that distributors avoid talking about the price for as long as possible.
But, information online shows that the products certainly aren't cheap. In fact, they are extremely expensive. For example, one of the sets costs around $3,500, which the company values at around $5,500. That doesn't even seem to be the largest set they offer.
The company also provides financing plans to help people actually afford the products. Of course, financing plans come with their own risks.
At a personal level, I wouldn't want to have to convince people I know to spend thousands of dollars on cookware – or to get financing. There's simply too much money involved and the risk would be too high for some families. Getting this wrong could also easily ruin friendships.
As for product reviews, they vary. There are many people amazed by their Saladmaster products. Some of these will be distributors and others may be experiencing a placebo effect. Yet, there is still some suggestion that the cookware can last for decades.

There are also some reviews, like the one below, that are much less enthusiastic.

Some other reviews suggest that distributors often focus on the health benefits of the cookware, sometimes to an unrealistic extent.

Likewise, there seems to be a strong emphasis on getting people to buy now, regardless of whether they're convinced or not.

It's hard to know how much the company promotes these techniques, versus what decisions individual distributors are making. Additionally, you don't have to be manipulative in selling the products if you don't want to. You could potentially market in an honest and sincere way.
But, that being said, the price tag on the products must make selling difficult. I imagine that many people simply wouldn't have the money, regardless of the financing option.
From looking at the products, there simply aren't that many advantages. Basically, you just end up with high-quality cookware that could make food taste better. I also have no doubt that the pots and pans will last for years.
But, this isn't so different than similar products from other brands, many of which are less expensive. For that matter, there are even companies like Pampered Chef that offer the same general type of products but with a lower price tag.
As a result, it may be hard to convince people to buy Saladmaster products, especially as most of their products aren't all that different than regular cookware.
Is Saladmaster A Good Business Opportunity?
One consistent factor I notice about Saladmaster is that they have no transparency. Not only is there no information about their prices online but the site doesn't even host their compensation plan. This means that potential distributors have no idea about what they're signing up for or how realistic the income opportunity is. Thankfully, most of the information is online if you do a little digging.
So, the first thing to mention is the actual commission rate. This ranges from 10% to 20%, depending on where you are in the company. This means you're just earning a 10% commission at the beginning, which is lower than just about every other company out there.
Nevertheless, 10% isn't horrible in this case. After all, the products are much more expensive than most similar companies, so you're still making a decent profit from each sale, even at 10% commission.
And, this is an MLM, which means you can earn extra income by building a team. By doing so, you earn a small commission off the sales of people you recruit (2%-3%) and there are also bonuses based on the success of your team.
To get the most income potential, you need to progress up the ranks with Saladmaster, with the ranks getting progressively more difficult.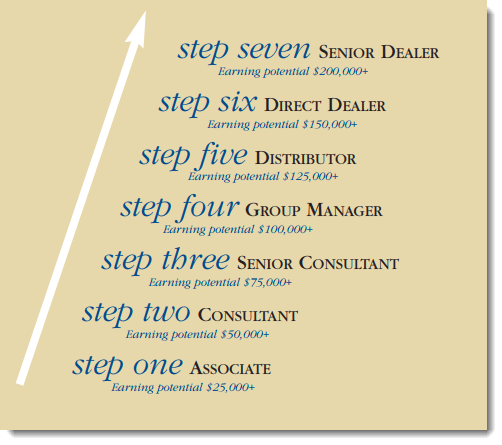 Unusually, the focus isn't really on a team per se but on your own sales and the people you directly recruit. For example, the requirements for Senior Consultant look like this:

I do like the emphasis on recruiting associates, rather than team building itself. Many MLMs require you to have specific structures in your downline, with people at various ranks and two (or more) different legs. The structure with Saladmaster seems to be simpler, which is a major advantage. Still, there are some issues too.
First of all, you have to meet requirements to stay active. This includes selling a set of cookware, recruiting one other person, and hosting four parties – every month. That's much higher than most other MLMs. Honestly, most people would struggle to meet these within just a few months, especially as the sets of cookware are expensive.
The sets are also a one-time purchase. So, if somebody buys a large set, they're unlikely to make any other purchases from you. This is in stark contrast to products like jewelry or supplements, where you will get repeat sales regularly.
One other issue is joining. Most MLMs have a joining fee of some kind. That may be a small cost to get marketing materials or you may have to buy a kit of products. Saladmaster is unusual because it doesn't say.
The marketing just says that the initial cost is minimal. But, they're saying this is low compared to options like franchising, which isn't useful at all. Given the price of the products, you're probably looking at $1,000 plus to join – although there is no way to be sure.
Honestly, the only time that Saladmaster makes sense is if you have a large audience that can afford the Saladmaster products. This would have to include many people who love cooking and are willing to invest money in the best possible outcomes. For some people, this may be feasible. But, it probably isn't realistic for most.
A Party-Based Opportunity
Saladmaster uses a party-based business model, which you'll often see for network marketing companies. With this approach, most of your sales come from hosting parties. For Saladmaster, these are called cooking shows and you're meant to be preparing meals as part of the event.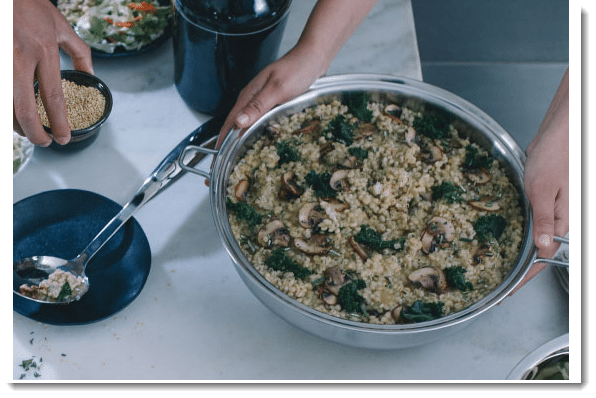 From a sales perspective, parties are powerful. They give you the chance to get potential customers together and pitch to them all at once. Serving food is also an effective tool and it's easy to get people excited about the products this way. The overall design tends to be somewhat fun and you may find that people want to go to the events simply for the social element.
You're not using your kitchen either. Instead, this approach involves hosts, which tend to be friends of the distributor. The event is at the host's house and they get various rewards, depending on how many sales are made.
The design can let you reach a wider audience, as each host will potentially invite their own friends. Some of those may want to become hosts or even distributors themselves.
The essence is that parties can work well, in theory. Whether or not they do for you is a little more complicated.
One issue is that people tend to get sick of the events and their willingness to buy decreases over time. So, you need to constantly be promoting to new people and getting a varied audience at your cooking show. This is achievable, especially if you have a large social circle and friends that are interested in cooking.
But, if your social circle is relatively small or insular, you could run into problems. For example, I've seen cases where all of the potential hosts have roughly the same circle of friends. So, they just end up inviting one another to the parties and the whole process gets frustrating fast. When that happens, the number of attendees starts to decrease, as do your sales.
On a related note, there are probably hundreds of direct marketing companies that sell through parties now. Some examples include Vantel Pearls, Lilla Rose, Stampin' Up, and Tastefully Simple, to name just a few. As a result, some locations end up with many different distributors and potential customers become disinterested quickly.
With that in mind, have a think about what else is in your area. If there aren't many other distributors or similar opportunities, you will have a better chance overall.
One final thing to mention is the cost. The party approach tends to pressure distributors into buying products themselves. This happens because the parties focus on showing off the products. And you may find that you're more likely to get sales for items you have to demonstrate than ones you don't.
So, people often buy more items to try and boost their sales. In the long-run, that type of pressure means that you may lose money, not earn it.
The food-based nature of the parties also means that there are costs involved in actually hosting them, as you'd typically be providing the food yourself. It's easy to see how that could get expensive fast – especially if you didn't actually make a sale at a given party.
Reputation
The final thing to mention about the business opportunity is Saladmaster's reputation. The products themselves seem to get mostly good reviews, as long as you're just looking at quality, not price. However, the reviews of the company are very different.
For example, the image below comes from the site Pissed Consumer and shows averages across 56 different reviews. In total, the company earns a 2.7-star rating (out of 5) on the site, showing that many customers are extremely unhappy.

Many of the issues in reviews are ones that I raised previously, including the price of the products and the sales tactics. This reputation is a problem if you're trying to make sales. The reviews also mean that any customers of yours could easily have a bad experience.
Can You Generate Reliable Income With Saladmaster?
The Saladmaster Review
With overpriced products, a poor reputation, and significant ongoing costs, there isn't much reason to even consider Saladmaster. It would only be viable if you had an affluent audience who could afford the products but, even then, there are better opportunities.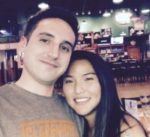 MLM Critic & Author: Nathaniell
What's up ladies and dudes! Great to finally meet you, and I hope you enjoyed this post. I have to be honest though. I'm not a big fan of MLM. Tried it. Hated it.
Affiliate marketing is cheaper, faster, and easier. See for yourself and join millions of other successful affiliates generating income from their blogs!
No inventory. No fees. No recruiting. 3 BILLION potential buyers online.
Reader Interactions