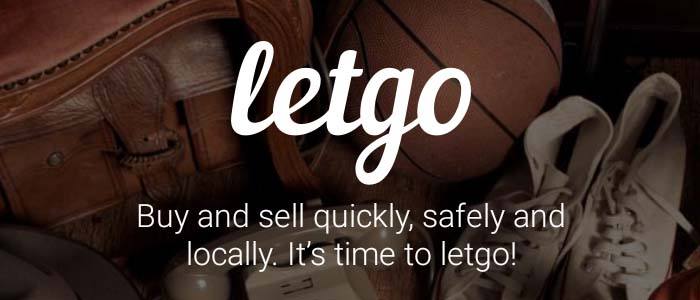 This app has been getting a lot of attention lately, mostly because it puts a new and tech-savvy spin on a very old idea. But can you really make money using the Letgo App?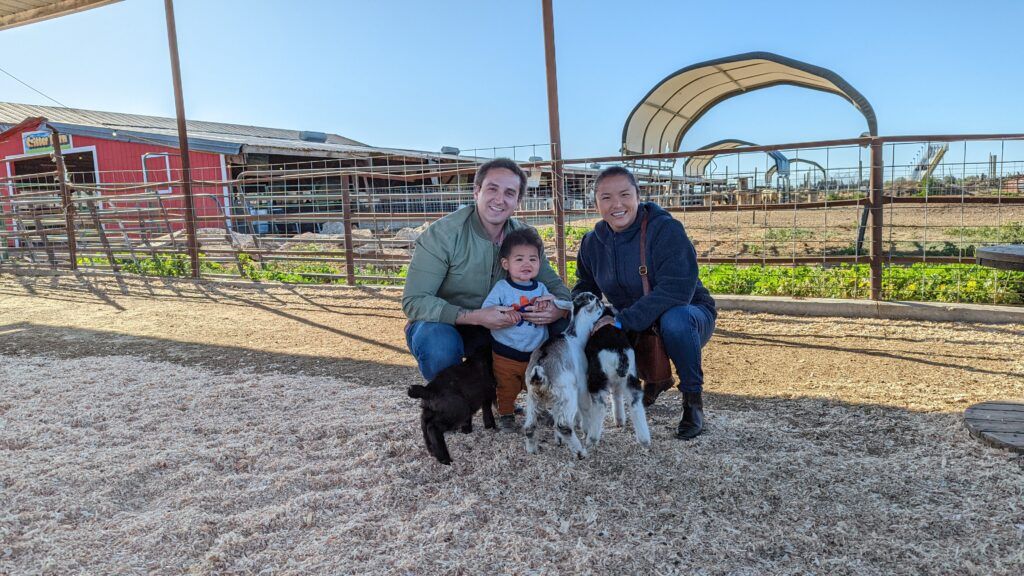 Are You Ready To Work Your Ass Off to Earn Your Lifestyle?
Are you tired of the daily grind? With a laptop and an internet connection I built a small website to generate income, and my life completely changed. Let me show you exactly how I've been doing it for more than 13 years.
It seems like a simple-enough concept. Buying and selling things locally has really always been at the cornerstone of commerce, right? An app would be a fantastic idea to facilitate this, as long as it didn't hinder the process too much.
But does Letgo accomplish this? Pretty much.
However, it was pretty easy to figure out that you'll only make money if you have stuff in your house to sell. Instead, I recommend doing this if you want to make consistent income selling stuff online.
Making Money Using The Letgo App
Let's start with the basics, what is Letgo? It's simply an app that aims to make buying and selling locally much easier.
Letgo is an app that I've been wanting to look at for quite a while now. So naturally, I was pumped to get it downloaded. I tend to use Craigslist for this sort of thing, but I do find it a bit cumbersome and time-consuming.
I'm hoping that this app may be able to serve as a replacement. But first, let's take a look at its stats on the Google Play Store.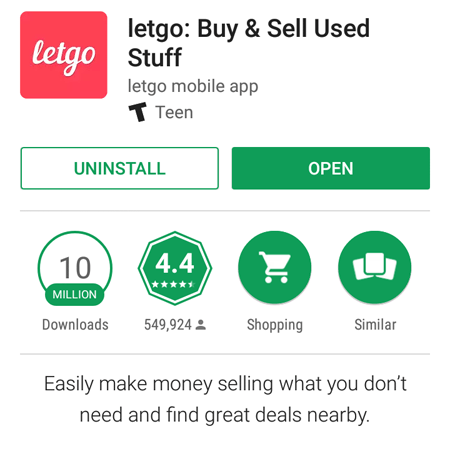 As you can see, it's been downloaded over 10 million times—which is nothing short of impressive. It also rocks a solid 4.4 stars in the Google Play ratings, which is absolutely nothing to scoff at.

The premise behind this app is simple. You use it to sell your old stuff or to buy other people's old stuff. It sounds simple—almost like a garage-sale app, but without getting rained out or having to choose a specific day and get up at 4 am to set up.
It's a spring cleaner's dream. But does it work well? And even more importantly—can you really use it to make some extra cash?
Getting Started With Letgo
Logging in was simple. I chose the Facebook option, which basically allows me to log in using my Facebook profile. I clicked through a brief, yet familiar notice telling me that the app would receive my Facebook info, yada yada… and then I was in.
I was greeted with this screen as soon as this process was done.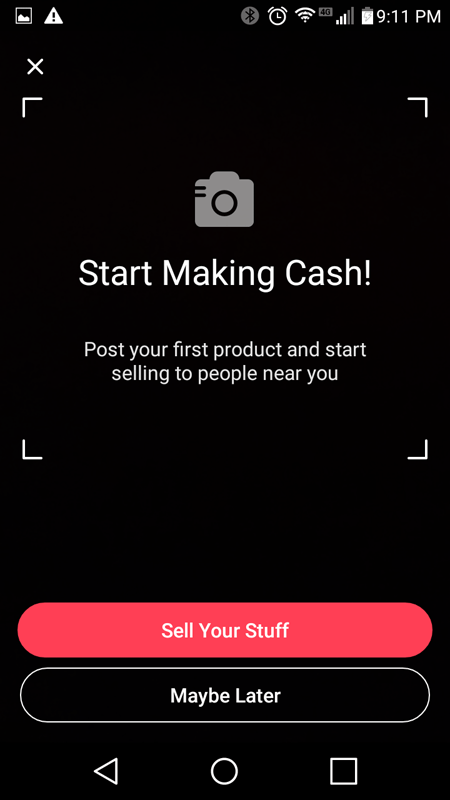 Right away, I was greeted with a screen that would allow me to use my camera to take pictures of my stuff. I didn't necessarily have anything that I wanted to sell right in front of me, so I decided to try the app out using a picture of a Ninja Turtles toy that I have sitting on my desk.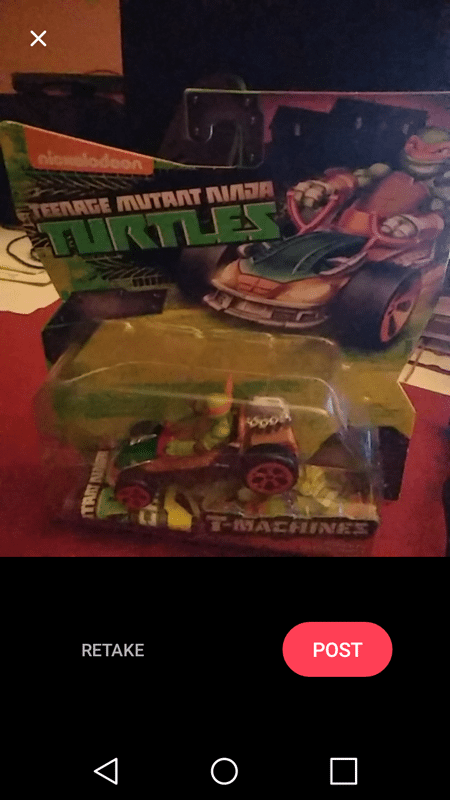 Once I took the picture, I was given the option to either retake the photo, or to post it. I chose to post it so that I could complete the process and see exactly how long it would take me to get something up on the marketplace.
Posting Items On Letgo
After clicking the 'Post' button, I was taken to a screen where I could add a price. I could either choose a specific price, or I could select 'negotiable' as an option. I could also slide the 'Free' button over to indicate that the item was free instead of putting any sort of price on it at all.
Once I clicked 'Finish,' the item was posted. The next screen looked like this…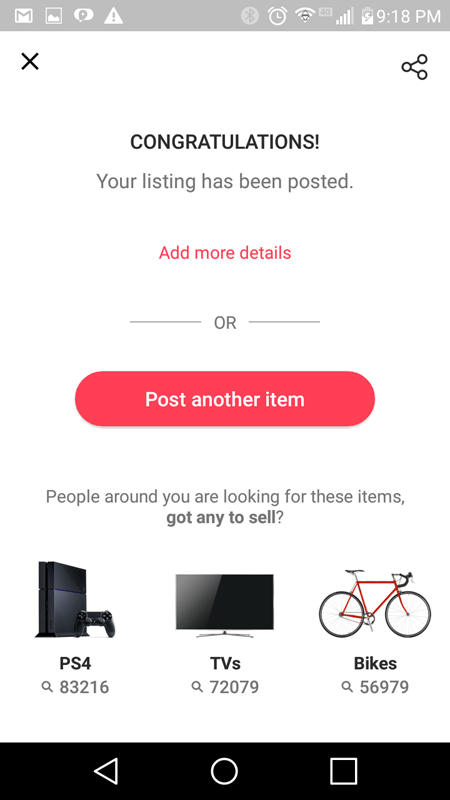 That was it! My item was now on the marketplace, and people could buy it from me. It literally took me a total of 3 minutes to log in with my Facebook, take a photo, and post my item.
Let's just take a moment to cover the most important points thus far. Within the first 10 minutes of using it, Letgo had proven to be…
Fast
Easy
Simple
Attractive
Intuitive
Fantastic for posting stuff that I wanted to sell
Selling stuff is pretty easy too. I've sold a bike helmet and some crock pots through the app. Yes, the selling aspect of the app does work.
The trouble is that people are difficult to deal with. I am able to sell things about 10% of the time I make contact with a person.
The first message is always "What's your lowest price" or "Will you take $x.xx? instead of listing price". It's soooo annoying. Come on, man! You haven't even seen the thing yet and you're already negotiating?!
What's even worse, is when they negotiate, schedule a time, then don't show up. Or pretend to be on their way and then don't show up. Honestly I just started giving things to Good Will for a writeoff instead of selling on LetGo because selling was so inefficient and dealing with people is a nightmare.
But what about buying stuff? If this part of the app wasn't as good, then it could possibly derail the entire thing… so this is what I looked at next.
Shopping For Items On Letgo
So, after leaving the screen that congratulated me on posting my item for sale, I was greeted with this page.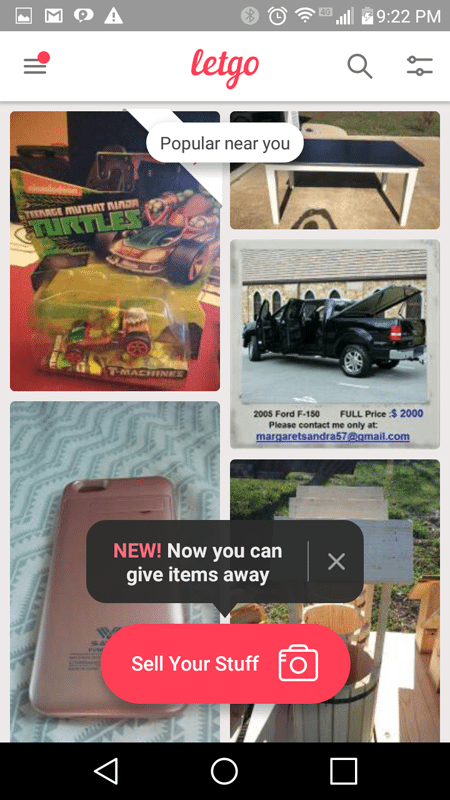 This seemed to be the 'hub' of the app, and showed recent listings for items posted near me. The app uses your location to locate items that are close to you, which is really awesome. This makes it less like eBay and more like Craigslist… except without the time-consuming listing system or the unusually high creep-factor (no offense Craigslist… but we're all thinking it).
Opening the drag down menu at the top left of the screen gave me access to a range of options that looked eerily similar to the menu on my mobile Gmail account… and clicking on the little settings bar at the top far right gave me options that I could use to begin the process of browsing for more specific items that I might want to buy.
Here, I could change my location, browse by product category, browse by posting date, shop by distance (which is super-awesome), or sort items based on almost any criteria that you could think of.
There were quite a few categories to choose from. They included choices like the following…
Electronics
Free Stuff
Cars and Motors
Sports, Leisure and Games
Home and Garden
Movies, Books, and Music
Fashion and Accessories
Baby and Child
Other
There was also a search bar, located at the top of the screen but more toward the center.
So far, it was just as easy to shop as it was to post—which was amazing!
Buying Things On Letgo
When you find an item that you like on Letgo, you simply click on the picture. Doing so brings up a close-up view of the photo, along with a price, and three different buttons. The buttons are labeled as such…
Is this item still available?
Is the price negotiable?
And a message bar that you can use to write and send a short message
There is also a 'more info' button near the top of the page, and a share button that you can use to share listings.
When you click on the buttons, they pretty much send a message… so if you press the button that asks 'Is the price negotiable,' you can expect to get a response back (if they respond to it, that is) to the question.
So really, these buttons just make quick messages even quicker, by giving you the option to send them at a glance instead of typing them.
Our Concluding Thoughts On Letgo
Can you really earn money on Letgo?
Absolutely.
How much can you earn?
That all depends on what you have to sell. This app is pretty much an online marketplace that allows anyone to sell the stuff that they don't want anymore, for whatever price they choose to set for it.
And it does a remarkable job of accomplishing this!
This doesn't mean that you are going to be guaranteed success if you sell on Letgo—but it does mean that you'll have access to an awesome app to help move old, unwanted belongings for cash.
Upsides To LetGo
Letgo is fast, easy, and straightforward. It was so fast that we were literally done setting it up in minutes, and it was so easy that we were posting our stuff like professionals at a quicker pace than you can even get logged in on most other apps!
If you have Facebook, then Letgo is even easier to use, because it allows you to log in with your Facebook account—which is pretty much a single-button process.
You will be at a greater advantage with this app if you live in a highly-populated area, obviously. If you live in the Nebraska desert or some other more remote place, then an app like this may be of limited use—because goods need to be posted (and buyers need to be checking the app) before anything can really happen.
If you have stuff to sell, are tired of using Facebook buy/sell pages, and not interested in garage sales (which are honestly a waste of time in a lot of circumstances), then you can certainly use Letgo to make a lot of extra money while also thinning out your possessions—which is a win/win scenario, as far as we're concerned!
Downsides To Legto
This app will generally tend to get more useful as the number of people in close proximity to you grows. If you live in a small town in Iowa, you won't be able to find as much stuff (or sell your stuff as easily) as someone who lives in lower Manhattan.
That's just the nature of living in a small town, perhaps with the exception of Craigslist, which has more reach…but no functioning app. This app really strives to do the same thing as the Craigslist buy and sell pages—except that it does it better, faster, safer, and more efficiently.
I'm not sure if Craigslist gets more traffic or not… but with 10 million downloads to its credit, there are certainly a lot of people using Letgo. I found a ton of listings in my area, and I live in pretty much 'small town USA' in the central United States.
The other major downside to LetGo is that you need stuff to sell in order to make money. This isn't an online job! If you are looking to actually make money without getting rid of your stuff, then you should try Swagbucks.
It's the #1 recommend micro-task website for earning side cash on a lot of websites because they are honest, straightforward, and have a long history of paying on time. A true rarity in the world of scammy online survey sites LOL.
Our Final Thoughts About Letgo
Letgo was pretty reliable for selling my old junk, and works for what it was intended to do. That's great! However, if you were looking to make enough money to go on vacation or even quit your job, this is not the app to do it. I don't have that much stuff to sell!
Instead, I started selling other people's stuff online and that works a lot better because I'll never run out of things to sell, so I can create a consistent income online. In fact, I've been doing this for about a decade now!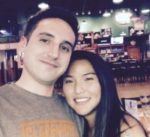 Nathaniell
What's up ladies and dudes! Great to finally meet you, and I hope you enjoyed this post. My name is Nathaniell and I'm the owner of One More Cup of Coffee. I started my first online business in 2010 promoting computer software and now I help newbies start their own businesses. Sign up for my #1 recommended training course and learn how to start your business for FREE!