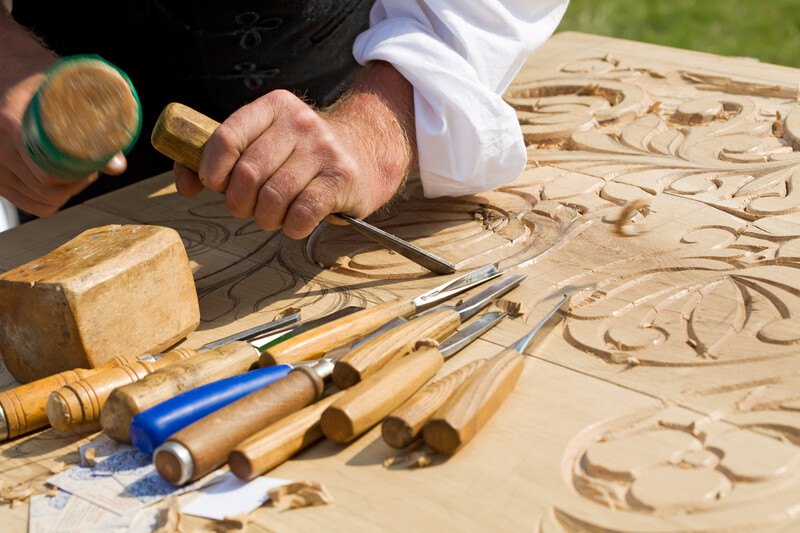 One of my friends has a small woodshop in his back yard. Over the past 25 years, this man has dabbled in everything from Norwegian-style whittling to lathe carving and relief carving. He's tried his hand at outdoor furniture, and he gets custom orders for novelty gifts such as logscapes and old-fashioned toys.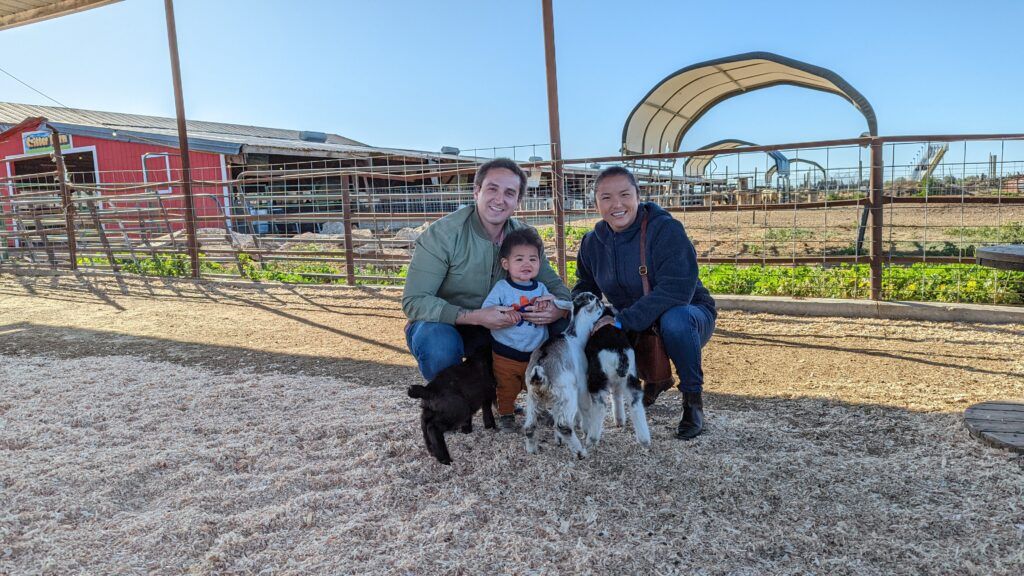 Are You Ready To Work Your Ass Off to Earn Your Lifestyle?
Are you tired of the daily grind? With a laptop and an internet connection I built a small website to generate income, and my life completely changed. Let me show you exactly how I've been doing it for more than 13 years.
When he's not working with wood himself, he appreciates the fine woodworking of other artists. He watches the chainsaw carving and spoon carving groups on Facebook. When he can, he attends carving shows where he can see new designs and learn new techniques.
For him, it's all about a love of wood, but there's an opening there for affiliate marketers, as well. There are a number of companies willing to partner with affiliates to sell plans, tools, and supplies for do-it-yourself woodworkers. There are also some companies who partner with affiliates to sell their own wood-crafted items.
Depending on the angle of your niche website, both types of woodworking affiliate programs could work for you. Here is a list of top 10 woodworking affiliate programs to get you started.
Woodworking Affiliate Programs
Woodworkers Guild of America
KC Tool
Highland Woodworking
Rockler Woodworking and Hardware
ToolsToday
Armani Fine Woodworking
Knotty Plans
Artificer Woodworks
Tool Barn
Nora Hall
1. Woodworkers Guild of America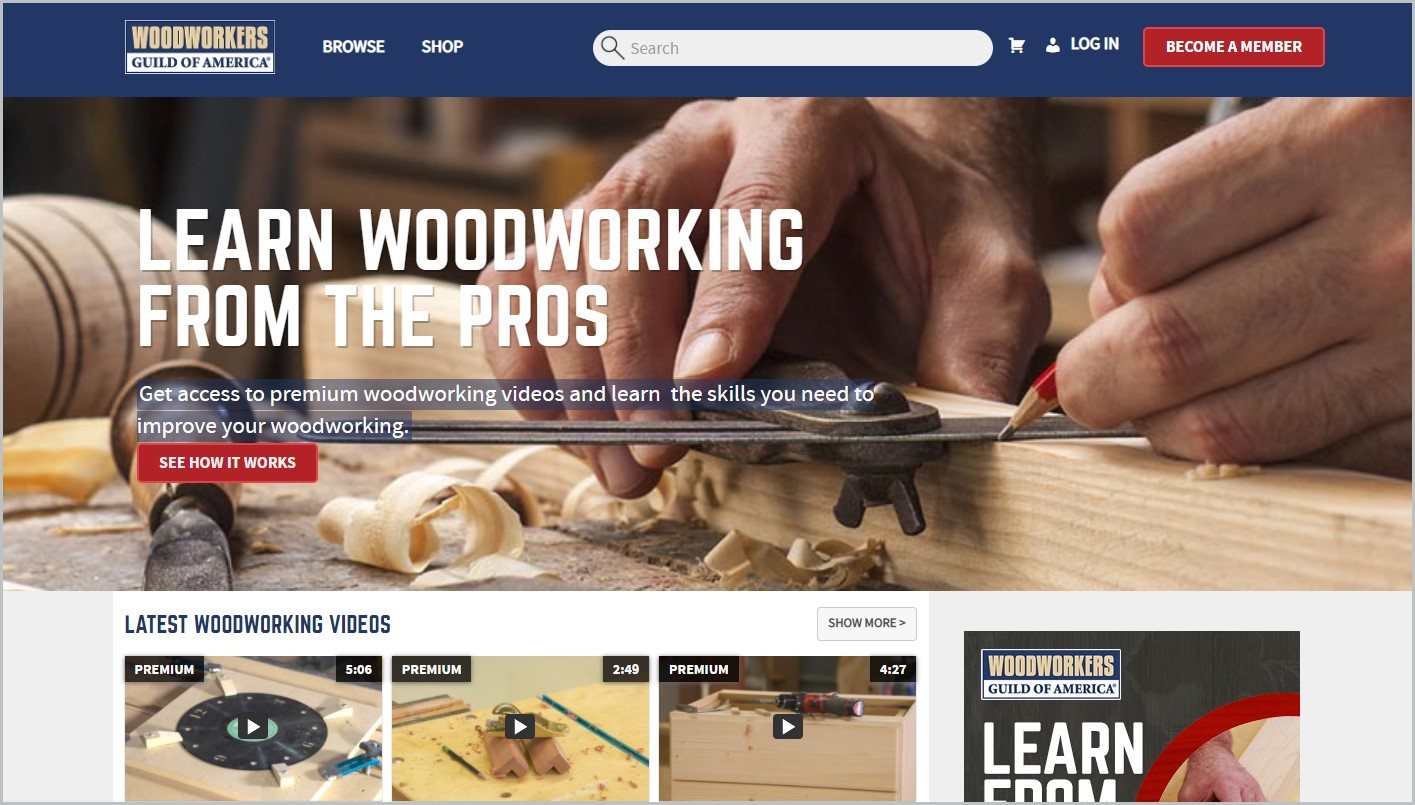 Commission: 6% – 25%
Cookies: 60 days
Woodworkers Guild of America is the go-to online resource for woodworking instruction, information, and ideas. They've been creating instructional video content designed to engage woodworkers with their passion since 2008. Their products include DVDs, video downloads, instructional classes, woodworking plans, books, tools and accessories, and WWGOA apparel.
Their affiliate program is run through ShareASale. Affiliates will receive a 25% commission on all membership signups or a 6% commission on all other products. The cookie life is set at 60 days. Affiliates can also earn double commission the first 30 days after joining.
Why You Should Promote Woodworkers Guild of America: They also offer a couple of membership plans that will give you unlimited access to premium woodworking videos, projects, and articles, a library of professional woodworking plans, regular discounts on Shop products including DVDs, Video, and Plan Downloads, Classes and more.
2. KC Tool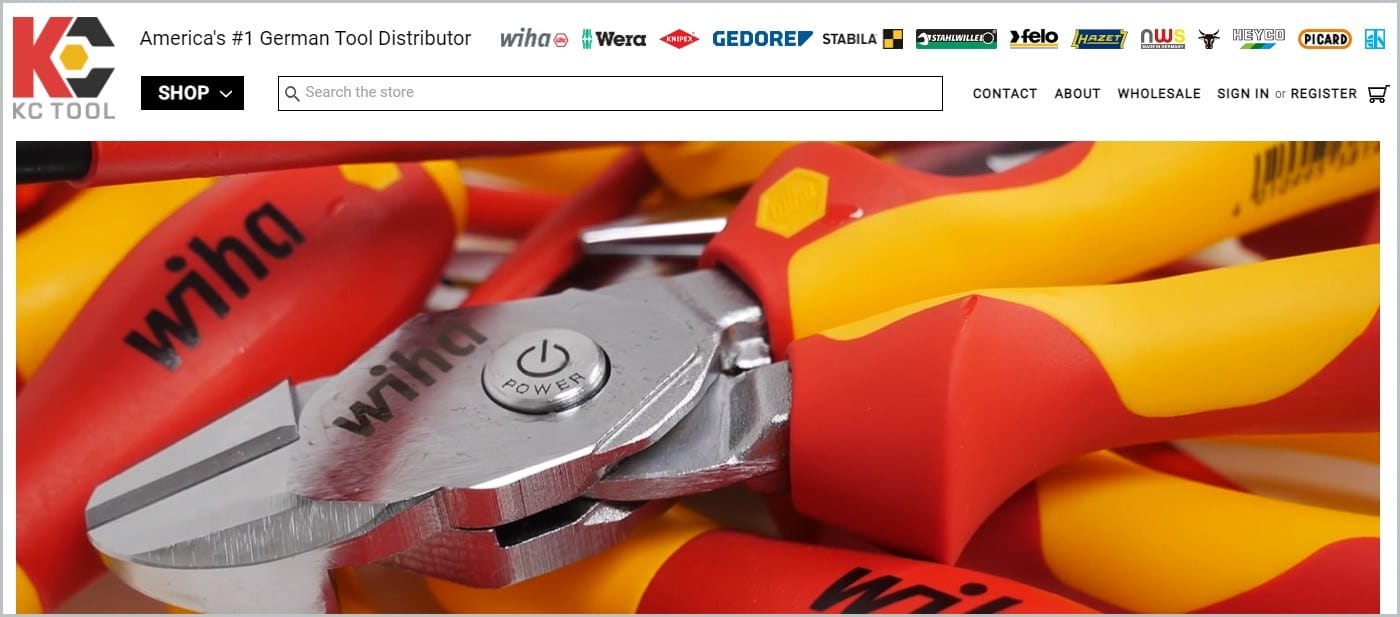 Commission: 6% – 25%
Cookies: 60 days
KC Tool is America's #1 German tool distributor. They specialize in Felo, Gedore, Knipex, Hazet, Stahlwille, Wera, and Wiha. KC Tool has over 10,000 different tools with a lifetime manufacturer's warranty (with the exception of bits, tweezers, and torque screwdrivers). They are committed to making outstanding tools with the best materials as they lead the industry in hand tool innovation.
KC Tool partners with Refersion to manage their affiliate program. Their strong brand recognition, regular discounts, and creative advertising provide affiliates with all of the tools they need to be successful. Affiliates will receive a 10% commission on every sale referred. The referral period is set at 30 days. Referssion oversees all the tracking, reporting, and payment in their affiliate program.
Why You Should Promote KC Tool: They are the #1 distributor of German tools in the US, a huge selection of tools at competitive prices – over 20 thousand, and one of the fastest-growing tool sites on the Internet.
3. Highland Woodworking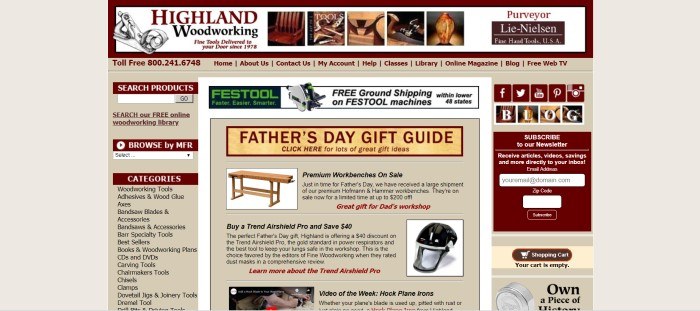 Commission: 10%
Cookies: 30 days
Along with books, Highland Woodworking focuses on the tools and supplies that woodworkers need. These include items like bandsaw blades, wood glue and adhesives, Dremel tools, Japanese hand tools, and drawknives. There are larger items like table saws, too, and customers can also find instructional videos.
Highland Woodworking has been in business for more than 30 years. The website shares information to customers through articles, seminar schedules, videos, and tips.
Why You Should Promote Highland Woodworking: Many items, such as the best-selling Tormet T-8 Sharpening System or the set of Dovetail Chisels, have high price tags that bring in a nice commission.
4. Rockler Woodworking and Hardware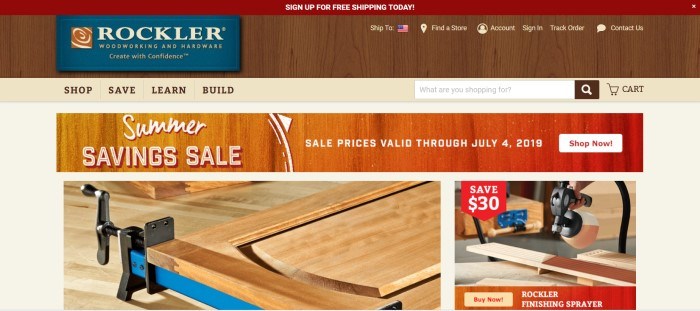 Commission: 5%
Cookies: Unknown
Rockler Woodworking and Hardware has been around since 1954 and ranks number one in woodworking in the Internet Retail Top 500.
This company carries around 15,000 different products. These include lumber, power tools, hand tools, and finishing supplies. Some of the products are hard to find. The hardware, such as casters for rolling drawers or handles for cabinetry, seems to be a somewhat unique feature for woodworking shops with affiliate programs.
There are a high conversion rate and an average order of $90. The affiliate sites are run through both FlexOffers and LinkShare.
Why You Should Promote Rockler Woodworking And Hardware: This is a solid company with a good reputation, and that could increase conversion. It's also got a lot of products, which could mean more items in the cart at checkout—and thus a higher commission.
5. ToolsToday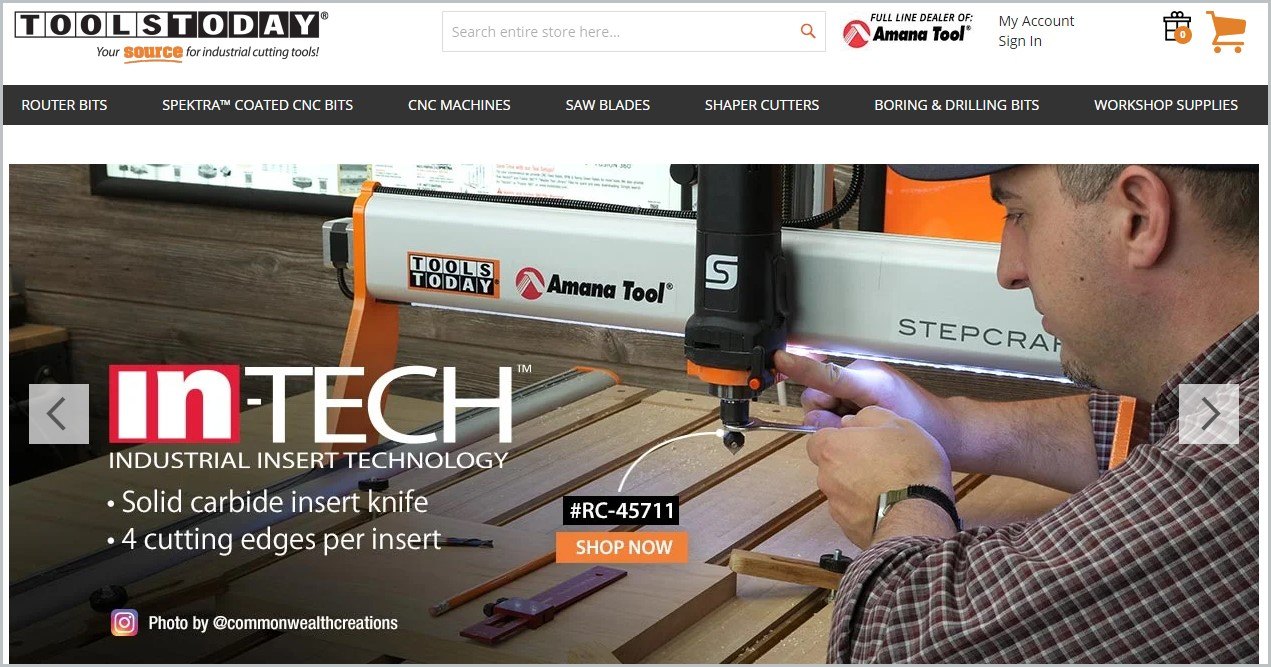 Commission: 5%
Cookies: Unknown
ToolsToday offers industrial quality cutting tools used by woodworking professionals and enthusiasts, as well as architects, sign builders, cabinetmakers, stage and set builders. They provide one of the largest assortment of cutting tools at competitive prices and are driven by their 100% customer satisfaction guaranty.
Their affiliate program is managed by ShareASale. Affiliates are set to earn a 5% commission on sales. Their average order value is $100 with a very high conversion rate. Affiliates will have access to product data feeds and a dedicated affiliate support team.
Why You Should Promote ToolsToday: They have the tools you need in-stock and ready to ship the same day, have a very knowledgeable customer support team, and a 100% warranty with an easy return policy.
6. Armani Fine Woodworking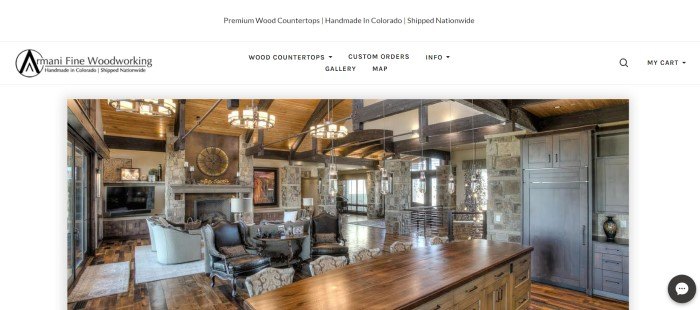 URL:
Commission: 5%
Cookies: Unknown
Some customers love the look of fine wood crafts but are intimidated by the do-it-yourself aspect of many woodworking sites. Rather than being for woodworkers, this affiliate site is about fine-art woodworking finished products. This company provides artisan hardwood countertops, tabletops, and butcher blocks for custom orders.
The website has detailed information explaining the difference between edge-cut and end-cut butcher blocks, so that customers will understand what goes into the woodworking itself and what they can expect from a finished product.
The gallery is filled with pictures of countertops in hickory, walnut, cherry, mahogany, and maple in a variety of warm, friendly styles. There's information on the website about how to place a custom order and how to take care of the woodwork once it's installed.
Why You Should Promote Armani Fine Woodworking: These are bigger ticket items, so the commission could be higher. The fine-arts feel could be an attraction for customers who don't generally visit woodworking sites, too.
7. Knotty Plans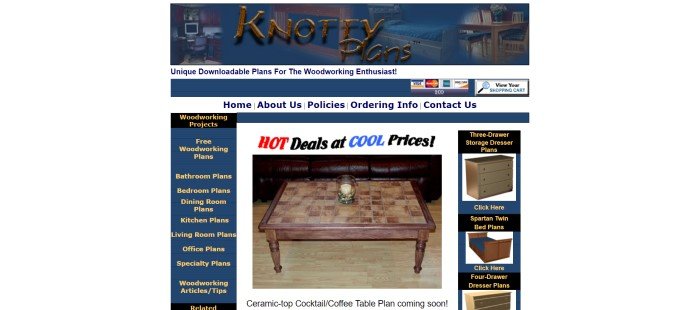 URL:
Commission: 10%
Cookies: 90 days
Like many other woodworking sites, Knotty Plans offers furniture plans in a variety of categories. There are plans for the kitchen, bathroom, bedroom, living room, and office, as well as some specialty plans and some free plans.
There's also space where customers can share photos of their projects, such as beds, desks, and aquarium bases. The plans cost just a few dollars to around $12 each.
Why You Should Promote Knotty Plans: The plans are relatively inexpensive compared to some other woodworking sites, which could be a conversion factor.
8. Artificer Woodworks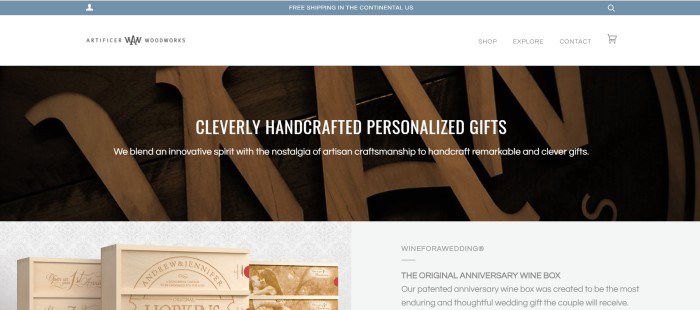 URL:
Commission: 11%
Cookies: 30 days
Instead of a do-it-yourself website, Artificer Woodworks is another end-product woodworking company. Products are generally small, personalized gifts like wine boxes, keepsake boxes, and bottle openers.
Customers can shop for corporate gifts or holiday and event gifts, or they can order a custom design. An average order is around $150. The affiliate program is administered by ShareASale.
Why You Should Promote Artificer Woodworks: The commission rate is nice, and the average order size is decent.
9. Tool Barn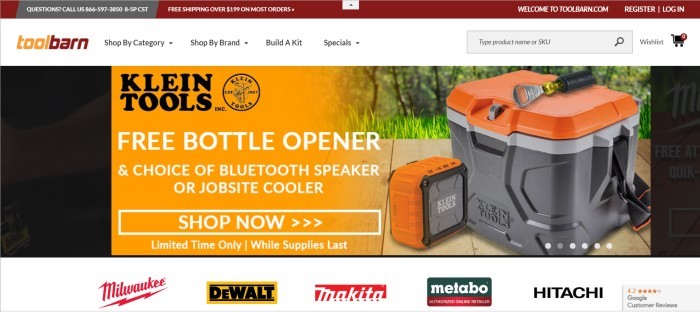 Commission: 3%
Cookies: 45 days
Tool Barn is a tool retailer with a wide selection of hand tools, power tools, machinery such as lathes, bandsaws, and stationary sanders, safety equipment, and even work clothing. While the types of tools aren't limited to woodworking alone, it's a great place for a new woodworker to go to get basic tools.
The average order is $75, but some items, such as some of the bandsaws, can run as high as $12,000 or more. There's also a 'specials' section where customers can look around for clearance items or deals on the brands they like best.
Why You Should Promote Tool Barn: There's a good selection of basic tools here and some high-ticket items. Tool Barn could be a great partner for an affiliate with a niche website focused on building an ideal woodshop.
10. Nora Hall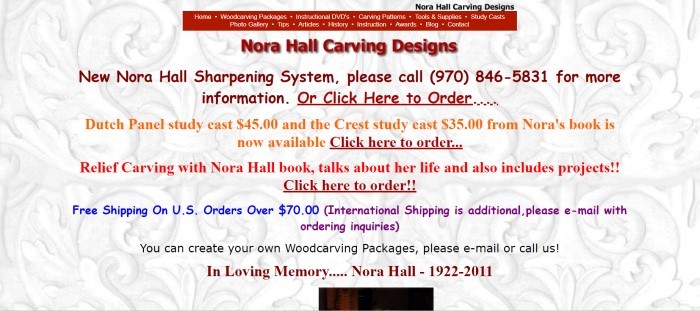 Commission: 10%
Cookies: Unknown
This company partners with affiliates to sell the Nora Hall woodworking video series. There are nine different DVDs, each costing about $25 each. They focus on traditional European relief carvings. The host is Nora Hall, a third-generation Dutch Master Carver.
The videos explain the proper way to hold and use tools for both left and right-hand carvers, to think three-dimensionally, and to safely sharpen tools.
Besides the video series, this site sells carving patterns, tools and supplies, and wood carving packages that contain videos, tools, and more. All of the products are a little on the spendy side, but they're high-quality and could be worth it to carvers willing to invest in their craft.
Why You Should Promote Nora Hall: Nora Hall could be a great partner for someone with a niche website focusing on relief carving. Beyond that, the commission rate is nice, and the high-end prices could translate to more income per sale.
Ted's Woodworking WARNING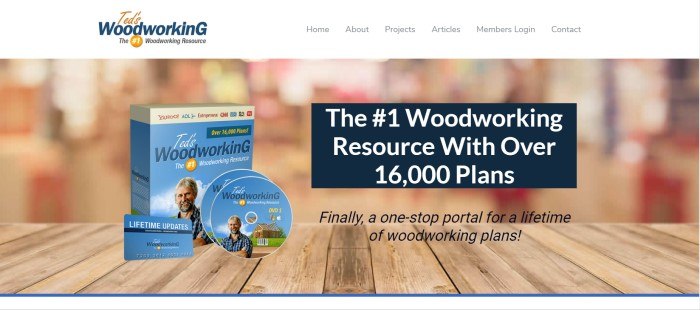 Ted's Woodworking is one of the most popular affiliate programs to promote in this category because of its high payout and effective marketing strategy. However, there are multiple accusations of content being copied from other woodworkers, incomplete plans, and deceptive marketing. I talk more about this in my review of the Clickbank Marketplace, which is well known for its low-quality digital products.
Another company that seems to be a sister product to Ted's Woodworking is Wood Profits. Although I haven't seen the same accusations against this particular product, my recommendation is to proceed with caution. If you plan to promote it, do your own research and decide whether it's a good fit for your brand to promote.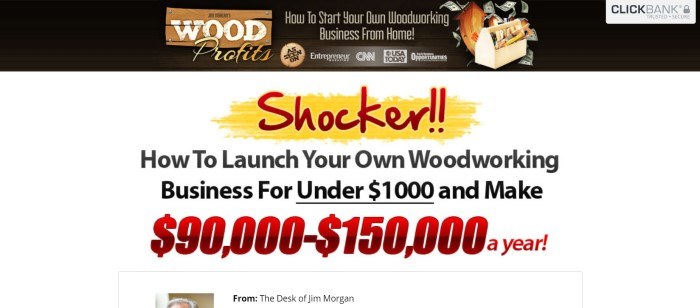 Affiliate Website Ideas
This list of top 10 woodworking affiliate programs is just a start. If you're located in the UK or somewhere else other than the United States, you could find a completely different set of woodworking websites to partner with.
No matter where you live, these niche website ideas can be a springboard for your woodworking affiliate marketing efforts.
Idea #1: You could build a website around high-end corporate woodworking, where you draw in the work of wood artists such as Artificer Woodworks or Armani Fine Woodworking. Filing cabinets, custom-made desks, bases for aquariums and terrariums, hand-made wooden pens, custom-made relief carvings, and wine-boxes could all be featured here. This would also be a great site for focusing on unique fine wood gifts to give to high-level employees.
Idea #2: What about a hand-tools-only website? On a niche website like this, you could focus on the expensive knives, chisels, scoops, and mallets that traditional hand carvers need. This would be a great place to promote sharpening systems and tool suppliers, as well.
Idea #3: A website focusing on woodworking for the yard and garden could be particularly fun. A website like this could promote plans, supplies, and hardware for garden benches and patio furniture, chainsaws, and ideas for chainsaw carving, and even how-to videos or courses for bigger items such as wooden patios, balconies, and pergolas. "Building a shed" is a timeless topic when years' worth of content you could explore.
Boost Your Affiliate Earnings
These 10 affiliate programs are just the beginning of what's possible. There are hundreds of ways to earn affiliate commissions with your website, including product reviews, top 10 lists, how-to guides, and more
But what about traffic and conversions? How do you make sure your affiliate links get clicked?
I used the affiliate training here to turn my brand new website into a six-figure income generator in less than two years. Build a business, not just a pocket-money side project!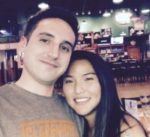 Nathaniell
What's up ladies and dudes! Great to finally meet you, and I hope you enjoyed this post. My name is Nathaniell and I'm the owner of One More Cup of Coffee. I started my first online business in 2010 promoting computer software and now I help newbies start their own businesses. Sign up for my #1 recommended training course and learn how to start your business for FREE!