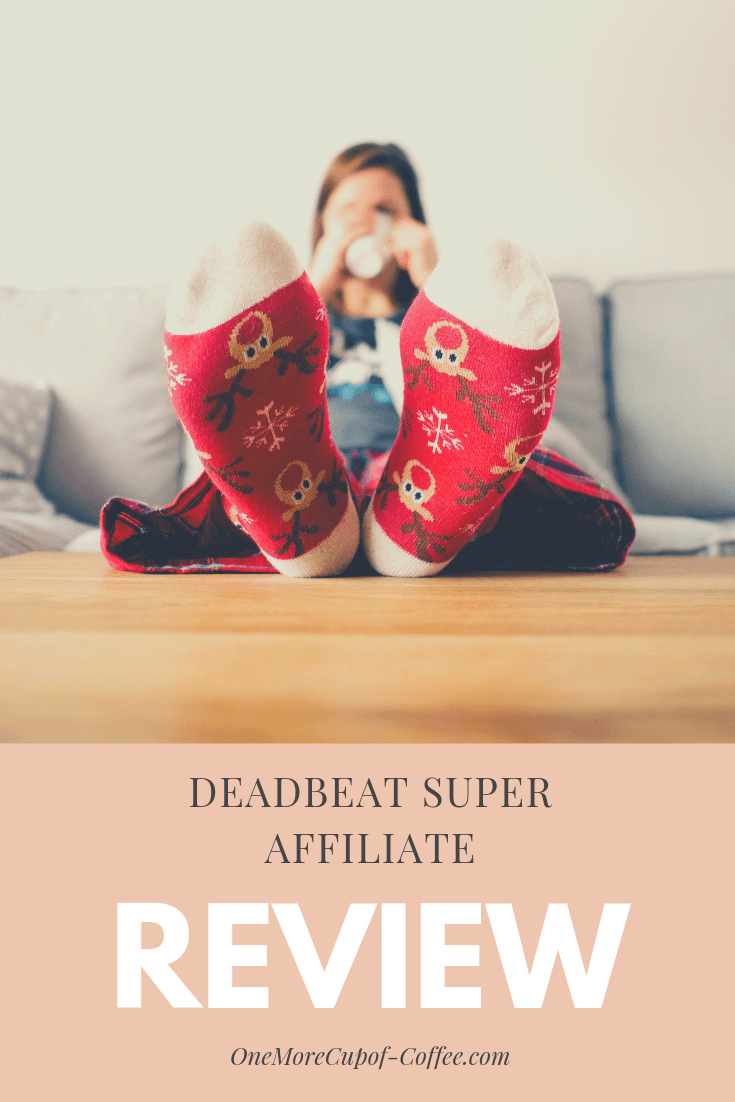 Deadbeat Super Affiliate Review
What Is Deadbeat Super Affiliate All About?
Dan teaches you to build small WordPress websites, and publish content on them to earn affiliate sales. This is basically what I, myself, do, so that's the legit part of this course. He also dives into YouTube stuff, which he seems to be doing really well at (based on subscriber count and engagement), so again, it's a winner there.
My main issues with the course is that it focuses a lot on backlinking techniques to grow your organic rankings in YouTube and Google. I did this in the past, and it hurt my previous websites, so I no longer do it.
In addition, the forum he runs ($67/month membership) doesn't seem worth the ongoing cost because it's not as active or engaging as my #1 recommended affiliate resource.
For the basic product however, I think it's Deadbeat Super Affiliate is worth your money, and you can learn a lot from it. Unfortunately, as of 2019 it's no longer available.

Short Review
Deadbeat Super Affiliate Reloaded is jam-packed resource of information on how to build websites according to the "deadbeat style" that Dan Brock sets out for you. He really over-delivers with high quality video, accompanying text, and an active forum.
However, I just have very strong doubts about how well these websites will rank and earn, since I've tried and failed with similar business models.
Ultimately, whether you buy or not will depend on whether or not you believe in the business model (which I'll explain below).

Update 2017: Just by accident, I ran into one of Dan's Videos on YouTube recently. He has a very active YouTube channel, and produces some high quality videos. I'm still browsing them, but some seem pretty interesting.
I haven't seen them all, so I wouldn't recommend just going and buying anything he recommends, but I think you should check out his channel. Some are kind of sensationalized, like "15 year old makes a million dollars" type of titles, but some are interesting like the one about stolen commissions and the dark side of affiliate marketing.

Update 2018: Actually, this is a really good video worth watching. This is the type of awesome content I like to see. A simple video with a legit concept.
I have always wanted to do something like this, i.e. outsourcing an ebook on a niche topic and selling it on Amazon. Really cool stuff! I think I like his videos better than his product lol.
Here's an example. Nothing shady, just Dan talking to the camera. So although I have some critical things to say about Deadbeat Super Affiliate the product, Dan Brock himself seems like a legit helpful guy.

Update 2019: Looks like Deadbeat Super Affiliate has been taken offline, and has been replaced with a new product by Dan, called Tube Tycoon. Not sure what happened, but you can no longer buy this product so I removed the links to it.
Before You Buy This
Honestly, the intro video was kind of funny, and I like the silliness of it all. His socks are floppy, he's got a box of Captain Crunch in the background, and he looks like he literally just got out of bed. Great job on the branding of Deadbeat Super Affiliate!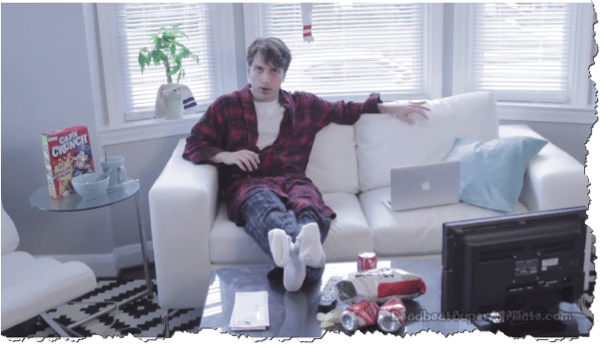 Still, I can't help but cringe at how he really tries to give you the impression that he doesn't work to earn money. A significant portion of the sales pitch is that you will only have to work a few minutes a day to earn thousand of dollars of income, which just isn't true.
I have no idea how much he earns and how much he works. However, I know that a complete newbie is going to have to work their butt off to start earning just a few commissions, and you either have to be really smart, or really hard working to take your business to the next level…no matter what kind of business you are running.
There's no such thing as easy money, and if you plan on this being the "easy road", you are going to be sorely disappointed.

Inside The Members Area
Wow. There's a lot of videos, and the total length is worth much more than what you pay to get inside. Here's a breakdown of what you get.
#1 Register For An Affiliate Network(3:31)
#2 Choosing a Market (9:02)
#3 More Niche Research (9:28)
#4 The 60 Second Competition Check (4:29)
#5 Register Your Hosting And Domain Name (14:19)
#6 Installing WordPress For "Deadbeats" (7:40)
#6b: Addon Domain Setup (3:24)
#7: Basic WordPress Optimization (4:55)
#8: Installing "The Deadbeat Theme" (3:10)
#9: Adding an Article (46:26)
#10: Inserting Affiliate Links (9:48)
#11: "Stage 1" Link Building (8:59)
#12: Customizing "The Deadbeat Theme" (8:35)
#13: About Me (9:56)
#14: Adding More Articles (11:07)
#15: Advanced Link Building (9:20)
#16: Introduction to Video (4:33)
#17: Creating A Video With VideoMakerFX (14:10)
#17b: Using A Voice Actor In Your Videos (3:38)
#17c: Creating A Video Yourself (5:22)
#18: Uploading Your First Video (10:32)
#19: YouTube Channel Optimization (12:10)
#20: Buying YouTube Views (5:34)
#21: Distributing Your Video To Other Networks (8:40)
#22: Mass Link Blasting For Non-YouTube Video Sites (3:26)
#23: Final Thoughts (4:47)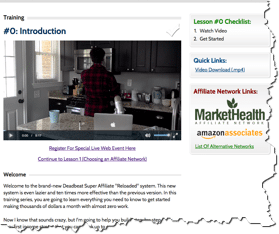 The basic idea of the business you will be building is this:
Step 1: build a WordPress website
Step 2: Start a YouTube channel
Step 3: Syndicate videos and share your website on social bookmarking sites
Step 4: Backlink your videos and your website
It's not a revolutionary idea, but it's all laid out step by step.
There's also a forum inside the members area, and a decent amount of posting. It's still a fresh community, so it's hard to say whether it will grow or die out. As of June 22, access to Deadbeat Super Affiliate Reloaded is closed, so it could go either way.

Three Things I Liked About Deadbeat Super Affiliate
1. Easy To Follow, Natural Presentation
The Deadbeat videos were really well done. The audio and video quality was good. There was a mix of over the shoulder tutorials, as well as FaceTime with Dan Brok himself.
There is quite a bit of text and pictures to accompany the videos as well. Mixed media learning means that people with different learning styles will all be able to join and appreciate the course.
Dan himself seems quite honest, and even has a heart to heart with us in the beginning about negative people, bad habits that will hurt your business, and how to set yourself up for success. Not everyone will find that part important, but I just thought it was a nice touch.

2. Lots of Outsourcing
Much of the course depends on outsourcing to Fiverr, which is going to be easy for most people. Gigs (jobs) only cost about $5, and you don't have to order that many of them to follow the course, so it's pretty cheap as well.
Once you set up your original WordPress website, to be a Deadbeat Super Affiliate, you only need a few articles on your website, you can write or outsource those. Most of your "continual" work is going to be buying backlink packages to your videos and website.
I think lots of people will appreciate not having to write content for their site!
Oh, and you get access to an exclusive, custom WordPress theme called the Deadbeat Theme.

3. An Active Forum & Support from Dan
I always rate products with a forum or Facebook group a bit higher on the scale because it's important to get access to support while building your business. If the owner is around, and actively answering questions or publishing fresh content, then that's another plus worth mentioning.

I browsed the Deadbeat University (forum) inside the members area and saw that there were plenty of members publishing content, and Dan Brok himself was answering questions and commenting on posts. Great! There wasn't a huge amount of activity, but I feel like if you were to join the forum and need help, someone, either a member or the owner, would be around to point you in the right direction.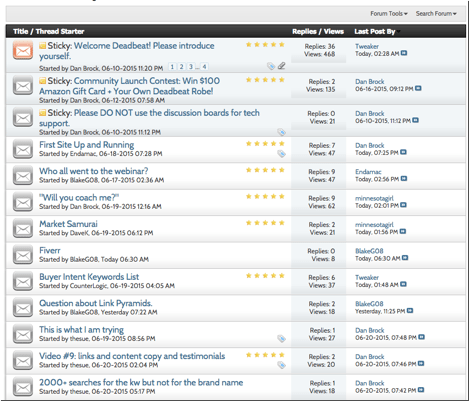 Three Things I Didn't Like About This Product
1. Recommended Products Are Not Recommended!
There are a list of products on the bottom of every page of the Deadbeat Super Affiliate Reloaded members area. I strongly discourage people from buying these three products, and have written full reviews of each of them.
Google Sniper
AutoZON Store Builder
Trust Jacker
Google Sniper is a product from the notorious internet scam artist George Brown. He recently relaunched Sniper 3.0 with "updated information", and was cocky enough to re-use videos from early 2000's when his original launch occurred.
AutoZON Store Builder automatically builds Amazon websites that are very likely to get you kicked out or even from the Amazon Affiliate program since they copy content directly from the Amazon website! How could anyone recommend this!
Trust Jacker could be more of a matter of opinion, but it's just not something I'd recommend to my readers.
2. Link Building = Bad For Business
Bros recommends that after you publish your website that you "social bookmark" it to let Google know that your site exists. This is completely unnecessary, because you can just use Google Webmaster Tools (free tool from Google) to notify them that your website has a new page.
Plus, the links you gain from these bookmarking sites like Digg, Delicious, Fark, and others are very low quality. There is software out there that can blast 1000+ links to these websites automatically and it still won't have a positive affect on your ranking.
Plus, when's the last time you heard of anyone using Digg?
Ok, so social bookmarking is just a waste of time, but it probably won't have any negative affect on your site.
What really blows my mind is that Brok is recommending that we use Fiverr to buy backlinking packages to our main website! That's just crazy-ville!
The quality of links you get on Fivver are astronomically low. They are the lowest of the low. How do I know? I used to order them.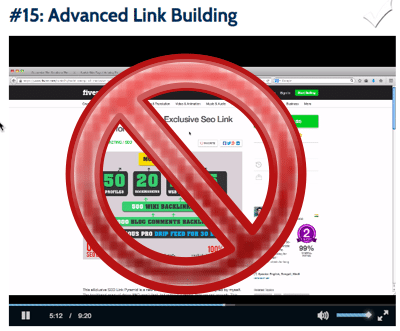 Back in 2010 when I was first getting started online, backlinking was a normal part of business for me. I ordered a few of the .edu and .gov backlink packages from Fiverr to diversify my link profile, and even got a few of the "drip fed" normal packages.
After my business was completely destroyed in the aftermath of the original Penguin update, I had to spend an entire year going through various backlinks I got to find the poisonous ones and get rid of them.
Not all the ones I got from Fiverr were poisonous links, but they were all pretty bad. Most of the .edu and .gov sites were trashy, spammy, unintelligible websites built purely for the purpose of getting links and selling spots.
I will admit – I think if you want to build a spammy backlinking profile to a YouTube video, then link your YouTube video to your money site, you might be able to get away with that. I don't really know how Google deals with backlinking YouTube vids, and whether the juice is passed to your site, and if that positively or negatively reflects on your main domain. It might work.
But buying a backlink package from Fiverr and sending it to your home page is a really, really bad idea.

3. Castles Made Of Sand
I really dislike when a course has instructions to "do something carefully so you don't get caught". In the YouTube video section of Deadbeat Super Affiliate, Brok recommends that we only buy a small number of fake views to our YouTube channel so we don't get our video banned, and even then it's a risk.
He admits that lots of people will disagree with him, and does outline that it is a risk. But to make this a core part of your program a poor choice in my opinion. It just seems like you're asking for trouble.
Speaking of which, the entire concept of trusting my monthly income to a random guy, probably in a developing country, to whom I paid just $5 is outrageous. Who are you going to blame when your Fiverr guy screws up and sends 500 likes to your YouTube video in one day? Is the Fiverr guy going to pay your bill when he gets your website a manual penalty from Google for unnatural and spammy linking practices?
Final Review
I think there are some really good ideas you can glean from this product, although it's not perfect. Personally, I wouldn't build my business in the same way Dan Brock does. However, that being said, I'm sure some people have found some kind of success with his formula.
For me, I'd rather do things 100% legit from the beginning, i.e. focusing on creating helpful content rather than trying to "game the system" to see results faster.
At the very least, you should subscribe to his YouTube channel!
Who should buy Deadbeat Super Affiliate? If you've purchased a number of "how to make money online" products and are savvy to the internet marketing gurus, then I think you can learn some stuff from Dan Brock. I'd still recommend it in 2019, but it looks like its been taken offline and replaced by a new product!
Final Thoughts
You can learn how I make money with affiliate websites by joining my free email course. I show you exactly how I build my websites, and introduce you to the step-by-step training I followed to start earning money online (and go full time in less than two years).
PS. If you are disgusted that it took me two years instead of two weeks, you're in the wrong business buddy!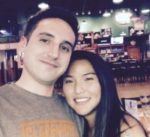 Nathaniell
What's up ladies and dudes! Great to finally meet you, and I hope you enjoyed this post. My name is Nathaniell and I'm the owner of One More Cup of Coffee. I started my first online business in 2010 promoting computer software and now I help newbies start their own businesses. Sign up for my #1 recommended training course and learn how to start your business for FREE!