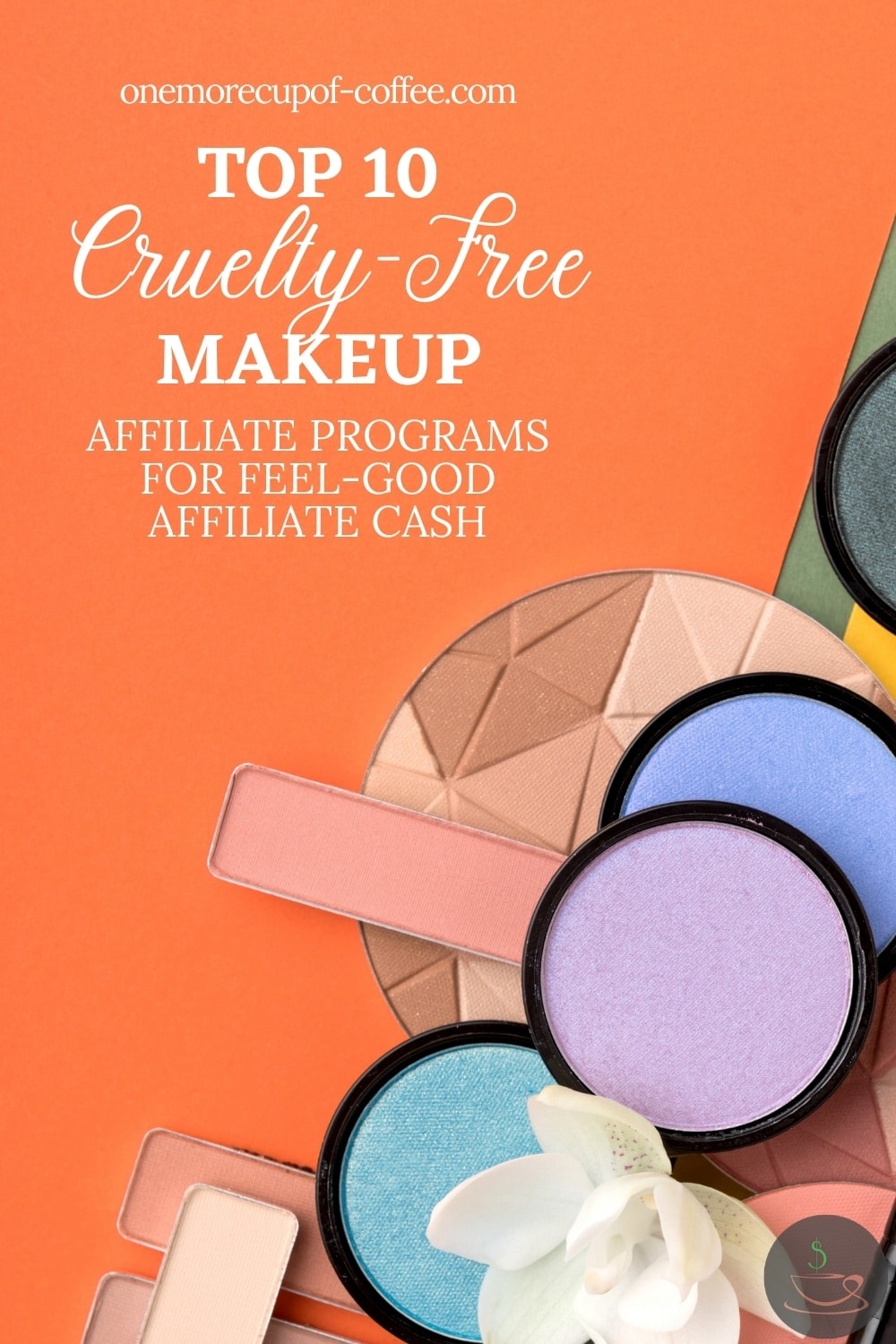 In the past decade, several countries have banned the use of cosmetic testing on animals. As social awareness raises, more cosmetic companies are leaning away from animal testing, which means there are more cruelty-free products on the market than ever before.
They can be hard to find, though, and that's where affiliate marketers come in. Affiliate marketers can link consumers with cruelty-free makeup programs, so the company makes money, consumers feel good about their purchases, and affiliates make a decent living. It's a win-win-win situation.
If you're interested in getting started with some cruelty-free programs, read through this list of the top 10 cruelty-free makeup affiliate programs. You'll probably see right away that some of these companies are ready-made for niche marketing. If not, I'll share some of my own ideas at the end to help you get started.
Have you started your beauty blog yet? If not, you'll find a ton of information here on the site about how to choose your niche, built the blog, write articles that rank, and monetize your website so you can earn a full time income writing about makeup & cosmetics!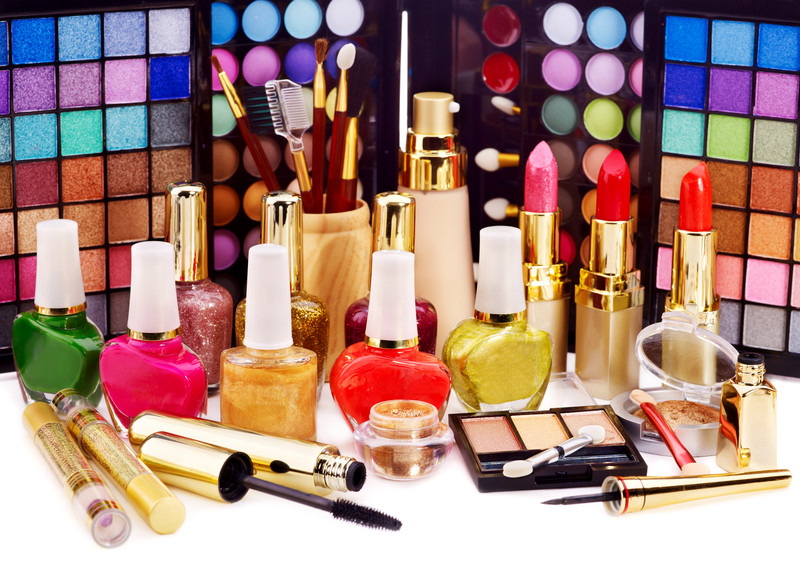 Cruelty-Free Makeup Affiliate Programs
The Beauty Crop
BH Cosmetics
Afterglow Cosmetics
Origani
Tarte Cosmetics
Benefit San Francisco
Treat Beauty
Camomile Beauty
Ecco Bella
100% Pure
1. The Beauty Crop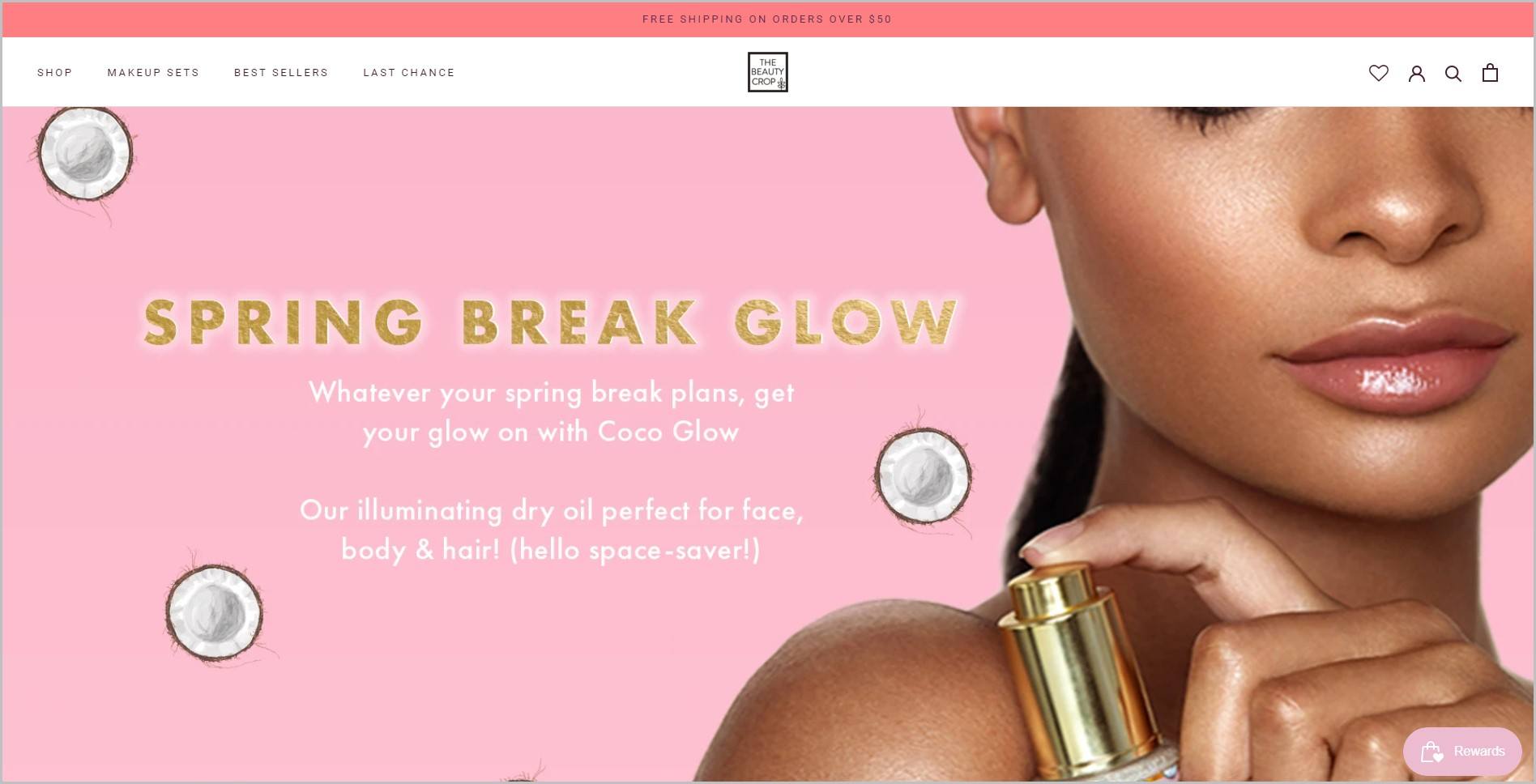 Commission: 10%-20%
Cookie: 30 days
The Beauty Crop offers a diverse selection of cruelty-free, paraben-free, and high-quality makeup and other beauty products. They create high-performing color cosmetics incorporating natural oils and plant-based extracts.
They formulate to the highest standards in the world and bans over 1,300 toxins to ensure their products are safe not just for our bodies but for our planet as well. The Beauty Crop is also PETA certified.
The Beauty Crop partnered with Refersion to run their affiliate program. Affiliates can start earning a 10% commission and climb up to 20% per sale. Affiliates can also choose their own discount code, get a 15% discount on all products for their followers, and have access to affiliate-only special offers and promotions.
Why You Should Promote The Beauty Crop: Aside from the generous commission, the company is also committed to reducing waste, lightening carbon footprint, and preserving Earth's ecosystems and this could really appeal to eco-conscious consumers.
2. BH Cosmetics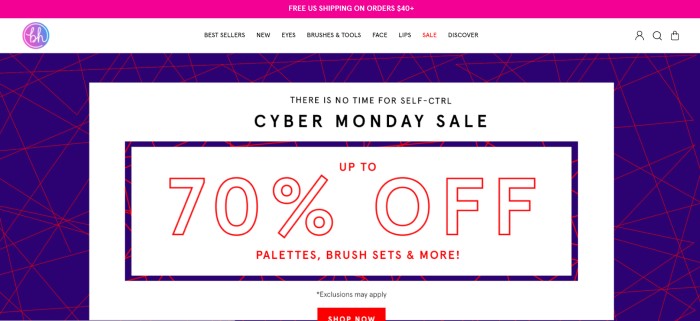 Commission: 8%
Cookies: 90 days
BH Cosmetics sells a large selection of foundations, lipsticks, eyeshadow palettes, and items for eyelashes and brows. Even within the different categories, there's a lot of variety. For example, some of the eyeshadow palettes contain more than 20 different colors.
All of the products are made from all-vegan ingredients, without animal cruelty, and they're designed to be affordable, too.
The affiliate program is administered through Rakuten LinkShare, and it has a conversion rate of more than 6%. The average order value is nearly $40. BH Cosmetics offers free shipping in the United States for orders that total at least $45.
Why You Should Promote BH Cosmetics: This company provides regular promotions that affiliates can use to draw in new customers. Affiliates can also participate in monthly contests and receive bonuses.
3. Afterglow Cosmetics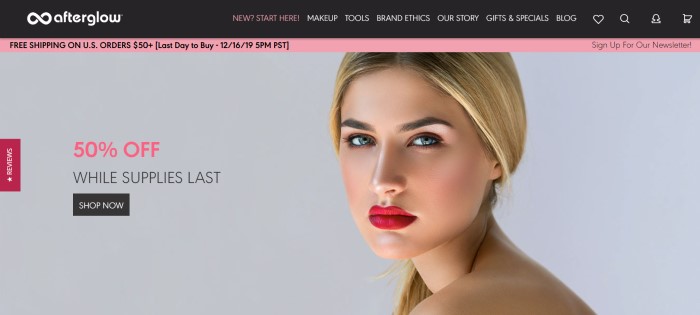 All of the Afterglow Cosmetics products are certified cruelty-free through PETA and Leaping Bunny. They're also natural, vegan, and gluten-free. Afterglow Cosmetics prides itself on providing safe cosmetic choices.
This company sells several types of makeup, including mineral-based foundations, eyeshadow, mascara, eyeliners, lipsticks, and blushes. Customers can also purchase brush sets and gift packages, and they can get free shipping and free returns on orders of $50 or more.
One nice thing about this company is that customers are given the option of donating $2 with every purchase to help plant trees that can offset this company's carbon footprint.
Afterglow Cosmetics runs its affiliate program through ShareASale, and the average order value is around $60.
Why You Should Promote Afterglow Cosmetics: It's nice to have the option to donate to an environmentally-friendly cause. The safe cosmetics could draw in some shoppers, as well.
4. Origani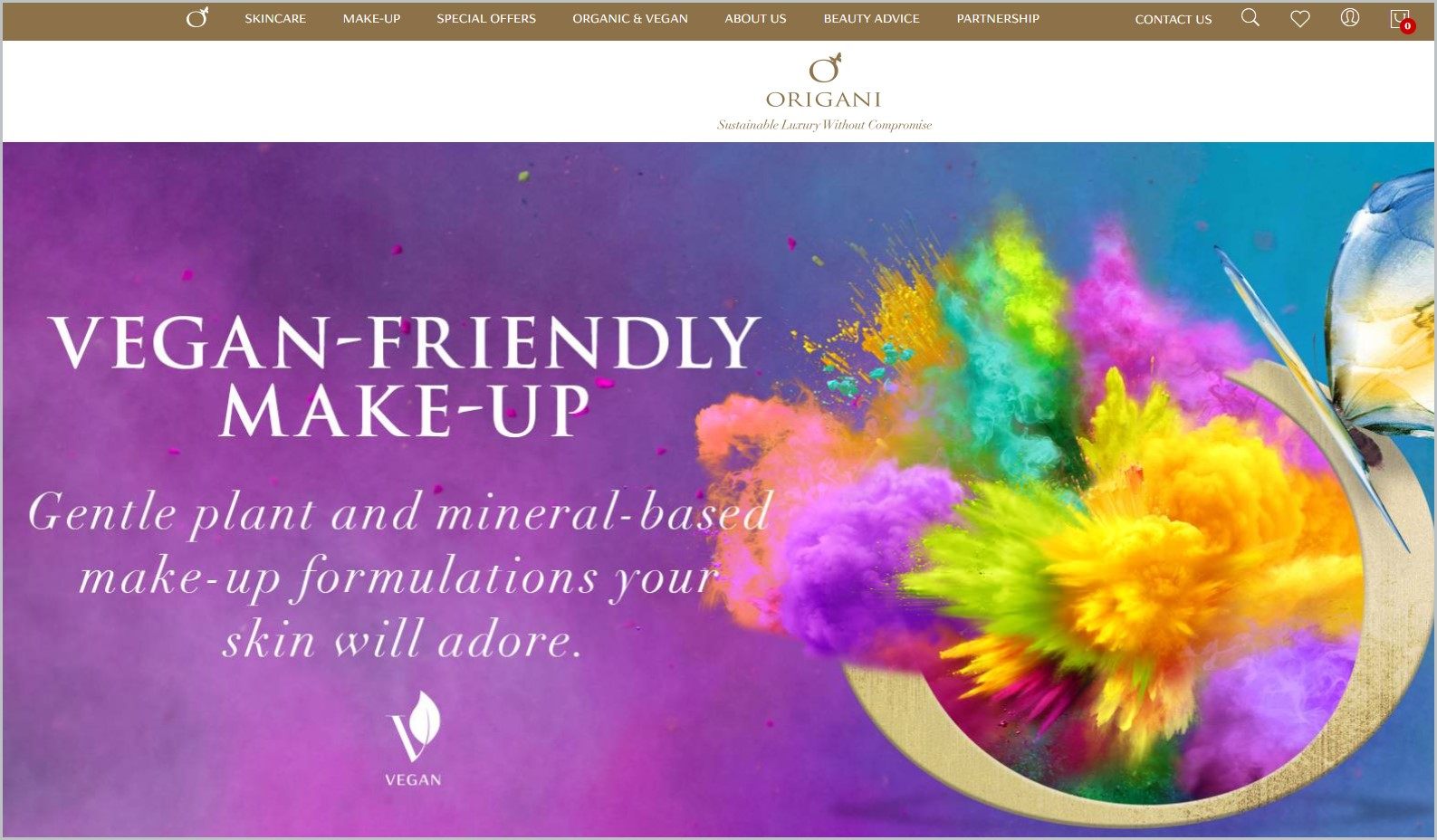 Commission: 20%
Cookies: Unknown
Origani offers high-performance organic and naturally-derived beauty care products – from skincare, body care products, and make-up. Their gentle plant and mineral-based make-up formulations will surely soothe your skin. They even have a selection of make-up brushes.
They are continually searching the globe for the rarest and high-performing natural ingredients that will address the ever-changing beauty needs of customers. They are set out to develop a luxury collection of certified organic, vegan, and naturally-derived beauty care products.
Affiliates can choose to promote make-up, skincare products, or body care products and shall receive a 20% commission. They will have access to beautiful ready-to-use branding materials, and real-time statistical analysis.
Why You Should Promote Origani: The commission is very generous and the products are available in nearly 100 locations throughout Asia, Europe, New Zealand, and Australia.
5. Tarte Cosmetics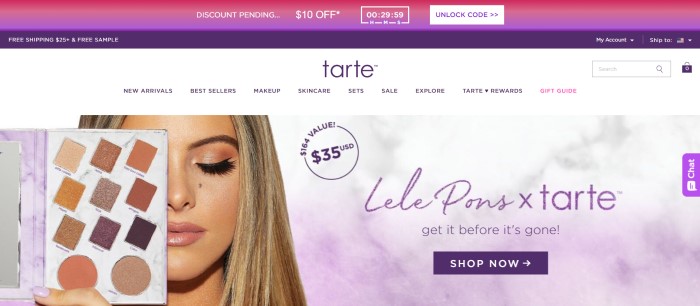 Commission: Unlisted
Cookie: Unknown
Tarte Cosmetics formulates its products without parabens, mineral oil, sodium lauryl sulfate, gluten, and other harmful products. They're also certified cruelty-free through Leaping Bunny.
This company's bestsellers include specialty foundations, eyeshadow palettes, concealers, brush sets, and blushes. There's also a mystery mix-up bag that contains surprise items for customers who want to try it out.
This company has a rewards program that allows customers to participate in special sales, get free samples, and get early access to new products.
Why you should promote Tarte Cosmetics: The commission rate isn't listed, so it's challenging to figure out how much you could make with this company. However, the rewards program and mystery mix-up bags could attract shoppers and bump up shopping cart totals.
6. Benefit San Francisco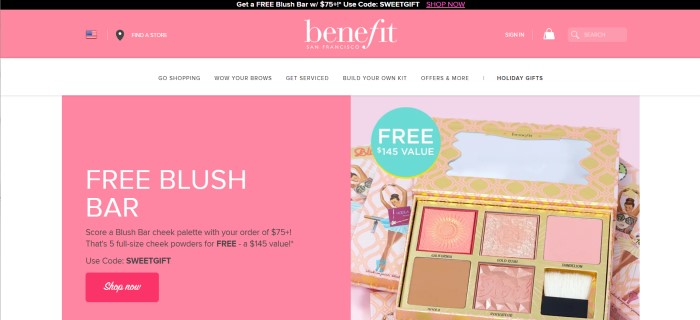 Commission: 4-7%
Cookie: Unknown
Benefit has both physical stores and an online presence, with a strong focus on eyebrows. These include in-store services for brows and waxing, as well as makeup and styling guides that can be purchased online.
Beyond eyebrow products, Benefit sells items such as foundations, primers, powders, eyeliners, eyeshadows, and lipsticks. Benefit doesn't test its products on animals, and it works to end animal testing wherever it can. This company's products are gluten-free, as well.
One nice thing about this company's affiliate program is that commissions are paid out each time you make a sale, rather than monthly or when you've reached a minimum payment threshold. They partnered with Rakuten to administer their affiliate program.
Why you should promote Benefit: The focus on eyebrows makes this company stand out and could contribute to some niche market strategies. The immediate payment of commissions is nice, too.
7. Treat Beauty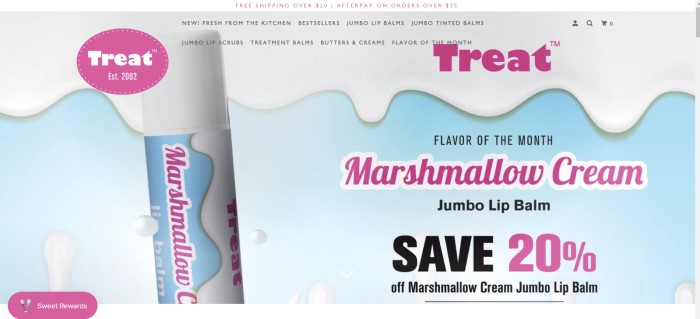 Treat Beauty has a philosophy that people shouldn't put anything on their skin that they wouldn't be willing to eat. All of the ingredients that this company uses are food-grade. The products are cruelty-free, organic, and made in the United States.
One unique thing about Treat Beauty is that all its makeup products are for the lips. Their lip balms come in tubes that are three times the size of lip balms you find in the grocery store. They're also tinted or flavored with fun tastes, such as marshmallow cream, pumpkin spice, and birthday cake. Treat Beauty has a flavor of the month.
Besides lip balms, Treat Beauty carries lip scrubs, and treatment balms, butter, and creams. Customers get free shipping on orders over $20.
Why You Should Promote Treat Beauty: The free-shipping option and fun products will attract some shoppers. The company also provides incentives and bonuses for affiliates, as well as specials and other promotions that affiliate marketers can use to bring in more customers.
8. Camomile Beauty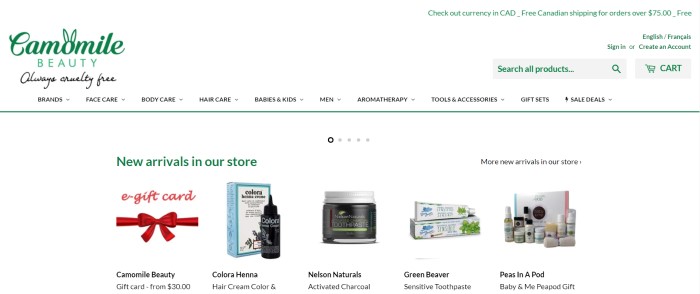 Commission: 7%
Cookie: 30 days
Camomile Beauty carries more than 65 different brands of cruelty-free skin care products and cosmetics, including items from Avalon Organics, Mill Creek Botanicals, and Redmond. The products are varied, too. Besides makeup, Camomile Beauty carries hair care supplies, baby products, items for beard and mustache care, shower gels, bubble baths, lotions, and more.
Camomile Beauty's philosophy is that by providing a great inventory of products that are cruelty-free and environmentally friendly, customers can more easily find makeup and other items they feel great about buying, and it will be easier for them to switch to a green lifestyle.
Why You Should Promote Camomile Beauty: The company's philosophy makes it a great fit for niche marketing, and its great selection of products could boost shopping cart totals.
9. Ecco Bella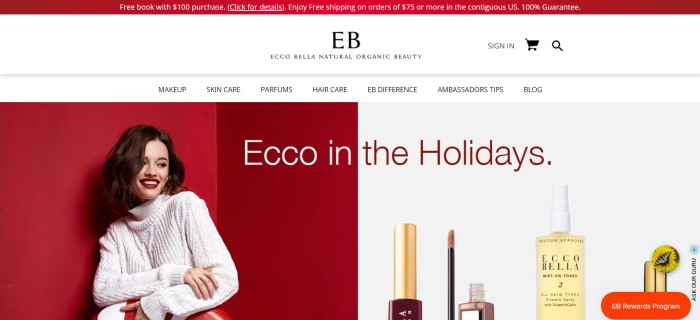 Commission: 12%
Cookie: Unknown
Ecco Bella is a natural organic beauty store that sells products with plant-based ingredients. One of its key features is that the products contain specially formulated vitamins and nutrients that penetrate, nourish, and protect the skin. The ingredients are tested in clinical studies and trials to make sure that customers are getting both clean and effective products.
This company has a 30-day 100% money-back guarantee. Customers in the United States can get free shipping for orders of $75 or more.
Why You Should Promote Ecco Bella: The plant-based, cruelty-free business practices are backed up with scientific studies for effective products, which could be a converting factor for some shoppers. The satisfaction guarantee and option for free shipping are great, too.
10. 100% Pure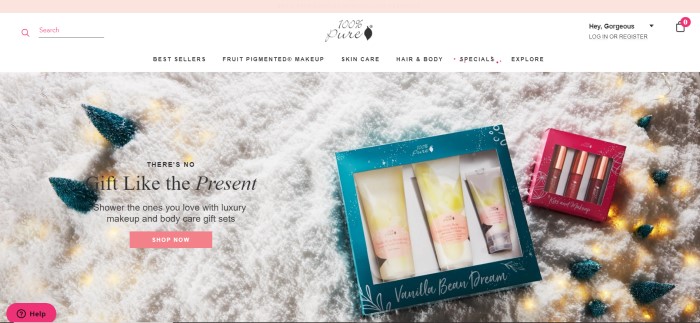 Commission: 8%
Cookie: Unknown
100% Pure carries fruit-pigmented makeup, skincare items, and products for the hair and body. All ingredients are carefully sourced to make sure they are cruelty-free. The company also seeks to be environmentally sustainable and to educate others about green living.
One great thing about this company is that it has several charitable and environmental partnerships. With every order, customers can donate a bowl of vegan dog food for abandoned dogs or a tree to plant in carefully selected communities.
100% Pure's affiliate program is being administered by Pepperjam.
Why You Should Promote 100% Pure: The fruit-pigmented makeup is a nice idea, and the ability for customers to get involved by donating is a feel-good way for them to make a difference and still get the products they need.
Affiliate Website Ideas
Now that you've read through the list of the top 10 cruelty-free makeup affiliate programs, what do you think? Do you see some ways you can use these programs in your own niche market efforts?
You could start with a website that's devoted to living a happy life with pets. This type of website could promote cruelty-free makeup, as well as vegan foods and plant-based fashion. You could also promote specialty pet foods, pet insurance, and technology-based pet toys.
Another idea is a website for people with sensitive skin. The cruelty-free makeup programs listed above could be featured, as well as vitamins and supplements, laundry detergents for sensitive skin, and even hypoallergenic furniture.
One more idea is a feel-good fashion and fun website for women over 40. This type of website could focus on programs that provide women with a way to give back to the global community. Cruelty-free cosmetics would be a good fit here, as well as Fair Trade fashions, organic clothing, and vegan snack boxes.
Boost Your Affiliate Earnings
These 10 affiliate programs are just the beginning of what's possible. There are hundreds of ways to earn affiliate commissions with your website, including product reviews, top 10 lists, how-to guides, and more
But what about traffic and conversions? How do you make sure your affiliate links get clicked?
I used the affiliate training here to turn my brand new website into a six-figure income generator in less than two years. Build a business, not just a pocket-money side project!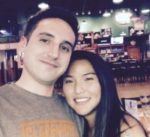 Nathaniell
What's up ladies and dudes! Great to finally meet you, and I hope you enjoyed this post. My name is Nathaniell and I'm the owner of One More Cup of Coffee. I started my first online business in 2010 promoting computer software and now I help newbies start their own businesses. Sign up for my #1 recommended training course and learn how to start your business for FREE!