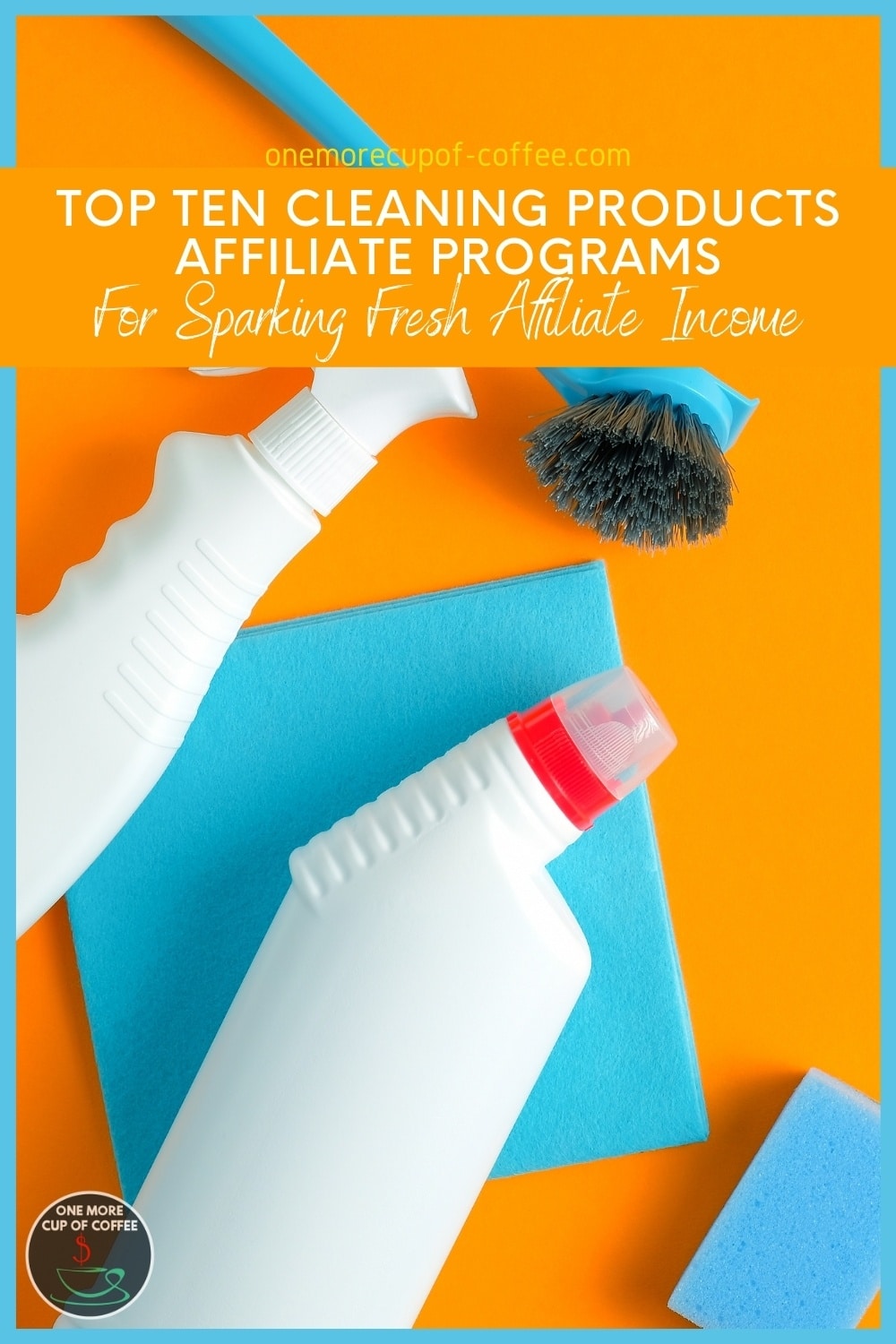 With Covid-19 rampaging across the world, the need for effective cleaning supplies to keep homes and workplaces as germ-free as possible has skyrocketed. During weeks of panic, there was a shortage of basic cleaning and sanitary supplies such as hand sanitizer, disinfectant sprays, bleach, and disinfectant wipes.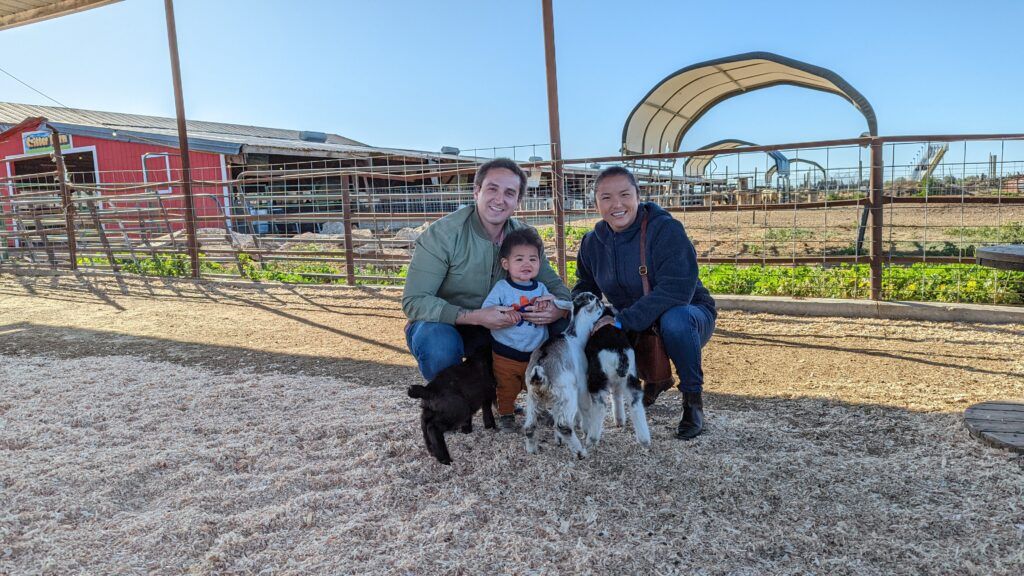 Are You Ready To Work Your Ass Off to Earn Your Lifestyle?
Are you tired of the daily grind? With a laptop and an internet connection I built a small website to generate income, and my life completely changed. Let me show you exactly how I've been doing it for more than 13 years.
The global household cleaners market value is currently around $31.19 billion. That's a large market, and with the growing focus on household cleaners, there's a great opportunity for affiliate marketers to get involved. The best cleaning products affiliate programs include everything from janitorial supplies to eco-friendly household cleaners and robot vacuum cleaners.
If you're interested in getting involved, read through this list of the top ten cleaning products affiliate programs. At the end of this article, I'll share some ideas of ways you can start using these programs to bring in more affiliate income.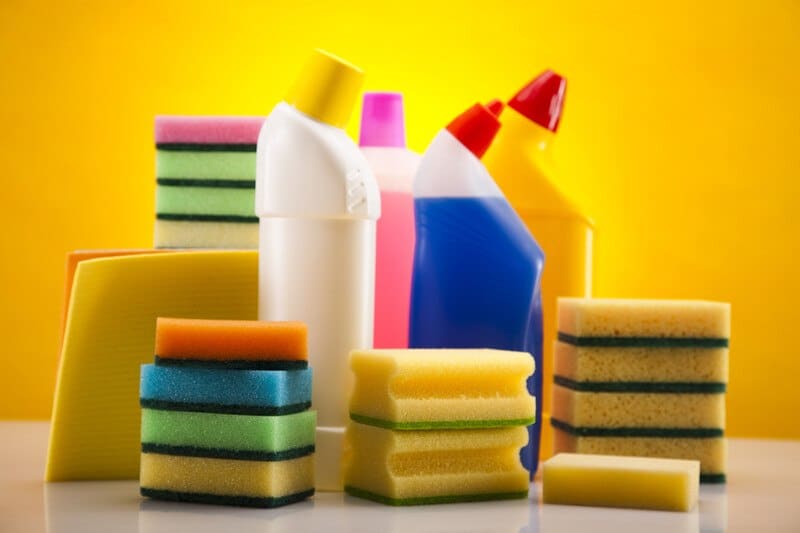 Cleaning Products Affiliate Programs
Cleancult
Live Simply
Clean Fortune
MyCleaningProducts
Property Perfections
iRobot
Green Blaster
Puracy
Tesvor
SOLI Cleaning
1. Cleancult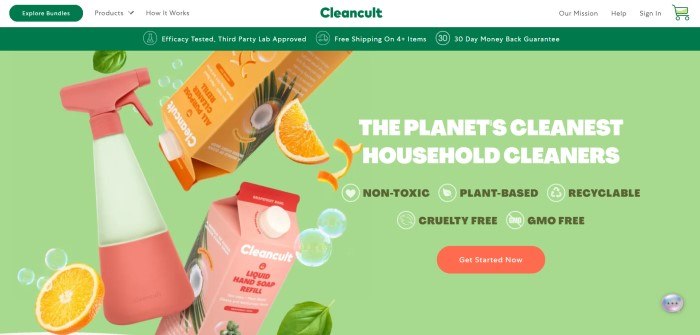 Commission: Unlisted
Cookie: 30 days
Cleancult is devoted to providing effective, non-toxic cleaning supplies such as dish soap, hand soap, all-purpose cleaner, laundry detergent, and dishwasher tablets. All products come packaged in paper-based, non-plastic wrapping. This company sells many supplies in bundles as well as individually, and it offers refillable glass bottles for mixing and using the cleaning products.
Many of the products come with options for interesting scents, such as bamboo lily, blue sage, or grapefruit basil. Soaps and similar items come in varying colors, too. One interesting thing about Cleancult is that it allows customers to ship their packaging back to the company for free so that the packaging can be recycled. Shipping is free on orders that contain four or more products, and there is a 30-day satisfaction guarantee.
The affiliate program is run through Impact. Affiliates get access to text, links, banner ads, newsletters, and exclusive offers.
Why You Should Promote Cleancult: Cleancult offers non-toxic, effective cleaning solutions at an affordable price and will recycle packaging for customers without recycling options in their area. However, Cleancult doesn't list its commission rate, so it's difficult to tell how much you could make with this company.
2. Live Simply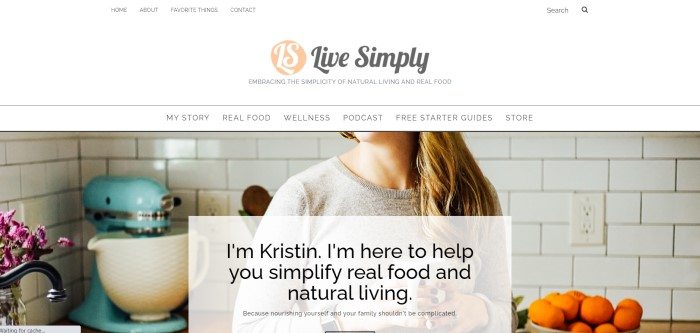 Commission: 50%
Cookie: 6 months
Live Simply promotes natural, clean living through real food and non-toxic cleaning supplies. The website is packed with information to help customers understand how to find, purchase, and use real food, along with strategies for school lunches.
The cleaning product information covers cleaning supplies for the kitchen and laundry, as well as non-toxic skincare product information and even recipes for face masks and air fresheners. This company provides several digital books and free guides for various areas of home living, including cleaning and meal planning.
In the online store, customers can purchase natural cleaning supplies such as baking soda, white vinegar, glass spray bottles, and select cleaning brands for items like laundry detergents or biodegradable cleansers.
Live Simply runs its affiliate program through eJunkie. Banners are available on the affiliate information page.
Why You Should Promote Live Simply: Live Simply is as much as an information website as it is an online store, so it's a one-stop shopping experience for people who are new to all-natural, DIY living. The commission rate and cookie length are great.
3. Clean Fortune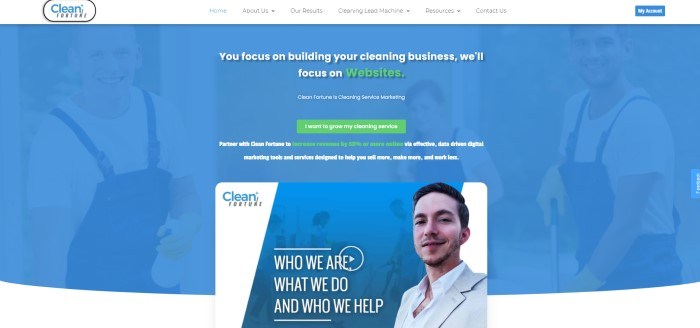 Commission: 10%
Cookie: 30 days
Clean Fortune is a cleaning service marketing program that helps cleaning services get new clients through referrals and other marketing methods. The website demonstrates high ROAS and great results on Facebook Ads, Google Maps, and other programs. In many cases, owners of cleaning businesses can triple their revenue.
Clean Fortune runs its own affiliate program and pays affiliates for promoting cleaning companies listed with the Clean Fortune database. The base commission is 10% for a new customer, and because this is a monthly service, commissions recur monthly, too. The commission rates are tiered so that affiliate marketers who bring in more referrals can make more money. Affiliates with more than 250 referrals can earn a commission rate of 17.5%.
Why You Should Promote Clean Fortune: Clean Fortune offers marketing solutions for cleaning companies, often allowing these companies to triple their revenue while spending less on marketing. Affiliates get recurring monthly commissions and the opportunity to increase the commission rate to 17.5%.
4. MyCleaningProducts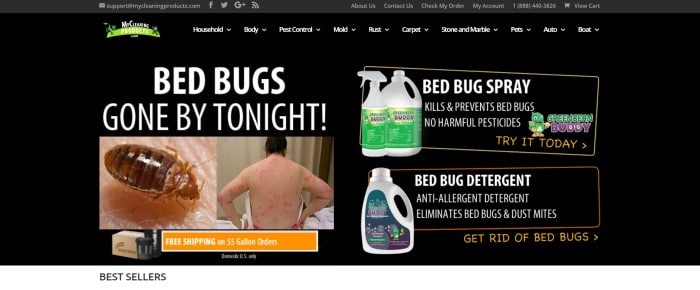 Commission: Up to 30%
Cookie: 30 days
MyCleaningProducts is an online store carrying a wide variety of cleaning products. This company sells products for the kitchen and bath, floors, laundry, mold stain removers, rust stain removers, pest control items, pet stain products, and cleaning products for boats and cars. Not all cleaning products are available in every state.
This company sells to both individual customers, with an average order value of $150-$300, and to business owners, who spend an average of $500-$5000 per purchase. Affiliates get newsletters that provide them with special promotions, marketing content, and codes. The affiliate program is run through ShareASale.
Why You Should Promote MyCleaningProducts: MyCleaningProducts has a high commission rate that can result in affiliates earning around $500 from one sale. This company carries several non-toxic products and niche products and sells to both individual customers and businesses.
5. Property Perfections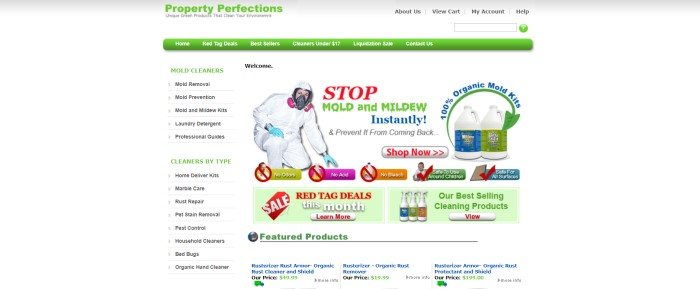 Property Perfections sells several types of organic cleaning products. Products address issues such as mold removal, mold prevention, marble care, rust repair, pet stain removal, and pest control. The store also carries household cleaners, laundry detergent, and organic hand cleaner.
One nice thing about this company is that it gives advice and information on serious problems such as black mold.
The affiliate program is run through ShareASale. Affiliates are provided with banners, text links, and ads. This company has high conversion rates as well as an average order value of $120. The cookie length is long, and affiliates earn commissions from customers making repeat purchases during the cookie window.
Why You Should Promote Property Perfections: All of the products sold by Property Perfections are organic, and they cover a long list of issues. This company provides a long cookie length with the ability to earn commissions from repeat customers, as well as a great commission rate.
6. iRobot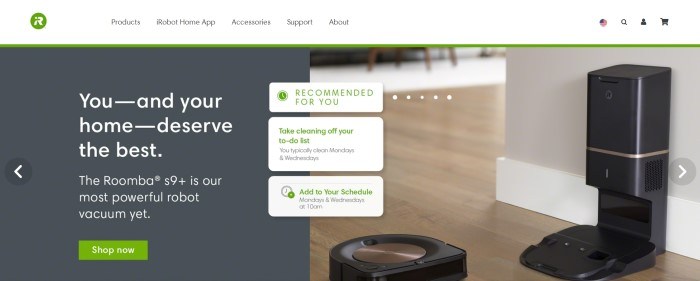 Commission: Up to 4%
Cookie: 30 days
iRobot sells cleaning robots such as Roomba robot vacuums and Braava robot mops. This company also sells robots to help with coding for K-12 and advanced students. All of the products are relatively high-ticket items, with some products starting as low as $129 and some as high in price as $899. The company also offers robot accessories and an app to help manage the cleaning robots.
One nice thing about this company is that it offers 0% APR financing through Affirm for orders of more than $399.99.
The affiliate program is run by CJ Affiliate. Affiliates are provided with banners and marketing links. Affiliates are paid monthly by check.
Why You Should Promote iRobot: iRobot carries high-ticket robot cleaners with financing available.
7. Green Blaster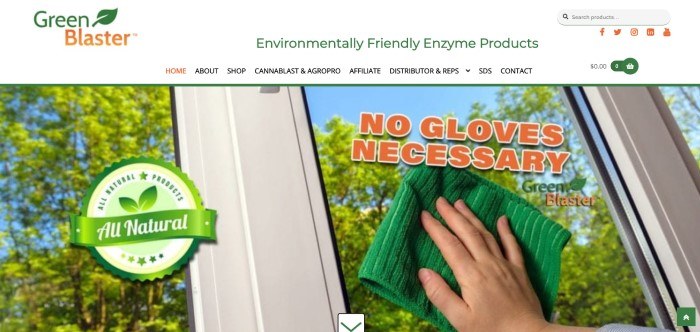 Commission: 10-15%
Cookie: 180 days
Green Blaster carries environmentally friendly enzyme products ranging from bathroom cleaners and carpet shampoo to degreasers, glass cleaners, and pest sprays. All of the products are pet-friendly, not tested on animals, made in the USA, and backed by a 100% guarantee.
Green Blaster runs it affiliate program through ShareASale. The commission rate is a little bit tricky. The base commission rate for online purchases of environmentally friendly cleaning products is 15%, with a 10% commission rate on repeat orders for up to 180 days. Affiliates can also earn a 10% commission on sales made by second-tier affiliates who sign up under them.
Why You Should Promote Green Blaster: The products are environmentally friendly and effective. The commission rate, cookie length, and second-tier commissions are great for affiliate marketers, too.
8. Puracy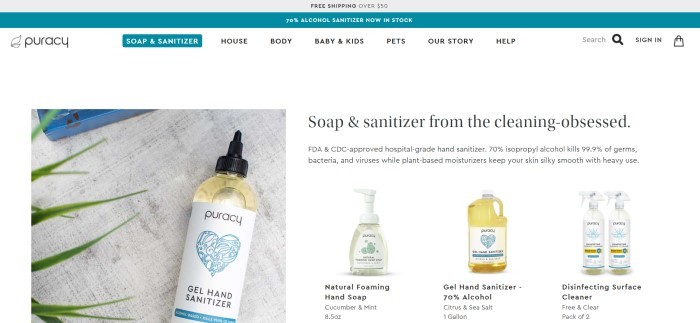 Commission: Unlisted
Cookie: 30 days
Puracy sells natural, plant-based cleaners. Customers can shop for products in categories such as soap and sanitizers, household, baby, body, and pets. This company offers a no-questions-asked money-back guarantee that customers will love the products. There's also free shipping for purchases of more than $50.
One nice thing about Puracy is that it gives a portion of every sale to support local artists and charity projects, including sustainability initiatives and programs that make life better for families.
Puracy runs its affiliate program through Rakuten. Affiliates have access to direct links and a promo calendar that they can use to market the products.
Why You Should Promote Puracy: Puracy is a recognized brand offering safe, natural products. This company gives back to local communities, too. However, the affiliate commission rate isn't listed, so interested affiliates have to directly contact the company to find out more.
9. Tesvor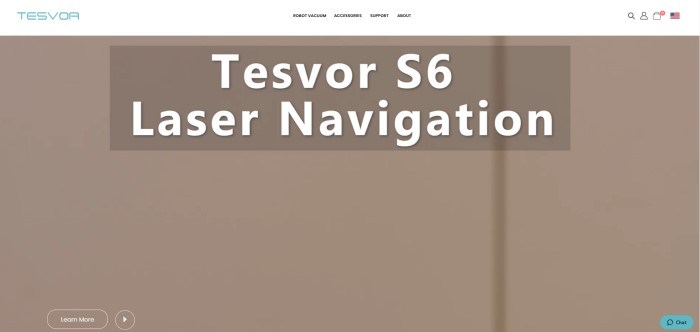 Commission: Up to 8%
Cookie: 30 days
Tesvor sells robot vacuum cleaners and accessories. The robot vacuums range in price from $199 to $320, with accessories such as water tanks priced at around $20. The average order value is $175. The robots come with a one-year warranty.
Tesvor offers free shipping on all orders of more than $145, as well as a 30-day return policy.
The affiliate program is administered through ShareASale. Affiliates are provided with promotional tools such as banners, text links, data feeds, customer promotional discounts, and a monthly newsletter.
Why You Should promote Tesvor: Tesvor sells relatively affordable cleaning robots, with a decent affiliate commission rate. Most shipping is free, and products come with a 1-year warranty.
10. SOLI Cleaning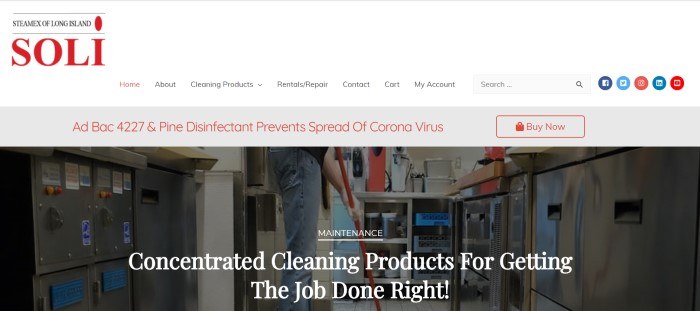 Commission: Up to 20%
Cookie: 30 days
SOLI sells a wide variety of industrial cleaning chemicals as well as renting and repairing janitorial cleaning machines. The cleaning products are concentrated and are available for both businesses and individual consumers. They include products such as all-purpose cleaners, carpet shampoos, deodorizers, acidic bathroom cleaners, and hand soaps.
SOLI runs its own affiliate program. The average order value for an individual consumer is around $150-$300, while businesses have average order values of $500-$5000.
Why You Should Promote SOLI: SOLI has a high average order value from both household consumers and businesses, and the affiliate commission rate is nice, too.
Affiliate Website Ideas
Now that you've read through this list of the top ten cleaning products affiliate programs, it's time to decide how you'll put them to use with your affiliate websites. I have a few ideas of ways that you can do this, and you're welcome to use them.
The first idea I have is to incorporate some of them into a website focused on green living as a family. Programs such as Puracy, Green Blaster, and Living Simply could be featured here. Organic foods, natural remedies, and plant-based skincare products could also be promoted on a website like this one.
A second idea is a website for small businesses. Industrial janitorial products like those sold through SOLI Cleaning could be included here, as well as accounting software, marketing programs, small business loans, office furniture, and industry-specific supplies.
One final idea is a technology website. A website like this one could promote everything from educational coding programs and high-resolution graphics cards to game consoles and PCs. Robot cleaners such as those sold through Tesvor and iRobot from the list above could also be featured here.
Boost Your Affiliate Earnings
These 10 affiliate programs are just the beginning of what's possible. There are hundreds of ways to earn affiliate commissions with your website, including product reviews, top 10 lists, how-to guides, and more
But what about traffic and conversions? How do you make sure your affiliate links get clicked?
I used the affiliate training here to turn my brand new website into a six-figure income generator in less than two years. Build a business, not just a pocket-money side project!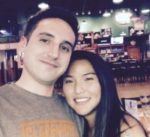 Nathaniell
What's up ladies and dudes! Great to finally meet you, and I hope you enjoyed this post. My name is Nathaniell and I'm the owner of One More Cup of Coffee. I started my first online business in 2010 promoting computer software and now I help newbies start their own businesses. Sign up for my #1 recommended training course and learn how to start your business for FREE!