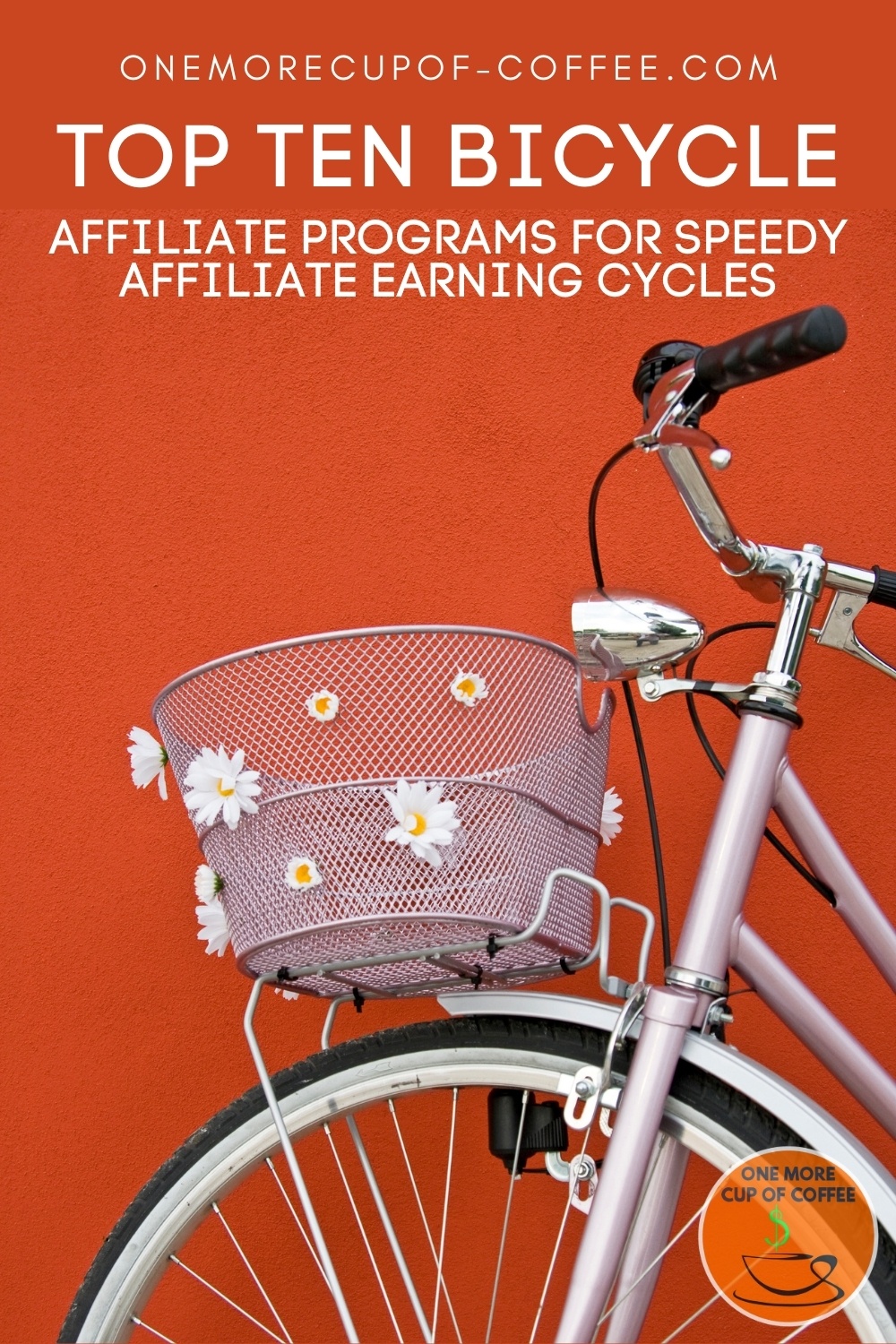 In the United States, the bicycle industry is estimated to be around $6 billion. Around 99% of the bikes sold in America are imported from Taiwan and China, but the United States does have some significant bicycle companies of its own.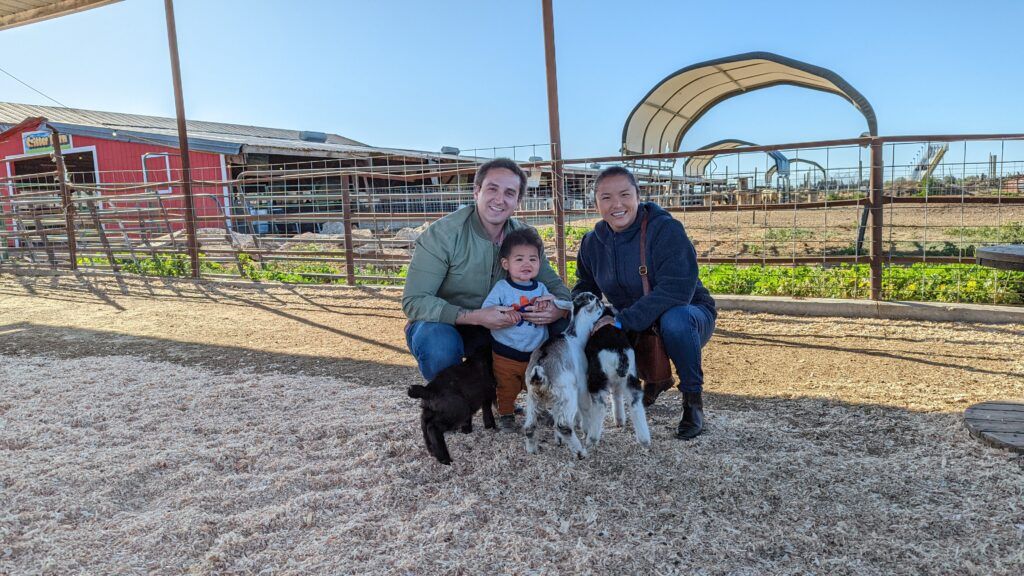 Are You Ready To Work Your Ass Off to Earn Your Lifestyle?
Are you tired of the daily grind? With a laptop and an internet connection I built a small website to generate income, and my life completely changed. Let me show you exactly how I've been doing it for more than 13 years.
As more people are looking for ways to commute safely and get outdoors during the pandemic, bicycle sales could go up. If you're an affiliate marketer looking for new niches to break into, this could be an industry to watch. The best bicycle affiliate programs include everything from high-ticket bicycles and electric bikes to budget bicycles and bicycle tour companies.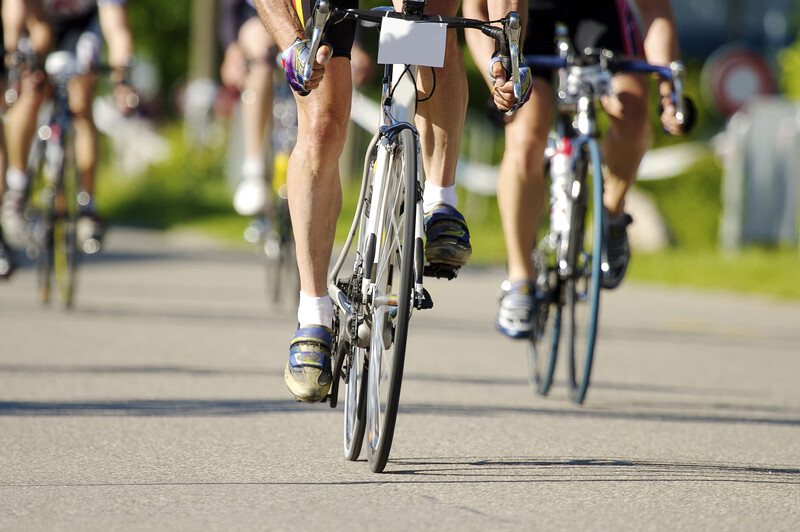 If you're interested, read through this list of the top ten bicycle affiliate programs, with an eye for how you could weave them into your affiliate websites. At the end of this list, I'll share some ideas of my own that could help get you going.
Bicycle Affiliate Programs
Trek
Competitive Cyclist
Norco
Alchemy Bicycles
BikeBerry
Jenson USA
Aventon Bikes
Bicycle Touring Pro
ICAN Cycling
Worldwide Cyclery
1. Trek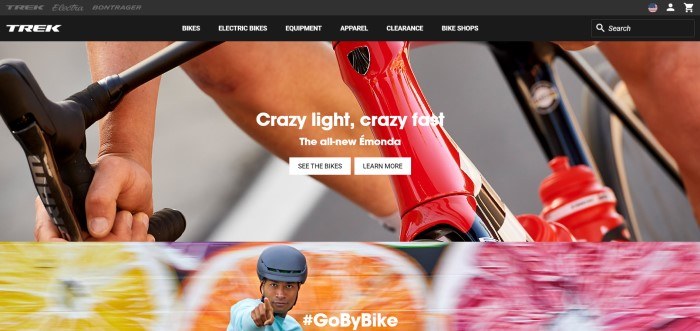 Trek makes and sells a variety of high-quality bikes that include mountain bikes, city bikes, full-suspension bikes, and electric bikes. Shoppers can search for bikes specifically for women, children, and adventures such as bike tours. This company also sells biking equipment and apparel.
Trek offers a customizing option called Project one. Shoppers who want a customized bike choose their basic model, their paint, and the specific parts they want. This company also provides a 30-day unconditional guarantee for exchange or refund and free shipping on orders of more than $50. Most orders total more than $100.
The commission rates vary depending on what customers buy. Affiliates get a 4% commission rate on most bikes, a 5% commission rate on full-suspension bikes, and an 8% commission on aftermarket products. The affiliate program is run through AvantLink.
Why You Should Promote Trek: Trek carries a wide variety of bikes to meet the needs of every type of bicyclist. The unconditional guarantee, free shipping option, and ability to customize bikes could help convert shoppers.
2. Competitive Cyclist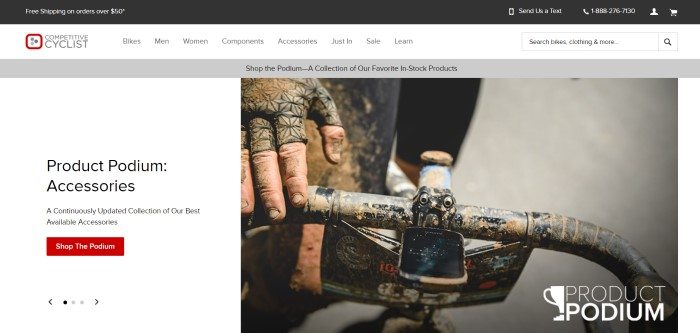 Competitive Cyclist sells bicycles, bike components, and accessories for both men and women. Shoppers can find custom builds for mountain, gravel, cyclocross, and road biking.
The website has a sales tab where customers can shop for discounted products, as well as a 'learn' tab where they can read articles on a variety of different biking topics. This company offers free shipping on orders of more than $50.
The affiliate program is run through both AvantLink and Impact Radius. Affiliates have access to banner ads, text links, and product data feeds, as well as a monthly newsletter with tips for increasing sales. The average order value is more than $250.
Why You Should Promote Competitive Cyclist: Affiliates have two ways to sign up, the commission rate is decent, and the average order value is nice. The free shipping and large selection of products are great for customers, too.
3. Norco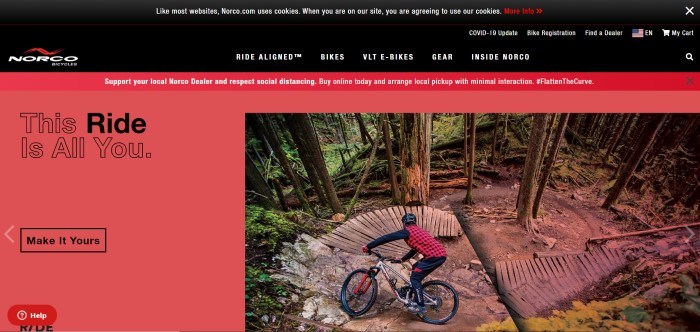 Norco makes and sells a high-end brand of bicycles and related products. Shoppers can find bikes for a variety of different purposes, including city riding, mountain riding, and more. There's also a build-your-ride customization option, and the company carries a nice selection of electric bikes, too.
Norco provides free shipping and free professional bike builds with every order. Norco products are only available in the United States and Canada, so affiliate marketers must be located in North America.
The affiliate program is run through AvantLink and provides affiliates with marketing materials such as product feeds with over 1,000 SKUs. The average order value is more than $1,200.
Why You Should Promote Norco: These products are high-ticket items, which means affiliate marketers could earn a decent commission on the sale of just one bike. The free shipping, high quality, and free professional bike builds could be converting factors for shoppers.
4. Alchemy Bicycles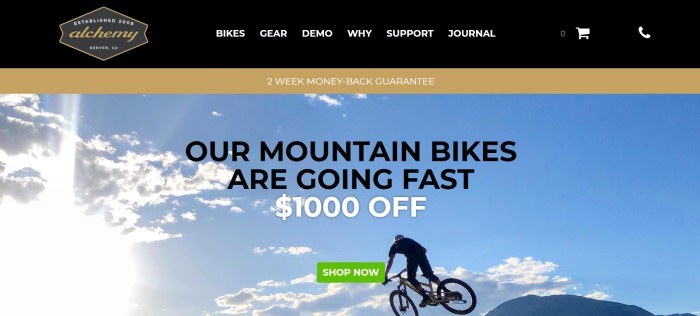 Alchemy Bicycles sells high-ticket bicycles for mountain, gravel, and road biking. All alchemy bicycles are handmade in the United States. This company offers two-week money-back guarantee and crash replacement policy, as well as free shipping for all bicycles and a guaranteed rewards program. Financing is available through the company.
The affiliate program is administered through AvantLink. The average order value for road bikes is $8,500, and the average order value for mountain bikes is $5,400. The website has a 2% conversion rate, and affiliates are able to use seasonal promotions and exclusive deals to help promote the bicycles.
Why You Should Promote Alchemy Bicycles: Because the bicycles are on the expensive side, affiliate marketers can earn decent commissions even at a 6% commission rate.
5. BikeBerry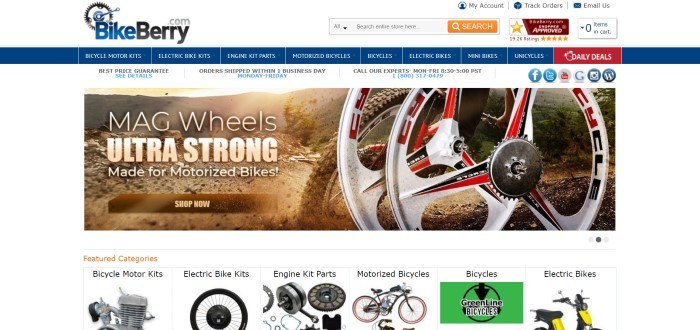 BikeBerry sells bicycles, electric bicycles, motorized bicycles, mini-bikes, and bike kits, including motor kits. This is one of the only bicycle stores I've seen with a separate tab on the website for unicycles and mini-bikes, and this makes it stand out, too.
This store also has a lowest-price guarantee and a 30-warranty on all products. Most orders are shipped within one business day. The website also has a tab for daily deals.
The affiliate program is run in-house. Affiliates have access to banners and text links. While there isn't much information about the affiliate program on the website, interested marketers are invited to contact the company for more information. There is also a link to start the application process.
Why You Should Promote BikeBerry: The lowest-price guarantee could attract some shoppers, and this store carries some unique items such as unicycles and motor kits for motorized bicycles. However, without knowing the commission rate, it's difficult to tell how much you could make with this company.
6. Jenson USA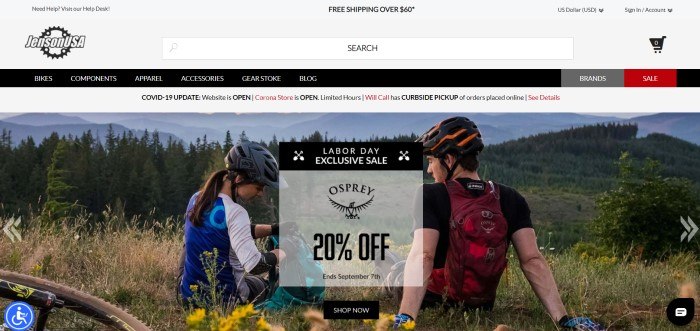 Jenson USA carries more than 30,000 different bicycle-related products ranging from bikes, components, accessories, and apparel. This company has a guaranteed low-price program, but it also carries some well-known brands such as Fox, Continental, Maxxis, and Shimano. Orders of more than $60 ship for free.
Jenson USA administers its affiliate program through AvantLink, and affiliates have access to a wide variety of marketing materials. This company has a conversion rate of 2.5%. Deal and coupon sites have lower commission rates and shorter cookie lengths.
Why You Should Promote Jenson USA: Jenson USA has a huge inventory of bicycles and bike parts, a low-price program, and a free shipping option that could help convert some shoppers.
7. Aventon Bikes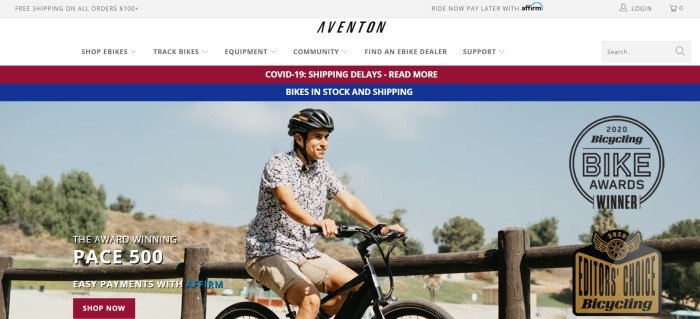 Aventon Bikes sells several types of e-bikes, track bikes, and equipment, including commuter bikes and foldable e-bikes. The website has a link for setting up payments through an external company, Affirm, and Aventon offers free shipping on all orders of $100 or more in the lower 48 states. This company also allows customers to pre-order items that aren't currently in stock.
The website has a conversion rate of 2.5%, and the affiliate program is run through AvantLink. Marketing materials include data feeds, banner ads, and more.
Why You Should Promote Aventon Bikes: Aventon focuses on electronic bikes, which could draw a niche market crowd, such as commuters. This company has a free shipping option, gives customers the ability to pre-order items, and carries some interesting items such as foldable e-bikes.
8. Bicycle Touring Pro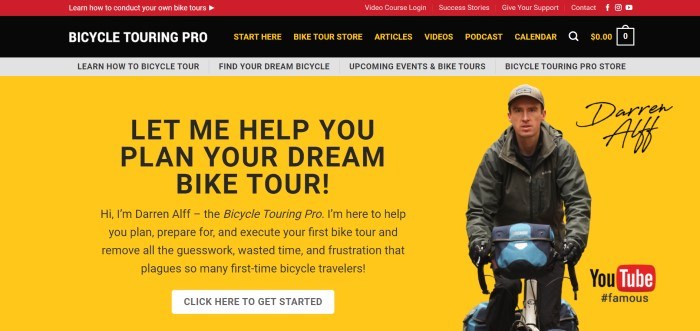 Bicycle Touring Pro is a program run by Darren Alff, a bike tourist who teaches other biking enthusiasts how to travel by bicycle and have great experiences on bike tours. The website includes information on how to bicycle tour, how to find a dream bicycle, and upcoming bike tour events.
One of the premier products is an online video course that currently sells for around $75. The bike tour shop also carries items like racks and carriers, bike bags, apparel, books, games, and accessories.
The affiliate program is run in-house. Affiliate marketers are provided with banners, text links, blog posts, email newsletters, and other marketing tools.
Why You Should Promote Bicycle Touring Pro: The commission rate is wonderful, and the online video course is unique. The items in the store are geared toward new bicycle tourists, and that could bump up the shopping cart totals from customers who are just getting into bicycle touring as a hobby.
9. ICAN Cycling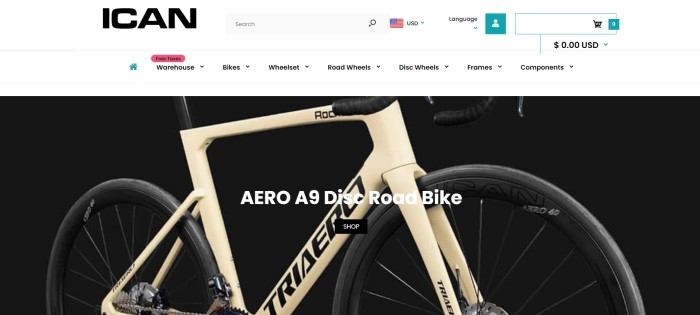 ICAN Cycling carries bicycles, bike frames, and a variety of bicycle wheels, as well as other bike components. Taxes are free. This is a global company with warehouses in the United States, Germany, Japan, and the United Kingdom, and products ship worldwide.
The affiliate program is run through ShareASale, and affiliates are provided with monthly newsletters, regular coupons and promotions, data feeds, videos, widgets, text links, and banner ads. The conversion rate is 18%, and the average sale is more than $500.
There are also bonus incentives for affiliate marketers, and affiliates can deep-link to products they like to promote.
Why You Should Promote ICAN Cycling: These bikes are relatively expensive, and the commission rates are nice, so affiliates can make a decent commission on individual sales. The conversion rate is amazing, and this company offers bonus incentives for affiliates, too.
10. Worldwide Cyclery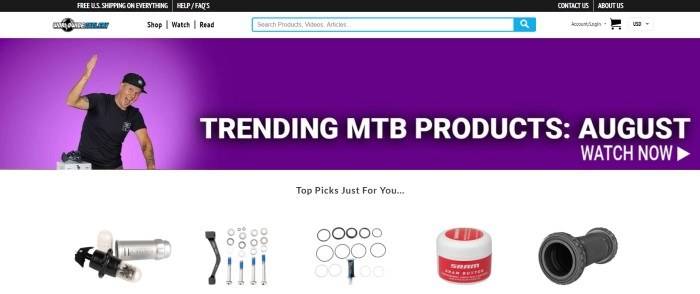 Worldwide Cyclery sells bikes, bike frames, bike components, accessories, apparel, and other bike-related items. This company provides free shipping on all orders in the United States.
Besides an online shop, the website provides informational articles to read and videos to watch and a sales section for customers who are seeking great deals.
The affiliate program is run through Affiliatly. Banners and text ads are provided to affiliate marketers. The base commission rate is 7%, but affiliates who sell a lot of products can make up to 9% in commissions.
Why You Should Promote Worldwide Cyclery: The commission rate and cookie length are great, and high-volume affiliates can earn more than the base commission rate. The free shipping, large selection of products, and informational videos and articles could attract and convert shoppers.
Affiliate Website Ideas
Now that you've read through this list of the top ten bicycle affiliate programs, how do you plan to use them with your affiliate websites? If it seems overwhelming to you, don't worry—I have some ideas to share with you that you can use as springboards for your own ideas.
First, most of the websites listed above could fit well with a website dedicated to outdoor exercise. An outdoor exercise website could also promote team apparel, soccer shoes, hiking boots, backpacks, frisbees, baseballs and bats, camping gear, kayaks, and more. Some outdoor exercise websites could also include travel insurance packages and organic snack foods.
A second idea is a website for a budget-wise living. Programs like Jenson USA and BikeBerry from the list above could be promoted as eco-friendly, inexpensive travel options. Coupon books, budgeting software, and inexpensive home furnishings could be featured on this type of website, too.
A final idea is a website for worldwide travelers. Bicycle tour programs like Bicycle Touring Pro from the list above could be valuable here, as well as taxi tours and hiking tours. Travel booking companies, travel insurance, backpacks, and luggage could also be featured on a website like this one.
Boost Your Affiliate Earnings
These 10 affiliate programs are just the beginning of what's possible. There are hundreds of ways to earn affiliate commissions with your website, including product reviews, top 10 lists, how-to guides, and more
But what about traffic and conversions? How do you make sure your affiliate links get clicked?
I used the affiliate training here to turn my brand new website into a six-figure income generator in less than two years. Build a business, not just a pocket-money side project!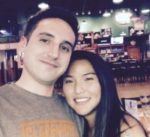 Nathaniell
What's up ladies and dudes! Great to finally meet you, and I hope you enjoyed this post. My name is Nathaniell and I'm the owner of One More Cup of Coffee. I started my first online business in 2010 promoting computer software and now I help newbies start their own businesses. Sign up for my #1 recommended training course and learn how to start your business for FREE!