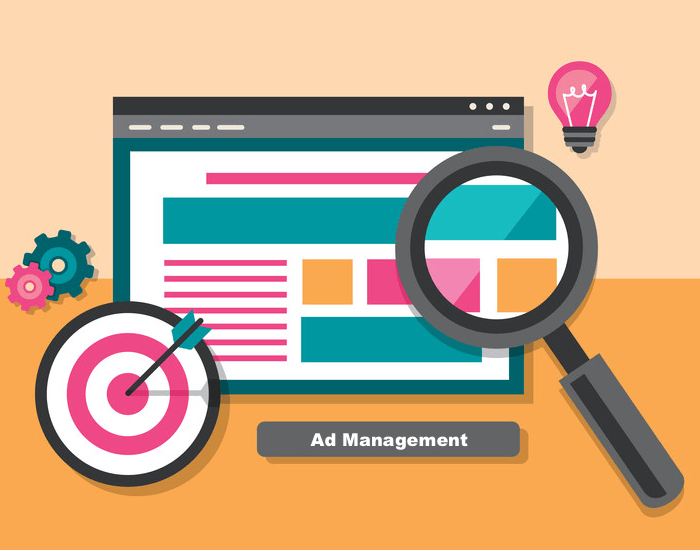 Have you heard of the 80/20 rule?
Basically it means that 80% of results come from 20% of your efforts.
Traffic is a good example.
I'd be willing to be that 80% of your traffic comes from just 20% of your content.
In other words, there's a lot of content doing NOTHING.
And just a few articles doing A LOT.
That's OK. It's very normal!
You can harness that idea to grow your business.
Don't worry about what's not working right now.
Find out what's working, and double down on it.
Look at the 20% of your posts that are performing.
How can you improve them?
For example, I use Optin Monster for email marketing.
I had a site-wide form converting at 1.35%
I looked at my top converting page for the form (data available in Optin Monster).
First I disabled the site-wide form on that page.
Then I created 3 separate forms for mobile, desktop, and tablet.
What I discovered is this: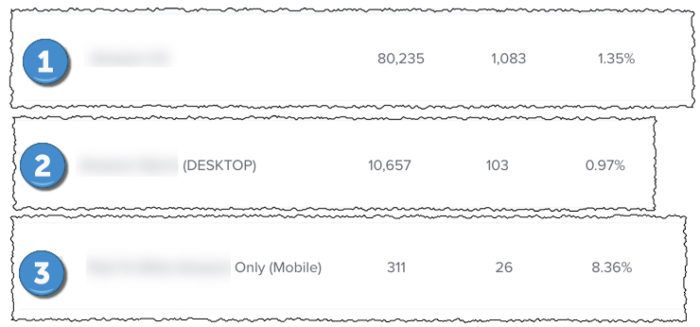 The desktop version converts at less than 1%
The mobile version converts at over 8%
Meaning: more people want to sign up via Mobile.
8% conversion rate for email opt in is a great place to start.
I could probably get that up to 20% with some A/B testing.
The desktop version I'll leave for now, but I'll continue to tweak and change the mobile form to increase conversions over time, step by step.
8%, then 9%, then 10%, and so on.
I can focus on thinking about what mindset does a mobile user have that differs from a desktop user, instead of ALL users overall.
Maybe they are bored at work. Maybe the commute a lot.
A desktop user could be stuck at home with kids though.
Different mindsets react to different offers.
Or maybe they want the same product but you present it in a different way.
In one example, my lead headline could be "Make Money Using Only Your Mobile Phone".
In another example, my lead headline could be "Work From While The Kids Are Sleeping"
This is the 80/20 principle at work.
We look at our top performing pages and make them even better.
I keep talking about Optin Monster because they have a really good setup for collecting email leads.
Maybe you don't have an email list though.
That's fine! Actually, I recommend newbies do NOT have an email list right aways because they can get super expensive.
(Work on building traffic first!)
Next up, we'll look at how to optimize your website for better conversions.
And I won't talk about email marketing any more LOL.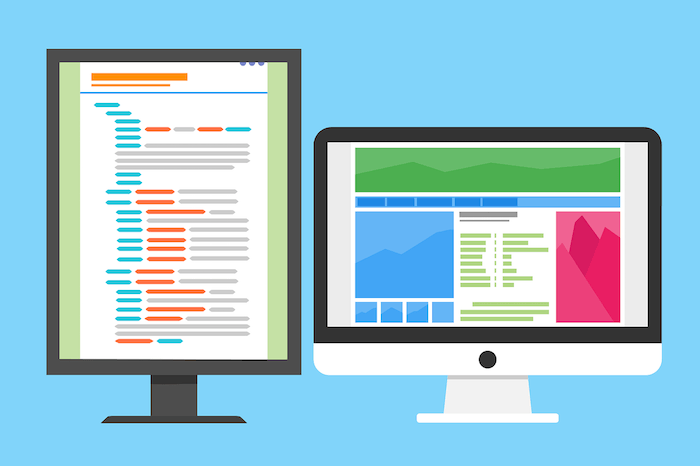 Let's move past the email marketing stuff.
Most of you are just doing affiliate marketing via search engines.
So you want to optimize your affiliate conversions on your website.
I use two tools for this.
One you probably know, one you don't know.
The first one you probably have heard of is called Thrive Architect.
This WordPress plugin is THE foremost page builder on the scene.
The innovation these guys come up with is kind of hard to keep up with.
There's always something new and amazing coming out of this team.
They have a lot of products, but their core product is arguably Thrive Architect.
It can transform ANY page on a WordPress website into a conversion machine.
Check out what I did to my home page recently.:
Before: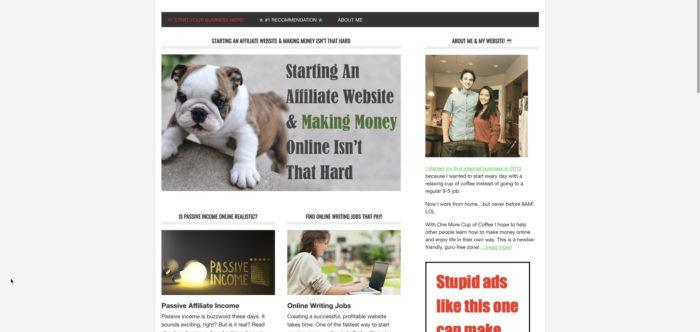 After: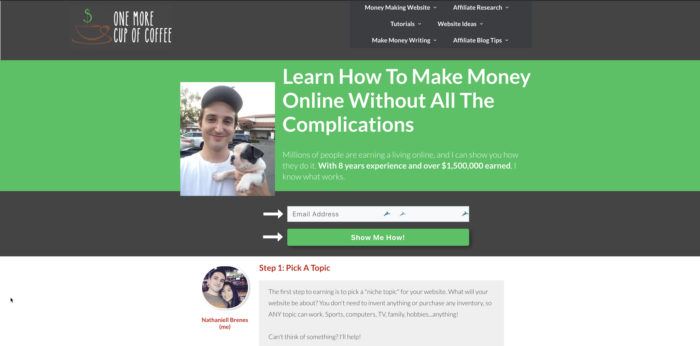 I turned my home page from a navigation page into a conversion page.
The home page of a website is often the most visited page.
Now I get hundreds more possible email signups per day, simply because I transformed my home page.
Oh, and guess what! It's a template.
I set up that page in about 20 minutes because everything was pre-designed.
You can also take old content and transform it to be more attractive.
Below, you can see how I swapped out some new images and added buttons.
Those buttons can do things like pulsate, move, and other tricks to attract clicks.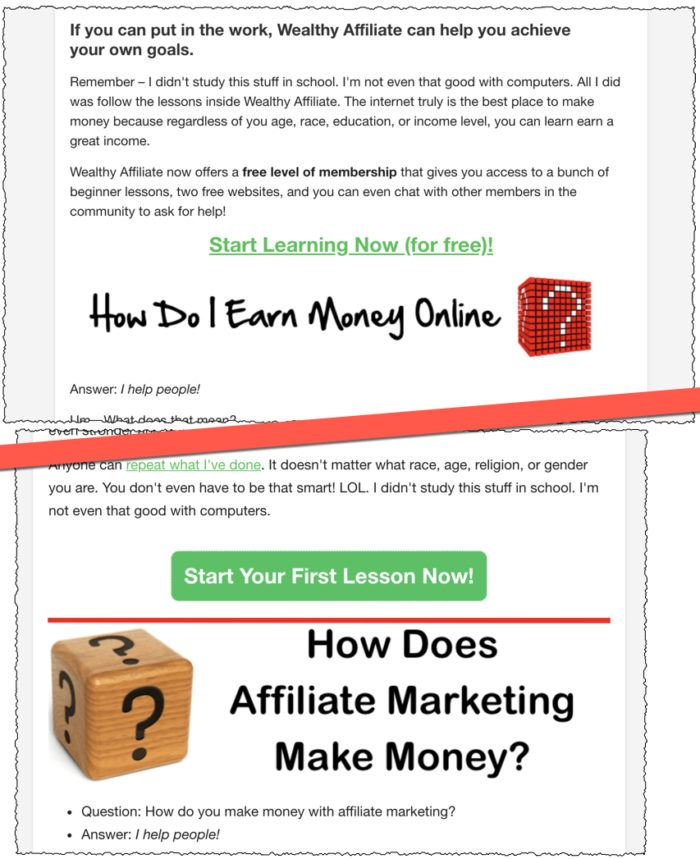 Something as simple as adding buttons instead of text links can increase clicks.
No Need For HTML Or CSS!
The best thing is that you can create amazing landing pages with no coding.
WordPress is pretty good as-is, but Thrive Architect makes it way better.
Here's was I did to the same landing page in under two minutes: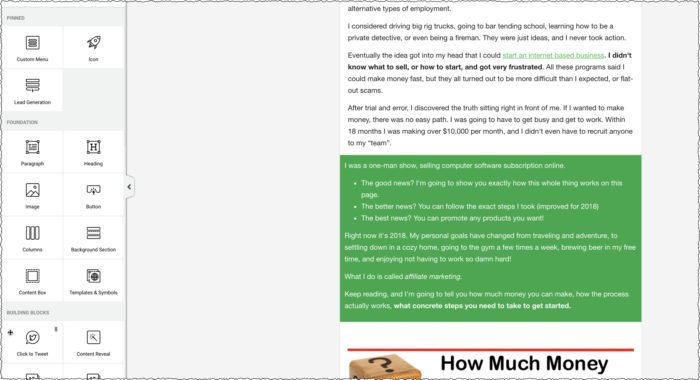 See that green section?
I just added a background element.
Then changed the color to green.
Then moved the borders in 10 pixels.
Now I have a highlighted section of the review.
I can draw special attention to this section, and break up the monotony of reading lots of text.
Less than two minutes of my time, and no coding!
Don't get me wrong, it does take some time to explore this tool. There's a lot you can do.
But at the very basics there are some neat things you can play with like colors, text styles, animations, buttons…
Oh, and this: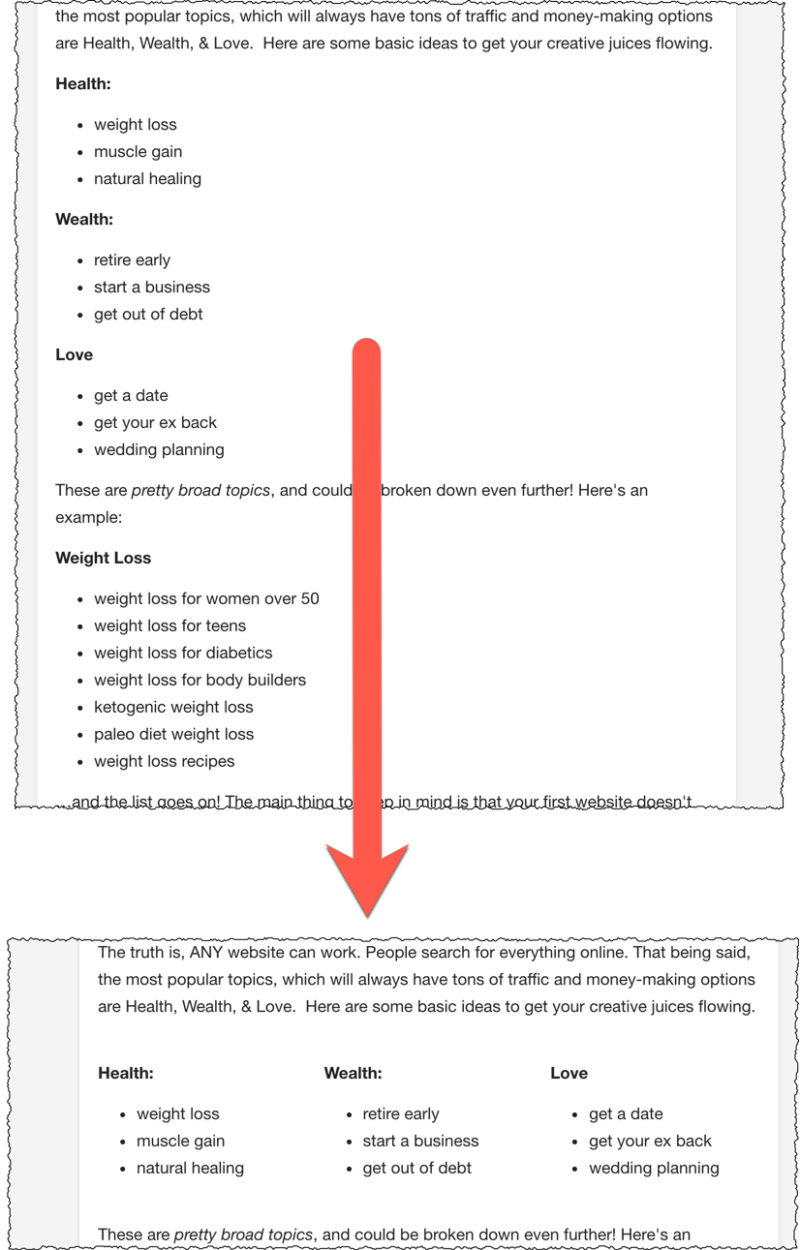 Notice how in the top version, I've got an awkward set of bullet points and a lot of boring white space?
Simply by creating 3 columns, I can make that section look more professional. Easier to read too!
Again, no coding required to do this.
I just grabbed a "column" element, then I selected the 3-column format.
I added text elements to each column, then copy/pasted my original text into each area.
Done! Just a minute to do.
Columns are great for pricing tables and for Pro/Con charts.
These WILL improve clicks and conversions.
I'm not going to list the rest of the features for now.
There's too many.
You can pick up Thrive Architect here, or keep reading to see more of what's available with this great plugin.
Let's talk about conversions next. We're getting there. One step at a time!
IMAGE
Here are four more things about Thrive Architect which can clearly help you make more money
How? By making your current content more attractive, professional, and trustworthy.
1.Star Ratings
Thrive has the ability to add star ratings with the click of a button.
You can change the color, size, background, and borders easily.
Plus, with Thrive, you can match rating systems to your color scheme.
Star ratings are a simple, yet effective tool.
They make it very easy for visitors to see what's "best".
With choice exhaustion, people don't want to read all the details.
They want the best, and in less than 5 seconds.
Star ratings gives them that!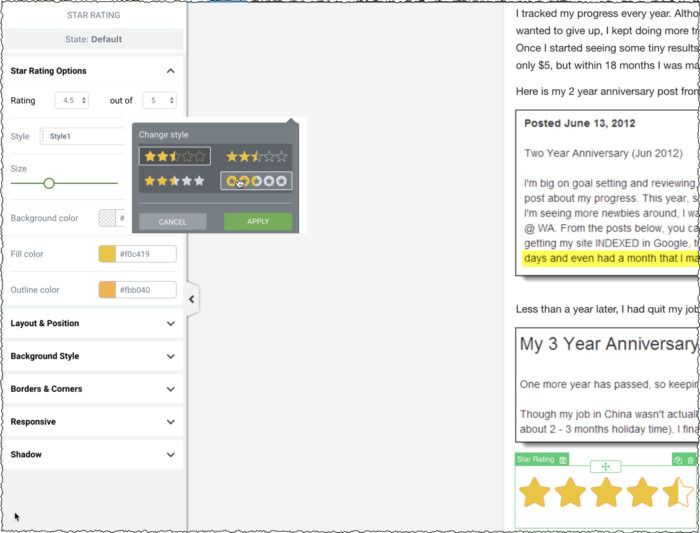 2. Pricing Tables
There are many pricing table plugins, but you get a pricing table option with Thrive at no extra cost.
Pricing tables are useful when selling your own product.
They are also produce insane results affiliate marketers.
Any "Top 5" list can use a pricing table to increase conversions.
Remember! You don't have to organize by Low to High pricing.
Just pick your favorite! People want the best, not the cheapest. "Cheap" fails lots of times, so visitors want to know which product has the most value, whatever that value may be defined as.
For example:
"Best Deal"
"Best for Professionals"
"Best Example of Feature X"
The concept here is to insert an idea into the visitors head.
"Oh, I do want to be a professional DJ, I'd better get that model"
"Oh, I really need Feature X, so I can ignore the other choices".
Best of all? I created this pricing chart bel0w by clicking a button, then I customized it to my needs.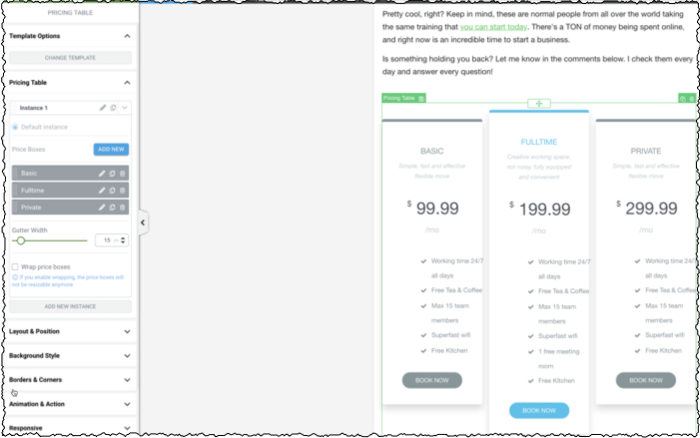 3. Call to Action
A "Call to Action" is simply telling the reader what to do.
Done reading? Buy this thing! or Sign up here!
…whatever you want them to do at the end of the page.
Very often, beginners are stuck just using a text link for their CTA.
That works find most of the time, but it can be improved.
Look at the image below to see the cool design template I chose.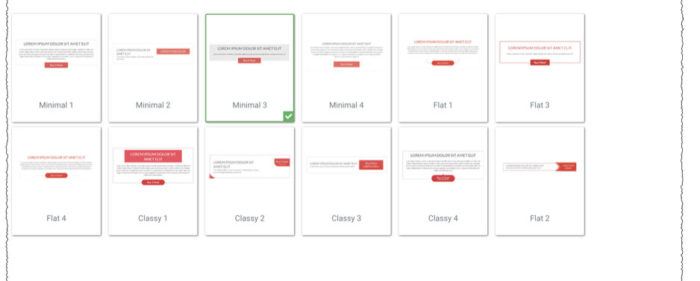 This CTA was is just a template. *Click* and it's ready. Then fill in your details.
The cool thing is that I have my theme colors saved in Thrive.
So I changed the button color by selecting from my saved color palate.
Clear CTAs can increase the conversion rate of any page.
4. Testimonials
Lastly, testimonials are a huge help with conversions.
They show social proof that whatever you promote is worth the money.
It's real customers talking about their own experience.
Depending on what you promote, you may have access to testimonials.
Or you can contact people and ask for them (DO NOT copy them form Amazon).
Actually, for a testimonial all you need is some text and a block quote.
That's available in every basic WordPress install.
But they don't look "real" unless you design them a bit.
Luckily, Thrive has several templates you can insert into your page.
Check it out below.
Cool right? Images, text, and quotation marks make these testimonials pop​​​​​​​.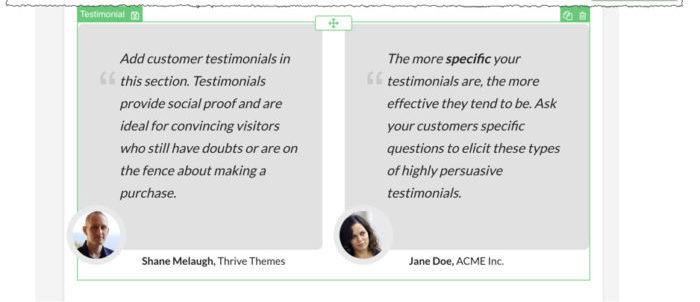 Overall, there's three takeaways I want you to get from post.
Firstly, these four elements can increase your affiliate sales.
Star Ratings
Pricing Tables
Calls To Action
Testimonials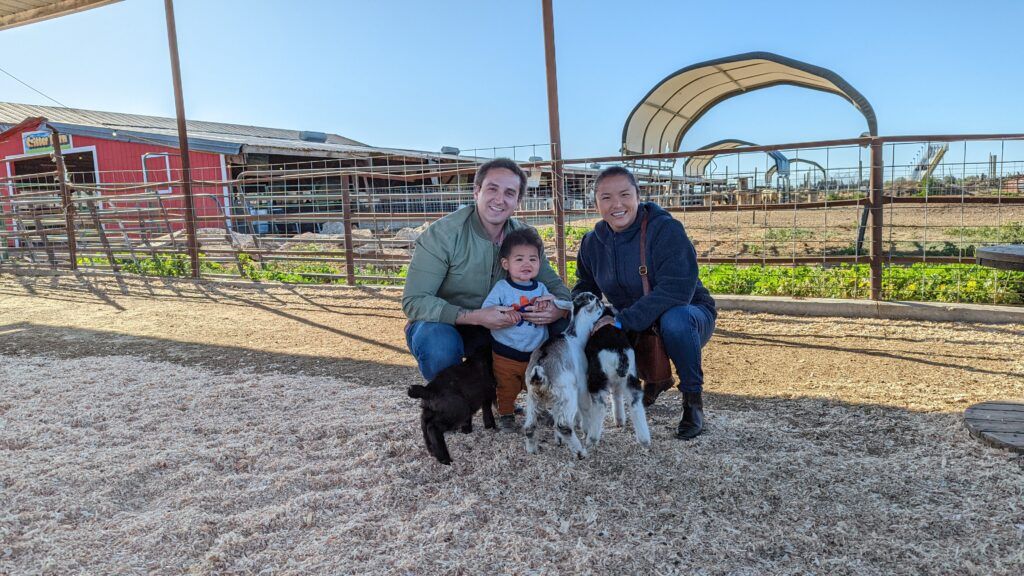 Are You Ready To Work Your Ass Off to Earn Your Lifestyle?
Are you tired of the daily grind? With a laptop and an internet connection I built a small website to generate income, and my life completely changed. Let me show you exactly how I've been doing it for more than 13 years.
Secondly, even if you don't buy Thrive Architect, you should make the effort to incorporate these into your pages.
Thirdly, Thrive makes it easy to integrate these elements in a beautiful way that requires no coding on your part.
Oh, and I haven't even mentioned their support forum.
On two instances, their support team provided me with custom CSS to edit my website the way I wanted it.
Of course, they cannot guarantee customization help, but it happens.
It takes about 12-24 hours to get a response.
Thrive Architect is $67 for a single site license.
The best deal is the 5 license package for $97.
Five installs is enough to cover your main site and a couple side projects.
OK, so we talked a lot about "what can be", e.g. there's a lot of options of how to leverage Thrive to make your site convert better.
Next I'll show you what actually happened when I installed a different Thrive plugin.
Thrive (the company) has a ton of plugins to play with.
Architect, which we talked about today, is the main builder.
But they have a second plugin I use daily now.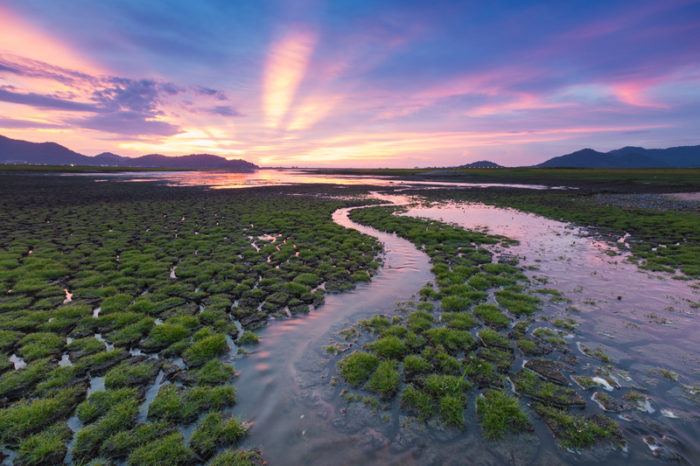 How To Start A/B Testing
A/B Testing is simply making two pages compete to see which one makes the most money.
Version 1 VS Version 2.
More money = Winner.
Then test the Winner VS Version 3
And so on.
A/B testing is perfect for when you're sick of writing content.
Instead of publishing more and more and more…
Pick the top 20% of your pages and optimize them. (remember the 80/20 rule from above?)
Turn a $100 page into a $120 page.
When I first looked into A/B testing tools I was shocked.
VWO sells for $299/month for the basic package.
WHAT.
That's crazy.
Optimizely sells for $36,000 per year?!
I'm dead.
I'm not sure I even read that right.
Don't care.
Bye.
Thrive (same guys that do Thrive Architect), are more reasonable.
They have a plugin called Thrive Optimize.
$127 one-time fee for one website.
$177 one-time fee for 5 websites.
Usually I don't talk about pricing of a product until the end or a tutorial or product review, but this is a special case.
Thrive Optimize is actually affordable for your average person.
It's great for DIY affiliate marketers.
Most of us aren't earning $30k a month, so we need some reasonable prices!
So what does this thing do?
Basically, it allows you to test conversions on individual pages.
There's good and bad news.
The good news is that it works great for email marketing.
That's super easy to set up.
Step 1: Find your squeeze page.
Step 2: Click "Create New A/B Test"
Step 3: Duplicate your squeeze page
Step 4: Edit a few elements you want to test
Step 5: Selection conversion goal (email signup)
Step 6: Star test.
The example below is set to run 50/50 of Original VS Copy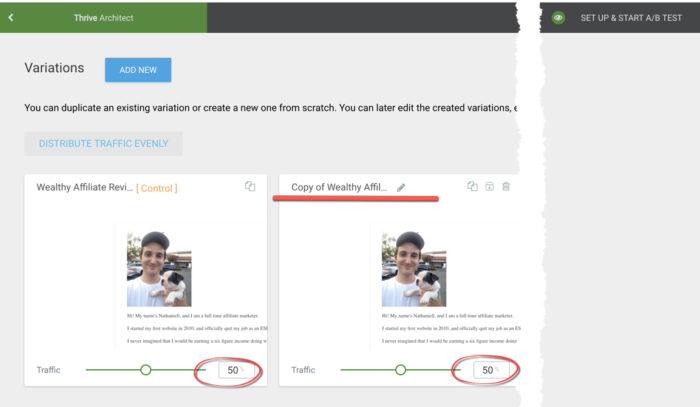 What's the bad news?
For affiliate links, we need a work-around.
To optimize our affiliate conversions, you need a little trick I thought of.
Thrive Optimize can't track conversions when people land on the affiliate vendor.
So we can track in one of two ways.
1. Pretty Link for clicks
2. Unique tracking codes via affiliate programs.
If you're using Shareasale, CJ.com, or other big networks, tracking is easy.
Step 1: Create two tracking codes
Step 2: Go to your "money page" (usually a product review).
Step 3: Place link with tracking code 1 on the original page.
Step 4: Create copy for A/B test via Thrive Optimize
Step 5: Make changes to the duplicate page
Step 6: Replace all affiliate links with tracking code 2
Step 7: Start test
Step 8: View clicks and sales on your affiliate panel to see which page converts better.
Not all affiliate panels will have good tracking option though. That's Ok though!
We can create the same effect using Pretty Links.
Instead of creating two tracking codes, we create two pretty links.
Each pretty link directs the visitor to the same landing page, but you can track which Pretty Link was clicked more to get there.
Remember, you're showing Pretty Link #1 50% of the time, then Pretty Link 2 the other 50% of the time (using Thrive Optimize)
After a few days, see which link gets the most clicks.
You won't be able to track sales this way, but you can track clicks.
Assuming that conversion rates remain the same on the vendor's website, you can estimate that more clicks = more sales.
PROTIP: ONLY TAKE ACTION ON SIGNIFICANT DATA
If you get 10 clicks on version 1 and 11 clicks on version 2, that's not significant!!
It's 10%, which seems like a lot, but that "one click" might just be an accident.
It might be due to an error or randomness, so I wouldn't make any big changes.
However, 200 clicks vs 220 clicks a big deal.
That's still 10%, but now you have a solid data set.

The image above is a test I ran for a while (this was just the first couple days of data).
Not enough data to make changes yet, but it's an example of Thrive Optimize working.
The page was converting at 3.24% originally (getting email signups)
Now I got it up to 10.87%
The "copy" is only converting at 5.32%, however, it's only a net difference of ONE subscriber.
Not actionable (yet)!
MOST of your tests will be like this.
But let's say I get 100 conversions and it's still 10% vs 5%
OK, now it's time to choose the winner!
Sometimes, you'll only get a 1% or less increase.
That's fine. Totally normal.
1% improvement each month over the span of one year is 12% for the year.
Now, instead of 100 sales a month, I make 112 sales per month.
If you make $100,000 per year, twelve percent is 12 grand.
Remember me talking about micro-improvements?
That's how .03% conversion increase can turn into $10,000 dollars.
If you bought Thrive Architect already, then Thrive Optimize is even cheaper.
(click the on the next page that says Do you already own Thrive Architect?
$97 for 5 websites! (You need Architect to run Optimize)
So if you don't have Architect yet, you can get Optimize + Architect for $127 (1) or $177 (5).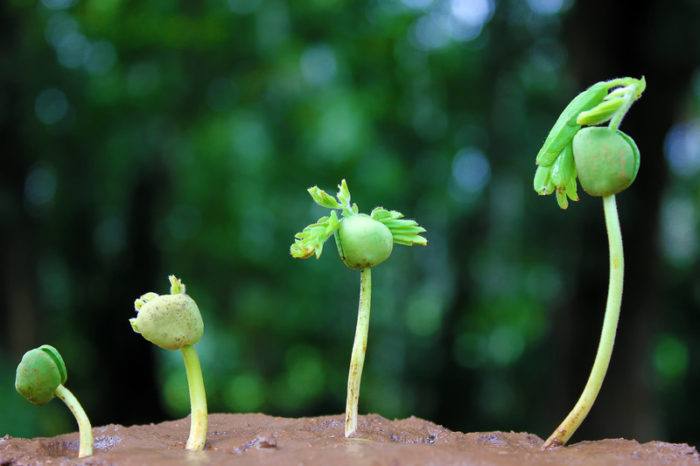 Lots of people have emailed me saying that Thrive Architect and Optimize look awesome, but they can't afford them.
Well, I have good news, bad news, and then really good news.
The good news is that for Thrive Optimize, you can probably DIY the thing.
Just use Pretty Link.
Create Version 1 of your page with Pretty Link 1.
Test for 5 days.
Write down your visitors, clicks, sales.
Create version 2 of your page with Pretty Link 2
Test for 5 days.
Write down your visitors, clicks, sales.
Compare the data.
It takes a lot more work
But the results are similar.
The bad news?
I don't have an easy solution for creating beautiful pages like Thrive Architect.
You really need code to do that.
Having a good theme is a great start, but they do not offer the same insane versatility.
The best news?
Thrive also offers a membership deal.
You can get ALL of their plugins
Plus ALL of their themes
And use them on 25 websites
For one monthly price.
The pricing system is hard to explain.
$19/month is the cheapest price, but it's paid yearly.
So that's $228 paid up front.
They also have a quarterly membership for $30/month.
But it's paid quarterly, so that's $120 up front.
Check out what plugins they have here.
So if you can't afford the $127 price for Architect and Optimize,
The $90/quarter could work for you.
Or if you really want to scrape funds together,
$228 for the year ($19/month) is hard to beat.
So what do you think?
Is optimization on your plate?
Or are you still in the beginning phase of keyword research and writing?
Looking forward to hearing from you!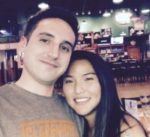 Nathaniell
What's up ladies and dudes! Great to finally meet you, and I hope you enjoyed this post. My name is Nathaniell and I'm the owner of One More Cup of Coffee. I started my first online business in 2010 promoting computer software and now I help newbies start their own businesses. Sign up for my #1 recommended training course and learn how to start your business for FREE!