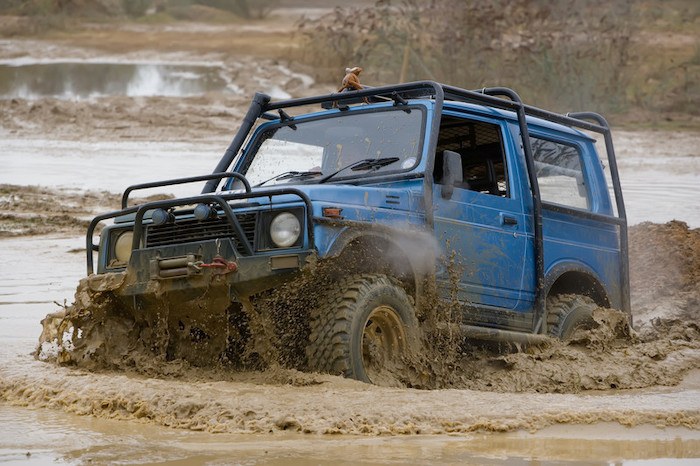 Top 5 Basic Setup & Design Tips for Newbies
My #1 tip for being successful in any business venture, especially as a newbie, is to ask for help.
Back in 2010 I knew NOTHING about online marketing. Literally nothing.
Then I saw one forum post saying that people who ask questions have a higher chance of seeing success. I don't know who wrote it, but I really want to thank that person!
I follow their advice and forced myself to ask questions every week, even if I thought they were dumb questions.
Well, look at me now! I'm a full time online marketer. So I guess the advice was good, and I'm passing on that same advice to you.
Here's how to ask questions: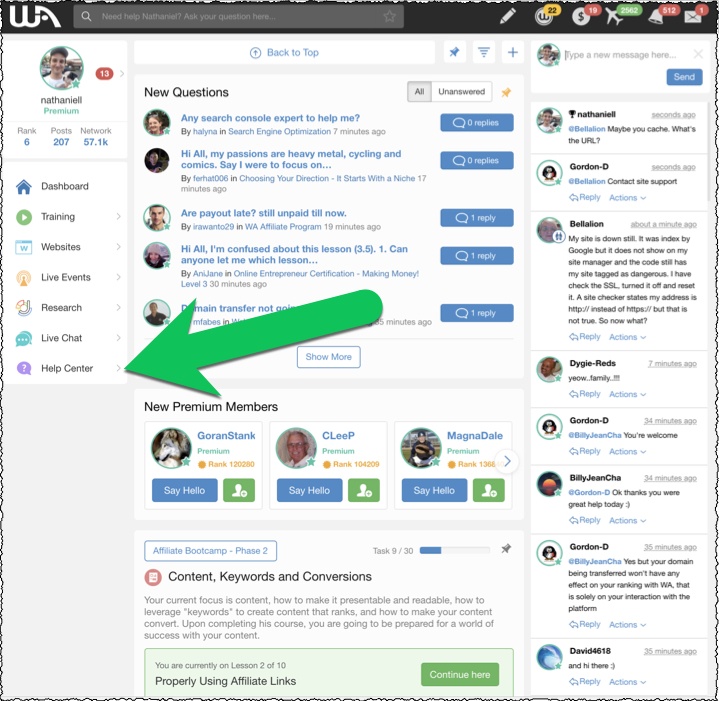 Go to the HELP CENTER
There are more options available, like LIVE CHAT, but we'll cover all of those in your next month's bonus.
Getting help is super important. But it's also kind of boring, and you want those 5 tips, right?
First, just some quick general advice about getting started.
Setting Up Your Website
Two main sticking points for setting up your website are:
Choosing a niche
Choosing a domain name
Choosing a domain name can feel like a stressful situation, but it's not that big of a deal. You can brand yourself anything at all. Don't worry about keywords.
ManlyEngagement.com is just as good (or better!) than EngagementRingsForMen.com
How To Choose a Good Domain Name: https://onemorecupof-coffee.com/domains-hosting-affiliate/
Want feedback on your domain? https://my.wealthyaffiliate.com/website-development-programming/how-to-choose-a-proper-domain-name
About Niches (the topic of your website)
Many of you have already chosen a niche. But if you haven't, or you feel stuck, here's my advice:
Finding a good niche seems like a tough task, but it's actually pretty easy. Actually, ANY niche can make money, so you definitely should not worry if your niche is profitable or not.
https://my.wealthyaffiliate.com/getting-started/is-my-niche-a-profitable-one
As far as competition goes, that's also something to not worry about. If there's competition, it just means people are making money. That means you can make some too! As time progresses, new products come out, new technology is introduced, new ideas formed, and each change is an opportunity for "the new kid" to get a foothold and overtake established websites.
So the big question is not "what" is going to make money, but "what do you want to make money with?"
What are your own interests?
What do you think would be interesting to research and write about?
What do you want to help people with?
A good sentence to help you decide your niche is "I want to help people _____"
Helping people is the best way to make money in any business. Everyone wins. Short of that, pick something that you just find interesting.
Newbie Advice #1: Ads
Don't start your site out with ads. This is the #1 mistake I want to correct on all newbie sites. Putting ads like Adsense or infolinks on a fresh site serves no purpose for you. Maybe you can sneak in a few pennies from random clicks, but you will NOT make good money from these. Your time, effort, and use of space on the website not worth it at this point.
You need TRAFFIC first!
Wait until the WA training asks you to put ads on your site. It comes in Level 3 for a reason! A website without traffic and ads will make you $0. A website with traffic and no ads is pure potential.
Newbie Advice #2: WordPress Themes
There are thousands of themes to choose from in WordPress, both free and paid. When starting out, I see lots of comments about wanting an "ecommerce" style thing, like an Amazon store or virtual shopping mall. Stay away from themes like that. Your website is not for browsing products.
It's a blog, and CONTENT will be the focus of your website. You'll be writing articles to make sale, not adding product listings like eBay or Walmart.
Content will be what drives people to your site, and it's through writing helpful content that you will make sales.
More Training on Themes: https://my.wealthyaffiliate.com/training/wordpress-dashboard-tutorial-themes
Also, newbies also gravitate to themes with lots of pictures, especially ones with 'sliders", moving pictures, or a fancy-looking front page. This stuff is going to make setting up your website difficult, and will not help with traffic or sales. Keep it simple!
Oh, and don't get a theme with crazy colors or a bunch of graphics! Simple theme works better. A plain website with awesome content can make sales…lots of sales. A "busy" theme with a bunch of moving parts is pretty, but can hurt conversions. Think: white background, black text.
Newbie Advice #3: Menus
People want to know how to "design" their website, but really, a basic WordPress theme will do all the designing for you. Just worry about setting up a menu and a sidebar.
Custom menus tend to stump people, but they are an essential part of your website navigation. Creating them is pretty easy if you know where to look. Here's a great training to get you started.
https://my.wealthyaffiliate.com/training/wordpress-dashboard-tutorial-menu
And if you're feeling up to it, you can also experiment with making custom menus for your sidebar. This is good if you don't have a footer and want to put your privacy policy, affiliate disclaimer, and "boring" pages in the side rather than at the top of your website.
https://my.wealthyaffiliate.com/training/add-a-custom-menu-to-your-sidebar
Don't waste a bunch of time making a perfect menu with a bunch of blank pages! I see newbies making a lot of blank pages because they want a full-looking website navigation menu, but this will not help your website, and may actually hurt it! Only put pages in your menu if they have content.
Newbie Advice #4: Pages VS Posts
Lots of people are confused about the difference between pages and posts. Here's a training that should explain everything: https://my.wealthyaffiliate.com/training/the-differences-between-posts-pages
In general, pages are for static content like Privacy Policy and the About Me page. Posts are where you'll publish the majority of your content.
Newbie Tip #5: SEO + Meta Descriptions
The All in One SEO Pack is a plugin that will come pre-installed on your website. The basic WA training will teach you how to set this up properly in the main settings for the plugin. Activating the plugin will create a section for a meta title, meta description, and meta keywords on each post.
You do not have to mess with this stuff. In fact, you should probably leave it alone at this point. There is a reason it's there, and a way to use it properly, but it's not vital to your website, ranking, or making money. Let's keep it simple for now ladies and gents!
So, my advice is just to not even look at it. Go to the top of your screen to Screen Settings, and uncheck the All in One SEO pack. The plugin will still be active, but you no longer have to look at it!
If you want to learn about it later, send me a PM or post a question and I'll send you link with how to use it.
IMPORTANT TRAINING!
This is an important video to follow regarding images. You only have to do it once, but it will save you time down the road. Please do this training here: https://my.wealthyaffiliate.com/training/set-wordpress-image-default-as-link-to-none after you get your website set up.
It's not a "requirement", but it's something that I do to all my sites now, and recommend you do the same.