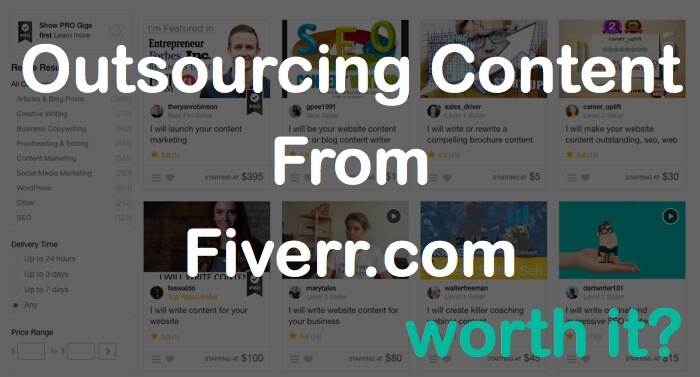 One of the most frequent complaints/questions I get from beginners building an affiliate website is that they don't have time to write, or are not a good writer, and want to start outsourcing the content. I try my best to discourage them from doing this unless they have a budget and are willing to lose a certain amount of money during the learning process. Outsourcing content can be really expensive! Of course, they hit me back with Fiverr.com, and the fact that they can get content for just $5!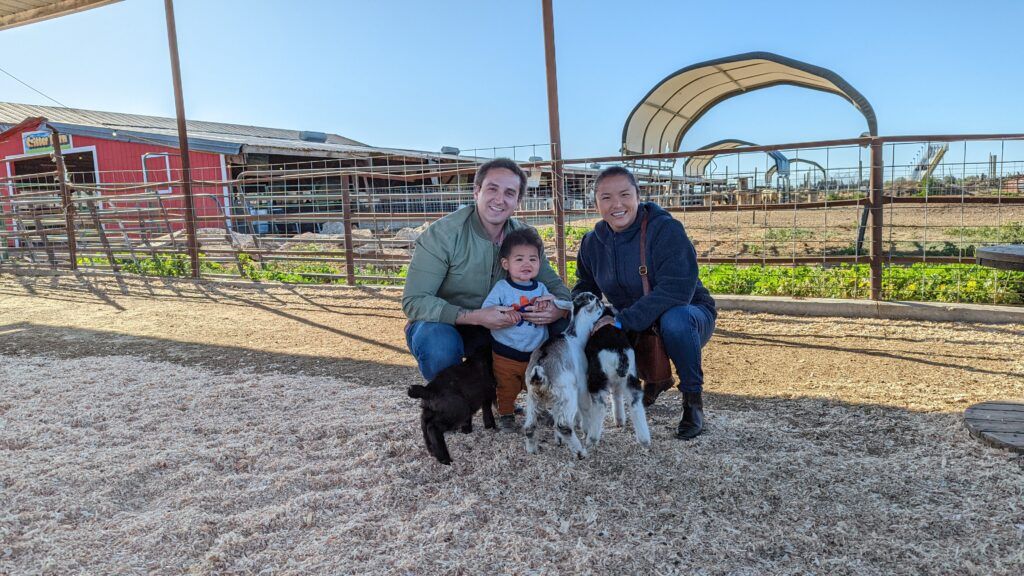 Are You Ready To Work Your Ass Off to Earn Your Lifestyle?
Are you tired of the daily grind? With a laptop and an internet connection I built a small website to generate income, and my life completely changed. Let me show you exactly how I've been doing it for more than 13 years.
True, Fiverr has grown a lot in the past couple years. It's gone from being a wacky website where you can pay someone to sing Happy Birthday on a pogo stick or draw a cute emoji version of you, into a full service-for-hire website, like Craigslist without the murderers.
But can you really outsource content to Fiverr.com and get something valuable? Could you build a successful affiliate website using content you bought on Fiverr? My gut instinct told me, "No", but I decided to try it anyway. $70 dollars later, I'm still confident that Fiverr is mostly a waste of your time in terms of finding written content. Of course, there are exceptions, and the details of my little experiment will be interesting if you're looking for the best way to outsourcing writing for your website.
I've also got some other recommendations for content creation services below, so keep reading!
Finding Good Content on Fiverr
The first issue you'll run into with Fiverr is actually finding good content for your website, AKA finding good writers. Buying content is one of the most popular gigs on the site, so it's also very competitive in terms of freelance writers vying for your attention. There are just endless profiles of writers with "100% Satisfaction Rating" and "Unlimited Rewrites" for just a couple dollars. Overpromising what they can deliver is par for writers on this website, so it's hard to know who to trust.
What makes things worse is that the reviewers are worthless as well. There are basically a bunch of non-native English speakers or newbie website owners saying things like, "Awesome. Delivered fast. Best experience ever." It's very clear these reviews were written in haste, and were not written by savvy online business owners.
So the writers are dishonest about their skill level, and the reviewers aren't really aware of what "quality content" actually is, so you are very much in the dark as to what exactly you'll be paying for. Here's a good example: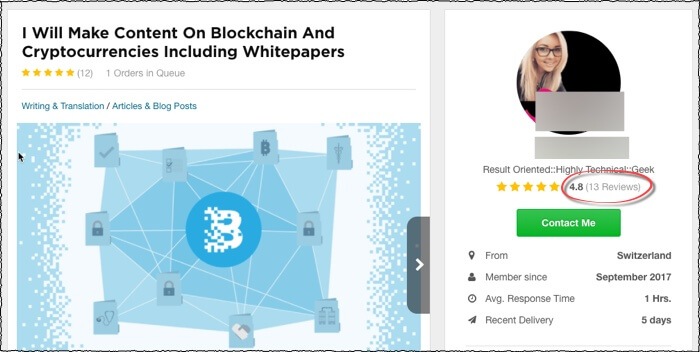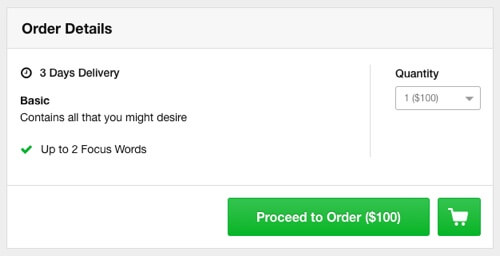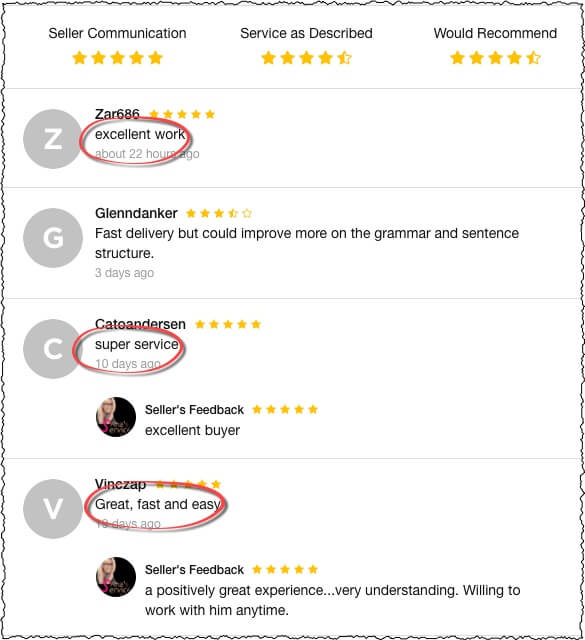 Keep in mind that some gig sellers will pull a little trick where they refund the money from any unhappy customer, so their profile appears to be perfect. I've had people refund my money and say sorry I cannot complete the task because they were too busy. I cannot leave a negative review because they volunteered to refund the money!
Anyway, I private messaged this person above because they didn't list the word count for the $100 article cost, plus I was suspicious that someone from Switzerland could write a good article in English about such a complicated subject like cryptocurrencies. When the person responded, it was clear that they had issues with English grammar, so I didn't follow up with this project.
Imagine if you had trusted all these other "happy customers" giving 5-star reviews?! You'd be stuck with a $100 article that you need to edit for English problems.
Communication With Writers on Fiverr
The communication system on Fiverr is not meant for "work flow", or any type of serious discussion on projects. They just have a rudimentary private messaging system. Depending on who you're working with, you may get responses within the day, or it may take several days.
If you are going to outsource on Fiverr, I highly recommend interviewing your writer beforehand. Sometimes they have native speakers spell/grammar check their pitches, or they may deliver excellent examples of content rather than typical examples. Suss out what type of communicator and writer they are by asking a few open ended questions. Are their responses cohesive? Can they write naturally? Are they irritated that you are wasting their time with questions?
You can learn a lot about a person in just a few sentences – at least enough to know whether or not to pull the trigger on paying for a piece of content.
It's too bad that they cannot (or typically don't) list previous work on their profile. That's one of the things I'm most interested in, i.e. examples of writing they've done in the past.
I can't be too harsh on Fiverr though! There are many other content outsourcing services where the writing staff is secret because they don't want you to steal writers. These content farms have positioned themselves as a middle man, and they don't want to be cut out! If the only useful service they are providing is finding cheap writers, then they have to protect that. I digress. The point is that it's nice you can interview your writer beforehand, so you do have some control over who is writing your content.
Speed of Delivery
Surprisingly, content delivery on Fiverr is one of the slower services I've used. The popular writers on the site can take as many as 10-14 days to deliver a single piece of written content! That's crazy, and simply impossible to run your business on that type of turnaround time. I've had individual writers that I'm working with the first time turn around a 1500 word article in 2 days, and I was satisfied with the work!
The long 10-day wait is because there's a lot of orders in their queue. So if you have a "vetted" writer with tons of good reviews, you have to wait longer for your content. If you pick a new writer, they can probably give you a 24-hour turn around, but you have no idea what kind of writer they are, so you may spend those other days asking for corrections, or making the edits yourself.
The main issue is not that it takes a long time to deliver. The issue is that if you order multiple articles, or regular articles, it'll take forever. If I was happy with this article that has a 14-day turnaround, I have to wait another two weeks for the second article! You could possibly negotiate with the writer to deliver X amount of content each week but you still have to go through the cumbersome Fiverr ordering system each time (there's no autopay option).
Of course, you cannot pull the writers off of Fiverr either. They discourage that!
In terms of consistency and delivery times alone, I can't recommend Fiverr as a place to get your content.
Price-Value Assessment
Though Fiverr's name lives on, it's rare to find a gig that's actually sold as a $5 gig right now. Most gigs start at $10-$20, and then go up from there as you add "bonuses". One annoying thing is that I'll click a link that says something like "I'll write you a full search engine optimized article for $30". After you click the link, you find out it's a 400 word article. Each 100 words after that costs $5, so for a 1000-word article you'll still pay $30-$50.
As shown above, some writers really overestimate the value of their skill and charge up to $100 per article! For specialized content, that's not unheard of. For general niche content marketing stuff like you'll find on this website, it's way too expensive.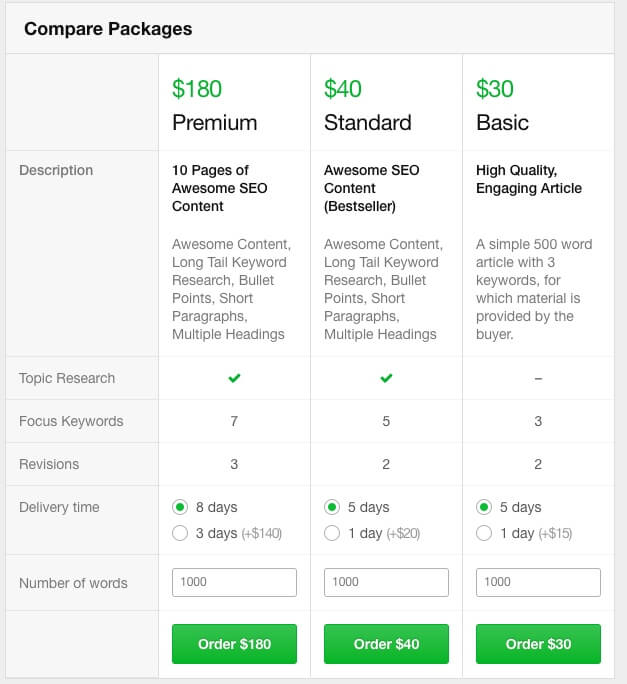 I paid $31.50 and $36.75 for two articles. That's about $0.03-$0.04 per word, which is pretty inexpensive, but not crazily cheap. The price range for writing generally falls between $0.01 to $0.10, depending on the topic, the writer, and the details of the work. Three to four cents is a reasonable price…if you can use the content. If you can't use the content because it wasn't publishable, then the value of said article is zero and you just wasted your money.
From my experience, you get a very high price/value ratio on Fiverr.com. That means even though the cost of the content is low, the quality of the content is even lower. Of two articles I ordered, only one was publishable. The other was not publishable even after one round of edit requests.
My Content Results
Even of the article that was published on my blog, the quality was just okay. It was mediocre at best. It was not something I would be proud to represent as my own writing, but it would suffice for an inexpensive piece of content. You can view the published article on my about the Best Real Ale pubs in the UK and let me know what you think. Am I being too harsh? This article cost me $31.50. I did a few edits to the beginning to personalize it, and edited some of the grammar problems throughout.
Previous Content
Do not miss the pork pie and the cheese rolls while you are there. Do not forget to get the famous Captain Cod fish & chips just down the road…
Edited Content
Don't miss the pork pie and the cheese rolls while you are there, or you can get the famous Captain Cod fish & chips just down the road.
Previous Content
A real ale is made of only traditional and natural ingredients like barley, yeast and hops water. It does not use any external source of carbon dioxide.
Edited Content
A real ale is made of traditional and natural ingredients like barley, yeast, hops, and water, just like any other beer. What's notable about it is that it does not use any external source of carbon dioxide
See the difference? These are minor things which can be corrected, but even with the second example, I had to restrain myself from just deleting the whole paragraph and rewriting it myself. I know a lot about Real Ale (more than the average person), so I was able to tell when writers were incorrect in their facts or when they were just writing general information about beer versus Real Ale. I already knew what should have been written, so I was able to correct the mistakes (on top of grammar issues and writing style problems).
What happens if you're not an expert? Will you be able to spot the problems and publish great content to your niche website? Here's an example of a glaring error that could ruin the entire article!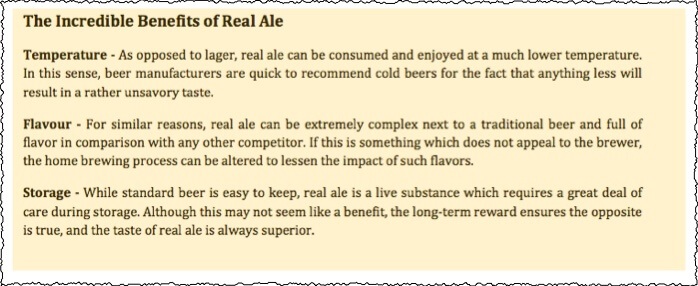 This excerpt was from the second article, that was going to be titled, "What You Need To Know About Homebrewing Real Ale", where "Homebrewing Real Ale" was the keyword. There are many mistakes in this short excerpt, including that Real Ale is "more complex" than "traditional beer" (not to mention that Real Ale is traditional beer instead of the other way around). Also, Real Ale is consumed at a higher temperature than most other beers, while a lager is fermented at a lower temperature than ales, which has nothing to do with the content piece.
I have many other nitpicks about these three small paragraphs, let along the rest of the article. I simply couldn't publish it. I asked for a rewrite on the section above, just to see what the writers reaction would be, and to be fair, they rewrote it and admitted the error. Kudos. It was still junk though.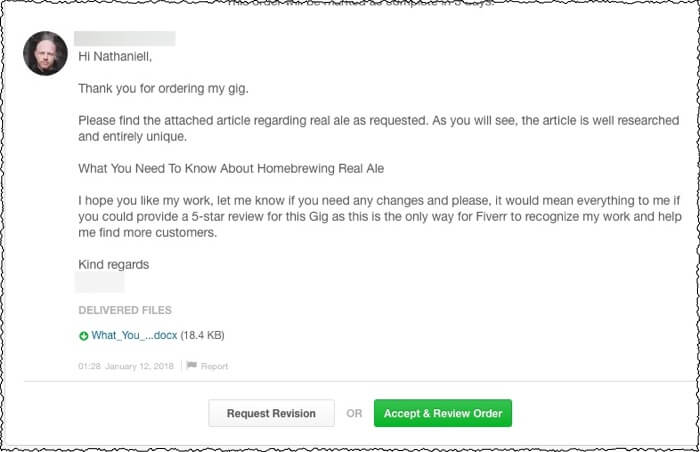 Would I Recommend Fiverr.com For Outsourcing Content?
I would almost never recommend Fiverr.com for outsourcing written content. It's extremely hit and miss whether or not you get a good writer, and I think most native English speakers are going to move onto greener pastures where they can get paid better, with a less demanding, less penny-pinching set of clients. In my experience, most of the writers on Fiverr are trying to turn out the minimum quality for the minimum price so they can make a few extra dollars.
Can you find good writers here? Yeah, there are some. They are few and far between though, and you'll need to experiment with a lot of crappy writers to find that one good one. Once you to, it's probably in both your interest to start paying off of the Fiverr site and have your own projects lined up through Paypal. Of course, that will compromise your account, so proceed with caution!
I did used to frequently use Fiverr for graphic design though! I like using them for simple logos. I think you get much more value there. Someone in a developing country can whip up a $10 logo in 30 minutes or less, and both buyer/seller get good value out of that time. However, due to time constraints of researching and writing, I just don't see the same value for writing projects I've purchased through the website.
I have a strong distaste for content farms and the low-quality, uninspiring content they deliver, so my current top recommendation for outsourcing is UpWork.com. Though you do need to post a more in-depth job posting, provide more direction for the project, and usually pay a bit more, the results are better. In my experience as an online business owner, I'd rather pay double the price of cheap work and have it done the right way, the first time, rather than have it done cheaply, then have to pay someone to fix it later.
It's a mistake I have made over and over again, even just a couple months ago. Pay for quality up front, and enjoy the results rather than save money now and cringe at what's delivered. If you can't afford to outsource, then do the work yourself. If you don't have time to write, then buck up and pay. If you don't have time or money, you need to make some life changes to fit one or the other into your schedule.
RANKING UPDATES
A few months later, I decided to see if the content actually ranked. To my shock and surprise, the article was ranking on page one, for multiple keywords. I would like to congratulate myself for finding an excellent, low competition keyword, that was also easy to write for. J/K. Kind of. It was good research and a good assignment on my part, but I guess the content was written well enough to rank. I'm sure that with some future content linking back to this page, and a little bit of engagement in the comment section, as well as some post updates I could make it into the Top 5.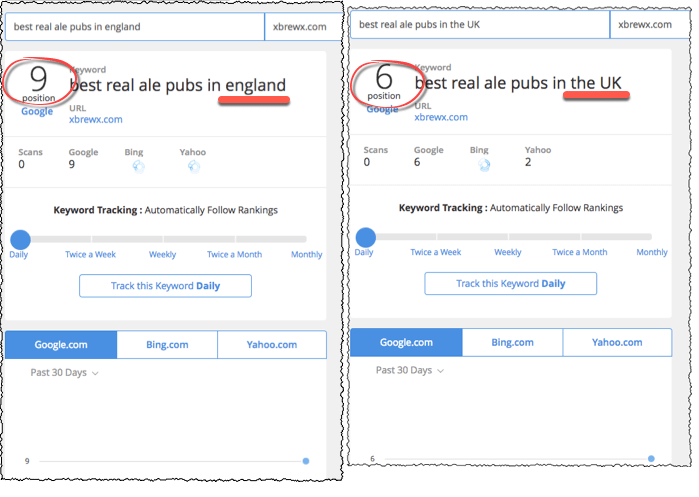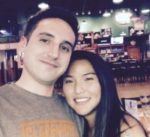 Nathaniell
What's up ladies and dudes! Great to finally meet you, and I hope you enjoyed this post. My name is Nathaniell and I'm the owner of One More Cup of Coffee. I started my first online business in 2010 promoting computer software and now I help newbies start their own businesses. Sign up for my #1 recommended training course and learn how to start your business for FREE!