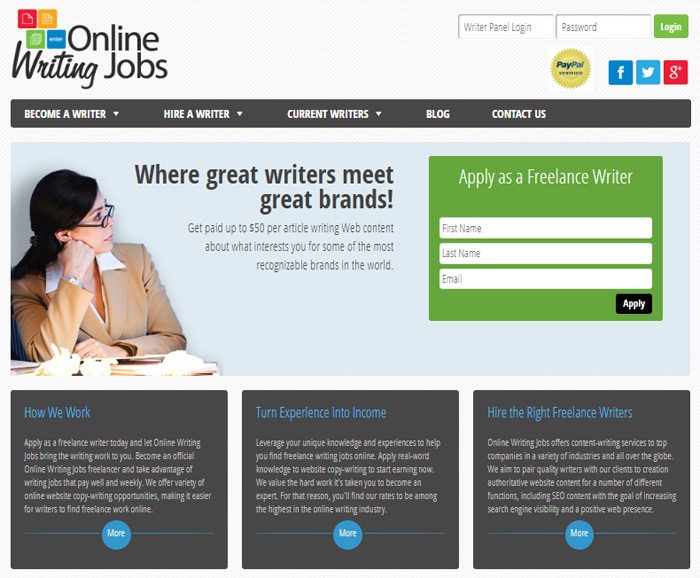 I found this website while looking for interesting new websites that offer freelancing opportunities. I have actually been looking into more and more of these kinds of sites, because freelance writing online actually has the potential to make a pretty decent side-hustle.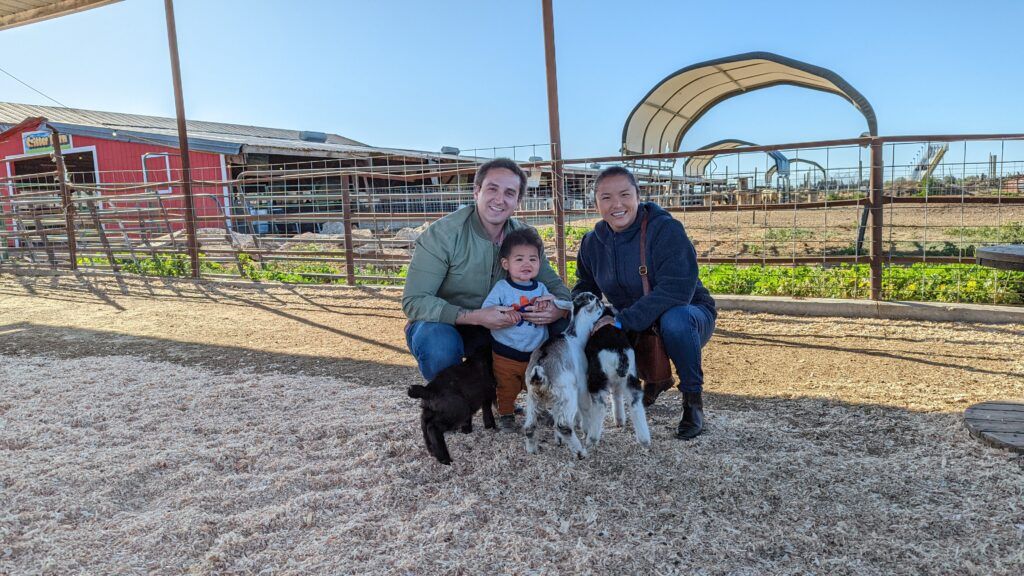 Are You Ready To Work Your Ass Off to Earn Your Lifestyle?
Are you tired of the daily grind? With a laptop and an internet connection I built a small website to generate income, and my life completely changed. Let me show you exactly how I've been doing it for more than 13 years.
But can you really make money writing for OnlineWritingJobs.com?
Making Money Writing For OnlineWritingJobs.com
To begin with, let's take a look at the site itself.
At first glance, this seems to be one of those websites that brings freelance writers and those looking for them together. But, it does so in an interesting way.
On the landing page, under the 'How We Work' section, they basically say that you can join as a freelance writer, attempt to become an official Online Writing Jobs Freelancer, and take writing jobs that you will get paid weekly for.
They say that they offer a variety of different online copy writing opportunities, and that the site is basically designed to help writers in their search for freelance work.
The business model seems pretty simple to me.
They find clients who need written content, they bring in writers as freelancers, they match the freelancers up with writing jobs, they get paid for the jobs written, pay the freelancers, and probably keep some kind of fee or percentage to cover their own costs and to give them a paycheck as well… and that is that.
This is not the first site of this kind that I have looked at. In fact, back in my earlier 'bad days' of freelance writing, I even tried a service like this.
It worked out pretty well for me, though back then, with what that particular service was paying, I quickly realized that I could actually make a lot better money finding my own clients.
But I wasn't so sure about this one. Would writing for OnlineWritingJobs.com end up being worth the time? Could a writer make good enough money, and find enough work, to make it viable as a side hustle?
Here is what I found out.
Taking A Closer Look At OnlineWritingJobs.com
The first thing that I noticed upon visiting the landing page was that there were five main tabs.
Become A Writer
Hire A Writer
Current Writers
Blog
Contact Us
It was interesting to me that the 'Become A Writer' tab was first in line, though I am not sure whether this is simply random, or whether this means that finding quality writers is their first priority.
Either way, I decided to go to the 'Hire A Writer' section first, just to check it out.
Here is what I found.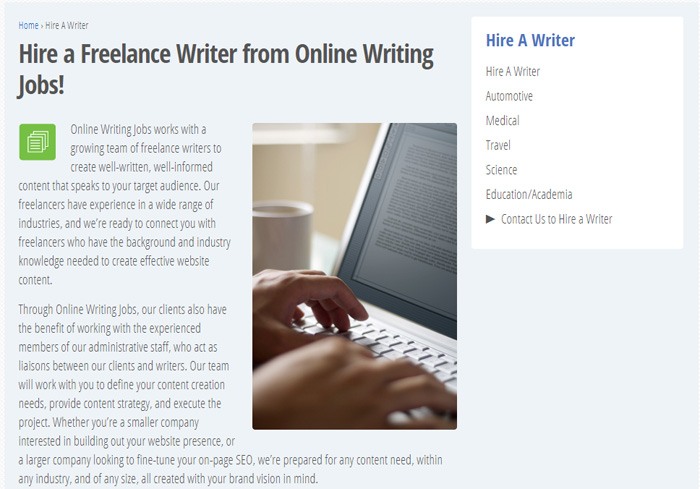 So yeah. Here I found some content that basically talked about what it took to hire writers through this service. This is essentially a content creation service that is most-likely going to be employed by websites looking for inexpensive, but high quality content.
Contacting this site to set up a content order seems pretty straightforward. There is a form that you fill out with your name, website URL, email address, phone number, a description of the type of content you are looking for, and a space asking how you came to hear about their services.
This all seemed pretty straightforward. I must say, the site looks really clean cut and neat at this point. I liked the design, the content on the site was well written (it ought to be, right?), and I liked how everything was laid out and arranged.
No pricing of any kind was mentioned yet, but I still hadn't really gotten to that point.
How much do writers earn on OnlineWritingJobs.com?
I assume that, like most sites, the prices tend to vary based on a lot of different factors. Of course, as a writer, my primary concern is finding fair compensation for my efforts. So that was the search that I embarked on next.
Writing For OnlineWritingJobs.com
To learn about what it takes to become a writer on this site, we backed up and visited the 'Become A Writer' tab. There was actually a lot to be learned on this page, so I will go through the main points here.
First of all, the site is looking for writers who are comfortable writing in a variety of fields. This includes, but is not specifically limited to…
Automotive
Education/Academic
Medical/Health
Science
Technology
Travel
They also say that they work with B2B and B2C companies. They also mention that their service is an SEO content writing service, so it would seem that a good portion of the work available here will probably have some SEO involvement of some kind… which is not unexpected.
Some other sites focus on SEO to some degree, like Rank Pay.
Applying to become a writer on this site is actually not that difficult. First of all, you need to complete an online writer application form. You also need to submit a custom writing sample using instructions that are provided for you on the site.
Next, you need to submit a completed W9 tax form (as expected for a service like this). You also need to submit a copy of a valid photo ID, such as a driver's license or passport.
They say that they review samples and submissions within 3 business days and that they will follow up with an email to let you know the status. They also make a note towards the bottom of the 'How It Works' section that they currently have online writing jobs in the following categories:
SEO Content Writing
Copywriting
Blogging
Subject-Matter Expertise
So yeah, it does sound like they stay pretty busy here. But I still had some questions that didn't get answered here (like how much you can expect to earn). So to learn a bit more, I went to the FAQ page.
This proved to be pretty informative, to be super honest. I learned a number of facts about the site by perusing this page. Here are just a few little bits of information that I learned.
This site was once known as QualityGal.com
They have been in the freelance writing business since 2006
It does not cost anything to join the site or to be a member of their community
They also provide many resources to help their writers free of charge
Deadlines are determined case-by-case
Their rates vary depending on many factors. On the low end of the spectrum, they pay about $15 per article. But they also pay as much as $50 an article on some projects. So how much you could earn would vary greatly.
They pay out weekly, and send checks out every Friday
They also offer payment via PayPal
They hold your application for 90 days if no positions are currently available. After 90 days, if you have not heard back from them, you can reapply.
If you are not accepted, then you can wait six months and apply again
So yeah. This actually covered the majority of my questions about the site. But I was also interested in checking out the 'Writer Testimonials' part of the site, just to see what other writers had said about the service.
So that is what I did next.
Checking Out Writer Testimonials On OnlineWritingJobs.com
So I checked out this page and read through some testimonials. It is pretty much exactly what you would expect it to be—an entire page dedicated to testimonials written by people who have written content on OWJ.
Obviously, the site is only going to post positive testimonials. So yeah, that is a given and I know that it may seen redundant. But in reading through these, I noticed a trend.
Most of them reference how professional and helpful OWJ was, and to be super honest, I do not doubt this. The site does seem to be well-done, and I don't feel like it would be a bad option for someone looking to get a start with freelance writing as a side-hustle.
My Personal Feelings About Writing For OWJ To Make Some Extra Money
Personally, I liked OnlineWritingJobs.com. The good thing about it is that it would really help freelancers to find good work. The downside is that this work may not pay as much as work you could find elsewhere.
But then again, this site is literally doing most of the heavy lifting for you by locating and securing writing clients. I don't know if you have ever tried finding writing clients for your freelancing side-hustle, but I can tell you right now that this is one of the more difficult parts of the job.
So for a lot of writers, this might be an awesome thing.
Will I end up using it?
That kind of depends. I may, depending on how my search goes. It certainly wouldn't hurt to give it a try.
One thing to keep in mind is that websites like this will not make you rich. They will also not necessarily help you to earn any passive income. But they can provide you with some cool writing work if you are good enough to get accepted—and that is pretty awesome.
Our Final Opinion About OnlineWritingJobs.com
Should you apply and try to make some extra money writing content for them?
There are a lot of ways to make money online. Some are good, some not, but ALL of them are still just trading hours for dollars.
Starting your own affiliate website really is the best way to build passive income and "make money while you sleep". Affiliate websites earn income in every timezone, and can be instantly accessed by billions of smartphones across the globe!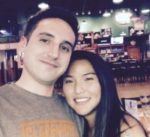 Nathaniell
What's up ladies and dudes! Great to finally meet you, and I hope you enjoyed this post. My name is Nathaniell and I'm the owner of One More Cup of Coffee. I started my first online business in 2010 promoting computer software and now I help newbies start their own businesses. Sign up for my #1 recommended training course and learn how to start your business for FREE!