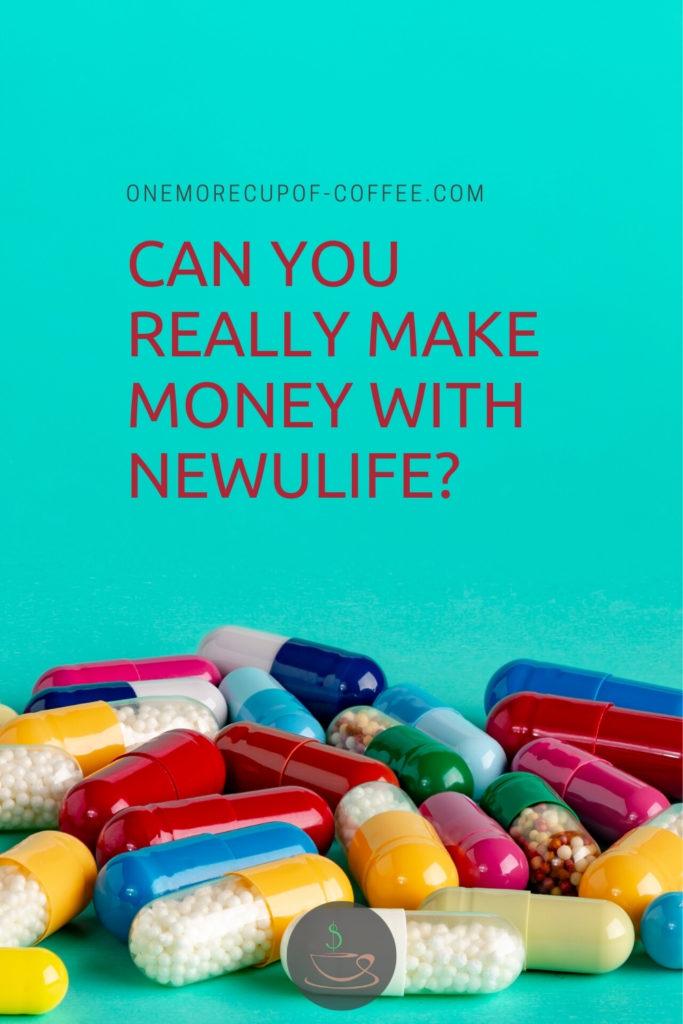 NewULife is a health company, one that focuses on the human growth hormone as a powerful ingredient. Their main product is SOMADERM Gel. It's incredibly unusual, as human growth hormones cannot normally be purchased without a prescription in this manner.
This product focus plays right into the idea of health and wellness. Human growth hormone has even been linked to anti-aging, so there is plenty of demand in the field.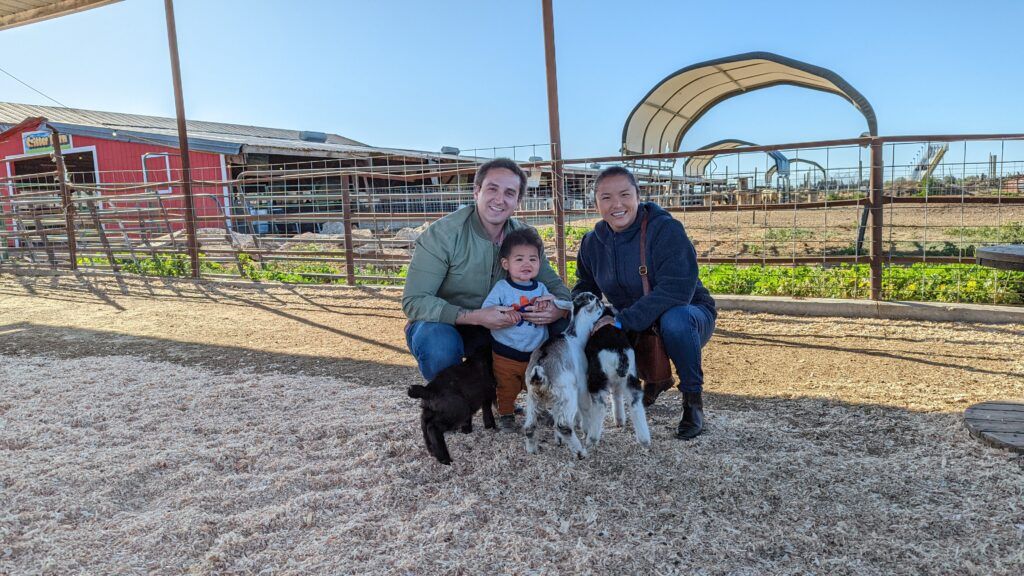 Are You Ready To Work Your Ass Off to Earn Your Lifestyle?
Are you tired of the daily grind? With a laptop and an internet connection I built a small website to generate income, and my life completely changed. Let me show you exactly how I've been doing it for more than 13 years.
So far, NewULife sounds like a powerful opportunity – and some members certainly think so. The company is one that has developed a huge cult-like following, with members being obsessed with the gel and the apparent benefits that it offers.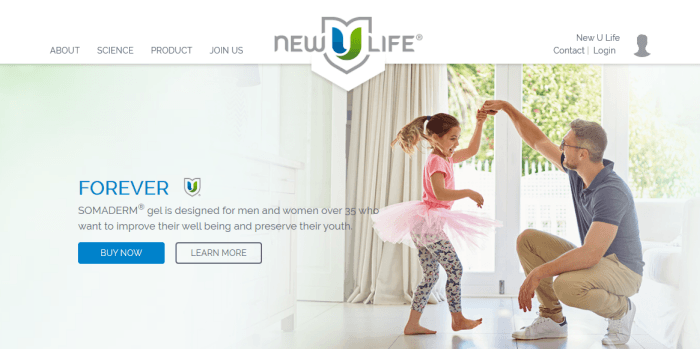 Whether the gel is actually any good is a subject of much more debate. Plenty of passionate people claim that it is and just as many claims that it isn't. Some are even concerned about potential health risks from the gel.
Then we have all the controversy that surrounds NewULife, the company. There have been various FTC and FDA complaints, which is hardly surprising given the focus on human growth hormone.
These aspects all highlight the importance of being careful with NewULife. Anyone considering the company should carefully evaluate the claims NewULife makes and whether they're realistic.
We aim to help in the process of this article. In it, we offer details about the compensation approaches and the science behind the products from NewULife.To Make Money With NewULife
Two Ways To Make Money With NewULife
As you may have guessed, NewULife follows the classic MLM methods of earning. Selling products is a basic method of earning. You can work on building a team too.
In this post, we're examining both angles and talking about your overall potential to earn.
Make Money From Product Sales
Even if you plan to build a team, you'll need to sell products from NewULife regularly. This is much easier if the products are appealing and reasonably priced.
Let's take a look.
The flagship product from NewULife is SOMADERM Gel. This is promoted as one of the only ways to get access to human growth hormone (HGH) without a prescription.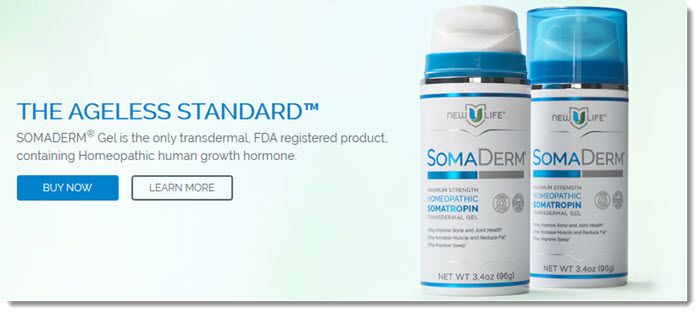 Now, HGH is in demand, with many people feeling that it can help to promote health and extend life. NewULife uses the following description as part of its science section:

The general concepts here are accurate, but whether HGH helps with the aging process remains to be seen. The fact that HGH decreases with age certainly doesn't mean that artificially increasing it again is going to help.
NewULife does offer a science section that is meant to offer scientific support. But, it doesn't provide much information at all.
Besides, if there are studies, they'll just prove that HGH may offer some benefits. That's a far cry from saying that the product from NewULife is going to improve your health.
Here's the thing. SOMADERM Gel is a homeopathic product. This means that the amount of HGH present is very low indeed. In fact, the concentration is so low that an FDA test failed to find any HGH at all.

Now, NewULife says that the gel is FDA registered, which is true. But, the gel isn't FDA approved. That's a big difference. There's even a chance that the FDA will take issue with SOMADERM Gel in the future.
I don't personally think that homeopathy works, especially not for a compound like HGH. Some people do, but it's a tough sell.
Could you convince people that minute concentrations of HGH are going to offer them advantages? I mean, the concentration is so low that you mightn't even get a single HGH molecule in a bottle.
The gel isn't cheap either. It costs $169.99 for a tiny 3.4 oz bottle. Yikes!
NewULife does offer two other products as well. These are KetoGenesis4 and KG4. Both items are drink mixes designed for a keto diet. They cost $139.99 and $149.99 each (respectively), so they're up there in price as well.
The difference seems to be that one uses natural sweeteners, while the other doesn't seem to have any sweeteners. They're interesting products sure, but I'm not convinced that they're competitive enough to sell well.
Selling The Products
So then, let's talk about sales. For the SOMADERM Gel itself, NewULife pays out $45. This is around 27% commission, which isn't horrible.

If someone orders on autoship instead, you just get $25 per sale. This drops the commission percentage down considerably. You need to have 20 or more customers on autoship before you can increase this payout to $35.
While autoship customers earn you less per sale, there's the chance that they'll order for month after month, without any additional sales effort from you.
Details aren't provided for commissions on the keto products, but you're probably looking at something similar.
Make Money Building A Team
The team aspect from NewULife follows a binary plan. In case you're not familiar, this style involves building a team beneath you with two legs. You can choose which leg new Associates are placed in or allow them to be placed automatically.
With NewULife, your team cycles every time you hit 400 Group Volume (GV) in one leg and 600 GV in the other. For members at the Promotor or Coordinator ranks, a cycle provides $40 in income. At the Coach rank or above, a cycle gives $60 instead.

The idea is to have your team cycle many times within a given week. This style is relatively simple, as you don't need to worry about where people are placed in each team.
But, it means that you need both legs to perform well. If only one of your legs makes regular sales, you might not earn very much at all.
There is also a unilevel side to the plan. Unilevel designs follow a pyramid-like structure and allow members to earn a residual commission based on their team's performance.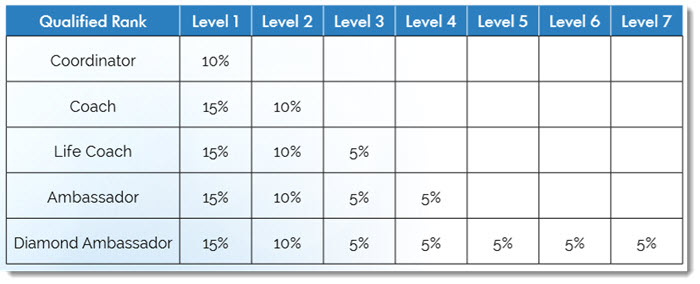 This particular unilevel plan looks appealing at first glance, as you're making 5%, 10%, or 15% for all of your levels. The problem is that the plan only applies to the Coordinator ranks and above. If you don't hit at least the Coordinator rank, you can't earn from the unilevel part of the plan at all.
The ranks are the final thing worth mentioning about the plan. NewULife has seven different ranks. The first two are Associate and Promotor. Associate members just need to be considered active. Promotors need to be qualified too.
Being active means having 140 Personal Volume every rolling five weeks. Based on the volume to dollar ratio, this calculates out to around $70. Ideally, you'd want to get the volume from customer sales, but NewULife encourages members to purchase that amount themselves through an autoship.
This type of requirement is pretty frustrating. It means that you need consistent sales every month and/or need to regularly buy products yourself. Neither angle is especially appealing.
To be qualified, you also need to have personally recruited two distributors. These need to be placed in the team under you, with one in each leg.
For the rest of the ranks, the requirements look like this: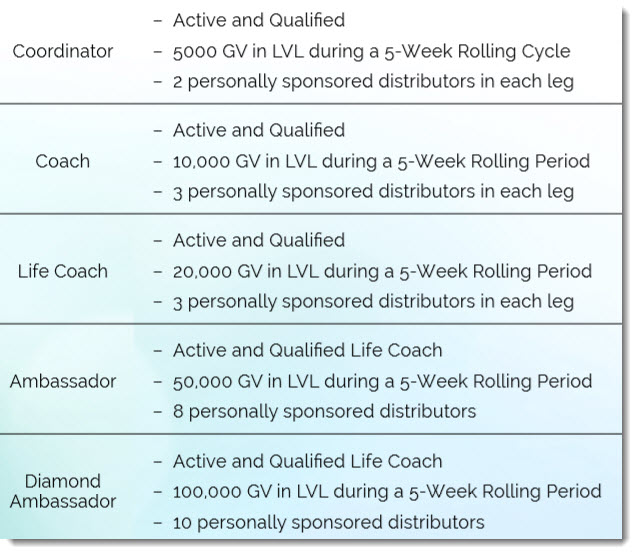 Honestly, even the first rank would be pretty hard to achieve. You need 5,000 Group Volume across your team every five weeks. That's around $2,500 in sales. The requirements just increase from there.
Can You Generate Reliable Income With NewULife?
The NewULife Review
Making reliable income is almost always possible with an MLM. NewULife is no exception on that front. You even have some advantages, as the commission you get per sale isn't too bad and the products are unusual. Still, NewULife is only worth the effort if you can make sales regularly. The compensation plan heavily relies on your sales and the sales of your team. That means joining a group of people who have a reputation for being cult-ish, so I personally would not recommend joining this business. There are a LOT of ways to make money, especially now, considering you have internet access, and starting an online business is relatively cheap and easy. The controversy surrounding NewULife seems to be getting stronger over time, rather than calming down. This could easily mean that they go out of business in the near future or perhaps their products become less popular. MLMs shut down or restructure all the time. So unless you're super-hyped about this product, I would recommend doing something different.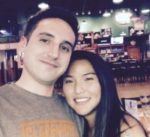 MLM Critic & Author: Nathaniell
What's up ladies and dudes! Great to finally meet you, and I hope you enjoyed this post. I have to be honest though. I'm not a big fan of MLM. Tried it. Hated it.
Affiliate marketing is cheaper, faster, and easier. See for yourself and join millions of other successful affiliates generating income from their blogs!
No inventory. No fees. No recruiting. 3 BILLION potential buyers online.
Reader Interactions