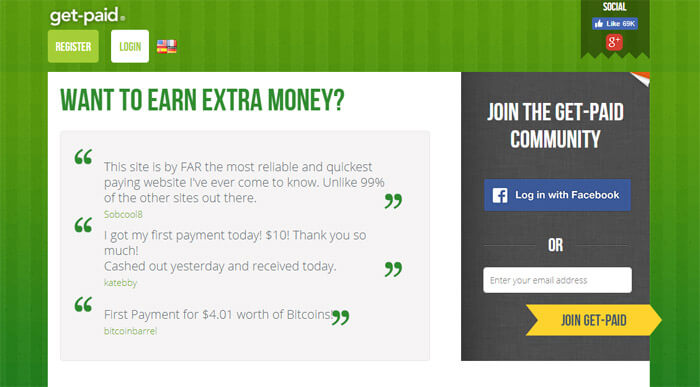 This website says that you can make extra cash by participating in offers, playing games, etc. But can you really make money with the Get Paid website?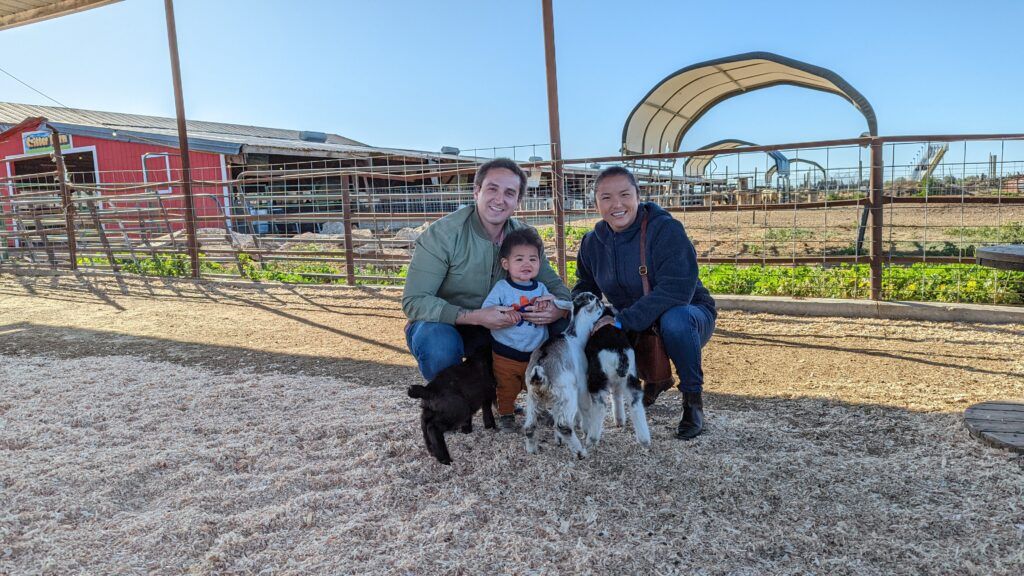 Are You Ready To Work Your Ass Off to Earn Your Lifestyle?
Are you tired of the daily grind? With a laptop and an internet connection I built a small website to generate income, and my life completely changed. Let me show you exactly how I've been doing it for more than 13 years.
We found this site on a list of sites that claim to offer you the opportunity to make some side-cash and were instantly intrigued.
The landing page was pretty awesome. It was simple and to-the-point. I'm a pretty big fan of sites like this because they could, in theory, make excellent side-hustles. They are flexible, they generally offer consistency, and they give you the opportunity to make money on your own schedule, from wherever you happen to be.
Usually, all that you need to make them work is a computer or even a mobile device… which is pretty cool.
The only problem with a lot of these sites is that they often do not pay enough to make them worth the time.
But will Get-Paid.com end up being the same? Here is what I found out.
Making Money With The Get Paid Website
My first step was to check out the site itself and see what it had to offer.
Getting Started With The Get Paid Website
First of all, let's talk about what I found on the landing page. A large banner in the center of the page said 'Want To Earn Extra Money?' After that, a large banner to the right said 'Join The Get-Paid Community.'
There were also buttons where you could register and log-in.
I scrolled down, and found some information that did a pretty good job of telling me exactly what this site was supposed to do. Here is a screen-shot of that portion of the screen.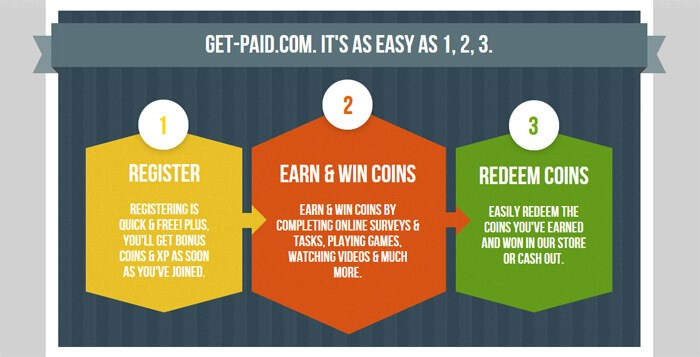 Here is a basic rundown of how Get Paid helps you to earn extra cash.
First, you register
Next, you earn and win coins. You do this by completing surveys, performing tasks, playing games, watching videos, and more
Next, you redeem your earnings and cash out
That's pretty much it. At this point, I was impressed by the site. It seemed to fit into the 'offer site' mold, which is pretty common. I've reviewed a lot of apps and websites like this. But they are all a little bit different… and some are much better than others. So I was pretty excited to see where Get Paid fit into this category.
I scrolled down the home page to see if there was anything else interesting going on. I did find some good stuff, but not really anything worth mentioning right now. So I went ahead and moved on.
Registering With Get Paid
I clicked on the 'register' button to move on to the registration process… and was instantly taken to a screen where I was supposed to fill in my basic information. I needed to supply my email address, create a password, and prove that I was not a robot. I also had to choose a username. This was all quite easy, and took less than one minute.
Next, I was taken directly to the main hub of the Get Paid website.
Here, I was greeted with quite a bit of interesting information. Tabs along the top gave me access to my account, profile, coins, earnings, etc.
And there was a lot of information about my profile displayed at the top of this page. It said that I was a level 1, and showed me my experience point bar. I could also access my referrals, badges, and coin totals here.
Scrolling down, I found out how to get started. I found that I could launch three different types of opportunities. I could enter the 'Offers' category, the 'Surveys' category, or the 'Tasks' category. This was pretty awesome, in my opinion. I like that Get Paid divides up the opportunities into categories like this, as it allows me to choose how I want to proceed.
I wanted to check out all three though, so I went ahead and started with the Offers section.
Offers On Get Paid
When I visited the Offers section of the site, I was greeted by a page that looked a lot like an offer-wall. And in fact, that is exactly what it was.
An offer wall is basically an entire page filled with offer opportunities. These range from surveys, to coupons, to offers that you can sign up for, to apps that you could download, etc. You do all of this to earn points… different points for different offers.
But these types of offers are never truly 'clear' on how many points you can win. The give crazy-high point totals, but what they don't tell you is how many different things you need to do to earn those point totals.
I will be honest about this. I have used MANY different offer walls in my time, and they all pretty much operate the same. None of them pay very well, and they often require a lot of effort to complete.
But I was interested in checking out the other two pages. So I went back and moved on to the next.
Surveys On Get Paid
I opened up the Surveys page, but was surprised to find that there were no surveys available for me. I literally didn't seem to qualify for any… so this page was empty. I found this a bit disappointing, but oh-well. This sometimes happens.
So, on to the Tasks page.
Tasks On Get Paid
The Tasks page brought up some interesting options. One of the offers was to transcribe some audio—for 11 coins. But there were a bunch of different Company Categories that you could choose from here, including common names like Peanut Labs, etc.
So this was essentially another offer wall… just one that offered some slightly different, weird-kinds of stuff.
All in all, I was now pretty well-versed in what Get Paid was offering… but I didn't know how their payments translated to real-world currency. So that's what I took a look at next.
Redeeming Your Coins On Get Paid
To figure this out, I visited the Redeem Coins tab, which I found easily at the top of the main hub. You could redeem your coins for straight cash… but to see the total, you needed to have some coins. So instead, I scrolled down to see the totals in gift-card options. Here is what I found.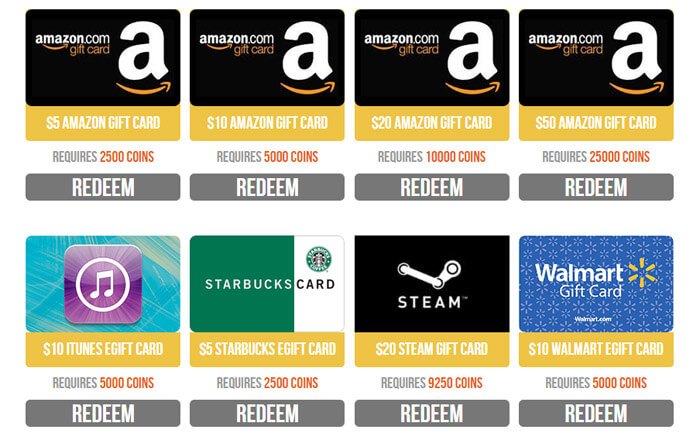 So, as you can see from the screenshot, you can get a $5 Amazon Gift Card for 2,500 coins… and that pretty much gives us our conversion rate, because that seems to stay the same as the numbers increase across the board.
So yeah. That is what coins will get you from Get Paid.
I will say this… I wish that sites like this didn't use coins. They are kind of needlessly confusing and just waste time. But I also understand that they need denominations in less than one penny. But at the same time, needing denominations this small is also part of what caused me to pause with this site.
At this point, I certainly felt like I had come to a point where I was ready to share my feelings about Get-Paid.com.
My Personal Feelings About Get-Paid.com
Get Paid was not the worst site of its type that I've ever seen.
Would I recommend it to users? Yes, perhaps… but not as a side hustle.
If you love survey sites, love to do tasks, and enjoy fulfilling offers and earning points/coins for them, then yes… this site might be a good option that you will enjoy. You can also doubtlessly make some money at the same time as well… so that's a good thing.
But would I encourage you to use this site if you really wanted to earn some money as a side-hustle?
I'm afraid that that is where things get a little bit complicated.
To be super honest, I don't think that this site can generate enough cash-flow to qualify it as a side-hustle. This does not mean that it's a bad website. It just means that it can't earn me enough money for the time that I would need to spend on it to make it worth my while.
Side hustles need three basic things. They need flexibility, consistency, and profitability. This site has the flexibility, and it does seem to be at least mostly consistent… but it seems to be deficient in the 'profitability' part of the equation… and that is the bad part.
To me, that is what causes this site to 'drop out' of my radar.
If you like survey sites and offer sites, and have fun doing random things on websites to earn a little bit of cash or a gift card, then by all means… Get-Paid.com seems to be a good site for it. But if you want to make some serious cash and keep making it in the long-run, then I am afraid that this site may not be my first choice.
Our Final Thoughts About The Get Paid Website
Should you register for it and use it to earn some extra money?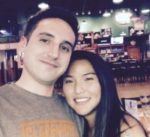 Nathaniell
What's up ladies and dudes! Great to finally meet you, and I hope you enjoyed this post. My name is Nathaniell and I'm the owner of One More Cup of Coffee. I started my first online business in 2010 promoting computer software and now I help newbies start their own businesses. Sign up for my #1 recommended training course and learn how to start your business for FREE!