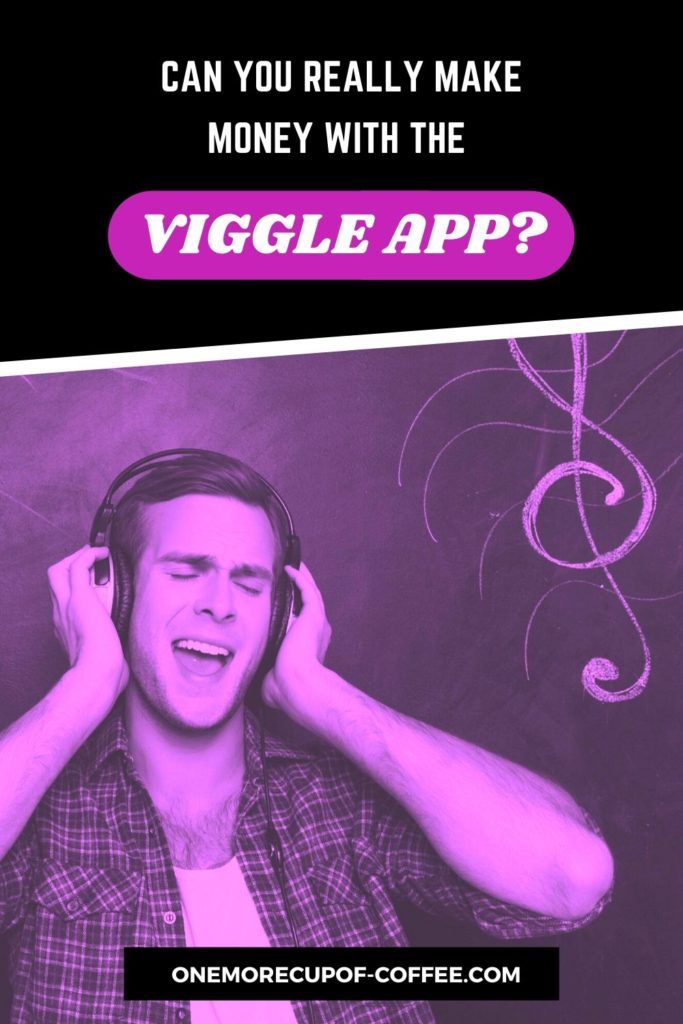 This app is said to provide 'free entertainment rewards for TV and Music Fans.' But can you really make money with the Viggle app?
In the Read More section of the Google Play app, we found the following quote that helped to explain exactly what the app was supposed to do.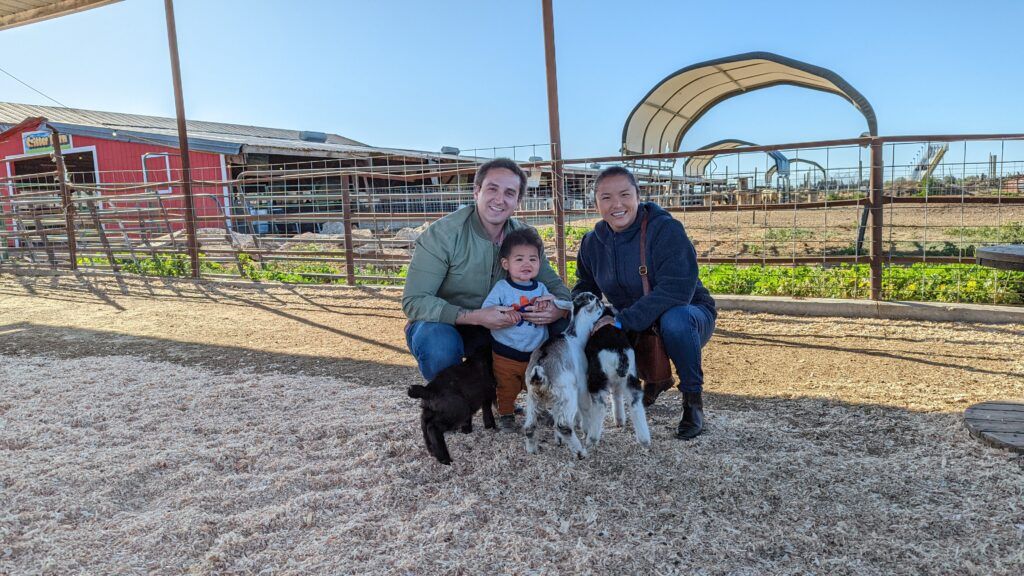 Are You Ready To Work Your Ass Off to Earn Your Lifestyle?
Are you tired of the daily grind? With a laptop and an internet connection I built a small website to generate income, and my life completely changed. Let me show you exactly how I've been doing it for more than 13 years.
"Check in to any TV program by tapping on the Viggle app. Once checked in, you'll start earning Perk Points. Redeem your Perk Points for Gift Cards, Prizes, or exchange your Points for cash with our powerful prepaid debit card, Perk Plastik."
Right away, we can see that the app, in theory, can be used to generate some cash… but how much can you make? Is it worth the time it takes?
These are the questions that we were out to answer—so we downloaded the app and got to work.
Here's what we found.
How To Make Money With The Viggle App
Viggle has been downloaded over 1 Million times, has a 4.2 Star Rating on the Google Play Store, and has been reviewed by over 122,000 users.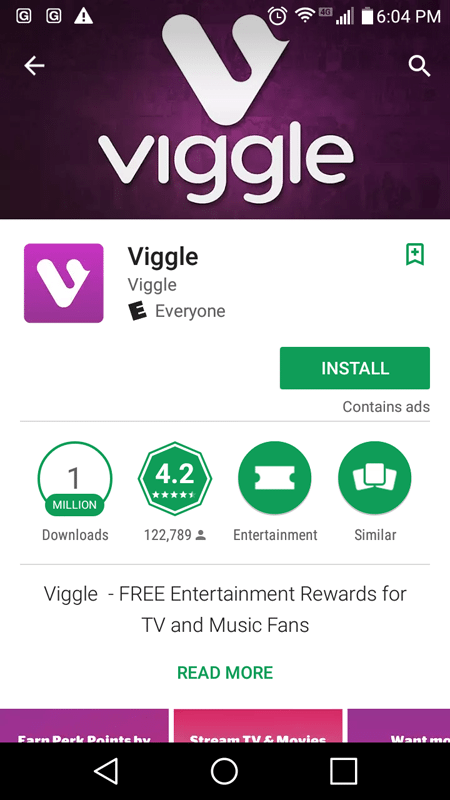 When we opened it up, we were greeted by several screens that gave us some information about the app. Here is what the first of these screens looked like…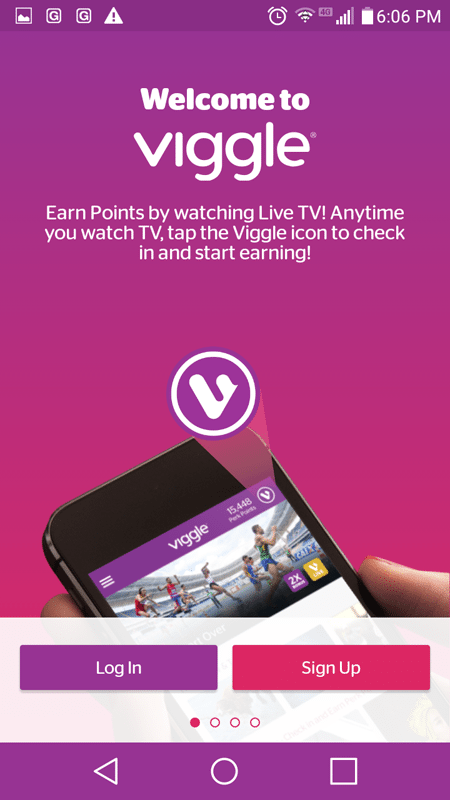 There were also log-in and sign-up buttons displayed at the bottom, but we will come back to this in a minute. Here were the main points that these introductory screens seemed to be designed to communicate…
Earn points by watching Live TV!
Check into shows on your favorite streaming providers too!
Earn up to 15X the Perk Points with daily bonus shows and Viggle games.
Easily exchange your Perk Points for over 200+ Gift Card brands, 1000+ denominations & prizes!
So, this gave us quite a bit of information about exactly what Viggle was designed to do… but it still didn't tell us how much you can actually make, or if it works as well as it sounds in the description.
So we took the next step and signed up. We created our account using Facebook, which was super easy. Next, I was taken to this page… which certainly threw me for a bit of a loop.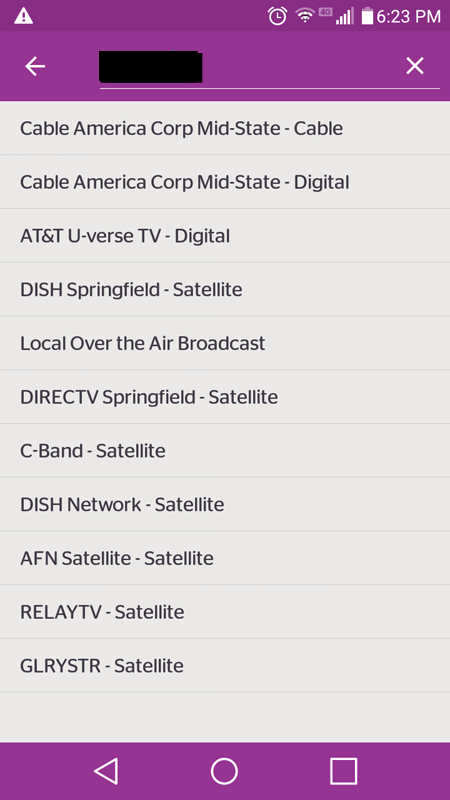 Apparently, I needed to subscribe to at least one of these providers if I was going to use the app. The only problem is that I didn't subscribe to any of them. I had regular TV and watched most of my shows on Netflix.
So I chose the one that I would be 'most likely' to have in my area, which was DISH Network – Satellite, and decided to go as far as I could. Next, it asked me what my birthday and gender were. It then asked me if it could access my location—which I enabled.
I was then taken to this screen, which seemed to be the Home screen or 'HUB' of the app.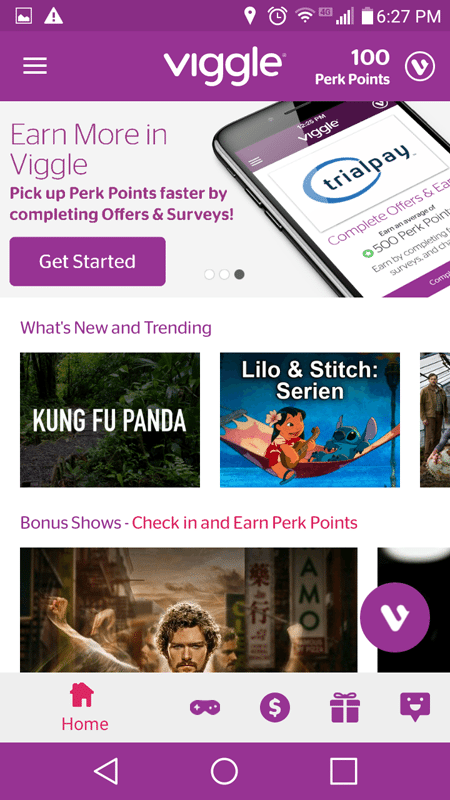 I was given 100 Perk Points for joining, which was nice. Perk Points seem to be what you can earn and redeem for rewards on Viggle… so I was instantly intrigued by this and determined to figure out what they were worth.
So that's what I did next.
Viggle Perk Points: What Are They Worth?
To figure out exactly what Perk Points were worth, I visited the Rewards section, located at the bottom of the app home screen.
When I clicked on it, I was taken to a list of reward options.
I clicked on the option for a Hamilton Beach, which was pretty cool. Here's what it looked like.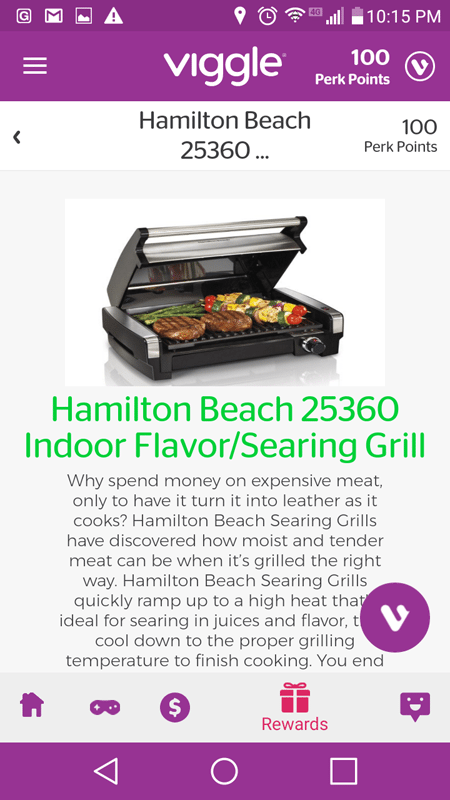 If you scroll down, you also get a super-clear idea of how many Points it takes to buy it.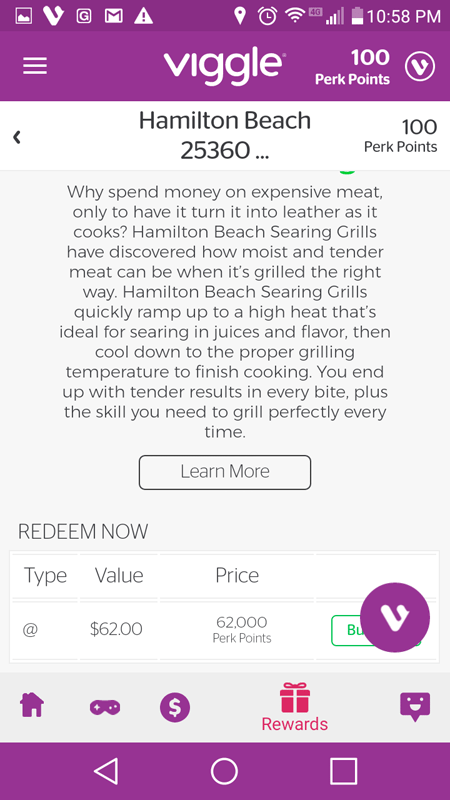 So, the value of the item is $62 in actual currency. And as far as points go, you need to earn 62,000 points to be able to win this reward. This means that every 1,000 points you earn is basically equal to 1 dollar in real-world currency.
But how long would it take for you to earn 1,000 points on Viggle? This was what we looked at next.
How Long Would It Take To Earn 1,000 Perk Points On Viggle?
We took a look at the Complete Offers section of the app and found what seemed to be various different ways to earn points by completing surveys and the like.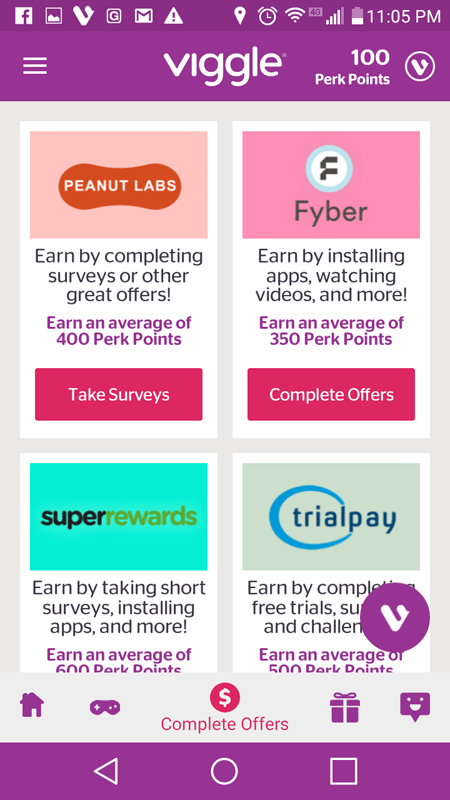 We clicked on the Peanut Labs challenges and encountered a page that gave us a lot of different options for surveys and questionnaires that you can take to earn points.
These ranged in value from 175 Points to 1,050 Points per survey… but I'm not going to lie, I clicked on it and realized very quickly that it was going to take some effort to get started.
I needed to make a profile for Peanut Labs, to start with… and the surveys were not necessarily super easy to take either, by the look of it. The entire thing really turned me off, actually… because I had to go outside of the app and was expected to fill out an entirely new profile just to complete some of the surveys.
You can also earn points by interacting with live TV shows and such. But for me, this isn't an option, because I don't have cable or satellite—so this really didn't do me any good.
I'll also be honest about another aspect of this app that I disliked. For depending so much on live TV to give out points, it really feels like this app is stuck about five years behind-the-times.
These are the days of Netflix and Hulu—not satellite and cable. I just feel like this app isn't as relevant as it would have been 5 years ago. Call me a hipster if you want—but that was how I felt as I was browsing it.
What Have Other Users Said About Viggle In Their Reviews?
I spent quite a bit of time going through the reviews of Viggle on Google Play and learned three things very quickly.
1… Most of the later reviews that have been posted lately have been negative. Apparently the app has not been performing as well lately as it used to, and that has gotten some people upset.
2… People who watch TV and use the app along with it seem to like it more than people who use it without watching TV. People who watch TV and use the app along with it seem to like it a lot more than people who don't.
I'm not sure how this feature works exactly, as I didn't have the option to try it out—but I think it works by asking you questions about the programming and gathering opinions on it. At any rate, this seems to be the most profitable and preferred method of use.
3… There are quite a few reviews that report glitches with the app (it even stopped working once while we were using it… though this may have been due to the lower quality of the phone we were using).
Can You Make Enough Money On Viggle To Make It Worth Your While?
The answer to this may be a yes… if you are an avid cable/satellite TV viewer and like to use apps while you watch lots of your favorite shows.
If you do not have cable TV or satellite, then the only other way to earn points on this app seems to be to complete offers like surveys and questioners… but this part seemed really time-consuming to me.
Personally, I wouldn't use this app because I don't have satellite or cable. If I did, I would feel like it might be worth a try, because you might be able to actually earn some decent points that way. Also, there are tons of options for rewards that you can trade your points in for. You can get cool products, gift cards, etc.
The app itself is pretty cool to use. It works decently and doesn't seem to glitch too badly. But then again, we didn't use it for very long—so there is a chance that it might have more problems in the long-term than we encountered.
One more word of caution though. Some reviewers said that if they didn't spend their points soon enough, they disappeared. Some also said that the app would sometimes glitch and delete their points.
I'm not sure how much of this is true, or how much of it you should be worried about—but whenever I hear reports like this more than once in the reviews, I tend to act a bit cautiously.
At any rate, the app isn't too bad, and it may be worth a download if you watch a lot of cable and/or TV.
Our Final Thoughts About The Viggle App
Should you download it onto your phone?
The Viggle App Review
Honestly, there are tons of various apps that claim to help you "make money", but really there are two facts to consider. 1) Most of them don't actually work. 2) If you can make money, it's not going be very much. If I'm going to spend any amount of time working online, I want to be working for myself by building my own profitable website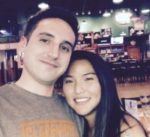 Nathaniell
What's up ladies and dudes! Great to finally meet you, and I hope you enjoyed this post. My name is Nathaniell and I'm the owner of One More Cup of Coffee. I started my first online business in 2010 promoting computer software and now I help newbies start their own businesses. Sign up for my #1 recommended training course and learn how to start your business for FREE!