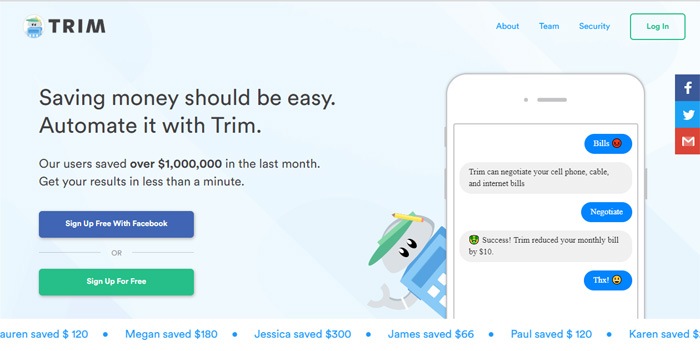 This financial adviser tool helps you to save money on your bills. But can you really make money with Trim, or is it more of a fun little gimmick that will save you a few pennies here and there?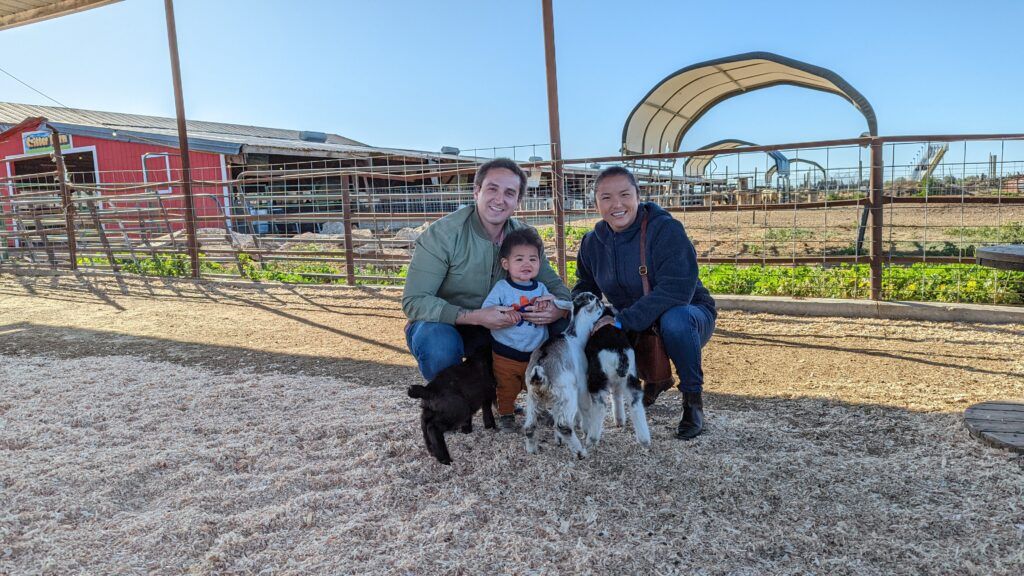 Are You Ready To Work Your Ass Off to Earn Your Lifestyle?
Are you tired of the daily grind? With a laptop and an internet connection I built a small website to generate income, and my life completely changed. Let me show you exactly how I've been doing it for more than 13 years.
Money saved is money earned, which is why I was interested in Trim when I first heard about it. I looked up some information about the service on asktrim.com, and it said that their users saved over $1 million combined in the previous month alone!
Obviously, that is spread out over a lot of people—but there were also some scrolling numbers along the bottom of the screen that told of people saving quite a bit of money each month—anywhere from $25 to over $300!
As you probably know, we are all about quality side-hustles and making extra cash on this website. Making extra money in this economy is usually essential, and I love the idea of using websites to bring in a bit of extra cash.
But I was also not exactly sure how Trim would fit into this search. It does seem to be a reputable service, but I was also unsure about whether or not it could legitimately qualify as a side hustle.
I was also curious about how it actually works, and was also wondering exactly what it is.
So I did some research and checked it out. Here is what you need to know.
Making Money With Trim
So, first things first, let's take a look at Trim itself.
What Exactly Is Trim?
Trim has gotten quite a bit of mainstream attention as a service that will help you to save money on monthly bills. In fact, they have been featured and promoted in such prominent publications as ABC News, TechCrunch, The Verge, GIGAOM, Fortune, The New York Times, and many more.
Scrolling down a bit on the main landing page, we quickly find the part of the home page where it tells us how Trim works. And honestly, at first glance, it is a bit difficult to understand—but after reading through this and attempting to understand it a bit better, it became a lot more clear.
Trim certainly doesn't work like any other service that I have ever tried. Here is a screenshot of the 'how it works' part of the website.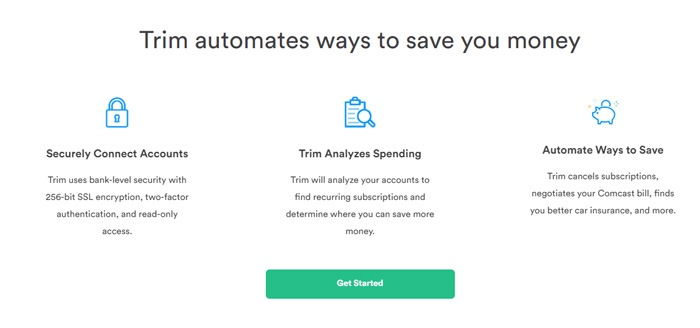 Basically, Trim securely connects to your accounts, using bank-level security. This includes 256-bit SSL encryption, read-only access, and two-factor authentication. It then analyzes your bill spending to find recurring subscriptions, and determines if you could be saving more money on your monthly bills.
Trim can do a number of different things to help you find ways to save money, including cancelling subscriptions for you, negotiating bills with some of the different companies you make payments to, and even finding you better rates on car insurance, etc.
Trim also keeps track of your transactions, and helps you to be more aware of where exactly you are spending money.
To be super simplistic about it, Trim is essentially a money and time saving tool. It helps you to save time and money by not only seeking out ways that you could be saving financially, but also by helping you to minimize the time saving you that money.
So you win on both fronts.
Obviously, this concept makes Trim a bit limited in exactly how much it can save you. You can't really make extra money with Trim. But you can save quite a bit… and that makes it a super-useful budgeting tool.
I was also pleasantly surprised to find a pretty detailed FAQ page on the company website. So I did some poking around there, and came up with some more useful info.
Here is what you should know.
Learning More About Trim From The Company FAQ
First of all, how does Trim make money? They advertise their service as free to sign up for, so how do they pay their bills?
Well, as it turns out, Trim pays their own way by taking a cut of whatever they successfully save you on bill negotiations. So if you use Trim to save you money on your Comcast bill through negotiation, then they keep a small percentage of this. They are also compensated by some third-party partners for referring customers.
I also learned that their signup process will require you to provide them with your online banking login information. You will also need to connect your phone number and/or your Facebook Messenger when you sign up, so that Trim can communicate with you.
This aspect of the app might scare some people, as it can be frightening to share your online banking information with an app or a company. But by all accounts, Trim is about as secure as it gets.
They are very well known, and have been praised by a number of different sources for being an upstanding company that can really make a positive impact on the personal finances of their customers. So yeah… I feel pretty confident about them.
As for how exactly Trim finds ways to save you money, it seems to be a magical process fueled by the dark, arcane spellcasting arts.
Lol. Obviously that was a joke, in case you really got excited for a minute.
Trim uses an algorithm to look at your banking information and tries to find subscriptions that could either be cancelled or negotiated for a better rate. Obviously the program will ask you permission before it does anything though, so you won't have to worry about your Men's Health magazine subscription getting canceled without your consent.
But canceling subscriptions through Trim, if you do wish to cancel them, seems much faster and like a lot less of a hassle, as the program does it for you instantly. Plus, Trim never charges you to check your accounts or to cancel subscriptions.
It only charges you when it negotiates for you. And even then, it only takes a small cut of what you save.
But the best thing about all of this is that Trim does it all. It literally takes on the role of a personal financial expert, and does all of these things at your command.
You will not have to make the calls or end up on hold for 30 minutes when you want to talk to your cable provider. Trim will do all of this for you, and if there is money to be saved, you will be able to save it without investing a bunch of time.
Trim will also regularly check your accounts for updates, to see if there is the potential to save you any more money as time goes on.
I also really like the fact that you can choose to communicate with Trim through either messenger or via text on your phone. For people who still have to pay for text messaging, this can save them a lot of money and make things really easy.
My Personal Feelings About Trim
Trim is not a program or a service that is going to make you rich. But… it is a service that can help you to take control of your finances, save you money, and help you to avoid needless spending. It can also help you to avoid getting ripped off by companies that would charge you more than necessary.
And the fact that it does all this without charging you fees of any kind (besides keeping a percentage of the savings), is pretty awesome.
I am always on the lookout for quality side hustles, which is what brought me here—and I am sorry to say that Trim is not a side hustle. There is absolutely a cap to what this service could save you, and that is probably the biggest downside.
There are also security concerns, in the sense that some people may feel uncomfortable sharing their sensitive information with the service. But to me, the site and service seem very trustworthy. Plus, it has a really good reputation. I can't help but to feel like there really isn't any danger here… at least that I can see.
But as far as upsides go, Trim has a lot to offer, because it can really do a lot to help you avoid needless spending. And it is super awesome that this service will even negotiate bills for you!
This frees you up a lot of extra time to keep chasing other side hustles. And for that, I almost feel like Trim is a necessary commodity for anyone who is sick of spending needless money, but who is also sick and tired of spending time on the phone trying to change it.
In a very real sense, Trim is a financial shield that we can use to keep the hungry, man-eating greed of larger corporations and cash-gobbling subscription services at bay. And for that, I simply must endorse it—because it doesn't get much better than that!
So yeah. Trim will not make you rich, but it is still pretty awesome. And if you are interested in saving money and time in your life, then I would recommend that you at least take a look at it.
Our Final Opinion Of Trim
Should you sign up and use it to save some extra time and money?
There are a lot of ways to make money online. Some are good, some not, but ALL of them are still just trading hours for dollars.
Starting your own affiliate website really is the best way to build passive income and "make money while you sleep". Affiliate websites earn income in every timezone, and can be instantly accessed by billions of smartphones across the globe!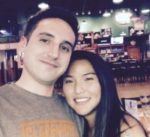 Nathaniell
What's up ladies and dudes! Great to finally meet you, and I hope you enjoyed this post. My name is Nathaniell and I'm the owner of One More Cup of Coffee. I started my first online business in 2010 promoting computer software and now I help newbies start their own businesses. Sign up for my #1 recommended training course and learn how to start your business for FREE!