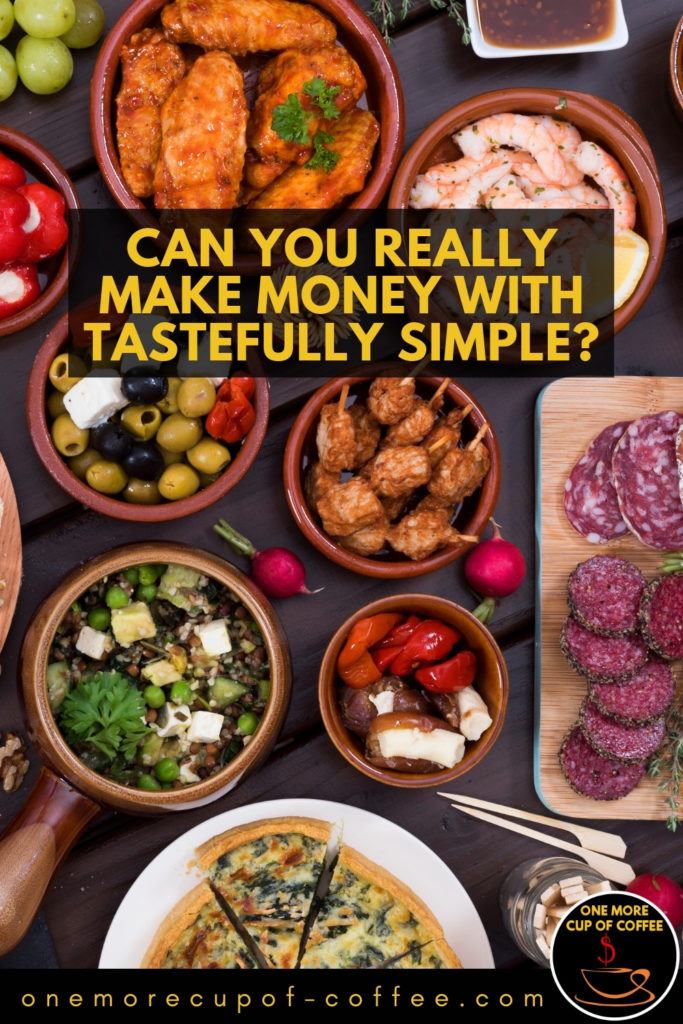 Tastefully Simple is a food-related MLM, one that sells a variety of products, including sauces, oils, food mixes, and related items. The style is an odd one at face value, as you can't really sell fresh food through mail order. Even so, the company manages the field surprisingly well through their marketing and party-based approaches.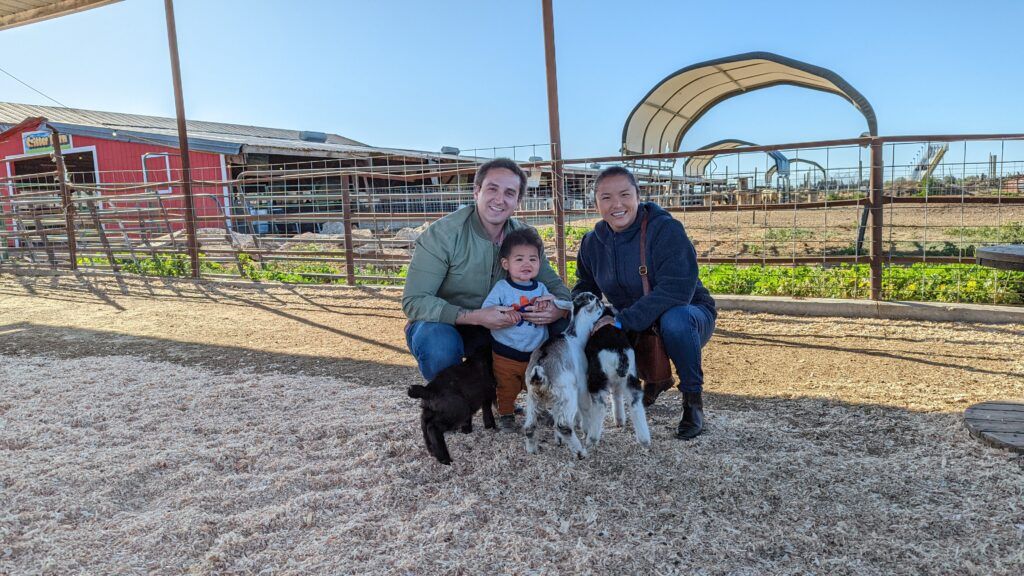 Are You Ready To Work Your Ass Off to Earn Your Lifestyle?
Are you tired of the daily grind? With a laptop and an internet connection I built a small website to generate income, and my life completely changed. Let me show you exactly how I've been doing it for more than 13 years.
As an industry, food never goes out of style. People always need to eat and there's often a preference for food that tastes fantastic and is easy to prepare. Food is also consumable, which makes repeat sales that much easier. If people really enjoy an exclusive product that a company creates, they may come back time and time again.
Another distinct advantage is the way that food appeals to our emotions. We often don't make entirely rational choices when it comes to food. The right marketing strategies can take advantage of this, giving sellers an edge.
Of course, theory and practice are two different things. Tastefully Simple has some good marketing approaches, but the individual distributor plays a strong role in their own success. Which begs the question, how well does Tastefully Simple support its members? Is the company a good choice for anyone who wants to make a bit of money?
Two Ways To Make Money With Tastefully Simple
Tastefully Simple offers the two-income approaches that you will see time and time again. The first of these is selling products to consumers. The other is to work on building a team as well. While both angles rely on product sales, the team-building approach adds in extra complexity, along with the potential to make more money.
This post takes a look at both of these areas, including their strengths and limitations. I also consider whether Tastefully Simple has decent potential as a way to make money.
Make Money From Product Sales
So then, let's start with the products. As the name suggests, Tastefully Simple is focused on food and related items. This particular emphasis is fairly common and it does make some sense. After all, there is a growing interest in cooking good quality and tasty food. You just have to look at the extensive number of food blogs out there to see that.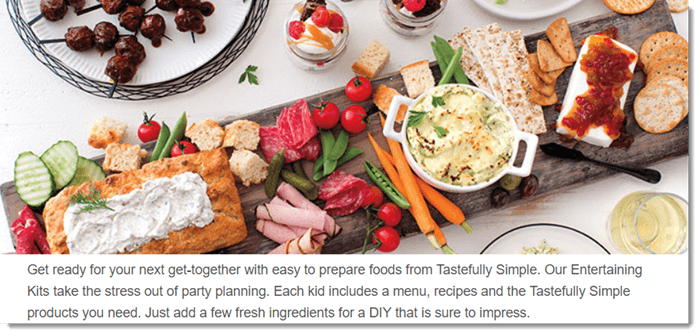 However, I've always found it a little odd that some direct selling companies choose to focus on food. After all, it isn't practical for a company to actually sell any of the dishes they promote.
Yet, the company's marketing does heavily play on the senses, making customers hungry for food – even though that isn't precisely what the company sells. Or, more specifically, the company doesn't sell the actual food that their images imply.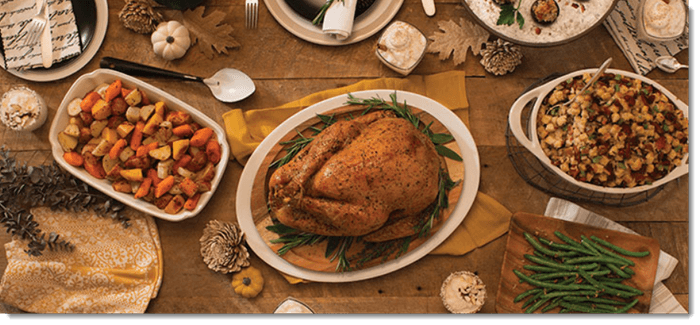 Instead, the company sells a collection of products related to food. In particular, they sell many different mixes that you would use to make different foods, like mixes for mug cake or brownies. In many cases, these mixes seem to be variations on similar products that you might find in a grocery store.
At the same time, there are also other food-related products. These include sauces, spreads, dressings, oils, and seasonings. In essence, the company sells food that can be easily stored and shipped (like sauces) along with mixes for food that can't be effectively sold premade.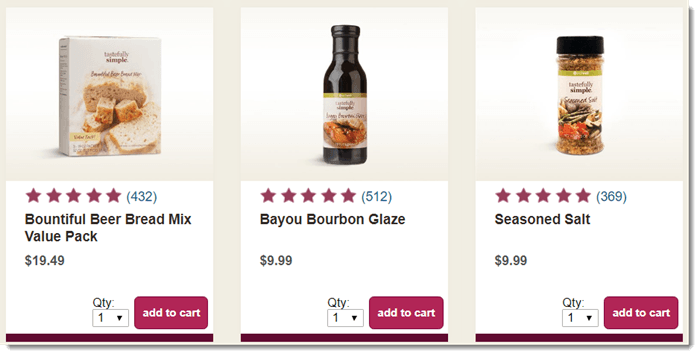 I've seen a number of different companies try a similar approach, but I have to admit that Tastefully Simple does it better than most.
For one thing, the product description images tend to be of the containers that you get rather than the food you can make. For example, the bread and muffins section contains images of the boxes and the bags that you buy.
This is even true for the meal kits that the company sells. These contain sauces, mixes, and spices, so they're not what most people expect when they think of a meal kit. The images that Tastefully Simple uses helps to make sure there is no confusion when people make a purchase.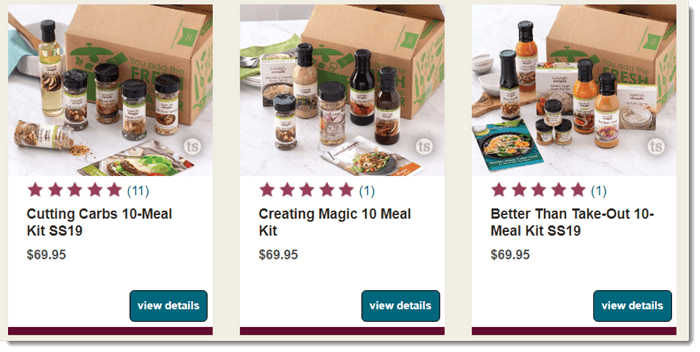 Far too often, companies will only show the image of the food, even when it's actually a mix that they are selling. I find that approach misleading, so it's nice to see that Tastefully Simple avoids doing that.
A second thing that I quite like is that most of the products actually have a decent number of reviews. It's not unusual to see products that have more than 100 reviews and the average is typically between 4 and 5 stars.
Now, it's very likely that those reviews aren't entirely accurate. After all, many of the reviewers will be distributors, so they will be biased. Plus, reviews on food tend to be strongly based on personal preference. That makes it harder to get an objective idea of whether the food is any good.
Still, the fact that the products have this many positive reviews is encouraging. If nothing else, it suggests that a decent number of people buy the products and that at least some of the purchases are fairly satisfied with them.
Another interesting thing is that the company provides recipes that contain their ingredients. They also sell meal collections that contain the products (and recipes) that you people would need to make a set of meals. The concept is kind of cool and might be appealing to someone who isn't very good at creating their own meal ideas.
The final thing to consider about the products is the price. No matter what, an MLM like Tastefully Simple will have products that cost more than the average marketplace value. This is a necessary feature of the type of company. After all, the company has to make a profit and also pay their distributors.
In general, the prices of the products are pretty similar to what I would expect. For example, many of the seasonings are $9.99 as are some of the sauces. Other products vary in price much more, but most are fairly reasonable for the type of product that is being sold.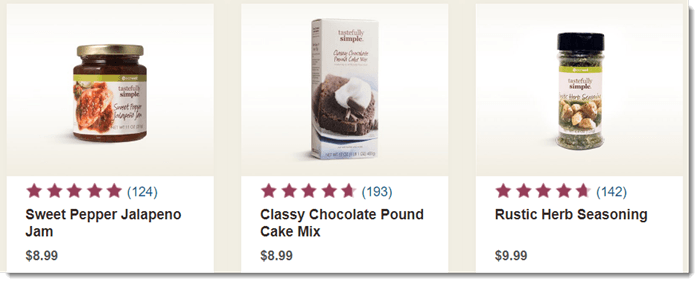 It's a matter of personal preference but I imagine that in many cases, the prices would be enough to stop people buying the products every week, but distributors would still make sales. If nothing else, distributors might be more likely to sell the sauces, spices, and similar products because in most cases those products will last more than one use.
Overall, I think that the products that Tastefully Simple offers are better than most similar companies and may be easier to sell. Nevertheless, there are a lot of places you could go to get this type of product, including grocery stores and specialty stores. That would make the competition quite high.
Party Structure
As with many similar MLMs, Tastefully Simple uses a party-based approach. This means that distributors promote their products in a group setting. Achieving this would involve setting a time and place for a party and then inviting people to attend. The party environment provides a way to show off the various food products that Tastefully Simple offers.
This structure is quite effective for an MLM that uses food. After all, food is a sensory experience. This makes people much more likely to purchase food if they tried and enjoyed it first. So, the parties do act as a good way to get people to make purchases.
However, the parties do have a downside as well.
Effectively making sales at these parties means that you have to cook and you also have to have the products at hand. Ideally, you would also need to prepare different meals or samples each time, especially if you had the same guests attending multiple parties. Because of this, you would have to have a decent stockpile of Tastefully Simple products at any given time.
In fact, it also seems that distributors need to order product sets from the company regularly to even stay active and earn money. Now, in theory, if you make enough sales, you essentially end up getting those products for free (or close to it). But, even so, the approach does affect how much money you can make, because you basically end up getting products instead of money.
That might be a good thing if you're just in the company to get free or discounted products (which is true for some people). However, if you're actually trying to make a decent income, the amount you have to spend on products can majorly impede that process.
What You Earn
As for income, Tastefully Simple offers up to 30% or up to 40% commission on sales. The figures are given at different points on the site and further details aren't provided. Tastefully Simple provides very little information overall, so it isn't clear how the overall system works.
The compensation is worth highlighting, as Tastefully Simple seems to have changed its plan at some point in the last year or two. Some consultants have been frustrated by the shift, finding that they earn less money as a consequence.


This issue is a reminder of how little control consultants have. There is always the chance that the compensation plan will change. Such a shift could mean more income, but it could also severely limit your ability to earn.
Another underlying concept is the idea of ordering collections regularly. These are the product sets I mentioned earlier. The cheapest one seems to be a little over $30, but the collections go all the way up to $200.
This means that you have to make regular purchases yourself to stay active in the company. At the same time, it also costs $10.95 per month if you want a website with the company. You also need to pay $29.95 per year if you want people to be able to make purchases through the site.
Make Money Building A Team
There is also a team-related aspect to Tastefully Simple, but even fewer details provided about team earnings. As such, there is no real indication of how much you earn by building a team. The only information provided is that there are team bonuses.
Such bonuses are likely to be linked to the performance of your team as a whole, along with your progression up ranks within Tastefully Simple. That pattern is fairly typical across MLMs.
The process of increasing ranks is strongly connected to building your team. So, the general idea is to build a team under you. As this team gets bigger and more successful, you can increase in rank. In turn, increasing in rank involves more potential for bonuses and more commissions overall.
In most cases, this means that there is a strong connection between team size and profit. The larger your team is, the more profit you are likely to make.
It's also worth noting that the ranks have various requirements. These are connected to your team size and also to how much you sell and your team sells. At the higher ranks, the rank of members within your team also becomes relevant.
The overall outcome of this is that it becomes progressively more difficult to increase in ranks as you go along. At the same time, your rank is dependent on the performance of other team members as well as your own performance. This can make it more difficult to get to the higher ranks and to stay there.
Can You Generate Reliable Income With Tastefully Simple?
The Tastefully Simple Review
It is possible to be successful with Tastefully Simple. I'm certain that some people do and that the company is enjoyable for some members. Even so, to earn a decent income, you really need to hit the higher ranks in the company and have a decent team behind you.
Achieving this outcome means that you need to be good at recruiting people, selling, and managing a team. These skills aren't ones that most people will have when they first join Tastefully Simple. You'll need to learn as you go. While you might get lucky and have a distributor who can teach you everything that you need, you're more likely to have to find a lot of the information out for yourself.
All of this is achievable, but is it worth the effort? Why focus on a system that has so many different components and complexities? There are plenty of other ways to earn that are less confusing and don't require you to master so many brand new skills at once.
If you are serious about Tastefully Simple, then I recommend taking a step back and looking at your potential audience. Are the products likely to be popular among your local area and contacts? Do you have the potential to expand your audience over time and get more customers?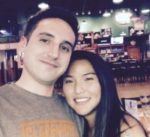 MLM Critic & Author: Nathaniell
What's up ladies and dudes! Great to finally meet you, and I hope you enjoyed this post. I have to be honest though. I'm not a big fan of MLM. Tried it. Hated it.
Affiliate marketing is cheaper, faster, and easier. See for yourself and join millions of other successful affiliates generating income from their blogs!
No inventory. No fees. No recruiting. 3 BILLION potential buyers online.
Reader Interactions