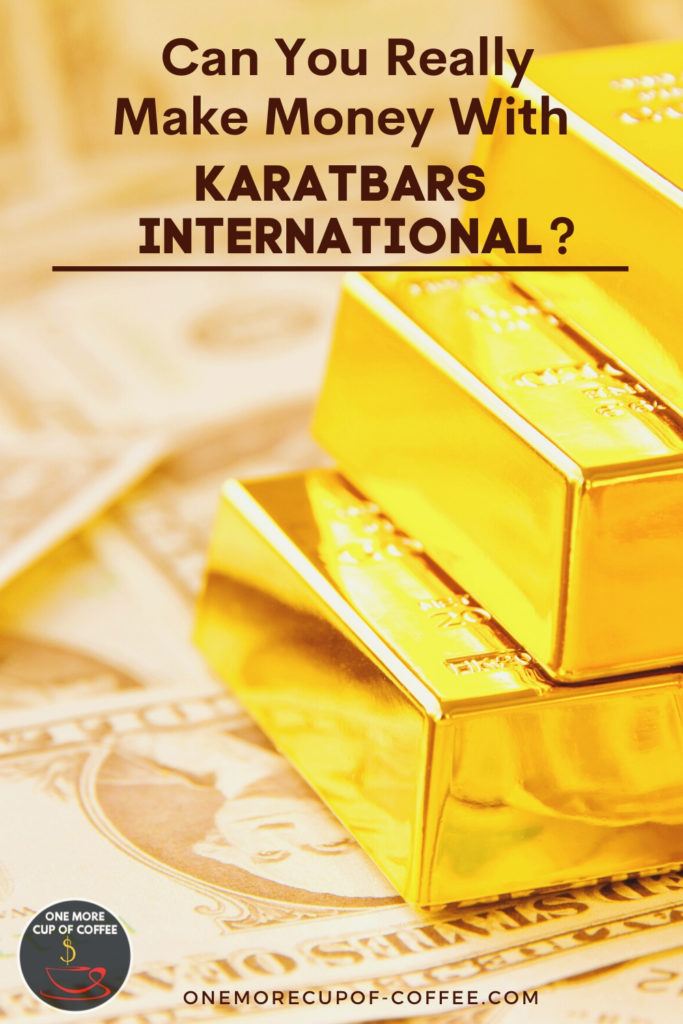 Karatbars International is most well-known for selling gold as a product. The company started off selling Karatbars that contain one gram of gold. They have since expanded into related areas.
The idea of selling gold through an MLM is… interesting. There is certainly interest in gold. It is often viewed as an investment opportunity, especially for people who are worried about the state of the economy.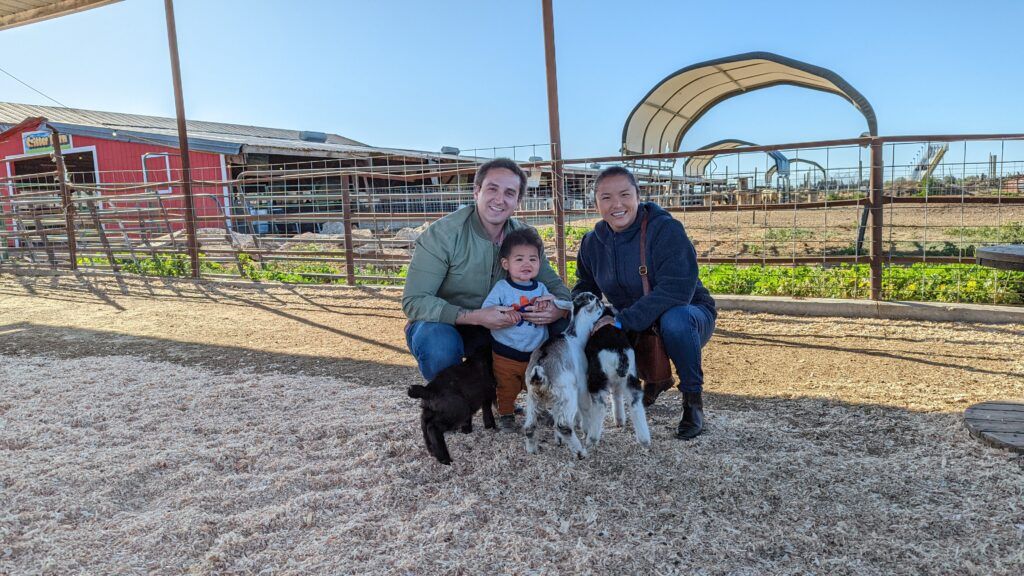 Are You Ready To Work Your Ass Off to Earn Your Lifestyle?
Are you tired of the daily grind? With a laptop and an internet connection I built a small website to generate income, and my life completely changed. Let me show you exactly how I've been doing it for more than 13 years.
But, if you're going to purchase gold, buying it from a reputable company makes much more sense.
For that matter, how would you promote a company like Karatbars? Buying gold is a fairly unusual interest. Most people don't invest in this way. Those that do probably already have a source that they trust.
Two Ways To Make Money With Karatbars International
While gold isn't the most common MLM product, Karatbars International follows the same practices as most MLMs. You can make money by promoting the products or by building a team as well.
As part of this post, we're going to examine both areas, along with the overall chance of making money with Karatbars International.
Make Money From Product Sales
The main product that Kartbars International is pretty simple to understand – it's a piece of gold, in the form of a gold card.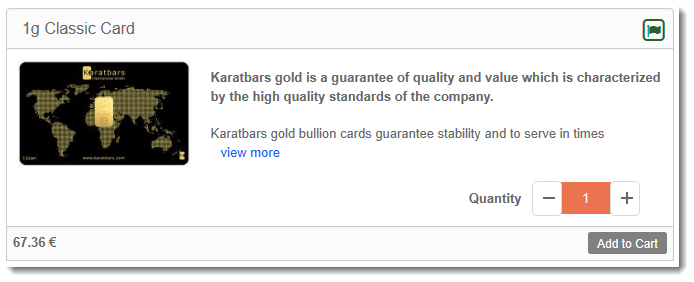 The card is meant to provide a way to easily exchange gold around the world. Karatbars International has moved away from just gold recently and has been focusing on blockchain as well. This has included (for some reason) a Voice-over-Blockchain-Protocol Smartphone IMpulse K1 phone.
I'm not entirely sure why a company focused on gold decided that blockchain and a smartphone were good directions for expansion. I'm sure that Karatbars International has their reasons, but still, an unusual combination of products like this is rarely great for sales.
Karatbars International once had an excessive amount of hype on their site, focusing on the idea that the economy is going to crash and that gold is the real way to store wealth.
The hype has been toned down since then, but the site still talks about how people can "build and preserve a secure existence in the form of gold" and the way that gold is a "stable and secure world currency".
There's some hype around the gold they sell, making it sound like it's "better" than others. But there are many companies that sell gold on the marketplace, all with various quality control techniques. I am not convinced that the gold you receive from Karatbars is any better than others
Its value is certainly going to be the same on the marketplace anyhow.
(A Short Gold Rant From Me)
One thing I don't like about the gold buying/selling community is that everyone seems to have an 'end of the world' mentality.
The economy is going to crash!
The next depression is coming!
The dollar is a fiat currency and worth nothing!
Paper money isn't real money!
Save in gold to store real wealth!
However, these types of sales pitches usually cherry-pick data and present information in a way that makes you want to buy gold, rather than actually understand the facts.
The truth is, if the sh*t hits the fan tomorrow, I'd rather have invested in bullets than gold. Are you going to start stocking up on bullets? Most people aren't.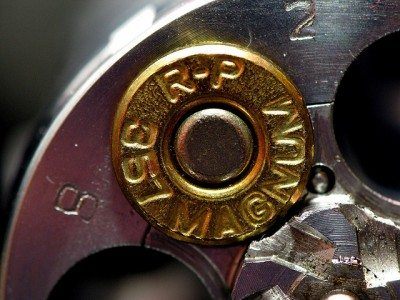 Yet we listen to a presentation about how the dollar is going to crash and how we'll be buying bread with wheelbarrows full of money, and suddenly we want to stock up on gold.
The other thing you need to understand about gold is that yes, it does retain its value over time versus the dollar which loses value. However, that doesn't mean that gold is a better investment. And don't forget, there are many other types of investing that can also grow your wealth, most of which are more profitable than owning physical gold.
The value of gold in 1980 was about $850 an ounce. In 2013, reached about $1,700, reaching a high of $1900. Now (2015), it's about $1200.
What's the point of all those numbers?
If you had invested in gold in 1980 you might have doubled your money if you bought and sold at the right point. [reference]
If you had invested in stocks and received a conservative 7% return, you would have almost quadrupled your money.
Real estate varies based on location, but the median home price in 1980 was around $65k. Today it's about $275k. [reference] Again, more than 4x your money's worth.
In both scenarios, gold was a worse investment vehicle.
Also, consider that this precious metal also doesn't provide an opportunity for passive income. It does not pay dividends like stocks or have the option of renting it out like a house. It sits in your bedroom or in your office safe doing nothing other than hoping that inflation rises.
Don't get me wrong, it is smart to have some precious metals in your investment portfolio, but it's not the life-saving miracle money system that gold sellers want you to think.
Back To Karatbars International…
So does Karatbars International have good products? Well, gold is just gold. The other products are interesting enough, but only to the right audience.
Let's be realistic. How many people are going to be interested in Karatbars International? Many may not have the money to invest in gold, while others will simply not be interested.
Besides, the gold from Karatbars International tends to be sold for above market value. You are going to have a hard time selling gold for more than it's actually worth, considering people interested in buying gold are going to be fixated on what the spot pricing is.
So then, what about making money?
The first aspect of note is that you're selling through a replicated website, so there's no need to buy and then resell any products.
When you make sales, you make a 10% commission on any direct package sales that you make. That's it, 10% commission. The commission seems to be just on Karatbars Business Packages. It doesn't look like you earn money from the sales of any other products, which is slightly absurd.
Make Money Building A Team
As you might expect, there are multiple ways to earn with your team. The first is that you can make a 3% commission off the second level of your team and 2% from your third level.
Like many other companies, there is also a rank-based aspect to the commission scheme. Members start out at the Distributor rank and move up from there. Progressing through ranks is just based on total sales. You don't need to rely on your team performance or structure at all.

This structure does make it easier to move up through the ranks, but only if you can make a lot of sales. Once you hit the Silver Supervisor rank and above, the sales targets need to be hit every month.
If you do make the targets, then you earn from 0.5% to 3.5% commission from your team as a whole.
The table below shows another aspect of the plan. This time you do need to hit various team goals to make your way up the ranks. The commission rates are higher here. Still, most members wouldn't get up this far.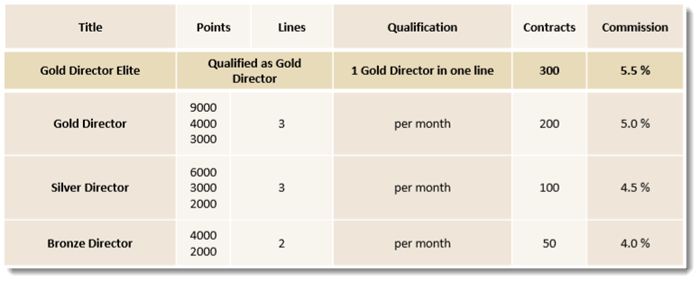 We're not going into the other areas of the plan. The basic pattern is the same as always – to make a decent income, you need to build a successful team, one that is able to successfully recruit others and make sales.
Watch Out For Gold Bugs!
Another thing to consider is that a lot of what you'll be doing to sell gold is to scare people. This is a common tactic with 'gold bugs' as they are called (people who believe gold is the only true money).
Read any pro-gold website or watch a YouTube video on the topic and you'll get the pitch about how the economy is tumbling, we're ready for the next depression, and the only people with money in the future are going to be those that are hoarding gold right now.
You'll see charts forecasting the downfall of the US dollar, and how predictions about how China's going to take over the world, etc, etc.
The truth is, gold may be a store of wealth, but it only stores it. You cannot go to the store and buy something with a piece of gold anymore. Buying gold is an investment, not a hedge against the end of the world.
Scam Warnings
The other thing you'll have to battle is all the scam reports on this company. There are lots of affiliates out there trying to sell this product. So many that areas of Canada are starting to send out warnings.
There are also long arguments happening on the internet between scam reporters and affiliates. Is this something you want to be associated with your business as a seller of physical gold? I know I don't.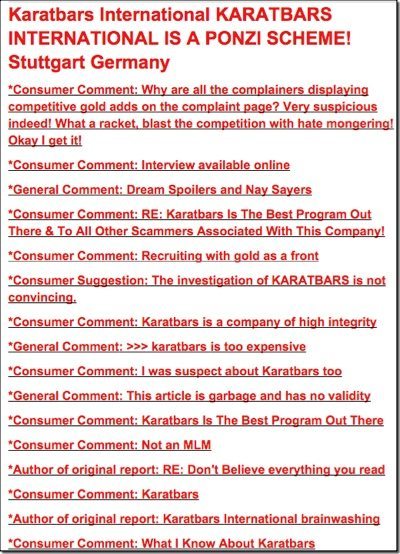 Other Comments
If you want to buy gold, get it from a reputable place at a decent price. Two places I recommend are JM Bullion and APMEX. A third-place that seems popular is GoldSilver.com from Mike Maloney. However, because of his association with the notorious scam artist Robert Kiyosaki, I cannot recommend you buy anything from his website
If you want to invest in gold, there are many legitimate places to do it. As far as business opportunity goes, because of the high price of gold and lack of evidence that it's more valuable than any other type of gold, KaratBars International is not a company I would invest my time or money into.
Can You Generate Reliable Income With Karatbars International?
The Karatbars International Review
I think buying gold and investing in precious metals is very interesting, and enjoy talking about it. While I'm sure that making money with Karatbars International is possible, I wouldn't ever recommend it. The company's marketing approaches aren't great and convincing people to buy gold would be pretty tough too.
If nothing else, think about how many people would be interested in the products from Karatbars International. Do you have a large enough potential audience?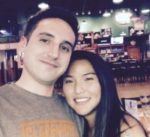 MLM Critic & Author: Nathaniell
What's up ladies and dudes! Great to finally meet you, and I hope you enjoyed this post. I have to be honest though. I'm not a big fan of MLM. Tried it. Hated it.
Affiliate marketing is cheaper, faster, and easier. See for yourself and join millions of other successful affiliates generating income from their blogs!
No inventory. No fees. No recruiting. 3 BILLION potential buyers online.
Reader Interactions