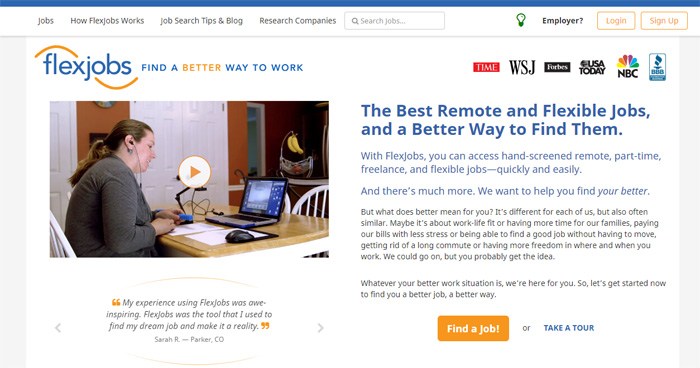 This website is a site that claims to help people find remote and flexible jobs. But can you really make money with FlexJobs?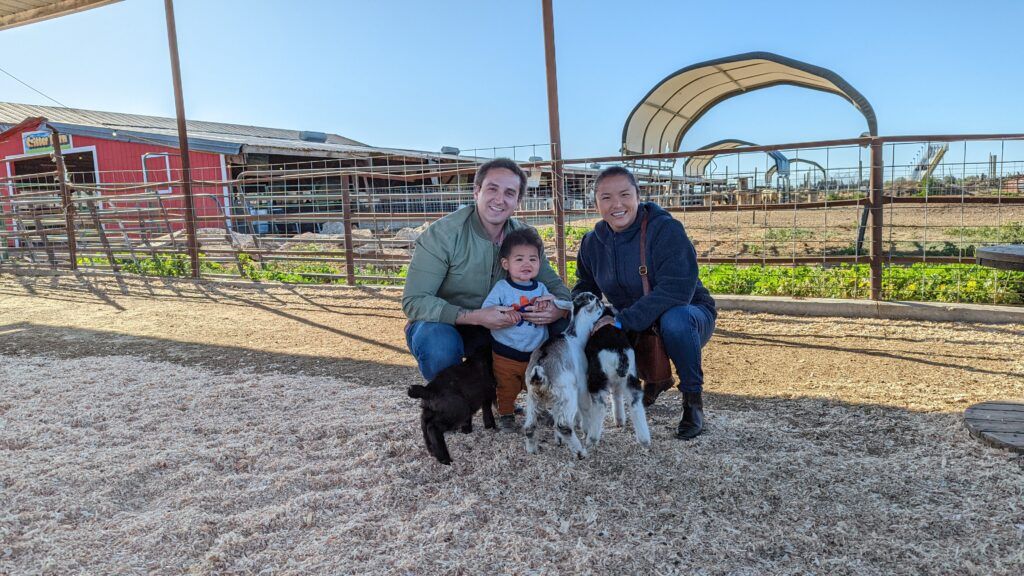 Are You Ready To Work Your Ass Off to Earn Your Lifestyle?
Are you tired of the daily grind? With a laptop and an internet connection I built a small website to generate income, and my life completely changed. Let me show you exactly how I've been doing it for more than 13 years.
Side-hustles are life for me nowadays. Yes, I have my steady 'day' job, but we all know that it often takes more than that to rise above the basic wage level.
I have a lot of goals that I hope to see come to fruition eventually, but many of them will require at least a small amount of investment before I can hope to get them up and running correctly.
I also have a savings account to build, and retirement to plan for.
Yikes!
So my goal now is to find side-hustles that will help me to grow my cash-influx, so that I can help to keep all of these projects going and thriving. But you can't make that side-hustle cash without a good side-hustle… which is what brought me to FlexJobs.
This website, FlexJobs.com, claims to help people find remote, flexible jobs. But does it really do the trick, or will you be left wanting with nothing but time wasted after visiting this site?
Here is what you need to know, or you can sign up to Flexjobs to get started.
Making Money With FlexJobs
My first impression of the site was actually pretty positive. The design almost felt a bit cluttered to me, though it was very close to the 'modern minimalist' feel that I love—so it would be safe to say that this site 'almost' caught my eye in that regard.
What did catch my eye, though, was the fact that it has been featured by many prominent news sources and publications. TIME Magazine, WSJ, Forbes, USA Today, and NBC have all published content on it.
So yeah—it must be pretty fancy if it is getting the attention of news sources and publications like these!
From my initial look at the landing page, I quickly became aware that freelance jobs are also mentioned—which is pretty awesome! Here is the exact quote…
"With FlexJobs, you can access hand-screened remote, part-time, freelance, and flexible jobs—quickly and easily."
I actually love freelance work even more than I love most 'traditional' kinds of side-hustle work, so that is a bonus!
But at this point, I was curious about how the site actually worked. There were two buttons at the bottom of the landing screen that seemed to indicate the best opportunity for a next-step. I could either click on 'Find A Job,' or 'Take A Tour.'
But I decided to scroll down a bit before clicking on either of these, just to see if I could find anything else interesting on the home page.
The next page down showed a list of upsides that supposedly make FlexJobs better than their competition. I took a pretty close look at this page. Here is a screenshot.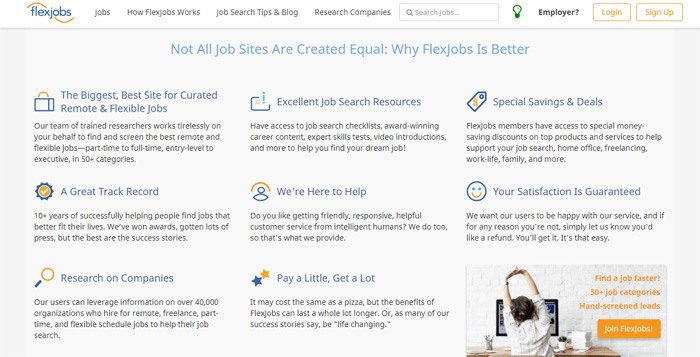 Basically, this is what they claim to offer that supposedly makes them better than the competition…
Their team works hard to find and screen jobs in over 50 different categories
They have a great track record and have been successfully connecting people with jobs for over 10 years
They research companies and make it easy for their users to learn about the business in-question before working for them
You get a lot for the amount it costs to use
Their customer service is said to be friendly and responsive
They are said to provide excellent job search resources
They give their members access to special savings and deals on top products and services that will help you in our job search, home office, freelancing career, etc.
They guarantee that you will be satisfied with what they provide, or you will get your money back
So yeah. This all seemed pretty straight forward and positive to me. So far, so good!
I scrolled down a bit more, and found a list of companies that use FlexJobs to hire remote/freelance workers. I was surprised to see some big names in this list, including Apple, SalesForce, Xerox, American Red Cross, and Hilton… just to name a few.
There is also a section where FlexJob success stories scroll past at a pretty decent clip. There were quite a lot of these—which was impressive to me.
There were obviously more details to be found on the page, but I decided to go ahead and click on the 'Find a Job' button to see how that process went. Here is what happened.
Finding Jobs On FlexJobs
The first thing we learned after clicking on this button was that FlexJobs was not necessarily free. Check out this screenshot.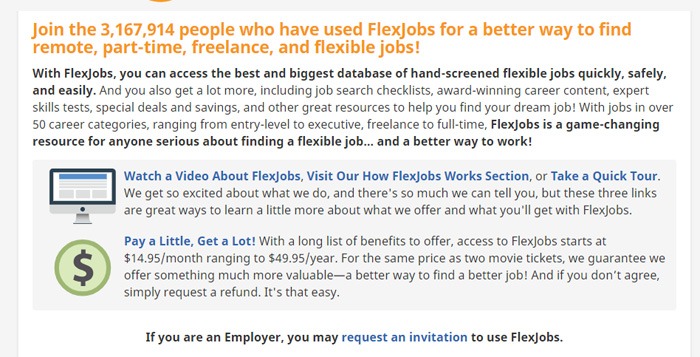 So, membership on FlexJobs ranges from $14.95 per month to $49.95 per year. But it does sound like you get a lot for your money.
At this point, I was really beginning to realize that FlexJobs isn't just a site that offers you little tasks for cash. This site actually seemed committed to finding remote and freelance jobs for companies across the board… and they seem very serious about providing a quality experience for the people who choose to use them.
You do have to sign up for the site and pay before you can really use the benefits, but from the sound of it, there are actually quite a lot of benefits to speak of.
But, I was able to read a bit about how the site works in the FAQ section and found out some really interesting things about it.
First of all, companies use FlexJobs to post jobs. And people looking for jobs can browse them using the site. So that is pretty simple.
But FlexJobs also goes beyond this to search the web for jobs that are not listed on their website. And if the jobs meet their criteria, they also inform their users about those jobs as well—which is pretty awesome.
Of course, the key here is that all of these jobs are remote, flexible, and/or freelance jobs. So this website does not necessarily help you to make money… but they do help to connect you with companies that you can work for to make some awesome extra cash… or even a full time steady income.
It also sounds like they cover jobs ranging from part-time to full-time… so whether you are looking for full-time employment or a part-time side-hustle, they may be able to hook you up. And that is pretty cool!
They also offer a lot of tools to help this process along, including specialized job search checklists, expert skill tests, webinars, articles, educational guides, courses, and more.
It almost sounds like this website has attempted to create a 'hub' that people can use for freelance or remote/flexible work.
And I must admit, I am thus far quite impressed.
My Personal Feelings About FlexJobs.com
Personally, I found this site to be quite unique and useful if your goal is to find a flexible or freelance job with a good company that will actually pay you a decent wage. In fact, I was quite surprised at the lengths that they go to to provide real quality to their users.
I feel like this site is making it a goal to help overcome the problem with dead-end online job opportunities. There are so many that don't lead anywhere—and there are many more that promise flexible income and/or freelancing opportunities, only to pay out so little that they end up not even being worth the time.
So FlexJobs seems to be making an effort to counter these problems with some forward thinking and a more proactive strategy—but it also comes at a cost.
You must pay to use this service, and though it isn't super expensive, it costs more every month than a couple of dollars. Granted, you seem to get more for your money if you join for a year than if you pay by the month… but still, a year costs around $50, so that is an investment.
It could, however, be a very good investment. I mean if you want to earn some side hustle cash, you need to go where the side-hustles are.
And this website literally specializes in bringing side-hustles and extra earning opportunities to their users. So for that, I think that they deserve some pretty major kudos.
Do I think you should check them out? Yes I do. I think that you should absolutely check them out if your aim is to earn some serious side hustle cash—but don't expect to get anything for free.
Sites like this need you to pay before you earn, and you also need to understand that you may not get anything for your investment.
That part, once again, is kind of up to you.
With that being said, they do offer a satisfaction guarantee as well though… so that's another upside.
Sign Up To Flexjobs And Start Browsing Online Jobs!
Our Final Thoughts About The FlexJobs Website
Should you sign up and try to earn some extra money?
There are a lot of ways to make money online. Some are good, some not, but ALL of them are still just trading hours for dollars.
Starting your own affiliate website really is the best way to build passive income and "make money while you sleep". Affiliate websites earn income in every timezone, and can be instantly accessed by billions of smartphones across the globe!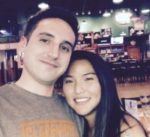 Nathaniell
What's up ladies and dudes! Great to finally meet you, and I hope you enjoyed this post. My name is Nathaniell and I'm the owner of One More Cup of Coffee. I started my first online business in 2010 promoting computer software and now I help newbies start their own businesses. Sign up for my #1 recommended training course and learn how to start your business for FREE!