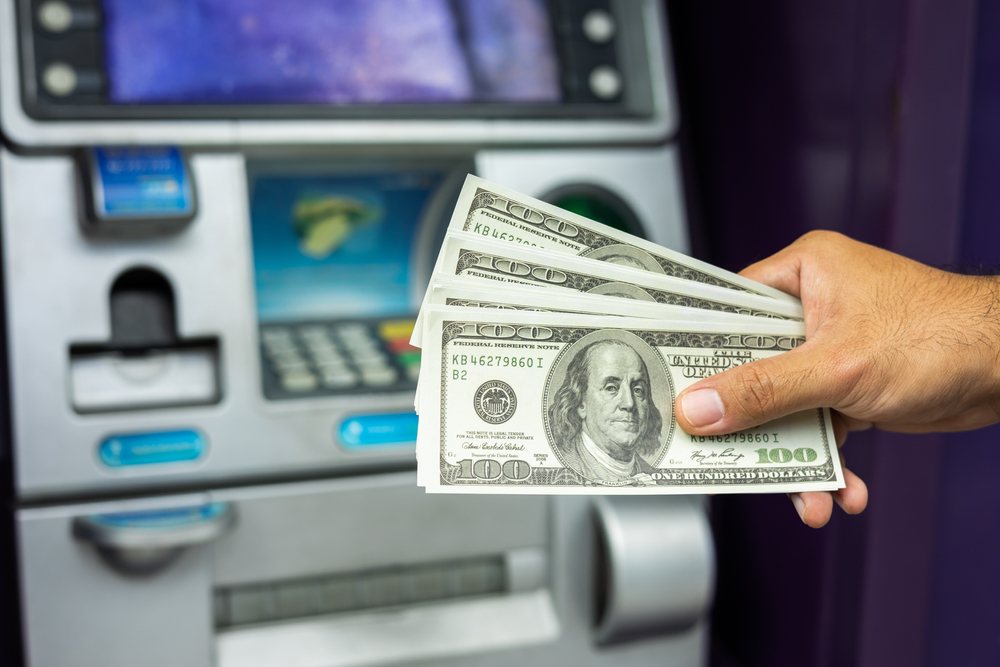 When it comes to passive income, you want to find a side hustle that fulfills three Ps: it needs to be practical, predictable, and of course, profitable.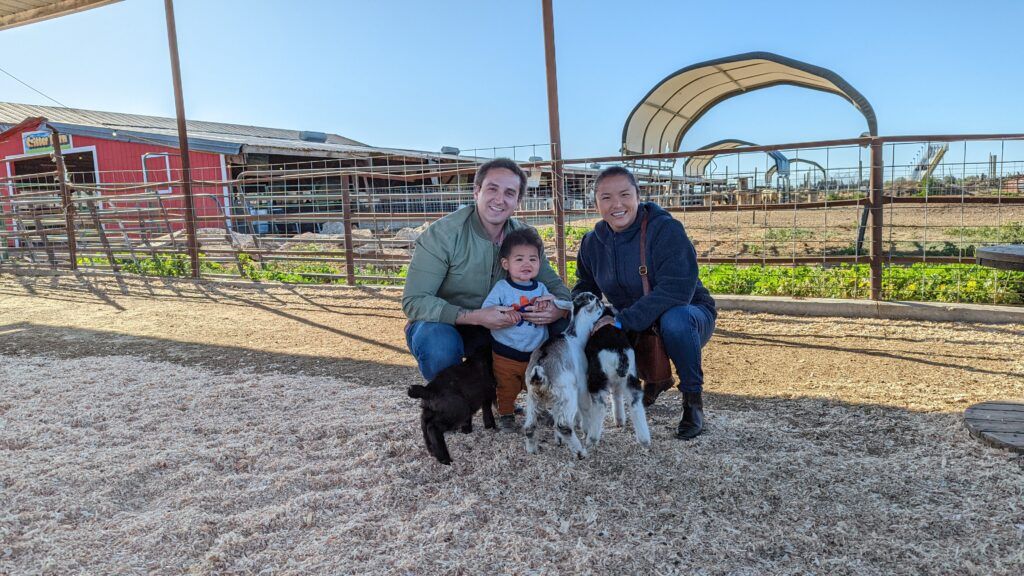 Are You Ready To Work Your Ass Off to Earn Your Lifestyle?
Are you tired of the daily grind? With a laptop and an internet connection I built a small website to generate income, and my life completely changed. Let me show you exactly how I've been doing it for more than 13 years.
ATMs can be divided into two categories: those owned by banks and those owned by everyone else. For those owned by everyone else, they can be managed by large operators of multiple machines or by individuals that own one or a few.
There are three paths to making money from ATMs: buying, leasing, and 50/50 placements, which are a type of profit-sharing arrangement.
As an ATM owner/operator you pocket the surcharges people pay to use your ATM. You know that fee warning on ATMs that tells you how much it's going to cost for you to make a withdrawal? That's the fee you will make as an ATM owner or lessee.
But do people still use ATMs?
Yes! In fact, one-third of Americans use ATMs at least once a week. If you install an ATM in an ideal location, your profit potential is extremely high.
ATM ownership is a good side hustle and passive income producer. If you own a store, apartment building, restaurant, café, or other highly trafficked area, you can also realize synergies by owning an ATM, because the ATM will not only earn you money but also drive traffic to your site, which can present other monetization opportunities.
Having an ATM could literally put your business "on the map" when people search for ATMs through the mapping applications on their phones.
But you don't have to own your own brick-and-mortar business to own an ATM. You can reach an agreement to place one inside or outside of a pre-existing business.
Do ATM Owners Make a Good Profit?
Yes, ATMs have excellent profit potential. To see how much you could make with an ATM, let's look at the costs and potential revenues of ATMs.
Follow this 5-step process to figure out how much money your ATM could make:
How much does an ATM cost?
Where can you place your ATM?
What are the fixed costs of owning an ATM?
How much revenue can you earn from your ATM?
Calculate your profit.
Step 1: How Much Does an ATM Cost?
As mentioned above, you can operate your own ATM in one of three ways.
First, you can buy an ATM. Second, you can lease an ATM. Third, if you own or have rights to a high-traffic property, you can enter into an agreement with an ATM vendor or bank for 50/50 placement.
Purchasing an ATM
You might have the impression that an ATM is expensive, maybe even costing tens of thousands of dollars. Many models are inexpensive, however, including the Hyosung ATM Mini Bank 1500, which retails for only $1,795 including shipping.
ATM Experts is a great resource for would-be ATM owners. They also offer more than 30 ATM models for sale on their page, including the Hyosung 1500. In addition to selling ATMs, they also lease and do 50/50 placements.
As a prospective purchaser of an ATM, you may consider purchasing the cheapest ATM you can find, or even buying one used. Keep in mind, however, that if you buy an older machine, it might be slow, driving your customers away instead of attracting them to come back for future withdrawals.
Additionally, a lower-end machine might have limited functionality, such as potentially only being able to dispense cash. Advanced ATMs can cost as much as $15,000 but offer more services that could drive customers to your location and offer additional monetization options.
Here are some of the services you could make available with an advanced or "Smart" ATM:
Check cashing
Loan payments
Transaction statements
The ability to choose dispersed denominations
Card-less ATM access (using Smartphone)
Credit card payments
Cash deposits
Whether you should buy a cash-dispensing ATM for $1,800 or a Smart ATM for $15,000 or something in between, depends on your available startup costs. You should also consider what services ATM customers would be most likely to use at your location.
Leasing an ATM
If you don't want to buy an ATM outright, you can also look at leasing options. You can lease the $1,795 Hyosung 1500 model for only $70 per month, including shipping. Often ATM leases have free or low-cost buyout options. This makes leasing a perfect option because you can test your business model before assuming the capital costs of purchasing an entire ATM
50/50 Placement
If you want to be even more cautious, you can enter a 50/50 arrangement with an ATM provider. The specifics of these agreements vary, but usually, the ATM provider covers the cost of ATM placement and repairs while you as the operator would keep the ATM filled with cash.
Then the ATM provider and you, the operator, would split the surcharge fees 50/50. In this case, you would be able to benefit from having the ATM without paying any money, though you would have to fill the machine with money on an ongoing basis.
In a 50/50 arrangement, the location must have enough traffic to merit interest by the ATM provider. They will have to approve you based on the expected revenue that could be generated by your chosen location.
Step 2: Where Should You Place Your ATM?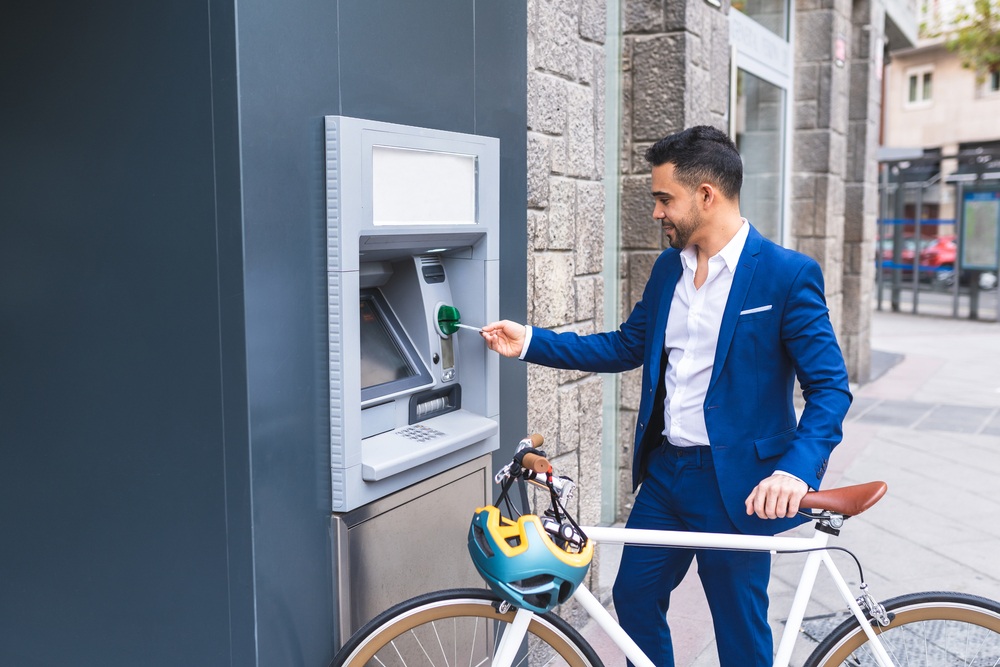 With ATMs, as in real estate, it's all about location, location, location. You should think about putting your ATM where people need to get cash or complete other banking transactions. Ideally, this will be in a place that is not already saturated with ATMs or banking options. Optimally, it would be a place where people might want to withdraw cash on short notice.
Ideal ATM Locations
Here are some ideas for potential ATM locations:
Nightclubs
Bars
Grocery stores
Gas stations
Cannabis dispensaries
Bingo parlors
Convenience stores
Adult stores/clubs
How to Approach a Business Owner about ATM Placement
You don't have to own these locations in order to get permission to put an ATM there, even on a 50/50 placement option. Maybe you have a friend who owns one of these businesses, or you can approach the owner/operator with an offer.
When approaching an owner or operator about placing an ATM in their business, try to get an offer where you don't have to pay for the privilege of placing the ATM. Instead, try to show the owner how an ATM could drive people to their location, as in a grocery store or gas station, or how an ATM could dissuade people from leaving to get more cash, as in a nightclub.
Mobile ATMs
You can also consider purchasing a mobile ATM. Mobile ATMs have wheels and are easily portable. If you live in an area with a weekly farmers market, this could be an excellent placement for a mobile ATM since a lot of vendors might only take cash, though you will have to lug it back and forth.
Events like concerts and festivals can be ideal placements for mobile ATMs. In many cases, you can convince festival organizers to allow you to place your ATM for free since they would prefer customers to stay on-site instead of having to leave the venue to get cash.
Step 3: What Are the Costs of Owning an ATM?
As an ATM owner, you will only have a few monthly costs.
Internet Access
Depending on the model of the ATM, you may need a phone line to access the Internet. This will cost you $20-$40 per month depending on whether you get a landline or one that accesses local cell phone infrastructure.
Many modern ATMs come equipped to access local Wi-Fi. If your ATM location has access to a Wi-Fi network, you may be able to save on monthly cell or landline access. If you go with this option, make sure the network is reliable, as lack of connection will cost revenue.
Cash Loading
If you don't stock the ATM with cash yourself, you will have to pay a service to do it. This can cost you $35-$60 per trip. It's important to keep your ATM stocked with cash, because if you don't you will lose out on surcharge fees and possibly repeat customers. Having a cash service stock your ATM once a week could cost up to $240 per month.
Paying someone else to stock your ATM is really something you only want to do if you can't do it yourself.
Receipt Paper
Receipt paper is another cost associated with owning an ATM. These print out with every successful transaction, but also for every transaction that's denied and even if people want to check their balance. Estimate receipt paper could cost you up to $10 per month.
Total Monthly Costs
Assuming you will stock your own ATM with cash, you can estimate $20 for phone or Wi-Fi fees and $10 for receipt paper for a total monthly cost of $30 for your ATM. This is an annual cost of $360 to run your machine.
If you lease instead of buying, your monthly costs will be around $100, assuming you are paying $70 in monthly leasing fees. The leasing option adds up to $1,200 in annual costs.
Step 4: Estimate the Revenue for Your ATM
The revenue your ATM makes depends on how much your surcharges are and how many customers make successful cash withdrawals. If you install a Smart ATM, you might be able to charge for other transactions, such as cashing checks, but for now, we will focus on withdrawals.
What Should Your Surcharge Be?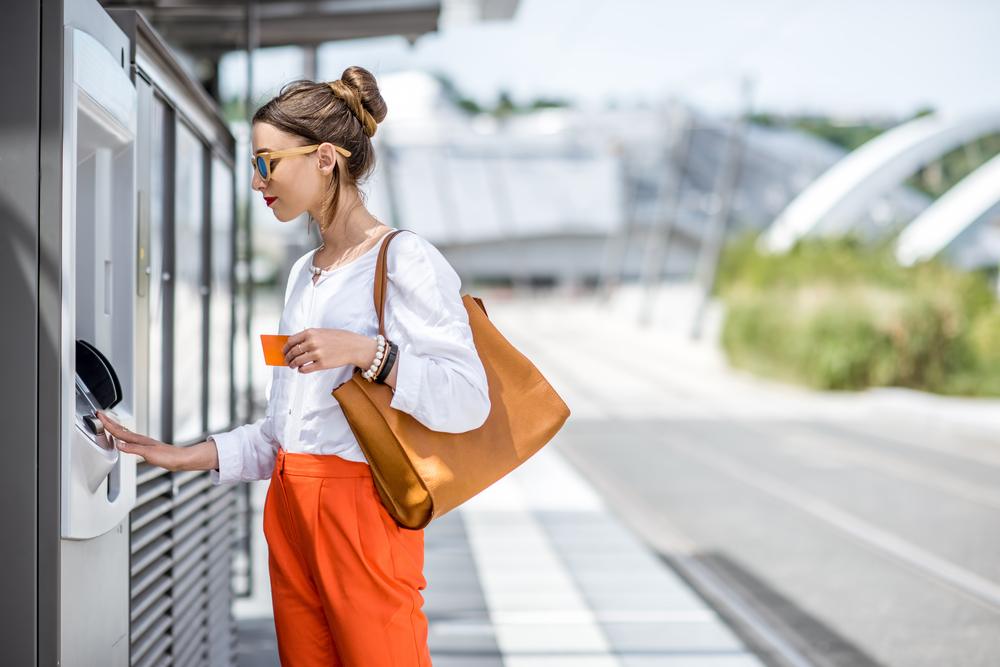 Your ATM revenue will depend on the surcharge you determine, so you might be tempted to charge as much as possible. You should keep in mind, however, that there is a limit to the ATM surcharges people are willing to pay. This is often determined by the type of establishment where you are planning to place your ATM.
People using ATMs in a nightclub would likely be willing to pay more than those frequenting a gas station in the same area. And inside a grocery store, people might be willing to pay even less.
The average ATM surcharge is $3.08 per transaction. If you are looking to charge more, you better have a good reason for it, like a somewhat captive audience at a concert. If you are thinking about charging less, you should consider whether your customers might be willing to pay more and adjust accordingly.
How Many Transactions Can You Expect?
Again, this depends on location, but the average ATM is used 300 times per month. Of those, you can figure that approximately 250 will be a successful cash withdrawal that will result in you pocketing a surcharge.
This also implies that when you are surveying potential ATM locations, you should focus on ones for which attracting 300 ATM visitors per month is feasible. Your ATM will need to have ten visitors a day to meet the national average.
Likely Total Revenue
To calculate your likely total revenue, multiply 250 transactions by the $3.00 surcharge. This leaves you an average monthly revenue of $750 for each successfully placed ATM. This works out to an annual passive revenue of $9,000.
Step 5: Calculate Your Profit
For the following profit calculations, we will assume we are able to achieve $9,000 in annual revenue. If you can achieve more, the profits will be that much higher.
Profits from Owning an ATM
If you purchase your ATM, you will pay $1,795 to purchase the machine and $360 in operating costs. This works out to a first-year profit of $9,000-$1,795-$360=$6,845. Assuming no maintenance or repair costs, your second-year profits would be $8,640 on a revenue of $9,000.
Profits from Leasing an ATM
With the leasing option, your profits for the first and subsequent years would be $9,000-$1,200 = $7,800, assuming you were able to achieve $9,000 in annual revenue. Of course, this also assumes that you are stocking the ATM with cash yourself, but this is not a bad deal for a passive side hustle.
Profits from 50/50 Placement
Assuming the ATM vendor pays all the equipment costs, and you stock the ATM with cash yourself, you are looking at ($9,000-$360)/2=$4,320 for annual profits on $9,000 in revenue.
Related Questions
1. How do I get the money I load into the ATM back from the bank?
Depending on the service from which you buy or lease your ATM, you will be connected to a specific bank or an interbank network. This network will reimburse the business account you set up with them daily.
2. How much do ATMs weigh?
Standalone ATMs like the one we used in our example weigh 200-300 pounds. If you are looking at mobile options for use at outdoor events and temporary venues, make sure you have a beefy friend or two.
There are a lot of ways to make money online. Some are good, some not, but ALL of them are still just trading hours for dollars.
Starting your own affiliate website really is the best way to build passive income and "make money while you sleep". Affiliate websites earn income in every timezone, and can be instantly accessed by billions of smartphones across the globe!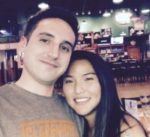 Nathaniell
What's up ladies and dudes! Great to finally meet you, and I hope you enjoyed this post. My name is Nathaniell and I'm the owner of One More Cup of Coffee. I started my first online business in 2010 promoting computer software and now I help newbies start their own businesses. Sign up for my #1 recommended training course and learn how to start your business for FREE!