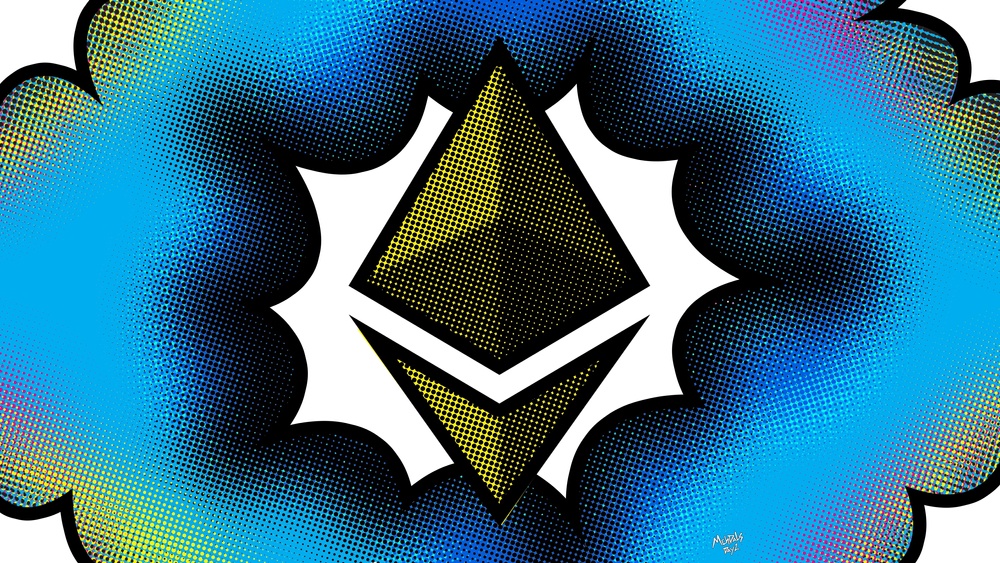 With almost all eyes in the financial world checking out cryptocurrencies and NFTs in recent months, the most popular blockchain for hosting NFT contracts is easily the Ethereum blockchain. Not only is this blockchain home to the most valuable NFTs in the market, but it is also the second-biggest cryptocurrency in the world.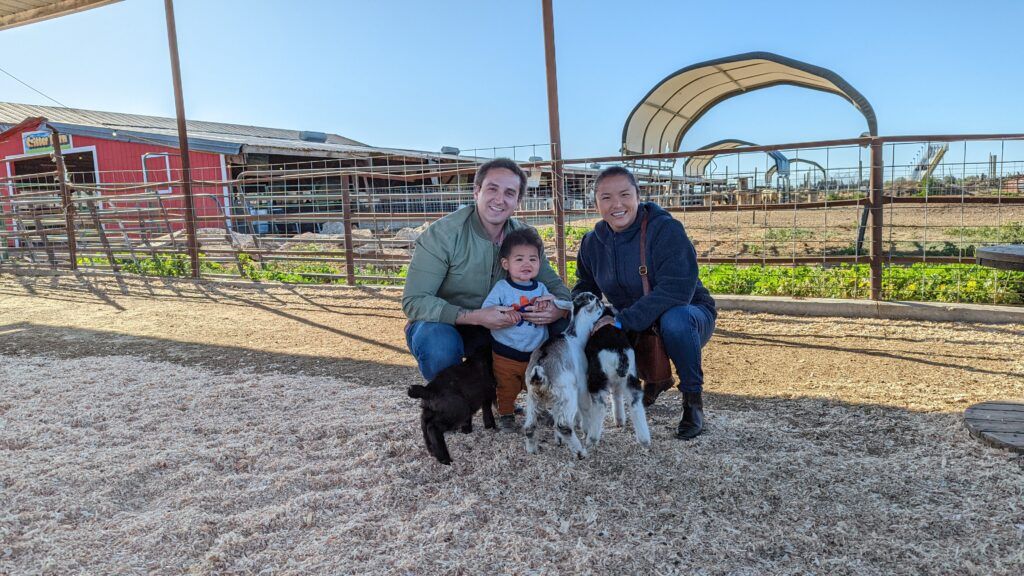 Are You Ready To Work Your Ass Off to Earn Your Lifestyle?
Are you tired of the daily grind? With a laptop and an internet connection I built a small website to generate income, and my life completely changed. Let me show you exactly how I've been doing it for more than 13 years.
It's easy to assume that the NFTs on the Ethereum blockchain also will be some of the most mainstream and widely acclaimed projects. I've covered NFTs on Cardano and NFTs on Solana, two tier-2 L1s with some NFT activities, but many of the projects are niche or obscure. These 10 NFTs on Ethereum you will absolutely recognize. Their recognizability mainstream appeal could be a good reason to invest time into researching and possibly even trading in these projects.
Breaking Down the Top 10 NFT Projects on the Ethereum Blockchain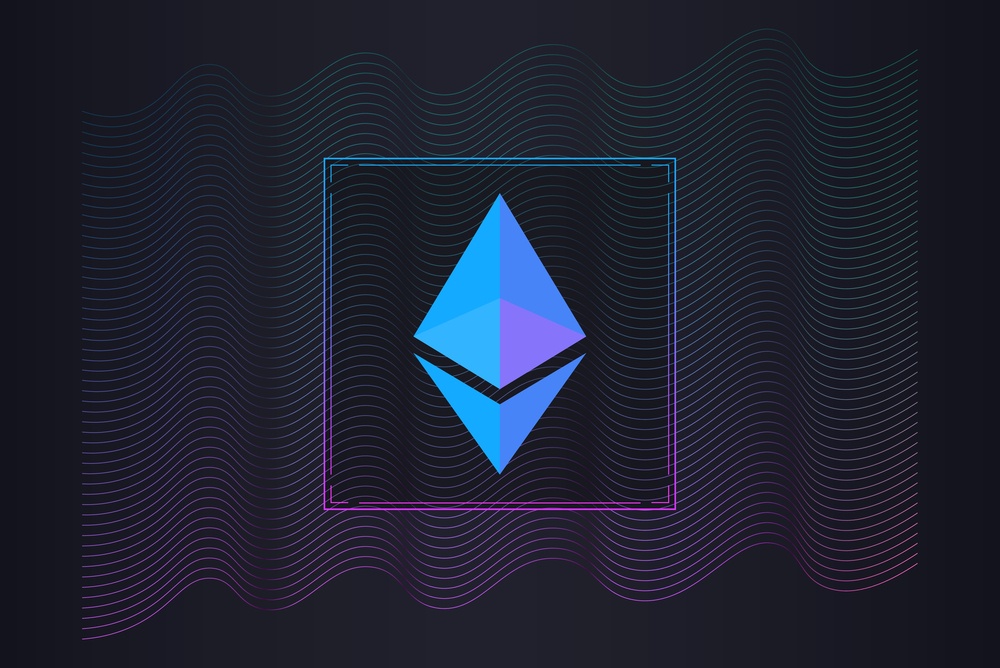 Before we cover each of the top 10 NFTs on the Ethereum blockchain, it's important first to clear up some basic background information on what makes this chain so popular, unique, and perhaps the best blockchain for hosting NFTs as a whole. Since this chain is where many people have experienced some of the most jaw-dropping gains for NFTs, let's start by breaking down a little bit on why this might be the case.
What Is So Special About Ethereum?
Founded in 2013, only five short years after Bitcoin, Ethereum set itself apart from Bitcoin for its ability to process transactions much more quickly and host what is now known as "smart contracts," and even create new ERC-20 cryptocurrency tokens. This essentially gave the Ethereum community the power to unleash higher levels of creative potential than what Bitcoin did.
For the first time ever, a novice developer could make their own cryptocurrency token, mint NFTs, and process their transactions faster and cheaper than what Bitcoin allows. Understandably, this higher level of creative potential and utility for the project are two big reasons why Ethereum is currently the number two blockchain in the world.
Unfortunately, the cheap cost of transactions on Ethereum was in part due to the lack of use of the chain, and now that Ethereum is the most popular L1 smart contract blockchain, it's suffering from high fees, making "cheap NFTs" difficult to mint on Ethereum.
What Makes NFTs on the Ethereum Blockchain Worth Investing in?
As we have tried to make clear, Ethereum is not a blockchain project that should be cast aside. In fact, it is home to some of the most prominent institutional investors, probably in part due to its active ecosystem and long time surviving in the market. The longer something stays around, the more likely it'll continue to stay around in the future.
Many other L1 smart contract blockchains have come and gone, such as Tron, EOS, and Neo, making way for more trendy chains like Avalanche, Polkadot, Cosmos, Solana, Cardano and others. While these lesser-known chains battle it out for second place to Ethereum, it seems that Ethereum continues to be the preferred chain despite it's insanely high gas fees (transaction fees) at the moment.
Home of the Most Famous Projects
As we will explore below, the Ethereum blockchain is home to many of the most famous NFT projects in the market, including some which are considered blue chip NFTs. Given the popularity of the blockchain's NFTs, "Shark Tank" star and famous billionaire Mark Cuban is one of the many notable names who has aped into at least one of the NFTs on the Ethereum Chain. The notoriety of the projects themselves are what makes NFTs on Ethereum attractive to many people.
1. CryptoPunks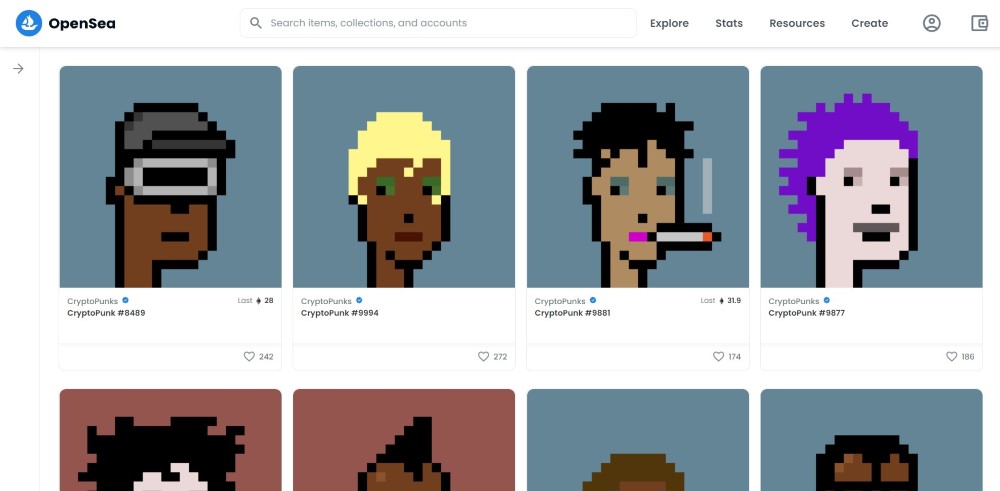 When CryptoPunks first came around, most people had no idea how important this project would become in the world of NFTs. Perhaps most astonishing about this project is that each of the NFTs was once completely free to acquire. One would simply need to pay gas fees.
After some time passed, CryptoPunks quickly rose to some pretty impressive heights, with one recently being purchased for $532 million. There are also notable celebrities such as Jay-Z, Snoop Dogg, Odell Beckham Jr., Steve Aoki, and various others, who own a Crypto Punk
2. Bored Ape Yacht Club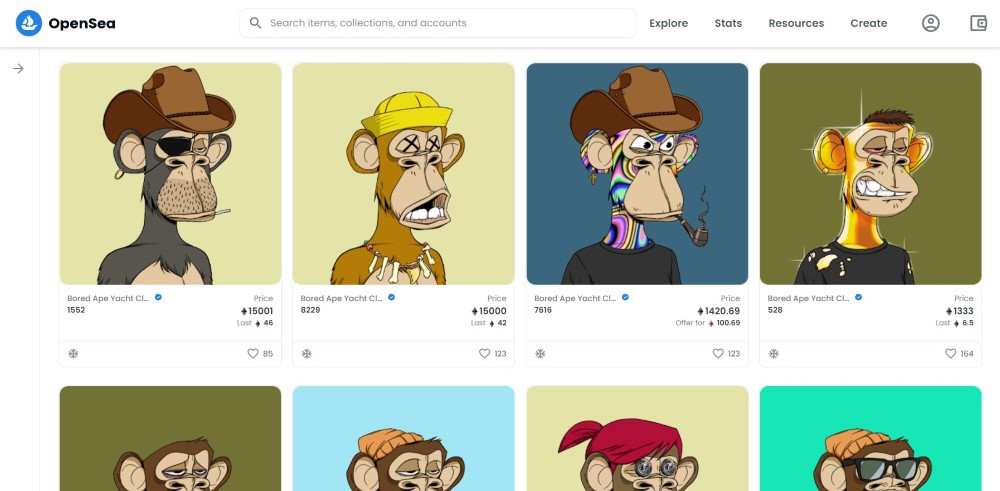 Perhaps one of the most significant themes with crypto and NFTs in recent months is the theme of unpredictability. This is definitely the case when we consider the rise of the Bored Ape Yacht Club. Each of these 10,000 NFTs holds no actual utility, but they are unique and feature seemingly-bored apes.
However, the gain in price action of this project is not something to laugh about. Anybody in their right mind with the ability to predict the future would have bought as many of these as possible after they were released. Today, headlines are routinely made about jaw-dropping sales figures. For example, one recently sold for $3.4 million.
3. Decentraland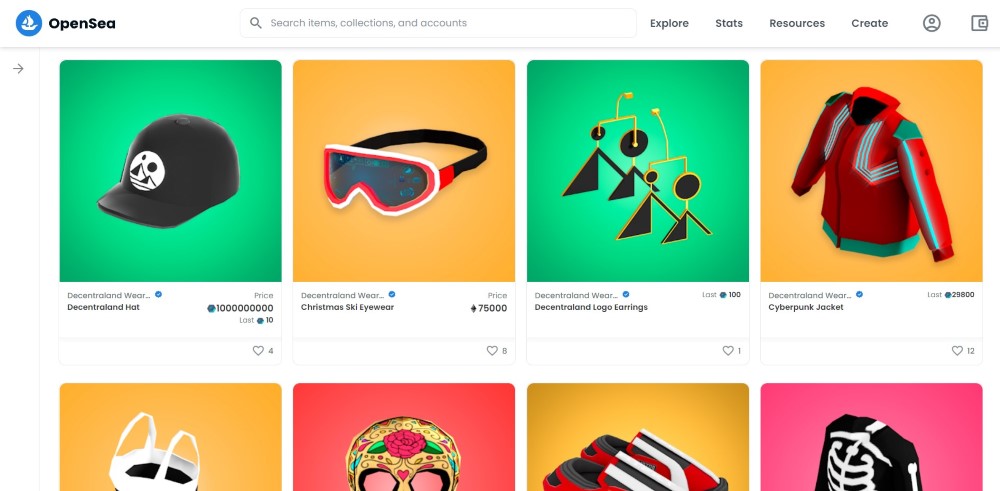 If the buzzword "metaverse" has been running across your screen non-stop, Decentraland might be one of the reasons why. Unlike the Facebook poster child, Meta, Decentraland already has its metaverse up and running. As the name implies, it is entirely decentralized.
As far as the NFTs go, you can buy a plot of virtual land or digital aesthetics such as the ones pictured above. When you create an avatar, you are free to use the aesthetics you purchase and customize the digital land you own.
4. Mutant Ape Yacht Club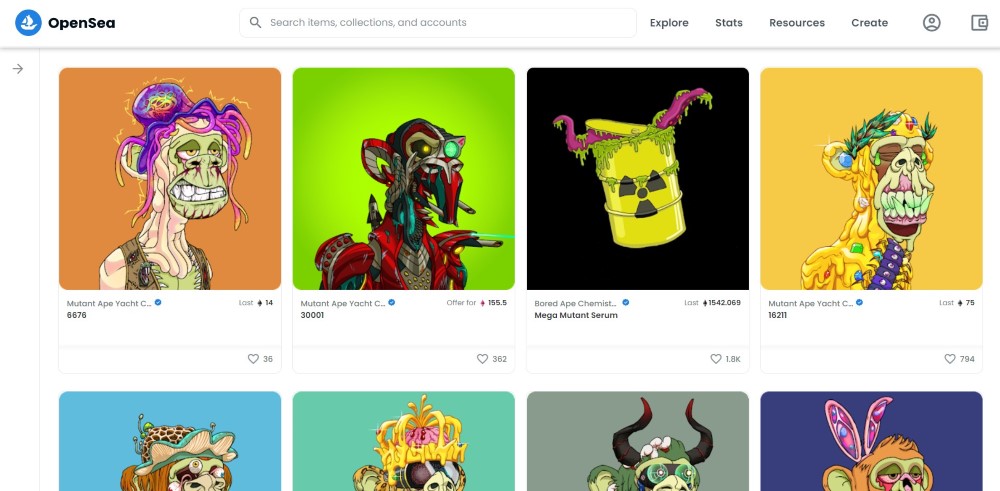 When we saw SHIB briefly eclipse the market cap of DOGE back in late 2021, one thing became clear: just because you are a copycat doesn't mean you can't be successful in the crypto/NFT world. Mutant Ape Yacht Club is another good piece of evidence that this is the case.
From the name alone, it is clear that this project is just a fork off of the Bored Ape Yacht Club. Created by Yuga Labs, this project quickly rose up into the top NFT projects. Some of the most noteworthy sales prices include amounts like 222, 250, 335, and 888 ETH for one digital NFT picture each.
Surprisingly, this project has done quite well, especially when compared to other attempts to expand NFT ecosystems like Pudgy Penguins rods aidrop, which bombed. However, the 3rd attempt at capitalizing on BAYC didn't do as well, and the Kennel Club project doesn't do much volume.
5. Art Blocks Curated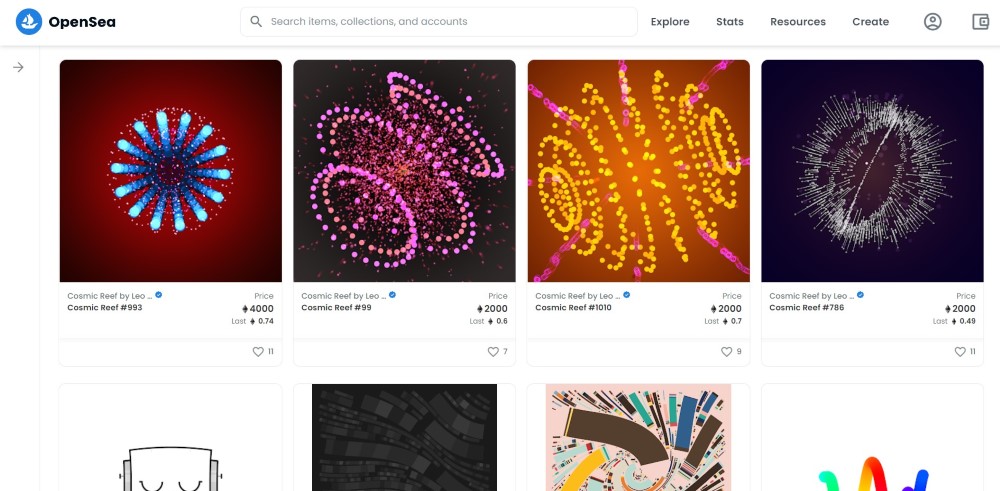 If having a unique idea brings success to an NFT project the most, then Art Blocks Curated would be exhibit A to demonstrate this theory. What makes this project unique is that it emphasizes the quality of the art.
Each of this collection's digital pieces of artwork goes through a heavily scrutinized submission process where a curation board ultimately decides if a particular piece of art meets up to par. As a result, some of the most renowned names in the field of art are working as you read this to have their art become part of Art Blocks Curated.
6. The Sandbox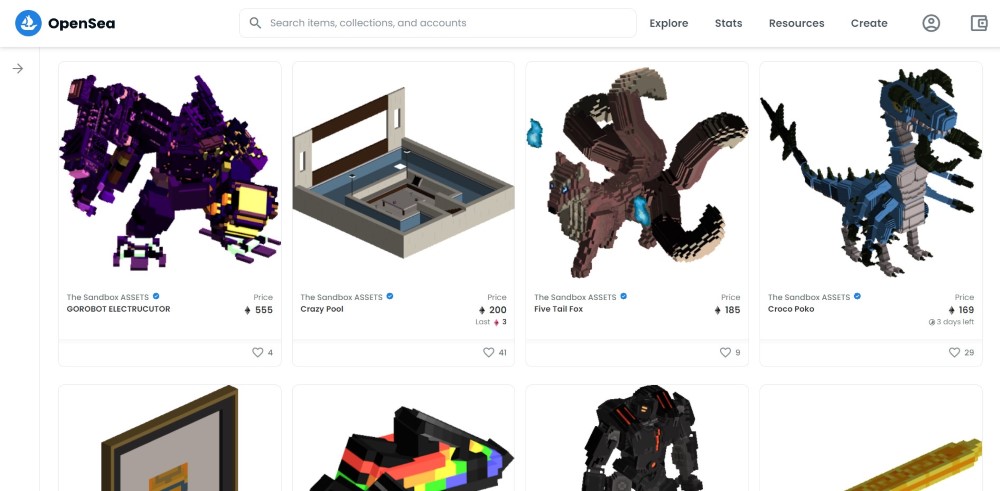 The Sandbox is another one of the top metaverse projects, and part of an NFT game where you can use and trade NFTs. Although not too much different than Decentraland, people favor this project over others for personal reasons. In reality, though, each of these digital metaverses are not that unique at all. They are essentially fake digital land where people can improve and cultivate their own avatars, digital assets, NFTs, and so on.
This isn't to say that we should treat projects like this as if they were minuscule and worthless. Anybody who has watched the price of Sandbox land knows how lucrative savvy investors can be with careful navigation of the metaverse. For example, a plot of land was recently sold for $4.3 million.
7. Clone X – X TAKASHI MURAKAMI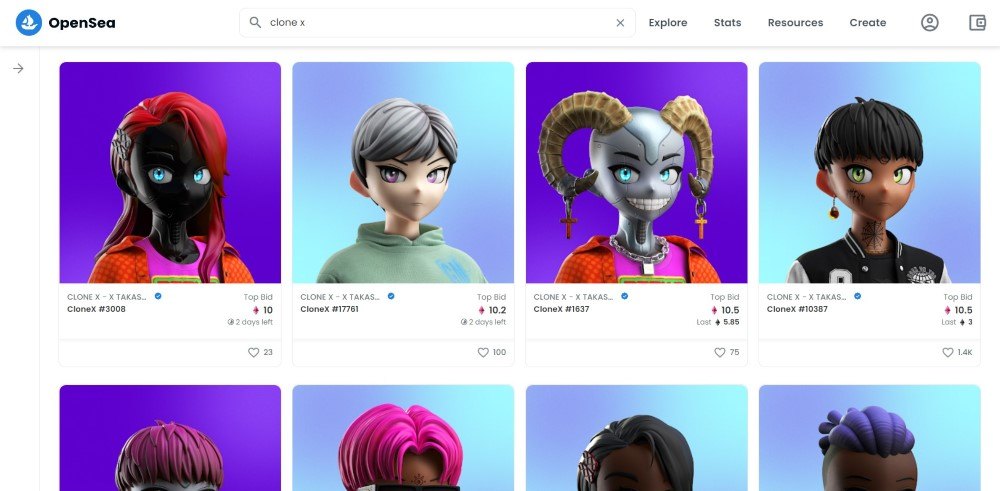 The Clone X NFT project is a collection of 20,000 different avatars created by Takashi Murakami and RTFKT. What seems to be the most significant selling point of these NFTs is the fact that they are made with high-quality graphics that can also be used for purposes such as gaming, social media, videos, and more.
Headlines were recently made when it was uncovered that a CloneX NFT was sold for 450 ETH or $1.25 million at the time of sale. After eclipsing its first sale of over $1 million, it would be easy to see why many people envision a bright future for this project.
8. Azuki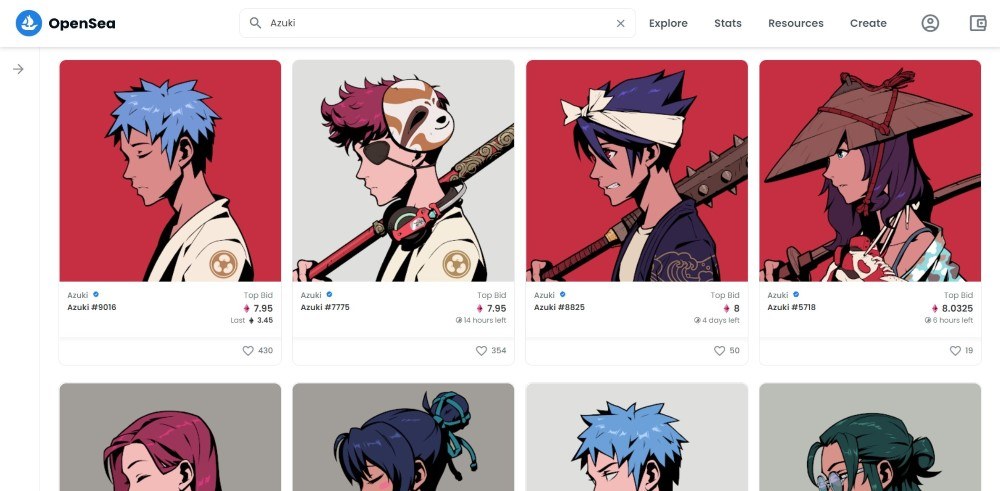 The Azuki NFT project is another metaverse (known as 'The Garden') project where avatars can be bought and sold in the form of NFTs. After its initial launch, it created quite a bit of buzz, quickly generating a volume that has now eclipsed 125,000 ETH on OpenSea.
To gain access to The Garden, Azuki's version of the BAYC's "The Bathroom" (sounds a lot nicer, right?) you need to own your own Azuki avatar. This is one of the differences between this project and other metaverse projects like Decentraland and The Sandbox. NFT ownership includes member benefits including gear, future NFT drops, and other perks. This could have a lot to do with why the project has risen up in value so quickly.
9. Rarible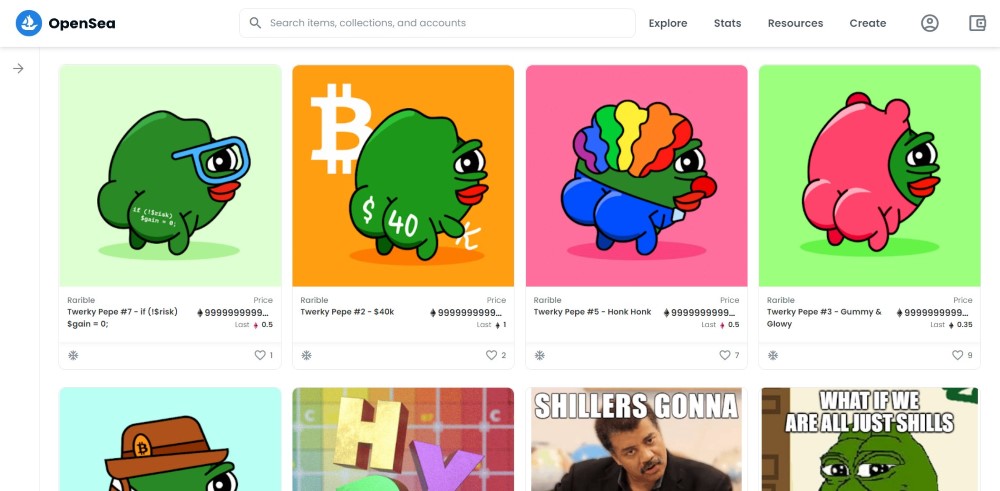 Rarible is much more than a brand of NFTs. It is a marketplace where thousands of artists worldwide upload and mint their artwork into NFTs. The result is pieces of digital art that carry the Rarible brand name with them. For this reason, it isn't hard to see why this has turned into one of the most successful NFT projects on the Ethereum blockchain.
Rarible is unique in that it's not simply an AI generated collection of 10,000 versions as with many other famous projects emulating Punks.
10. Cool Cats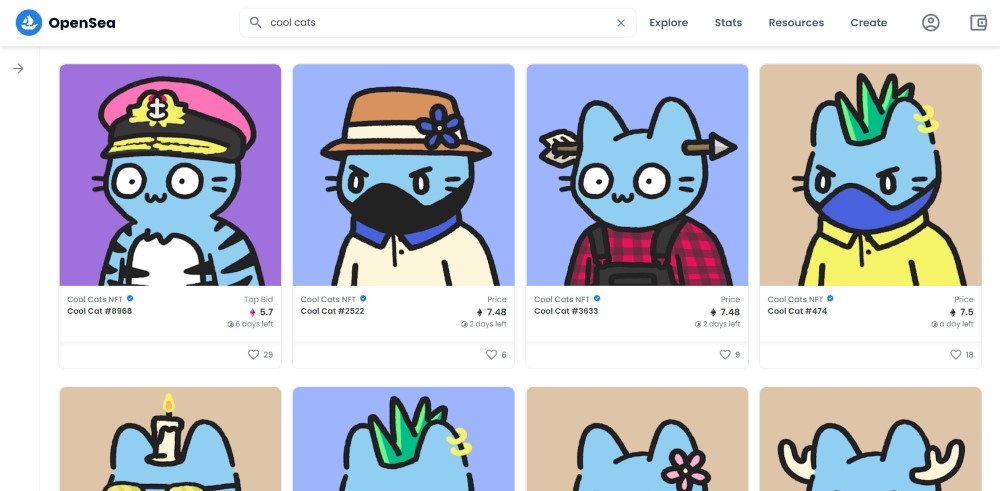 Cool Cats are understandably trendy among people who like cats, NFTs, and quirky memes. With a maximum of 20,000 cats, each cat is entirely unique. This makes it have a very similar design to top NFT projects like Bored Ape Yacht Club, Crypto Punks, and so on.
However, one unique aspect of this project is that the creators of each NFT influence what the look of the cat eventually looks like. When the owner of an egg used unique modifying items purchased separately, they influenced the final NFT appearance when it was minted. Today, you need to buy a Cool Cat using ETH on a platform like OpenSea.
Ethereum NFT FAQs
Of course, it is essential to do plenty of research before you spend money on essentially what is a piece of digital artwork with no guaranteed long-term value. Let's look at some basic and common questions related to NFTs issued on Ethereum.
Can You Move Ethereum NFTs to a Different Blockchain?
One of the common problems people run into when they purchase any digital asset on the Ethereum blockchain, whether an ERC-20 token or NFT, is the high gas fees. For this reason, many people are hesitant to buy an NFT on the Ethereum blockchain. This is especially true if they are not the HODLing type of buyer and instead want to trade.
Since gas fees often make trading NFTs very unprofitable, you might instead move your NFTs over to a different blockchain using a project like the Wormhole NFT Bridge. This way, you can move your NFTs from wallet to wallet without necessarily incurring high ETH gas fees. Other chains such as Solana and Cardano, for example, have lower transaction fees.
Keep in mind though, not all platforms are interoperable, and moving your NFT from the Ethereum blockchain means it can't be listed on popular NFT platforms like OpenSea or Nifty Gateway.
Can You Stake NFTS on the Ethereum Blockchain?
One of crypto users' common rallying battle cries is passive income through techniques such as staking. One of the most common places to do this is on NFTX, where ERC-20 tokens are created that are backed by NFTs that users stake on the platform. Using the ERC-20 token given to you by the platform, you can stake and yield rewards and turn your NFT investment into some passive income.
Of course, there are also staking programs held by individual NFT projects, such as The Sandbox. If your main interest in buying an NFT, then, is to secure passive income, make sure you read up well on what kind of opportunities are available.
Is Ethereum the Safest Blockchain to Buy NFTs on?
At the end of the day, Ethereum NFTs remain an attractive option to anybody serious about investing in NFTs on a blockchain that has proven recently capable of serious gains in value. However, this isn't to say that past performance will indicate future success.
There are many who claim that we may have already experienced the peak of price action for Ethereum blockchain NFTs. For this reason, it is so important to be vigilant with your research and only make decisions that you personally endorse and believe in, as opposed to simply listening to what you read on a blog or hear on YouTube!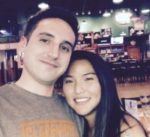 Nathaniell
What's up ladies and dudes! Great to finally meet you, and I hope you enjoyed this post. My name is Nathaniell and I'm the owner of One More Cup of Coffee. I started my first online business in 2010 promoting computer software and now I help newbies start their own businesses. Sign up for my #1 recommended training course and learn how to start your business for FREE!