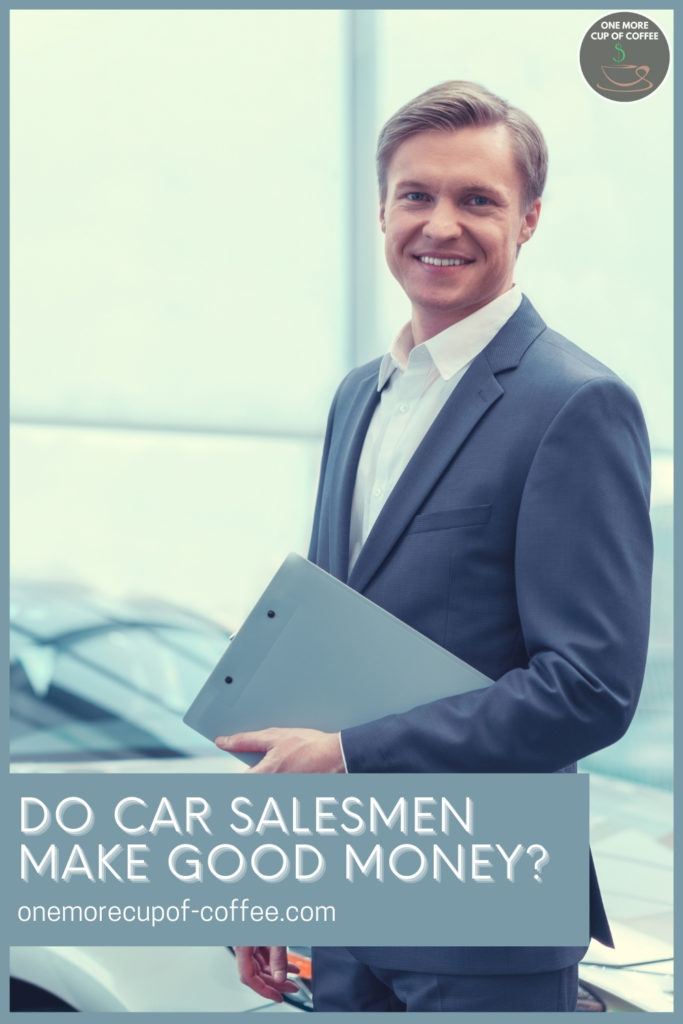 When was the last time you were in a car dealership? I bought a new car last year, and in the process, I visited three different dealerships and test-drove cars for most of an afternoon. The car salesmen I worked with were outgoing, but not overbearing. They were respectful, knowledgeable, and accepting when I wanted to look at other options.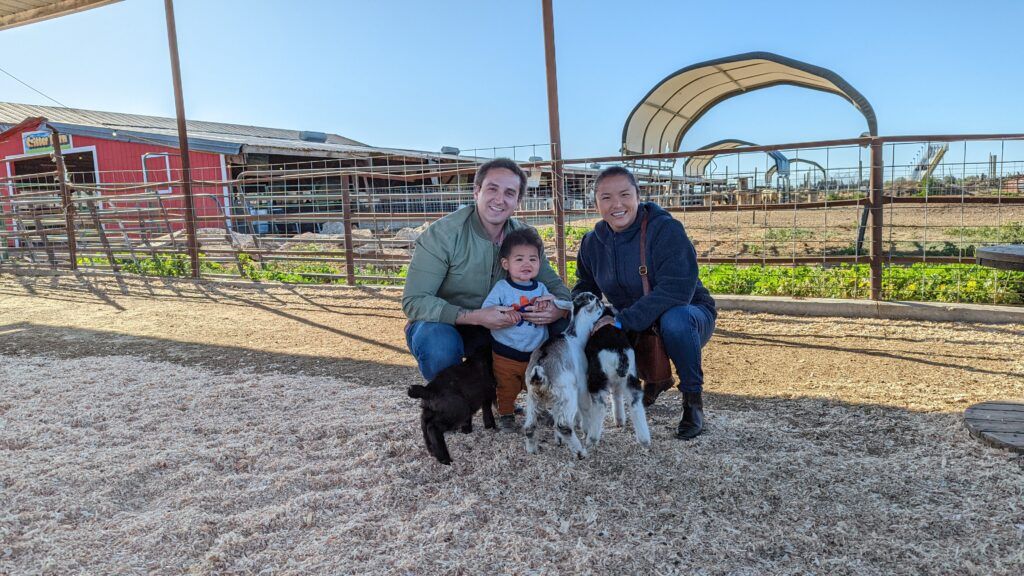 Are You Ready To Work Your Ass Off to Earn Your Lifestyle?
Are you tired of the daily grind? With a laptop and an internet connection I built a small website to generate income, and my life completely changed. Let me show you exactly how I've been doing it for more than 13 years.
Car salesmen, as a whole, don't have a great reputation, but that may be more a relic of the past than the truth in our current social climate. According to Career Explorer, car salesmen are generally enterprising and artistic. They are natural leaders and very creative, with a strong ability to influence and persuade other people.
If you're looking at the Myers-Briggs personality types, car salesmen may well fall into the ESTP or ENFJ personality types. ESTP personality types could be great at closing sales, while ENFJ people nurture sales and can persuade people gently without being pushy.
These personality traits can be helpful for car salesmen, as they can use these talents to help potential customers get a clear picture of what they're looking for in a car. They do this by watching for feedback from their customers and using their intuition to get a feel for what is most needed. Then they can match their clients with a car that meets their needs and hopes.
With their intuitive, outgoing personalities, car salesmen might also make great politicians, physical therapists, or historians. This is because they generally enjoy other people, and these jobs give them plenty of opportunities to mingle with the people they come in contact with.
Do Car Salesmen Make Good Money?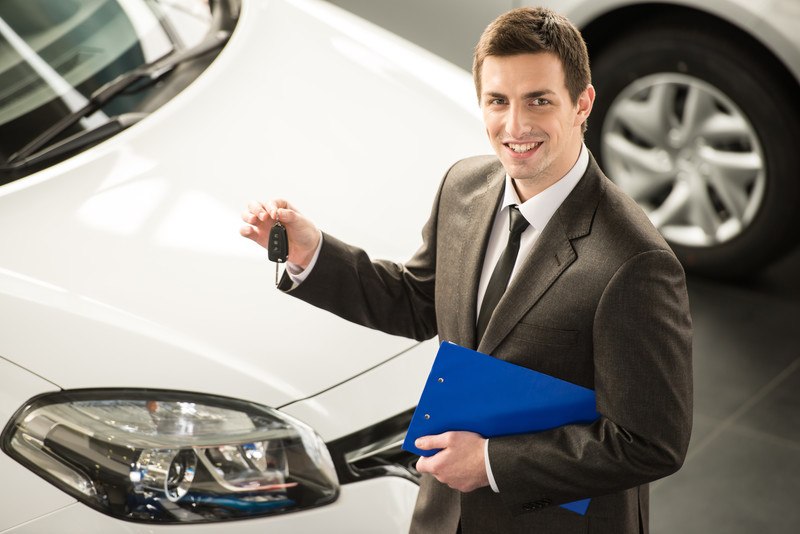 What's The Median Salary For Car Salesmen?
The Bureau of Labor and Statistics doesn't have a separate category for car salesmen. They fall under the umbrella of retail salespeople, with a median hourly wage of $17.06 per year and an average hourly wage of $21.50, or $44,720 per year.
Retail salespeople in the automotive industry are actually some of the highest-paid retail salespeople in the nation, ranking fifth behind salespeople in the industries of natural gas, mining, plastics manufacturing, and building finishing contractors.
Industry dynamics aren't the only indicator of how much a car salesman could make, though. Retail salespeople like car salesmen might find that their wages could vary significantly from place to place, as well.
For example, the top five paying states for retail salesmen are the District of Columbia, Washington, North Dakota, Rhode Island, and Connecticut. Retail salespeople in the San Rafael area of California earn an average hourly wage of $19.09, while those in the Myrtle Beach area of North and South Carolina earn an average hourly wage of $11.30.
The amount of experience a car salesman has can make a difference in how much he can earn, as well. According to PayScale, a newbie with one to four years of experience can expect to make around $35,851 per year, while those with five to nine years of experience earn an annual average salary of $40,387.
Car salespeople who want to make more money might consider a career path that includes trying to become a sales consultant or a finance manager. A sales consultant could earn an annual average salary of $51,928, while a finance manager could make an average of around $92,140 per year.
There's one more thing to consider. While car salesmen are paid a salary, they also earn a commission on vehicles they sell. If they want to make more money without having to move or lateral into another position, they might need to upgrade their charisma and selling skills to sell more cars.
How Do Car Salesmen Make Money?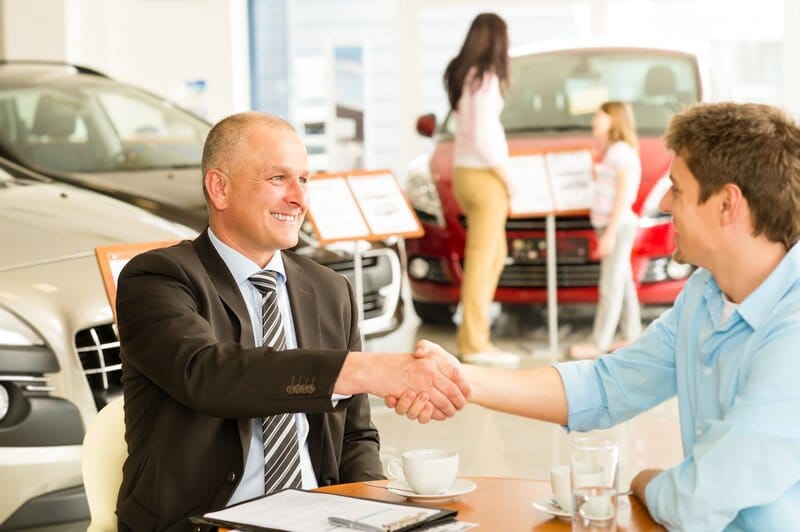 Car salespeople generally work in an office situation at dealerships, so their workdays are usually between 8 AM and 6 PM. Sometimes they work longer hours, and they are eligible for overtime pay.
A typical day for a car salesman includes spending a lot of time talking with other people. Usually, these people are the customers who come looking for a car. The car salesman gets to know the customers a little bit, which includes finding out about the customer's financial situation so that he can show the customer cars in the proper price range.
Most of the work the salesperson does is inside the office, but he also shows different cars to customers and takes them on test drives so they can get a feel for the car. This also gives him a chance to get to know the customers more and intuitively feel out new selling points that are important to the customers. He can use specific selling points to persuade customers to purchase a car.
Once a decision has been made, the salesperson has to help customers fill out the necessary paperwork and negotiate a price that is reasonable for them but profitable for the company. The salesperson then helps customers through the loan application.
While car salesmen can be talkative, they're also smart. They have to understand the financial side of things, both for the negotiation and for the paperwork, and they need to know a lot about the cars they show to customers.
Do Car Salesmen Have Good Job Satisfaction?
Like the Bureau of Labor and Statistics, U.S. News doesn't have a separate category for car salesmen. However, U.S. News does have information on job satisfaction for sales representatives. On a scale of 1 to 10, a career as a sales representative ranks 5. In individual categories, salary and job market both ranked at 6, with stress at 4 and both work-life balance and future growth ranking 2.
Overall, U.S. News indicated that a career as a sales representative comes in at #3 for the best jobs without a college degree and #5 in the category of best sales and marketing jobs.
Conversely, a survey performed by Career Explorer rated jobs as car salesmen with a 2.4 out of 5 stars and ranked it in the bottom 3% of careers. Owl Guru rated job satisfaction for retail salespeople as moderate, with 55% showing job satisfaction and 35% indicating that they felt like their jobs had meaning.
On the other hand, PayScale reported that 4 out of 5 car salesmen were happy with their jobs.
There are definitely some tradeoffs. Even though car salespeople tend to get paid more than many other groups of salespeople, they are still at the bottom of the totem pole in a car dealership. Their jobs may not be as demanding or stressful as what a sales manager would face, but they may also be bored.
Pros:
Car salesmen get to work indoors in an office setting most of the time.
Depending on the dealership, car salesmen can earn commissions on cars sold as well as their base wages.
Car salespeople who enjoy talking with other people a lot could find this job interesting and fun because chatting with customers is one of the biggest pieces of the job.
Cons:
There are varying viewpoints as to how satisfying a career as a car salesperson could be.
During dry spells when it seems like no one is shopping for a car, income could dip because of a lack of commissions.
Sometimes salespeople have to help their customers push past the idea that salesmen are dishonest and greedy.
What Are The First Steps To Becoming A Car Salesman?
Because a career as a car salesman doesn't require a college degree, it could be fairly easy to get started. Most employers want their car salesmen to have at least a high school diploma or GED.
Beyond that, work experience counts, particularly if that experience is in sales. A previous job as a grocery cashier or as a customer service representative for a call center could help, too, because it can demonstrate that the candidate has good people skills and can think on their feet.
Some states require car salesmen to be licensed. Every state is different, but people who are interested in become care salespeople should check to see what the requirements are. Some states might require a fee, while others require an examination, and other states don't require any type of licensing.
A final step is to get trained as a car salesperson. This can include special training materials provided by the dealership itself to educate car salespeople about the types of cars sold there and the company procedures.
Car salespeople can search for training options outside of the dealership, too. For example, the College of Automotive Management offers a course in-dealership training. While this might be more useful for salesmen hoping to get promoted, it could also be a great way to learn more about the industry and how to sell cars.
There are several online options, too, including those taught at Fast Sales Training Center and CarSalesProfessional.com.
People who are interested in starting out as a car salesman and moving up to positions like sales manager or finance manager might need to continue their formal education with an associate's degree or bachelor's degree in something like sales and marketing or accounting.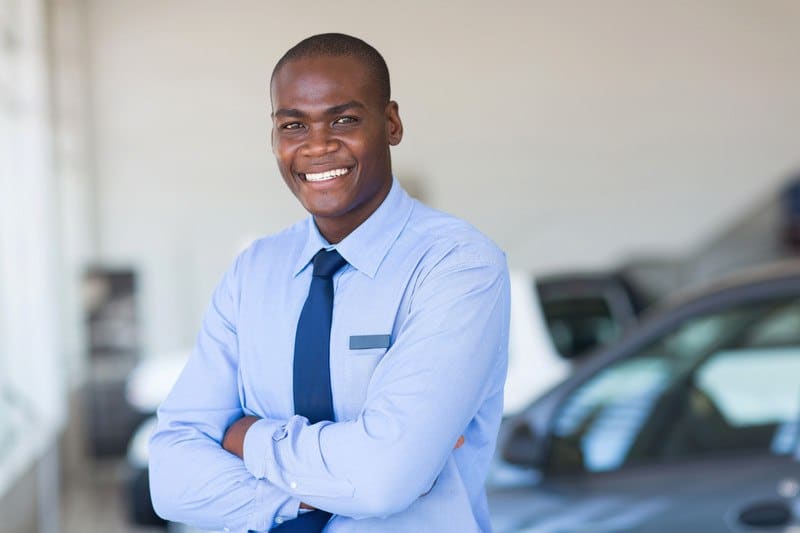 Do Car Salesmen Make Good Money?
Car salesmen, as a whole, are good-natured, creative people who know how to help their customers find what they're looking for. They know how to put their customers at ease and how to bring up the selling points of the cars that customers are looking at. They're smart, engaging, and fun to be around, but do they make good money?
The answer is yes, they do. Most car salesmen make more than $40,000 per year without needing a college degree. This makes working as a car salesman a great entry-level move, and this job has decent job satisfaction, too.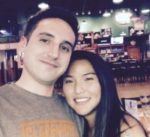 Nathaniell
What's up ladies and dudes! Great to finally meet you, and I hope you enjoyed this post. My name is Nathaniell and I'm the owner of One More Cup of Coffee. I started my first online business in 2010 promoting computer software and now I help newbies start their own businesses. Sign up for my #1 recommended training course and learn how to start your business for FREE!