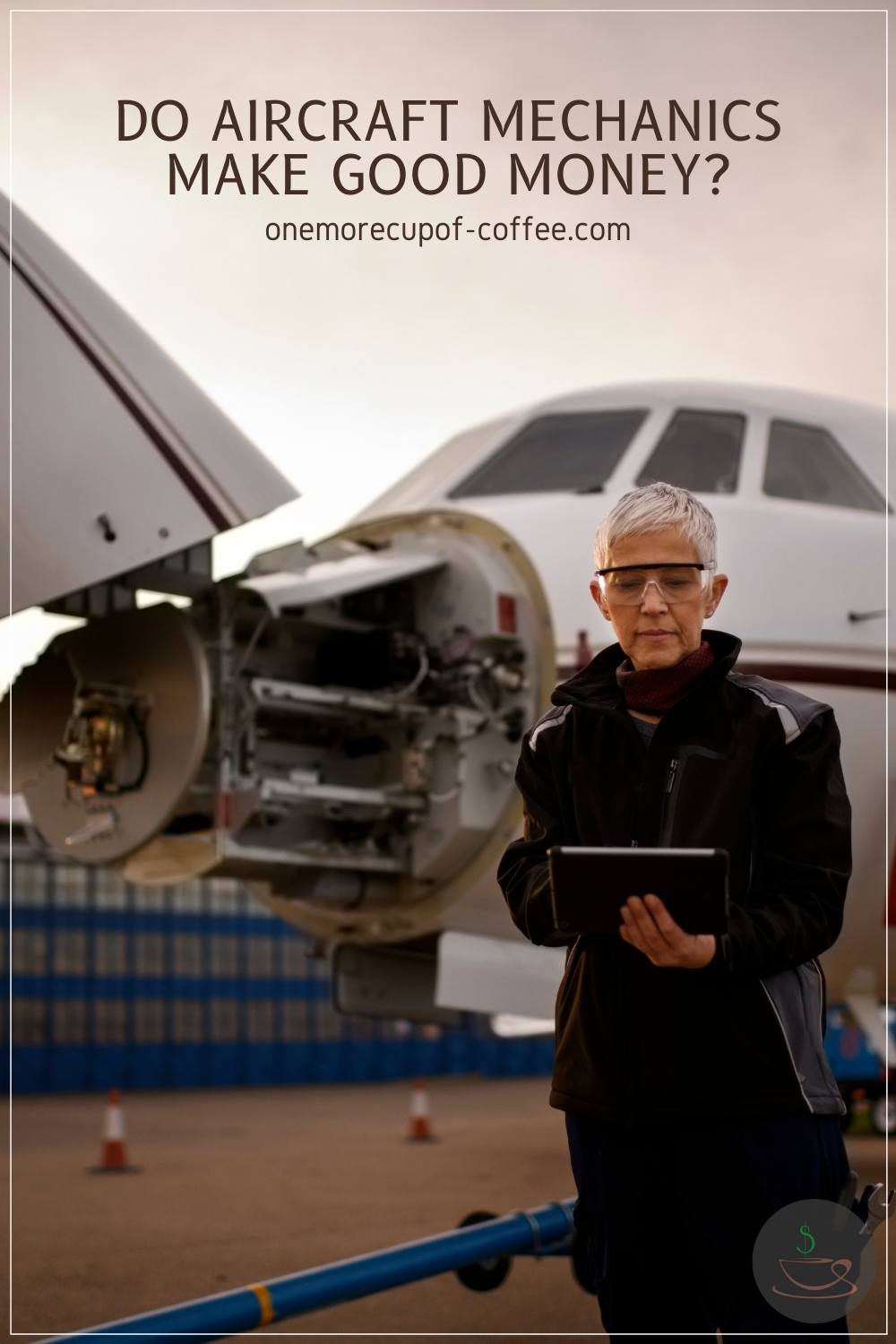 An aircraft mechanic I know works in a large shop at the edge of a popular airfield. Like many aircraft mechanics, he's intelligent, quick-witted, and detail-oriented. He's the type of person who can plan an event down to the last detail and make everything happen just the way he planned it.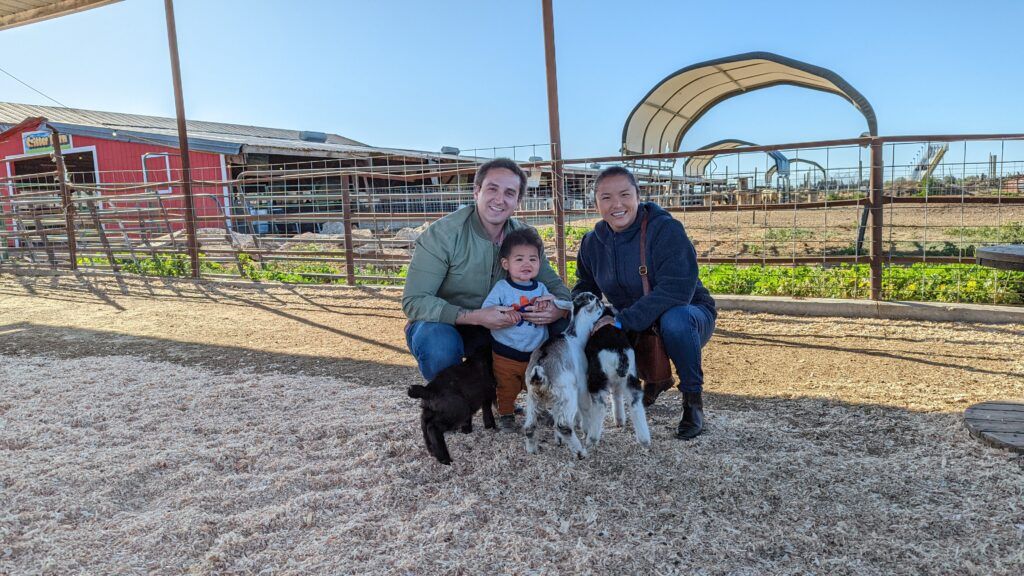 Are You Ready To Work Your Ass Off to Earn Your Lifestyle?
Are you tired of the daily grind? With a laptop and an internet connection I built a small website to generate income, and my life completely changed. Let me show you exactly how I've been doing it for more than 13 years.
At work, this friend is just as systematic. He goes over every detail, helping keep the airplanes he works with functioning at the highest level. This includes routine maintenance, as well as investigating issues and fixing them before they become dangerous problems.
He fits right in with the Hollands Codes Builders and Organizers career personality types, which Owl Guru reports as a good personality fit for aircraft mechanic careers. Builders are practical, hands-on people who are good with machinery, tools, and real-world materials. Organizers like procedures and routines, and they are great at systematic work.
Career Assessment indicates that aircraft mechanics who belong to the ISTJ Myers-Briggs personality types could also do well. These personality types are introverted but still great at communicating, which makes them valuable when it comes to passing on information about how well an aircraft is functioning. They're great at following the rules, too, and this is what allows them to be so good at routine maintenance and catching possible problems before they occur.
People with this personality type who likes to work alone or on small teams could really enjoy this type of job. This career doesn't require a lot of interaction with the public. They could also enjoy jobs as accountants, police officers, auditors, and business administrators.
Do Aircraft Mechanics Make Good Money?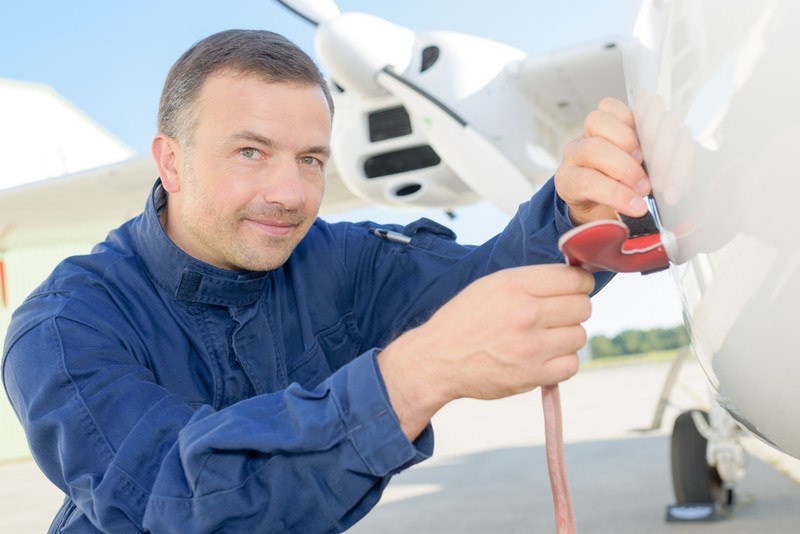 What's The Median Salary For Aircraft Mechanics?
According to the Bureau Of Labor Statistics, Aircraft and Avionics Equipment Mechanics and Technicians have an annual median income of $64,310 per year or $30.92 per hour. There's quite a large range in the pay scale, though. The lowest-paid ten percent of aircraft mechanics make less than $37,890, while the highest-paid ten percent earn more than $101,070.
Location makes a difference in how much an aircraft mechanic can earn. The top-paying state for this career is Rhode Island, where aircraft mechanics earn an annual average of $80,250. Rhode Island is followed by Nevada at $79,010 and Connecticut at $76,050. The top-paying area for aircraft mechanics in rural Nevada, where they make an average of $92,150 per year.
Contrast that with the rural border region of Texas, where aircraft mechanics earn an average of $51,580 per year. In rural northeast coastal North Carolina, aircraft mechanics make an annual average of $49,340.
The industries that aircraft mechanics work in impact the pay range, too. In the scheduled air transportation industry, aircraft mechanics earn an average of $85,480 per year. In the spectator sports industry, they earn an annual average of $94,790.
On the other end of the scale, aircraft mechanics working for the federal government earn an average of $60,840 per year. Those working in the field of support activities for aircraft transportation earn an annual average of $56,810.
Experience is another variable that can impact an aircraft mechanic's pay. According to PayScale, aircraft mechanics who are just entering the workforce earn an average hourly wage of $19.49. At 5-9 years of experience, the average pay is $25.67 per hour. Aircraft mechanics with more than 20 years of experience earn an hourly average of $30.
Aircraft mechanics who want to improve their salary have a few options open to them. First, they could move to a higher-paying area, but that comes with the risk of a higher cost of living. They might also look for similar jobs in other industries, such as the spectator sports industry, or consider becoming avionics technicians or work toward becoming air traffic controllers. If they want to leave the aircraft field entirely, they might do well as a business administrator or compliance inspector.
How Do Aircraft Mechanics Make Money?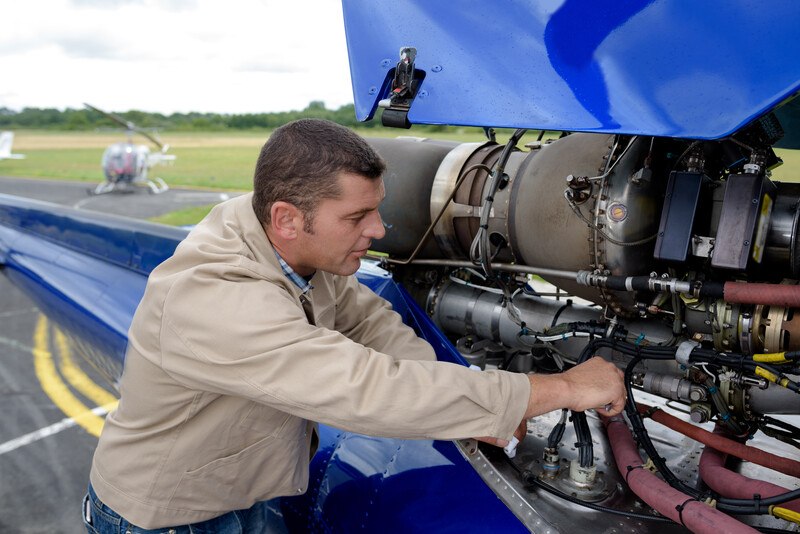 Aircraft mechanics often work in hangars, repair shops, or on the flight line. They are typically responsible for performing maintenance and repair jobs on aircraft. This can include working on tight schedules to keep airplanes running so that airlines can stay on schedule.
There are a number of duties that aircraft mechanics attend to every day. These include diagnosing electrical or mechanical problems, examining replacement parts to make sure they'll be safe to use, replacing defective parts, making repairs on various aircraft parts and systems, and testing aircraft equipment to make sure everything is working properly.
Aircraft mechanics could work on every part of an airplane. Besides the wings and brakes, they may have to check electrical systems, landing gear, propellers, and other components. Some aircraft mechanics are certified in certain areas, such as a repairman or mechanic, and these certifications can come with ratings that allow them to work on certain areas of an aircraft. They also inspect the aircraft to make sure everything is in perfect working order.
Workers in this field also keep a history of the repair work they do, and they often use blueprints or other designs to help them diagnose problems and replace parts. They could use both power tools and hand tools, and they often use specialized software programs, too.
An aircraft mechanic's schedule is fairly steady, and it's usually full-time. Some schedules require rotating 8-hour shifts around the clock. Overtime is common. These jobs usually come with benefits such as paid holidays, vacation plans, retirement packages, insurance plans, and sick leave. Aircraft mechanics who want additional support could join the Aircraft Mechanics Fraternal Association, a union dedicated to representing aircraft maintenance workers.
Do Aircraft Mechanics Have Good Job Satisfaction?
According to Career Explorer, aircraft mechanics rate job satisfaction as 3 out of 5 stars. Although the math shows a 60% job satisfaction rating, the website reports that aircraft mechanics are in the lower 29% of careers for job satisfaction and are below average where happiness is concerned.
On the other hand, PayScale indicates that aircraft mechanics rated job satisfaction at 3.7 out of 5 stars and are highly satisfied with their careers.
Owl Guru's survey was right down the middle. In this instance, 52% of aircraft mechanics were satisfied with their jobs, while 36% saw their jobs as meaningful or providing a valuable service to other members of society.
The mixed ratings could have something to do with the interaction between workers and other people. According to David Burkus, individuals who have good relationships with co-workers and other people they see at work have higher job satisfaction. However, aircraft mechanics often work alone or in small groups. Owl Guru reports that only 38% of aircraft mechanics see it as important to work as a team, and only 44% have group discussions every day while at work. Only 8% talk with customers every day.
There are some tradeoffs that come with this career. For example, the pay is decent, but overtime is common. Job satisfaction is mixed, but the work is steady.
Pros
The median pay is more than $64,000 per year.
This job is ideal for people who like routine, systematic work.
Some sources indicated that job satisfaction is high.
Cons
Aircraft mechanics may have to work under deadlines to keep airplanes running so that the airlines can stay on schedule.
Work as an aircraft mechanic is quiet and systematic, and some personality types might find it boring.
Aircraft mechanics are under pressure to make sure that the aircrafts they work on are safe for passengers and pilots.
What Are The First Steps To Becoming An Aircraft Mechanic?
All aircraft mechanics in the United States must pass the exams required by the Federal Aviation Administration (FAA). Some aircraft mechanics get started in the field and prepare for these exams with just a high school diploma or its equivalent. These candidates get trained on the job. Others learn their trade by attending an FAA-approved aviation maintenance technician school, and some learn while in the military.
The FAA requires that aircraft mechanics are certified or are supervised on the job by someone who has an FAA certification. These certifications come with ratings that allow aircraft mechanics to work on different aspects of airplanes. Some get specialized training in electronics and become aviation technicians.
Study.com lists the top aviation schools in the country. Number one on the list is Embry-Riddle Aeronautical University, located in both Daytona Beach and Prescott, Arizona. The second, Pittsburgh Institute of Aeronautics, has four campuses located in Pennsylvania, Ohio, South Carolina, and Maryland. Broward College was also listed in the top three, as well as a list of other top schools that provide an FAA-approved aviation maintenance program.
Flight Mechanic also lists schools that have FAA-approved aircraft mechanics programs. This list is organized by state, so it's easy for people looking into this career to find something close to home. Other directories are available, but due to the hands-on nature of the work, it's difficult to find a full FAA-approved online program for aircraft mechanics.
People who are interested in getting started or in learning more about the career could consider taking classes on Udemy or similar online learning platforms. Classes currently listed on Udemy cover topics such as understanding Federal Aviation Regulation and basic airplane structure.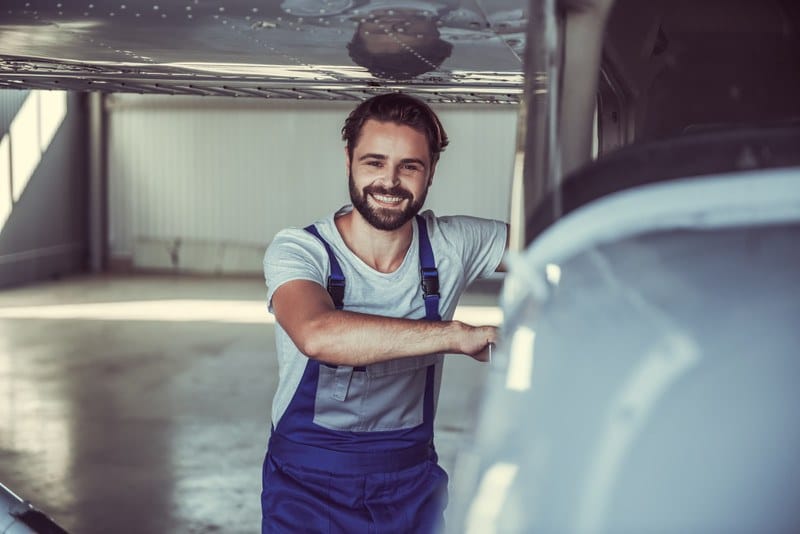 Do Aircraft Mechanics Make Good Money?
Aircraft mechanics spend their work hours keeping passengers safe by making sure that airplanes are inspected, well-kept, and in sound condition. They use blueprints, tools, and computer programs to ensure that repairs are made properly, and they help keep airlines on schedule as they keep aircraft functioning well.
But do aircraft mechanics make good money?
The answer is yes, they do. The annual median pay for aircraft mechanics is more than $64,000. The job satisfaction surveys provide mixed reviews, but aircraft mechanics with the right personality and attention to detail could enjoy the routine, systematic nature of their jobs.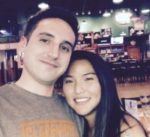 Nathaniell
What's up ladies and dudes! Great to finally meet you, and I hope you enjoyed this post. My name is Nathaniell and I'm the owner of One More Cup of Coffee. I started my first online business in 2010 promoting computer software and now I help newbies start their own businesses. Sign up for my #1 recommended training course and learn how to start your business for FREE!