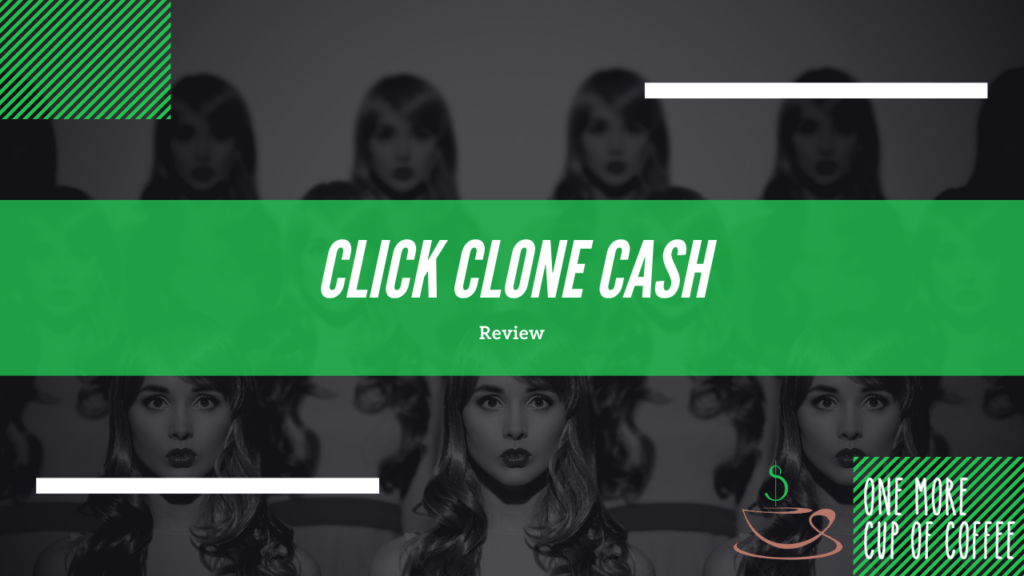 Click Clone Cash is a "hosting scam" from Tim Atkinson, a notorious internet fraudster. It's unclear if Tim Atkinson is is real name, but this particular person has launched (and relaunched) hundreds of products over the past decade. They are high-production in terms of advertising, but low-quality in terms of product delivery.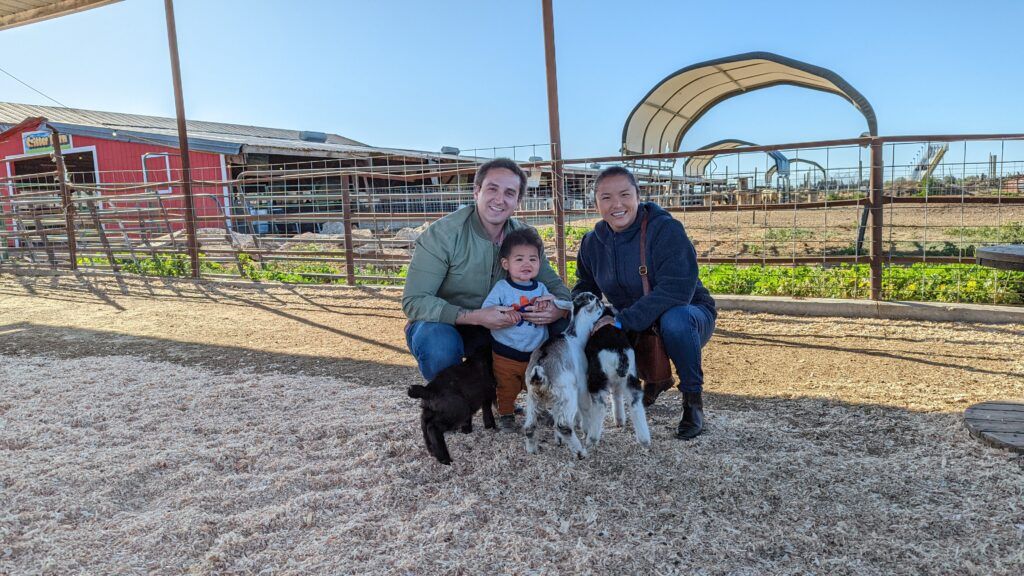 Are You Ready To Work Your Ass Off to Earn Your Lifestyle?
Are you tired of the daily grind? With a laptop and an internet connection I built a small website to generate income, and my life completely changed. Let me show you exactly how I've been doing it for more than 13 years.
There usually is some kind of method which can generate money some times, in some situations, but the thing you do is never as amazing as promised in the insane advertising videos.
My original review of Click Clone Cash was when the product first launched in 2014. Six years later, I still think you should join my top recommended product. They use honest marketing, and their program has been creating success stories for over 15 years (including myself).
Click Clone Cash Review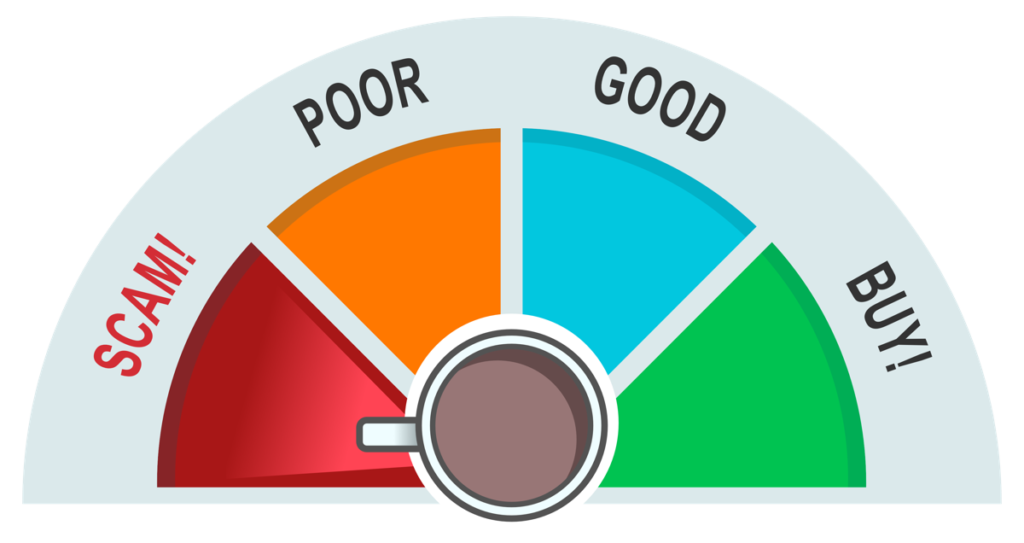 Product Name: Click Clone Cash
Product Owner: "Josh Ownens" AKA Tim Atkinson
Real Price: $90/6 months
Rating:

Scam!

What Is Click Clone Cash: Quick Review
"Hosting Scam" is the term I call for products like Click Clone Cash. They pitch a million-dollar mystery system, tell you it's free, then get you to buy non-refundable hosting for your website.
There's never any 'revolutionary' or instant-riches guide behind the curtain. Normally products like this will teach you simple things like email marketing, local marketing, or affiliate marketing. While business models like those can make money, it takes hard work and experience (or time to gain experience). I consider Click Clone Cash to be a scam because they promise you one thing, but deliver a wildly different one. Plus, it seems that most people are struggling to get refunds when they realize they were tricked.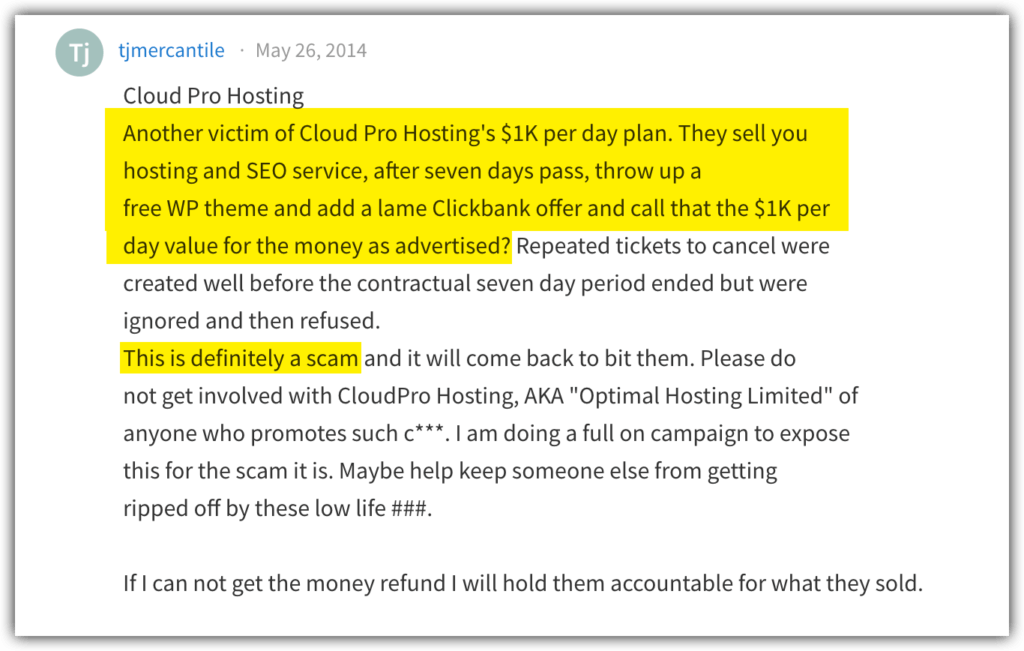 Who Is Josh Owens?
This product is that it's from Tim Atkinson, not Josh Owens. Though the actor says his name is Josh Owens, he is an actor, and it's a made up name. Although you see actors on TV and they represent products (like George Clooney wearing a luxury watch), it's clear that this person is an actor. For many people, it's not clear that Josh Owens is not real.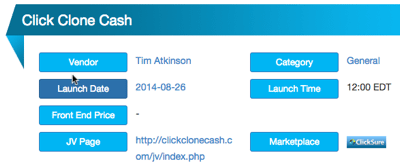 Some people have gone as far as trying to investigate who Josh Owners is, even posting some private information online. This is not the person you are looking for, because he doesn't exist!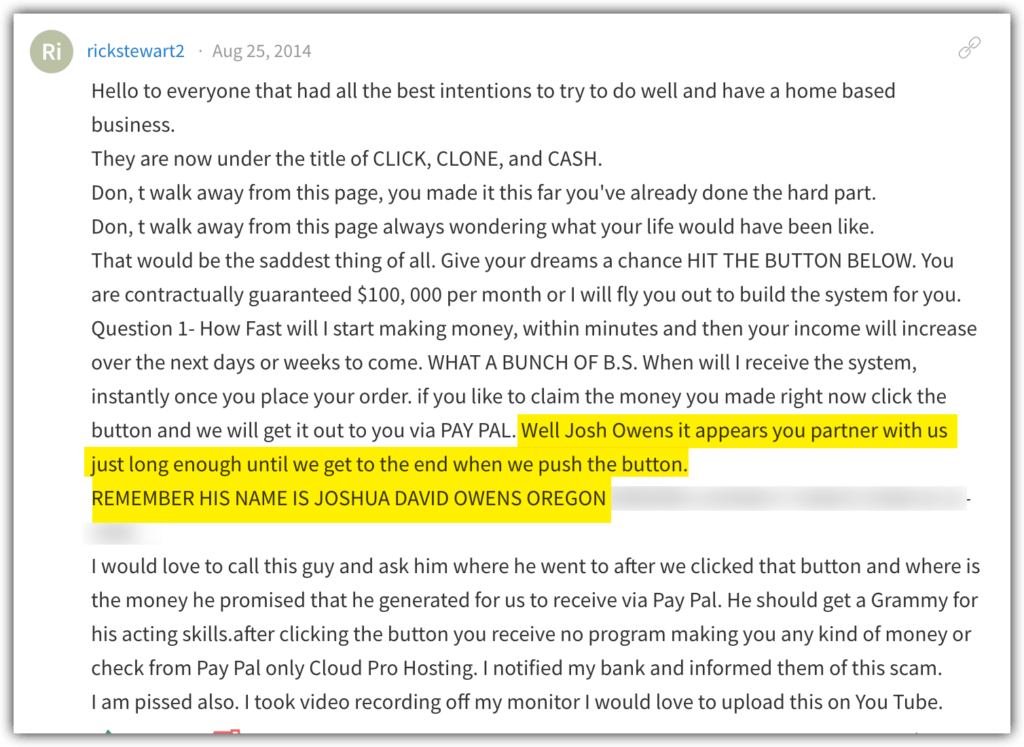 Tim Atkinson has launched numerous similar products in the past including Cash Machines 2, Automated Income App, and Make Money with Meghan. Most are defunct now.
About The Click Clone Cash Program
History Lesson
Just for fun, I recognized this actor from a previous Atkinson product called The Money Formula that he produced with Zak Mefteh (another shady character in online marketing)

It's an entertaining story about a father that's going to lose his son to leukemia. A billionaire (played by our man "Josh Owens") steps in to teach the father how to make thousands of dollars in just one night, saving the boy.
The weird part of the story was that all this code to create money online was contained within a mystical plug-n-play USB drive. Sound like total BS? It was. But people bought into it, and were scammed, just like with Click Clone Cash.
Cloud Pro Hosting
The original Click Clone Cash product eventually funneled you into a hosting account from Cloud Pro. As of 2020, I'm not sure if this company still exists, and I'm actually not sure what Click Clone Cash is promoting. Their URL is not found on the first page of Google.
Back in the day, Cloud Pro was famous for not answering support tickets!

There's a reason hosting scams like this are popular. They charge a lot of money for a very basic service. There's absolutely no reason to double the price when you could be paying half of that for a legitimate service with a good track record. Cool Handle was another popular scam host for a while, though it looks like they may have gone legit in the meantime.
Is Click Clone Cash A Scam?
Yes, it is. The following points are why I personally consider it a scam. Chances are, you suspected this was a scam too.
the reviews are fake (paid for actors)
unrealistic claims like images of cars/places/vacations are used to manipulate you
false scarcity is used (they trick you by saying "buy in 5 minutes or you'll never have another chance!"
no support for this product after you buy
product delivered is not the product advertised
Is Click Clone Cash Listed In The Better Business Bureau?
You might be surprised to find out that the Better Business Bureau is somewhat of a problematic company itself, but in general, people trust the BBB to see if companies are honest and legit. Click Clone Cash is such a small "company", that it's not even listed, so you won't find any complaints on the BBB.
This is exactly why I, and people like me, write reviews of these internet scams. Though it's small enough to be off the radar of the BBB, Click Clone Cash has scammed tens of thousands, possibly hundreds of thousands of dollars from consumers.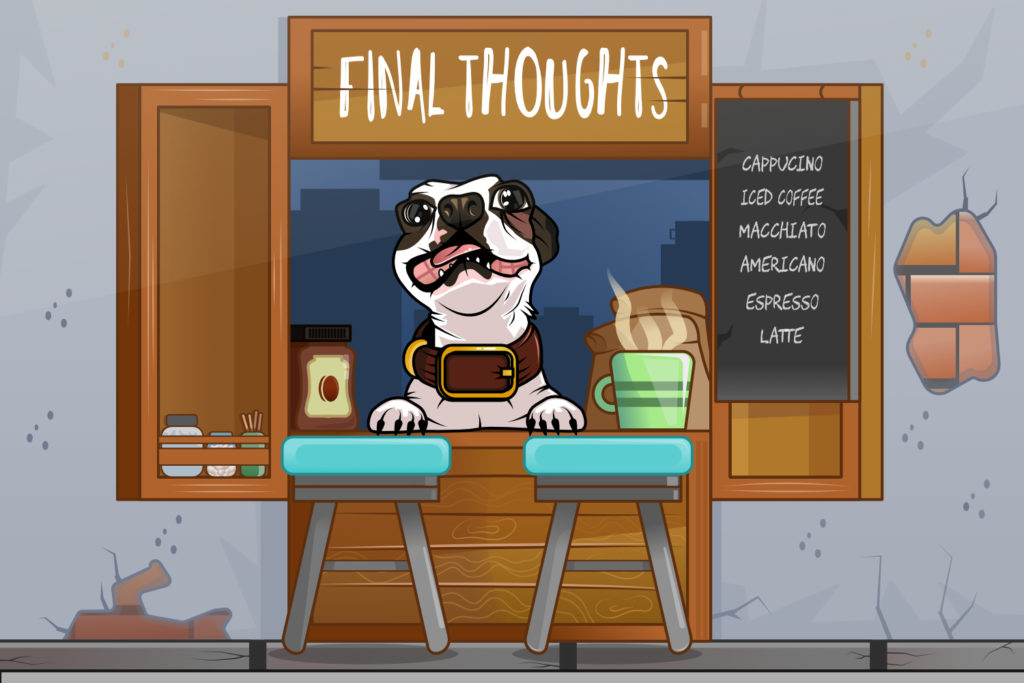 Should You Buy Click Clone Cash?
Association with scammers and low-quality services are three big reasons to steer clear of Click Clone Cash If you really want to earn money online, you've got to get out of the mindset that earning money is going to be "fast and easy". It's gonna be tough, and you're gonna have to work hard.
This place is where I learned how to build a real website that earns over $10,000 per month, and I've been doing it for almost 10 years now. It took about 2 years to actually earn good money, but was making some small sales along the way.
Yeah, it sucks to compete with products like Click Clone Cash that make it sound super easy to earn money online, while I've over here saying, "Hey guys, it's gonna take you a couple years to start earning.", but that's the reality of the situation. If you want to stop falling for scams like Click Clone Cash, you just have to get out of the habit of believing the bullshit they say.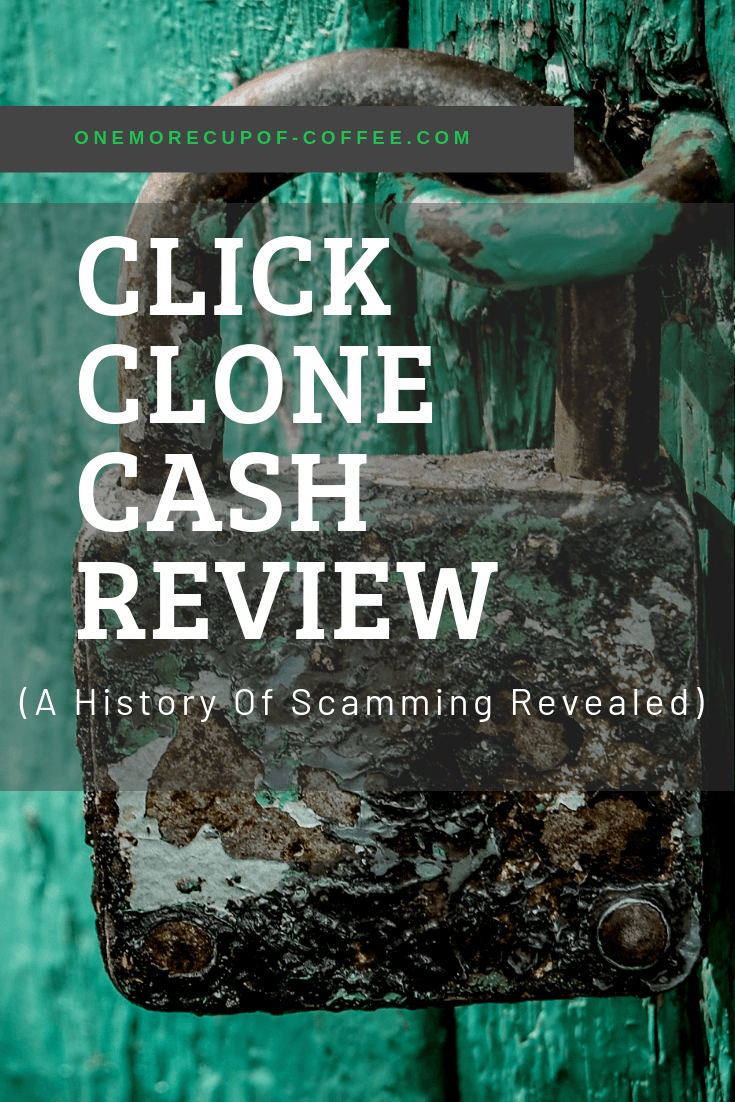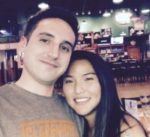 Nathaniell
What's up ladies and dudes! Great to finally meet you, and I hope you enjoyed this post. My name is Nathaniell and I'm the owner of One More Cup of Coffee. I started my first online business in 2010 promoting computer software and now I help newbies start their own businesses. Sign up for my #1 recommended training course and learn how to start your business for FREE!