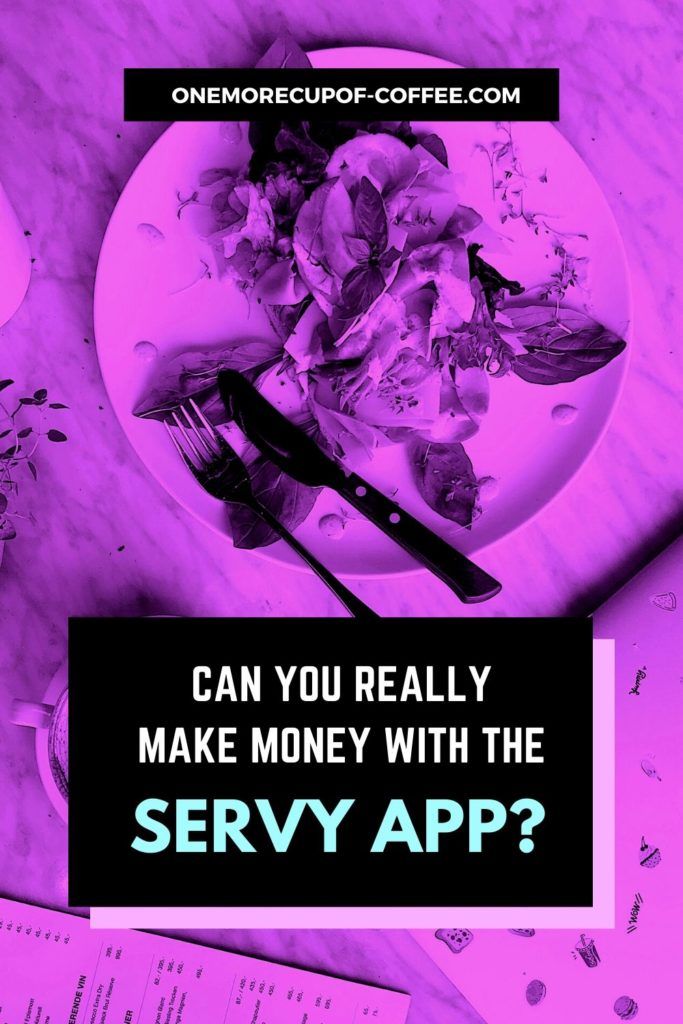 I love restaurants. But you know what I would love even more than a good restaurant? I would love to get paid for eating at them! So naturally—I was excited about this app, because that is sort-of what it promises to do! But can you really make money with the Servy App?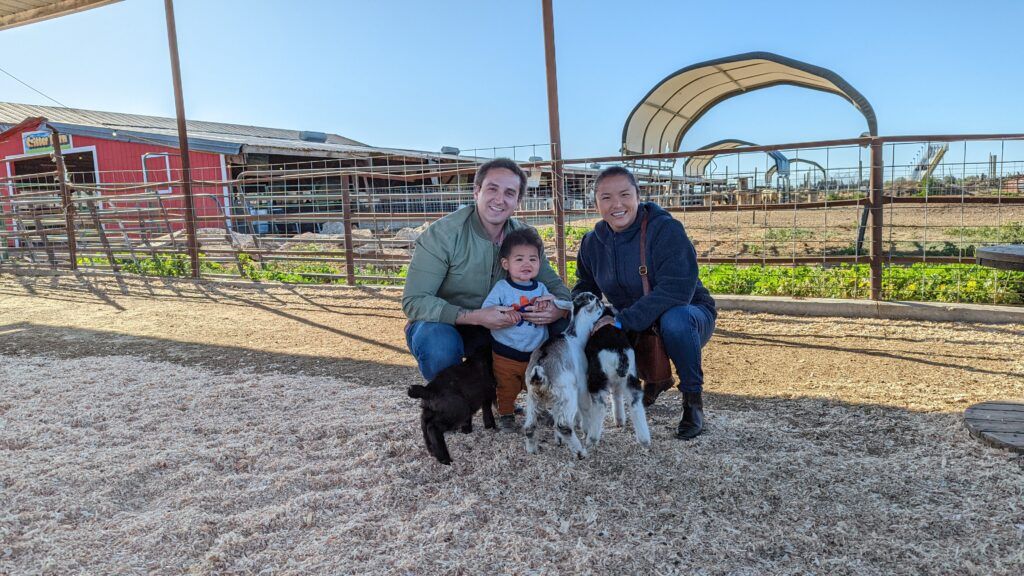 Are You Ready To Work Your Ass Off to Earn Your Lifestyle?
Are you tired of the daily grind? With a laptop and an internet connection I built a small website to generate income, and my life completely changed. Let me show you exactly how I've been doing it for more than 13 years.
That is what I was determined to figure out as I downloaded it and tried it.
Making Money With The Servy App
Upon downloading the app, this was the first screen I came to.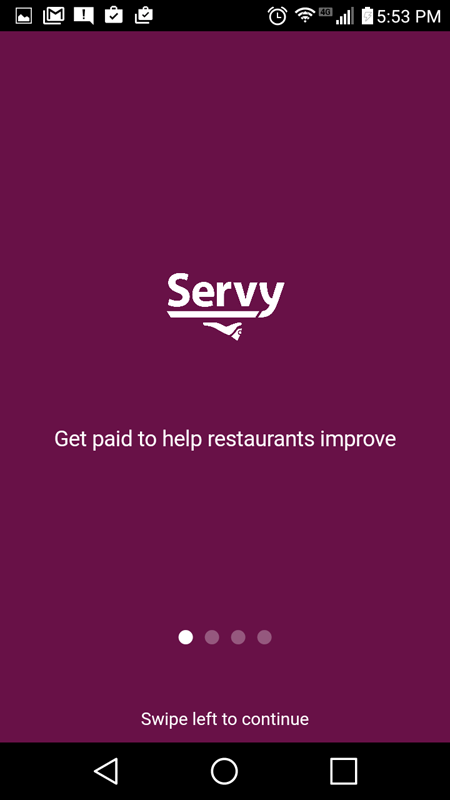 There were also a few other screens that gave me some information about how the app worked. Here were the main points from these other screens.
Dine: Eat at your favorite restaurants and discover new ones anywhere in the U.S.
Evaluate: Give private feedback to help restaurants create better dining experiences
Get Paid: Earn reimbursements and we'll donate meals to charity
So, this laid out the general outline of the app pretty well. But I still wanted to see what it was like on the inside. Plus, I wanted to see if it could be a viable money-making opportunity—so that's what I got started on next.
But first, I wanted to take a look at the vital stats. Here is the information provided in the Google Play listing for the app.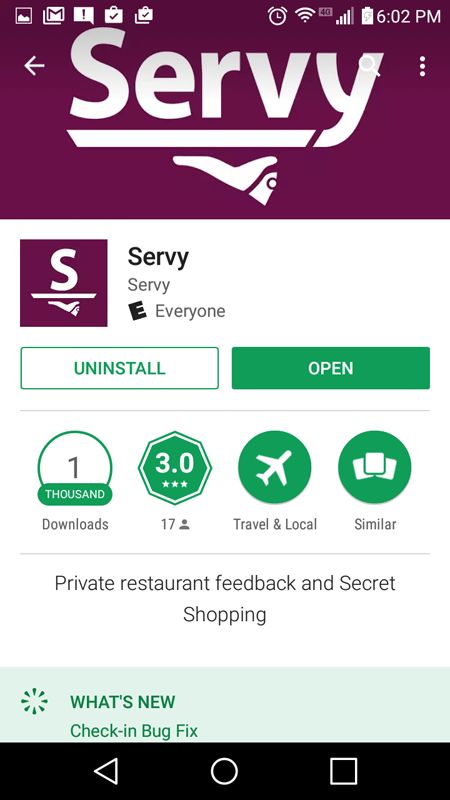 As you can see, the app has a thousand downloads or so, and a 3.0 rating. It has only been reviewed by 17 people, so either it is really new, or it doesn't have much of a following.
I will admit, the 3 star rating didn't bode so well. I have rarely reviewed apps with a rating lower than 3.5 and been happy with them. But… there have been a few exceptions to this rule, so that's what I was hoping for with this one.
Here's what I found upon getting started with the app.
Getting Started With The Servy App
The first screen I found, upon clicking the 'join' button, was this one.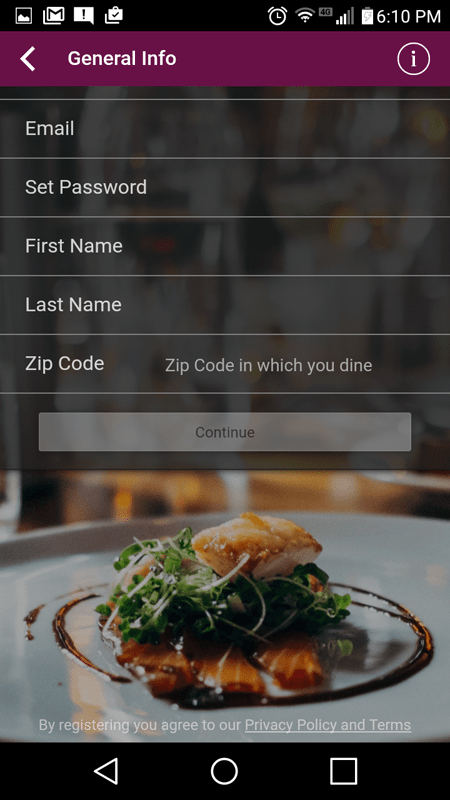 I was a bit disappointed that I couldn't go the easy route with this one and log in with Facebook—but that's not such a big deal.
I filled out the information and clicked 'continue.' After that, I came to another screen where I was asked to tell them my gender, age, and how I had heard about the app.
After doing this, I came to another screen where I was asked this question…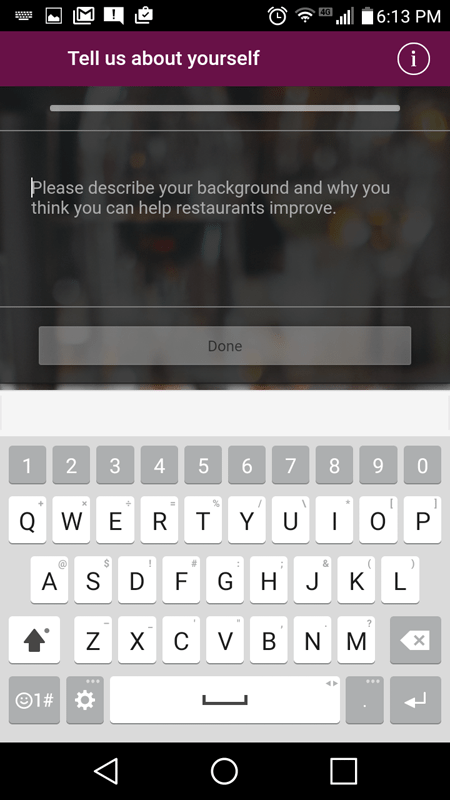 I filled this out, and submitted it. After that, I came to this screen—which really surprised me.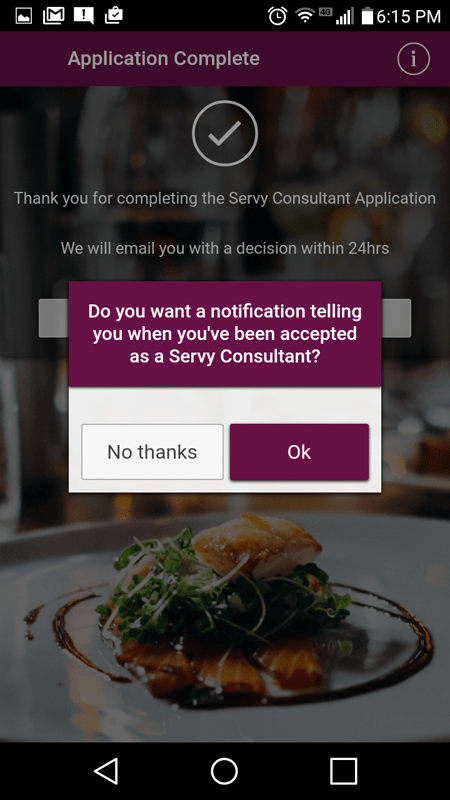 This was quite unexpected. I felt a bit like I had just applied for a job—but to be super-literal, I guess that's kind of what I was doing! So now it was time to hurry up and wait, as they say.
All that existed on the screen when I tried to log in now was this message, along with a rotating Servy logo…
"Waiting for application approval."
But in the meantime, I was not yet satisfied with what I had learned, so I decided to turn to the few Google Play reviews there were to learn more.
I'm not used to seeing so few reviews, but I still found some good stuff for what I had to work with.
What I Found Out About Servy In The Google Play Reviews
Alright. At this point, I adjourned to the Google Reviews… and found some pretty interesting results.
Mostly, I learned 3 things about this app that I didn't know before.
Some people seem to have no restaurants in their area that the app will give rebates for
The app seems to have a lot of technical problems. Slow loading screens, slow uploads, and just slow movement in-general seem to be most common… but crashes were also reported
People reported that the rewards, when you do get them, are very good
At this point, I decided to take a small break from looking at the app. I wanted to see if I would be accepted as a Servy member or not… so I decided to let the app sit overnight.
I was honestly a bit pessimistic about it at this point. I didn't want to give up, but I was wondering what the likelihood of acceptance was, and wasn't feeling too 'super' about it.
Did I Get Accepted On Servy?
I gave the app an evening to chill… and by morning, I found that I had been accepted—which was awesome!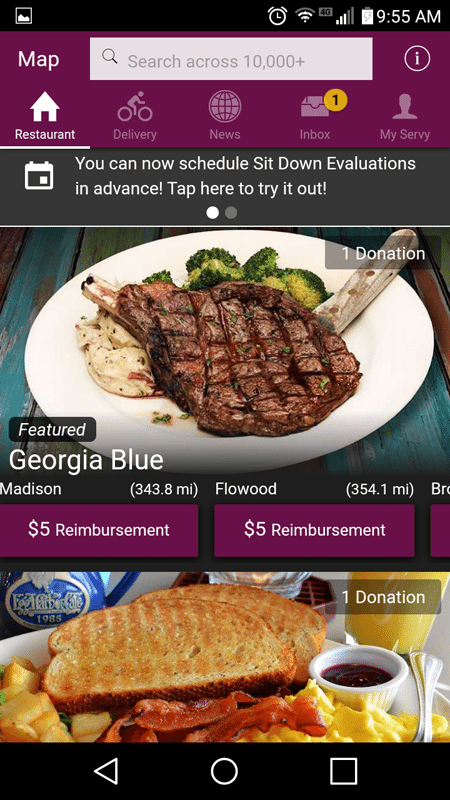 The first thing that I realized was that people were not exaggerating when they complained that the app was slow. It was. It took almost 30 seconds for the main hub screen to load.
This might not seem like a lot of time… but when you are used to apps working pretty much instantly, 30 seconds seems like an eternity (This is so ironic. The first internet I ever had was dial-up. The world has come a long way).
Regardless, I went ahead and started taking a look around. There were several menu-like options across the top of the screen, and I found that I could search by location. I typed in my location, and was surprised to find about a dozen different restaurant options close-by.
But—I was disappointed to realize that these only offered donations to a charity if I chose to take part in reviewing them. They offered no rebates or cash-back options, so there really wasn't much to be gained as far as extra cash in this respect.
With that being said, some of the reimbursements being featured on the home screen were quite good. They ranged in value from $5 to $15 mostly—which is actually really, really good. Even better than I had expected.
I clicked on one of these listings, and was presented with this screen.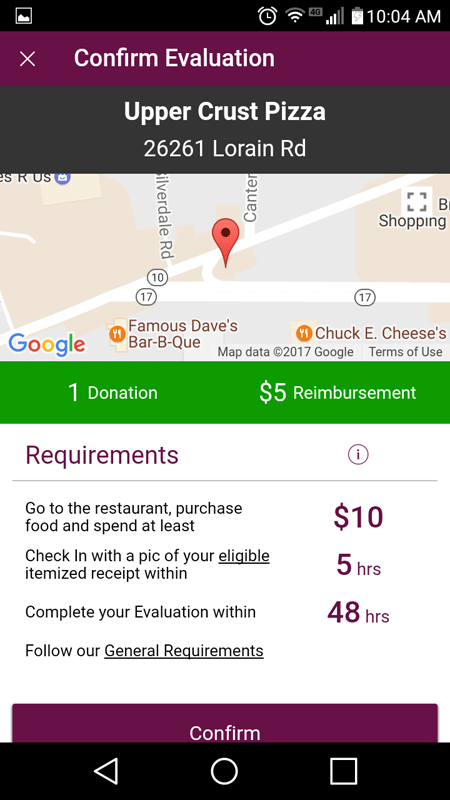 This actually did a lot to help me understand how the listings worked. Basically, in order to qualify for the $5 reimbursement, I needed to go to the restaurant and order $10 worth of food, upload a pic of my receipt within 5 hours, and complete my evaluation of the restaurant within 48 hours.
The listing also supplied a map to show me where the restaurant was (It was nowhere near me—but that's ok. I just wanted to see an example.), and an address for the location. All that I would have needed to do was click 'confirm' to get started on it, which was pretty awesome.
You can also redeem your money in a few different ways. Here is the screen that popped up when I visited my profile page for the first time. It seemed to give me all of the basic information about this that I needed.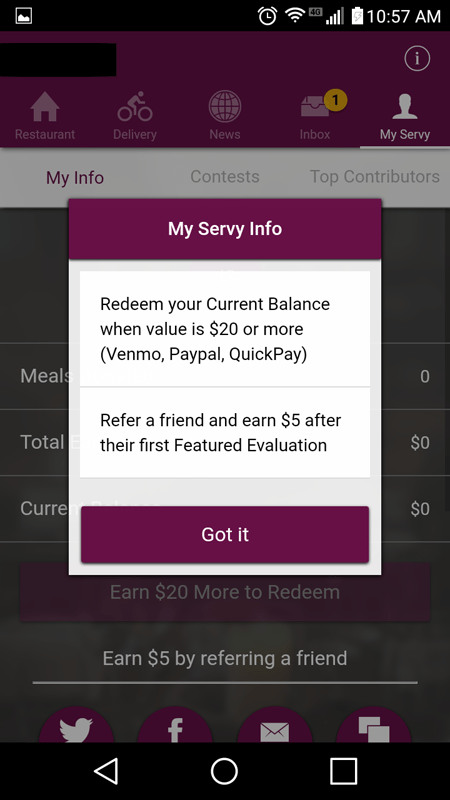 At this point, I felt that I had retrieved all of the information I needed to complete my assessment.
Is Servy Worth The Time?
Servy does a lot of things right—but there are still some issues with it. For one, there weren't really any restaurants in my area that I could dine-in and be reimbursed for, so that's kind of a problem. I wish there would have been, because I probably would have tried it.
Secondly, the app is a bit slow, and that does start to get annoying after a while. It doesn't make the app impossible to use or anything like that. It is just a bit of a nuisance.
As far as how difficult the app is to use, it's actually pretty user-friendly. Granted, I was unable to complete an assignment, due to the fact that there were none around me available. But as far as I could tell, it would be pretty easy to make it all work.
As for the money, Servy actually offers a lot for their rebates. They offer somewhere between $5 and $15 in most cases… which is pretty awesome.
Obviously, you need to spend money to make this money, but if you happened to want to go out to eat anyway, this could be an awesome way to get it cheaper while still getting awesome food at the same time.
I actually liked this app, despite its downsides.
I don't see it as an app that I would use all of the time, even if there were restaurants in my area that qualified, because I don't necessarily go out to eat that often—but I feel like it is definitely an app that I would check out when I was planning on going out to eat, just in case it was offering anything for a restaurant that happened to suit my fancy in the moment.
Is the app worth keeping on your phone for such rare occasions?
Maybe. Better yet, it could be deleted and re-downloaded when you need to use it again, as it doesn't take up much room on your phone.
But all in all, I liked Servy. It's not without its issues, and it won't do me much good in my area, but I would totally use it if I had local restaurants available.
Our Final Thoughts About The Servy App
Should you download it and use it on your phone?
The Servy App Review
Honestly, there are tons of various apps that claim to help you "make money", but really there are two facts to consider. 1) Most of them don't actually work. 2) If you can make money, it's not going be very much. If I'm going to spend any amount of time working online, I want to be working for myself by building my own profitable website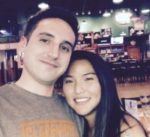 Nathaniell
What's up ladies and dudes! Great to finally meet you, and I hope you enjoyed this post. My name is Nathaniell and I'm the owner of One More Cup of Coffee. I started my first online business in 2010 promoting computer software and now I help newbies start their own businesses. Sign up for my #1 recommended training course and learn how to start your business for FREE!