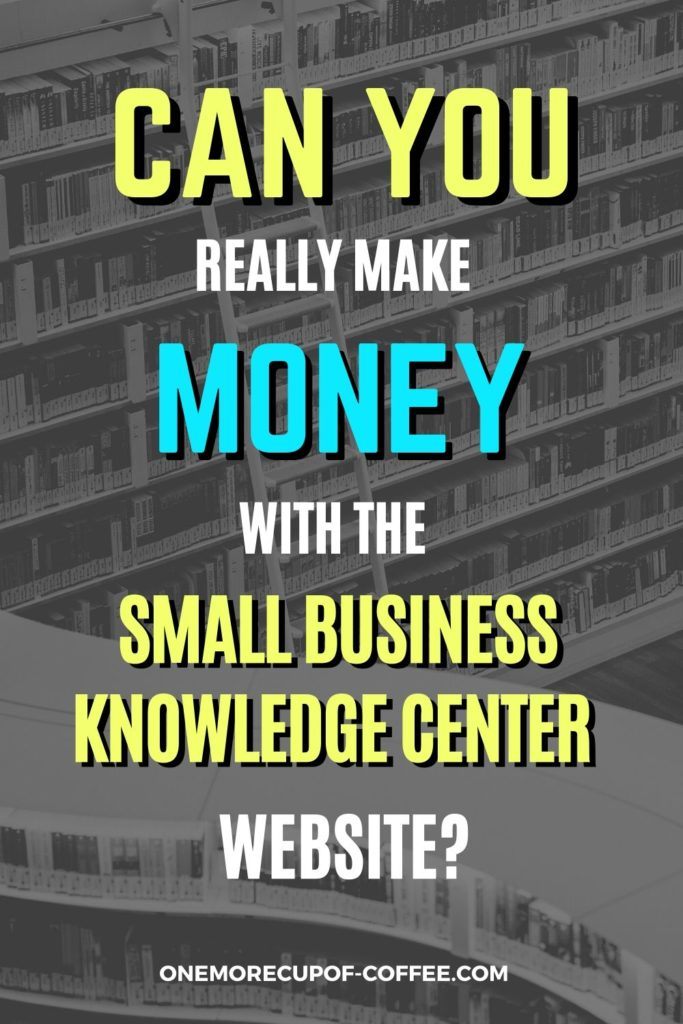 This site's name is a mouthful to say… but what I was more interested in is whether or not it would make me a pocket-full of extra cash! So, does it work?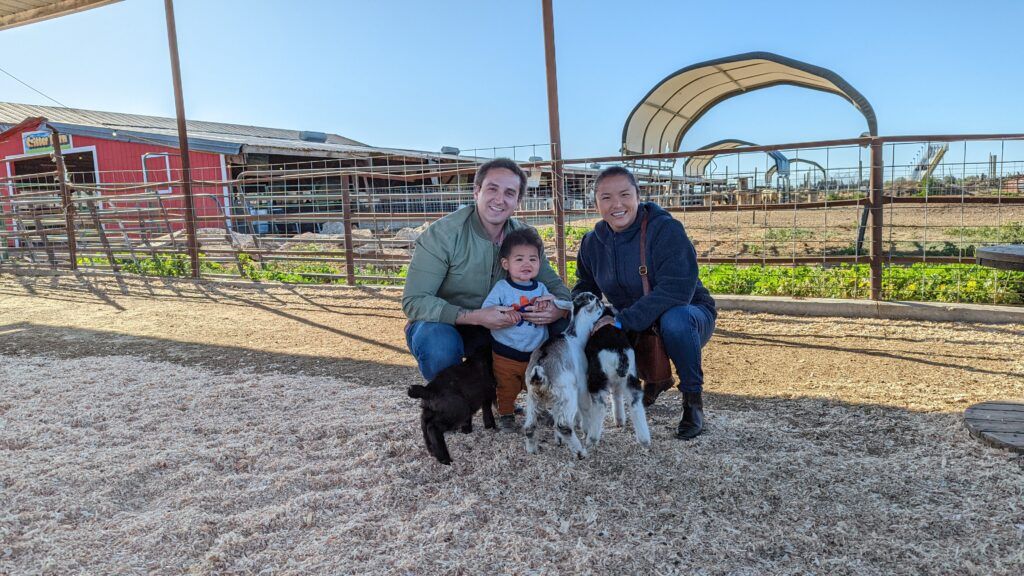 Are You Ready To Work Your Ass Off to Earn Your Lifestyle?
Are you tired of the daily grind? With a laptop and an internet connection I built a small website to generate income, and my life completely changed. Let me show you exactly how I've been doing it for more than 13 years.
Can you really make money with the Small Business Knowledge Center website?
I found out about this site (found at www.sbkcenter.com) by reading on some blogs that gave suggestions for websites to visit where you could take surveys to earn money. But at first glance, I will admit that this site did not look like a 'typical' survey website. But… I never judge a book (or a website, for that matter) by its cover.
Making Money With The Small Business Knowledge Center Website
So here is what I discovered when I got into it and gave it a try.
Taking A Closer Look At The Small Business Knowledge Center (SBKC) Landing Page
So, the landing page is pretty self-descriptive. Here is a quote from the lower part of the page that does a good job of describing what the site is all about.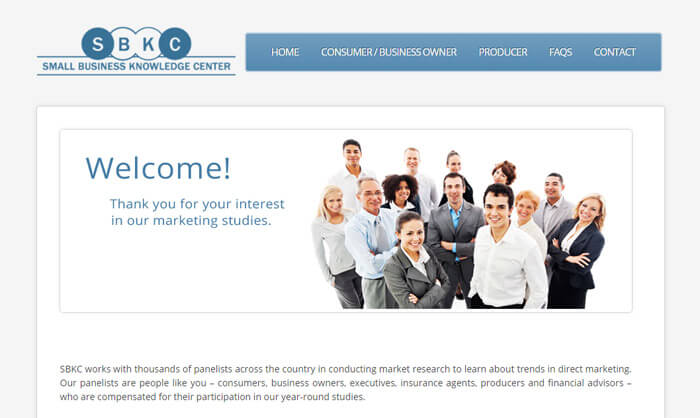 "SBKC works with thousands of panelists across the country in conducting market research to learn about trends in direct marketing."
It says that their panels are made up of many different types of people… from consumers, to insurance agents, to executives, to business owners, etc. And, they also say that all of their panelists are 'compensated' for their participation.
Now, that is what I like to hear!
As you probably know, I am all about the side-hustle. The whole reason behind why I even research survey sites (at first, I thought this was a survey site… but it turns out that I was not correct about this assumption) is because I believe that they could, in theory, make a good side-hustle.
Survey sites usually offer you work that pays. They are also usually flexible, meaning that you could do the work whenever you had free time.
But, there are also some common downsides to them. For one, it can be difficult to find a site that pays well. And secondly, it can be difficult to find a site that offers consistent work.
A lot of survey sites send out one or two surveys a month… which is cool, and does earn you consistent money, but often not enough of it to even make a dent in your goals or expenses.
Plus, you have to look at whether or not the survey is worth the time for what it pays. That is the real question!
If you scroll down even further, there are buttons that you can click on to learn more.
I clicked on the button that would allow me to learn more about becoming a member of the consumer panel, and was quickly taken to this page.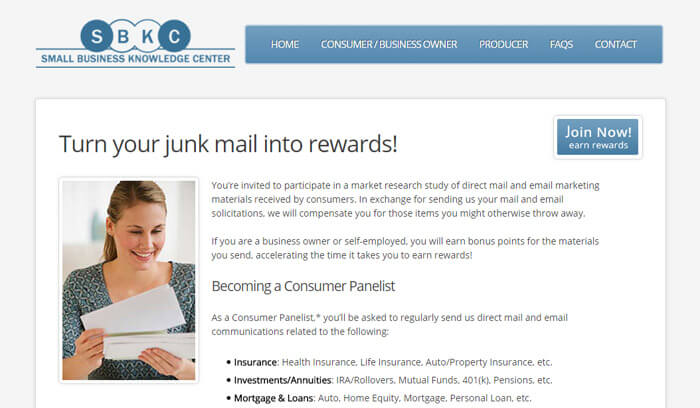 Ok, so what I discovered on this page was not what I was expecting. Apparently, the way you make extra money with this company is by sending them your junk mail and email!
Seriously!
They ask you to send them mail and email communications related to the following industries…
Insurance
Mortgages and loans
Investments
Travel and Leisure
Department Stores
Appliance/Electronics
And many, many more
This was definitely unexpected. Usually, on sites like this, you sign up, register, start taking surveys, and get paid through gift cards or PayPal cash-outs.
But this put an entirely new element into the equation. I mean, I hate junk mail… so the idea of making extra money off of it is pretty cool!
So, as it turns out, this is how you get paid for using this site.
1… You place qualifying direct-mail into a postage-paid envelope that is provided by the company. You basically send them your physical paper junk mail about once per week.
2… You forward them your qualifying emails.
3… You get paid! You can earn money by referring friends as well… but as a general rule, you will end up earning $20 in points every 6 to 10 weeks.
But, this is just if you are a consumer. If you own your own business or are self-employed, you can actually earn rewards at a faster rate than this—so that is a bonus, and is pretty awesome!
At any rate, joining the site seemed pretty easy. There was a button at the bottom of the page that said 'Join Now: Earn Rewards.'
I clicked on it. Here is what happened next.
Joining The Small Business Knowledge Center Panel
Joining the panel involved filling out several pages of information. I needed to supply my name, my email, my address, my phone number, my gender, my date of birth, and a lot of other information.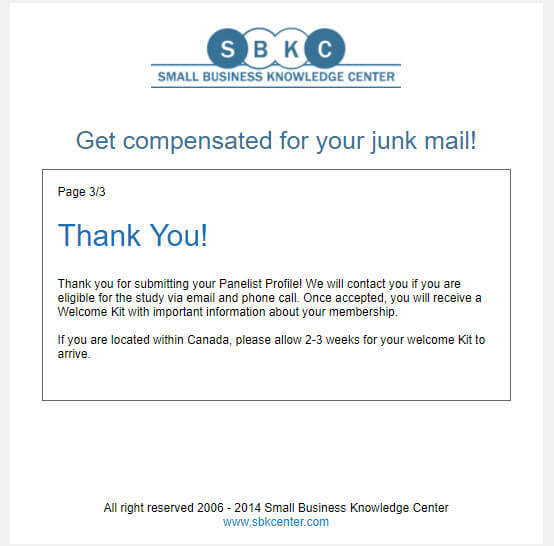 It didn't take long (about a minute, at the most) to get this part done. The site asked me if I wanted to send mail for other members of my household as well… to which I replied 'no,' because I would have needed to add information for them in addition to information about myself.
But now, it seemed, I was at a bit of a standstill. I did not yet know if I would be eligible for membership. This screen was telling me that if I were to be accepted, they would let me know via phone and email.
This was a bit unusual. I don't usually encounter survey sites (or any sort of site like this) that wants to call me to let me know the status of my membership. I do not necessarily feel that this part of it is 'essential,' but it was still a cool element.
I decided to check my email, just in case signing-up prompted some sort of automatic communication. I checked it, but did not find anything.
It seemed as though I was not going to hear anything from them until I became a part of the panel (if I even became a part of it). So at this point, I decided to just take a closer look at the site, to see what else I could find.
Taking A Closer Look At The Small Business Knowledge Center Website
There was a FAQ tab located on the landing page of this website, so I decided to click on that to see what else I could learn.
The first thing I learned was how you get rewarded on this site. You are basically given points for giving them material… and once you earn a total of 2,000 points, you are sent a redemption code (to your email) that you can use to get a gift card.
There are over 200 retailers offered… so you can rest assured that you will be able to find a gift card for pretty much any type of business that you could possibly be interested in.
I also learned what the SBK Center does with the junk mail that you send them. They use it for what they call 'competitive intelligence,' which is pretty cool. They also use it for 'product development purposes.'
At this point, I felt like I had pretty much learned all that I was going to learn without actually getting approved to join the panel. But… with that being said, I also felt like I had learned enough to figure out what I thought… so here is my personal opinion.
My Personal Opinion Of The Small Business Knowledge Center Website
I had mixed feelings about this site. On one hand, I love the idea of actually making money from your junk mail. That is pretty awesome.
This really does not seem as much like a 'panel' as it does a unique 'service,' almost. I mean, you are helping this company to gather information, so that kind of makes it a panel. It is just really unique in how it accomplishes this.
On one hand, you do not make a ton of money with this site. That keeps it from qualifying as a side-hustle-level opportunity, in my opinion. But, with that being said, it would also not take very long to just send in your junk mail and forward your junk emails.
The time required to do this would be relatively minimal… and obviously, your payoff would directly equate to how much mail you forwarded them.
But is the money really worth the time?
Here is how I feel about this site. If you feel like sending in your junk mail would be a good use of your time, and if you feel like doing this kind of thing (and earning some cash at the same time) would be interesting enough that it would be worth it to you… then this could actually be a great site to join.
But if you are looking for a legit side-hustle that will earn you plenty of extra cash and help you to pay down your loans and come with some extra cash for investments—then I am afraid to say that this site will likely leave you disappointed.
You're not going to pay any bills with this one… which is why I would probably not qualify it as a legitimate 'side hustle.'
Our Final Thoughts About The Small Business Knowledge Center Website
Should you register and use it to earn some extra cash?
The Small Business Knowledge Center Website Review
To be completely honest, doing online surveys will never earn more than minimum wage. In fact, most people rarely earn more than $1-$3 per hour, if they are lucky enough to get a payout.
If you want to legit make money online you need to invest time into building a website. Earn passive income through affiliate links & advertising revenue. Rather than spend an hour trying to answer boring questions, build a real web property that you can earn monthly income from.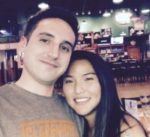 Nathaniell
What's up ladies and dudes! Great to finally meet you, and I hope you enjoyed this post. My name is Nathaniell and I'm the owner of One More Cup of Coffee. I started my first online business in 2010 promoting computer software and now I help newbies start their own businesses. Sign up for my #1 recommended training course and learn how to start your business for FREE!