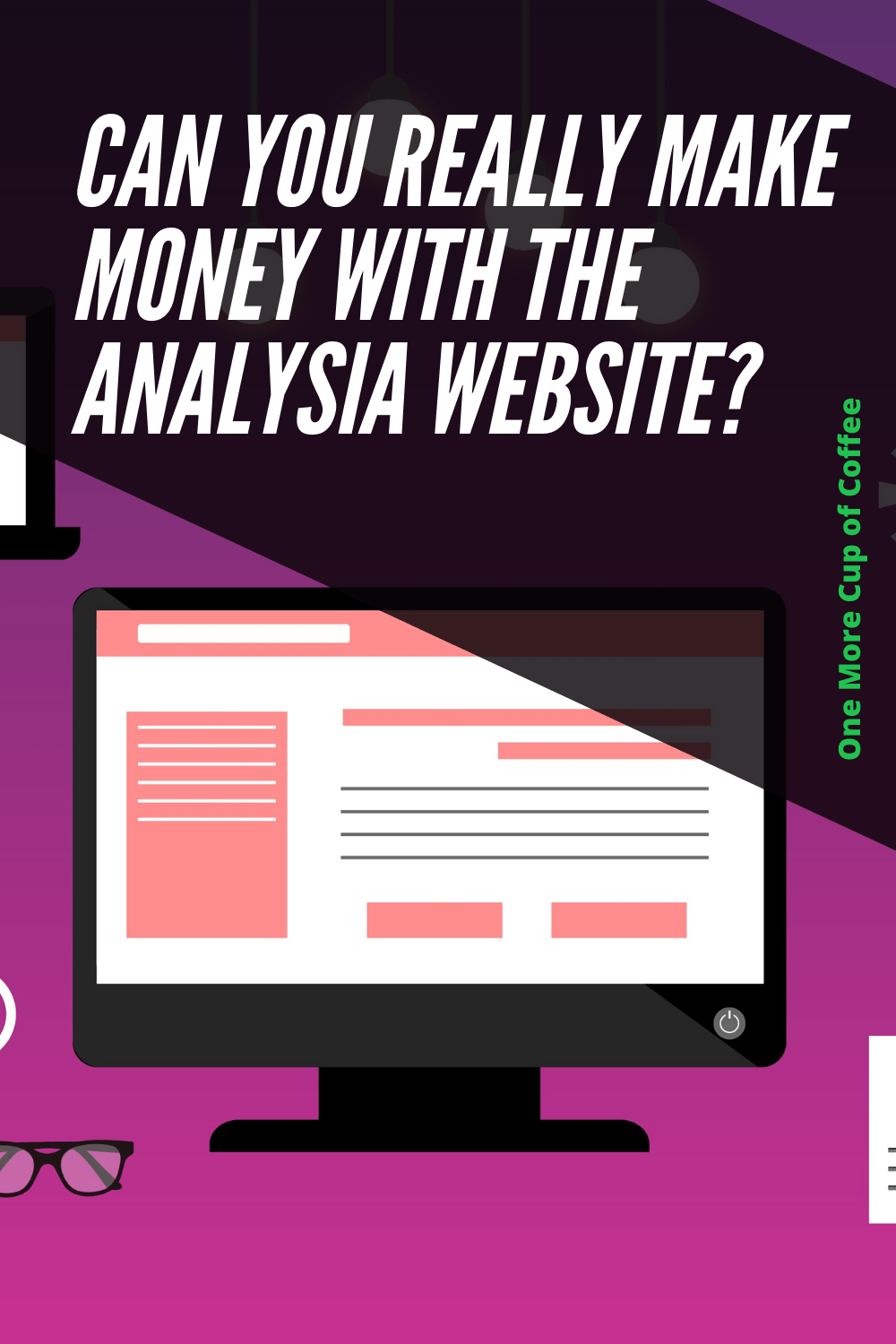 Analysia.com is a website that pays users to test mobile applications. But can you really make money with the Analysia website, or is it just another gimmicky site that doesn't pay enough to make it worth the time?
I'm pretty into the idea of finding quality side hustles, and this site stuck out to me because of how much they are said to pay for tests. Apparently, they pay out $10 per test (or so I've heard, anyway), which is pretty good.
So I decided to take a look at it, and here's what I found. In the meantime, here's my #1 rated product for making money online, but it's only for people who have at least an hour a day to work. Income potential is $10,000+ per month, but you gotta put in the time.
How To Make Money With Analysia.com
My first impression of the Analysia site, starting with the landing page, was not that great. I felt like it looked a bit cluttered and dated, and I couldn't quite overcome the feeling that it looked 'gimmicky' to me.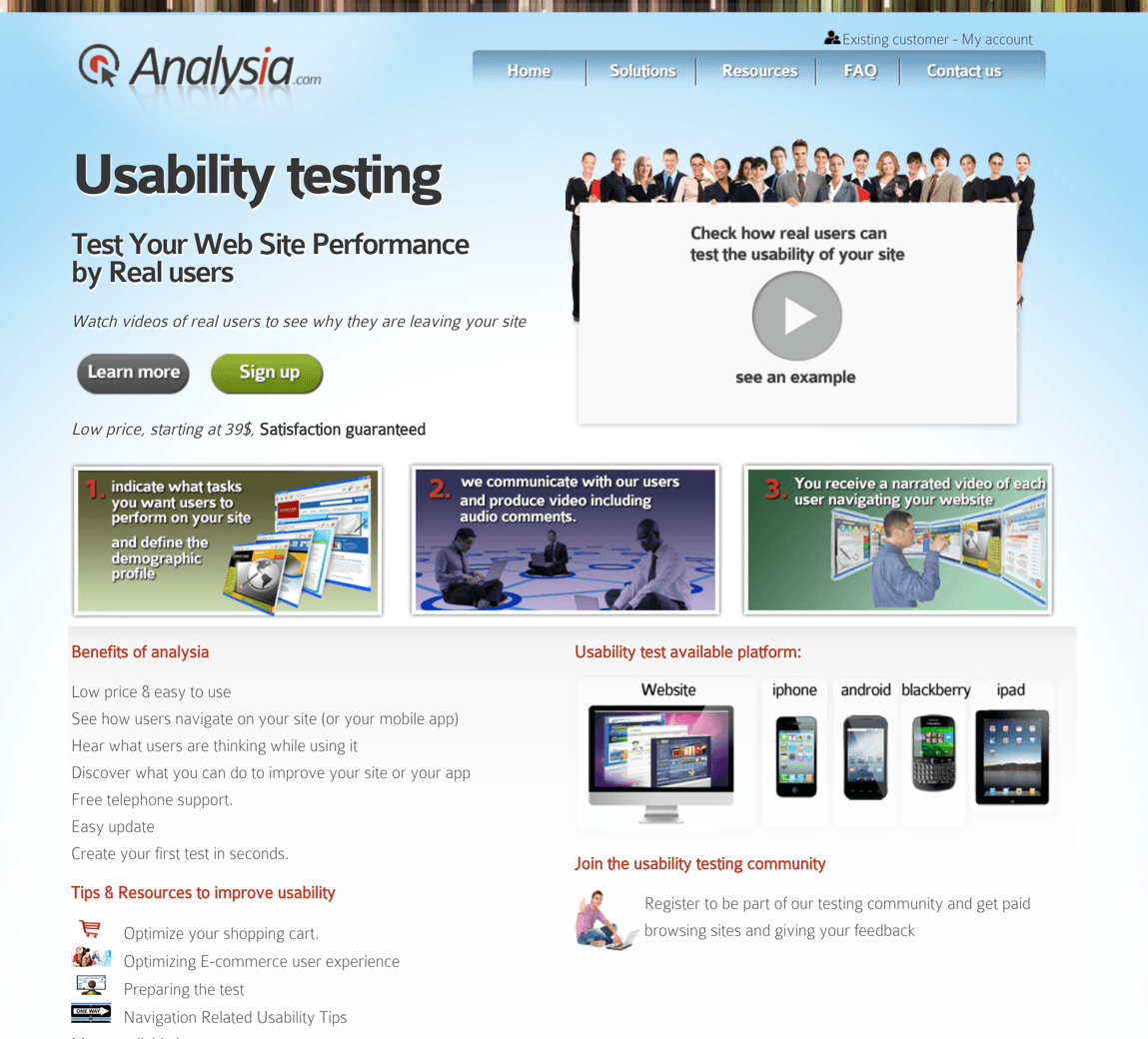 But, I have done this enough to know that websites don't necessarily perform like they look all the time—so I was pretty determined to keep moving forward.
I learned quite a few things just by reading through the content on the landing page. I learned that, first of all, this landing page seemed more dedicated to people who want their site tested than to people who want to do the testing—but that is not surprising. That is, after all, where the money comes from—so that makes sense to me.
I scrolled down a bit, to see if I could find the part of the site that dealt with how to actually make money testing mobile applications—and found a button that took me to that part of the site.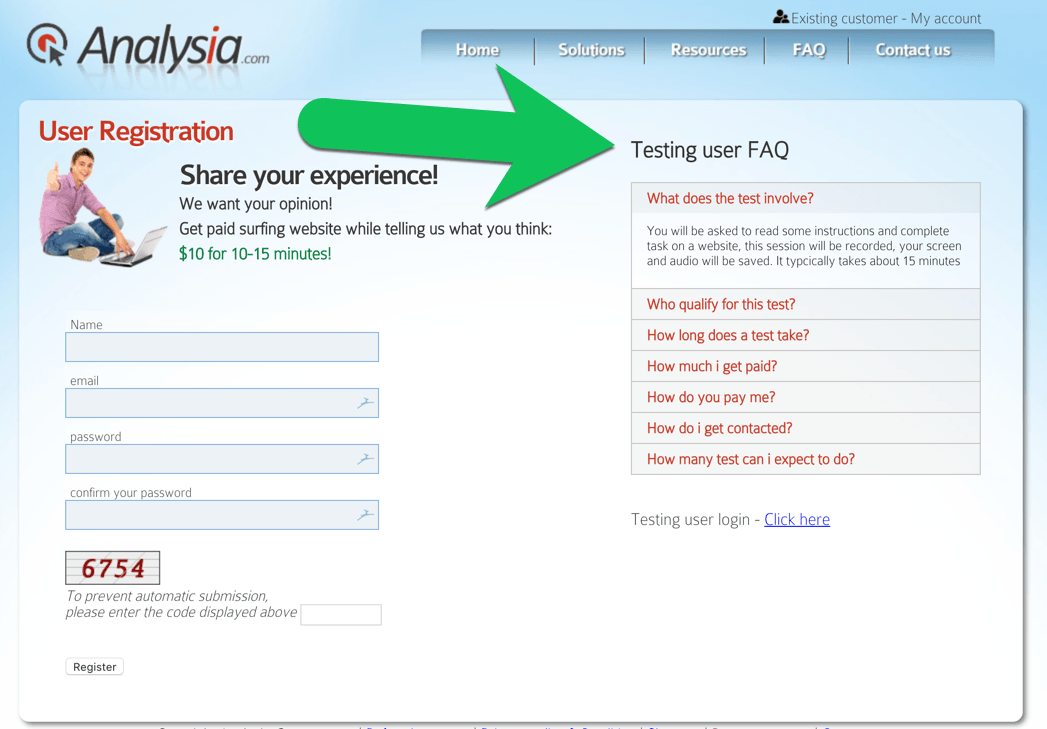 This page actually taught me a lot about what Analysia is really about, so here is a handful of facts that I found to be interesting about it.
6 Things I Learned About Analysia Website Testing
1) I learned that they do, in fact, pay $10 for 10 to 15 minutes of test-taking on this site, which is awesome.
2) I learned that signing up was pretty easy. You just need to give your name and email to start, and then create a password.
3) I found a nice little FAQ section that answered a lot of my most pressing questions.
4) I learned here that 'testing' a website or mobile application will involve having your screen and your voice recorded while you try it out. Tests generally take 15 minutes. Secondly, I learned that anyone with a good internet connection and a microphone can, in theory, qualify to take these tests.
5) I learned that the company sends out payments via PayPal, which is pretty awesome.
6) I learned that the company will email you when they need you to complete a task. This is pretty awesome because it would keep you from being required to keep checking back in with the website itself. This could become time-consuming, so I am really happy that they send out e-notifications for that sort of thing.
However, The Disappointing Thing Was…
This is a pretty competitive site for testers—so they say that how many tests you actually end up getting will depend mostly on your profile demographics. In general, they say that you can expect to take a few tests per month, at the most.
This was a bit of a let-down, as it would keep the site from being a consistent form of side-gig income as I had hoped it to be. A proper side-hustle should be equally flexible, consistent, and profitable—and while this site seems to be flexible and profitable, it sounds like the consistency would be a bit on the low side.
Is Analysia A Scam?
Since Analysia doesn't cost anything to join, I wouldn't call it a scam. However, it does seem to be an abandoned webiste, or at least one which doesn't deliver what it promises to do as a side hustle, so I wouldn't invest my own time into this company.
Next, I wanted to read some online reviews of Analysia.com to see what other users have reported. So that's what I did next.
Other Analysia.com Reviews Online
The first thing I learned about Analysia.com when I read the online reviews is that this is not a unique website. I realized this before looking at it myself, but apparently other reviewers share my feelings on the matter. Yes, there are indeed other websites that pay you to test websites and apps like Intellizoom—but the problem is that not many of these sites pay very much.
Those that do pay enough do not send out tests often enough to make them count as a real, legitimate side-hustle.
Anyway, here is some more information that I learned about Analysia while reading through some online reviews.
For the most part, reviewers liked it… at least in theory. They liked that it was simple, that it paid well, that it used PayPal for payouts, and that anybody with a good internet connection and the ability to record their own voice could use it.
Some reviewers expressed concern about the fact that not everyone possesses the gear you need to make something like this work—and I will admit that this is a legitimate fear. If you do not own a device that you can use to record your voice with during a test, then this site will be off limits for you to earn money on.
With that being said, I was also reading through a forum where people were discussing the site, and found out that it may no longer be active. Between the dated look of the landing page and the rather 'dodgy-looking' popup ads that interrupt you from time to time while browsing it (I encountered two of these myself, actually, so I know that this is true), it would seem that the site does have a bit of sketchiness to it.

Maybe it just isn't being used anymore? Or maybe they make most of their revenue off of people clicking on ads and don't send out many tests anymore?
At any rate, it seems unusual to find anyone who has actually used the site to take tests online. A lot of people have signed up, but I have not heard of many who have actually gotten any jobs—so that is something to take into account.

Some of these discussions took place in December of 2017, indicating that not that long ago, people felt like the site had maybe been abandoned. I am not sure if this is the case or not, because for some weird reason, people are still searchign for it.
In fact, this review of Analysia is a popular post on my site, so I don't really understand the disconnect. Why are people searching for a dead end side hustle?
So where did this leave us? After taking a look at the site myself, reading some online reviews, and conducting further research, I decided that I had seen enough to offer my complete opinion about it. Here is what I came up with.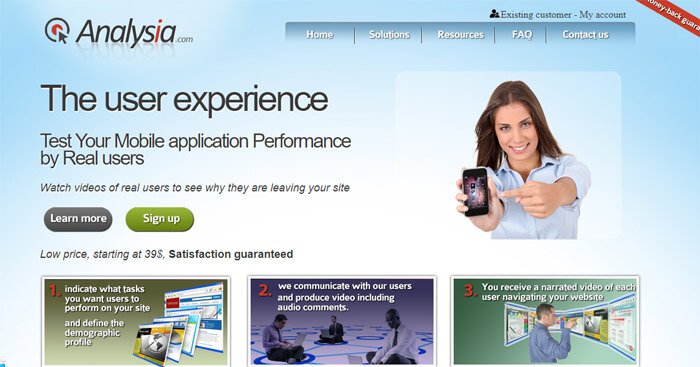 Is Analysia.com Legit?
First of all, I would just like to say that I liked the general idea behind this site and others like it. I like the idea of getting paid to test websites, and I like the fact that there are companies out there that make this possible.
But with that being said, I am also very skeptical of Analysia, and can't recommend it. I would NOT spend my time here trying to earn money.
First of all, online reviews and forum discussions seem to indicate, for the most part, that the site doesn't seem active anymore. Couple this with actual pop-up ads being displayed on the site, and I'm pretty sure the site is still around just to collect ad revenue from folks looking to make money.
Plus, why would a site like this need popup ads to make ends meet if they were doing enough business? Doesn't the business model pay for itself?
I just really felt like there were some unexplained problems here.
Yes, I like the idea behind this site—and maybe there could be a version of it out there that works. As far as I can tell, it seems that there are just a few too many problems for Analysia to overcome at this point in time.
Well, What's Next?
Personally, I haven't found a website or app testing website that really provides solid income for a side hustle. Survey sites are frustrating to deal with, and there's just too many scams out there.
In fact, when I calculate my time trying to search for legit opportunities, and the time I spend actually working to make money online, the income is rarely more than just a dollar per hour.