Some of the best American Made Affiliate Programs fold easily into niche market websites.
It's true that we live in a global economy. We can hold video chats on opposite sides of the globe. We can make purchases from companies in other countries and have those items shipped to our door. Even most of the clothes we wear are made in other countries.
However, there's a lot to be said for American products and companies, too. Affiliate marketers might not realize this, but the Made-in-America businesses often have affiliate programs that can bring in cash and preserve patriotism.
One thing these American-made affiliate programs have in common is that they pull the American culture into niche markets in natural, graceful ways. If you're interested, read on. These top 10 American-made affiliate programs might revitalize your sense of freedom and give you some ideas of new things to try.
Since it's summer as I'm writing this, I'd also like to share my post on grilling affiliate programs. Who doesn't love an American cookout?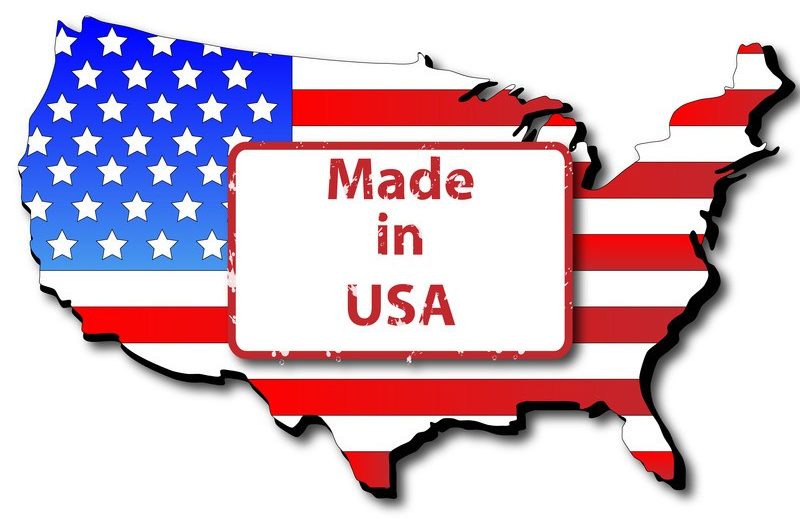 American Made Affiliate Programs
Fox Creek Leather
Sweets & Treats
American Flags
Brook & York
Duke Cannon
Leesa
Wolfgang Man & Beast
Suzanne Somers
Geopetric
Twist-Modern
1. Fox Creek Leather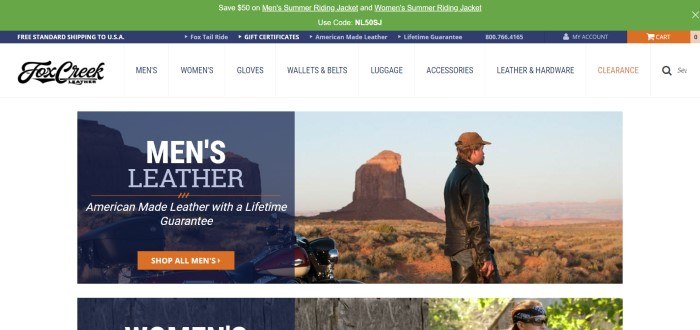 Fox Creek Leather, which is based in Independence, Virginia, is the place to shop for motorcycle vests, jackets, boots, and gloves. It's also a good place to shop for wallets, luggage, women's purses, and even leather bracelets. The website has gift ideas and sells supplies for taking care of leather products as well as the leather gear itself.
In the apparel sections, there's an option for customers who want to build their own leather gear. With this option, customers can customize the way their leather apparel looks and fits. This includes being able to choose the type of leather, such as elk skin, cowhide, or Bison.
The average order value is $200. The affiliate program for Fox Creek Leather is administered through ShareASale.
Why You Should Promote Fox Creek Leather: The high average order price is a good way to get higher commissions, and the length of the cookie duration is great, too.
2. Sweets & Treats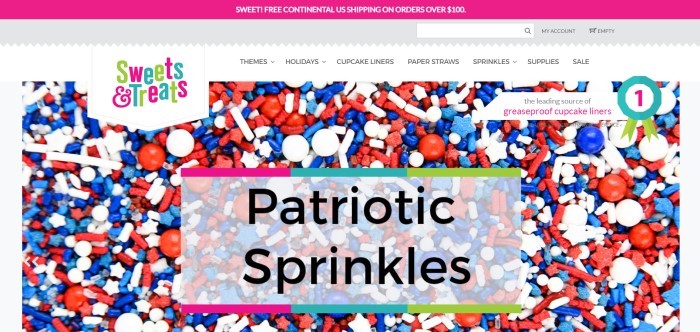 The main product for Sweets & Treats is specialty greaseproof cupcake liners, but there are other products, including paper straws and sprinkles. This company is definitely tilted toward party-throwers and cupcake bakers.
The cupcake liners and straws come in a variety of colors and patterns. Customers can order by themes such as galaxies or bubble gum, by patterns (how about an animal print straw?), by color, or by holidays. One of the highest-priced items is a gift box containing a variety of cupcake liners. The company also sells treat cups and piping tips for frostings.
Sweets & Treats is based in Louisiana.  Customers can get free shipping on orders that total more than $100.
Why You Should Promote Sweets & Treats: This is definitely a niche-market company with a light-hearted feel. The free shipping option could help bump up the shopping cart total and result in higher commissions.
3. American Flags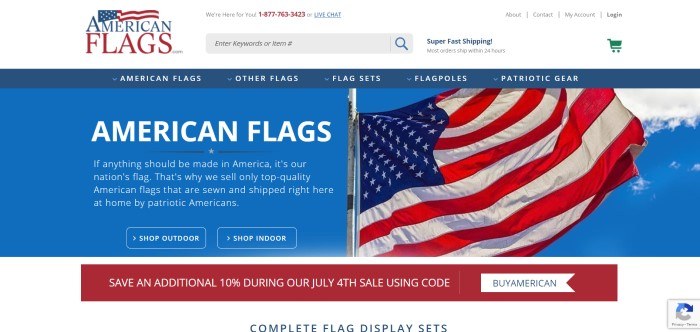 This company is all about American flags, made in America. Customers can shop for outdoor flags or indoor flags, as well as flagpoles and other accessories.
If you're picturing a standard American flag hanging outside someone's home, that's definitely one option—but there's a lot more to see on this site. A 30-by-60-foot flag sells for nearly $1,700. Some flags come in gift boxes. Customers can order the standard 50-star flag or an antiqued replica of the 13-star flag from colonial days.
And then there are the historic flags and state flags. Replicas of banners flown during the Revolutionary and Civil Wars, the 'Don't Tread On Me' Gadsden flag, and the flag from the Alamo are just a few of the historic flags that can be found here. This company also sells novelty flags and patriotic gifts.
The affiliate program is administered through ShareASale.
Why You Should Promote American Flags: The wide variety of flags found here could attract niche market shoppers. Some of the products are higher-ticket items that could boost commissions, too.
4. Brook & York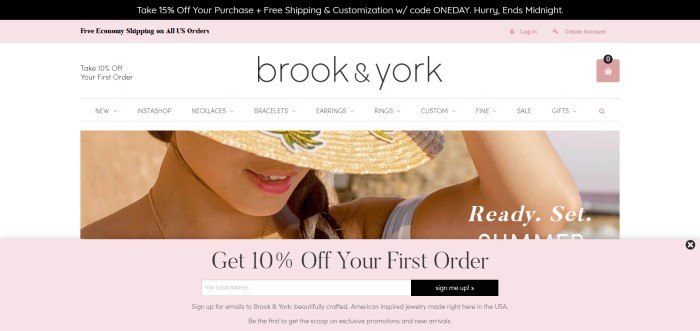 Brook & York is a jewelry company based in Connecticut. The company launched in 2016.
These made-in-the-USA jewelry pieces include bracelets, anklets, necklaces, earrings, and rings. There's an option to make custom orders, which includes engravings of names, dates, and geographical coordinates. Some pieces are made from 14-karat gold or sterling silver.
There's also a sales tab for shoppers looking for great deals, and first-time orders get a 10% discount. Customers in the United States can get free economic shipping, too.
Why You Should Promote Brook & York: Although some of the jewelry on sale is priced around $20, most of the jewelry on the site starts at about $50 or above, which increases the commissions. Also, the ability to customize orders could appeal to shoppers looking for personalized gifts.
5. Duke Cannon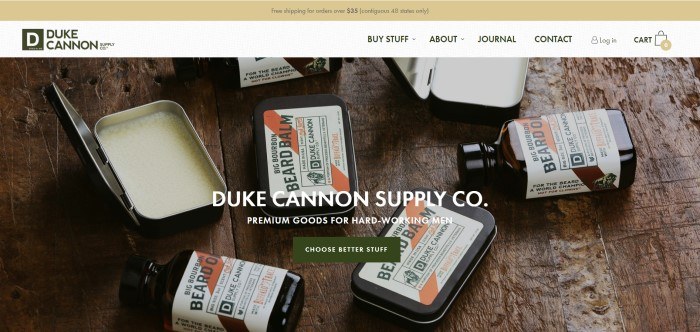 Duke Cannon supplies a variety of men's grooming goods with a straightforward, slightly irreverent but patriotic feel for men who know how to work hard. These products include items like beard oil, beard balm, shaving products, and aftershave, antiperspirants and deodorants, and dry shampoo.
There's also Bloody Knuckles Balm, the Big A** Brick of Soap, and Trench Warfare (use your imagination, if you dare).  There's a Top Smellers section. Orders over $35 can be shipped in the United States for free.
Many of the products were (and are) inspired by soldiers and veterans. Duke Cannon regularly donates to veteran's causes.
Duke Cannon's affiliate program is run through ShareASale.
Why You Should Promote Duke Cannon: This is another company that would fit well with niche market websites. The commission rate isn't bad, either.
6. Leesa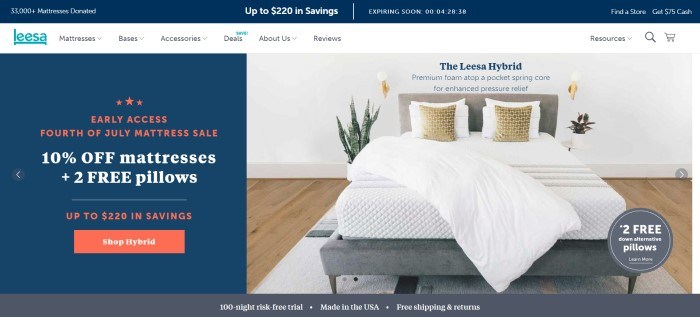 Leesa is the #1-rated company for American-made mattresses. The company provides free shipping and free returns and a 100-night risk-free trial period.
The company makes all-foam mattresses and hybrid mattresses with both foam and springs. Other products include bed frames and bases and pillows.
Leesa is a socially-responsible company that donates one mattress for every ten that it sells and plants one tree for every mattress sold. The company has donated around 32,000 mattresses to more than 1,000 nonprofit organizations since 2014.
Why You Should Promote Leesa: Although the information on cookies and commission rates aren't readily available, mattresses and bed frames are typically high-ticket items that can mean decent affiliate earnings. The regular donations and environmental care add a feel-good factor, too.
7. Wolfgang Man & Beast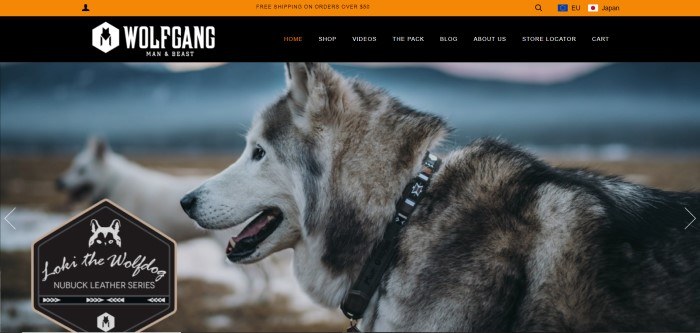 Wolfgang Man & Beast caters to people who love dogs. Some of the basic products include American-made leashes, collars, harnesses, and pet accessories for dogs. The products are made from fine leathers and other textiles that are produced in America. Some of the products come in fashion prints with names such as Pacific North, Antigua, White Owl, and Bird Dog.
Other products include wallets, keychains, hats, belts, bandanas, and tee-shirts for dog lovers. The average order value is more than $50, and the affiliate program is administered through AvantLink. Wolfgang Man & Beast is headquartered in Salt Lake City, Utah.
Why You Should Promote Wolfgang Man & Beast: This company provides a warranty against defects, which could be a converting factor for some shoppers. It also has great niche market potential.
8. Suzanne Somers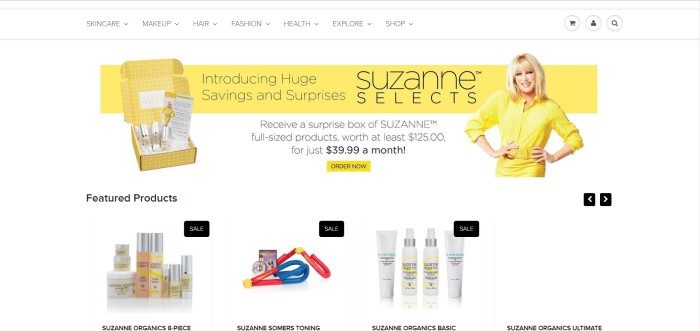 The Suzanne Somers affiliate program works with Suzanne Somers, an actress, singer, health advocate, and author.  Suzanne Somers sells mostly beauty, health, and fitness products that are all made in the USA.  Tabs on the website allow shoppers to browse through skincare, makeup, haircare, fashion, and health products.
The company offers free shipping and has a 30-day money-back guarantee, which could help convert some shoppers.
The conversion rate is 3-5%, and the average cart size is more than $80. This affiliate program is administered through Viglink.
Why You Should Promote Suzanne Somers: Some shoppers could be attracted to Suzanne Somers products simply because they know her name or face from the media, and that makes her credible. The commission is decent, too.
9. Geopetric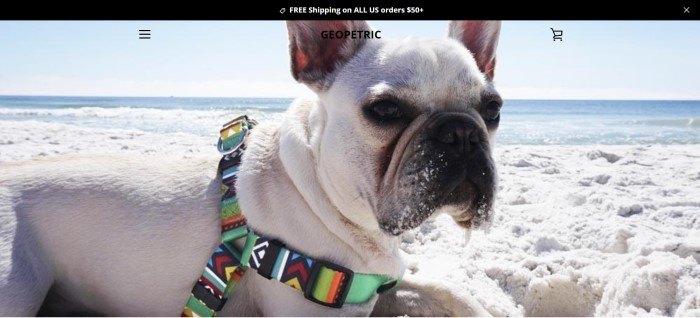 Geopetric focuses on products for pets that are made in the USA, are vegan, are eco-friendly, and are cruelty-free. Some of the products are made from supplies such as recycled bottles and vegan cork-leather.
Products include collars, leashes, and harnesses for dogs and cats. Puppy starter kits contain a matching collar, leash, and harness in fun prints. There are also novelty items like bracelets, keychains, and bandanas for humans.
Geopetric provides free shipping on all orders over $50 in the United States.
Why You Should Promote Geopetric: The commission is nice, and affiliates get discounts on Geopetric swag and 30% off on personal orders. Geopetric also donates 10% of its profits to animal shelters.
10. Twist-Modern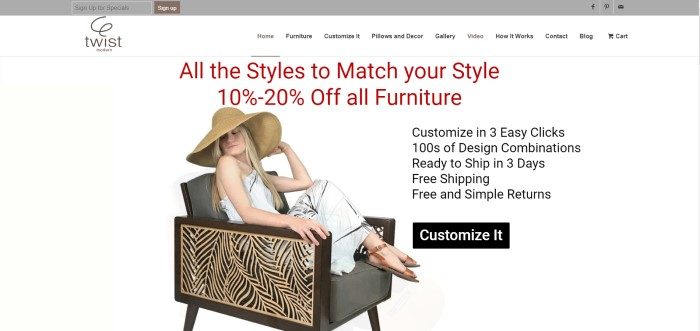 Twist-Modern sells American-made furniture that can be easily customized. The company schedules inside delivery, and shipping is free. If there's a need for returns, the company tries to make it as easy as possible.
The furniture is customized by shoppers online, who choose the styles they want their furniture to be made from. The furniture is typically ready to ship in about three days. Products include chairs, consoles, coffee tables, and side tables, along with throw pillows and décor.
Affiliates can sign up via ShareASale to join Twist-Modern's affiliate program.
Why You Should Promote Twist-Modern: The average order size is around $2,400. At a 10% commission, the affiliate earnings for one or two purchases are nice-sized.
Affiliate Website Ideas
Now that you've read about these top 10 American-made affiliate programs, do you have any new ideas for using more American-made products in your affiliate marketing? If you're still drawing a blank, it's okay. I have some ideas to share with you that could get you going.
First of all, a website that showcases American fine art could be a lot of fun. Prints, posters, and original paintings from American artists could be promoted on a website like this one, but so could online art courses, art supplies, and picture framing services.
A second idea is to create a website focusing on the American West, perhaps with cowboy themes. American-made boots, hats, belts, and buckles could be promoted here. Items like the ones sold through Duke Cannon might be appealing on a website like this, too.
What about a website that zeroes in on education in America? American-made school clothes, backpacks, and shoes could be promoted here. So could hand-held learning devices, software, and smart-watches.
Of course, American-made products are popular in the US and worldwide, so it doesn't matter what your niche is, you could make money promoting American-made products on your website.
Boost Your Affiliate Earnings
These 10 affiliate programs are just the beginning of what's possible. There are hundreds of ways to earn affiliate commissions with your website, including product reviews, top 10 lists, how-to guides, and more
But what about traffic and conversions? How do you make sure your affiliate links get clicked?
I used the affiliate training here to turn my brand new website into a six-figure income generator in less than two years. Build a business, not just a pocket-money side project!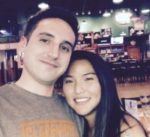 Nathaniell
What's up ladies and dudes! Great to finally meet you, and I hope you enjoyed this post. My name is Nathaniell and I'm the owner of One More Cup of Coffee. I started my first online business in 2010 promoting computer software and now I help newbies start their own businesses. Sign up for my #1 recommended training course and learn how to start your business for FREE!
Reader Interactions