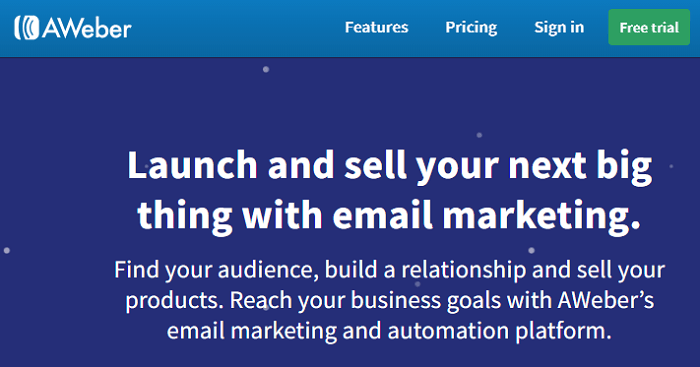 Social media may be a huge way to promote your business, brand and products and a huge investment is still placed in advertising and campaigns on social media, but too often email is still overlooked as an affordable alternative to gaining leads and achieving sales. If you find email is a great way to still generate great leads then you may want to consider utilizing AWeber for your site and as an affiliate partner as well.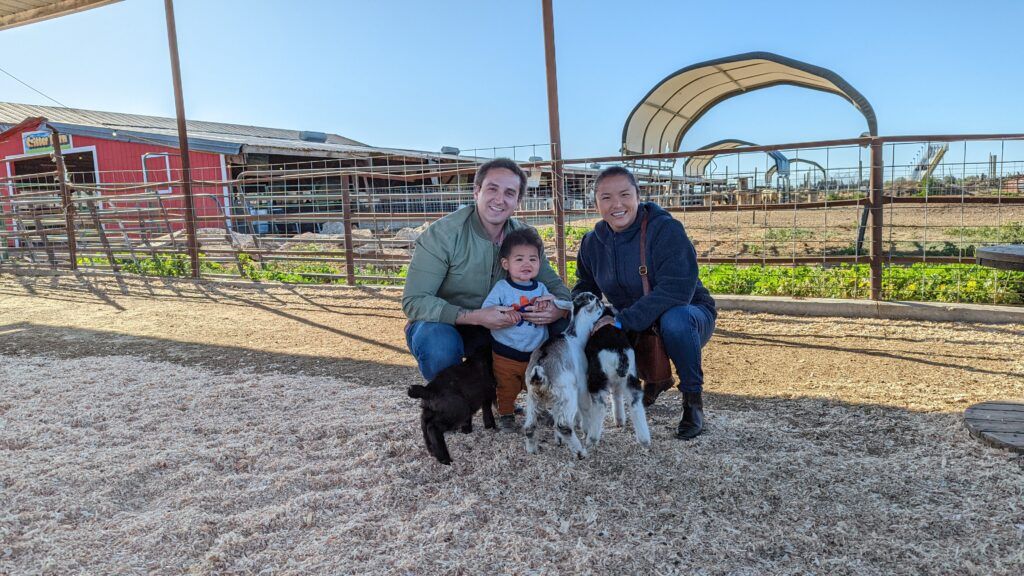 Are You Ready To Work Your Ass Off to Earn Your Lifestyle?
Are you tired of the daily grind? With a laptop and an internet connection I built a small website to generate income, and my life completely changed. Let me show you exactly how I've been doing it for more than 13 years.
Whats an affiliate partner? This is when you join as a partner with a company and help to promote their products. For driving those promotions, you gain commission on any sales that are achieved because of it.
If you love email campaigns and programs, I'd suggest to start by getting signed up with a free trail on AWeber and if you love it as much as I do then you can continue with using the program yourself and promoting it to others to achieve long-term success for both you and them alike.
To sign up you can go here to AWeber.com. You will need your own website and to be approved by the AWeber affiliate team.
What Type Of Products Are Featured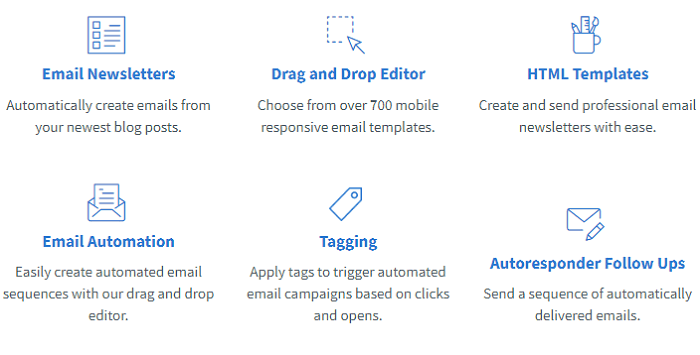 AWeber specialized in email automation projects that help to save you time and effort while increasing your profit and productivity. Below are the different product types that AWeber has which you and your affiliate customers can utilize:
Email Newsletters – Created systematically based on your blog posts.
HTML Templates and Drag/Drop Editor – Making it easy for you to send emails with less work required.
Email Automation – Automated email responses based on specified criteria and automatic follow-up emails.
Tagging – emails tagged and tracked based on how many were opened or clicked on.
RSS Feeds, Integrations to PayPal or WordPress, Mobile Aps, Sign Up forms, and much more
The list of available tools you have once you're signed up as an AWeber user is limitless to help you be more productive with your email campaigns. These email campaigns come at very affordable rates as well starting with a 30 day free trial and then only $19 a month for up to 500 subscribers and unlimited emails that can be sent. The packages increase then based on the subscriber count.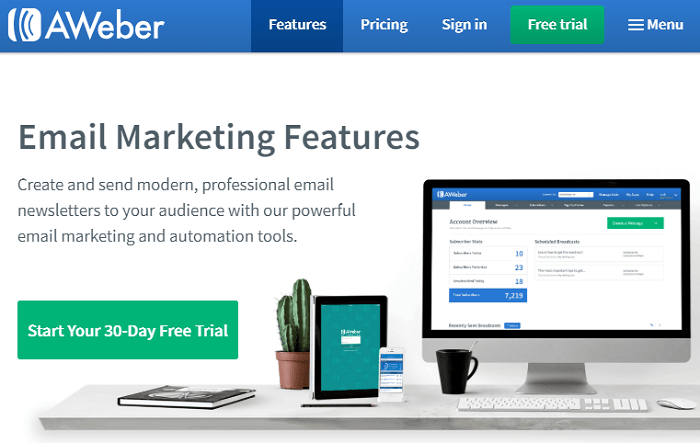 What Is The Commission Rate?
What I like the best about AWeber is they dont cut you short on commissions. AWeber offers its affiliates a 30% recurring commission not only on the initial sale but also on ALL future payments they make for the lifetime of that referral.
this means that if you refer someone to AWeber and they purchase the lowest package at $19, you'll receive almost $6 a month continually for the lifetime of that user's account as long as they keep using AWeber. If you have 10 referrals thats already $60 a month.
It can add up and since it's a lifetime affiliate commission of 30%.
Looking at one of the biggest competitors of AWeber is GetResponse which also offers many great email marketing tools and campaigns. It has a very similar affiliate commission at 33% including recurring commission for the lifetime of the referral.
In general email marketing affiliate programs are very competitive in terms of commission compared to other affiliates on the web.
Alternative Affiliate Programs
There are quite a few other affiliate programs doing similar email marketing campaigns. These include companies like GetResponse and Fluttermail. They each have their own affiliate programs and different offerings.
GetResponse as we discussed above offers a 33% recurring lifetime commission and works by providing you with an auto-responder type service. They have 120 day cookies and manage their own affiliate program in-house. No only do they provide email marketing services but also landing pages and webinars so you can hold everything all in one place without the need for a separate website/blog site.
Fluttermail is another great service for an email autoresponder and is very well known due to it's simple to use interface. It also has the highest affiliate commission at 50% of all earnings including any recurring earnings.
There are also many other types of niche affiliate programs that you should partner with in this including different website hosting platforms and website design platforms. As most writers these days are utilizing WordPress, that is a perfect place to focus on. Partnering with both WordPress and other companies that associate with will add alot of power to your message.
I highly suggest utilizing WordPress.org Affiliate Program as their pricing is good and their customer service is extremely helpful and knowledgeable (also available almost 24×7). To keep your site looking great, you can also partner with Elegant Themes which offer amazing designs for your WordPress site and a few great plugins that make managing your site extremely easy.
Having these 3 in tandem, WordPress.org, Elegant Themes, and AWeber you'll have a perfect arsenal to teach visitors how to make a perfect well rounded blog/website.
Practical Uses of AWeber for Customers
The great thing about AWeber is that it can be used to promote any type of website. AWeber is an email marketing tool so whether you're into crafts, travel, sports, or cooking your website visitors and readers will have an email account and on average everyone checks their email multiple times every day. This means that you have the opportunity to reach all of those readers every day if necessary.
By having an automated email marketing tool in place you have a system that automatically gathers customer information and allows you to start creating a repository to use for future advertisement. This system can be used by every website as another easy way to compliment social media as a way of disseminating information.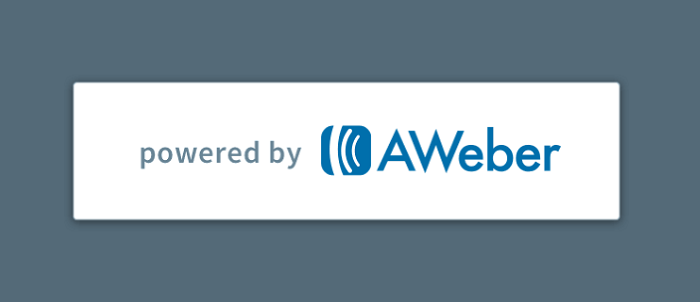 Lets say for example that you have a cooking blog in which you post a few great new recipes each week. In order to reach your customers you would typically publish your article and hope they read it. Another way to reach them is to publish your recipe article on your social media pages. The only problem with many social media sites these days is they aren't pushing page traffic to users as much if you dont pay for advertisement.
So one surefire way to ensure your readers will always get a copy of your cooking recipes is via email. If visitors to your site love your recipes and want to get them you can simply add an email sign up to your website and every time you publish a new recipe blog it'll go directly to their inbox.
You can take this a step further and add customization to your email so that if they want to take advantage of your other offerings like "Video Cooking Lessons" or your "Cooking Class" that you sell on your site. These can all be embedded in your email and tracked to see how many customers are heading to those services each month via email.
Can You Make Money With The AWeber Affiliate Program?
There are plenty of tools that AWeber gives you to advertise to customers, but first we should talk about how to use AWeber as an affiliate. No matter what niche you write online articles and content for, you should always use your platform to share with your readers how you manage your website, how you got started, and whats in the background that makes your website run so smoothly.
One of those "how to" articles can include AWeber as a guide on how you got started with it and what it's done for your user base including instructions on how to sign up (using your affiliate links so you'll get commission if they click it).
If you dont use AWeber, it's still perfectly acceptable to suggest to your website viewers great add-on services that are available in case they want to utilize these tools and were unaware of them prior.
So what are the tools that AWeber has for you to use?
Affiliate Link: The most common tool that you'll use is your affiliate link which is a personalized link that includes your affiliate ID. When a customer clicks this link they will be taken to the AWeber site and they'll never know that it's associated to your specific account.
Affiliate Banners: AWeber has a huge assortment of banners that you can use for your site in different shapes, sizes, and styles whether you want to use it on your sidebar, footer, or in the content itself. The site is extremely easy to use as it shows each of the banners in full size and includes the HTML code that you'll input to your site.


Video Ads: For one of the first times since I've been reviewing affiliate marketing campaigns, there are actual affiliate video ads which have videos that your customers watch. These videos have your affiliate ID embedded in the video so if after watching the video they are happy with the service and purchase it, you'll get the credit for the sale.
Take advantage of all 3 of these together on your site to get a message to your customers that this is a great service!
Pros/Cons of Working With AWeber
Things I loved:
Their service is really affordable to all customer base starting at just $19 a month.
The commission rate was a recurring one for the lifetime of a customer which is rare for affiliate programs.
Many great resources including PDF documents on "What To Write" to guide you through the whole process.
Things which were missing:
Compared to competitors, AWeber could be a much greater option if they were able to sell a "landing page" and also "web conference" services. Not everyone has their own website already but they want a way to connect with customers. Having a website landing page that they can sell with the email marketing would attract many customers.
The Internet's #1 Affiliate Training
It sounds like you're pretty familiar with the basics of how affiliate marketing works. Awesome! But is your website profitable yet? Are you stuck spending hours wondering why you aren't seeing results yet?
You aren't alone. Most newbie affiliate marketers are a little lost, jumping from one "how to" guide to the next, hoping to learn the secret sauce of how to make money with affiliate marketing
I was able to turn my basic niche blog into a six-figure earner in 18 months following the training from this company. They focus on building a sustainable business that will earn for years, not just a website that will "game" search engines for temporary rankings. That's why 8 years later my websites are still earning and still growing.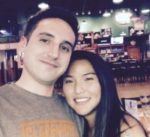 Nathaniell
What's up ladies and dudes! Great to finally meet you, and I hope you enjoyed this post. My name is Nathaniell and I'm the owner of One More Cup of Coffee. I started my first online business in 2010 promoting computer software and now I help newbies start their own businesses. Sign up for my #1 recommended training course and learn how to start your business for FREE!