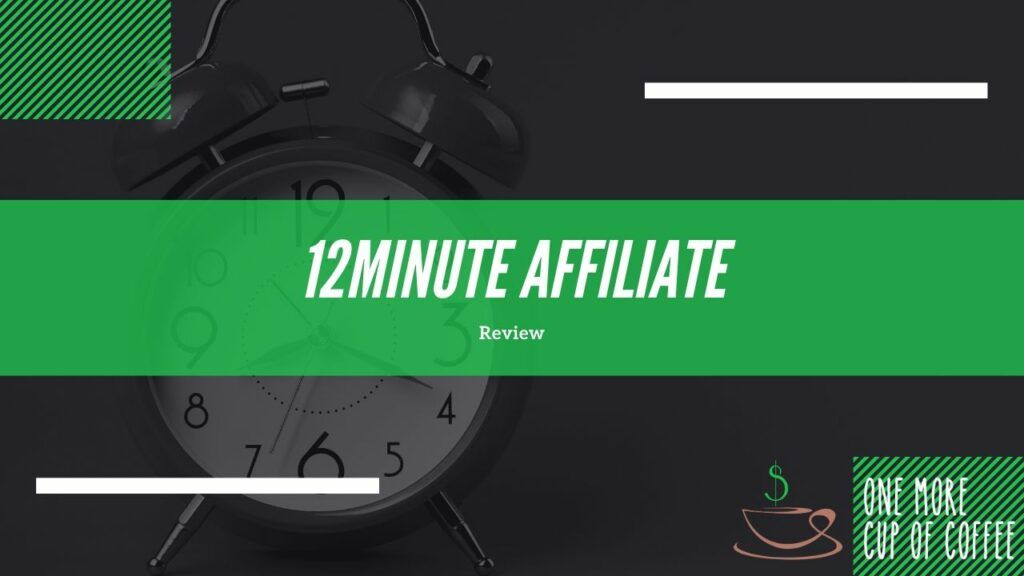 12 Minute Affiliate is a very popular Clickbank Product that's been around for a few months, and gotten mixed reviews, so I wanted to buy it for myself and see what it was all about. Devon Brown, the main guy you hear in the sales videos has an infectious, enthusiastic personality
No products to create! No website to build! No struggling to find traffic! It was hard to say no!
Of course, I'm being a little sarcastic here because after 10 years in this business, I'm pretty used to dismissing these kinds of claims.
Surprisingly, 12 Minute Affiliate exceeded my exceptions and was a pretty good product. But would I really recommend this product to my mother? You can keep reading my review here to peek inside the members area, see what the training is all about, and see if you agree with my final thoughts on the product.
Even though 12 Minute Affiliate was a pretty good product for the money, it still couldn't break me from my 8-year streak of recommending this system for newbies who want to create long-lasting, reliable income online.
Sure, it's much harder to sell you on a system which takes more work, is harder to do, and still not guaranteed, but honestly, making money online isn't that easy. The good news is that I offer my personal coaching as a bonus for anyone who joins, so you get access to the brain of a six-figure marketer while you build your business, at no extra cost.
In the meantime, you can fiddle around with some of these "easy money" systems for a while. Just remember One More Cup of Coffee when you're ready to take action and look at the next 10 years of your life… not the next 10 days.
12 Minute Affiliate Review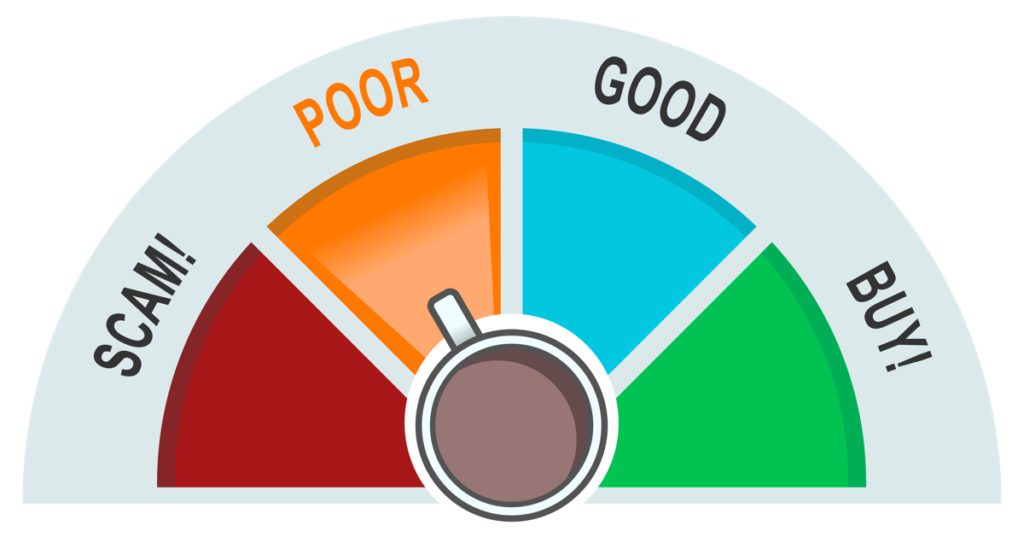 12 Minute Affiliate from Devon Brown and David Sloan is a product that centers around the idea of sending out emails to promote affiliate products. This is a proven system to make money, and sending out emails this way is one of the most common ways to make money online.
What 12 Minute Affiliate basically does is create the landing page (opt in page) for you, including your personal affiliate links, and then sends out a pre-made list of emails to shoot out once per day to promote a couple of their favorite products. They really did "do everything for you", and I was surprised that they delivered on this promise.
Unfortunately, what's not really clear until you complete the training is that you'll still need to get traffic to your sales funnel. They've got traffic packages you can buy, but prices start at $192 and go all the way up to $3,840. Yes. Almost $4,000 for sending traffic to your landing page from an unknown source.
Keep reading below to see inside the members area, learn about the training, and see what my final opinion is on this product.
Before we get started, here's a screenshot of my receipt, to prove that I bought this product. Keep in mind that $9.95 is the intial signup fee, and to be an ongoing member you'll need to pay $47/month after that.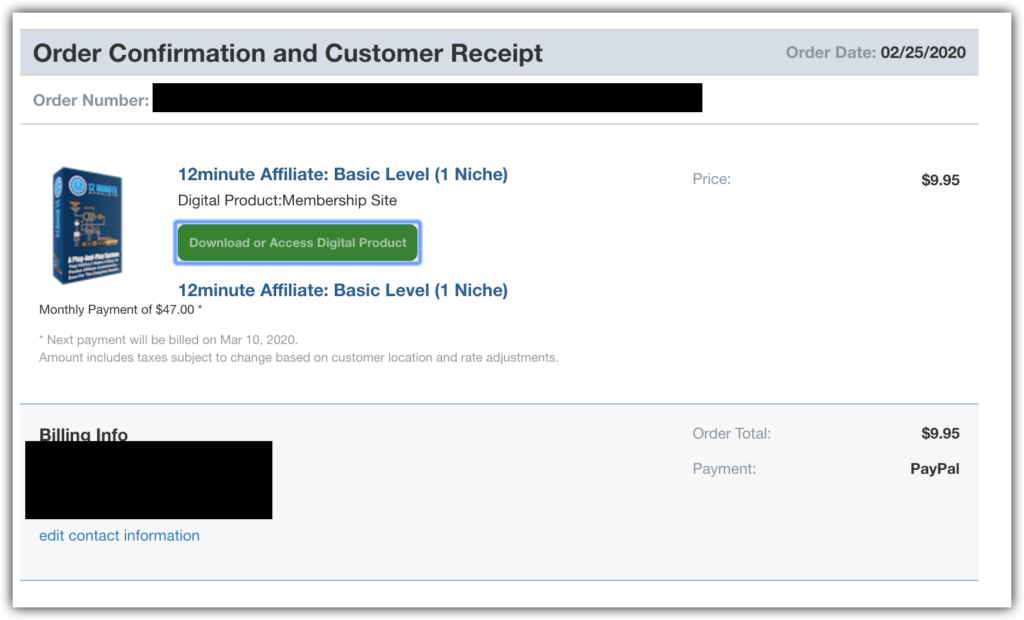 Inside The Members Area
The navigation inside the members area of 12 Minute Affiliate is pretty easy to navigate. You can basically do all you need to do with two tabs:
Getting Started
Done For You Traffic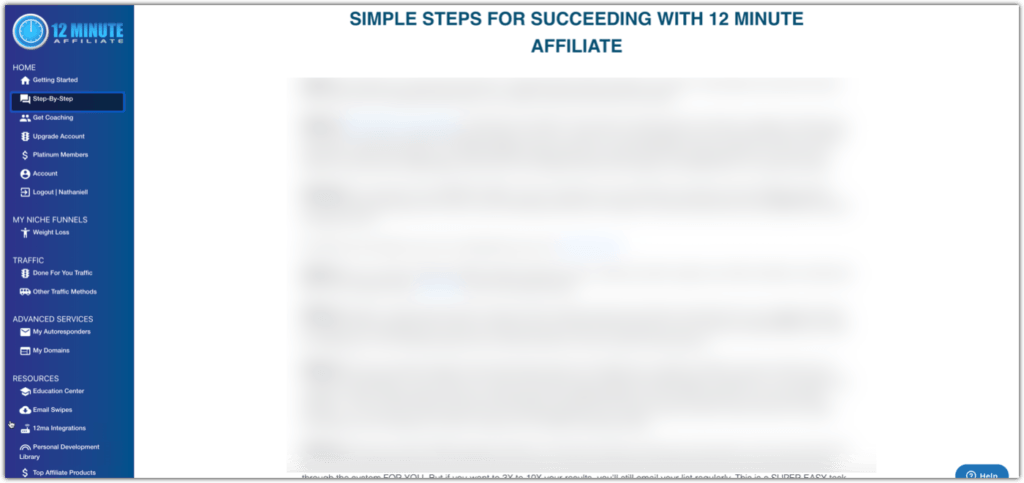 Many of the other tabs are upgrades, including membership upgrades, private coaching ($297), and a mysterious Platinum membership, which requires another application and they do not list the price.
You'll also get access to the Facebook group, a couple of extra training videos, email swipes, and information about your sales funnel.
My Comments About 12 Minute Affiliate Training
The training inside of 12 Minute Affiliate is clear, concise, and accurate. In fact, the entire checklist of what you need to do is just 6 steps, and very clearly outlined in a PDF document.

What you're going to be doing as part of the training is basically this:
Sign up for Clickbank
Sign up to Aweber (for sending email)
Pick your niche (make money, lose weight, personal development)
Enter a code from 12MA to set up your email sequence
Buy traffic to send to your done-for-you opt-in page
The email opt in page you get is a little corny, but certainly not the worst I've seen throughout all the reviews I've written of other "done for you" funnel systems. I could certainly see some kind of audience opting into a page like this.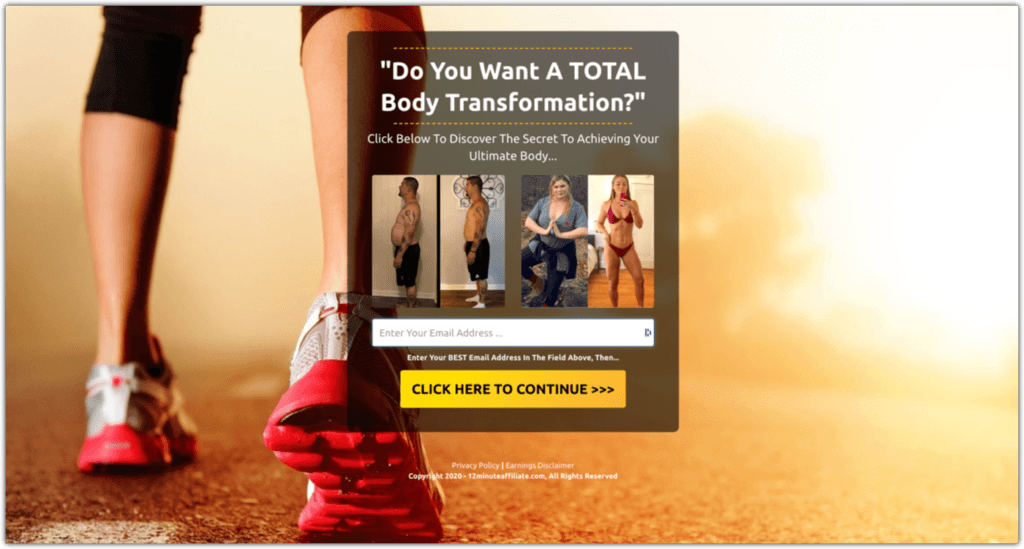 What's even better is that the products you'll be promoting (at least within the weight loss niche), are doing some really decent sales. I looked them up on Clickbank, and all of them have high gravity and good payouts, which means affiliates are earning money selling this stuff.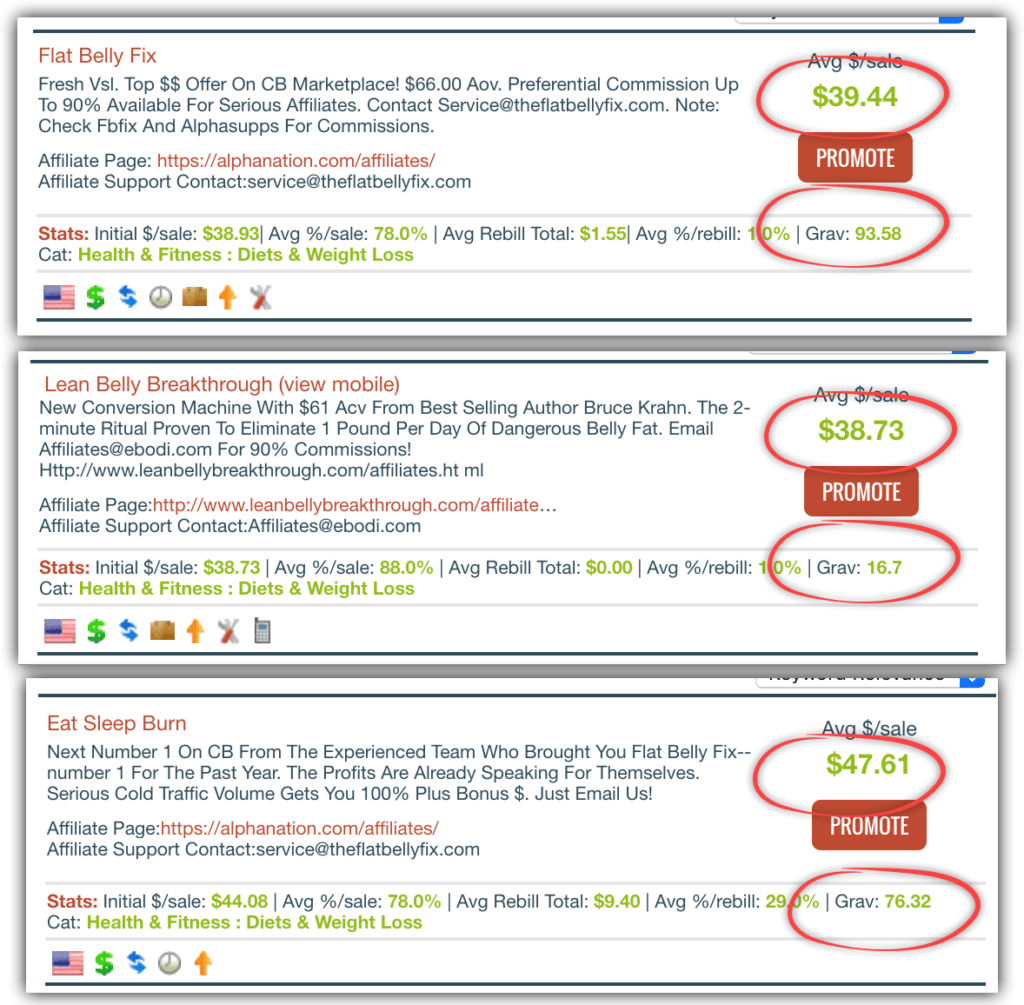 Unfortunately, I would personally hesitate to promote these particular products. Sure, they're making money for affiliates, but it doesn't mean they're actually a good product. Many times in the world of affiliate marketing, the profitability of a specific product is understood to mean that the product is "high quality". That's not always the case though, and it may just be that it has great advertising, but delivers a pile you-know-what.
Here's what I mean (see image bel0w).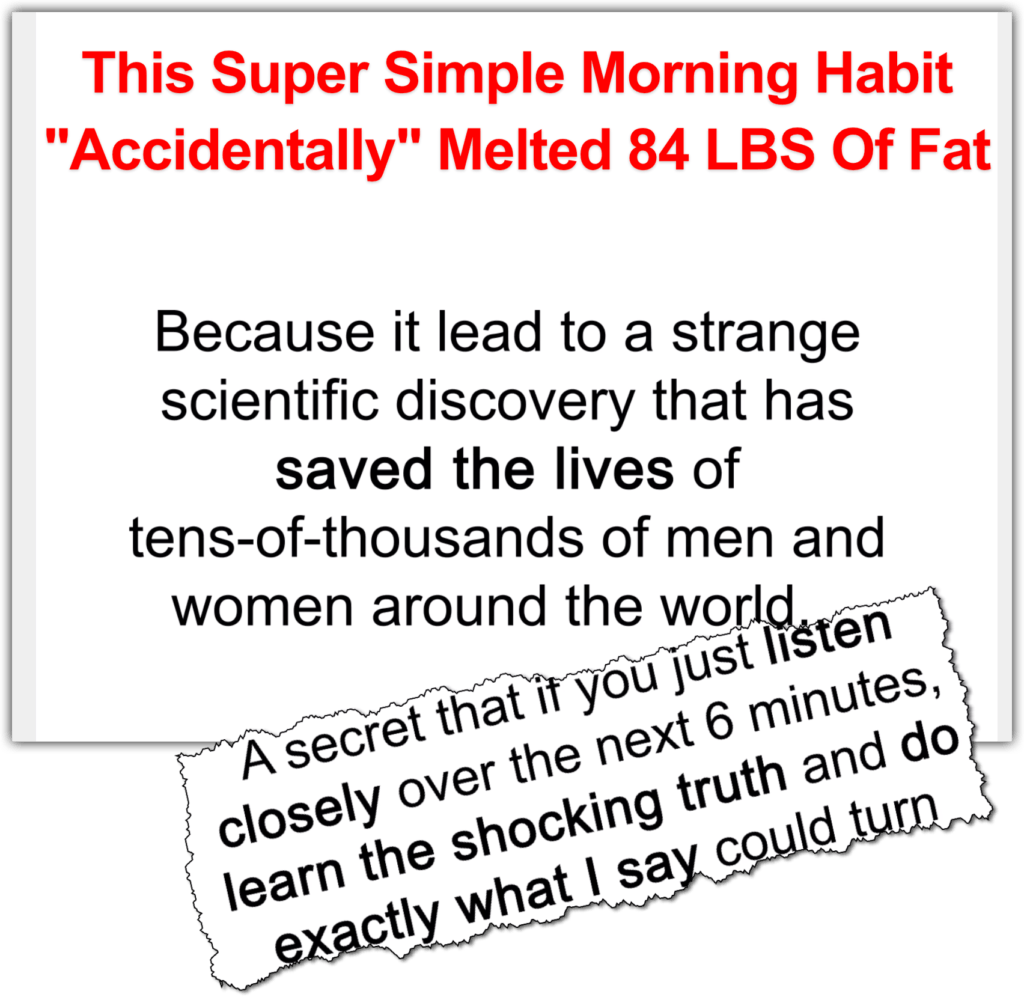 A super secret weight loss product that accidentally melts away fat and is saving lives? Ummmmm. Sounds like total BS to me. Maybe I would have promoted something like that 10 years ago as a n00b, but not now. What exactly is that supposed to be, and are you actually going to buy this weight loss product to vet the quality? I'm guessing not.
Most people are just going to blast out these emails hoping to make sales and aren't too concerned about whether the person on the other end of the transaction actually gets something valuable.
I'm just saying that this weight loss stuff doesn't seem very ethical to promote, at least from my perspective.
Can You Actually Make Money With 12MA?
I've got some screenshots below to prove it (from the Facebook group), but yes, it looks like you can actually make money from 12 Minute Affiliate. I just have one problem…profitability. Making money is not the same as actually making a profit.
Here's what I mean.
Let's say you spend $100 in ads, but only earn $20 in commissions. Sure, you made $20 in revenue, but once you account for the $100 ad spend, you actually lost $80.
Is profitability possible with 12MA? Yes. These are real products, with real people buying them, and 12MA is sending you real traffic to your opt in page. However, I haven't seen any numbers so far that look convincing like this could be a profitable campaign.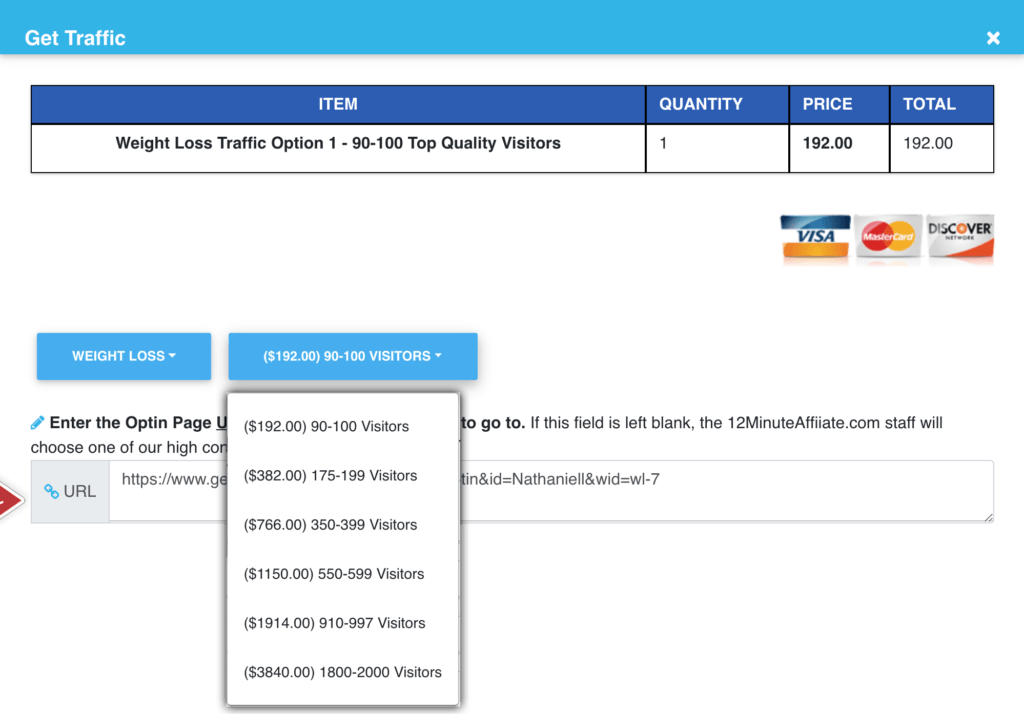 The BASIC traffic package sends you just 90-100 visitors to your opt-in page, and costs $192. That means you need to sell two hundred dollars in weight loss products just to break even. That's a helluva conversion rate if you as me! Over time, with optimization and recurring sales, you might actually be able to pull this off, but it's going to take some time.
Each $192 package at a time.
How much are you willing to spend to find out?
Some Results So Far…
Spend $100, earn $27
Spend $199, earn $60
Spend $100, earn $0
Spend $300, earn 1 sale
What About Support & Help?
With your membership to 12 Minute Affiliate, you get access to a Facebook group. This group is very active, and very supportive. Even in just the few days I observed, I saw lots of people cheering each other on, posting questions, and getting real responses from other members and moderators.
Actually, there were posts from Devon Brown himself, and even lots of pictures of people making their first commissions online. I've got nothing but good stuff to say about the Facebook group.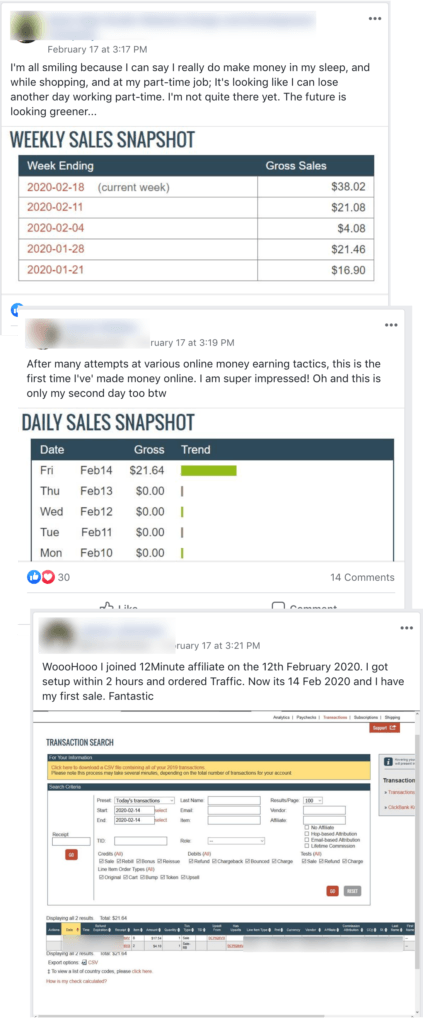 In terms of support, it's probably fastest to just use the Facebook group, but there's also a phone number and email address. I sent an email a few minutes ago, and will update this when I get response. I called them as well at the listed phone number, and it went to real phone number, but they were on the other line. I'll call back later today!
Update: Well, 6 days later I never got a response. Also, I called back and the line was still busy. The Facebook group is still very active, and many people post screenshots of the email subscribers they are gaining. However, many of the sub counts are just 2-3 subs, and if you're paying $200 for 3 subscribers, those are not good numbers.
Is 12 Minute Affiliate A Scam?
With products listed on places like Clickbank, it's pretty common to wonder if it's a scam. As far as I can tell, no, 12 Minute Affiliate is NOT a scam. They delivered a working product, with a functional support system, and you even get the added benefit of joining an engaged community in the FB group.
Pros & Cons
Pros
done for you full funnel setup
automate a 3-month email campaign in seconds
choice of niches and products to promote
active Facebook group
legitimate stories of people earning their first money online
positive, engaging, experienced mentor in Devon Brown
options for 1-on-1 coaching & extra help
Cons
expect more costs as you build your business (autoresponder, traffic)
the traffic packages are VERY expensive ($192 MINIMUM)
seems unlikely you'll earn a net profit from this venture
possibly sending out email spam
promoting low quality products from Clickbank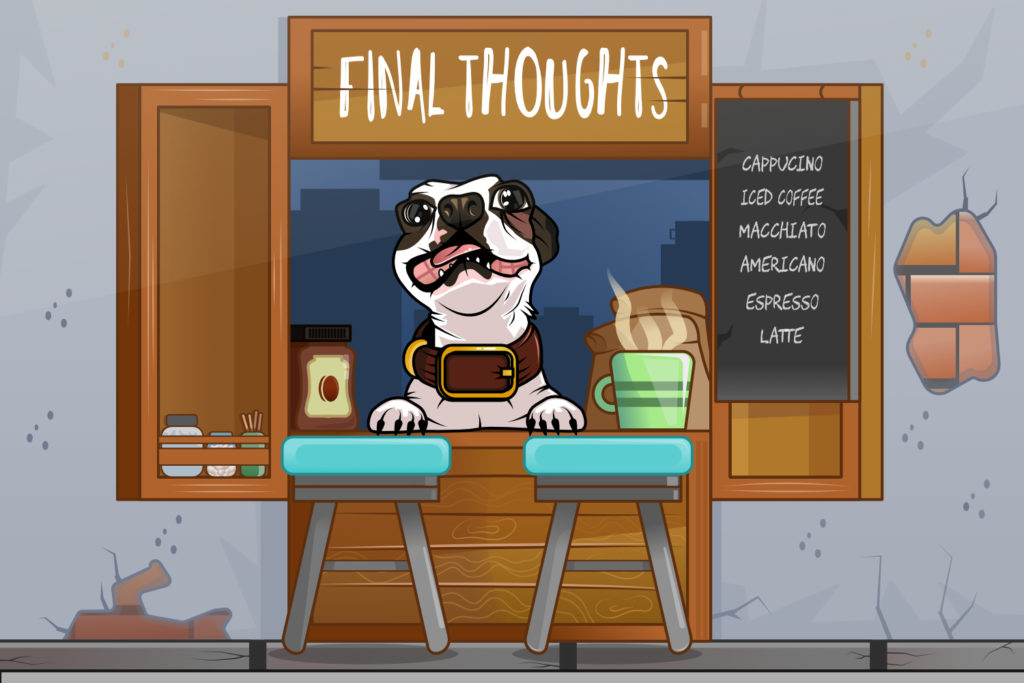 Should You Buy 12 Minute Affiliate?
There was a lot to like about 12 Minute Affiliate, but personally, this is not something I would recommend you invest your money into. The main reason I wouldn't recommend it is that I just can't see this being profitable over the long term. The numbers just don't add up for me. Here's how I see it:
$192 for a "traffic package"
Receive 100 Visitors
25% opt-in rate (per their numbers) means 25 subscribers
$42 average commission for Clickbank weight loss products
$192 spend / $42 commission = 4.5 sales to break even
5 sales / 25 subscribers = 20% conversion rate to profit
Even at 20% conversion you're still just barely breaking above even
So as far as I see it, I need an email subscriber list from an unknown source, to convert at 20% for a sleazy Clickbank product on how to lose weight. That's some wishful thinking if you ask me. What do you think? Do you think the 12 Minute Affiliate system has potential?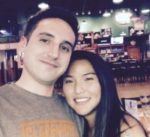 Nathaniell
What's up ladies and dudes! Great to finally meet you, and I hope you enjoyed this post. My name is Nathaniell and I'm the owner of One More Cup of Coffee. I started my first online business in 2010 promoting computer software and now I help newbies start their own businesses. Sign up for my #1 recommended training course and learn how to start your business for FREE!