Company Name: National Wealth Center
Costs: $175 per month, $4750 one time fee
Rating:
12/100
What Is It
This is an MLM company that sells video and audio training on health, wealth, and success.
Short Review
The compensation plan for National Wealth Center is easy to understand and simple to implement which is a plus. However, there is little insight to the quality of the products without purchasing them. Some products are $1000 or more and you are required to purchase them in order to sell.
The owner/creator, Peter Wolfing has a long history of building and ditching MLMs, so I would avoid being affiliated with him.
Product Breakdown
Let's review the National Wealth Center Products first. Actually, I was sure that this was going to be another Wake Up Now repeat. In the video below, we are told of a "savings element". But that's the last we hear of it. In fact, in the video below, we learn almost nothing about what the company does.
The products you'll actually be selling are listed below. It's surprisingly simple. Many of these MLMs overcomplicate things.
Digital books, video, audio
$25/month Self Development
$50/month Business Training
$100/month Wealth Training
$250 1 time fee – health training
$1000 Investment Training
$3500 Network Marketing Training
I find it a bit strange that we are expected to sell these things without any kind of clips or samples into what kind of quality the products are.
I guess this is standard for the world of network marketing, but in the real world, would you purchase something for $3500 that you have never seen, tried, or heard of before? What if there was NO MONEY BACK GUARANTEE?
Probably not.
I also found that some of the videos are listed on YouTube, available for free. I couldn't find the exact Sound Cloud clips, but there were many similar ones from with "how to be a network marketer" and "MLM success" type subjects.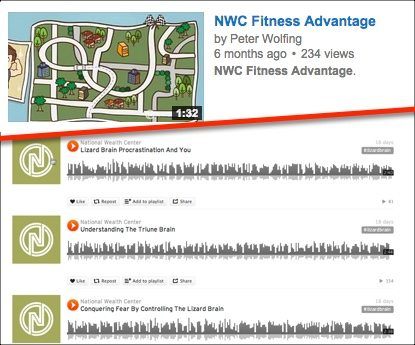 Opportunity Breakdown
Now let's review the National Wealth Center opportunity. If you've been involved in MLM before, the only surprise here is that their comp plan is easy to understand.
You pass up sales 2 and 4 to your referrer. Sales 1 and 3 go to you. They do not say whether this is a forced matrix or all sales are traded off. You have to purchase anything you get credit for, so expect to pay $4750 + $175 recurring if you want to go 'all in'.
They pull a typical BS move and say you get 100% commissions, but that's not true. Taking your first 4 sales into consideration, 50% of what's sold goes to your upline.
Hints of a Pyramid Scheme
Throughout my whole research process, there was very little emphasis placed on the products. No one talked about what was actually in them except the general topics, which can be found on the website.
On the website itself we only get some low-quality screenshots and a two sentence review. I can buy a $10 book on Amazon and get the first chapter for free. National Wealth Center can't give me more insight into what I'm buying?
There is A LOT of emphasis on recruiting members, which is the first sign that a product is a pyramid scheme and not a legitimate MLM. In fact, one of the opening lines from the comp plan was "Everyone knows 4 people", so if you still want to join NWC, plan to be pitching this stuff to your fiends and family.
Without proper training on how to set up a website and get internet outreach, you'll be stuck posting Facebook status updates and Instagram spam.
"These types of schemes have existed for at least a century, some with variations to hide their true nature. Multilevel marketing plans have also been classified as pyramid schemes." http://en.wikipedia.org/wiki/Pyramid_scheme
About Peter Wolfing
Even if you're still on board with NWC, consider that the owner Peter Wolfing has created and ditched several MLMs over the years. His most recent was Infinity Downline, but others include:
Ultimate Cycler
Hand of Heaven
Pay me Forward
Turbo Cycler
Actually, some of his programs have been classified as cash gifting, which is something completely different entirely. However, the principle of recruiting others to a biz op is the same. From one of his videos advertising infinity downline he says (paraphrase):
"Whatever it is that takes you to get that one person into the program. They will pay you directly upon entering the program"
Other Comments
If you really want to purchase some wealth management books online, there are much cheaper options. Two books I purchased recently that were very good were Millionaire Fastlane and The ONE Thing.
MLM VS Affiliate Marketing
One of the reasons I steer people away from MLM and into affiliate marketing is that you don't have to recruit anybody to anything. You can promote products and services that you enjoy and have personally tried (or want to try). There's no pitching to friends or family, and you don't have to annoy anyone on Facebook.
By building a website that gets found in Google, customers come to you. If someone searches for a product on your site, they can find you in Google and purchase through your link. If you would like to learn about affiliate marketing and how to earn money without getting involved in the MLM industry, take my 5 day beginner course.
Have you been involved with National Wealth Center? What's been your experience so far? If you have any insight into the products and how the videos can be worth $3500, please let me know in the comments below!
Final Review
Whatever type of product you decide to promote, it's important to own your own website to grow your business.
Parties only work if you have a network of friends with money in their pockets. Network marketing only works if your friends are interested in joining business opportunities.
With a website you can reach the entire world, and only promote great products to people interested in what you have to say. Plus, you open up doors to multiple streams of revenue like affiliate sales, ad click revenue, paid advertising, and even selling your own digital products.

What's up ladies and dudes! Great to finally meet you, and I hope you enjoyed this post. My name is Nathaniell and I'm the owner of One More Cup of Coffee. I started my first online business in 2010 promoting computer software and now I help newbies start their own businesses. Sign up for
my #1 recommended training course
and learn how to start your business for FREE!

Latest posts by Nathaniell (see all)