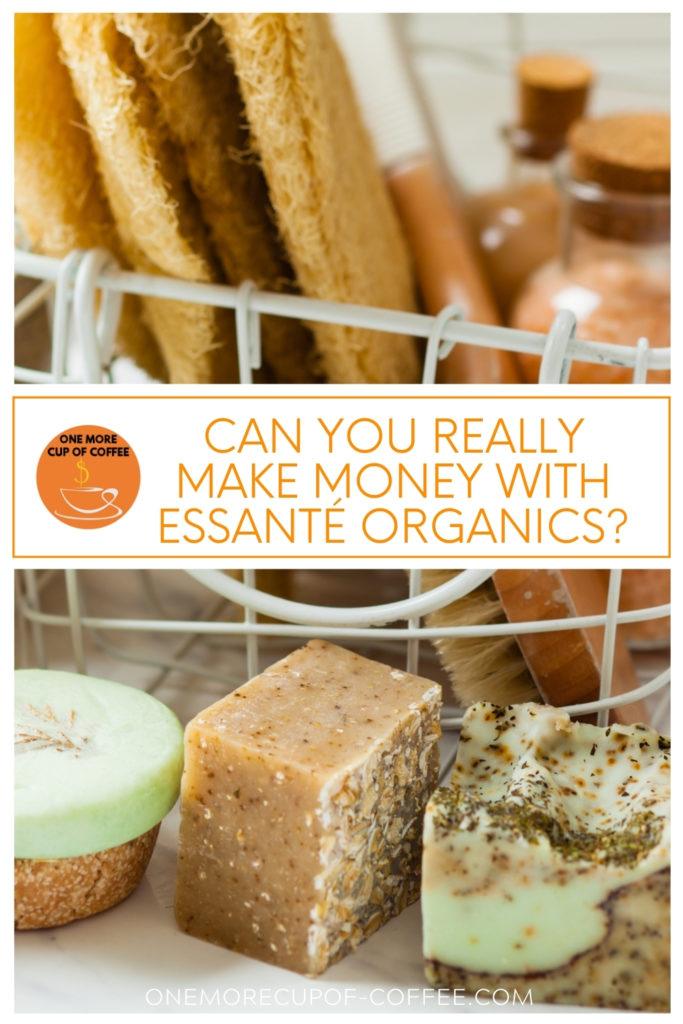 Essanté Organics
Company Name: Essanté Organics
Costs: $29.95
Rating:
27/100
What Is It?
A direct marketing company that promotes organic products and items with few chemicals.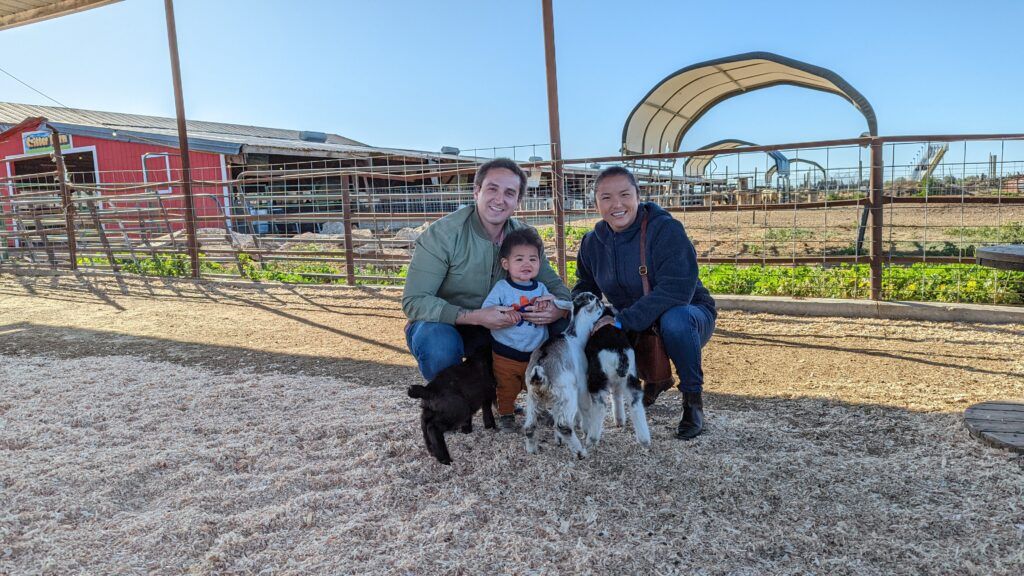 Are You Ready To Work Your Ass Off to Earn Your Lifestyle?
Are you tired of the daily grind? With a laptop and an internet connection I built a small website to generate income, and my life completely changed. Let me show you exactly how I've been doing it for more than 13 years.
Short Review
There are many people out there actively trying to cut down on the chemicals in the products they use, so it does seem like there would be a decent amount of demand for what Essanté Organics has to offer. Nevertheless, the prices of the products would make it hard to actually sell the items, especially as this type of product isn't too uncommon.
As a way to make money, the company really doesn't stand out and just relies on the same tired old methods and bonuses that you find in countless other MLMs. Realistically, most members would never get enough sales to earn a reliable income and would also majorly struggle with recruitment.
Product Breakdown
Most of the time, direct marketing companies focus on specific types of products, such as makeup or jewelry. Having a relatively narrow focus like that helps them to develop a reputation and to compete. However, Essanté Organics is a little bit different. As the name suggests, the company isn't interested in a single type of product. Instead, the underlying idea is items that are organic and generally free from toxins.
This concept isn't a new one and it is easy to see how it could be popular. Indeed, many people are concerned about the amount of chemicals in their products and the implications that those compounds have on health. This is precisely the area that the company tries to address.
Now, creating organic and toxin-free products is a fairly broad idea and that can be seen in the products that the company offers. Specifically, they have six main categories that are fairly different than each other.


I'm not going to go into depth about every single product that Essanté Organics offers as part of this review but I am going to touch on some of them, as well as the overall implications of the company's approach.
The first thing to consider is the selection. This varies from category to category but, as a general rule, the company's product selection isn't huge. For example, in their facial care category, there are only 6 different products, one of which is just a pump. Likewise, there are also 6 hair care products, including that same pump. Plus, there are only 4 items in the entire home care category.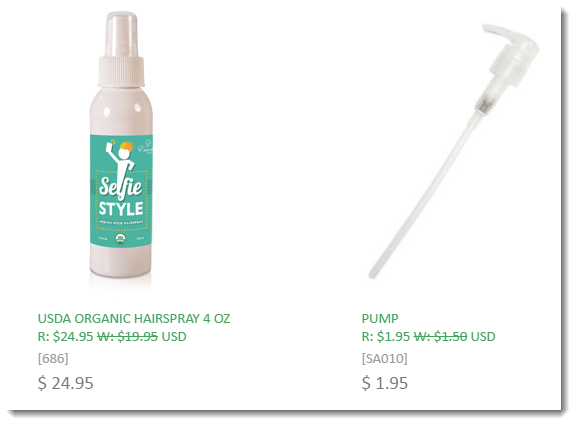 This isn't a huge amount of selection – and there's a risk that many people won't find products that interest them. At the same time, some of the prices are on the high side. For example, $24.95 for hairspray is fairly expensive and an 8.5 oz bottle of shampoo is a similar price. In fairness, many people are willing to pay extra for organic products but even so expensive products do tend to be harder to sell overall.
In terms of the actual ingredients, the company does seem to do a good job of avoiding most of the controversial ingredients. For example, these are some of the claims that they make for their soap: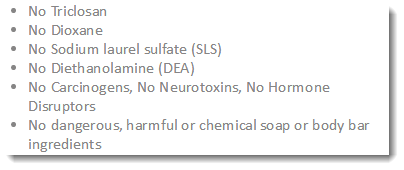 This is likely to be appealing to many people. But, it is also worth noting that some of this is a little subjective. For example, saying no 'chemical' ingredients is quite vague, especially as strictly speaking natural compounds could be considered chemicals too. Carbon, the stuff that stuff is made of, is a chemical element, and water (H2O) is a chemical compound!
Now, in fairness, the ingredients for the soap don't seem too bad. However, there are other places to go to get soap without any additives. That's true for a lot of these products, so the items aren't nearly as unique as they seem. You can make your own soap at home chemical-free, or buy natural soaps made by people (not companies) on Etsy.

Beyond the products designed to contain minimal artificial compounds, there is also another interesting part of the site, which is their pH nutrition. This selection of products is based on the concept that we need to be careful about the pH of what we consume.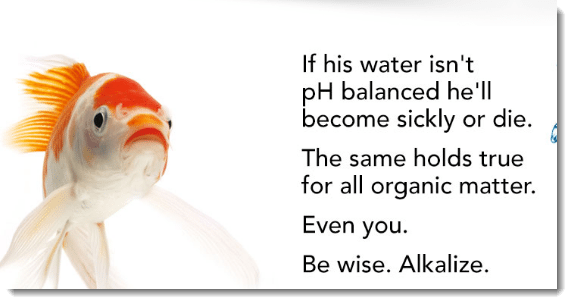 I've heard this idea before and it is often talked about in terms of an alkaline diet. The general concept is that the foods you eat alter the pH of your blood, which then plays a role in overall health. The idea sounds feasible, which is probably why so many people get on board with it. In the case of Essanté Organics, they offer a range of expensive products that are supposed to help with that balance.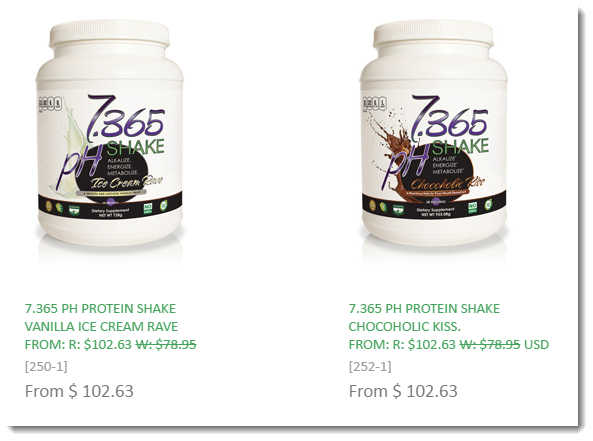 PH Diets Are Modern Day Snake Oil
But, despite the hype around this idea, there is little evidence that it is actually true. Our bodies are actually extremely good at controlling pH levels on their own and there is little that we can do to change those levels.
Instead, products like these simply alter the pH of a person's urine, rather than the pH of their blood. In short, this means that they actually have little effect on health. To me, it's deeply concerning that a company puts so much stock in something that has so little scientific backing.
Now, the overall approaches that this company takes will be appealing to some people. Certainly, there are those out there that try to reduce their exposure to chemicals wherever possible, along with people that feel modifying pH is a good idea. So, there is a customer base and demand for these products.
But, selling to anyone outside of that group is likely to be fairly difficult. After all, many people aren't going to have the extra money to pay for organic alternatives, especially if they aren't clear on the advantages. As such, these products could be fairly difficult to sell, even if you are personally convinced of the advantages that they offer.
Opportunity Breakdown
So, the products themselves aren't as amazing as they first seem and may be difficult to sell. But, what about the opportunity? After all, the opportunity is where you have the potential to earn money.
The first thing that I noticed about the company's opportunity is that they certainly are optimistic. According to their YouTube video, you're supposed to be able to earn money just working part-time.

It would be nice if that were true but most MLMs mean that you end up doing far more work than you actually intend to. They promote the idea of freedom lifestyle and retiring early and all that, but it rarely works out this way.
This is an outcome of the business structure because much of the potential for earning money is tied into the idea of growing a team and making sure that your team members are successful. Doing this often ends up taking a lot of time, especially as there is a good chance that some of your team members will be unreliable.
Then there's that whole thing about 6 paychecks. Sure, that sounds great but the idea is a bit misleading. The first paycheck they are referring to here is what you earn through commissions, which is 30% in this case.

In theory, you could just make money from retail sales and nothing else. Herbalife is a great example of this. I don't like their business, but the products are delicious. If you were to sell Essanté just making retail sales because you love the product, there's nothing wrong with that. But what's your strategy? Sell to friends and family?
For people with a large enough social network, that situation might be a reality but it isn't the case for most people. Instead, you tend to have to rely on friends and family to make your sales, which will tend to mean that you don't make many.
The other 5 paychecks that were mentioned earlier just refer to various bonuses that you are eligible for. For example, one is an Express Start Gold Bonus, where you earn $500 if you enroll 4 people within 30 days, each of whom reaches the silver rank in the business. Achieving that isn't as easy as it sounds either, as silver rank involves recruiting two others.
The other bonuses vary in their level of complexity but at the end of the day they are just bonuses and you may not even get all of them. You should start a business based on what you can consistently do (make sales), not on potential bonus packages that may come your way.
This pattern is one of the key issues with an MLM overall. Basically, in any MLM, there are two ways to earn money: through sales and through your team. According to the company, you're supposed to take both approaches.
Now, the sales side of things is simple enough, provided you can find people actually interested in the products. But, the other side of things is the processes of recruitment and team building. Being successful here means that you need to get other people to sign up to the company, to make sales, and to recruit others, which ends up looking something like this: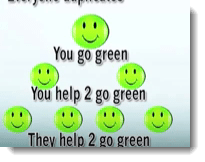 Incidentally, that structure is identical to what you see in a pyramid scam. Technically speaking, MLMs are different, largely because they have legitimate products. But, that pyramid structure is still concerning.
If you can grow a large enough team, then the amount of money that you make can be substantial. But, take a look at how the company breaks that down: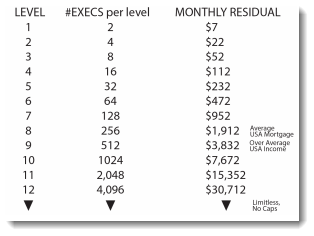 According to this chart, if you want to make more than the average US income, you have to be level 8, which involves having a team that contains more than 512 people. What are your odds of getting a team that big? Now, you wouldn't have to personally recruit that many but even so, growing a large team is extremely difficult.
In practice, most people struggle to recruit even a few people. Furthermore, in most cases, the people that you recruit don't actually end up being very good at making sales.
This is the underlying issue of any MLM. To be effective at making money, you have to develop and sustain a large and successful team. Yet, in practice, recruiting even a few people is difficult and most people simply cannot develop substantial teams. Because of that, those people also aren't eligible for most of the bonuses and simply don't end up making a lot of money.
Other Comments
The commission structure of MLMs heavily relies on the idea that sales and recruitment are fairly easy. Yet, that isn't really the case. Instead, people end up bugging friends and family to try and get those sales and to grow their team. Doing so is rarely ever effective and you can easily alienate your friends and family in the process.
One of the reasons that this doesn't work is that there are simply so many similar companies out there. At this point, most people have been approached by at least one direct marketing company and may have even tried one or two themselves. This situation means that you end up trying to sell products to people who are pretty jaded and are unlikely to say yes.
With this in mind, it's no wonder that so many people struggle to be successful in an MLM.
MLM VS Affiliate Marketing
Rather than try to sell products from a company just because you think the company will pay you lots of money, why not pick products you actually use and like on a daily basis? There are thousands of companies out there that will pay you to promote their stuff and pay you a straight commission – no need to recruit more sellers or learn a complicated compensation plan.
But you need a game plan!
The best way to do this (in my experience) is to make a website based on a topic that people are passionate about and feature-related products and services. Then rather than trying to convince friends and family to buy something they don't want or need, you allow people from around the world to discover your site via Google and buy stuff they were looking for anyway.
If your passion is organic products, that's great! Make a site about that. You could have a site just about growing your own organic veggies at home, organic skincare products, or organic home cleaning products. All have HUGE profit potential because organics are getting more and more popular.
Can You Generate Reliable Income With Essanté Organics?
The Essanté Organics Review
Only looking that the PH health snake oil that this company promotes, I don't recommend you get involved in this company.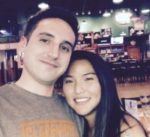 MLM Critic & Author: Nathaniell
What's up ladies and dudes! Great to finally meet you, and I hope you enjoyed this post. I have to be honest though. I'm not a big fan of MLM. Tried it. Hated it.
Affiliate marketing is cheaper, faster, and easier. See for yourself and join millions of other successful affiliates generating income from their blogs!
No inventory. No fees. No recruiting. 3 BILLION potential buyers online.
Reader Interactions