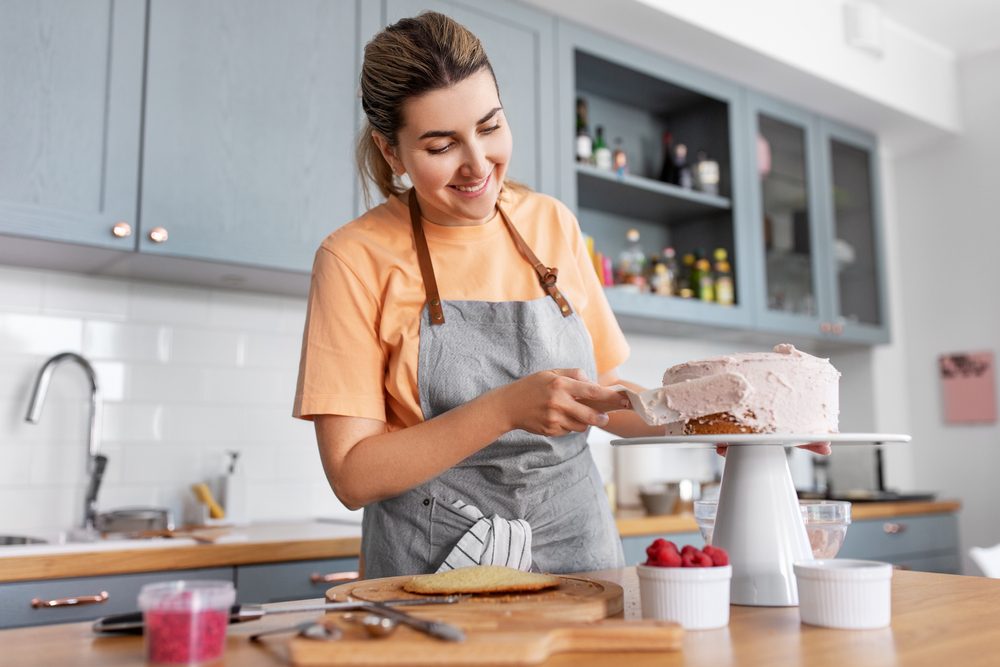 Starting a home-based business can be a great way to bolster your finances or find financial freedom. At least 15 million home-based businesses are operating in the U.S., with a median income of $51,816. There are literally an infinite number of home based businesses you could potentially start, but the best type of business is always going to be one where you want to create value. For many, a passion for baking is what drives them.
Baking is creative, technical, visual, and of course there's a lot of satisfaction in seeing someone devour your creation and ask for the recipe (or just ask for more).
One of the the great advantages of baking from home as a business is that you can start on a part-time basis, using your weekends and evenings to earn extra money doing something you love. Hopefully, your side gig can eventually blossom into a full-time business, enabling you to get rid of that pesky commute that steals so many hours from your week.
There are several ways you can start your own home-based baking business—giving online baking lessons, starting a catering business, but the one we will focus on is how to create a home-based baking business.
Baked goods are often exempt from strict codes that pertain to restaurants and even catering companies. And it is easier to predict your income from selling baked goods than from Internet baking lessons. Baked goods are also ideal because they have a long shelf life, enabling you to sell them as retail goods and even through the mail.
Best of all, home-baked goods are a multi-billion dollar business worth more than $26.5 billion in the U.S. alone. The market for home baking isn't even close to being saturated, and with this kind of demand, your baking business can take off in no time.
How Much Money Can You Make Baking at Home?
According to ZipRecruiter, owners of home bakeries make an average of $60,089 per year or $29 per hour. The top 15% of home-based bakers make more than $100,000 per year. 
Many of these high earners are experienced and have invested a lot of money back into their business. But how much money can people who are just starting make by baking at home?
To figure that out, I am going to take you through some calculations:
What should you sell from your home-baking business?
What are the costs of starting your baking business from home?
What licenses and certifications do you need to cook from home?
What will your costs be from baking at home?
What bottom-line profit can your business make?
What Should You Sell from Your Home Baking Business?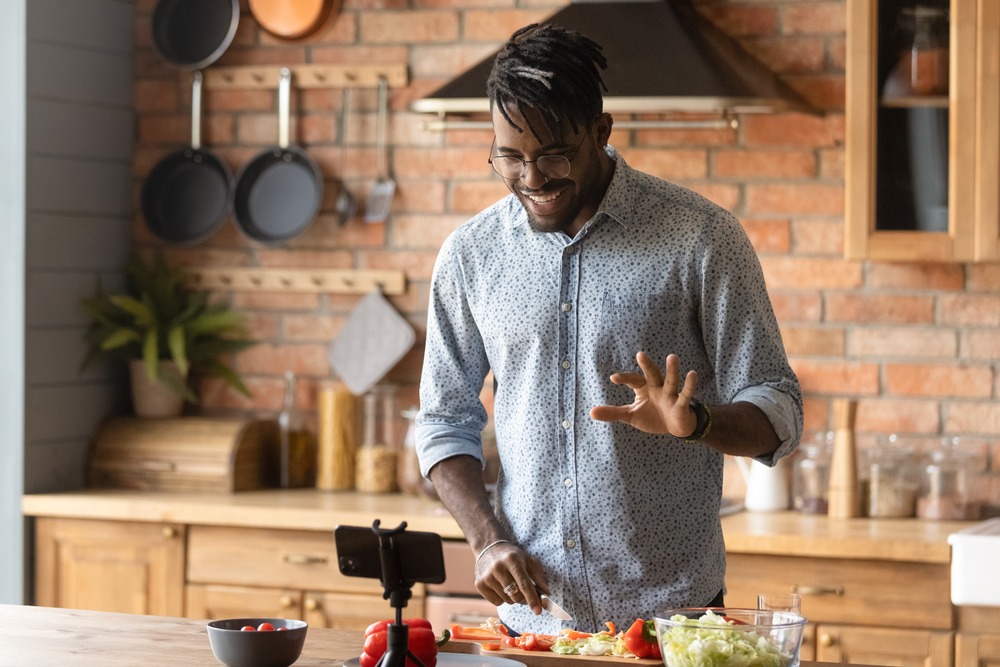 With a home baking business, you want to specialize in a few products instead of trying to make every single baked good. Why? Because it will be easier to brand yourself by excelling at a few items and specializing will also save time by enhancing productivity.
What Makes Baking a Perfect Home-Based Business?
In most states, baked goods fall under cottage food laws, which are relatively new. Previously, most home cooked foods were banned from sale by the Food and Drug Administration.
Many states passed cottage food laws to allow individuals to sell foods that are not sensitive to time and temperature. Most of these non-hazardous foods are baked goods. You can check this map to see the cottage food laws in your state.
What Kind of Baked Goods Can You Make?
You can base your home baking business around many types of baked goods, including:
Pies
Cakes
Cupcakes
Brownies
Healthy meal bars
Bread
Muffins
Cookies
Fudge
This is by no means an exhaustive list, so if you have a particular specialty not on this list, you can spin that into a successful business, too.
Remember, it's best to focus on a few items, but feel free to mix it up when it comes to flavors. If you try to make everything on this list, you will have difficulty building inventory and fulfilling customer orders, not to mention keeping track of the recipes.
What About Pet Treats?
You don't have to restrict your baking to human customers. If you are a dog or cat lover, why not specialize in pet treats? In the United States, pet food is a $100 million industry, and many pet owners are turning to reputable businesses that use all-natural ingredients.
Dog biscuits can be made with simple ingredients, like pumpkin, peanut butter, and bananas, to name a few. Pets can be finicky, so if your all-natural dog biscuits or cat treats are popular, you will find a loyal cadre of repeat customers. How will people know if their pets like your treats? Try giving out free samples at the park.
Where to Sell Your Home Baked Goods?
You can sell your products online and ship them through the mail but be mindful you need to follow cottage food rules where you intend to sell your goods.
A better alternative is to sell your products at local farmers' markets and brick and mortar businesses. You can also advertise your wares on Facebook marketplace to target your neighbors and people in your immediate area. In addition, many neighborhoods have online bulletin boards and forums where you can also advertise your wares.
Word of mouth is also vital for cottage food businesses, so make sure that you ask your customers to pass your information on to family and friends.
What are the Costs of Starting Your Baking Business from Home?
The great thing about starting a home-based baking business is there are few startup costs. At a basic level, you probably already have everything you need in your kitchen to get started—stove, oven, refrigerator, pots, pans, mixing bowls, measuring utensils, and baking sheets, to name a few.
However, you may want to make a few other strategic investments to enhance your success.
Kitchen Upgrades
If you decide to bake more than a few pies a week, you may want to upgrade your kitchen ventilation system since the hoods over your stove might not be sufficient to deal with the added heat of constant baking. New range hoods and ventilation cost $500 to $1,000 with an average cost of $714.
You may also want to add metal shelves or a stainless steel prep table. Webstaurant has excellent prices on these and other supplies. You can add both to your kitchen for less than $300.
Other kitchen upgrades you can consider for your home-based baking business are a sprinkler system, an extra sink, and buying extra kitchen utensils. Make sure you check the cottage food laws for your state, as there may be other specific requirements.
As you may have noticed on the cottage food laws map above, many states require you to pass health inspections even to sell baked goods. Upgrade your kitchen as necessary to meet the health department's sanitation requirements.
Marketing Expenses
You may want to allocate some funds towards marketing expenses. GoDaddy offers a website and builder tools plus basic marketing analytics for $6.99 per month or an annual cost of $83.88. Add AISEO Basic for $49.50 per year to help drive traffic to your site.
You can decorate your neighborhood and workplace with flyers advertising your wares for around $50 per year. Together with the website, this rudimentary marketing plan will run you $183.88 per year. Make sure you use free marketing on social media platforms like Facebook and Instagram.
What Licenses and Certifications Do You Need to Bake from Home?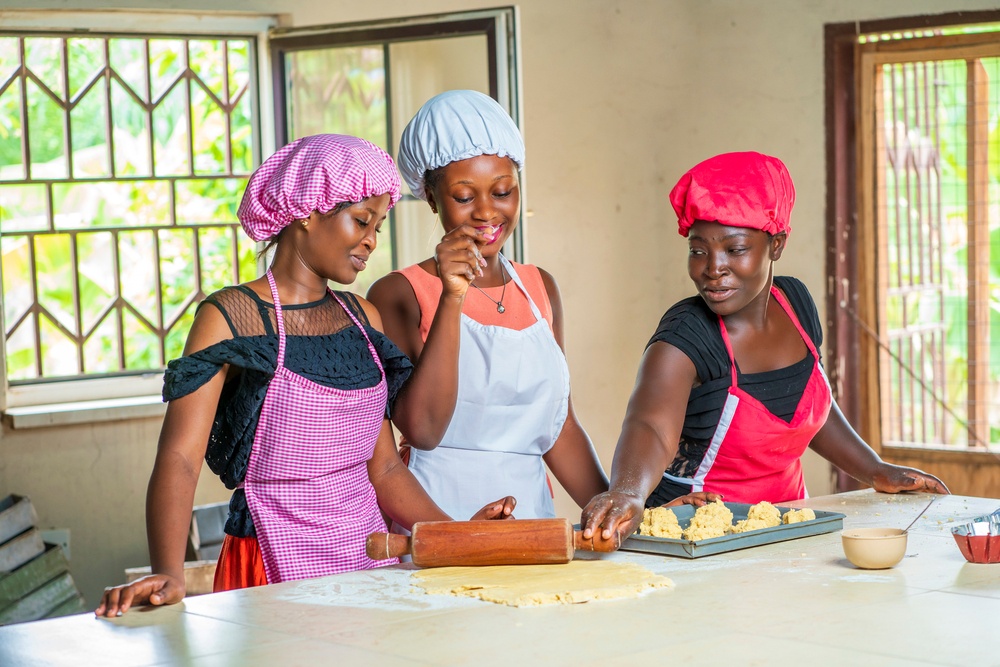 In addition to the startup costs listed above, there are a few other things you will have to do to get your home baking business off the ground legally and safely.
Food Safety Certification
The cottage food laws in your state may dictate you pass food safety courses. And even if your state doesn't require it, you should take one of these courses anyway. They can help protect you, your business, and your customers from costly food handling mistakes.
ServSafe's Food Handler Course is one of the world's most reputable food safety courses. Many restaurants require their employees to take this course. You can take the course and receive certification for only $15.
Business License
While many people try to avoid them, the need for a business license is a fact of life. Try to run a business without one, and you risk penalties and fines.
You can find out whether you need a business license from your town or city's website. Your county or municipality will issue the business license you will need to cover your home baking business. You can expect it will cost $50 to $400 annually, most likely about $100.
Liability Insurance
You would never drive without it, so why would you open a business without it? Liability insurance can help protect your personal assets and those of your business in the event the worst happens, like an accident or you get sued.
You can get insurance for bakers for as low as $19 per month. Your annual liability insurance will be at least $228.
What Will Your Costs Be Baking at Home?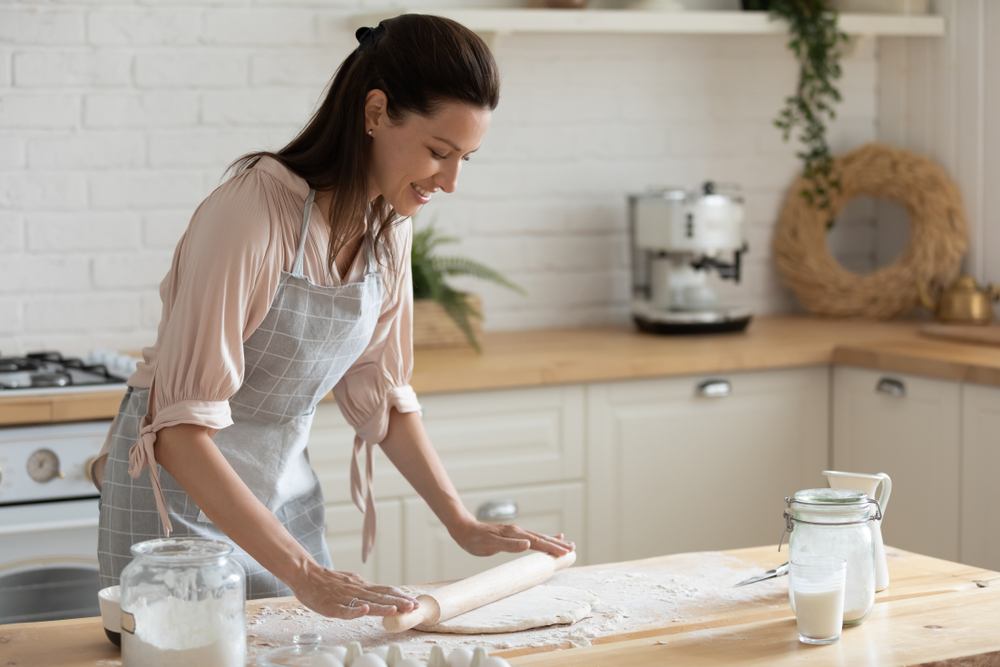 The cost of your home bakery business will include fixed expenses like utilities and variable costs of sales, which include the ingredients and packaging of your home baked goods.
Utilities
Baking from home will raise your utility costs, specifically, the extra water, electricity, and possibly natural gas you need to prepare and bake your products. It's difficult to precisely predict how much your costs will rise since it depends on many factors, like production level, local utility costs, and more.
Utilities typically account for 5-10% of annual income in food businesses. However, since you are operating from home, you can estimate you will be on the lower end of this spectrum, so figure the added utilities will be about 5% of your revenues.
Cost of Ingredients
Another advantage of focusing on home baked goods is that bakery ingredients—including flour, sugar, eggs, and salt—are relatively inexpensive. To track how much money you are spending on ingredients, you can use this baking cost calculator to determine the cost of ingredients per individual product.
You should price your finished goods according to the market for home baked goods in your area. On average, however, the cost of ingredients for your baked goods will probably be around 30% of your final price.
What Bottom Line Profit Can Your Home Baking Business Make?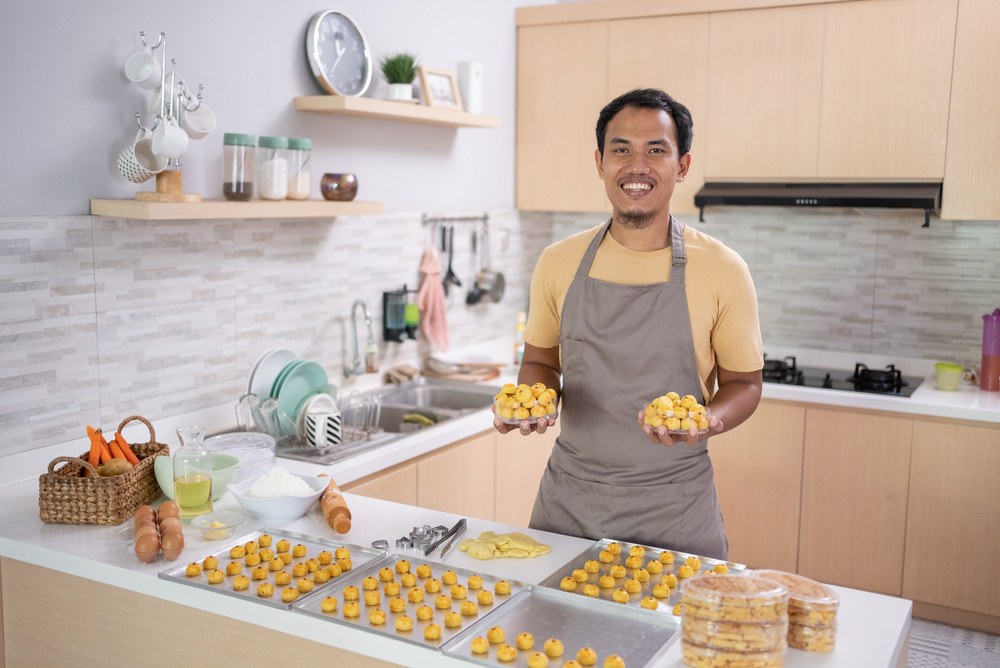 You can determine your bottom line profit by subtracting your expenses from your revenue.
Predicted Expenses
Assuming you decide to spend some money in startup costs upgrading your kitchen to accommodate the extra baking, here are some expenses you will incur in the first year of your home-based baking business:
Kitchen upgrades (range hood and ventilation fan): $714
Prep table, shelves, miscellaneous kitchen utensils: $300
Basic marketing $183.88
ServSafe certification: $15
Business license: $100
Liability insurance: $228
These predicted expenses add up to $1,540.88. We haven't calculated revenue yet, so these expenses do not include the cost of ingredients, which should be about 30% of your sales. It also doesn't include the utility differential for the extra energy you need to bake your products, estimated at 5% of sales.
Additionally, these expected expenses can vary according to your situation, such as your need for kitchen upgrades and the cost of licensing and insurance in your area. If not required by your state, you may opt to defer these upgrades until you are sure you can sustain a profit from your home-based baking business.
Predicted Revenue
Assuming you are making products that you can bake a dozen at a time, like cookies, brownies, doggie biscuits, etc., and you can bake for 30 hours per week to start, with an average prep and baking time of 45 minutes, you could bake 40 batches of product per week.
Let's further assume that you price your individual products at $2 each, and further assuming you can sell all you bake, your revenue would be $960 per week. With our estimate of 30% of that consumed by the cost of ingredients and another 5% by the utility differential, your gross profit would be 65% of $960 for a total of $624 per week.
Predicted Profit
Your gross profit doesn't include your other expenses. Using these inputs, we can predict your annual net profit for your home baking business as being your weekly income minus the annual expenses we assumed above, so 52 x $624 – $1540.88 = $30,907.12.
This is highly variable, and depending on your products and capacity, you can make a lot more or a little less. A part-time income of more than $30,000 per year is nothing to sneeze at, however, and full-time efforts using this model could yield an income of $60,000 or more, all from working at home doing something you love.
Related Questions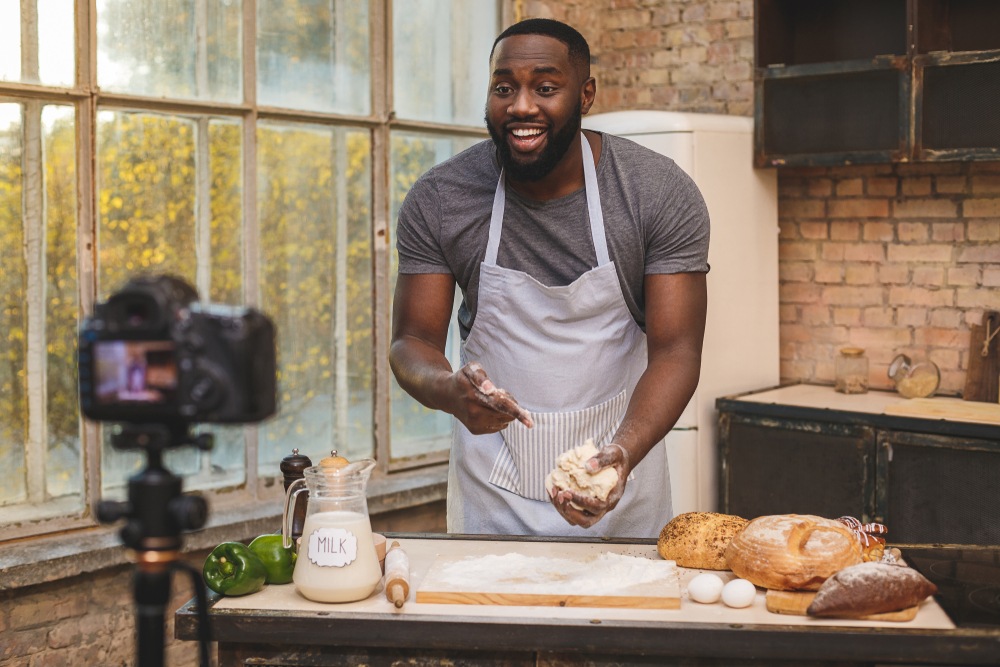 To get motivated to start your own home baking business, look no further than Lorena Cantarovici, whose home-cooked empanadas eventually led to a chain of successful restaurants. Hers is an inspiring tale of how to successfully bootstrap a modest home cooking business into a thriving commercial enterprise.
2. What other resources can help me get going on my home baking business?
The Forrager Podcast features cottage food entrepreneurs talking about how they started and sustained their home-based cooking businesses. The podcast includes marketing and sales strategies proven to be successful.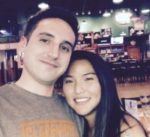 Nathaniell
What's up ladies and dudes! Great to finally meet you, and I hope you enjoyed this post. My name is Nathaniell and I'm the owner of One More Cup of Coffee. I started my first online business in 2010 promoting computer software and now I help newbies start their own businesses. Sign up for my #1 recommended training course and learn how to start your business for FREE!