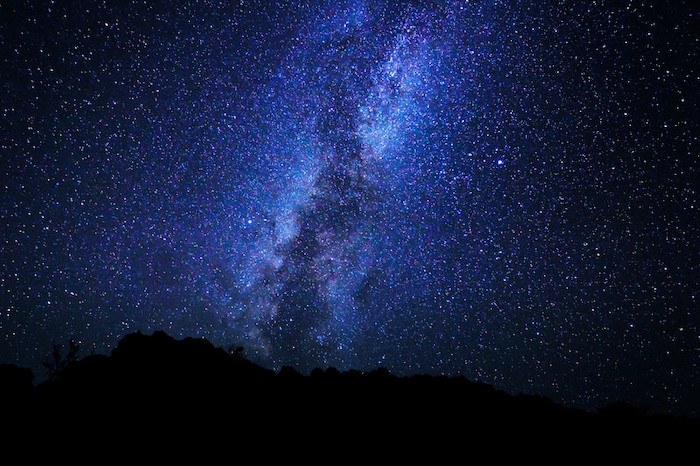 5 Ways To Get Help on WA
I wish I could send this message as part of your first "welcome to WA" bonus, but there's already enough info for you to digest. Hopefully now you've done at least some of the courses and begun exploring. The intention of this bonus is to make sure you are getting 100% of the value inside WA that you deserve. DO NOT BE AFRAID TO ASK FOR HELP
One of the main advantages of paying for a Wealthy Affiliate subscription is being able to get help when you need it. No other product or community on the market has a community and support system quite like WA, and it's the reason that I'm still a paying member to this day.
There are several channels for support. The information below is to help you get what you need, in the quickest way possible, by the right people. These are not hard "rules", but general ideas and suggestions based on my own experiences as an experience member.
1. Classrooms
Have you take a look in the classrooms yet? There is so much information in there it's crazy. You can find the classroom section by clicking the Help Center, then selecting "Ask A Question". There are 13 classrooms, each divided into a specific subject.
Type your question title, then actual question, then select an appropriate classroom area.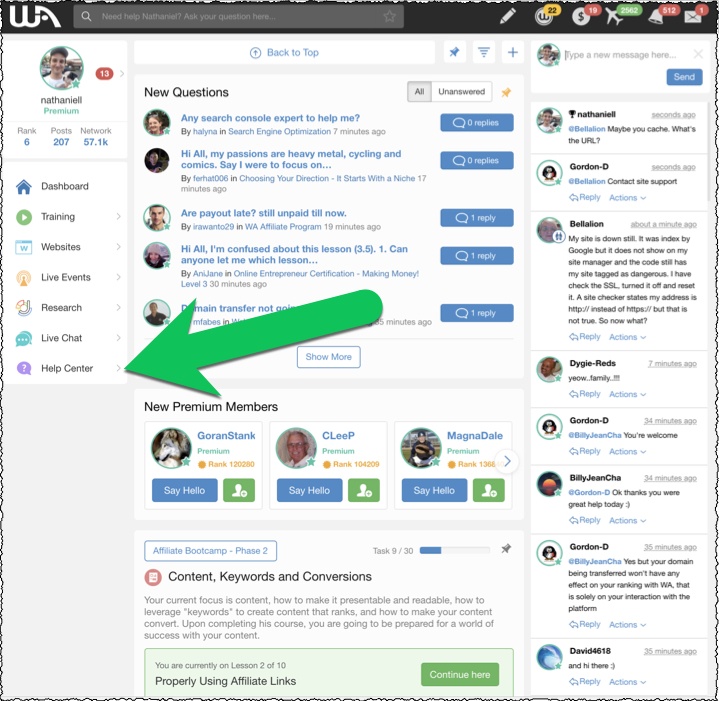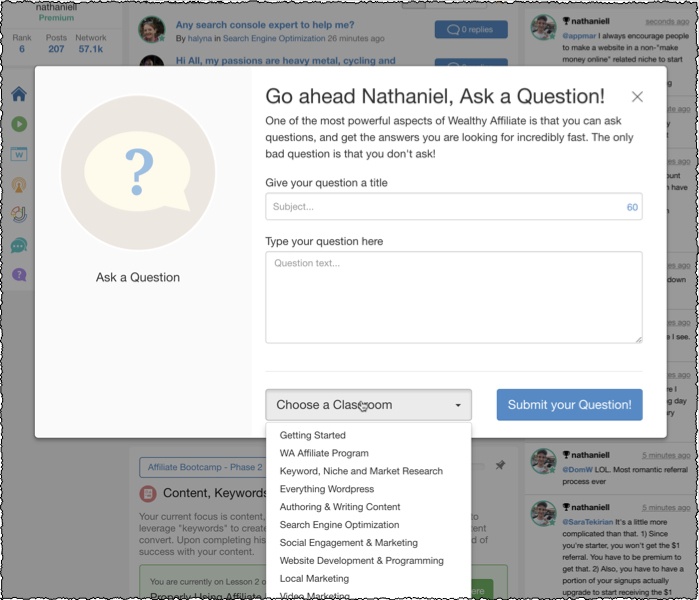 There are a few things I use classrooms for.
a. Get an answer to a complicated question
Sometimes it's hard to explain yourself in chat, and chat moves very quickly in busy times. If it takes more than a few sentences to say what your situation is, creating a classroom discussion will allow you to write out several paragraphs and even add an image/screenshot of the problem you're experiencing
b. Get several answers for one question
Classrooms are best for crowd sourcing questions. Maybe you have a moral or philosophical question, or need a couple opinions on a matter. Asking one person is great, but allowing the whole community to weigh in means you'll be several different opinions.
c. Allow time to stew
Sometimes you don't have the time to sit around in chat, or you know you need help with something but won't be able to get to it right away. Post you question in a classroom, and it will be there forever. When you are read to take action on the answers you receive, you can go back, find the post, and see who has helped you out while you were away.
Bonus Tip: Don't forget to browse the top section of classrooms! There are many old training resources that are available, and they are organized by topic here. This means you won't have to search in the WA search bar or ask someone else how to do something.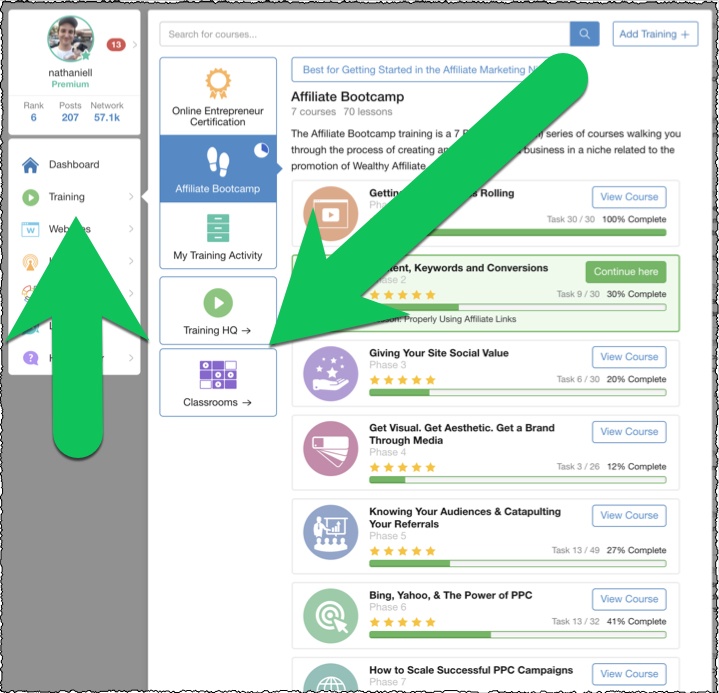 2. Training
Speaking of training, there's a lot of it. There's probably about 1,000 training modules in WA. They are created by the owners, Kyle & Carson, as well as by other members of the community. In fact, I have quite a few training modules myself!
They can be a pain in the butt to find sometimes because there are so many and not all are titled/tagged in such a way that makes them easy to find, but here are some tips to make your training search easier.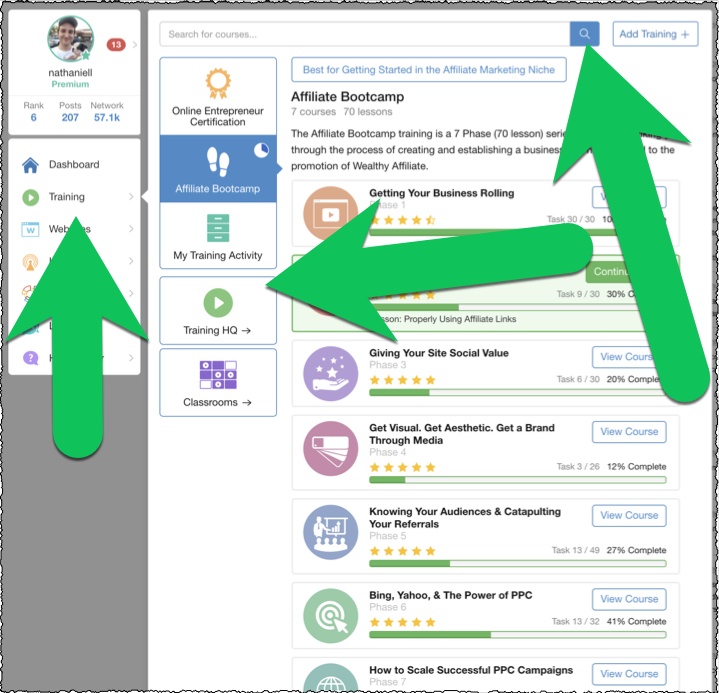 a. Use the WA search bar. It's not perfect, but if you look for keywords related to the topic you want to finding training on, usually there are a couple that will turn up.
b. Look in classrooms. As mentioned above, the top training modules for each topic have been collected and organized into the classroom area.
c. Search by member. You can view my training here: https://my.wealthyaffiliate.com/nathaniell/training
Here's my top recommended member training: https://my.wealthyaffiliate.com/nathaniell/blog/the-training-in-wa-you-ve-never-heard-of
Bonus Tip: Be sure to look at the date of the training! Some of the old stuff isn't 100% accurate now. Some of it is still legit, but if you see anything before 2011, proceed with caution and take advice from that module with a grain of salt.
Usually, things like writing tips are timeless because the idea of high quality articles hasn't changed over the years. Some of the technical stuff and advice on how to rank doesn't work very well nowadays. If you are unsure, ask an experienced member in chat or PM.
3. Chat
Live chat is probably the most useful thing about WA in my opinion. Having the ability to chat in real time with other members, including some real online marketing experts is a huge advantage. There are no limitations to how much you can use chat, and many times you can find someone to help you work through any problem that comes in your way.
Here are some tips for chat.
a. Keep it family friendly. I know it's the internet and many other websites allow for profanity and rude behavior (ie YouTube and Facebook), but remember that we are all from different places and cultures. There's no reason you can't have fun, but please, know your audience. Being rude or crude will get you nowhere.
b. Do not demand help. I often see newbies show up with guns blazing demanding that someone fix this or that. Most people in chat are other paying members and helping out just because they like to. You do not have to beg or plead for help, but a simple, "does someone have some time to help me", or "does anyone know how to fix this" is fine.
Also, remember to say thank you!
c. Don't worry if no one responds. Sometimes there are tons of people chattering away about business and non-business related stuff at once. They might not see your request for help or greeting, or they might see it and forget about it. If you say something and no one responds, say it again! Chances are you'll get a response the 2nd or 3rd time. Trust me, it happens to me all the time.
Also, sometimes there's just no one in the chat room. Maybe everyone is busy on project, or it's lunch time, or it's a holiday. You just never know. If there's something you need help with and no one's around, post it in a classroom, and let it stew for a day or two (see above).
d. Please don't ask a question and leave. This is my #1 pet peeve in WA chat. Some people show up, ask a question, and then leave the chat room. I don't understand why this would happen, but it happens a lot. If you need help with something, be sure you have a least a few minutes to listen to the answer, and possibly follow some instructions to remedy the situation.
4. Personal Blog
Every member in Wealthy Affiliate has a personal blog. Your blog in WA is different from your website (which is also called a blog sometimes). I'm referring to the blog within the WA website. Click the pencil icon to write a new blog post.
Writing in this blog is a great way to reach out to the Wealthy Affiliate community. What you write about is up to you, but it's probably best to keep the topics related somewhat to your online business.
It could be updates to how you are doing in the training, or goals you have set about where you want to be in X amount of weeks or months.
You can write about some things you have accomplished, or reflect upon things like personal budgets, business ideas, or life goals.
Many people like to write inspiring blog posts, or even share some mistakes they made to help prevent others from making those same mistakes.
Tips, tricks, and finds are always welcome! There are so many things you can write about – do not limit yourself to the few ideas I've posted here.
Remember, a huge advantage to writing regularly in your WA blog is that you get to meet other people in the community. You can share ideas, stories, and inspire each other. Follow some interesting people, and get others to follow you too. The bigger your network is within WA, the more eyeballs will see your future blog posts, classroom discussions, and the more resources you'll have (ie people you can ask questions of).
Bonus Tip: If you want to share a website you found with the community, double check before you share! If the website is selling or promoting anything, your post might get flagged. There is a strict "no advertising" policy in WA. Sometimes, even though you might have good intentions, they can be misinterpreted.
I think it's best to not post links to outside website until you get a feel for what's acceptable or not acceptable. If you really need/want to, PM Kyle or Carson and see what they say.
5. Private Messages
Private Messages, or PMs are an excellent way to reach out to individual members. It can be a bit scary sending your first PM – it might seem like you're bothering the person, or you are not sure if they will respond.
Don't stress!
Most people in WA are super friendly, and chances are, even if the person can't help you, they will be able to send you in the right direction. You can send anyone a PM from your inbox or from their member profile.
My member profile https://my.wealthyaffiliate.com/nathaniell
PMs are great for:
a. A member has created a training and you don't understand something about it
b. You need help with something, but it requires you give private info like WordPress login credentials, a website URL, or an email address.
c. You feel like you don't want to make this question public
Bonus Tip: PMs can be useful if you want to connect with someone and ask for personal help. Not everyone will have time, and not everyone checks their PMs daily. Don't be offended if you get a delayed response or no response, it happens to me from time to time. Other members might be swamped with PMs, and yours just might get forgotten. If it's urgent or important, send it again. If not, try another route.
Don't forget that I'm always available via private message too. If you get stuck, frustrated, or just want to reach out, send me a PM. I would much rather you freak out in a PM to me than quit! In my first year I sent all kinds of crazy messages to Kyle, so I guess I deserve whatever you can lay on me, LOL. That's how karma works!
Bonus Tip 2: Don't forget that you need to check your notifications to see responses! There are two places you can see them. By default, you'll be notified of responses and private messages by email, but if you turn off email notifications, you can still see new ones in your dashboard. RED means you have a new pm. GREEN means you have a new response to a question.