Hi! My name's Nathaniell, and I am a full time affiliate marketer.
I started my first website in 2010, and officially quit my job as an ESL teacher in 2012.
I never imagined that I would be earning a six figure income doing what I do.
But here we are.
How much money do I make exactly?
That doesn't really matter.
Do you really want to see me brag about how much I make?
Probably not.
So let's skip that part.
How do you make money online?
This is normally the part where the gurus string you along with a story.
"I was living in a van down by the river, and found a secret USB drive"
"I was homeless and a billionaire whispered his money making secret in my ear"
Those are actual, literal, sales pitches from products I've reviewed before.
Honestly, I'm tired of that garbage and all the fancy sales pitches.
I have no problem telling you exactly the process I use to make money.
Why?
Because it's stupid simple.
It's so simple, it's not even worth selling.
In a nutshell, here's the process:
Step 1: Pick A Topic
Step 2: Build A Website
Step 3: Write Articles
Step 4: Add Affiliate Links
I didn't invent this process. I learned it here.
Also, I didn't get rich overnight.
It took me 18 months to build up enough income to quit my job.
No, I don't work from a beach sipping margaritas.
I work from my home office in California.
I have to wake up in the morning and work on my websites.
It's not the amazing lifestyle those weirdos promote.
It's a regular, home business, where I do stuff to make money.
But I love it.
I don't have a boss.
I get to make my own schedule.
I get to write about anything I want to.
I can take a lunch break at 10 am, or have a couple of beers at 3.
Whatever, man.
As long as the work gets done.
Why do YOU want to work online?
Do you wan to travel more?
Do you want to spend more time with your family?
Do you just hate your job?
Yeah, you can do all that stuff too.
Wanna see some websites I made?
No doubt this "make money online" is a pretty cool idea, and you want to do it too.
I'll show you how to do it.
Totally free.
Don't worry.
But let's look at some example websites that make money first.
Baby steps, right?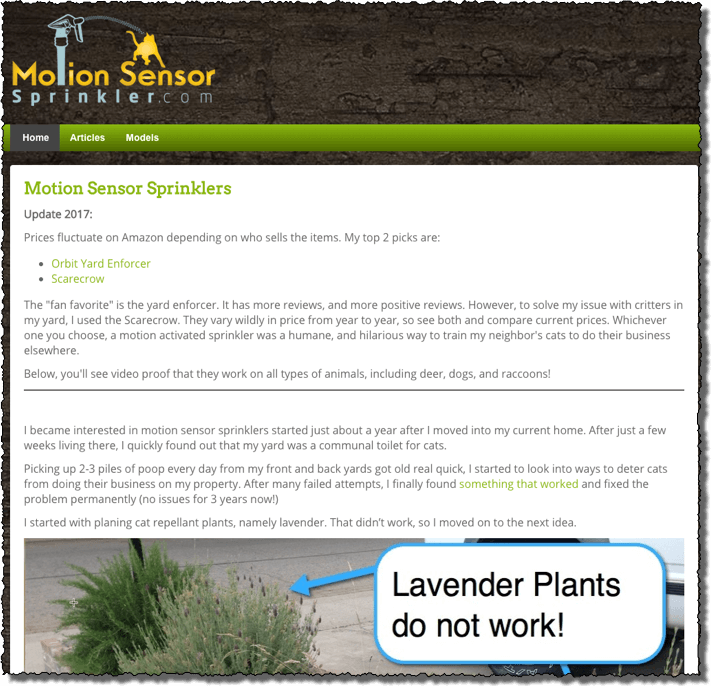 This is a website I made called motionsensorsprinkler.com.
Back in 2015 I had a bunch of cats tearing up my front yard.
I bought some sprinklers that turn on when they sense motion.
End of cat problem!
They worked so well, I wanted to help other people solve their problem too.
So I built a website showcasing different types of motion sensor sprinklers.
I also added some tips about how to get rid of other annoying critters.
Here's a snapshot of some of the website's earnings through Amazon.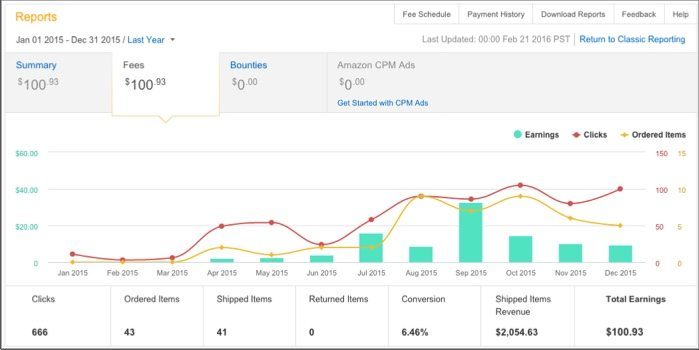 Let's look at another website I made about homebrewing beer.
I love making homemade beer.
I wanted to share my personal recipes online.
Plus, I wanted to test beer-making equipment and see if it was actually any good.
So I started xbrewx.com.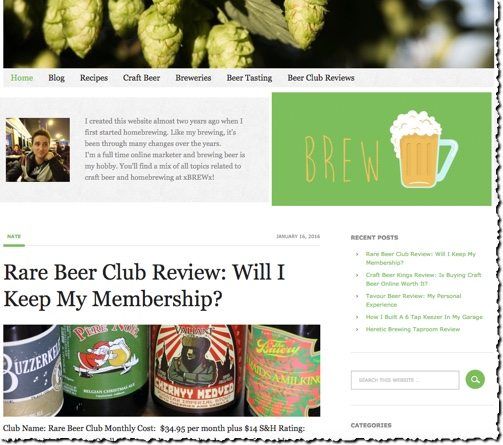 This one doesn't make that much money, but it's just a fun hobby project.
It makes a couple buck through Amazon.
​But you said I could make good money doing this!
Alright, here's a screenshot from one of my main earning websites.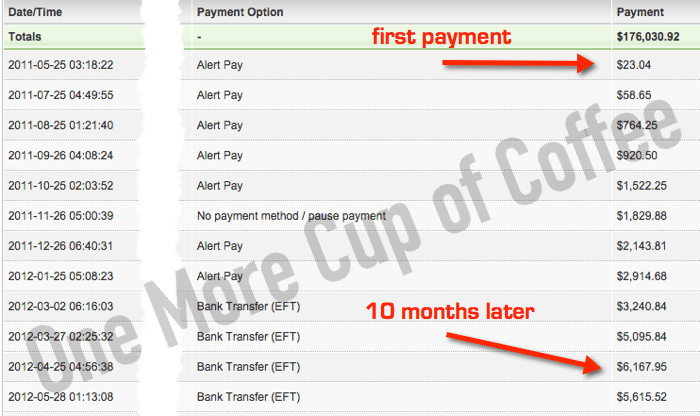 Cool right?
All that money just from writing articles on a website.
Oh, and before you naysayers look at the dates and say "Oh, that's from 2012!"
Here's one from Aug 2018
Jeeze.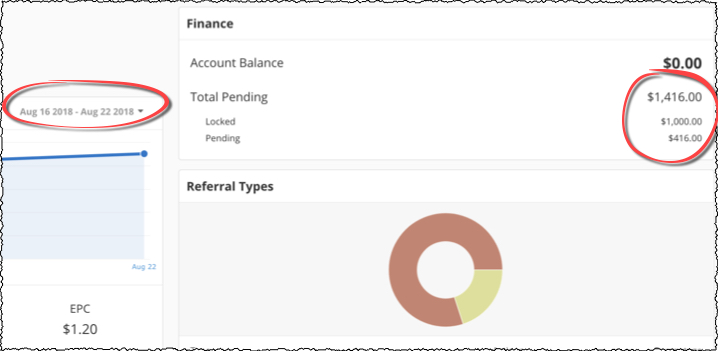 OK, great Mr. Rich Guy.
How do I repeat what you did?​
Alright, now we get into the fun stuff.
Remember how I said that I didn't invent this process?
I learned how to do it at Wealthy Affiliate.
They really have a great system going.
They can teach anyone how to make money this way.
Did you know I never went to college?
Did you know can't code?
In fact, my writing is pretty bad too.
But somehow, they taught me how to build a profitable website.
If they can teach me, they can teach you.
How Much Is This Going To Cost Me?
The membership price for Wealthy Affiliate is $49/month.
That includes your website building software.
Plus hosting (where you store your website files)
Plus training.
Plus 1-on-1 help getting your business started.
You'll have to buy a .com domain name for $13.99.
So total, you can run your entire business for $50 per month.
Or a total of $600 per year.
If you get their yearly pricing, it'll cost you just $359/year
Do you know how much it takes to start a small brewery?
Between $100,000 to $1,000,000 dollars
A small restaurant will cost you about $275,000
Running a six figure business $1.70 per day sounds crazy, but it's realistic
Hold, up.
So what exactly are you getting inside Wealthy Affiliate?
Actually, if you're a complete newbie, it's kind of hard to explain.
Some of the stuff you get won't really make sense right now.
Free SSL certificates? What's that?
Exactly.
So I'll introduce the stuff that's easy to understand, and you can learn about the rest after you sign up.
Let's start with the top 3 features you need to know about.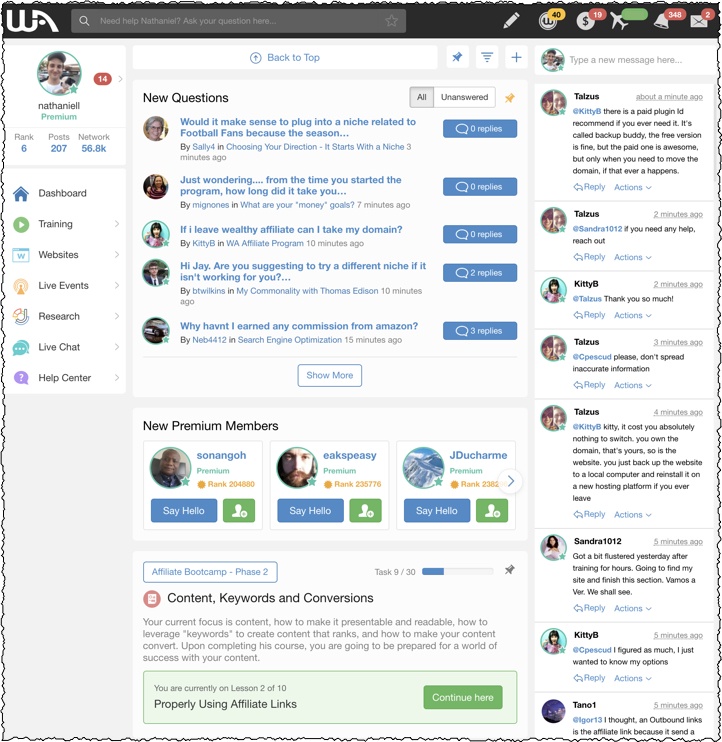 1. Step-By-Step Lessons
There are 5 "levels", 10 lessons each that will explain how to build your website, how to write articles that rank, how to get your affiliate links and make money, and how to promote your website through social media.
2. Personalized Help
This is a membership website, so you'll be talking to other online entrepreneurs about how to build a successful websites. You can ask questions in live chat, the forums (called "classrooms"), and private messaging. You can also ask questions on individual lessons. Answer times range from instant (live chat), to just a few hours. The classrooms are very active!
3. Access To Me
I'm probably in the top 10% of online marketers simply because I do this full time. If you sign up through my links on this page as my referral, you'll be able to private message me questions about the training or advice about your website.
A lot of gurus charge $1,000 per hour for advice. I'm not joking. You get access to me for $49/month.
The only other super important thing to mention is that there are four live webinars every month.
One per week.
They are included in your membership.
They cover a wide variety of topics including
check
check
check
check
check
Even better, these webinars are promotion free.
They are meant to educate you, not sell you a bunch of stuff you don't need.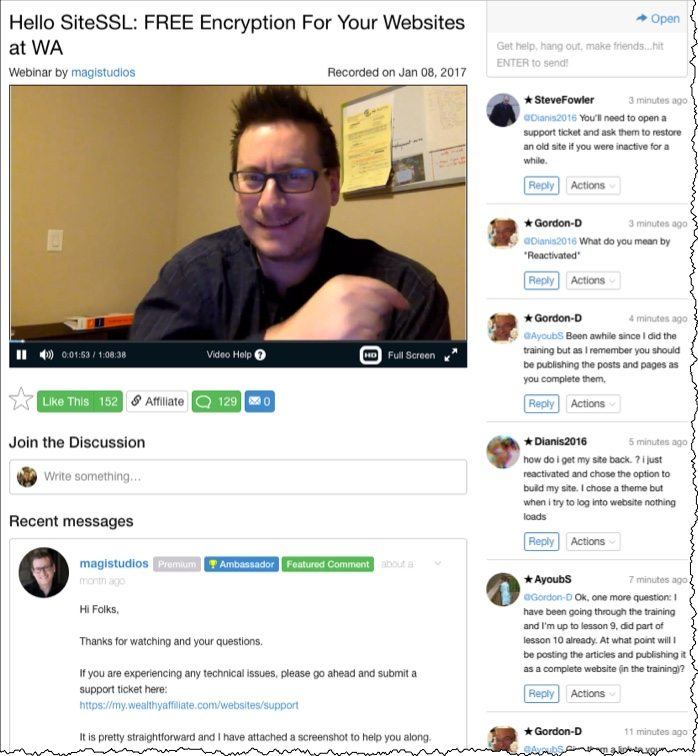 Wealthy Affiliate sounds pretty cool, but does it actually work?
It'll work if you make it work.
It's the most newbie friendly place to learn affiliate marketing online.
You literally can't get this amount of personalized support anywhere else.
If you want to earn money online, Wealthy Affiliate is the place to do it.
You are going to have to work for it though.
Just check out some of the success stories from this year.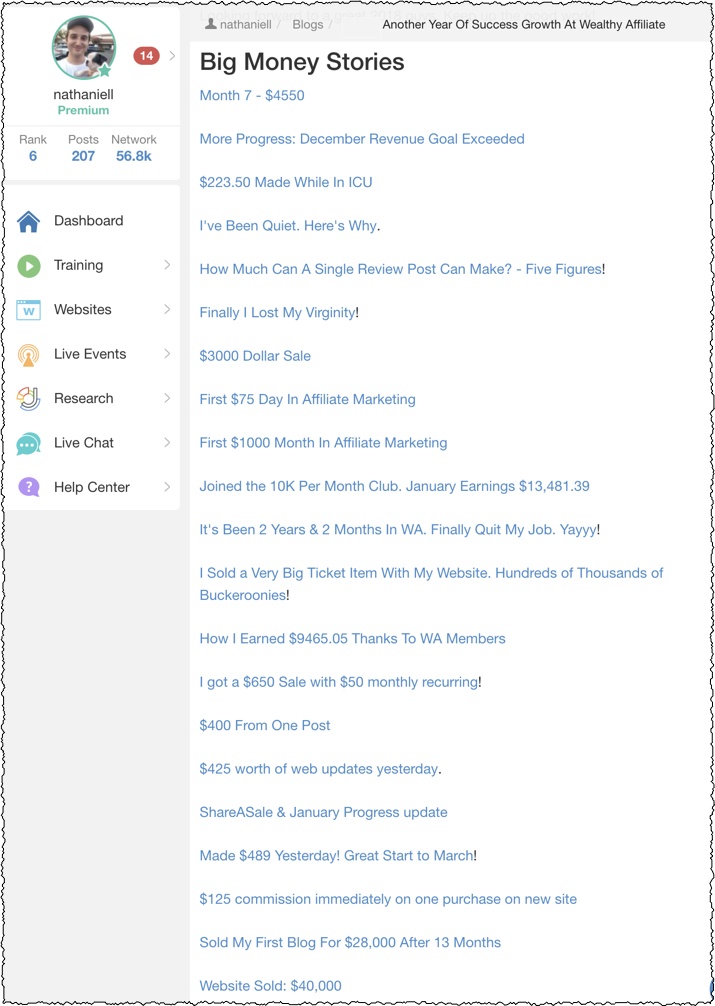 So let's recap what's going on here…
Building affiliate websites is a great way to earn money at home
It's simple to do.
It's also cheap.
You can make a lot of money doing it.
Wealthy Affiliate is the place to be for training and advice.
Oh, and it's FREE to join
The Premium membership is $49/month.
But you can join Wealthy Affiliate for free.
You get access to the first 10 lessons.
You can build two free websites.
You can even chat to other members and and ask questions!
The free Starter membership is a great way to test the waters.
You know, kick the tires. See what's up inside.
You don't even have to submit a credit card.
So don't worry about getting billed anything until you are 100% sure you want to upgrade.
Can't think of a website topic?
Confused about a lesson?
Sign up and leave me a question on my profile.
I log in every day to check my messages.
My profile name is "nathaniell"
Here's my current picture.
Talk soon!