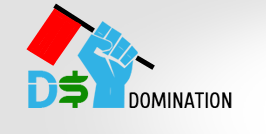 Product Name: DS Domination
What is it: Learn how to use eBay for drop shipping
Rating:

20/100
There is was a lot of buzz surrounding DS Domination, so I decided to look into it and see if this is a legitimate way to earn money online. Let's look at what they are trying to teach you first!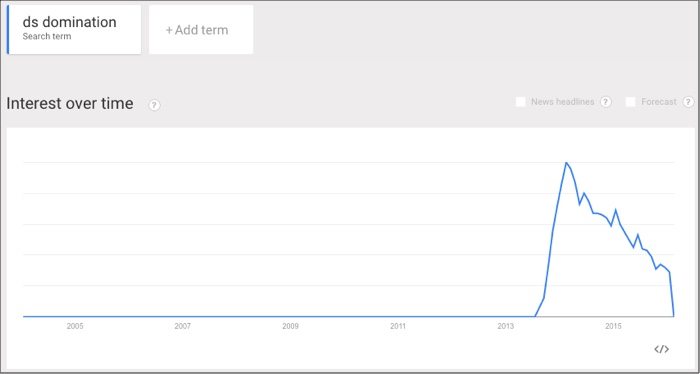 Update 2016: Is DS Domination Dead?
One of the main promoters of DSD, Jesse Singh, and a person who wrote many nasty comments in the comment section of my blog has officially removed his promotions for DSD from his website. He's now promoting a product called Infinii, from the same creators of DS Domination.
Check out how his website recommends one product, then switches to another when you get on the landing sales page.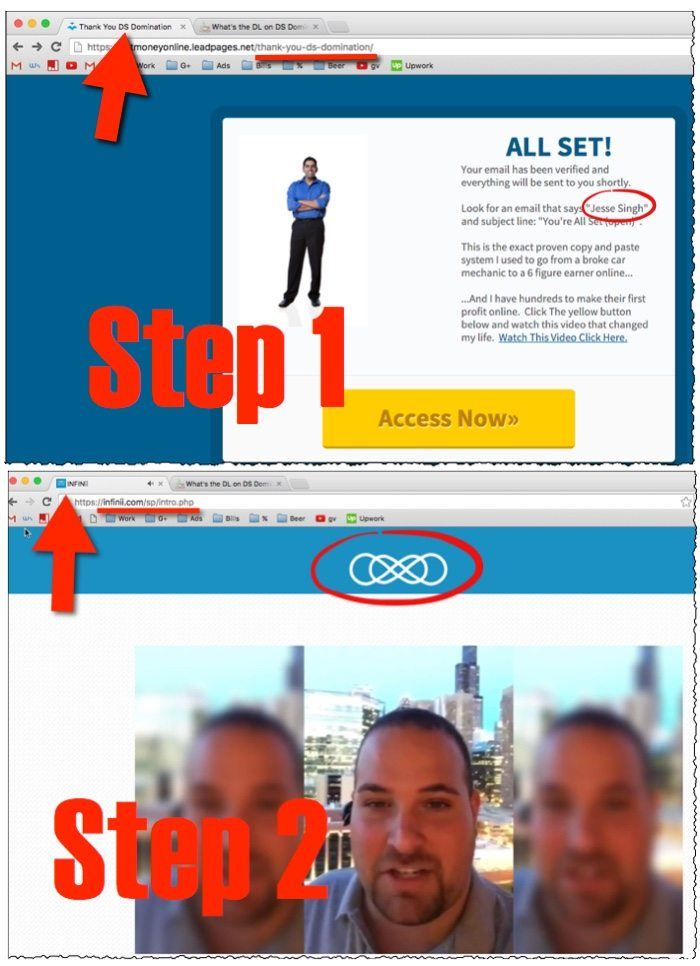 Remember, sometimes scams and scammers take a long time to show their true colors. My original post on this company was made on April 21, 2014. It's now March 7, 2016. Don't you think that if people were truly experiencing such high levels of success and earnings that DSD would still be a thriving company and gaining more members?
Instead, we see that their top affiliates have moved on to other "opportunities". Below, you'll find the original review I wrote, plus some other updates at the bottom of the post, as well as links to more legitimate ways to make money online, long term, without hopping between companies or recruiting.
Update November 2016: I guess that the creators of DSD have now ditched Infinii, or at least their top affiliates are. Now, the person who harassed me in the comments below and told me how legit DSD was has again switched products. Apparently a new, hot opportunity was what allowed him to get rich from just $1!! Wow! See screenshots below for proof that the guy is now promoting something called "The Millionaire Drive", which is some kind of team related to the MLM company Aspire.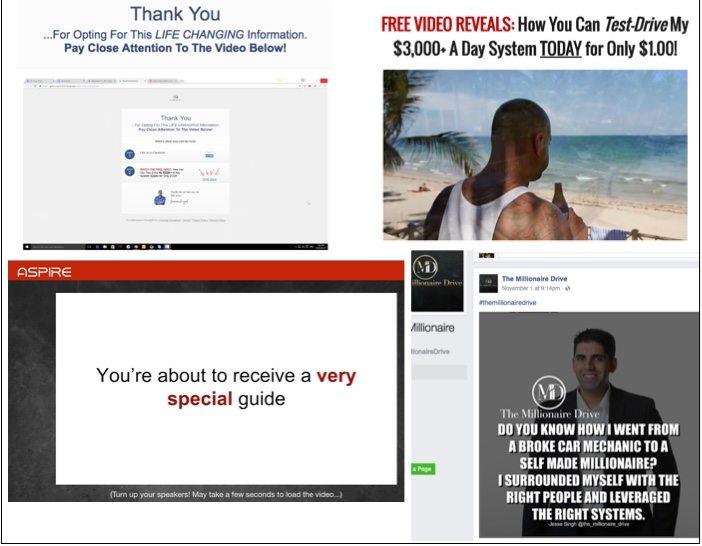 …wait, I thought it was DS Domination that was the key to success? Now it's something else?
What is dropshipping?
Dropshipping is a legit way to make money. The basic idea is that you purchase items at a discount, and sell them to customers. You do not keep inventory. The customers information is passed along (different companies use different methods) to the seller.
Your interaction with the customers and the level of involvement of the company that produces the products you sell varies. Customer service, billing, returns, chargebacks, questions, and email responsibilities depend on which company you work with.
What is eBay?
EBay is a website where private sellers can set up "storefronts" and sell pretty much any item they want. You can sell items via auction and have buyers bid on your stuff, or you can sell for a fixed price.
How to combine dropshipping and eBay
It's possible to build an online business by buying items at a discount, then reselling them on eBay. This is usually done by purchasing items in bulk (wholesale), then selling them individually. It's like going to Costco, buying a 10-pack of Jack Daniels for $300 ($30 per bottle), then selling each bottle for $40 (40 x 100 = $400).
Your gross profit on the deal would be $100. There are other fees associated with doing business in this way, so at the end of the day you'd wind up with less than that, but that's the idea of what's going on here.
Is that what DS Domination teaches?
Yes. Specifically they are talking about finding products on Amazon then reselling them on eBay for a more expensive price.

But part of the big controversy of this product is that this is against Amazon's Terms of Service. Not only is it breaking their TOS to use Amazon for this type of buying/selling, it's against the rules to use your Prime membership (free 2 day shipping) for commercial purposes.
In the upgrades, other companies are mentioned, but the basic training is mostly about Amazon.
I haven't looked too much into the eBay thing, but here's what one person had to say from Black Hat World
I got sucked into his Amazon E-bay thing and it cost me my e-Bay account.He (Langille) was all cool for the first few days then he would not answer my questions and pretty much blew me off. Another scam artist.
Some Positives
Ok, so this review isn't completely one-sided, I did want to add some positive things about the methods taught here.
1. It produces faster results. I do admit that how I make money online takes a while to see results. Sometimes months. Listing something on eBay could probably get you views and sales within days or week if you pick the right product.
2. I am intrigued by the idea. If you had a legit place to get inventory and went about the whole 'drop shipping' thing in a different manner, this could be a way to make money without holding inventory.
3. Be part of a community. Despite my gripes here on this page, people continue to join DSD. In fact, their Facebook page currently has 14,000+ members. It's hard to tell who is making money and how much, but at least you have the support of a community. Unfortunately, some of the users are a bit abusive and have come to my review to "tell me how it is", but I guess the majority of other users are busy and happy working on their business.
4. DSD 2.0. Though I'm not a fan of this company, I can see some improvements with DSD 2.0. If you are a member, please let me know your thoughts on the changes here in the comment section.
The Main Issue You MUST Know
You are looking at DS Domination because you want to make money online. I'm sure their advertising video caught your eye, talking about how you can make thousands of dollars doing this. Now, just above I said that it's possible to make money quickly by drop shipping on eBay. That is the BEST case scenario. Most of you will take some time to figure out what works and what doesn't.
I very much dislike advertising that implies otherwise. Joining DSD is not a way to earn 'quick money'. It's very likely that it will take you weeks, if not months before you figure everything out, so keep that in mind.
Setting up a successful dropshipping business is more than copying/pasting links and pictures.
If you were hoping to turn a few bucks this week and have the profits pay for the fees associated with DS Domination, think again.
IMPORTANT UPDATE!!
Amazon has been issuing warnings about people purchasing on their website and reselling products. This is undeniable proof that buying on Amazon Prime and selling on Ebay is a major hazard to your business and your Amazon account. Of course, you may be able to do it without prime, but that often means no free shipping, and slower shipping. Here's the letter from Amazon:
We're writing to you because we have concerns regarding the ordering behavior on your Amazon.com account with an Amazon Prime membership. The shipping activity by you and your invitees is similar to patterns we've seen when Amazon Prime is used for reselling (as described in our Terms & Conditions).

This e-mail is a courtesy notice, and no action is being taken at this time. We encourage you to continue using your Amazon Prime Membership according to our Terms and Conditions, which you can view here:

www.amazon.com/gp/help/customer/display.html?nodeId=13819201

If future activity on your account continues to follow a pattern consistent with reselling or shipping to customers, we may terminate your membership without refund and without further warning.

If you think you received this message in error, or would like to clarify the order activity, please contact us directly at [address removed].

We appreciate your cooperation and understanding.

Best regards,
Account Specialist."
Other Problems
Price
The fees associated with this company are ridiculous. Also, they don't really explain everything you'll be doing very well AND try to sell you all this stuff right in the beginning, before you've had a chance to try the product.
Check out how much you'll be paying every month
$20: Basic training
$99: Elite Software access
$9: Affiliate program
Total Recurring: $128/month
$249: Secret training, secret cash-back methods, secret wholesalers
$499: Secret Amazon training
$199: Secret affiliate training
Total cost of secrets: $947 (Damn, those are some expensive secrets)
Total MINIMUM cost for one year of operating a dropshipping business through DS Domination
TOTAL COSTS $2483
By business standards, that's not that bad, but I'll bet it's more than you were planning on spending, and there's no reason you should pay that when you could be paying less than $500 for better training.
Also, you should never pay these kind of prices for programs that you haven't tried yet. Did you know that they have a no refund policy? Hm, no free trial, no clear information on what's inside the member's area, and no refunds?
That doesn't sound like a good deal to me.
Affiliate Program
I'm an affiliate marketer, so trust me when I say that you should never have to pay to participate in an affiliate program. If you have to pay to sell products, you might be getting involved in a pyramid scheme.
The same might be true if there are complicated compensation plans, and the company heavily emphasizes recruiting new members. Hmmm, sound familiar?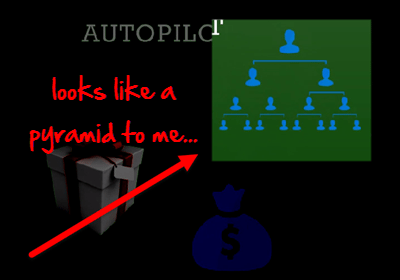 I watched an introductory video about DS Domination, and within two minutes of listening, I was told about the great opportunity to refer new members to pay for my subscription! They hadn't even finished explaining what I was going to shell out $20 per month for and they're already telling me to spread the word to friends and family via Facebook and Twitter.
There's nothing wrong with affiliate marketing, and I think it's great getting paid to recommend products you've tried and love. But these guys are doing the whole affiliate program thing wrong.
Too Many Secrets
What I really dislike about companies like this is that they structure their product launches and sales pages to exclude the best information.
Many times the first product you see is NOT what they are selling. What they really are trying to get you to buy is the expensive $200 or $500 product. The cheapy thing you just paid for is meant to warm up your wallet, get you interested in the topic of the expensive product, and then make you feel like you are missing something.
If you went through a sales funnel they set up, most likely you thought, "Wow, copy/paste, I can do that!"
After being presented with offers of "secret strategies" "insider clubs", and "millionaire methods", I was still unclear about what I was actually paying for. With their no refund policy, you are putting your faith into a product about something you don't understand, created by a person you don't know.
I watched both videos for the Elite and Unleashed packages. I learned absolutely nothing about what I would buy. I only found out how much profit Roger Langille & Keven Hokoana make. Boooooriiiing.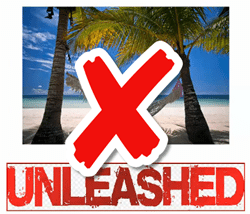 Why not create ONE product that gives you access to everything. Is that so hard to do? Why all the barriers? These guys are not interested in helping you, they are interested in refining their marketing strategy to make the most money off of each customer.
Speaking of secrets, let's talk background.
The owner of DS Domination, Roger Langille has a bit of a history in the MLM scene. I never like to trash-talk people, but I do make sure to look into the history of product creators. Many times you'll find various failed products, complaints, and every once in a while, a bit of a scandal. Well, it turns out there were some controversies surrounding SOZO, and complaints are turning up all around the internet.
It's always possible to turn over a new leaf, and not everything you read online is true. But if you didn't know this stuff before, it may make you think twice about signing up for this product.
Update: Roger Langille Leaves For "Private Reasons"
You can decide what this means to you. It may be that DSD realized this guy wasn't healthy for the company, or it may be that Langille is just starting a new venture. I'm not sure, but I've just been busy creeping their FB page.
Ethics of reselling products
The strategies outlined in DSD do not talk about buying in bulk or doing deal with wholesalers to get items for cheap. What they encourage you to do is to find ANYTHING, then go sell it on eBay for a more expensive price.
Is this how you want to build your online business? Do you want to wake up every morning that think to yourself, "Wow, I hope I can find someone dumb enough to pay more for something they can find on Amazon for cheaper."
As a dropshipper, you should be providing a service to someone. This business model is supposed to provide distribution channels for their products. They sell them on the cheap because they sell them in bulk and save on costs related to finding distributors. You sell the items for a higher price because you do customer support, find buyers, provide information via a website, and whatever else you want your business to take care of.
This is not what DSD teaches you to do.
A Business Built On Deception
Did I mention that using Amazon to commercially source products is against their Terms of Service? Apparently some people do this and get away with it, but if you are using Amazon as your "warehouse", you are breaking the rules. Starting a business based on sneaking under the radar is never a good idea.
From Amazon Associates Terms of Service:
You will not purchase any Product(s) through Special Links for use by you or for resale or commercial use of any kind.
From Amazon.com's Terms of Service
This license does not include any resale or commercial use of any Amazon Service…
Cannot Reuse Images From Amazon!
Just as an update, I wanted to remind folks that if you do join DSD, you cannot use the images from their website to sell your stuff on eBay. Here's why, in plain English: Copyright


Actually, what a lot of 'pro DS Domination' people don't realize, is that many of the sellers on Amazon are individual people! The stuff you buy on Amazon is not actually sold by Amazon. They just play the middle-man between the customer and the seller. Although items may look the same to you (the buyer), they are actually sold by different people.
If you take images or information from a listing in Amazon and use it on another website, that's copyright infringement. If Amazon doesn't find out, the individual seller might, and they can report you. They may also have listings of the product on eBay and would not want the competition.
You could potentially take your own images, but you would need the product and a camera. If you are shipping straight from Amazon, how are you going to find a proper image to list your item with?
Math
Sorry guys, but I'm dumb. I'm just not great at math. With a system like this, I have to figure out:
how much the product costs on Amazon
how much the tax is on Amazon
how much are eBay's listing fees
how much are eBay's selling fees
how much is Paypal sales tax
how much lost items, returns, and other issues are going to cost me
After all those calculations, I need to know if my business is profitable, and if it's worth the amount of time I'm spending on it. How much money per hour am I making doing this type of business?
It's just too much brain stress for me! lol
Final Review
True – some people are making money with DS Domination, and it's possible to make money faster than some other methods of earning money online. If you are interested in retail arbitrage, this could be a course for you.
However, for me, starting a business that is against the terms of service of the company you're working with is too much risk for me. I can't recommend this!
What Now?
If you are interested in legitimate retail arbitrage and I recommend you learn how people make money selling products on Amazon FBA, and how you can get started doing that. The price of a legit FBA course is about $300, but it's a one time fee (no membership fees), and includes a Facebook support group.
If you want to learn how I make money online, keep reading.
I create small websites about interesting topics and promote products from other companies. I don't have to stock any inventory, and don't have to worry about returns. I don't have to create any product listings or source anything. It's a different business model from DS Domination, and it's not for everyone! However it's worked for me, and now I run my online business from home.
I have two main websites that make money – one about computer software, and the one you see right now. Instead of paying $128 monthly and almost $1,000 in other fees, I pay $10/year for domain registration. Ten bucks to start your business is pretty cheap!
Got a question or comments about DS Domination? Let me know below!
Are you making money with DSD? How long has it worked for you?
Was the training inside the members area helpful and was it easy to get help? Please leave a comment!
Update: People seem to think that because I gave DSD a negative review, that I think it's a scam. I didn't say that anywhere in this review! However, I am saying that I would not spend my time or money in this business venture, and I cannot recommend it folks looking to start a long term business.
Update 2016: For what it's worth, this is how typical MLM and Hype-Based products look like after a couple years. Here's stats from Google Trends.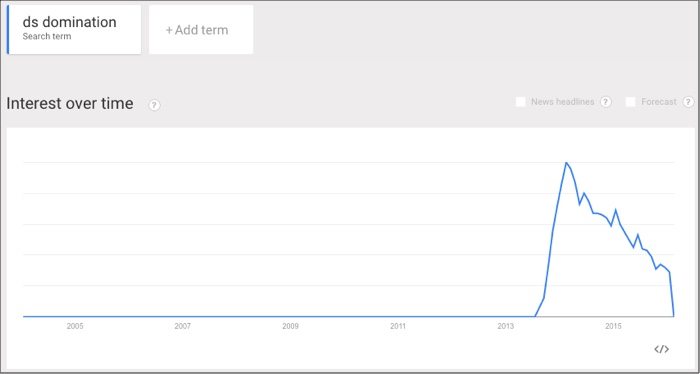 Same thing happened to Empower Network, Vemma, and Wake up Now. From what I've read, it sounds like a new product called INFINii was launched by the DSD creators, so I expect the previous DSD hype-men to jump ship and start promoting INFINii. Expect a review coming soon!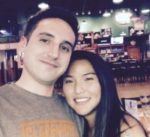 Nathaniell
What's up ladies and dudes! Great to finally meet you, and I hope you enjoyed this post. My name is Nathaniell and I'm the owner of One More Cup of Coffee. I started my first online business in 2010 promoting computer software and now I help newbies start their own businesses. Sign up for my #1 recommended training course and learn how to start your business for FREE!