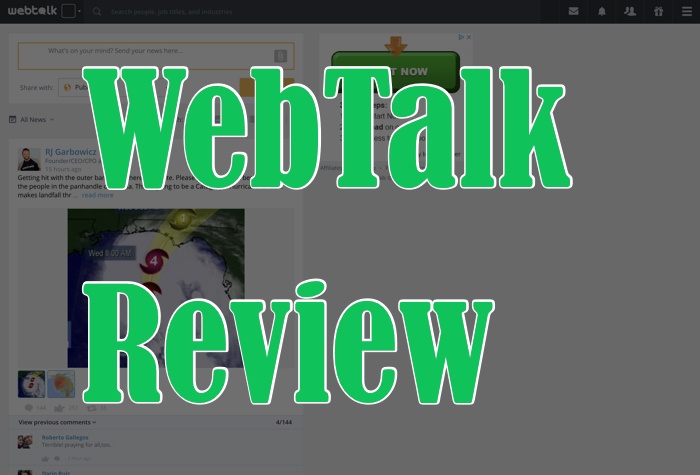 Have you been inundated with messages about a new company called WebTalk? I have. The first piece of content I read about this new social media company immediately triggered my spidey-sense. I've heard this story before.
"New Facebook Killer Jump On The Scene With A Million Subs In A Few Weeks"

"This Social Network Promises To Pay Members, Unlike Greedy Corporate America"

"It's Time To Get In On The Ground Floor!"
Well, it all sounded like a bunch of hot garbage to me. You see, I have experience participating in exactly this type of scam.
Back in the day (early 2010), I joined a company called People String. It was the exact same pitch. Get paid to do stuff you normally do for free: email, social network, etc. Guess where they are now? Defunct. They are so defunct, it's hard to find anything about them online. Here's a video from 2009 trying to recruit people to the MLM scheme.
People String: The Next Facebook!
"A social network built on revenue sharing and referrals"
"A social network that allows you to bring together all your social connections"
If you watch the video, you'll see how he slips in the term "proprietary technology" which is tech jargon that WebTalk people will use as well.
Anyway, I'm not writing about People String. They already failed. They also failed in their second iteration, called Big String, which was supposed to revolutionize email by allowing you to un-send email. That didn't pan out either.
WebTalk Isn't New
People String has the same basic setup as WebTalk. Join for free. Get a premium membership for X amount of money. Get your friends to join and you get paid based on their activity. Everyone gets revenue from the ads. Sound familiar?
They weren't the only company to try this. TSU tried the same thing a couple years ago. Where are they now? Defunct. I'll get more into the reasons I believe this happened below.
Everyone said the same things about TSU. Oh, it's a Facebook killer. Zuckerberg is greedy and this nice person is going to share all the advertising money with us. It's a social media revolution! You don't like TSU? You must be a hater!
Whelp. That didn't last.
The Facebook Killer: What Is The Point Of Webtalk?
Did Twitter launch itself as "the Facebook killer"? Nope. Did Instagram? Nope. Pinterest? Also no.
These companies launched a unique service that delivered something of value to the customer. People joined because they were interested in using the product offered. They didn't join just to make money.
This is another huge red flag for WebTalk. The main reason to join seems to be the ability to make money form revenue sharing. One of the main reasons I think TSU failed is because of this. More sharing = more money, so people just share BS all day long.
Yes, people share a lot of garbage on Facebook and Twitter. However, it's garbage they believe in. It's garbage they want to show to friends and family. Incentivizing people to share by paying them just means you'll get a lot dumb-dumbs sharing stuff all day long so they can collect pennies.
You also get paid to recruit people. I have no problem with running an affiliate program. In fact, I promote affiliate programs. However, the incentive to purchase a product is that it's a quality product you actually need. People don't buy stuff because they want to join a money-making scheme.
For example, you don't buy an iPhone because you want to join the Apple company and sell Apple products to make money. You just want pay money for a thing.
WebTalk incentivizes people to join the network with their affiliate plan, meaning people are joining to make money, not to actually use the product. Would you join WebTalk if there was no way to make money with it? Be honest!
WebTalk Compensation Plan
Here's the video describing the compensation plan for WebTalk. Watch the video and think to yourself, "Do I want to join to use the features, or do I want to join to make money?"
Notice the insane idea that you'll be earning $100,000+ per month just from referring people to their network. It's simply not going to happen guys. Come on!
Also, you might have missed this, but a pyramid on its side is still a pyramid. Here – I fixed that for you!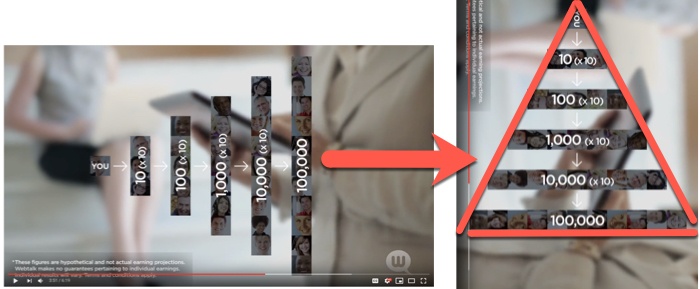 Here's the part where I couldn't find on their website, but this information was quoted on a few other reviews. Apparently there are going to be (or already are) premium tiers of membership. Here's the information I got from BehindMLM, a reputable source on information on MLM scams.
10% of premium subscription fees paid by personally referred WebTalk members
10% of ad budget spent by personally referred advertisers
10% of advertised local services purchased through WebTalk
2% to 9% of commission generated if a product is purchased through the WebTalk news feed
5% of app subscriptions sold via an in-house app store
Essentially, what you have in WebTalk is a network of MARKETERS looking to make money selling you stuff. Advertisers place ads to make sales, then members promote their stuff for a commission. This sounds like a horrible place to hang out, and not a place I'd refer my friends to go.
From the same website, we also learn that WebTalk is not the first social media venture of this kind started by the owner, Robert Garbowicz. He also started a company called Your Night, which, as you guessed, is no longer around. Actually, I can't be too critical here. I've started and bailed on many websites, as have most entrepreneurs to the majority of their projects.
I only mean that you should read up on the history of WebTalk before you get too excited about the potential for this company. Just look at what people were saying about Your Night back in 2010.
How Much Money Can You Make With WebTalk?
Well, apparently we might be able to earn $100,000 or more per month! My guess is, this is absolutely unlikely.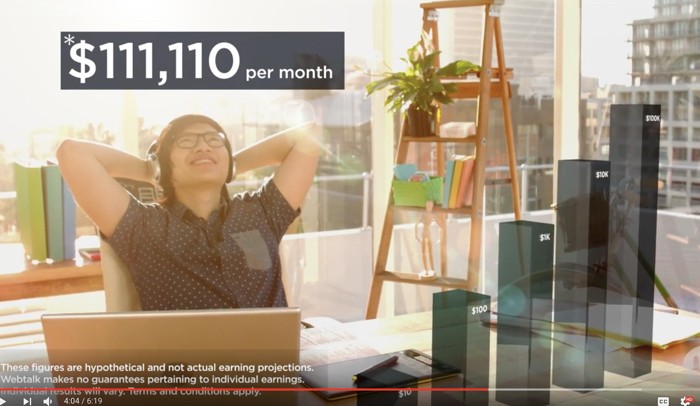 What's most likely is that you'll snag one or two family member, and earn a couple pennies before they quit and go back to Facebook. Without the "sticky factor", no one is going to stay around in WebTalk. There's no compelling reason to leave your current networks you've been building for years, maybe a decade or more.
So what's the reason to leave? Because Facebook doesn't pay you $1 per day for using their service?
The Flawed Logic Of Revenue Sharing On Social Media
The part that drives me crazy is that everyone thinks they should get paid to use social media. What?! Since when do you get paid to use a service you like? The reason you're on Facebook and Twitter is because you like it. You get value out of it. It serves a purpose. You aren't doing Zuckerberg and Dorsey a favor by using their product. If business was built on favors, companies would die out real quick in a capitalist society.
You're using the products because they give you something you want, whether it be news, social connections, or just funny videos of dogs howling.
So how are the CEOs of these huge companies making money? FROM THE ADVERTISERS. Since you aren't paying jack-sh!t to use these networks, someone has to pay to maintain the servers, right? The advertisers are the ones footing the bill. It's a cycle of value:
You join for free. Advertisers want eyeballs. They pay to show you ads. The company takes a cut of advertising money. They build the infrastructure and features. You continue to like the service. Advertisers continue to show you ads.
It's a simple process.
So on top of that, you expect to get paid? For what? Looking at ads? That's rich. I didn't realize you found yourself so valuable.
Now your sales pitch to friends, family, and work people are that they should join the network to help you make money, and maybe they can make money too, as long as they get some people to join. Um, yeah. No thanks.
What's The Value Behind WebTalk?
In this interview with ABC, the reporter asks the creator of WebTalk, why someone should choose their company over all the other options out there. His answer is basically that you can manage all your social networks in one place and change the sharing settings.

I'm pretty sure Facebook can already do that. Also, just don't share your instagram account with your boss. Some basic social-media savviness can replace WebTalk in an instant.
Also, he claims that it's the best of everything and you might have heard the saying that if you try to do everything, you'll end up accomplishing nothing. So the idea behind WebTalk is to replace all your social networks? I just don't buy it. Established companies like Snapchat, Facebook, and Twitter are literally spending billions of dollars trying to dominate the space, and WebTalk is going to jump in and just combine them all into a big tech gumbo?
Unlikely.
Hey, maybe it'll work out though. There are always underdog stories. They could pivot into something better later on down the road.
The main hype around this company right now is that people want to get in on the ground floor, and I'm just not into that kind of mentality.
Do You Need WebTalk For Your Online Business?
I'm an affiliate marketer, and that's what' I write about here on One More Cup of Coffee. If you're reading my blog, you probably also have a blog, or want to build one, and want to make money with your website. Do you need WebTalk for your business?
The answer is a resounding, 110%, crystal clear…NO.
WebTalk has shown absolutely zero evidence that they can help to grow your business, and worse than that, I suspect it's going to be a huge waste of time for everyone involved.
Even in the best case scenario, that they become a respectable social network, you can join at that time in the future.
Is Twitter blocking people from signing up? Is creating a Facebook account exclusive in 2018? No and No. You will not lose the opportunity to join WebTalk in the future. If they become big, hop on the train and see what they can do for you. Right now they are still in beta, which means they are going to be pretty useless to you as a business owner, and there's still a lot of kinks to work out.
In fact, my suspicion is that they are just launching in "beta" to attract people hoping to take advantage of the "ground floor" mentality. They are basically launching an unfinished product and always have the excuse if anything goes wrong that it's just beta and the issues will be gone by the time they officially launch. That's just my opinion though.
For now, focus on what works. Pinterest. Twitter. Facebook. Instagram.
What Now?
Let me know what you think in the comments!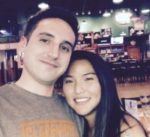 Nathaniell
What's up ladies and dudes! Great to finally meet you, and I hope you enjoyed this post. My name is Nathaniell and I'm the owner of One More Cup of Coffee. I started my first online business in 2010 promoting computer software and now I help newbies start their own businesses. Sign up for my #1 recommended training course and learn how to start your business for FREE!