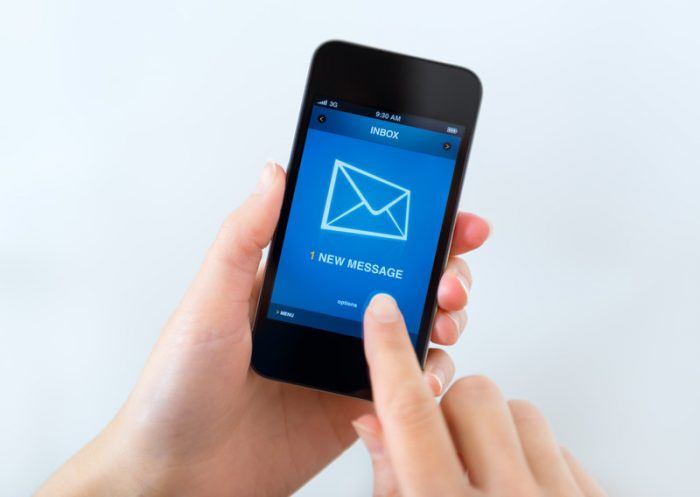 Newsletters are among the most effective means of communication and have been a leading form of content marketing for years. Probably for as long as there have been emails. If you count offline newsletters, then we can say ever since we've been able to print words.
Any business in any industry needs newsletters in order to stay in touch with their customer base and update them about any new offers or information that is relevant to their brand.
It's also a great way to measure your users' engagement with your brand especially when you combine newsletters with modern analytic tools.
Instead of making each of these manually and separately, there are plenty of plugins that you can use in order to make the process easier, less demanding, and more effective. In this list, we're going to go through the top 6 of these plugins.
Sending out a newsletter is just one part of the equation. If you still need help getting customers actually onto your list, please check out our post about list building plugins.
Best Newsletter Plugins
MailChimp for WordPress
Tribulant
Mailster
The Newsletter Plugin
SendinBlue
Email Subscribers & Newsletters by Icegram
1. MailChimp for WordPress
Price: New Business (Free) – Growing Business ($10/month) – Pro Marketer ($199/month)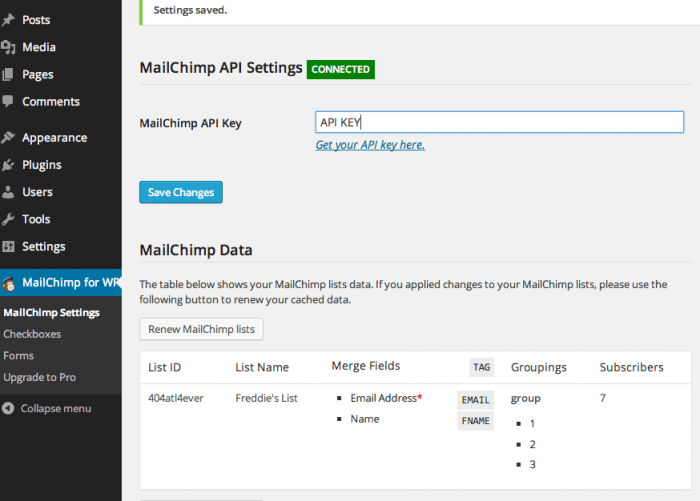 MailChimp is the ultimate go-to plugin for thousands of e-commerce businesses and websites in general who are trying to find an efficient method to maintain a consistent line of communication with their customers/audience.
The reason it's so appealing particularly to e-commerce websites is that of its capability to integrate with and adapt to online stores that are run on any of a plethora of e-commerce platforms.
The major among these include Shopify, Magento, BigCommerce, WooCommerce, and PrestaShop among hundreds of other platforms. It substantially eases the targeting process, allowing you to target people based on their online behavior and preferences, as well as their previous sales on your website.
Through a single API request, you are able to send series of emails (can include gifts or digital handouts) by predetermining a set of triggers for each stream instead of manually managing the operation. Each of these series/campaigns is followed by a detailed report that helps you improve your next automated series in terms of effectiveness.
Through the MailChimp service, you can run ads on Google, Facebook, and Instagram, and consequently increase your website's conversions and potentially your number of newsletter subscribers.
These are complemented with your capability to build robust, appealing, and mobile-friendly landing pages to turn random visitors into subscribers and hopefully loyal customers.
The plugin comes with two ready-made landing page templates that are flexible and can be manipulated to fit any taste or theme.
As a busy website operator, you can benefit from the fact that all of these capabilities are possible to deploy using your phone or tablet through the plugin's mobile app, which has everything you might need to create and send out a campaign, without needing to be near a computer.
The mobile app's interface is arguably even easier to use than the desktop version of the plugin.
Campaigns are generally made extremely easy to perfect thanks to the plugin's drag-and-drop designer. Whatever your brand and theme look like, you'll be able to design something that conveys that whole character very accurately and attractively.
You can use any of the plugin's multiple email templates or you can do the entire job from scratch out of your own imagination.
As I already mentioned, the plugin comes with a built-in analytics tool which allows the plugin offer some advanced monitoring and reporting features. MailChimp lets you keep an eye on your website's sales and general activity and performance, receive in-depth revenue reports, and through its built-in Google Analytics tools, it helps guide your advertising and email content.
You can think of it more as an in-house consultant rather than a mere analytics tool, seeing as how it gives you advice and recommendations.
Besides the e-commerce platforms that the plugin can integrate with, there are various other platforms and services like Facebook, Twitter, Eventbrite, SalesForce, and many others that the plugin can also integrate with, in addition to the countless add-ons and extensions available for it.
The possibilities aren't even limited there. The MailChimp API is open for modifications with unbounded possibilities if you have just enough technical expertise.
2. Tribulant
Price: Single ($64) – Unlimited ($320)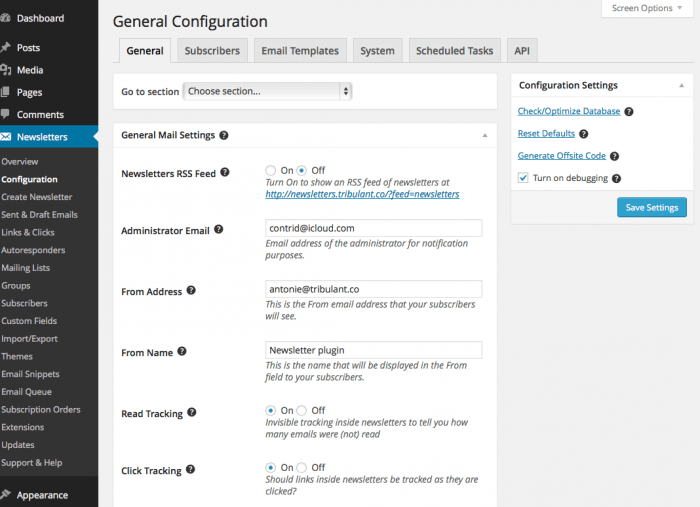 Tribulant's WordPress Newsletter Plugin offers some highly efficient solutions to creating and automating a whole email marketing strategy. Beginning with the designs, Tribulant's plugin comes with a number of premade, flexibly customizable templates that you can use and manipulate to end up with magnificent professional newsletters.
Each template is flexible enough so that it can be made to fit a wide range of themes and objectives. Going past the general design, newsletters and subscription forms can be personalized to a great extent using this plugin, given that it enables you to customize any form's fields as you wish in a way that can get you all of the information you might need about your targeted audience in order to run an effective campaign.
Managing mailing lists is also made extremely easy and user-friendly thanks to the plugin's interface. It allows you to focus your attention on personalizing the content to go into the newsletters that are to be sent to each individual lists.
It's worth noting here that the plugin supports payments made via PayPal and 2CheckOut, which means that you'll be able to monetize some of your mail lists and thus add a new revenue stream to your website.
To keep track of your performance on both the paid and free newsletter campaigns, the plugin feeds you with data and insights through its analytics tool that you can view and manage from inside your WordPress dashboard.
You can know the number of emails sent to each individual list, the subscriber growth rates, the number of unsubscribers, the number of emails opened/read, and the bounce rates over different periods of time.
Among the information you receive are the IP addresses of your visitors and subscribers, which allows you to constantly review and alter your lists.
3. Mailster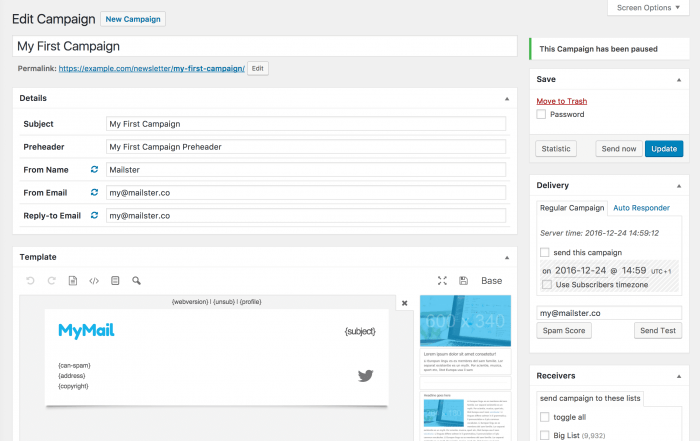 This is one of the most popular newsletter plugins out there, and the reason for that, among many things, is that its interface makes it easy for website operators who are total amateurs when it comes to design and content creation to still manage to produce decent plugins to promote their websites.
Thanks to the plugin's drag-and-drop visual builder/editor with its wide range of multi-purpose templates, anyone can create a whole email marketing campaign in a few minutes without having to write a single line of code. All of the plugin's designs are made to be mobile-friendly.
Mailster has a feature that allows you to store a list of all of your subscribers inside the WordPress dashboard, and you can manage the list there with utmost efficiency by dividing it into separate segmented lists for each group.
Being able to do so then enables you to automate a lot of the plugin's functions since after determining your segments you can then customize and send out autoresponders, follow-up messages, or even birthday wishes by setting certain triggers for each of these messages.
The performance of each of these functions is monitored by the plugin's advanced analytic tool that allows you to track campaigns, subscriptions, lists, and receive detailed stats in real-time along with a number of other indicators that will always keep you aware of the pace at which the website is going in terms of email marketing strategy effectiveness.
Among the applications and platforms that Mailster is capable of integrating with are (just to name a few):
Mandrill
ReCaptcha
Kickbox
FormCraft
EasyDigitalDownloads
Ninja Popups
Bloom
4. The Newsletter Plugin
Price: Blogger ($45) – Agency ($129)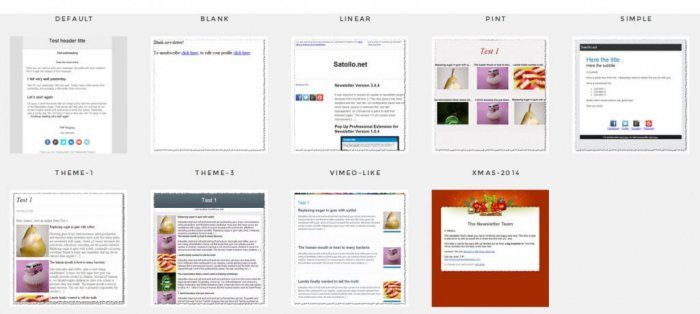 Through this simple plugin, you can reach an unlimited number of subscribers with countless newsletter campaigns without losing track of any detail throughout the process.
The Newsletter Plugin covers everything from opt-in forms to register subscribers in the first place, to running newsletter campaigns, right up to conducting reports about the performance of finished campaigns.
The opt-ins produced via this plugin have all the privacy requirements that would make it compliant with EU privacy laws. It enables you to gather information about subscribers that can enable you to segment them properly and use them to create multiple clearly-defined mailing lists.
Also, thanks to its integration with WordPress, users are able to be registered with their WordPress information right away. Besides the opt-in forms, you can add subscription widgets or pages.
After gathering the users' information and dividing them into mail lists, you can then use the plugin's drag-and-drop visual composer to design your newsletters using the plugin's various templates or starting from scratch with your own designs.
You can customize themes in order to fit each respective segment, and for the sake of better targeting, all of the messages produced through The Newsletter Plugin are translatable into multiple languages.
Besides its perfect analytics tool, the plugin can be perfectly integrated with Google Analytics for easier use and deeper details. That's not the only external application with which The Newsletter Plugin can seamlessly integrate.
Among the plugin's extensions are ones for WooCommerce, Amazon SES, and Contact Form 7.
5. SendinBlue
Price: Basic (Free) – Micro ($25/month) – Bronze ($39/month) – Silver ($66/month) – Enterprise (Custom)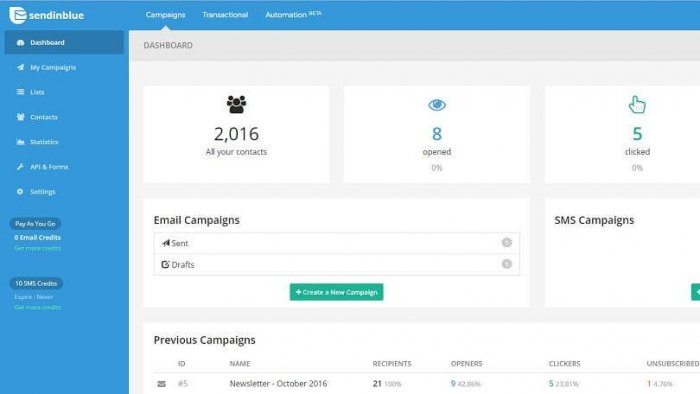 Here's a practical choice for those who don't put most of their emphasis on flashy designs and simply want a tool to help them address their users with email content. SendinBlue does have a design tool, though, and it's used in creating both forms and newsletters.
Subscription forms that are created via SendinBlue are mobile-friendly, easy to fill, and fully customizable to fit your objectives and the particular uses that the information will go into. You are able to adjust the fields in the forms accordingly.
The forms can be either landing pages or opt-in forms, and you can create an automated confirmation message to be sent to the visitors who fill in a subscription form.
Subscribers are then stored in a list that you can view easily from the dashboard where you can do all of your list management. You're allowed as an admin to export or import contact files (CSV and TXT). Then you can benefit from the plugin's advanced segmentation features that can enable you to narrow down your segments as much as possible in order to ensure ultimate effectiveness.
For each of these segments, you can create a custom newsletter template and create campaigns that would appeal to them respectively. With the plugin's interface, creating newsletters won't by any means be time-consuming. After creating them, you can schedule your campaigns in advance and let them run on their own.
All you would need to do afterward since the campaigns are automated is look into the stats and insights that you'll be receiving in real-time as well as over the intervals that you will determine yourself.
Through these stats, you'll be able to decide on the proper actions to be taken in later campaigns. If you're a regular WordPress user, you'll never find any confusion dealing with this plugin.
6. Email Subscribers & Newsletters by Icegram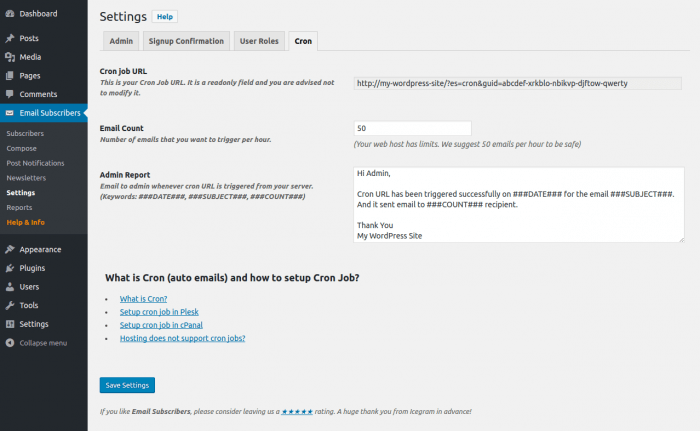 Through this plugin, you can run the whole communication stream between you and your users. More than 100,000 website operators are working with this plugin. It's used to notify users of new posts, gathering their contact details, and sending them newsletters.
You can use it to generate beautiful and neat subscription boxes and place them anywhere on your website where users can fill them with total ease and convenience. You don't need to conduct any further steps yourself.
With a few simple steps, you can automate scheduled campaigns (as many as you want) and let the plugin take on from there. It would then feed you with as many insights as you will need to look into in order to understand your website's performance in detail.
The same automation features can be applied to the new post updates that I mentioned above. These updates could be made into personalized messages for higher intimacy with your users which in turn develops loyalty on their side. You can include/exclude as many subscriber groups as you want in any of these forms of communication.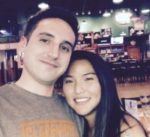 Nathaniell
What's up ladies and dudes! Great to finally meet you, and I hope you enjoyed this post. My name is Nathaniell and I'm the owner of One More Cup of Coffee. I started my first online business in 2010 promoting computer software and now I help newbies start their own businesses. Sign up for my #1 recommended training course and learn how to start your business for FREE!
Reader Interactions