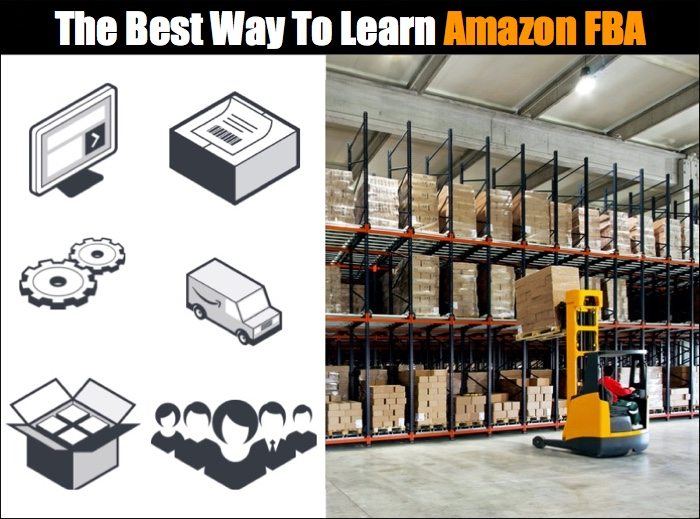 There can be no doubt that Amazon FBA is a popular tool and many people have found it an effective way to make money online. In fact, there are a lot of success stories out there about people who have made this approach work for them and have made a lot of money doing so.

But, what's the best way to learn Amazon FBA? For that matter, is it possible to create your own successful Amazon FBA business, even if you have no experience with online business or selling on Amazon?
The simple answer is that yes, you can be successful at this and the best way to achieve that is simply to find a great course to follow. There are multiple options out there, some of which are better than others. How do you know which ones are the best for learning FBA for newbies? What about people outside the USA? What about someone who prefers video content versus written content?
We'll discuss all of those in this post.
These courses are vital to learning how to set up your business properly. The best ones to choose are the ones that will take you through the processes involved every step of creating your business, including selecting a "niche", sourcing products, shipping to Amazon, dealing with issues, and (hopefully) collecting money!
There are a couple of courses that I highly recommend as the perfect way to get started with Amazon FBA. I went through a few months of testing various courses, and have selected the best ones to show and discuss here. But, before we get into that, I'm going to talk a bit about the general concept of Amazon FBA and why it works.
Let's get excited about starting a business, and then create an action plan to get things rolling in the right direction.
Amazon FBA 101
Much of the popularity of the Amazon FBA program comes from the simplicity of the system. The term FBA actually stands for Fulfillment by Amazon and it is a service where Amazon does a lot of your work for you. They take a cut of course, but think of them as a business partner!
Traditionally, selling on Amazon, eBay or a similar site involves taking photos, writing descriptions and listing the items on the site. Then, once someone buys it, you need to package the item and send it off.
Doing so is fairly simple when you're operating on a small scale. But, selling a large number of products gets difficult fast. After all, you have to manually manage shipping, not to mention actually storing all the products and the deciding which ones need to go where. As such, scaling up this type of business can be challenging and takes a lot of effort and physical manpower.
Amazon FBA helps to streamline this process for both you can the customer (now you know why they get their cut of the sale). You still create listings on Amazon but you're not responsible for sending the products to customers. Instead, you send the items to Amazon when you originally list them. Amazon is the middle man.
Amazon then stores the items in its warehouses and is responsible for shipping when the time comes. This can work extremely well because Amazon has systems in place that let staff at the warehouses manage the inventory and quickly find products for shipment to the customer. With Prime and Same Day Shipping, customers can get their product extremely quickly, with no effort on your part. This is in stark contrast to you having to receive the order, find the item, package, label, and get it to the post office in time to get it to the customer in a timely manner.
Now, there are some fees involved, including postage and storage. However, these are relatively low. In fact, Amazon gets a discount on shipping rates and that discount is passed onto you. So, shipping items into Amazon is much less expensive than you'd expect.
Likewise, storing products at Amazon tends to be cheaper than most other options unless you have a lot of empty rooms in your home. But, that being said, you do need to be careful because if you have an item there for more than a year, the storage fees can be higher. So, the idea is to sell items that have a decent turnover.
This is where the research phase taught comes in handy, and is a perfect reason why you should learn Amazon FBA from the pros (instead of teaching yourself from scratch). Finding a niche, as well as some potential items to sell within that niche can be a very important part of starting your business.
Would you rather sell a popular item that's competitive or a less-popular one with lower competition? That's a decision you have to make!
Amazon FBA Isn't For Everybody, But It Is Great For Some People
It's easy to see why there is so much hype about Amazon FBA. The model really does sound amazing, especially as it takes away much of the hard work involved in selling products on Amazon. It's categorized as "home based" business, which is always very popular. Who doesn't want to work from home, right?
Plus, Amazon is a site that everyone in the USA knows and uses, so working with them is an easy concept to understand. This is different to some home business models like drop shipping which can be a new concept to learn, or network marketing which has a bad reputation.
Yet, Amazon FBA isn't something to rush into blindly. Even newbies can make money at it for sure, but it also takes a considerable amount of planning and effort. Likewise, there are some key limitations that you need to consider. The #1 issue people face is overestimating how much money they can make in a short period of time. Unfortunately, that's due to hype surrounding "get rich quick" schemes and sensational results that happen sometimes for some people.
Challenges involved in Amazon FBA are greater than most people assume.
I'm not trying to say that Amazon FBA isn't a good model. I think it's a powerful one and it can be very effective. But, you still need to be aware of the risks first.
One very significant issue is that Amazon can ban accounts for all sorts of reasons, including things completely outside of your control. This is especially true if you use the co-mingling aspect of Amazon FBA (selling counterfeit/knockoff items) or if you're selling something that people often complain about.
Getting your account banned means that you lose your income overnight and there isn't much you can do to get your account back. To make matters worse, you have to pay Amazon to ship your products back. If you can't afford that, you can get Amazon to destroy them – but they do charge for that too.
This can be a major issue, especially if Amazon was your only revenue stream. To get around this, it's worth having multiple channels and always following Amazon's Terms of Service precisely. If you'd like Amazon's terms explained in plain English, as well as tips on common mistakes, then you need to consider learning FBA from a reputable and updated training program.
Another big thing is that you are dealing with physical stock. Even though Amazon handles much of the work, you still have to source, label and ship those products. Mislabeled or damaged items, incorrect store descriptions, or other unforeseen issues might place the blame on you, and affect your seller account.
Again, these issues can be somewhat avoided with proper training.
Realistically, Amazon FBA works best for people who have a some amount of startup money. Unlike affiliate marketing, which can be started with just a $15 domain name, you probably want to have at least $500 to purchase product you can sell.
Personally, I primarily rely on affiliate marketing for my business. With affiliate marketing, you're promoting products rather than actually selling them. So, instead of having stock, you're just linking people to sites where they can buy the products for themselves.
In fact, you can even make money from Amazon with affiliate marketing if you chose to, as Amazon has its own program called Amazon Associates.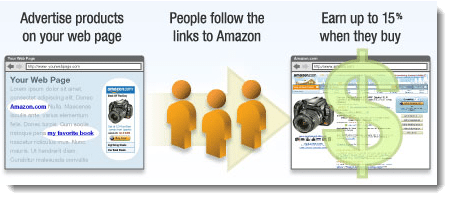 Best Amazon FBA Courses
If you've ever looked at Amazon FBA training before, you may have heard about a product called Amazing Selling Machine. This was an extremely popular product that retails for around $3,500 and it's only available from time-to-time (no longer available at the time of writing of this post)
In fairness, the high price tag is partly because of some value-added components, including an event in Las Vegas. But, even so, the product is incredibly overpriced in my opinion. Instead, you can find similar information in courses that cost a fraction of the price. The best thing about them is that they're available year round, and consistently updated to reflect changes in the FBA program.
One such course is Amazon Bootcamp 2.0. This one comes in at $297 and does also offer a payment plan for those who can't afford the whole fee at once. Now, $297 might seem like a lot for an online course but this one is worth every penny if you're going to be building a six figure business!
It's also worth paying for a decent course because Amazon FBA training can easily save you more than it costs. After all, the alternative is trial and error, which can get expensive fast when you're spending money to buy inventory!
Amazon Bootcamp 2.0 is great because it offers a lot of information about every aspect of Amazon FBA in a newbie-friendly format. For example, you learn about sourcing products online and offline, prepping your inventory and using Amazon Seller Central effectively. Additionally, there is information about what products you can focus on and the various risks involved in the process.
With this course, I was extremely impressed with the overall quality of the videos.
There was a variety of different ones on offer, including some that were PowerPoint based and others that showed you what to do step-by-step, often in an over the shoulder manner. There are even videos showing exactly how to prep and package items for shipment.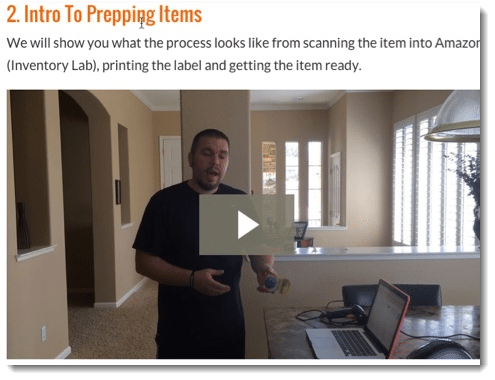 The various videos and written information really do cover every area of FBA. Not only do you get an idea of the individual steps, but you are also introduced to the accounting side of things and the various laws to consider.
Those areas are often missed out in training for Amazon FBA, yet they truly are critical for your business success.
With this particular training option, I particularly like the fact that it is targeted at beginners. So, it teaches concepts from the ground up, which is perfect if you've never sold anything through Amazon before.
The other course that I want to mention is Jim Cockrum's Proven Amazon Course, which costs $299. Of the two, I actually prefer Amazon Bootcamp 2.0, partly because it is easier to follow for beginners. However, the Proven Amazon Course has a few interesting advantages that may make it a better choice for some people.
The most interesting thing about this course is that it is extremely comprehensive. There is a wide range of webinars and video tutorials, in addition to PDFs and other resources.
In fact, there is so much information available that it is a little overwhelming at first. It doesn't help that there isn't as much organization with this program, so it can be difficult to figure out how the different information all connects together.
The end result is that Proven Amazon Course offers more information but that information is harder to follow. As such, it's a good resource for people who already have some idea about Amazon FBA or who are very good at picking up new information. If you already have an FBA business and want to speak with pros (and learn from their training) to grow your current business then this is the course for you.
There is one exception to this conclusion though.
If you plan to use Amazon FBA from outside of the United States, then I recommend the Proven Amazon Course, regardless of your skill or experience level. The reason for this is simple, Proven Amazon Course offers specific training in this area, while Amazon Bootcamp 2.0 doesn't.
Having that extra information really would be critical, because there are extra things to consider if you are operating outside of the United States.
Both courses have active, helpful, and motivating Facebook groups which can also help you build your business. This can be vital to your success, especially if you're a newbie, or someone with experience that's struggling through a few hurdles.
---
The short and obvious conclusion here is that you should learn from the mistakes and advice of the pros. The best way to learn Amazon FBA is through a legitimate, realistic, and thought-out set of trainings. Take a look at the expanded reviews linked above and see which course is going to be best for your learning style and experience level.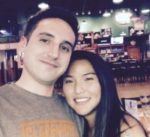 Nathaniell
What's up ladies and dudes! Great to finally meet you, and I hope you enjoyed this post. My name is Nathaniell and I'm the owner of One More Cup of Coffee. I started my first online business in 2010 promoting computer software and now I help newbies start their own businesses. Sign up for my #1 recommended training course and learn how to start your business for FREE!