Penny Matrix is one of those sites that sounds far too good to be true, yet, far too many people end up falling for the scam simply because they want it to be real. According to the site, you can theoretically earn as much as $19,659.60 every single month through the system – and all it costs you is $7.
Those numbers should be a really big red flag.
There is no way that a legitimate business could keep itself going offering that much profit with membership fees as low as they claim. Clearly, there is something fishy going on.
Recruitment, Recruitment And More Recruitment
Making money with this program is all about recruiting other people – a lot of other people.
For example, if you wanted to hit that mystical $19,659.60 figure, you would have to get two people signed up within a two day period, then they would have to do the same and so forth, for 28 days. That doesn't sound too bad at face value, but the numbers of people you have to recruit increase dramatically as you go down.
As the company states, to earn $6,553.20 a month, you would have to indirectly recruit 21,846 people. That's a ridiculous amount of people. There are very few people out there who have those types of connections – and if you do, you can earn much more money with legitimate approaches than you can with Penny Matrix.
The biggest indication is this: Through the program you earn 30 cents per person. 30 cents! That's hardly anything. Because of that, the amount of people you have to recruit to actually make a decent amount of money is pretty high.
Have you ever heard the riddle where you ask someone if they would rather have $10,000 or a penny that doubles every day for a month? Penny Matrix works in a similar way. It sounds like you only get paid pennies, but if you can manage to add to your recruits day after day the earnings add up quickly.
A Pyramid Scam Marketed As A MLM
Penny Matrix is essentially a pyramid scheme. You are earning money by recruiting others into the company and by getting them to recruit others. It's an age-old system and one that simply does not work. Don't agree? When you recruit others how do they make money? They recruit! What's their only incentive to join? To make money!
The biggest issue is that in order to make money, there has to be a constant flow of new members. That might happen for a while, but it doesn't keep happening. After all, there isn't much appealing or unique about this system, and everything that it promotes has been done countless times before.
To make matters worse, you need to get a large number of people under you to make money. This is one of the biggest issues with pyramid schemes. They basically act to funnel money upwards. So, some of the people who have been in the company for a long time end up earning quite a bit of money, but everyone else is out of luck.
As you can see from the levels, you have to get quite a few members recruited under you to earn anything worth writing home about.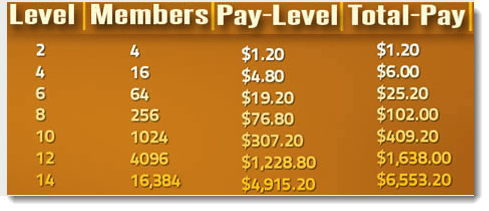 Pyramid schemes are manipulation, pure and simple. They are also illegal. Yet, despite this, you see sites like Penny Matrix pop up all the time.
The reason for this is the MLM trick. A key defining factor in a pyramid scheme is that there is no actual product. Instead, the emphasis is entirely on recruiting others so that they can earn money. As soon as a company introduces a product, they can get around the definition of a pyramid scam.
In this particular case, the products that Penny Matrix offers are eBooks. Members get to choose one eBook each month from a website called PME Books. I've seen this same site promoted in other cases where sites are trying to mask a pyramid scheme.
Basically, PME Books offers a range of eBooks for sale. Members of their program are able to upload books and set pricing for them. So, you end up with books that look like these:
The problem is that you have absolutely no way of knowing about the quality of these books. Some of them might be good, but others may well be horrible. Certainly, they probably aren't books that you would go out and buy yourself.
Realistically, the product side of Penny Matrix is a sham. No one is going to join the company just to get one of those eBooks free each month (in fact, you could buy one each month at a lower price than the membership). Instead, people are only ever going to join for the money making side of things. With Amazon Kindle and Audible with millions of books available at the touch of a button (and good prices) why would you want to be reading these lame titles no one has heard of?
MLM Versus Affiliate Marketing
Technically speaking, the presence of actual products probably makes Penny Matrix fall into the MLM category – although I personally feel that the company is a pyramid scheme without a doubt. There are some legit MLM companies out there, but Penny Matrix is not one of them.
Personally, I'm able to make money online through affiliate websites. I create a website on a topic I enjoy, then put ads on the website to get paid per click or per sale. Yes, it earns me a full time income.
With this approach, you are promoting products from other companies – legitimate companies, like Amazon and many others. These companies are brands that people trust, and there is a real, valuable, physical (or digital) product that the buyers receives. You are not selling an "opportunity to get rich".
You can learn how I got started in affiliate marketing and how you can start your own affiliate business here.
Whatever type of product you decide to promote, it's important to own your own website to grow your business.
Parties only work if you have a network of friends with money in their pockets. Network marketing only works if your friends are interested in joining business opportunities.
With a website you can reach the entire world, and only promote great products to people interested in what you have to say. Plus, you open up doors to multiple streams of revenue like affiliate sales, ad click revenue, paid advertising, and even selling your own digital products.

What's up ladies and dudes! Great to finally meet you, and I hope you enjoyed this post. My name is Nathaniell and I'm the owner of One More Cup of Coffee. I started my first online business in 2010 promoting computer software and now I help newbies start their own businesses. Sign up for
my #1 recommended training course
and learn how to start your business for FREE!

Latest posts by Nathaniell (see all)