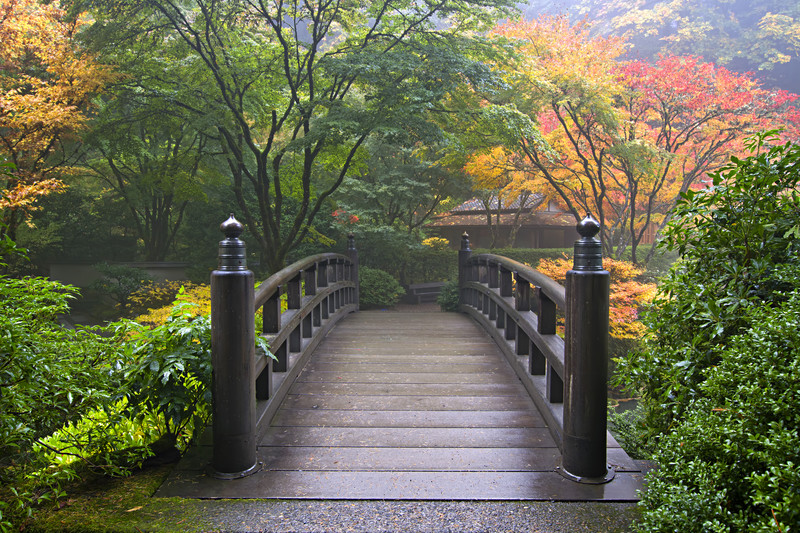 Wealthy Affiliate November Updates
November is a busy month for affiliates in general because Black Friday is quickly approaching, and Wealthy Affiliate was a flurry of activity as well. Many affiliates experience their very first sales during this time period because conversions and traffic increase across the board. Everyone is starting to do online shopping!
You know what else that means? If you have an established website, you might see income double or more during this time period. If you haven't built your site yet, it's too late to do much before December 2019, but you've preparing for Nov/Dec 2020 is a good idea.
OMG a whole year? Yeah. That's just how things work. Sorry guys. No lambos here.
Not sure what Wealthy Affiliate is? Here's the full review.
November Webinars
As a Premium member of Wealthy Affiliate, you can attend a live webinar training every single week. Plus, you get access to hundreds of previous webinar recordings in the Live Training area. New topic every week!
Keeping with the theme of conversions, Jay's webinars were all focused on that topic, covering how to get, track, and scale conversions on your website. Plus, there was a live Q&A during Black Friday for all the new members coming in. Kind of like an AMA (Ask Me Anything) if you've ever heard of those. Watch all four and see Jay's "Movember" mustache grow in real time.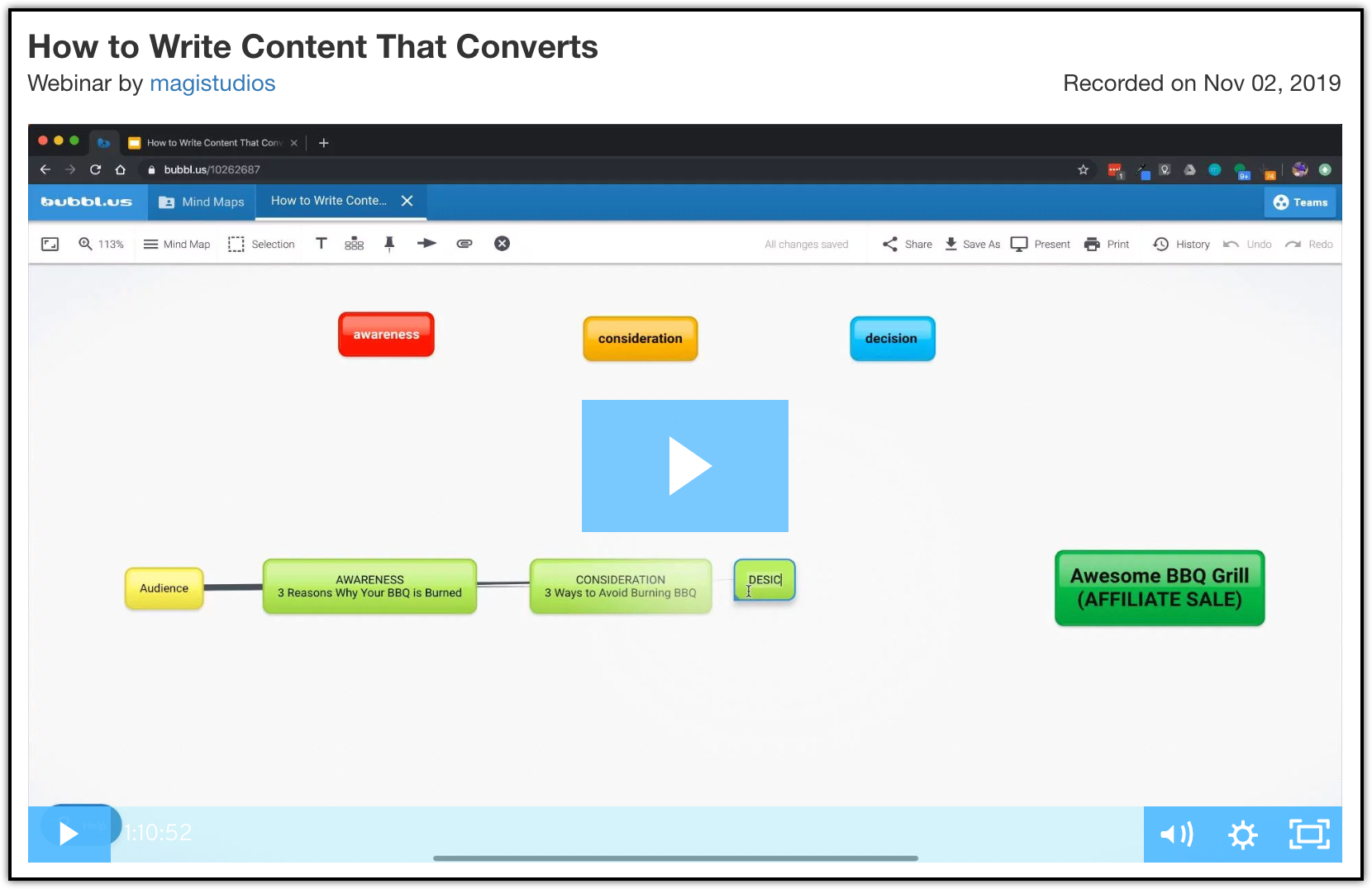 How To Write Content That Converts
Start from the basics and learn what is a "conversion", and broad concept of how to inform and educate your audience through your content. Then follow along in the step by step process of Awareness > Consideration > Decision to map out a content strategy. Fit all three into a single blog post, like a product review, or create three separate blog posts that lead people to call to action!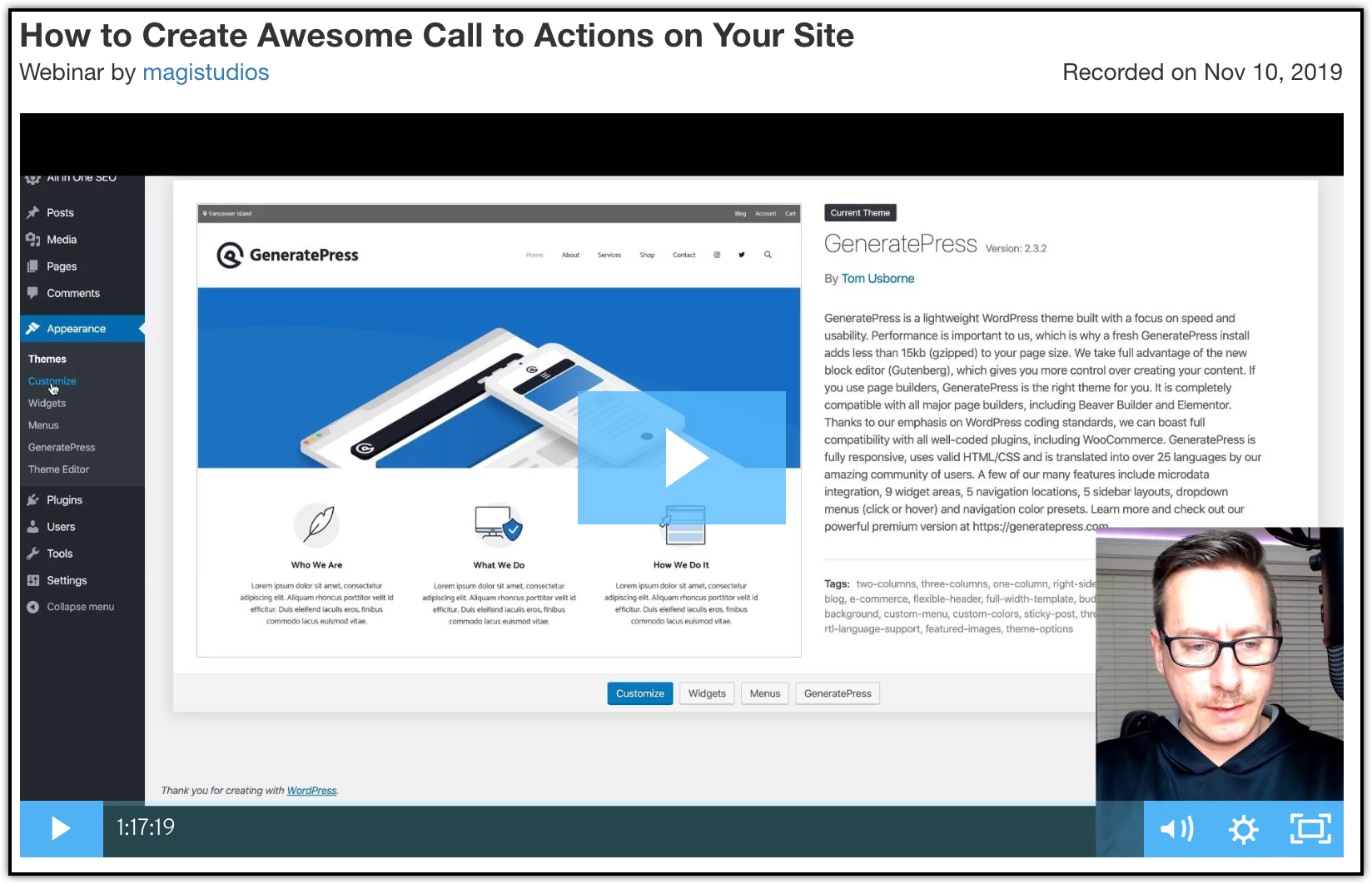 How To Create Awesome Call To Actions On Your Website
Learn what a "Call to Action" (CTA) is, plus some obvious, and not-so-obvious examples you can use on your own website. See some potential spots to add CTAs for conversions, while still sending Google positive SEO signals.
After 80% of members said, "YES", they would enjoy watching Jay write an article live, that's exactly what he did. As he writes the article, you can see how he keeps relevancy in mind while writing call to actions on his electric apple peeler niche website.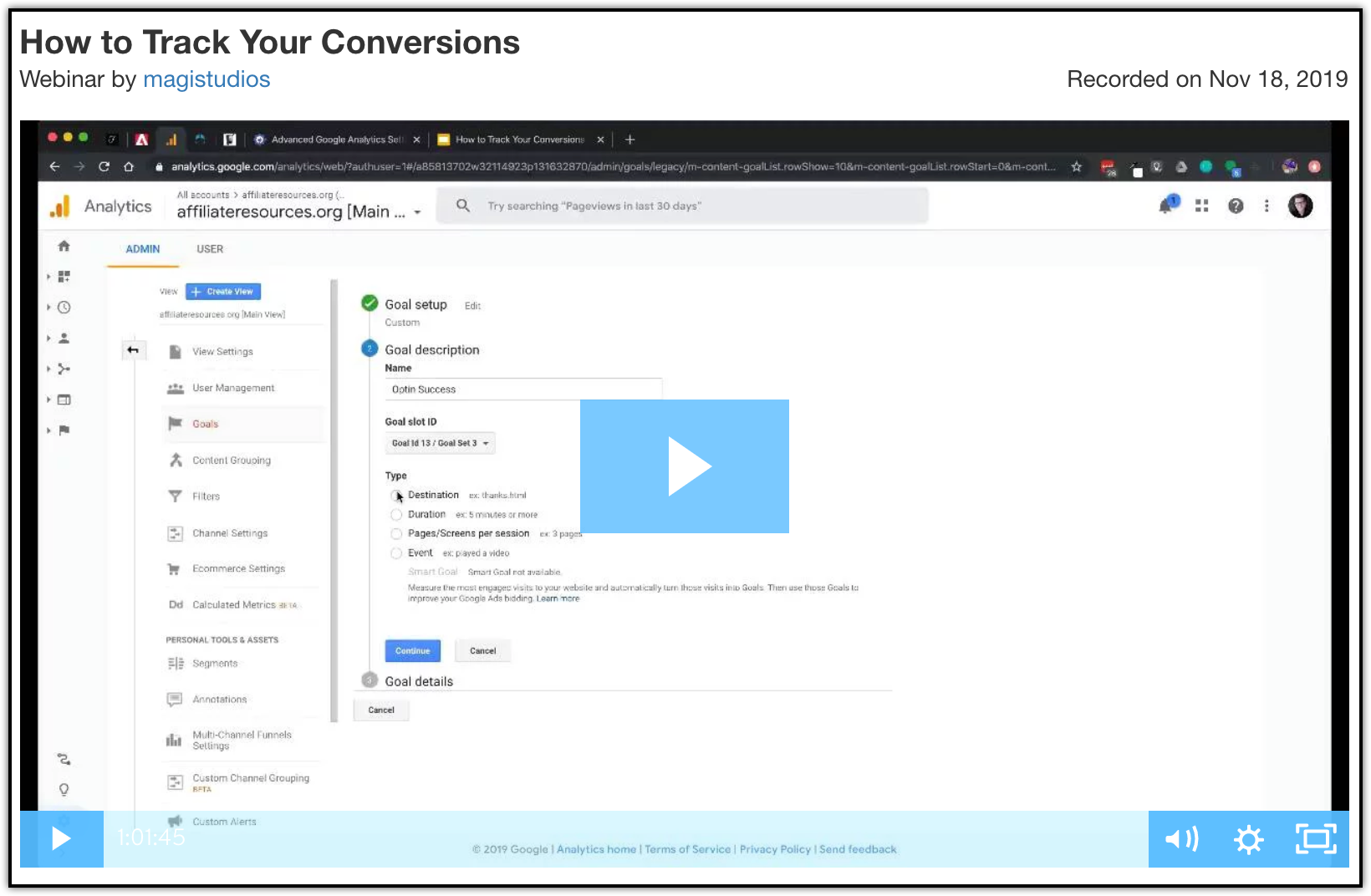 How To Track Conversions
You're getting traffic, clicks, and sales…but which pages are performing the best? Tracking conversions helps you learn where should you focus your attention and follow the 80/20 principle, optimizing your best performing pages.
Conversion tracking can be done with Goals and Events in Google Analytics, the most popular (and free!) traffic analytics tool online. Use Goals to figure out where people are coming from when they land on a specific page.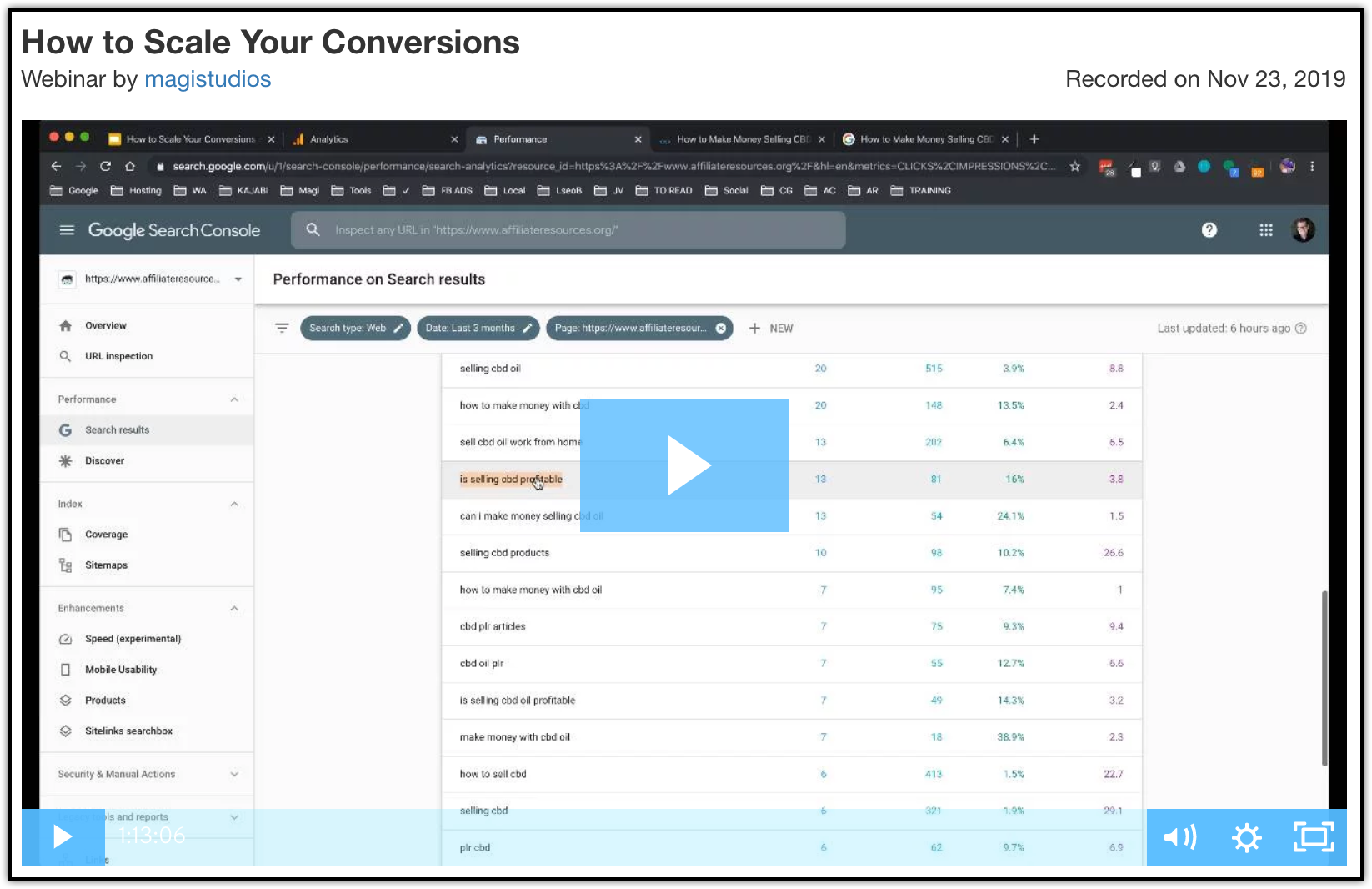 How To Scale Your Conversions
Now that you're tracking conversions and the data starts coming in, it's time to put the data to use! Leveraging the All in One SEO Pack and Google Analytics, Jay shows us how to reverse engineer the results using Events and Goals in Google Analytics.
Check out where conversions are happening, and focus on boosting conversions on one page. When you figure out what works on that page, rinse and repeat for other pages on your website.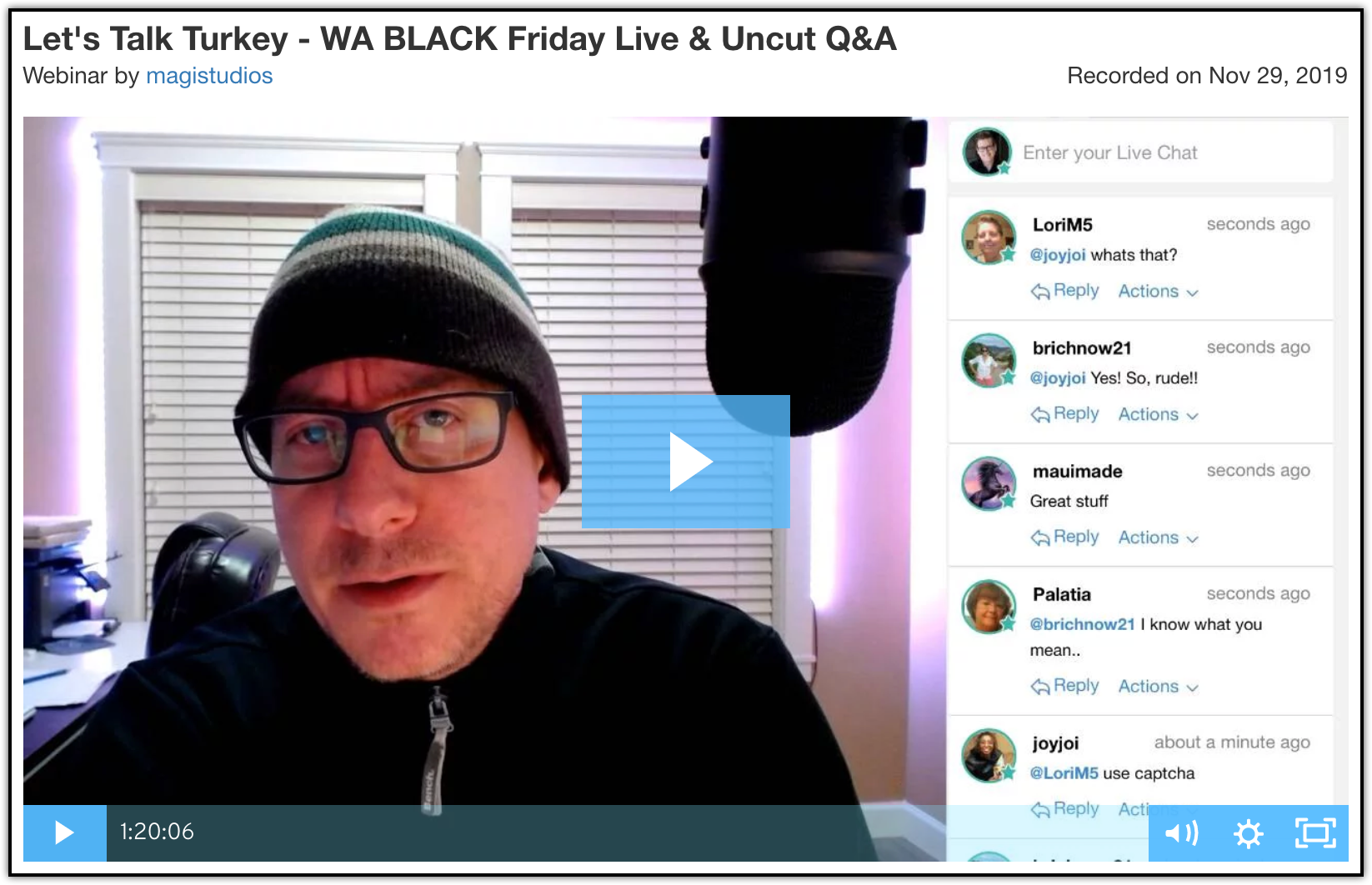 Black Friday Live & Uncut Q&A
Throw spaghetti at the wall and see what sticks! People asked Jay everything under the sun about affiliate marketing, Wealthy Affiliate, online business, and more. The Black Friday deal is over, but you can still attend weekly webinars and ask questions in the Live Q&A at the end of every webinar.
Top Blog Posts
November is a month where a lot of affiliate sales start to skyrocket. That also means a lot of newbie affiliate start to make their first sales as well. The thing that a lot of people forget is that a million dollar business starts with just one sale. There will be many ups and downs during the path to "success", but a small, single-digit dollar amount for your first sale is a good sign. Celebrate small wins!
Not all wins are small though! Of course, affiliate marketing offers humongous opportunity for those who stick around long enough to see results. There are many Wealthy Affiliate members who are there for multiple years, even over a decade! Myself, I've been there for 9+ years now.
Did you know you can make really good money writing? All these affiliate website owners are outsourcing content, and as a writer, you can get paid! It doesn't matter if your writing converts to sales or not. Let them worry about that. You can charge per word, per project, or per hour, and make decent money writing for websites just like this one.
People who focus on developing writing skills and a client base can then fun their Wealthy Affiliate membership. Imagine making over $700 for writing online articles!
Lastly, of course, I like to pick out some advice from members which I think could help you in your business journey. For example, did you know that affiliate marketing is a 12 BILLION dollar industry? I'd be OK with just 1/12th of that. What about you?
Top Training
Did you know that Wealthy Affiliate members can create their own training? Though the "main course" is a high optimized, step-by-step course designed to get you to make progress with your affiliate business, there are thousands of member-created training modules which give you a look into other affiliate businesses. Check out what plugins people are using, or what tips they have to get more traffic, make more sales, and get inspired.
Some trainings are super simple, aimed at fresh newbies, while others are more advanced. Some are specific, like how to do a specific thing, while others are more conceptual. Learn from each other, and grow your businesses together! These are all included with a Premium membership.
My Content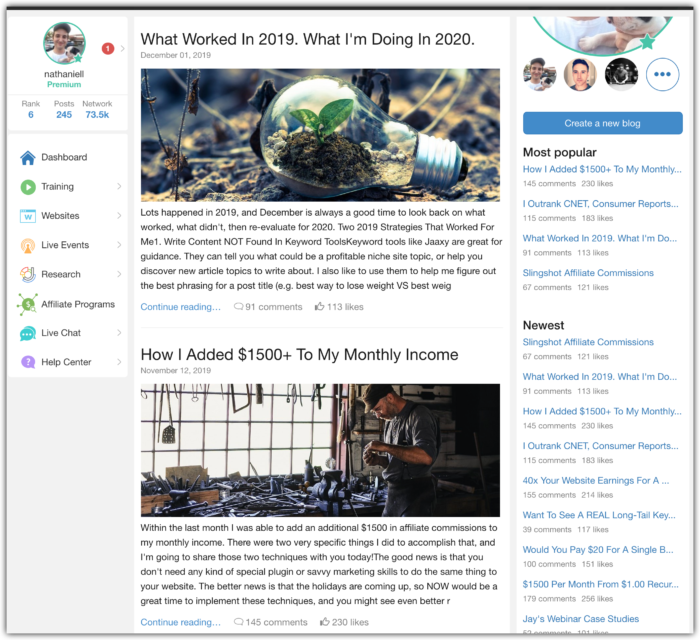 I'm logged into Wealthy Affiliate every day, giving advice to my referrals. I'm still a member, and an active one at that! I try to publish one or two training modules or blog posts on top of that. Some is tutorial style, some is inspiration, some is just looking at a successful affiliate business so you can get an idea of what's possible, or how to achieve it.
For example this month I published a blog post titled: How I Added $1500 To My Monthly Income. Basically, I added "#1 recommendation" links to the top of a bunch of my rankings posts, and conversions started flying in. Normally, you'd expect people to read the whole post, then click on the final link at the bottom. After all, customers want to be informed, right?!
I guess not all the time! There are enough top-page clickers who just want a quick answer, and this move definitely increased clicks and conversions for one of my niche websites.
Also, do you think that your niche is too competitive? Are you worried that page 1 is too crowded? Well, even as a small website owner, and even as someone who doesn't engage in black hat SEO, my websites still outrank the big boys. Here's my post: I Outrank CNet, Consumer Reports, TheWireCutter, Business Insider, and Engadget. It takes time, for sure, but it's possible. You're much more nimble as a micro business than places like those who don't really understand the core needs of their niche audience. Being an expert pays off long term!
Final Thoughts
Would you like to learn how to build your first affiliate website? Already have one, but you can't figure out how to actually make money? If you aren't making a full time income from your affiliate website yet, then you can gain a lot from becoming a Wealthy Affiliate member.
For 14 years they've been dominating the industry with proven affiliate training, and a wholesome affiliate community focused on getting you to make progress, earn money, and a build a business you can rely on for consistent income. As a 9-year member who got my start on Lesson 1, Level 1 of their training, I can honestly say they are the best.
You read more about how affiliate marketing works on my website here, or join the Starter Membership and check out the training & community for yourself. Click one of the affiliate links on my website to register as my referral, and be automatically enrolled for 1-on-1 coaching as you build your affiliate website.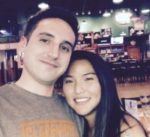 Nathaniell
What's up ladies and dudes! Great to finally meet you, and I hope you enjoyed this post. My name is Nathaniell and I'm the owner of One More Cup of Coffee. I started my first online business in 2010 promoting computer software and now I help newbies start their own businesses. Sign up for my #1 recommended training course and learn how to start your business for FREE!
Reader Interactions