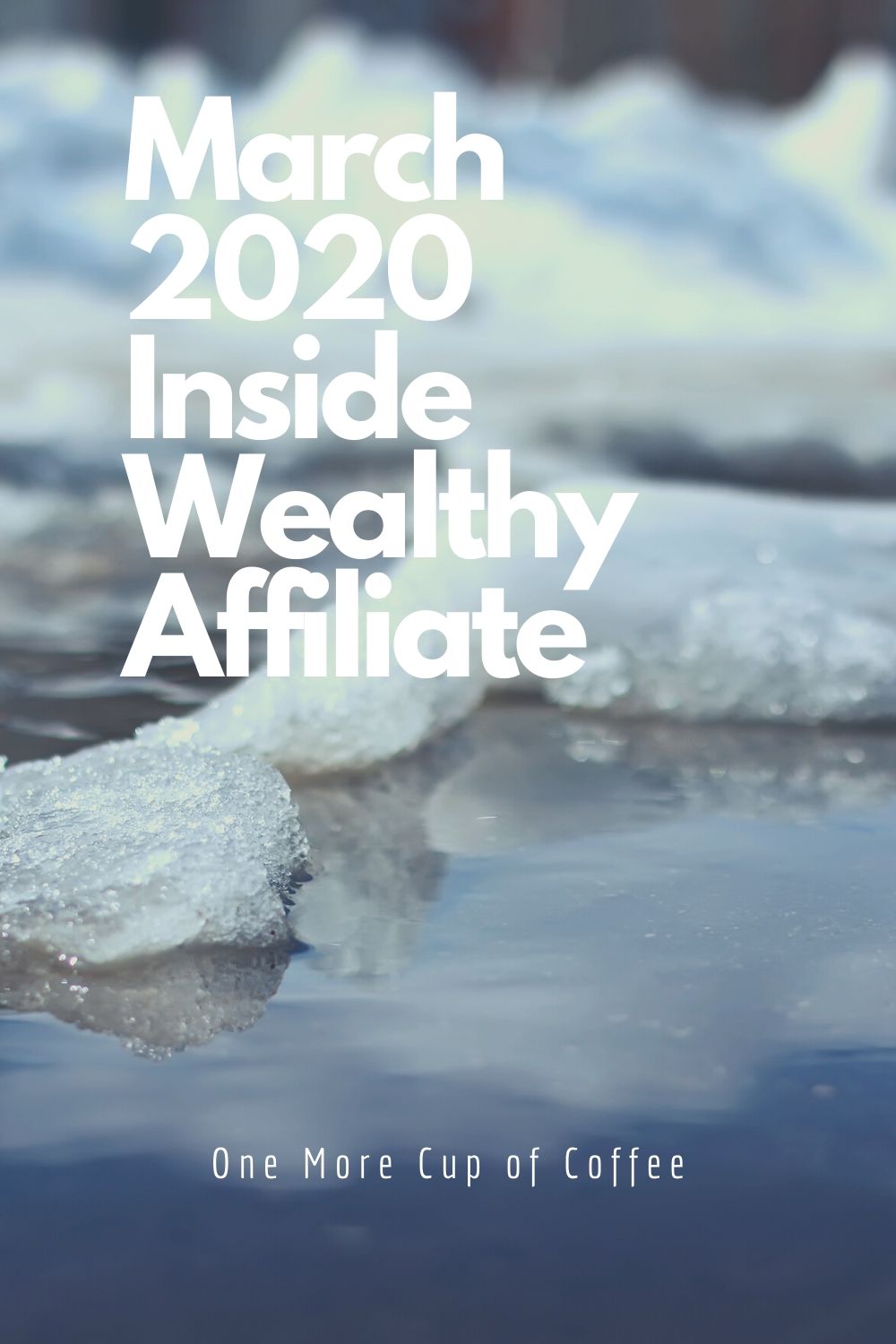 Wealthy Affiliate March Updates
Well, shit. March went downhill fast. I remember at the beginning of March telling my wife about how this Coronavirus stuff is all going to blow over in a week. I was wrong. Now I've swung the other way. I think this is just the beginning. We'll be feeling the repercussions of turning off the economy for many months, if not years down the road.
I'm very thankful that I'm able to work online and earn money through affiliate marketing. My job is certainly not essential, but I'm still making money. The only thing that's changed is that I can't go out to eat as much and I can't get to the gym so I have to drag myself around the block a few times per week for a run.
You might be thinking that you are too late to get involved in starting an online business.
It's going to take months to start making sales! All this COVID-19 stuff will be gone by then!
You might be right. But you might be wrong. As of now it's looking like the entirety of April is going to be quarantine, and that's a hopeful estimate. Even after that, businesses are going to be struggling to stay afloat. How many people are going to rush to bars and restaurants, and how many people will still be a little afraid of catching the virus?
My advice? If you've ever wanted to start an online business, now is a good time to start. Learn about how Wealthy Affiliate can teach you to start a profitable affiliate website in my in-depth review.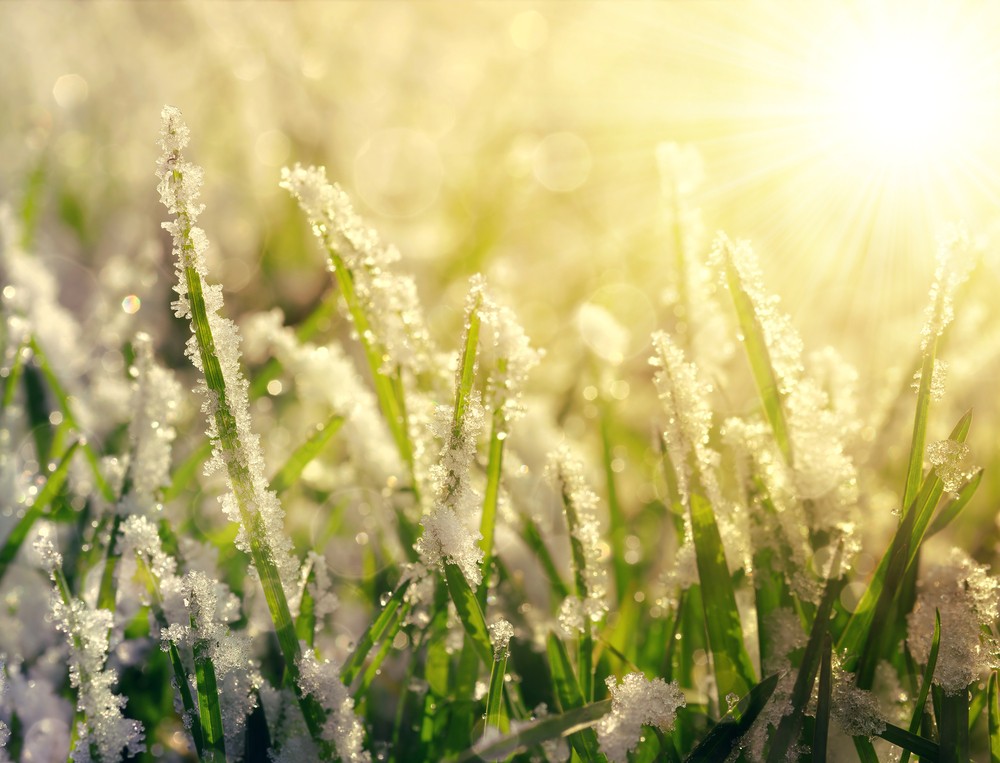 March Webinars
March was all about content creation. In my opinion, this topic can never be overdone or overemphasized. The vast majority of writers out there are not very good at it, and even the good ones could always improve! Many people get stuck overestimating the value of their content because they want to rank, instead of deserve it.
Being a good writer doesn't mean you know perfect grammar or that you write "long" articles. It means you know what people are searching for and how to deliver that request in an easy-to-digest manner.
You can always pick up tricks by learning how other people write content. I know that I tend to be too wordy, and am not very entertaining. I write from a stream of conscious, then don't edit for clarity, and when I look back at my articles 1-2 years later I cringe. So many typos and unnecessary sentences! It's something I'll continue to work on.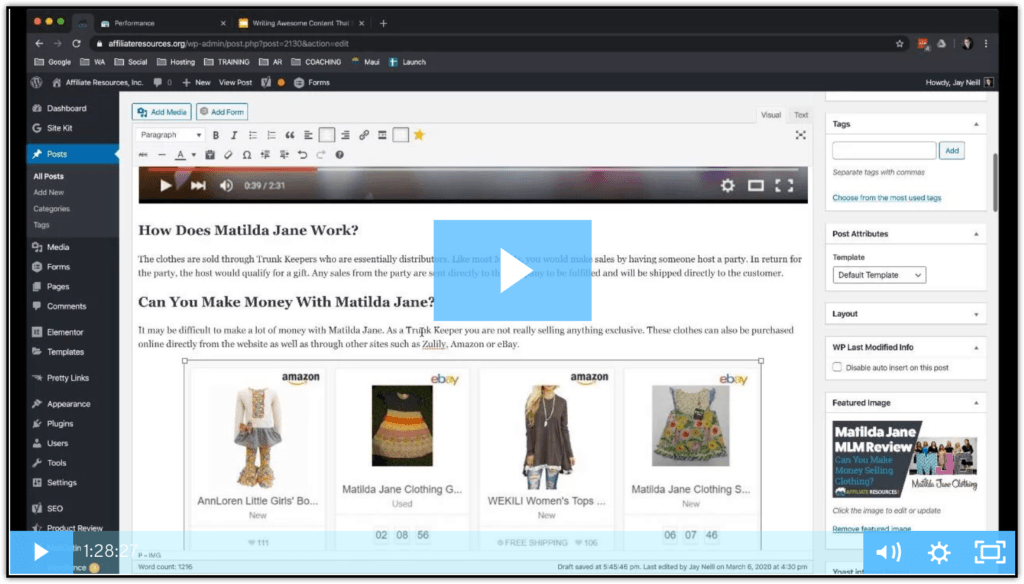 Writing Awesome Content That Ranks
This webinar focuses on the basics of writing content with search engine optimization in mind. Despite what the "gurus" say, you can rank a massive amount of content without building any backlinks. Good on-page SEO starts with a good content writing strategy!
Recorded on Mar 13, 2020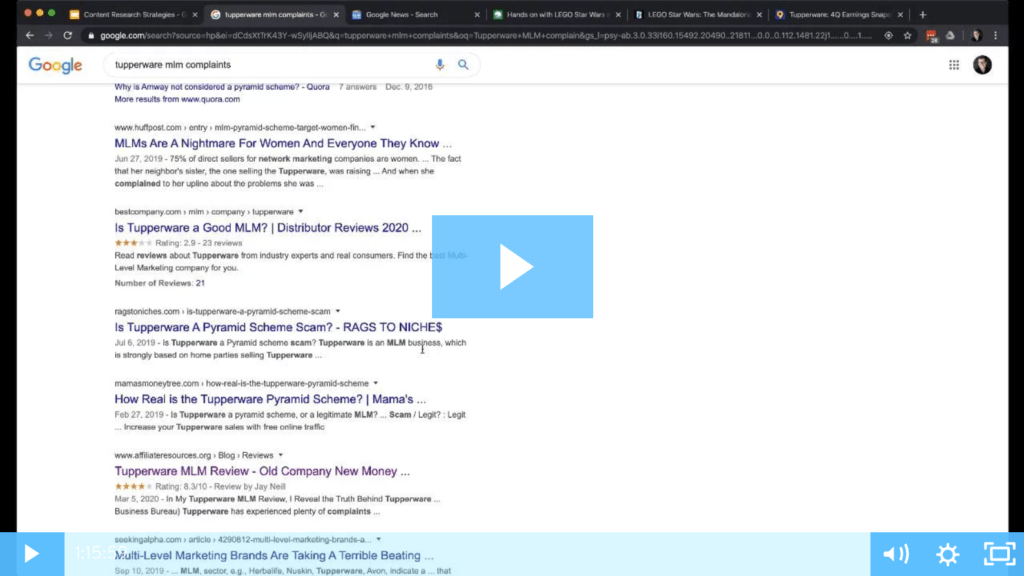 Content Research Strategies
As a beginner, it's likely that you'll think you ran out of content ideas after a couple months. However, there are an infinite number of topics you could cover. Even super popular topics which have been done to death could still use your own voice into the mix.
There is literally an endless number of topics you could write about for any niche, assuming you chose your niche correctly!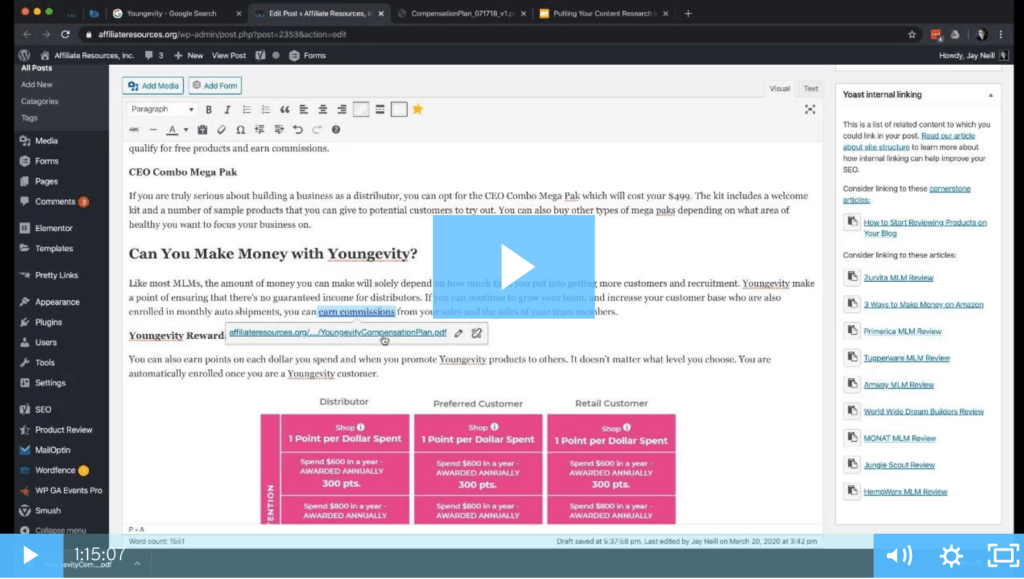 Putting Your Content Research into Action
Watch Jay put together a blog post live, including writing content, adding images, formatting headings & text, and creating outbound/internal links. Watch the process live, and see if there's anything missing from your content creation habits.
Recorded on Mar 30, 2020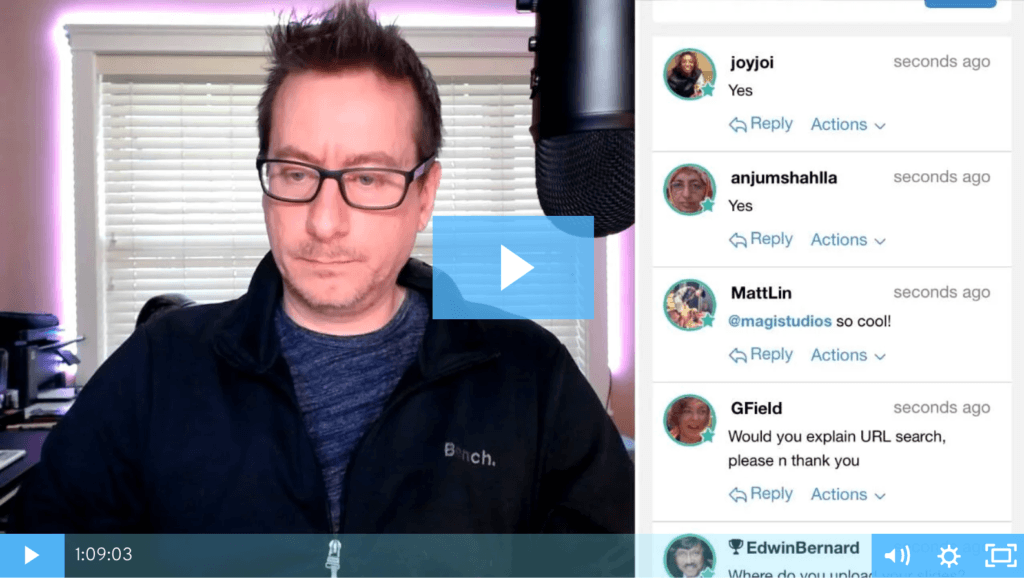 Marketing and Promoting Your Content
Should you hit publish and then bye bye? Nope! That's what I tend to do because I'm lazy and cut corners, but the real pros have a set of techniques and habits they have to make sure their content gets the full exposure it deserves, driving traffic and sales to your website.
Top Blog Posts
One of the main appeals of the Wealthy Affiliate community is the awesome members. Each month I like to highlight a few of my favorite posts from the month, including some success posts!
To start off, Tim is a successful Wealthy Affiliate member and affiliate who I've met in Las Vegas a couple times. I think this post about waking up to a surprise $125.94 from Shareasale is a great story, and it's happened to me many times before. In fact, back in the day when I was promoting VPN affiliate programs, there were some accounts I'd only log into once or twice per year and discover hundreds of dollars in forgotten commissions.
I typically try to focus on promoting just a few products at once, but I always include affiliate links where possible. If you aren't paying close attention (as is typical for me), sometimes posts will sneakily rank and start making money for you in the background.
Even better though, was this post from Paul who had his first $1,000 month in March…then just seven days later reached $2,000! Some incredible notes from the post:
no social media
no email list
no adsense
only works part time (10-15 hours per week)
only a few YouTube videos for SEO purposes
UK-focused audience
According to a previous post, he's been tinkering on his site for about three years, and he's utterly shocked at how fast things are starting to snowball. Congrats Paul!
Here's a blog post from @Dale123 comparing the results of two websites he launched, and how they each have different amounts of content and different amounts of traffic. My advice is always to write more content for more results, but according to Dale's data, the website with fewer posts is getting more traffic! It just goes to show you that high quality content in small amounts can also work when compared to medium or low quality content in high volume!
March 2020 had no shortage of "first sale" posts as well. Here are eight that came through my feed just for the month of March! Many, but not all of them, are promoting Amazon's affiliate program.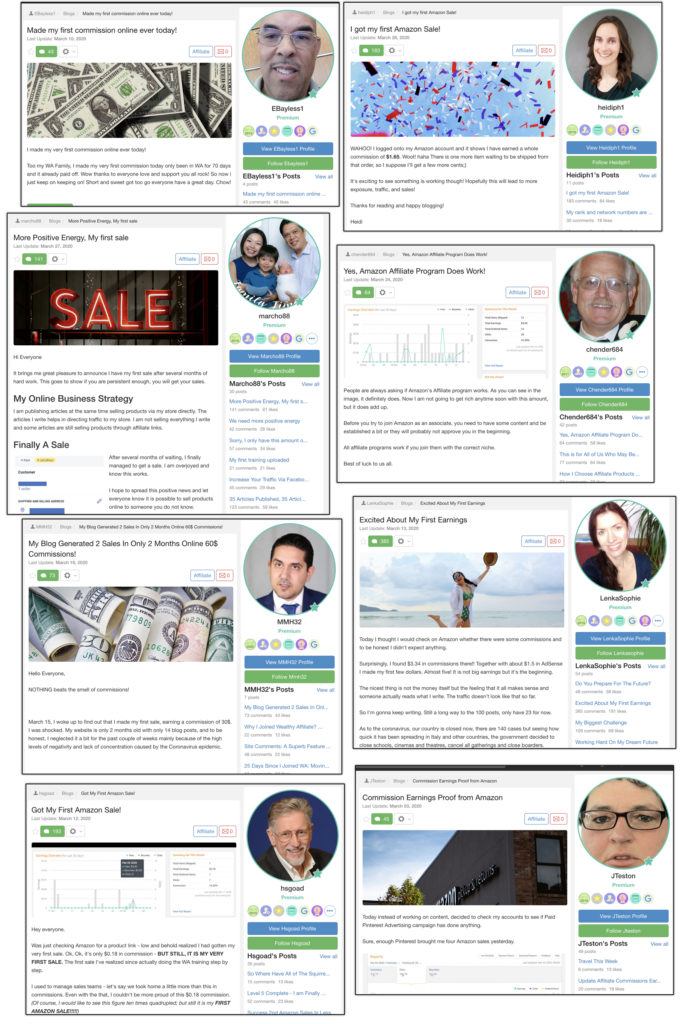 Top Training
Wealthy Affiliate members can create their own training modules based on what they know how to do, and even earn money within Wealthy Affiliate for getting likes, comments, and shares on the post. These modules are outside of the main training, but it's always good to know tips, tricks, and techniques other entrepreneurs are using to grow their business!
My Content
March was a long month, so I published five blog posts. I'm trying to be more consistently active in the Wealthy Affiliate community now that I'm doubling down my focus on One More Cup of Coffee for 2020. The way I see it, the more I engage in the community, the more people see me as a human who actually cares about the results I help my referrals get.
More activity means more benefits for the community as a whole, and that means more activity from other members as well. As the saying goes, a rising tide lifts all boats, right?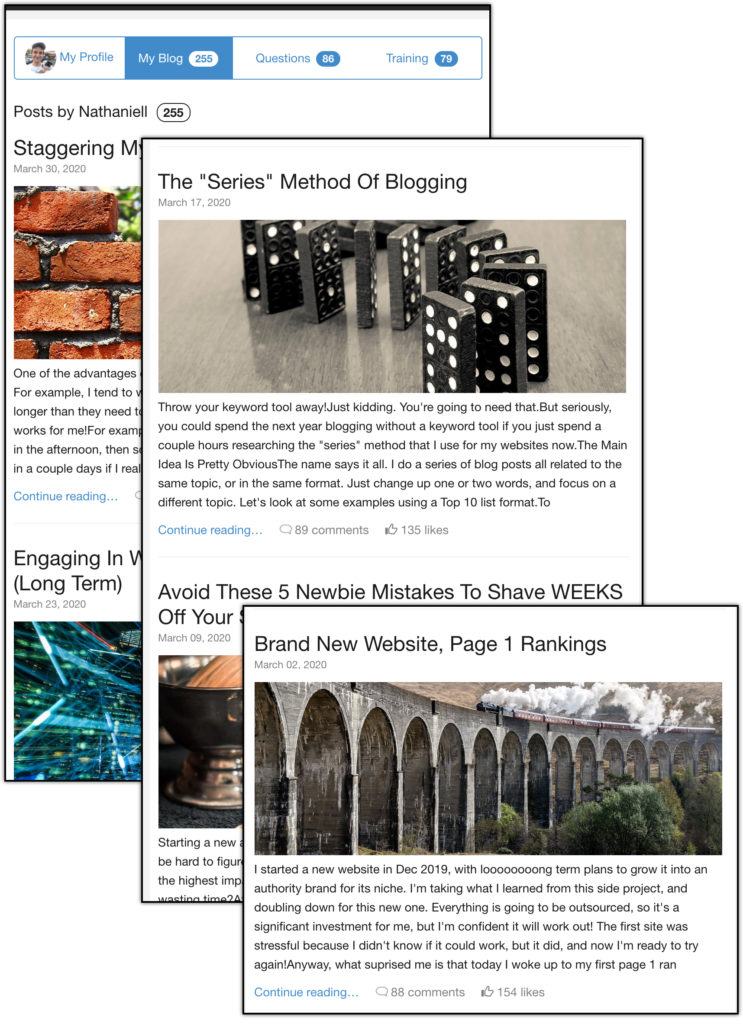 I think my favorite blog post to write this week was the one listing the top five newbie mistakes people should avoid. I had written something about that before, but I revamped the content to include more details about why these mistakes can delay your progress towards getting traffic and making sales. I guess my enthusiasm for the topic came through in the writing, because it was my all-time, most liked post with the most engagement (comments) of anything I've ever written in WA.
Speaking of engagement, I also write a post about how engaging in Wealthy Affiliate will boost your chances of success. So many folks start out in online business alone in their office or bedroom, and nobody believes in their goals to start their own online business. To be fair, it sounds like a crazy idea to a "normal" person working a 9-5.
Being able to talk to likeminded people on a daily basis and reach out for help, advice, or motivation makes a huge difference when you get frustrated or even depressed about not getting results as fast as you like. It can also be a practical thing though, since you'll meet lots of experts, or soon-to-be experts who can help you when you get stuck.
Nowadays, I need to make just one personal connection per year and it can justify the cost of a few hundred dollars a year for my membership fees. Meeting just one person who says, "Hey man, why don't you do this differently" could result in multiple thousands of dollars per year extra revenue for me.
I also had a short humblebrag about getting some fast page-1 rankings with my newest side project affiliate site, which will be 100% outsourced.
In another post I revealed my "series" method of blogging, which is a content creation technique I use to get ranked for keywords which are not available in ANY keyword tools. Sometimes, the best keywords are "secret", and you actually have to be an expert in your niche to discover them. Blogging is not dead!
Final Thoughts
In terms of life in general, March kinda sucked with all the COVID-19 stuff, quarantines, and people fighting over toilet paper in the grocery stores. However, it was a banner month in terms of traffic and revenue, and April is already looking like it's going to continue that way.
I think people being stuck at home means they're online more, and although lots of people are out of work and don't have the money to spend, there are still hundreds of millions of people who have full time jobs, or may even be working overtime They have money to spend and time to kill, and anyone in the home gym niche is probably making a killing.
Want to start your own fitness website? Here are some great fitness blog name ideas. There's always a way to make money for entrepreneurs who keep their eyes open, even in chaotic times.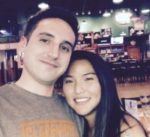 Nathaniell
What's up ladies and dudes! Great to finally meet you, and I hope you enjoyed this post. My name is Nathaniell and I'm the owner of One More Cup of Coffee. I started my first online business in 2010 promoting computer software and now I help newbies start their own businesses. Sign up for my #1 recommended training course and learn how to start your business for FREE!
Reader Interactions