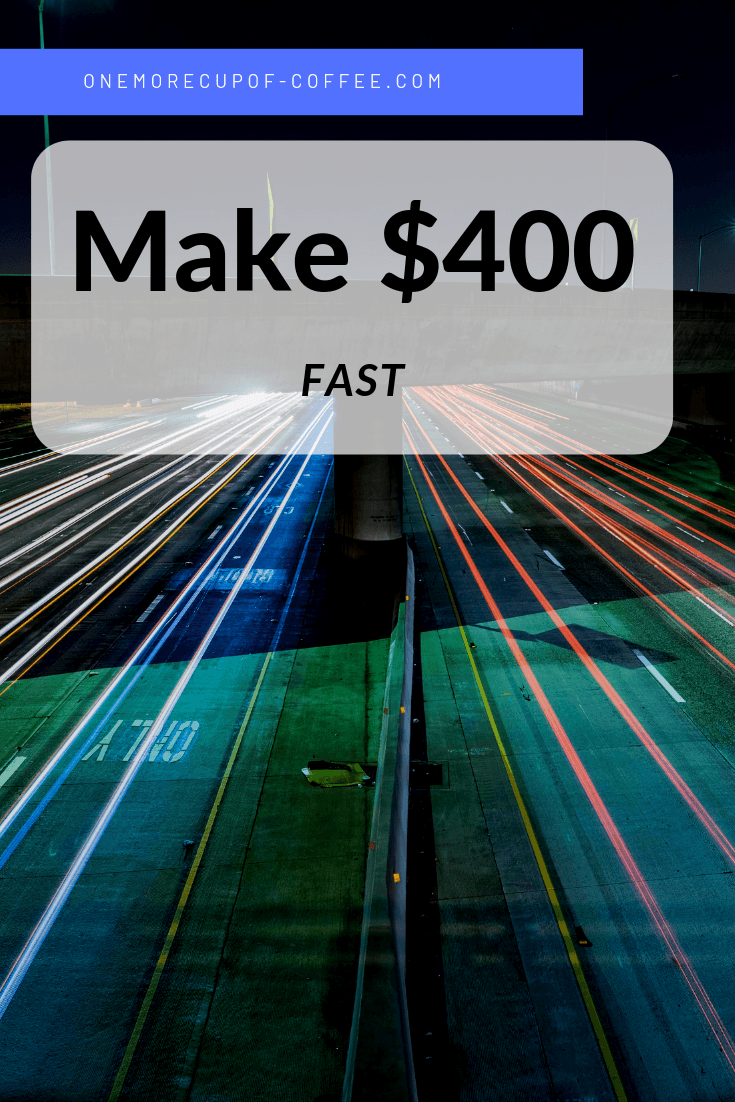 In this article, we're going to look at a number of different strategies to make $400 fast. It's not unusual to find yourself in desperate need of some quick cash for a one-off expenditure – we're all been there.
Lucky for you, $400 isn't much in today's dollars, so there's plenty of options to get that money, including selling things, renting out property, working overtime, or even starting a small business.
Obviously, getting $400 "quickly" won't be as quick and easy as if you just wanted $50. While there are some options you can still do to get your money within a day or two, some of these tips will take a couple of weeks.
Got another idea? Leave a comment and add it to the list. I'm also updating this list from time to time as I brainstorm more ideas.
How To Make $400 Fast
Selling Stuff Online Or In Person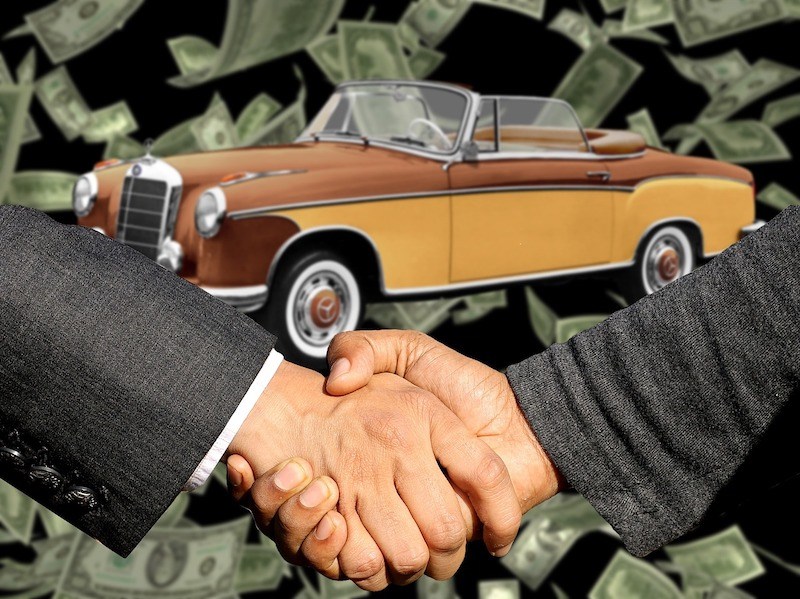 One of the best ways to make a bit of cash quickly and easily is to sell something you already own. While there are options like eBay for those who've got a bit more time to shift almost anything – these aren't the fastest ways to get that money in your hand today.
Sell Your Car
This is one of the quickest easiest and simplest ways to make a bit of money – but you'll have to decide if it's right for you. If you've got a vehicle that you don't really need – it's not difficult to get $400 (or even more) for it.
This will only really work if you have other means of transport and don't need your car for something specific on a regular basis. You might even be able to walk to work instead of using your existing vehicle.
To get your money quickly – you're better off selling to trade. Yes, you could advertise your car in any number of places, but that could take weeks. It takes time to list your vehicle yourself and then wait for people to come and see it.
If you go straight to trade, most dealers will buy your car straight away, potentially even for cash. That means you could get your money today.
One thing to remember – most dealers will pay slightly lower than the amount you'd get in a private trade. That's because they need to make a profit too. You'll have to weight up how quickly you need the money with how much you want to get for your vehicle.
For a fast sale you can also try places that sell used cars, and have a good reputation; places like CarMax. You can also try new options like the Peddle service, which claims to help you sell your car instantly, and they even come to your house!
I can't speak to what type of offers they give, but the idea seems pretty convenient! Shift is another, newer app-style service with a unique way to sell.
Buy And Sell Cars
Don't worry if you're hesitant to give up your own vehicle. You can also make money by buying and reselling cars. As always, the trick is to purchase items that you can turn a profit on.
One way of doing this is to add value. For example, if you have a mechanical background, you could buy cars that need repairs, fix them up and then sell them on.
This can be a fairly fast way to earn money, but you'll need an eye for good deals. It also helps to have a good sense of your own limitations. After all, it could get expensive if you buy a car and never get it working right.
Sell Your Plasma
In some areas, people give away their blood plasma for free. But it's actually something you can get paid for.
Have a look around your local area. Many blood centers offer over $50 per donation. While you need to have a little break between giving blood, you could get that $400 in not much over a month.
Your body provides plasma for free, so it won't cost you anything apart from a bit of time. Be prepared to have full identification papers and other documents before you can sign up. It'll also take a while to get your money – they don't tend to pay for plasma with cash in hand.
Have A Garage Sale
It seems obvious, but you'd be surprised how much money you can make at a garage sale. In fact, there's a whole culture of garage sale shopping that's happening in your city right now!
If all you need is $400, then you could definitely do that in a weekend. If you really need the money, you'll just have to be willing to fold to a few aggressive negotiators, and let go of things at a price you aren't super comfortable.
For example, a table you bought for $200 might not sell at $100. If someone offers $50, take it. The goal here isn't to get max value. It's to reach your goal of $400, and every dollar you get gets you closer.
If you simply can't sell it for less, one good tactic to include another similar item to sweeten the deal. Maybe that table would look good with a free lamp. Or a free lamp and you'll deliver it for free too. Here are a couple more garage sale tips to help you maximize your earnings.
Be Savvy With Buying And Reselling
If you're willing to invest a little time and money, then buying and reselling can be an interesting way to make money. There are two ways to go about this technique.
The first is to try and buy at a low price, such as buying items in bulk and selling them individually, or by relying on sites like Wish or Flipkart. This style can work well, but you need to do your research carefully.
It's easy to end up with products that seem like they should sell well, but simply don't. That type of situation can be a serious issue if you purchased items in bulk.
The second approach is to add value instead, such as by refurbishing old furniture (which can often be found at a low price). Focusing on smaller ticket items means that there is less risk, it will take longer to hit your $400 goal.
If you have the skills, more expensive items could help you earn more money quickly. Flipping bicycles and selling cars are two options that work well for the right person. I'm sure that you can think of others too.
Renting Out Property For Recurring Income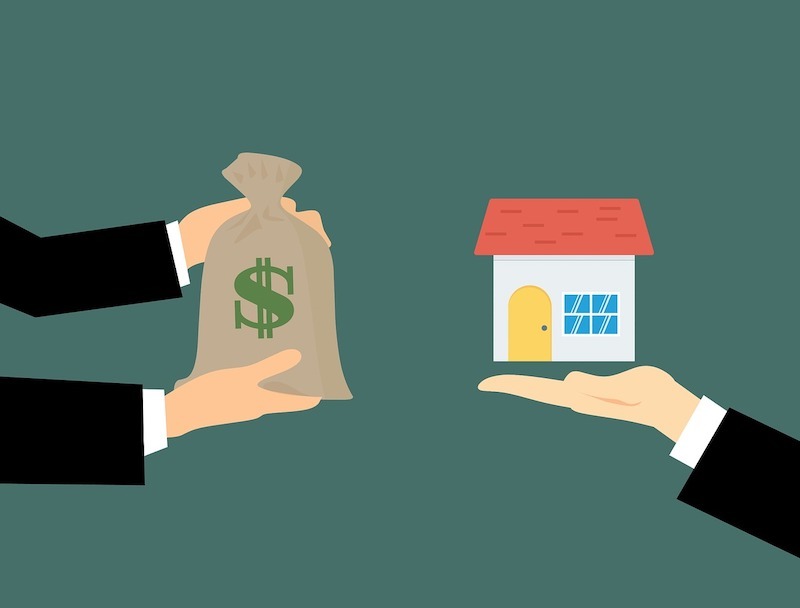 If you've got something valuable that you don't want to sell – you might be able to rent it out instead.
Rent Out Your Room On AirBnB (Or Independently)
If you've got a property in a popular location, you'd be surprised how much demand there might be for it. You could get that $400 for just a few night's stay on a site like AirBnB. However, listing your property and waiting for bookings could take a while unless there's a ton of demand for your specific location.
You could try and drop your prices a bit to try and get a quicker booking. Just make sure you're allowed to let your property in your specific location, as some areas have recently banned AirBnB.
Another way that could get you some quicker cash is to rent out your room to people you know. That way you won't have to wait for bookings and then for the money to clear. You could get the cash straight away.
Simply ask around and see if anyone you know needs a room. It doesn't even have to be a room to sleep in, you could rent out your garage to a local band to practice in, or think of another original idea to make that money.
Rent Out Space
A simple way to make money with your house is renting out storage space. This might be your spare bedroom, garage or basement, depending on what you have available.
Many people would readily pay $400 for long-term storage. The idea is certainly more appealing than having to pay monthly for storage from a company.
Likewise, some people may want somewhere to store things while they look for a better place to live. This pattern is especially common in places where the rental market is difficult.
Rent Your Car Out
If you've got a car that you don't want to sell but don't need that much – you could try renting it out privately.
While most car rentals do go through the big companies who have dealt with that sort of thing for a while, there are a number of new apps and services that help private people rent out their own vehicles. HyreCar and Turo are two options, but there are more out there, especially on a local level.
You'll need to make sure your insurance covers everything – and you might have to wait a while to get a booking. Again, another way to get your money more quickly is to rent your vehicle to someone you know for cash in hand.
Rent Out Other Things
Renting something out is a great way for extra cash, as you can do it multiple times. We've already talked about renting out a room, space and your car, but there are many other options as well.
Other vehicles that you can rent out include airplanes, boats, other watercraft, bikes, RVs and campervans. For that matter, if you have something that people want, there's a good chance that ou could end money by rending it out.
Use Your Skills To Provide Value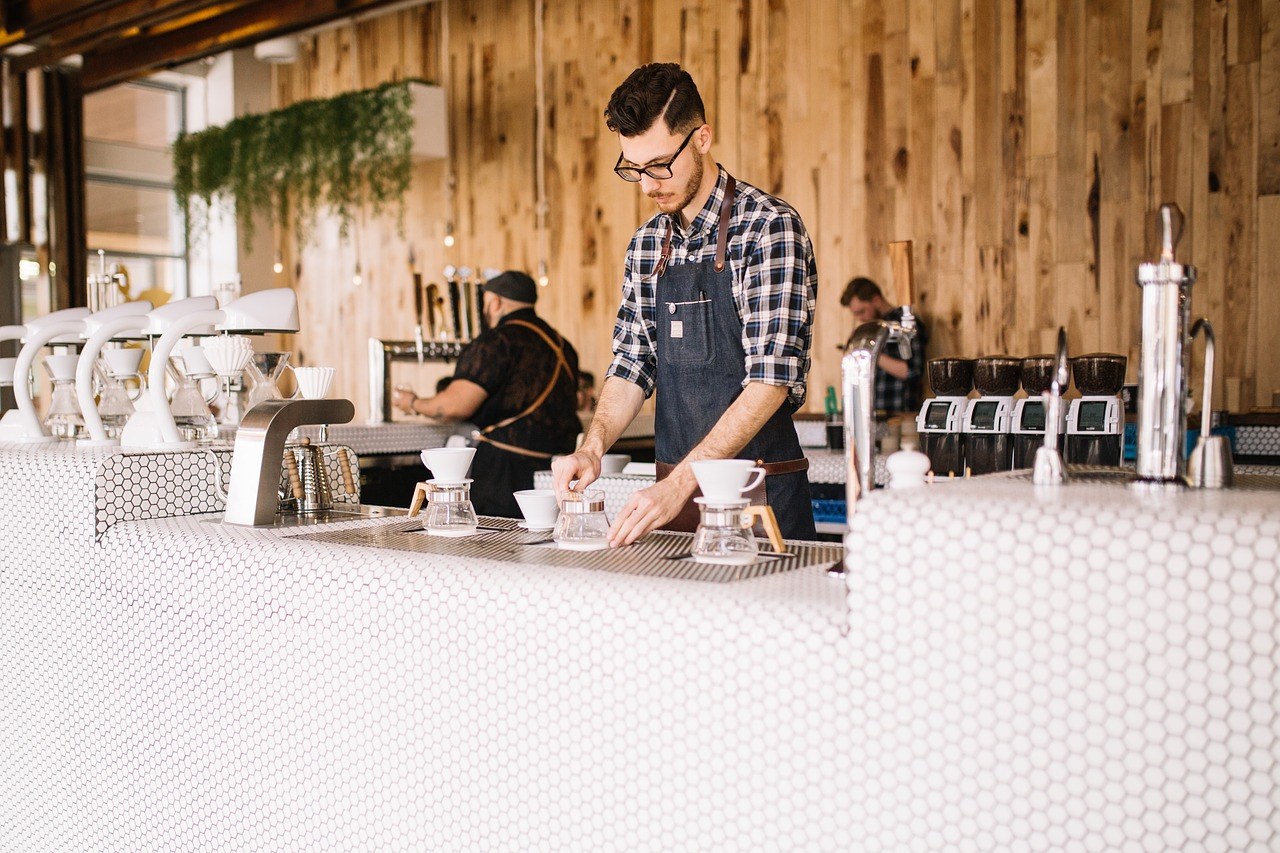 The ideas we've looked at already have been based around something you own (either selling it or renting) – but these ideas are more to do with the skills you have and the services you can provide. Not all of them require specific talents, some just need a bit of hard work.
Deliver Leaflets
There are loads of local leaflet delivery services that are regularly looking for new staff. This sort of work is easy to get and you could just sign up for a couple of days work. That means you can fit it around an existing job. You could even deliver at the weekends.
One way to make even more money with this kind of work is to deliver for more than one company at the same time, doubling up on how much you could earn.
You could also deliver your own leaflets advertising another business or side-earner of your own – like some of the services or business ideas suggested in this article.
That means you could get paid to deliver normal leaflets, while including advertising for your own dog walking service or a garage you have to rent out.
Bartend At An Event
If you have the skills, bartending can be an easy way to pick up a little extra cash. Look for events like weddings and parties, along with holidays where things may be busy. You can often earn a decent amount from a single event, especially if the person hiring is desperate.
You can keep an eye out in local newspapers for opportunities, as well as places like Craigslist. You can also advertise your own services. After you've done an event or two, you might find yourself getting more work simply through word of mouth.
Do Some Day Labor
Sites like Labor Finders offer a quick and easy way to find labor jobs in your area. There might also be a place to go where people can pick up simple day jobs.
There are normally plenty of businesses looking for simple labor work in or near your location, so if you really need the money and are willing to put in a few days of hard work – they could be for you.
This sort of work will be physically demanding, but you could sign up for just a few days and make the money you need (potentially even cash-in-hand).
You'll need to be fit enough to do the work. It could be on a construction site, farm work, or something similar. It might not be pleasant work, but it could pay you what you're looking for.
Be A Professional Cuddler
Professional cuddling is a surprisingly perfect side hustle (as long as you're in an area where there is demand). The service focuses on platonic cuddling only, emphasizing the idea that cuddling can be therapeutic.
While there have been some shady services and clients out there, there is also a variety of well-reviewed sites (like cuddlist.com), which aim to make the whole process as professional as possible.
Despite the fact that cuddling isn't a skill per se, professional cuddling sessions can often cost $80 an hour, plus tips. There is even the potential for overnight sessions, which could easily net you a couple of hundred dollars.
It's generally safer to work through a company, rather than striking out as a professional cuddler on your own. This means that you earn less than the client pays. Even then, cuddling pays better on a per-hour basis than many other side hustles.
Officiate A Wedding (Or Two)
If you have confidence around people, then officiating weddings is a powerful way to earn some cash. Wedding officiants typically charge a fee for the weddings that they conduct, often between $100 and $500.
You would probably start out at the low end until you developed a reputation in the field. Even then, it wouldn't take long to hit your $400 goal. Once you get established, you might be able to get that much from a single wedding.
Getting set up as a wedding officiant isn't as difficult as it sounds either. You generally need to be a clergyman or clergywomen, but doing so doesn't mean you need to be part of a formal religion. The process normally just involves a little work and a fee of less than $100.
For that matter, there is increasing demand for weddings that have nothing to do with religion at all. Many people are focusing on the romantic connection instead or on their own interests.
This is where there is the most money to be made. After all, traditional wedding officiants are easy to find, but there are far fewer options for a couple who wants an Alice in Wonderland themed wedding, for example.
Specializing in the unusual also allows you to increase the amount that you charge per wedding. You could even focus on specific communities – like cosplayers or people who are into steampunk.
There is no shortage of options out there. Start digging around and see what appeals to you.
Start A Business (Even If You've Never Done It Before)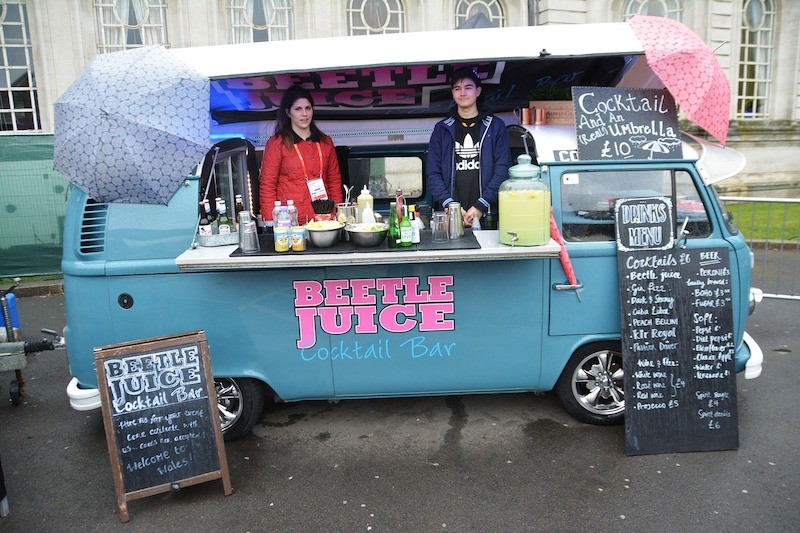 Start a Small Removal Business
When people move homes, they're often stressed and desperate. You can help out people in your local area by offering to transport items at a reduced rate. This option works best if you've got a van or another large vehicle.
If you don't want to start a serious business, you can just ask around to see if anyone needs help moving something. You could make that $400 in a day's hard work – but the hardest part of this is actually finding someone who needs your services quickly and easily.
Some services aim to connect workers with clients. These mightn't be as profitable as starting your own business, but at least you don't need to hunt for clients either.
Dolly is one such service and gives you the chance to earn even if you don't have a truck.
Start A Window-Cleaning Business
Again, this is another quick and easy small business to set up that doesn't require any other staff or much to get started. You'll need a ladder and buckets – but not much else. Again, if you don't want to take this too seriously, you don't have to.
Simply ask around and try and clean as many windows as you can for a few days. You should be able to make the money you're looking for.
Be A Small Business Social Media Manager
Social media is critical for business, but many small businesses simply don't know how to take advantage of it. This creates a perfect opportunity for you to earn some money.
One way to do this is to approach local businesses and offer your services. You might charge them a monthly fee for the work or perhaps an hourly rate.
You can also adjust what you offer based on what the company needs. For example, some people may want to be active across every type of social media, while others may simply want a strong presence on Facebook.
Approaching local businesses like this can seem difficult but it doesn't have to be. There is significant demand in this field. Just make sure you represent yourself well and appear professional.
Be A Freelance Graphic Designer
Freelancing is a powerful approach for anyone with skills. You get to earn from what you're good at, without being tied down to a single company. The biggest challenge is finding clients to begin with, but there are various ways to make this process easier (such as developing your own website and having a strong social media presence).
There are two general ways that you can sell your skills – online and offline.
Freelancing online gives you access to the largest audience. You can also rely on services like UpWork to facilitate the connection between you and clients. Such services can help to protect you – reducing the risk that a client will take advantage of you.
The local environment has advantages too. While your audience is smaller, you can target them in-person, with a pitch designed for them. Local business often runs through word-of-mouth, so you may find opportunities that simply weren't available online.
You can also pitch services based on the company's needs. For example, new businesses may benefit from logo design, while some restaurants or cafes may be interested in a menu design service.
Buy Bulk Items And Break Them Down to Sell
If there's a local wholesaler in your area or a "cash and carry" – you can make some quick money buying bulk items and selling them individually. Think about things like canned drinks and other items (household cleaning products) that are simple, easy purchases for people.
Once you've got your items, you'll need to sell them. This works great if there's a local event you can attend – you should be able to shift canned drinks fairly easily at the right price.
Alternatively, you could go door-to-door – but make sure you're allowed to in your area and that you don't annoy anybody. Also, know your local laws (state or county) regarding selling. You may need a business license or permit to operate!
Have A Stall At A Local Market
Local markets are great ways to earn money. You already have a captive audience and people come to the market willing to buy. This can be a great way to start a business with relatively few overheads.
You'll normally just need to pay for your stall, which is much cheaper than renting a physical store. If you just wanted to make a few bucks, you could sell random items at your stall.
But, to make $400 or more, you would need some type of business plan. You want to be selling something that is unusual or competitive in some way. Food and crafts are both powerful areas, as anything you make will be unique. You can also check out what other stalls sell and the types of products that people buy.
Another angle is to resell products that aren't normally sold locally. For example, Wish and Flipkart both allow you to buy insanely cheap items from elsewhere in the world.
You could easily resell these items locally for a decent profit. Just make sure you choose carefully. You'll need products that are of decent quality (many from Wish won't be) and ones that people will be interested in.
Build Someone A Website
This could be a 21st century way to make some quick and easy money, especially if you've got a good background in web design. You don't even need that much coding knowledge, as something like WordPress can do most of the hard work for you.
It might be surprising to realize – but there will still be plenty of local businesses in your area that don't have a web presence. All you've got to do is find them.
Try looking on Google Maps to see businesses that are listed but have no website to click on. Next – go and talk to them, explain why they need a website and what it could do for them and their business.
They've probably already been aware that they could do with a website for a while, but have been put off for a while because they think it's going to cost too much.
Tell them you'll take care of everything for as little as $300 or $400. This should be much cheaper than the prices they've been quotes from big web-design companies. Yes, you won't be building them a bespoke high-end site, but many small local businesses would be more than happy with a good quality WordPress page.
The best thing is, you can throw it together within a day or two. That's quick and easy money.
Borrowing Money As A Last Resort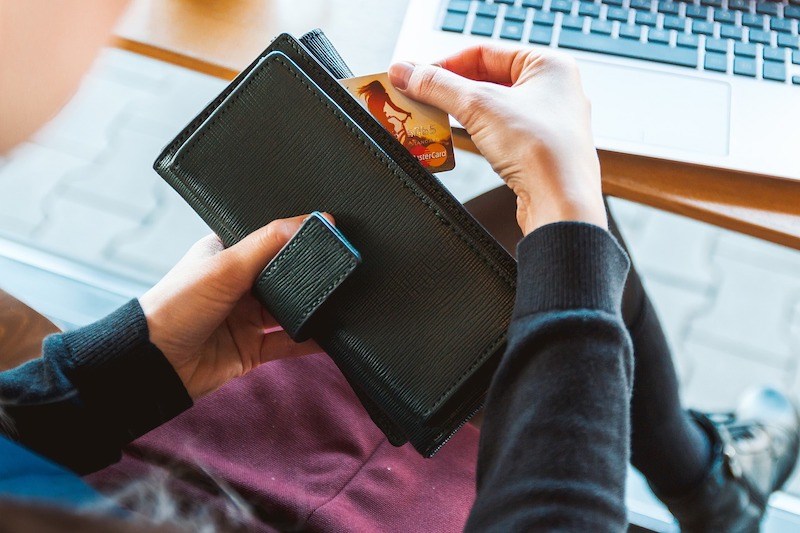 If you haven't got anything to sell (or don't want to) and you don't really have the time to put in tons of work to earn the money – you could always try borrowing it. There are a number of different options – some might cost more than others, but one might be right for you.
Use Your Credit Card
This is the quickest and easiest way to "borrow" money – just take it out on your credit card. You'll end up owing a lot in the long-run if you don't pay it back quickly, but this could still be a much more affordable option than a pay-day loan. You should also get your money instantly, so it's a viable option for many.
Get A Bank Loan
It shouldn't be too difficult to get a bank loan for $400 – but you will have to pass a few financial checks. You might also have to wait a few days for your money to come through.
Make sure you know how much you're going to have to pay back, and when you're going to have to pay it by.
Get A Pay-Day Loan
You've probably seen more and more of these services in recent years – they're a viable way to get instant cash. If you've got a job and know you're going to get paid soon, you can borrow against this with one of these pay-day loan companies. Be aware – the interest rates on these loans are normally very high.
Make sure you've checked all the small print and know how much you'll have to pay back (and when you've got to do it by). Keep things in order or you could easily spiral into lots of debt.
Get An Advance At Work
If you've got an understanding boss – this could be one of the best ideas of the lot. Many big companies no longer offer advances on wages, but if you work for a small business, they might be understanding enough to do you a favor.
Explain your situation honestly, and you'd be surprised how understanding some people can be. This works best if you've been in your role for a while and are an otherwise reliable worker. Just make sure you'll have enough when your next reduced pay check actually comes.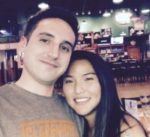 Nathaniell
What's up ladies and dudes! Great to finally meet you, and I hope you enjoyed this post. My name is Nathaniell and I'm the owner of One More Cup of Coffee. I started my first online business in 2010 promoting computer software and now I help newbies start their own businesses. Sign up for my #1 recommended training course and learn how to start your business for FREE!