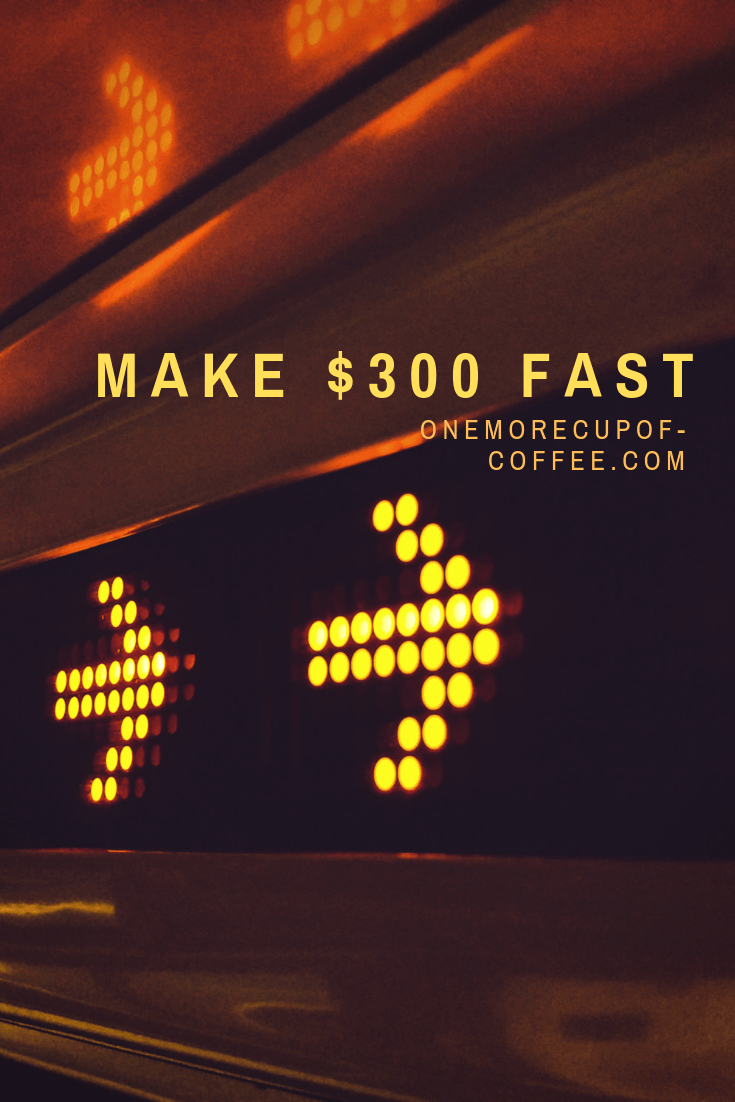 If you're in a tight fix and in desperate need of some quick cash – you're not alone. Most American's aren't able to come up with a few hundred dollars for an emergency!
The truth is though, there's lots of ways to make $300 fast, but you have to be willing to take action, and accept that making this money won't be easy. Anyone that promises "fast and easy" money, is probably trying to scam you.
Sometimes, we all find ourselves in a position where we need a certain amount of money as quickly as possible. These tips have been hand-picked to give you a number of potential ideas to get you that $300 quickly and easily.
How quickly you can get that $300 depends on a number of factors. Firstly, it's not as easy to get a "quick" $300 as it is a quick $50.
Some of these ideas below you can do on the same day, while others will take a bit longer and require some time to set up and administer. Perhaps even a couple of weeks. You'll have to work out how quickly you really need that money and what you're willing to do for it.
Some approaches will require a specific skill or talent – while others just need you to put a bit of work into it. One of the easiest and quickest ways to make money is to sell something you already own – but that won't work for everyone.
These tips include a mixture of ideas including those based around selling, borrowing, business ideas and things that just need you to put the work in.
How To Make $300 Fast
Selling Stuff (Obviously First Choice)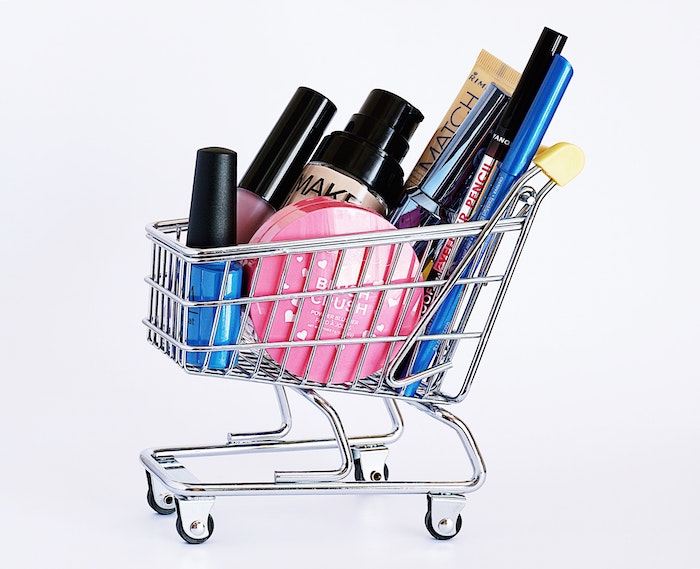 Selling is a tried-and-tested way to make money. While setting up your own shop isn't exactly quick, there are other ways to sell things that don't take as long, and this is definitely going to be the fastest way to get the $300 you need.
As an added benefit, you can get a jump start on the minimalist lifestyle by selling unwanted, unnecessary things around the house. The downside is that you'll have to deal with losers on Craigslist or the LetGo app who can't figure out how to show up at a place on time to, or try to negotiate before they even see the item.
I've got more than just selling random junk in this category – like selling hair and plasma!
Buy Something In Bulk Then Sell Individually
This one could be simple, quick and easy – depending on the product and who you're trying to sell it to. There's probably a local wholesaler or "cash and carry" in your area that regularly supplies local businesses with a wide range of items.
These stores make their money by selling bulk items at a discount. There's enough of a margin in it that enables those who break the stock down and sell them individually to also make money.
This tip works well especially if you have a local one-off event coming up where you can easily sell items like this – think about an event for your local school or a fair. But you don't have to stick to events like this as you could easily sell your items on a person-by-person basis to people you know.
Think about canned drinks or other similar products – items with mass appeal that people will make as a quick purchase without too much thought. You could also get involved with a recent "craze" like fidget spinners.
How quickly you can dispose of your stock will depend on how much work you're willing to put in and the product you decide to sell. But you could make the profit you're looking for within a couple of weeks.
Buy Items For Resale
Another trick is to buy items at a low price and sell them for a profit. There are various ways to go about this.
One technique is to rely on sites like Wish. This is a shopping app that offers products at extremely cheap prices. While anyone can use Wish, most people don't, so there is a decent audience that you can sell the products too.
You might also choose to purchase items in bulk at discount and then resell them individually, perhaps through Amazon FBA. Just be cautious with this approach. While it can be a money earner, products don't always sell the way that you would expect them to. It's easy to end up out of pocket.
If you want money a bit faster, you could try taking a local angle, such as by flipping stuff from Craigslist. Items on Craigslist are often underpriced (and might even be free!), partly because sellers just to move things on.
There are many types of items to focus on. Old furniture is one example. If you have the skills, you could easily refurbish an inexpensive piece and sell it for a tidy profit.
Larger pay days come from items that are worth a decent amount. For example, if you're mechanically minded (or partner up with someone who is), you might be able to sell used cars. Flipping bicycles is another angle that works well.
Sell Your Old Gold
Have you ever seen those "cash for gold" signs and stores. These are a great way to get the cash you need instantly. That's right, you won't have to wait for a week of processing with these stores, they'll give you the money in your hand straight away for your old jewelry.
Watch out though. Most of these stores will be buying your jewelry for scrap value, so don't expect to get a price, or even the actual value if you're selling jewelry.
They also won't pay extra for specific design features – so if you've got a designer necklace, you might want to either wait and sell it somewhere else, or keep it.
However, if you need money straight away, one of these cash for gold shops could be exactly what you've been looking for. You're not limited to gold either. Think about other products that contain gold too.
Sell Scrap Metal
This one is a bit similar to selling your gold – but it works with many other types of metals like copper, steel, etc. While the principle might be the same, the practice might be a little different – there aren't loads of "cash for scrap metal" stores in shopping areas like there are for gold and jewelry.
If you've got a load of unwanted scrap metal laying around – it could be more valuable than you think. Metal prices have gone up considerably in recent years. The first step with this is to collect all your metal and sort it into bags of its own type.
Merchants won't want bags with mixed up metal that they have to sort through. You'll then have to look for a local scrap merchant who's willing to buy your metal. This should be reasonably easy – just look in your local directory or do a bit of research online (and make a few phone calls).
Without a truck, transporting your metal might be difficult if you have a large amount. Be prepared to answer questions and give your personal details so the merchant can make sure they're not buying stolen metal (metal theft has been on the rise since prices went up).
The great thing about this kind of selling is you should get your money straight away – potentially even on the same day, but you'll obviously need the metal to start with.
One other idea based around selling metal if you don't have any yourself – offer a service to your friends where you'll collect, sort and transport their scrap metal in return for a cut. This could be a nice long-term side earner but it also won't be as quick if you're looking for instant money.
Sell Your Plasma
Lots of locations are paying people money to donate their own blood plasma. Some could even pay enough to make $300 in just a few visits. People used to donate plasma for free, but many businesses and private healthcare providers will now pay a decent amount of money for it.
You'll have to find a local blood plasma center and do a bit of research to find who pays best. You'll also need to bring identity documents and answer a number of questions before you're accepted.
This isn't a cash-in-hand kind of deal, so you'll have to wait a few days for your money to clear. There's also a limit to how often you'll be able to do this, so it depends how much you really need that money, and how quickly. But you could make your $300 target within a month, doing something quick and easy.
Sell Your Hair
Human hair is used in many applications, including dollmaking, leading to significant demand. There are even multiple sites dedicated to buying and selling hair, including Hairsellon. The site allows you to create listings for your hair, which include images and descriptions.
The price you get can vary considerably, influenced by things like the hair length, how you have cared for it and the color. The site has a hair price calculator that acts as a guide and you can also look at other listings. But, if you have long and well-cared for hair, getting more than $300 for it isn't unusual.
Sell Concert Tickets On StubHub
Selling tickets works great if you already have tickets to something popular – but don't worry if you haven't. StubHub has helped to create a long-term income for many people who see ticket reselling as their main job – but you can still get involved for some quick money if you're in the right place at the right time.
Quite simply, some concerts and events sell out within half an hour on their official website or ticket sale – but these tickets automatically go up in price for after sale once the event is fully booked.
This means if you can get those in-demand tickets in the original sale, you could make a good amount of money quickly and easily.
Make sure you know what events are going to be valuable and avoid those that don't sell out quickly in their original sale. Otherwise you'll be left with tickets nobody will be willing to pay more than face value for.
You'll need to sit patiently at the initial sale ready to make a quick purchase (and hit that refresh button a lot). If you get the tickets, you'll then need to wait for them to sell on StubHub (there are other similar sites you could also sell on). This might mean it takes you a couple of weeks to get your money.
Make sure you're allowed to resell tickets for that particular event or in your location. Don't get stuck with tickets that aren't that popular, stick to big-name events that you know are going to sell out.
Selling A Digital Account
You can make some money by selling digital items or currency from games, particularly MMORPGs (massively multiplayer online role playing games). However, this process is often slow, especially as it takes a fair amount of grinding to get the items that you will sell.
If you need a chunk of money quickly, selling an online account might be faster. Accounts often contain things that cannot be sold in another way, such as bound-to-account items, titles, achievements and high-level characters.
You're not going to make hundreds of dollars from a brand new account that you haven't invested much time (or money) in. But, if you've been an avid gamer for quite some time, then your account may be worth a decent amount. If you're planning to stop playing anyway, why not make some money from the process?
Selling an account isn't necessarily easy. Most companies don't like the idea and doing so may be against their terms and conditions.
Still, where there is a will, there is a way. Many people do successfully sell accounts. You could start by looking at sites that allow you to buy accounts. These may give you insight about how you can sell an account.
Renting Out Space & Gear In The Gig Economy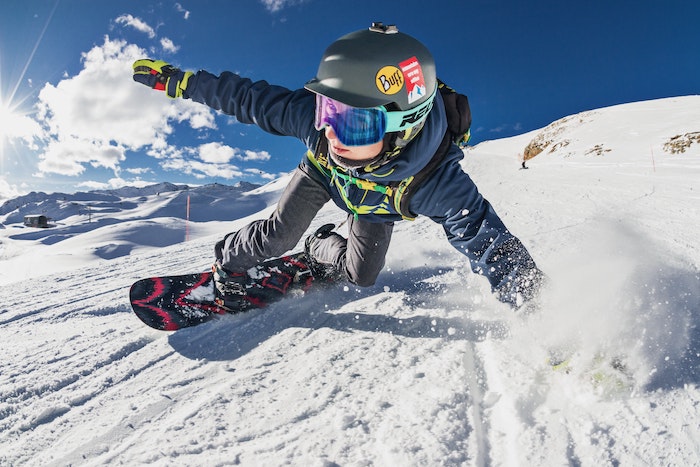 If you don't have something to physically sell – you could try renting instead. The gig economy is here, but in many ways it was always around. People renting out their gear and space like rooms or property has always been a thing. There's just a name for it now (and an app for it).
With the modern world, there are even more options now, like renting out disk space on your computer, or even cloud mining cryptocurrency.
Rent Your Vehicle Out
This could be a simple, quick and easy way to make a bit of extra cash if you've got a spare vehicle that you don't need all the time. There are actually a number of new online services that will help rent out private cars.
While signing up for one of these and waiting for someone to rent your vehicle could take a while – you could do things much more quickly if you know someone personally who's in need of a vehicle for a while.
Try asking your friends and family, or at work. The benefits of doing it yourself are that you'll set the terms and potentially even get cash in hand – but make sure your insurance covers other drivers and that you aren't breaking any terms.
Rent Your Room Out on AirBnB
Again, if you've got a property that you need, especially in a busy or popular location, then this tip could be for you. You could actually make that $300 within a few night's stay.
However, one thing to remember is that to sign up to AirBnB and wait for bookings – it could take days, or even weeks. People don't always book things at the last minute.
Similarly to renting your car, you could do things better if you simply ask around and rent out to people you know for instant money. AirBnB is a big marketplace for this sort of thing, so you could get one of those quick bookings, but you'll have to market your property and wait for the money to clear.
Lend Your Outdoor (And Other) Gear
How many people actually own their own sea kayaks or skis? Not that many. If you own this type of equipment, you could rent it out and get paid.
Professional companies have to pay staff, insurance, brick and mortar shop fees, and many other things that cause the cost of rental items to go up. This means it's an opportunity for you to undercut their prices and skip a bunch of red tape.
Of course, you run the risk of your gear getting trashed, but if you need $300 fast, and don't want to sell your stuff, this might be right within the price range.
Nobody is going to rent your skis for $300 per day, but for a week long trip, that might be a reasonable fee. Some rental places charge $50/day! Even if rentals are cheap in your area, you could consider renting them out for the whole season, and getting paid up front.
You don't need to go it alone with this income approach. There are various sharing economy services that help to connect you with potential clients. Many of these have insurance in place, which decreases the risk on your end.
Skills To Pay The Bills (AKA Get A Job)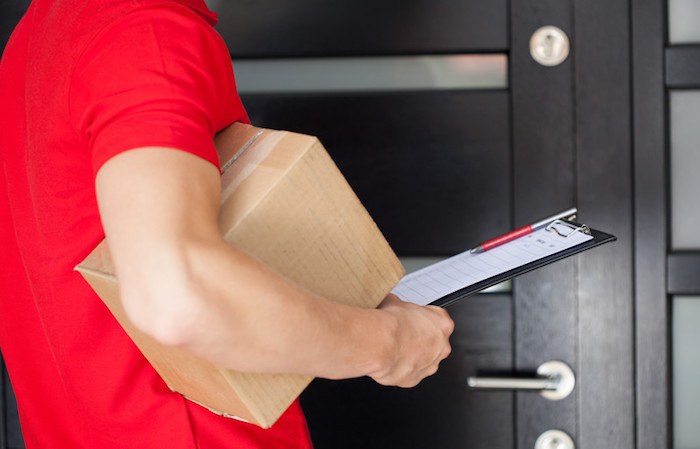 Instead of actually selling or renting out things you already own – you can use your skills to make a bit of extra quick cash. The best thing about these is they normally just require a bit of hard work rather than selling your stuff and never seeing it again.
Relying on skills also ends up being more sustainable than selling items. After all, you can't use a skill up in the same way that you can run out of a product.
Although some ideas below require a particular talent or the ability to do a certain job, there are definitely some you could jump into with zero experience (just some people skills and a willingness to learn).
Do Some Day-Labor
If you use a site like Labor Finders, you can find quick and easy day-labor in your local area. Most of these jobs will be physical, so you'll need to be in the right condition and have the right experience to do them.
Traditionally, people used to queue up in certain parts of town to find day jobs like this. This method could actually still work in certain areas – so if you've got knowledge of a place to go, this might be a quicker and easier way than looking online.
Many of these jobs will be cash in hand – that's great for you as it means you could get that $300 within a few days of work, but you won't be covered by insurance and you will need to make sure everything is legitimate.
These jobs will usually be based around construction and other similar labor-intensive roles. They could also include fruit picking, farm work, factory work, or other manufacturing processes.
A few days of hard labor on a construction site might not seem the most appealing, but it's a simple and effective way to earn some quick cash without giving up something you already own. Have a think how much you need that money – and this option could be for you.
Be a Social Media Manager
This is an interesting role, particularly if you target local businesses in your area. The idea is that social media has become incredibly important for modern business.
It is a critical way for companies to promote their brand and connect with customers. Yet, many people don't have the technical expertise to do so.
You can take advantage of this gap by promoting social media management services to local businesses. You might choose to charge an hourly rate or set up a monthly fee for whatever work they are needing. There is a surprising amount of demand in this field and it would be fairly easy to find a few good clients.
Be a Freelance Graphic Designer
If you have the skills, you can make some money with graphic designs. There are countless ways to do this, including selling individual designs.
But, one of the most powerful approaches is to freelance.
Freelancing means that you're working for individual clients, who either pay before or after the work is complete. This makes it a fast way to earn, especially if you are an efficient worker.
A common place to get started is Fiverr. Services on Fiverr start a $5, although you can charge for extras. For example, various graphic artists offer logo design as a service on Fiverr.
Personally, I recommend using a site like UpWork instead or you could even try promoting your own services. The competition on Fiverr is simply too intense and most people seem to start there.
Sites like UpWork still have considerable competition but you have a greater chance of impressing clients and gaining a reputation.
You're not limited to online graphic design work either. Some people focus on local clients instead. Online and offline services are often similar, but the local environment gives you the chance to pitch your services to customers directly.
A particularly interesting angle is to design restaurant menus. This can be appealing because you don't need unusual skills or programs to be successful. Many people graphic designers will already have the skills they need or will be able to quickly learn anything else that they need to.
The idea is powerful because it's easy to see when your services are needed. You could simply spend some time visiting local restaurants, cafes, bars and similar locations, and looking at their menus.
Once you find an opportunity, spend some time researching and developing your pitch. Having some samples at hand might help to sell your skills. Even if the business doesn't end up wanting a menu, they might end up interested in something else that you have to offer.
Try Freelance Writing
Freelance writing is often a slow burn business. The income potential is significant, but breaking into the field takes energy and patience.
Even so, freelance writers can sometimes earn money fast – as you're often getting paid as soon as the writing is completed. This can be really powerful if you have the right clients.
Undercutting the competition is one trick that can help you land the right work. Freelance writers tend to want a good balance of time versus money (as they should). As such, jobs that pay poorly tend to get overlooked.
But, a poor ratio of money to time isn't always a problem. If you have plenty of time and need money urgently, a low rate could be just fine. For example, some projects on sites like UpWork might pay $300 to $500 for a collection of articles.
Getting those articles completed would still take time, but less so than many other techniques on this list. Plus, you're in control. You could focus all your energy on the work and knock it out relatively fast.
You can also think about cases where people need writing urgently (such as students struggling with essays). Advertising your ability to turn around high-quality writing in 24 hours or less could be a way to find clients.
Act As A Virtual Assistant
Personal assistants are important for many businesses. They help business owners to focus on the parts that they are good at, while leaving more mundane tasks to someone else.
Yet, many businesses can't afford a personal assistant or they only need such services periodically. This is where virtual assistants shine.
As a virtual assistant, you can offer similar services to a personal assistant, but all of your work is remote. You can also choose the services that you focus on.
For example, you might aim to work with small businesses, helping them to get off the ground. Your services could include areas like writing copy, researching tech solutions, communicating with vendors and the like.
Most of the time, you'd be charging per hour for your services, so this approach isn't the fastest way to earn money ever. Even so, it's a good side hustle that could easily fit around other parts of your life.
Become an Uber Driver
If you can drive – you can be an Uber Driver (or Lyft). It really is that simple. Uber have created an industry of part-time and full-time taxi drivers without the barriers to entry that sort of work normally requires.
This method could make you some long-term side cash. It might take a few days to get signed up, though. You'll also have to wait to get clients and for the money to clear.
Remember, your ability to get clients will depend a lot on your feedback rating, so make sure you offer an efficient and friendly service or it could limit your ability to make money. You'll also do better if you're in a location that has a lot of demand, like a busy city center.
Try Out Amazon Flex
If driving people around isn't really your style, you could look into Amazon Flex instead. This is an app-based program, where you basically become a delivery driver for Amazon. The program is only available in around 50 cities so far, but they are rapidly expanding. If they're not in your local area yet, you can join their waitlist.
Estimates from actual users suggest that you earn between $18 and $25 an hour. However, this doesn't take into account any expenses, so your profit margin will be lower.
The approach can be a decent way to earn, especially if there are plenty of deliveries required in your area. Amazon also continues to get more popular and successful. So, Flex should become available in more cities as time goes on.
Do Some Overtime
If you've already got a job that offers overtime – you're onto a winner. There's not much point looking at further ways to make money or sell items when you could simply agree to do a few more hours each day. You could make that $300 within a few days of overtime, especially if overtime rates are increased where you work.
The only real downside to this (other than getting worn-out from being overworked) is that you'll have to wait for your paycheck.
Even so – this could be the quick and easy way to make $300 you've been looking for. Obviously, this option is only possible if you've got a job that allows it.
Be A Professional Cuddler
Professional cuddling has gone from being an unheard-of idea to a surprisingly popular field that continues to grow.
Professional cuddling is an entirely platonic process. The idea focuses on the importance of human touch, along with potential therapeutic benefits. For that matter, some services focus on teaching their cuddlers how to provide emotional support.
Cuddling sessions are often billed at $80 per hour, making this a very appealing field for making money. Of course, if you're going through a company, you might only get some of that fee.
This is one field where going through a company is probably a better choice than striking out on your own. Companies, like cuddlist.com, have more resources to vet potential clients and can provide you with more protection.
Officiate Weddings
Being a wedding officiant isn't actually that different. While state to state requirements vary, you're often looking at a fee of less than $100, along with relatively little work to be able to officiate weddings.
This side gig can be quite a nice little money earner. Officiants tend to charge a set fee for their services, often between $100 to $500. That's not too bad at all, given that the amount of work is relatively low.
Of course, weddings are significant occasions, so you'll need to take your role seriously. Pay attention to what the couple wants and do your best to live up to their hopes.
As for making money, the best approach is to focus on non-traditional weddings. There are already plenty of traditional wedding officiants out there (and many people just turn to their pastor anyway).
Non-traditional weddings continue to get more popular. Many people want to break the traditional association between religion and marriage, while others just want to have fun with the whole process.
You might even choose to specialize. Focus on a single area where there is interest and make yourself shine. For example, you could tap into the steampunk market or perhaps you might choose to focus on something geeky instead. There are plenty of options out there.
Weird Little Money Tricks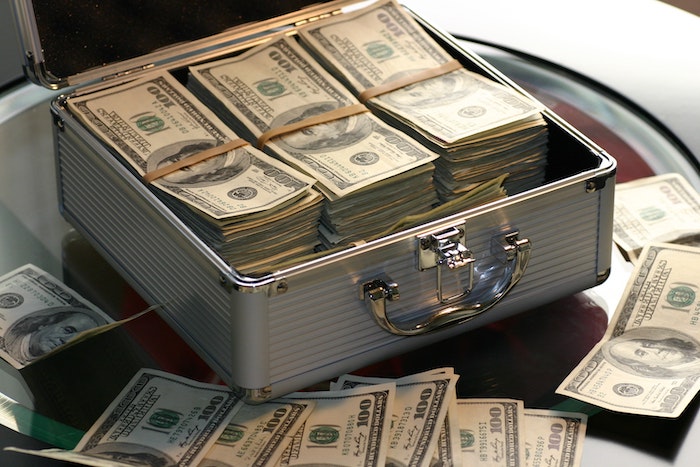 Whenever you read about ways to make money quickly, they always have come up with cockamamie list of ways to find money that you didn't know you had. Well, here's my contribution to that type of thing.
Most of these ideas won't do jack for you, but you never know.
Check If You're Owed Any Money
Services like paribus.co will help check old store refunds to see if you're owed any money. You can also check for product recalls and other payouts with various different services.
You might actually be owed money you didn't even know about from legal cases or other arrangements that weren't made clear to you. For example, if you previously paid for PPI – you could be owed some money back.
Some of these will require you to use the services of a service who looks for such payouts on your behalf (and takes a cut) – but you shouldn't have to pay them unless you are actually owed an amount of money.
Clear Your Old Bank Accounts
If you've got a number of old bank accounts that you can barely even remember – they might have more money in them than you think. Especially if you haven't looked at them for ages.
Even if you've only left $30 in each account, that could have grown you $50 in the time you left it (if it was a while). You just need a few accounts like that to clear out in order to make your $300.
Use Some Of Your Retirement Fund
This one probably isn't recommended unless you're really desperate for the money and you've used probably every other avenue to try and make that $300. You can get some of your retirement fund out early, but it will cost you in penalties.
Although $300 isn't the sort of amount that's going to make a huge difference in the long-term, it's not something you're going to want to start relying on, and that money is being saved for a reason. Try and use one of the other methods in this article before taking an early payment from your retirement fund.
Get An Advance At Work
This one could be perfect if you've got an understanding boss. Many large companies don't allow advances any longer, but small businesses could. If you explain your situation to a boss or manager, they might be understanding enough to let you have an advance on your pay check.
This could be enough to get the $300 you need. Just make sure you've got enough to last you, and that you'll be able to handle getting a smaller paycheck next time.
This works better if you're a reliable employee who's been in the same place for a while, and comes down totally to the whim of your employer and the sort of place you work in – but it could be a great option.
Of course, advances (and PayDay Loans) aren't really giving you extra money. They're just changing when you get your money, which isn't always useful. As such, this style is only really worth considering as a last resort.
Ask For A Raise
If you have a regular job, asking for a raise is another option. Some experts suggest asking up to three times, partly because it shows that you are serious. But, even just asking once can be effective.
A key part of doing this is being able to argue your case. Don't just ask for a raise and leave it at that. Instead, be prepared to highlight exactly why you deserve one in the first place.
You can also take the time to research what the average wages are in your industry and what is reasonable to expect.
Change Bank Accounts
There's so much competition for new banking clients – many large banks are now offering incentives to get you to switch to them. Have a look around, and see what you can get for simply changing your current account.
Some might even pay that $300 you've been looking for. All you have to do is change your standing orders and payments to go to your new account, and you should qualify for the money. Just make sure you've checked all the small-print and follow the instructions carefully.
This is a simple and easy way to get free money that doesn't really cost much on your part – but it could take a few weeks to get everything sorted, so it might not be the best option for you if you're in quick need of the money.
Borrowing $300 Isn't Too Much (For Many People)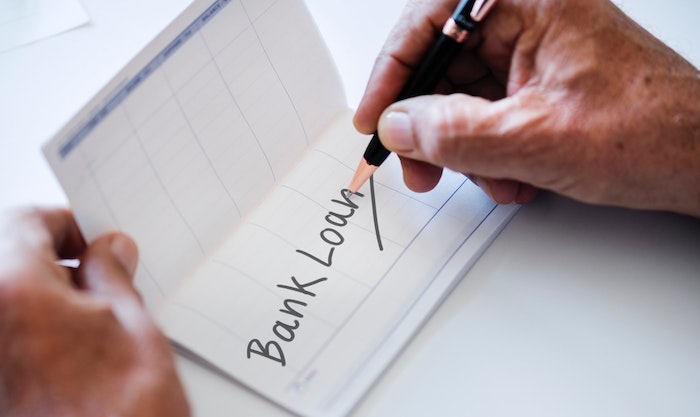 I never like recommending anyone borrows money, but realistically, $300 isn't much in today's world. A meal for two can easily pass $100 (with tip) at general sushi restaurants, and for fancy steakhouses like Ruth Chris, a $200-$300 bill isn't out of the question.
The point is, if you really have to borrow a few hundred dollars, you can probably pay it back pretty easily.
Get A Bank Loan
As opposed to getting another mortgage, a simple bank loan might be a better option for $300. Remember, you'll have to pass a number of financial tests – but these shouldn't be too strict for $300. Make sure you know how much you're going to have to pay back, and when you've got to pay it by.
Actually, I think a bank would laugh if you asked for $300 only, so you may want to get a reasonable amount for your personal loan, then just pay it back earlier than required with the extra money you don't need.
The good news is that if you just need a very small personal loan, and have a good credit score, it should be pretty easy to get the money. Just watch out for the high interest rates!
Get A Pay-Day Loan
This works similarly to getting an advance from your boss, although it costs more and it's a private company giving you the money rather than who you work for. If you know you're getting your pay check soon, you can borrow against this for some instant cash.
That's one of the reasons this option could be better than a traditional bank loan – you can normally get the money straight away. However, you'll pay more for it in the long-run.
The interest rates on this type of loan can be huge, as well as the late payment fees. Make sure you check all the small print and pay back the full amount as quickly as possible.
Hopefully one of these options works for you. If you keep finding yourself in a tight fix and desperate need for some money – you might need to take a look at your wider finances, improve your overall earnings, or cut long-term costs.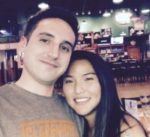 Nathaniell
What's up ladies and dudes! Great to finally meet you, and I hope you enjoyed this post. My name is Nathaniell and I'm the owner of One More Cup of Coffee. I started my first online business in 2010 promoting computer software and now I help newbies start their own businesses. Sign up for my #1 recommended training course and learn how to start your business for FREE!
Reader Interactions