If you've stumbled across a site like Kim Swartz's Work at Home Revenue, then you've run into the shady side of online business. These are sites that make you think you can earn a lot of money online, when that really isn't the case at all. Instead, they use manipulative tactics to convince you to spend money, but they never actually follow through on any of their claims.
Even though sites like this have a lot of things in common with one another, they can sometimes be difficult to spot – especially for people who really need to find an effective way of making money online. The more desperate you are for income, the more you ignore the typical signs of being a scam.
For me, I review this stuff all the time, so I can spot red flags a mile away. Plus, I already earn money online so I know what's legit and what isn't as far as income potential goes.
But back to the so-called Kim Swartz. If you look closely, you can see patterns that show these sites up for exactly what they are.
The Pattern Of Names And Sites
With sites like this, you really have no way of knowing who is actually behind them. Typically the name that the site chooses (Kim Swartz in this case) isn't actually the name of the site owner. Instead, it is an entirely new identity, one designed to make the site appealing.
Generally speaking, site owners come from all walks of life. They might be old, young, male, female, be from any race and have any level of experience. I personally think that they are owned by company that pays low-wage workers to mass-produce copies and send out email/link spam throughout the internet.
When you look at a site like Work at Home Revenue, the introduction is always the same.
The apparent owner of the site is always relatively young, female, pretty and white. Typically she is also presented as a mother, often a stay-at-home mother, and it is often implied that she is single. You see the same type of person over and over again across many different sites.
Yes, there are females who own sites and I'm sure that some of them fall into all of those categories – but having the same exact type of person across so many sites should seem pretty suspicious. For example, the two images below are both from this type of site.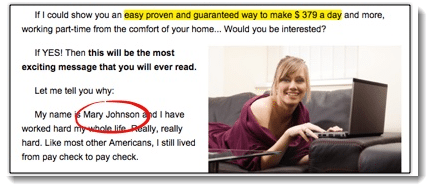 The basic concept they are pitching is focused on the idea of creating a persona seems 'everyday', but at the same time is also visually appealing for the largely male audience. This makes it easy for people to fall into the trap of thinking 'well if she can do it, so can I'.
None of this is real though. The stories seem to be entirely made up (and also very similar), and the images are simply stock photos that have been purchased online.
Here's another interesting thing.
The names are often recycled. You might see the same name associated with two (or more) different websites. Sometimes the image that goes with the name will be the same, but other times even that will be different.
At the same time, often different promotions for a site will focus on multiple people as the owner. This is the case with Stay at Home Revenue, as it has been linked to Kim Swartz and also to Michelle Robinson.
You also find sites that are have similar names, like another called Stay at Home Revenue, which is promoted by Michelle Withrow.

All of these patterns are a strong indication of just how scammy the approach is.
What seems to be happening is that the people behind the sites either copy or tweak their approaches from one site to the next. So, often you will see very similar claims and stories from on different sites. In some cases, even the wording they use is almost identical.
It's a clever trick, because doing this makes it easy for people to put up a new site when their current one is taken down. That's particularly relevant for scam sites, because they never seem to stay online long. Instead, at some point they are taken down and their creators quickly work to get another one up.
Money Making Processes
The other main thing to think about with these types of sites is how you are supposed to earn money. After all – that is the reason that most people go to them. In many cases, including this one, the emphasis is on link posting.
Link posting is an approach that has always bothered me. The problem is that it is presented as such an easy way of earning money, but in practice there is nothing easy about it at all. Most companies don't want this service anymore (it was popular 10 years ago), and the companies that do pay will only pay less than minimum wage. Why would they pay you good money when they could pay someone from developing countries just a $2 or $3 per hour?
At that rate, you're better off working at McDonalds for $15/hour!
With sites like Stay at Home Revenue, visitors often end up wasting significant time and money before they find out that the system doesn't actually work as advertised. To make matters worse, with Stay at Home Revenue, you have to give the company your phone number.
This is always something you should be very very careful about. You really have no idea what the company is going to do with your phone number, but chances are that you will get a lot of phone calls that you don't really want. I tried it once, and got over 20 phone calls in one day — all of them were pitching a new 'work from home opportunity'.
At the end of the day, it really isn't worth taking the chance with sites like Stay at Home Revenue. As someone that actually makes money online, there are two basic approaches to earning. One, is to commit to a few months of hard work and build a legitimate business online. The other, is to do simple task-based work and although you can earn less, you can earn money in your free time without needing a website.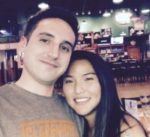 Nathaniell
What's up ladies and dudes! Great to finally meet you, and I hope you enjoyed this post. My name is Nathaniell and I'm the owner of One More Cup of Coffee. I started my first online business in 2010 promoting computer software and now I help newbies start their own businesses. Sign up for my #1 recommended training course and learn how to start your business for FREE!