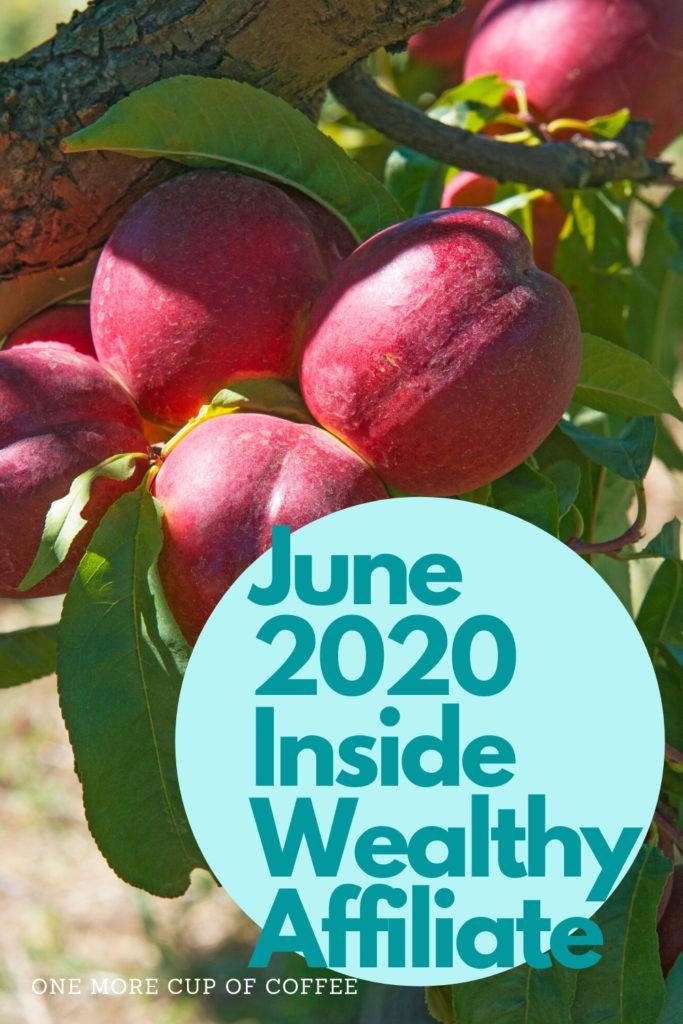 Wealthy Affiliate June Updates
The month of June inside Wealthy Affiliate was all about long term goals and actions you can do every day to reach your goals. There are a lot of events happening in the world right now which make it seem difficult to know what's going to happen tomorrow, let alone next year, or in 10 years. However, if you stick to the plan and keep on track to make progress towards your bigger plans, then you're still on track.
Many people fail in affiliate marketing and online business because they want results fast. They want to write an article today, publish, and make money tomorrow. It's not going to happen (most of the time). Most of us, most of the time, will have a windy difficult road to reach out goals, whether they be about money or life.
In my experience, there are two ways to keep on track. One is to make sure you are taking small steps every day, no matter how small those steps are. The other is to always be thinking about how what you're doing now will produce results down the road. That 5-hour next bing will NOT help you achieve anything at all. If you cut that in half and just do 2.5 hours of Netflix and 2.5 hours of blogging, then you'll start to see results. Cut another hour out to read a book, and in 10 years you'll have achieved a lot more along the way.
Keep reading to see how these principles played out in June 2020 inside Wealthy Affiliate!
June Webinars
This month we're getting a bit technical, and diving into Google Analytics. I'll admit – I know quite a bit about Google Analytics and use it daily, but there are still a lot of things which I don't know. For example, I learned how to use All in One SEO to track external link clicks within Analytics. Very cool stuff!
Topics like this are divisive. For a lot of newbies, this stuff is way above their head, and hard to follow, or even understand how to fully leverage Analytics for their blog because they don't even have enough traffic to analyze, or any clicks to track. For intermediate and advanced users though, especially if you have a couple hundred visits to your blog per day (or more), learning how to properly use Google Analytics, Search Console, and other analytics tools can have a massive impact on your traffic and income.
Well worth the watch, and this is just the beginning of what's possible!
Tracking Progress with Google Analytics, Recorded on June 5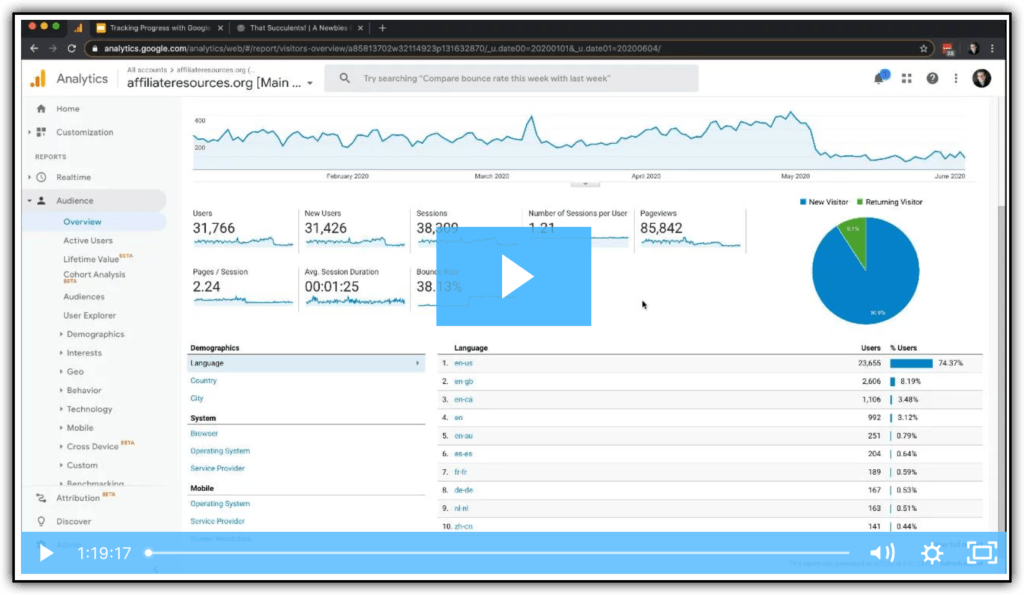 If you're just publishing content and not studying what's happening on your website, then you are publishing into a black hole. What you do might work, or it might not, and you will never be sure because you're not checking out what visitors are doing on your site, or if they're even finding it.
The first step to locking in a traffic growth and monetization strategy is understanding Google Analytics, and what to do with the data.
Reading the Data in Google Analytics, Recorded on June 12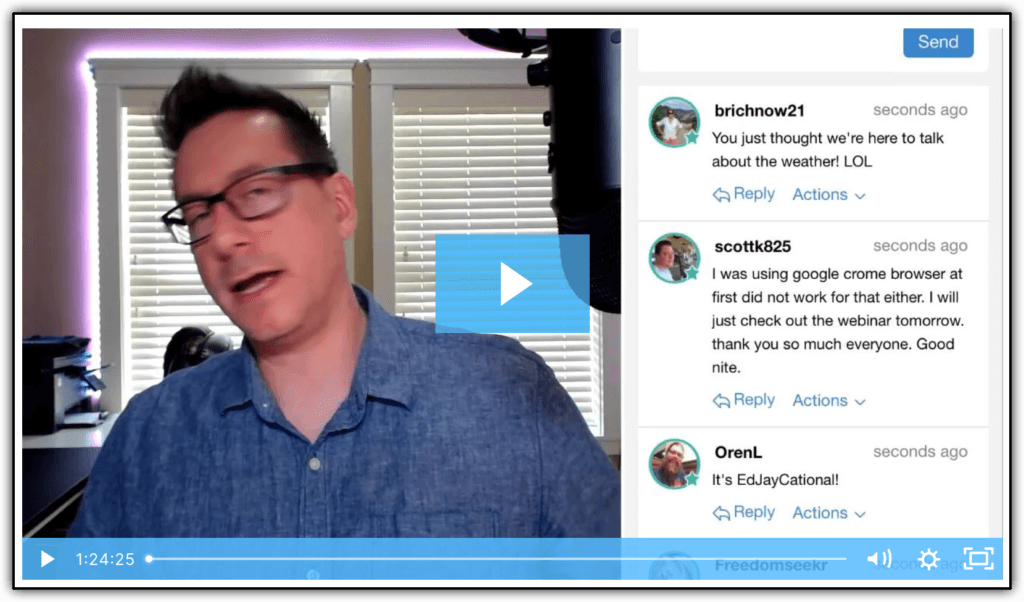 Google Analytics can definitely be overwhelming since there's so much data, but in the end, taking the time to learn all this stuff will only benefit you and your business. Take a deep dive and investigate in-depth what your audience is doing by looking at their on-site behavior patterns.
Find out where your audience is coming from, and how to double down on what's working as a rock-solid growth strategy.
Setting Goals in Analytics, Recorded on June 19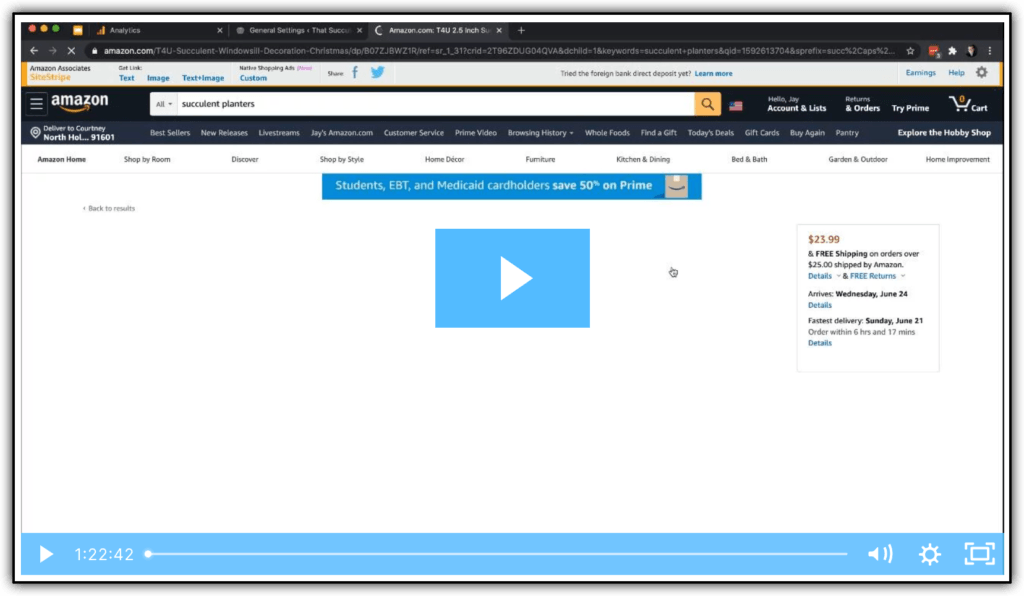 What is a "goal" and why should you be setting these up in Analytics? Goals can be extremely valuable in terms of tracking specific actions on your site. E.g. if you want someone to visit a specific page or click a specific link, you need to be taking measurements to track if what you're doing on your end is actually working. Otherwise, how would you know if what you're doing is working or not?
Set up some basic goals in Google Analytics along with Jay! I use goals all the time to track clicks and page visits, so I highly recommend this webinar.
Reading Google Analytics Conversions, Recorded on June 26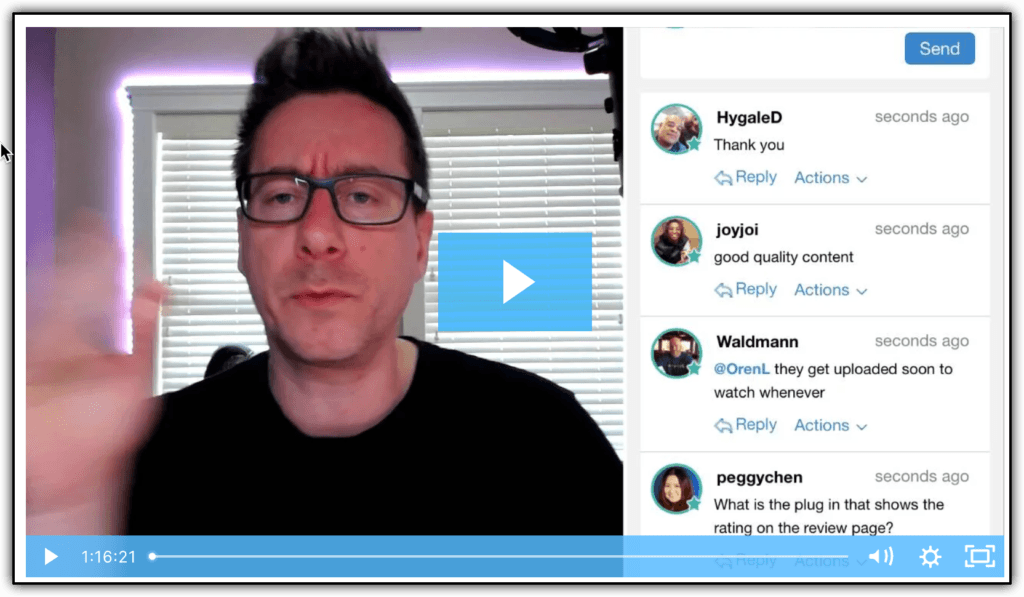 Now we put everything together for a couple of basic, but important metrics:
How to Read Conversions
Determine Which Page Converts the Best
Reverse Engineering Your Conversions
Scaling Your Conversions
That way you can see what worked and how you can repeat that process across other pages on your site. If you can get one page to convert, it's likely you can do that same thing again on another page and at least get a good starting point on how to further optimize that next page.
Top Blog Posts
It seems that June is a month about looking towards long term goals, so these are some of the posts I wanted to highlight within Wealthy Affiliate this month. I've been reading a lot about hard money vs fiat money, and one of the most interesting concepts I've taken away so far is the idea of high vs low time preference. A high time preference basically means that you want results NOW. A low time preference means that you can delay gratification and wait for future results.
For example, this post titled What a difference a year makes! talks about how @SaraPoyner struggled to pay her Wealthy Affiliate membership last year, but is now able to break even with the sales she makes for her website. To some people, that may not seem fast enough or good enough results, but now she's able to run her business for free, and all income she makes is profit. That sounds like a nice way to run your biz from home, and it allows you to think long term when you aren't stressed about paying the bills!
@StratosK has been a member since 2018, and has hit multiple records this year, including $1660 per month with MediaVine and Amazon sales. Again, earning just over a thousand dollars a month after two years of business might not impress some critical folks, but for people like myself who like to count the small successes and see what they project into the future, to me that says after 10 years he could be earning $5,000 per month profit from his websites. That's $60k/year and he gets to work full time from home. Not bad IMO!
@kudaonline agrees with me, and sees the value of just $5.00 per day so far. @Coraliej also see the long term potential of commissions starting to trickle.
Lastly, although Wealthy Affiliate focuses on organic search rankings and affiliate sales through product reviews, keep in mind that as you grow your site and knowledge foundation, more doors will open. I just locked in a $500/month contract instead of a per-sale affiliate deal. You might find a great gig writing content for someone else's blog. @heidiY just made a $1,000 sale using Facebook. She probably already knew about Facebook without Wealthy Affiliate training, but she might not have known how to monetize social media and have an affiliate site without their incredible training!
My Content
I've been super busy this month setting up some jobs for a new VA on staff, so I only published 3 articles inside Wealthy Affiliate instead of the usual 4. One was a post about my 10-year anniversary as a member, and included my #1 piece of advice after 10 years as an affiliate marketer: TAKE DAILY ACTION NO MATTER WHAT.
Why is this so important?
For most of us, doing affiliate marketing, starting a website, and starting a business is a "first time" journey. Most of us didn't go to college to do this, nor did we inherit the family business, along with a mentor showing us the ropes. It's not like we can just follow a roadmap. It's a learning process, and like any other type of learning, to make progress you gotta put in the hours.
It doesn't matter if you're watching a YouTube video, or designing a menu on your site, or writing some content. Improve a little bit each day. The more you do in a day, the more your skills "stack" year after year, but each day you miss means you miss out on that compound interest. A penny that doubles every day for 30 days ends up being over five million dollars, and the same principle applies to the time you spend building your business.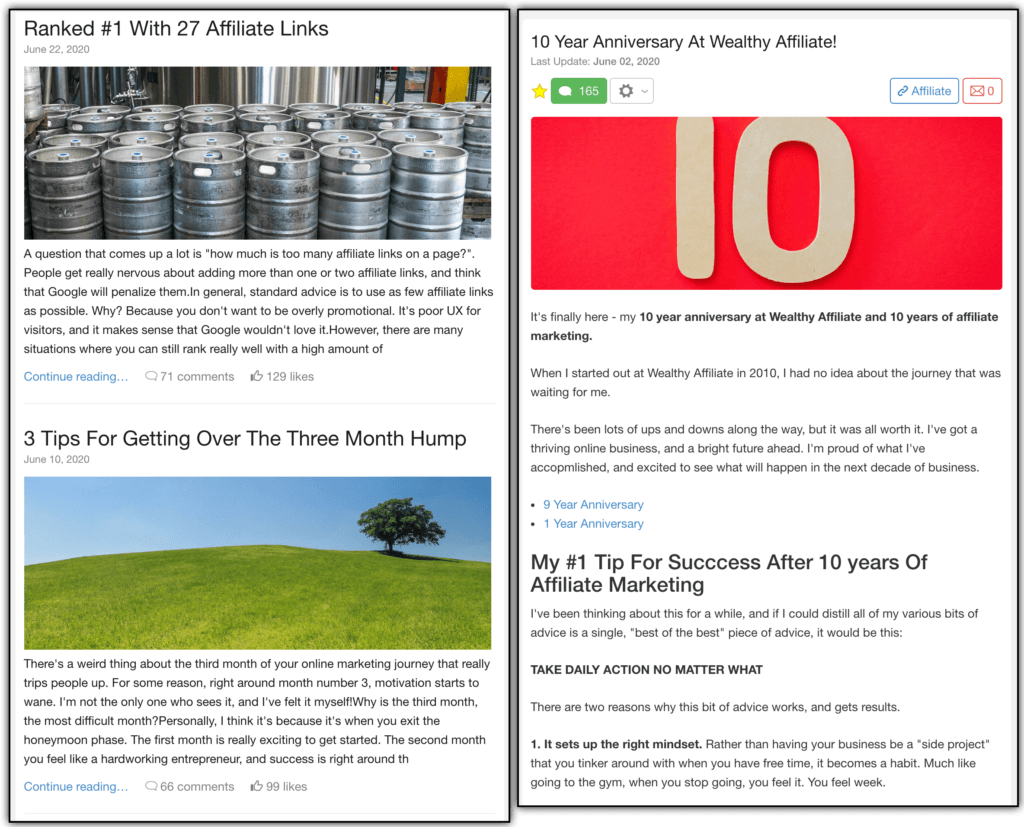 I was also surprised to see a couple of my posts from my homebrewing website ranked really well, even with tons of affiliate links, and I wrote a short guide for getting yourself over the 3-month hump after starting a website, which is common. The first month you're still in the honeymoon phase. The second month it kind of a grind, but you're in this for the long haul! The third month things kind of fall apart, and only the strong-willed survive to the fourth month.
Final Thoughts
They're building a new gas station just down the road from me. Summer is here and I'm glad to be inside working on the computer while someone else is outside in the hot sun building stuff. I like to build stuff and work on projects too, but I also like to take a break and have a beer, or cool off for an hour at peak heat around 4-6 PM. I'm pretty sure you can't do that when you're working construction.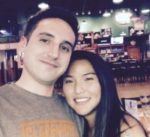 Nathaniell
What's up ladies and dudes! Great to finally meet you, and I hope you enjoyed this post. My name is Nathaniell and I'm the owner of One More Cup of Coffee. I started my first online business in 2010 promoting computer software and now I help newbies start their own businesses. Sign up for my #1 recommended training course and learn how to start your business for FREE!