Wealthy Affiliate January 2020 Updates
January is one of my favorite months in the world of online marketing, because everyone has focus and energy to start new projects. That might be starting a brand new website (like me), or doubling down to revamp old stuff on your current website (also me). The planning phase was done in December, so now it's time to take action!
Though it's hard to hear, and even harder to say, if you want to have that big payday for the next holiday season, you gotta start now. I know it's 11 months too early, but that's a reasonable amount of time if you're starting from scratch. 3 months to build a foundation. 3 months to build traffic. 3 months to optimize your affiliate promotions. Now you're ready to take advantage of Black Friday 2020! It's gonna be a long road, but that's why rubbing shoulders with other online entrepreneurs inside Wealthy Affiliate makes sense!

January Webinars
For January, Jay (the webinar guy) planned out a series of 5 webinars outlining how to plan, build, and grow a massive long-term brand website. I know that for my first affiliate websites, I always wanted to go very niche. Less competition was better, because I was unsure of my skills.
Now that I've been at this for a decade, I'm much more confident in my ability to pick any topic, and be able to make money in that niche. Of course, I only have time for so much, so it's not like I have a million websites (or dollars for that matter), but the point is that I could if I wanted to.
This is the direction Jay's going with this series of webinars. How do you become the top resource for beginner's golf rather than bestgolfclubsforkids.com?
As a Premium Wealthy Affiliate member, you can watch these webinars live, as they happen, every week. Plus, you can watch all the replays from the past years, so if you join today you'll get access to all five of these webinars!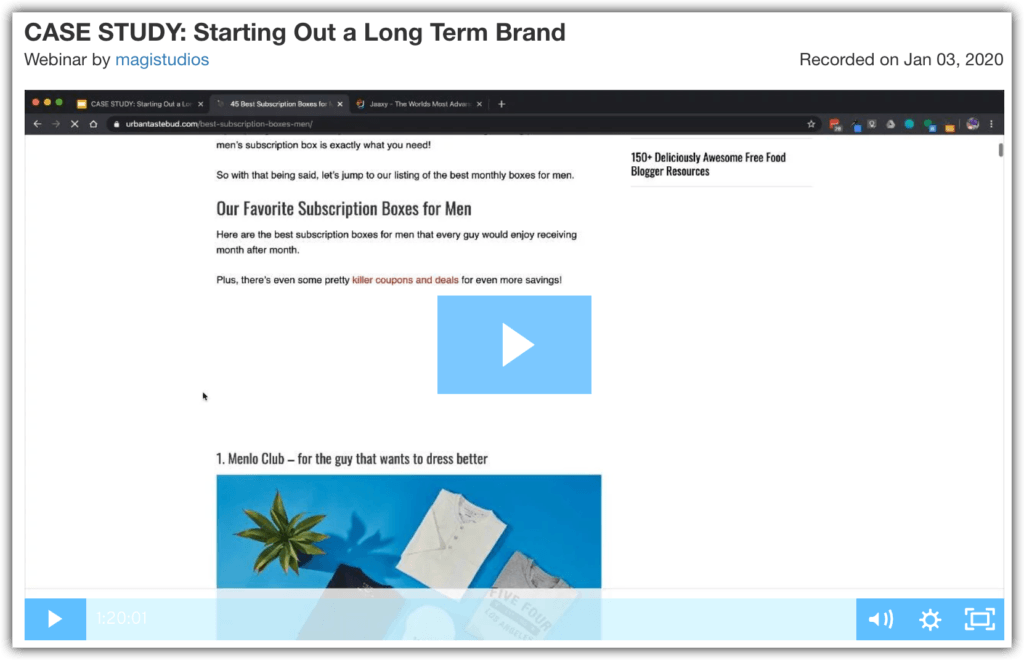 Starting Out A Long Term Brand (1)
Niche research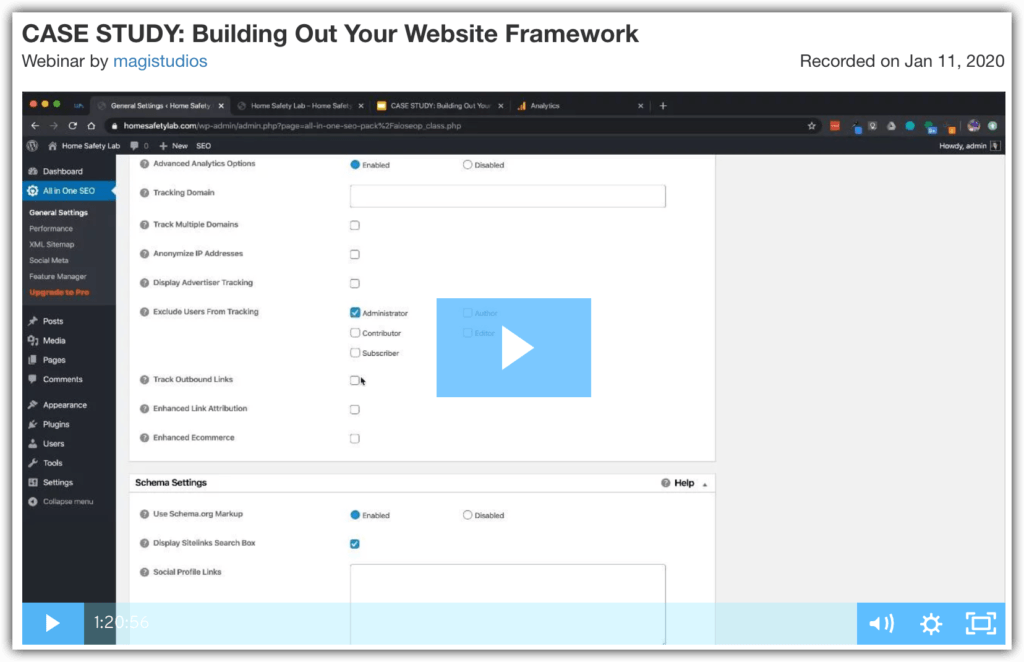 Building Out Your Website Framework (2)
How to build your website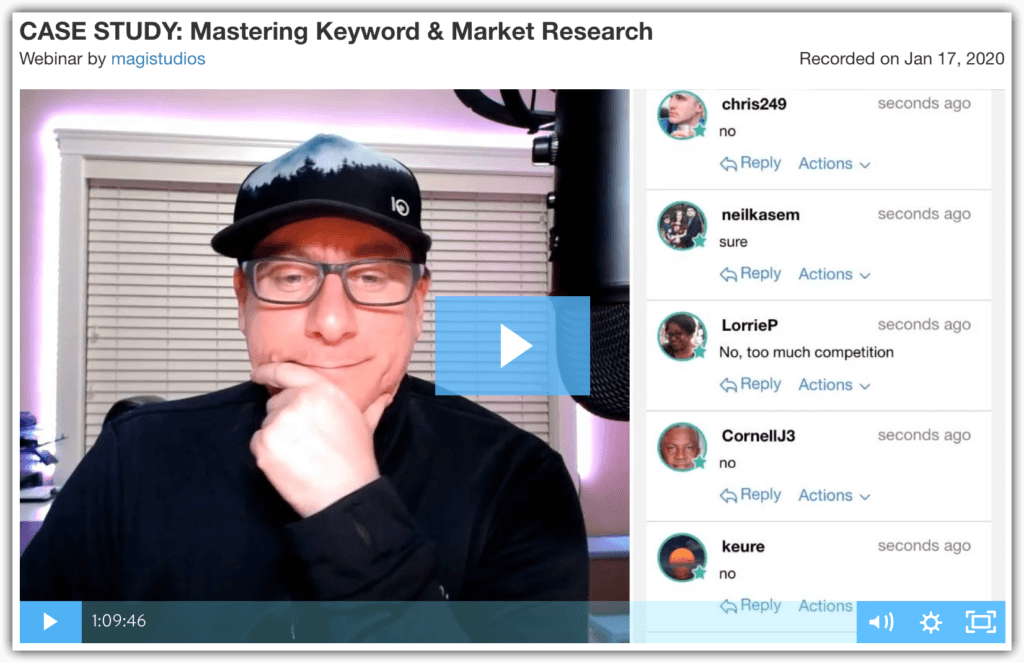 Mastering Keyword & Market Research (3)
Find keywords to write about, and products to review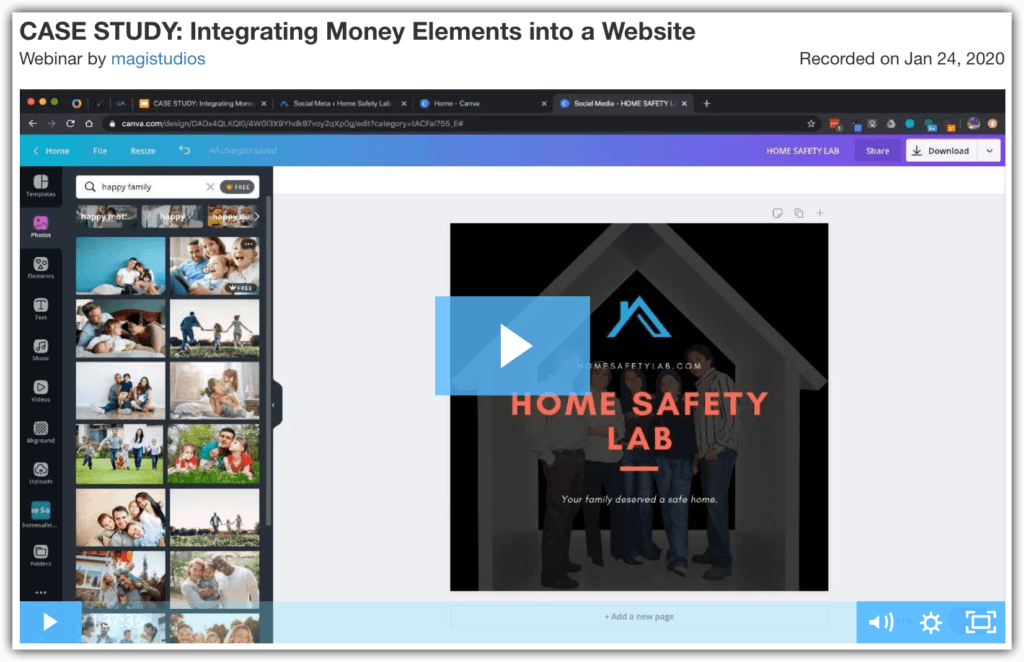 Integrating Money Elements Into A Website (4)
Monetization options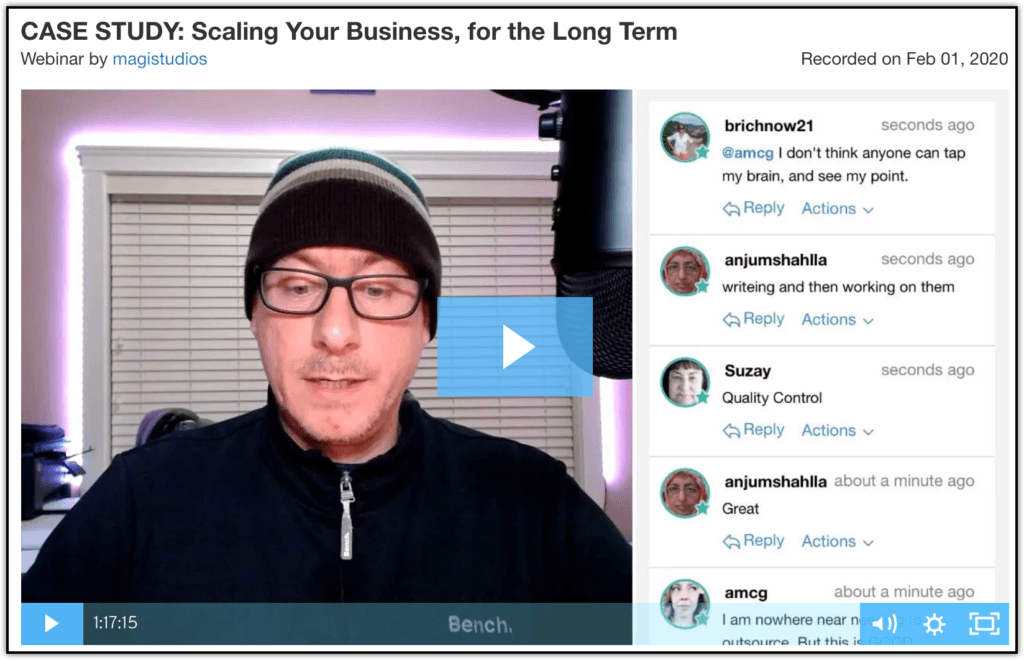 Scaling Your Business, for the Long Term
Planning out the next steps, and setting growth goals for your online business
Top Blog Posts
Everyone love success posts, especially when they involve money, and January was perfect because you get to see the full spectrum of what you can accomplish as a Wealthy Affiliate member.
First, we've got @JaneMahlehle who posted about her first commission payment of $609. Sorry. What. My first commission was $5, and my first payout was probably $100. Wow. Nice work!
Oh, and just in case you thought it was easy for her, she's battling carpel tunnel syndrome, and currently has to use a speech to text program to write her articles. We all face challenges while building our businesses, and Jane is obviously not letting anything stand in her way!
Next, we've got @MaryFRM who posted that she earned $2,000 in her first year of operation. Actually, if I remember correctly, that's about how much I earned in my first year building affiliate websites as well.
What's unique about her earnings is that they came from 33 different sources! Income sources included apps, surveys, and other affiliate programs, plus Adsense. She's setting herself up to be nicely diversified!
This last one is one of my favorite type of stories to read about – long term business growth tracking. @cld111 posted some stats about her sales growth since 2017. While some of the haters out there might scoff at her 2019 yearly income of $1800, just look at the growth pattern:
2017 $44
2018 $336
2019 $1801
In terms of percentage, that's:
2017 > 2018 +763%
2018 > 2019 + 536%
If you follow this same pattern, and project a conservative 310% increase for 2020, that means she'll earn $7384 this year. Next year? $30,000. The next year? $124k.
Of course, that's a lot of assumptions, and considering that success tends to snowball, I think she'll be earning more money before that, but still, if I told you that you just had to work for five years and you'd be earning a six figure income online, would you do it? I think most people would! It's not your typical guru story of becoming a millionaire in six months, but it's a real, human story about growing your business from absolutely nothing to six figures in just a matter of a couple years!
Top Training
Sourcing images for your website can be difficult, especially if you're on a budget. Luckily, many services allow you to embed their content into your blog so you can get some visual elements, while still giving proper credit to the image creator. Here's How To Embed Pinterest Pins In A Blog Post.
Canva is one of my favorite image creation tools online, and they even have a free version you can leverage. If you have a YouTube channel, check out this training on how to create a custom thumbnail for your YouTube videos. Custom thumbnails are great for making your video stand out among the hundreds of keyword competitors, and it also helps for branding and consistency!
My Content
Every month I put out a couple of short articles inside Wealthy Affiliate. I'm a fan of writing about counterintuitive strategies, or proving that 'best practices' are oftentimes wrong, and January's blog posts inside the community put those ideas on display.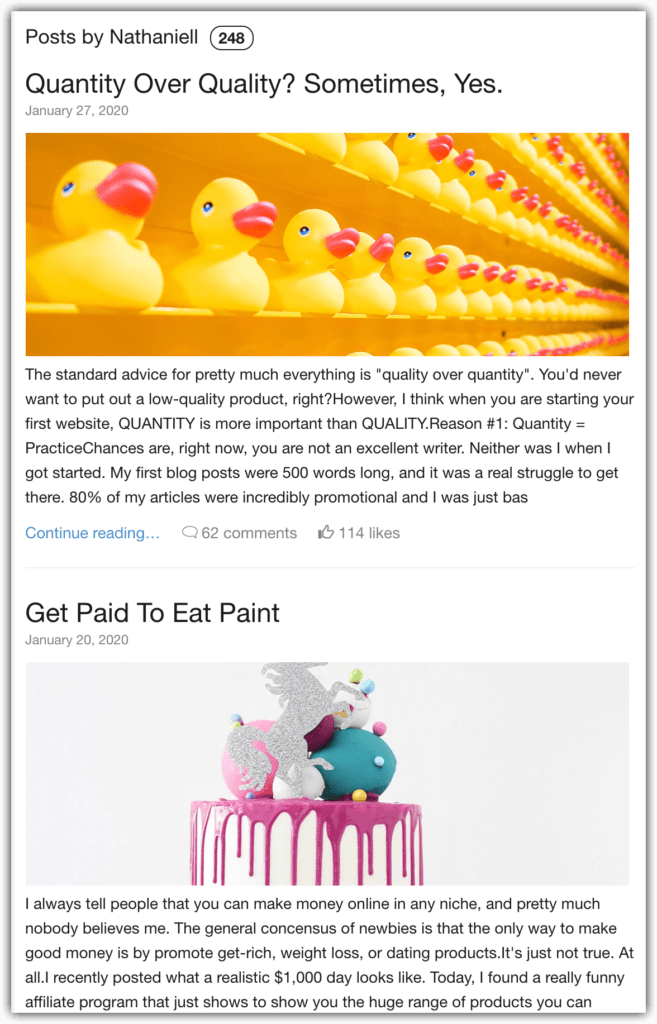 The first idea is that sometimes, MORE is BETTER. It's hammered into our head over and over again that we should be creating quality content for our websites. But in the beginning, it's so hard to get out even just 1000 words, it almost seems impossible that you could create an entire quality article per day.
If you're a real beginner, and enrolled in Wealthy Affiliate training, then you've also go lessons to get through, tasks to complete, and on top of that you have to research and write 1200 words? That's a lot of work.
That's why sometimes I just say quantity is better than quality.
The more you publish, the more chances you have to rank. You can just edit your article later once it ranks and starts getting traffic. Rather than agonize for weeks over making a single article the perfect resource, just hit publish and add to it later.
Of course, editing content later also sucks, and in the past I've warned about publishing crappy content because you'll just have to delete it or rewrite it later.
What can I say? There are advantages and disadvantages to both strategies. In this post though, I outline three incredible benefits of just saying f-it, and publishing as much as possible.
The second article was inspired by a couple of negative comments I read about Wealthy Affiliate recently, saying that the training is incorrect for having people build a website based on any niche idea they have. "They should have you do more niche research before building a website!" is what detractors cry.
Well, happened to run across a really weird affiliate program for edible paint the other day. Though I haven't promoted this product specifically, the affiliate signup page looked legit, and I know that cake-making and artisanal baking is very popular on YouTube so I'm guessing that people are earning money in this niche.
Who knows what the competition metrics are for this type of thing, but if you love baking and making cake art, there's a way to make money from it.
Moreover, you might not even be able to imagine what monetization methods will be appear to you in the future. Right now, you may be just interested in the affiliate side of things, but what if you want to write an ebook later? Develop a cake-painting course through Teachable? Do remote coaching for aspiring bakers? There's no reason you can't make bookoo money even here.
In short – do what you love, not what the machine tells you to!
Passive Income Interview with Tiffany Domena
This month I also hopped on Skype to talk with Tiffany Domena about passive income and affiliate marketing. Can affiliate websites ever truly be "passive" income?
Learn more about how I got started in affiliate marketing, including my first niche websites, and how I'm building my online business these days.
Final Thoughts
January is done. That was fast. I can't believe we're already a month into 2020. I guess that's good news though. It means I was busy in January, and not just screwing around patting myself on the back for an incredible run during the 2019 holidays.
I think one of the harder things to do in online marketing is to stay motivated to keep your ax to the grindstone. It's easy to sit on your laurels and enjoy the fruits of your labor for too long, until your head gets under water and you start to panic. That's why I'm always striving for more, and always looking for ways to stay motivated.
January is the month of new beginnings and realignment of goals. Mission accomplished, and herein lies one of the biggest benefits of being a member of Wealthy Affiliate. You get to see others working hard, and you can springboard off that energy to motivate yourself. Forge fruitful relationships, learn from your peers, and build each other up!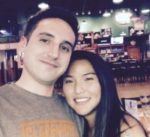 Nathaniell
What's up ladies and dudes! Great to finally meet you, and I hope you enjoyed this post. My name is Nathaniell and I'm the owner of One More Cup of Coffee. I started my first online business in 2010 promoting computer software and now I help newbies start their own businesses. Sign up for my #1 recommended training course and learn how to start your business for FREE!