I am legitimately surprised that My Home Success Plan is still operational. The site bears striking similarities to a collection of work from home schemes that were operating a few years back, including Work at Home EDU. Some of the marketing has been changed this time around and there are a few new phrases in the mix.
Despite that, we're looking at the same old thing all over again. If you've been in this field for a while, you probably know exactly what to expect before we get started. If you haven't, read on and I'll tell you what I found.
Tricks And Manipulation
Many of the marketing tricks on My Home Success Plan are used time and time again. The first is the various news icon logos on the homepage. These imply that My Home Success Plan is endorsed by those well-known agencies. That's clearly no the case.
Instead, the idea of working from home has been talked about at all of those locations. That much is true. There have been various news stories on the topic, including discussions about people who do successfully make money from home. This is also the case for the video that's shown further down the page.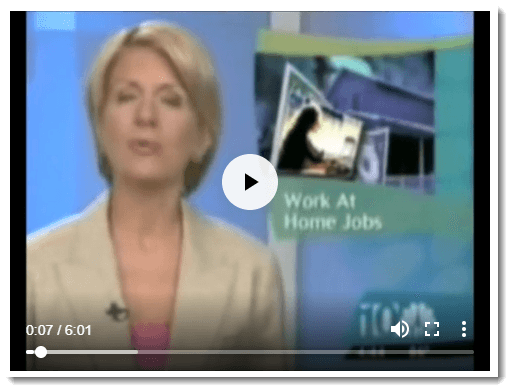 The same video is used time and time again. It basically splices together pieces from various news segments on working at home. The segments chosen are all positive, so it sounds like working from home is this amazing idea.
In many ways it is. With online capabilities ever expanding, it has become more practical for some companies to allow their employees to work remotely. The freelancing industry has also exploded, with many people offering skills like writing, translation and transcription online. There are plenty of other ways to earn too, which don't involve owning physical products or having a formal job.
The video completely glosses over the effort and work that is involved. In most situations, working from home is still a job. It has different advantages and disadvantages, but you're still putting the hard yards in, especially early on. Sites that claim to have an amazing shortcut simply don't pan out.
The video is used for manipulation. It has nothing to do with My Home Success Plan, but it is used as a way to make the site seem more legitimate. In fact, many of the work at home stories featured on news programs revolve around regular employees who are able to work remotely.
Here's another example, the testimonials. The sidebar has various accounts of people who have apparently started on the program and are already making money.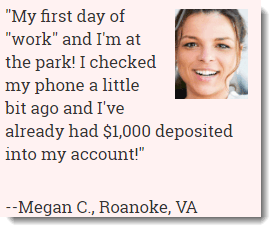 Reports like this mean nothing. There's no way to know if the person is real and if they actually said the quote. Most of the time the text has just been made up, then combined with a stock photo and someone's name.
While we're on the topic, what about April Matthews? She is apparently a young mother, with a pretty typical sob story. The image is a stock photo, of course, and the story should sound incredibly familiar.

Here's a similar one from Millionaire Society:

Here's another from Internet Money Tree:

These aren't just similar stories, they're almost identical, right down to the formatting. Just like April Matthews, they use fake names and a story that is designed to tug at your heartstrings.
Many other sites follow the same overall theme. For example, the person almost always went from barely making ends meet to being able to pay everything with ease. That's incredibly unrealistic.
In this case, the story talks about all the things that 'April' wanted in a work from home job, including the ability to enjoy herself all of the time and being able to choose when she works.
Let's be realistic. I don't care what business you're in, no one is going to love their job every second of every day. There will always be some days that simply suck and days where you should put effort in, even when you don't want to. This is true for any type of work, including people who make a living online.
Most of the sales page is manipulation, so I'm not going to focus on it too much. Needless to say, nothing is as easy or as profitable as the marketing likes to claim. Likewise, all of the amazing lifestyle images are simply stock photos. They're designed to get you excited about the idea.
The Underlying Process
One good thing about My Home Success Plan is that the site does talk about the overall approach, which is link posting. The process is exactly what the name suggests. You're posting links on other sites, forums and wherever else you find. You're then meant to be able to earn from those links.
Link posting is promoted all the time, often using the exact same claims. My Home Success Plan claims that the process is incredibly profitable, as the demand is higher than the supply.

That's simply not true. Link posting is not an effective way to earn, nor will it ever be.
For one thing, the demand isn't there. At one point, having many links to a site would increase its ability to rank in search engines. When that was happening, demand for links was much higher. Even then, no one was earning $20 per link. The demand is much lower now, as is income potential.
The concept doesn't make economic sense either. If companies truly did need links, they would find ways to get them for cheaper. No site is going to pay top dollar to get random people to do non-skilled work.
The idea isn't as simple as it sounds either. Payment isn't based on the links that you post. You earn for the links that stay where you put them. That often means you need to wait a month or more. Most of the links that you post will get removed. After all, the links are basically spam. Many website owners and forum moderators won't want anything to do with the links or with you.
In the end, there is much more work involved than the marketing suggests, and the payment is considerably lower. I would guess that you make $1, at most, for each active link. You may have to place 20 or more links for every one that stays.
That's not the end of it either. You would need to hit a payment threshold to be able to cash out. This could be as low as $20, but $50 or $100 isn't uncommon either. As a result, it might take months of work to cash out even once from a site. Only then will you know for certain whether the site is legitimate.
This is a horrible way to make money. It also means that My Home Success Plan has manipulated viewers at every turn. That's never a good sign and makes the site difficult to trust. There are plenty of other ways to spend the same time that would give you more income in the long-term.
An Old Scam
As I mentioned at the beginning, this type of site isn't new. I've seen many others that make similar claims, often with the same manipulative elements. For example, Online Home Careers University had an almost identical sob story, this time coming from Melissa Mayer. I actually paid for that one and the member's area was useless. It had three a total of three links and no steps to follow at all.
There are multiple sites in this serial scam as well. One is Auto Home Profits. That site has a different name and the story features someone called Shelly Davis. Aside from those things, it's basically the same site. Even the testimonials are identical.

The serial scam aspect alone should be a key reason not to trust this site. There's no good reason for sites to follow this pattern. The aim is just to make it harder for visitors to find out the truth. It takes time for bloggers to write reviews about all of the variations, so for a while the sites might seem like they're legitimate.
Conclusion
My Home Success Plan is a site to stay far away from. Link posting is a horrible way to earn at the best of times and this site uses countless manipulative techniques to try and convince you. There is nothing of value to be had.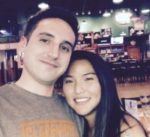 Nathaniell
What's up ladies and dudes! Great to finally meet you, and I hope you enjoyed this post. My name is Nathaniell and I'm the owner of One More Cup of Coffee. I started my first online business in 2010 promoting computer software and now I help newbies start their own businesses. Sign up for my #1 recommended training course and learn how to start your business for FREE!