With my recent reviews of Amazon FBA training programs and the relaunch of Amazing Selling Machine last year, I had to check out Helium 10, a popular product for increasing the earnings of your Amazon-selling business.
But how does it work? Is it worth the price? These are the questions I hope to answer in my review of Helium 10. Here are the main sections:
So if you have a business selling products on Amazon and would like to boost sales, crush your competitors, or get ideas of how to otherwise grow your business, keep reading, because Helium 10 might be the key.
What Does Helium 10 Do?
When I first heard about Helium 10, I was under the impression it was another training product, like I'm used to reviewing. Usually, I check out products like Amazon Bootcamp or AmaSuite to see how well they teach the subject of building an Amazon business. Helium 10 is NOT a training product! It's a suite of tools to help you optimize and grow your business.
In fact, the little training to do have within Helium 10 is just specific to each tool in the suite, and goes by very fast. My one major criticism of this product is that it doesn't spend enough time teaching you how to use the tool or showing you examples of how the tool can help a business. The training spends a lot of time telling instead of showing, which can make learning how to use each part slow-going.
I'll break down the individual tools one by one below, but in a nutshell, it's basically SEO tools for your Amazon listing. There's a lot of focus on finding good keywords to list your product under so that it's found more often. They will not go over what makes a good listing, or how to get the buy box, or how to improve conversions. Helium 10 tools will however make sure that you get listed under the right keywords, know all the good keywords, and find more opportunities to promote your products on the Amazon selling platform.
Pricing
Helium 10 has a free membership to start out with, but it's very limited. You only get to track 20 keywords and use Cerebro two times. Cerebro was one of my favorite tools to use as a Platinum member because you can just pop in an ASIN and get hundreds or related products and keywords.
It was great for thinking of new keywords to shoot for, and discovering new ideas for products to investigate and possibly list.
The Gold plan is where most *active* Amazon sellers are going to want to start out at, so you can use the full features of the Helium 10. I say "active", meaning that your business is making money or you are spending money on your business. $97/month for a tool can be hard to swallow for a newbie just starting their first store!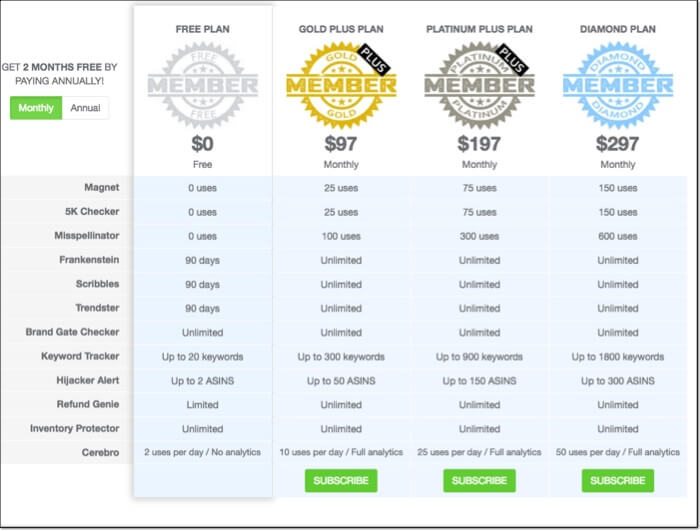 Obviously the other plans have more uses of each tool, and whether you go Platinum or Diamond will depend on how much money you're making right now. I think for most folks, you won't be tracking 300 ASINS for the Hijacker Alert, and you won't need to check misspelled keywords 600 times in a month.

Helium 10 Tools Breakdown
Magnet: Normal keyword research tool
In terms of finding keywords, this as as good as any other keyword research tool out there. Results seem to be based off of Amazon department, so pick the one most relevant to your niche. There are a ton of results, and you can filter by number of words in the phrase or search volume metrics. Keywords can then be exported to Frankenstein.

Frankenstein: Different ways to combine and organize your keywords
This is actually a pretty cool little tool. Once you import your keywords on the left side of the screen (image below), you can choose various filters to organize your phrases. These can then be used for other aspects of Helium 10 (see below).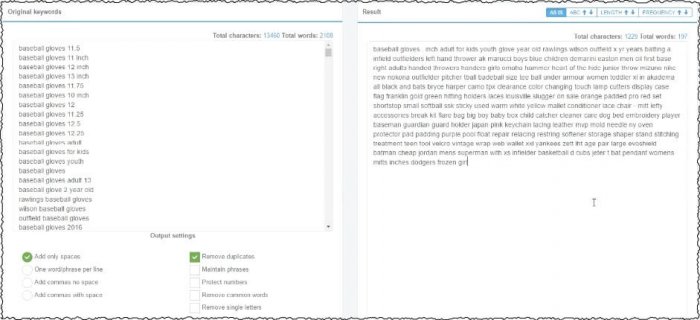 In the image above you can see that he removed all the duplicate words like "baseball glove", so that each word only appears once. Later in the video he organizes the words to one per line, and you can also choose separate by comma.
Overall, this is a good way to distill your keyword lists into their most effective form to use for whatever it is you're using them for.
5k checker: check which keywords or phrases you are not listed for
Another super useful feature of Helium 10 is that you can check for phrases you are not ranking for in Amazon. You put in the ASIN of your product(s), then your list of keywords you created in the steps before. Run the program, and you'll see what you are or are not ranked for.
Trendster: Check seasonality or general trend
This tool is pretty simple to understand. You can see the overall trend of a phrase/keyword for general searches as well as for Amazon specifically. This will give you insight into whether a keyword is seasonal, and how the trend looks over a mulit-year timeline.
Misspellinator: Check for keywords misspellings
Many times people will search for terms but type them wrong. Amazon will correct them most of the time, but not always! This gives you an opportunity to capitalize on those misspellings.
Scribbles: Make sure all your keywords get into title/description
This was fun to play with, even just practicing your Amazon listing. Once you've collected your list of most important keywords from Frankenstein, you can attempt to get all of them into your listing title or description. As you add words from the list, they are then taken off the list so you can effectively track which words you've already used, and which ones you have left.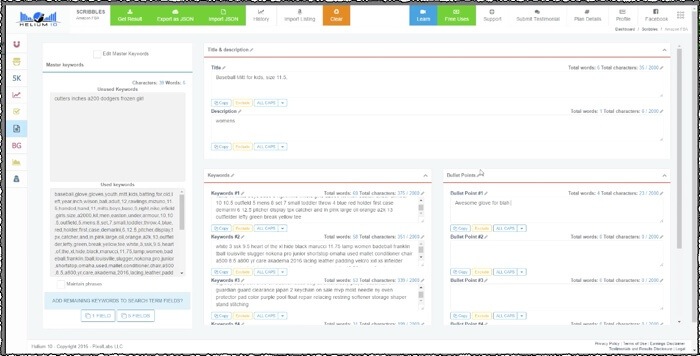 Brand Gate: Check if brand is "gated", or protected by copyright
This concept wasn't explained very well in the introductory video, and the tool is currently under maintenance. Brand gating is where a product can only be sold by a certain seller because it's the "official" brand. This is good for you if you can get it, and not good for you if someone else has it. I'm not sure which side of the equation this tool lands on, whether it checks if products you're selling are brand gated or if it checks for brand gating opportunities…more on this when the tool updates!
Keyword Tracker: Check rank
Pretty obvious use here – check your rank for keywords with a specific ASIN
Hijack Alert: See if your listing is hijacked
I wasn't 100% clear on what "hijacking" meant, but I assume it means that someone's messing with your ranking or listing, or perhaps stealing your keywords. Keep an eye on it!
Refund Genie: Check Amazon for reimbursements required (owed) [paid subscription]
This will just tell you if Amazon owes you money at the end of the month due to items that were refunded. My guess is that it's items that were refunded due to Amazon's error, like a lost or stolen package, or an item broken during delivery.
Cerebro: Keyword research from ASIN instead of seed keyword
Reverse ASIN Lookup basically does keyword research using your product number instead of a seed keyword. This way you can see what other products on Amazon are also getting ranked for similar keywords, and give you more ideas of what you can aim to rank for with your product set.
---
I didn't dig into all of these tools, but I was a little disappointed to find out that not all of them are free. It seems to me that if you are paying a monthly fee for a suite of tools, it's a bit of a bummer to have to pay extra, on top of what you're already paying. In the first instructional video, the presenter says something like "about half of those tools are free to use, the other half require a membership". So watch out – there may be other costs on the way.
If the tools you buy can help you earn more than the tool costs, then it's worth it, and the price doesn't matter much. But if you are just starting to invest money in your business and pinching pennies along the way, just keep an eye out for upsells like this.
The Ideal User For Helium 10
I never recommend just throwing money at your business, because I've done it, and my most cringe-inducing moments is when I think back to the money I spent without fully understanding what I was buying.
A great example is how i had an Aweber subscription for two years and never built my list to more than a couple hundreds people as well as never sent an email blast. Of course I use it now, and leverage email marketing like a champ, but I just wasn't ready for it back in the day.
The reason I mention this, is that I don't think this is a great tool for newbies. $100 per month is a lot to spend for a souped up keyword research tool. If that's all you're looking for, you can get something similar from Mangools KWFinder or Jaaxy for a lot cheaper.
If you do have an Amazon business already set up and have made a couple sales however, I think you really could benefit from using Helium 10. It was very obvious that using this tool gets you a lot of insight into the Amazon "search engine", and that knowledge can certainly help you grow your business.
Don't think that Helium 10 will fix your business for you! It won't take you from lackluster sales to rockstar in a week. You'll need to learn how to use the tools properly, and take action to implement the results. It's going to take some work!
But if you are ready to put in the hours, Helium 10 can help you increase your productivity.
Imagine you're a body builder. Yes, you can gain muscle just by hitting the gym every day, and doing nothing else. But if you drink a pre-workout supplement before the gym and drink a protein shake after your workout, it helps to maximize the utility of your time at the gym instead of "just hitting the weights".
In a nutshell, the ideal user for Helium 10 is someone with an Amazon business that's currently earning money, and they have a lot of motivation to grow their business.

Is Helium 10 Worth The Price?
If you fit the customer avatar from above, then Helium 10 is absolutely worth the price. $97-$197 is a lot to spend per month (recurring) for a piece of software. But that hundred or two hundred dollar cost could be the push you need to get your business earning ten thousand to twenty thousand dollars per month.
By getting better rankings, under more keywords you'll simply make more sales, meaning more income.
When I decide whether to pay for a tool or not for my own business, I always look at how much that tool could potentially make me. Do you think you can make enough extra sales to justify the cost of Helium 10?
Margins will vary by niche, but how many more sales would you have to generate to pay for Helium 10? Ten sales? A hundred sales? Can these tools help you make that many extra sales per month or more?
If so, then it's obvious that Helium 10 has value for your business.
Helium 10 Discount Codes
Notice that each code does something different, and you can only use one code. The first code gets you a 10% discount every month, while the second code gets you a bigger discount, but only one time (first month).
ONECUP10 // 10% off of every month of Helium 10
ONECUP50 // 50% off the first month of Helium 10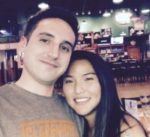 Nathaniell
What's up ladies and dudes! Great to finally meet you, and I hope you enjoyed this post. My name is Nathaniell and I'm the owner of One More Cup of Coffee. I started my first online business in 2010 promoting computer software and now I help newbies start their own businesses. Sign up for my #1 recommended training course and learn how to start your business for FREE!