Company Name: iQ Life
Costs: $24.95 (although the company isn't very clear)
Rating: 
22/100
What Is It
A MLM that seems to specialize in technology-based services, but is very sparse on information.
Short Review
I'm really not sure how iQ Life thinks it is going to be successful because they provide potential members with barely any information about what to expect and what to do. I'm still not clear on what the products are and it feels a little bit like those products don't even exist. That's certainly doesn't suggest that money can be easily made through the company.
Product Breakdown
iQ Life offers a range of different services, all of which use the iQ label. They are all digital services and seem to be focused around the idea of making technology a bit safer to use.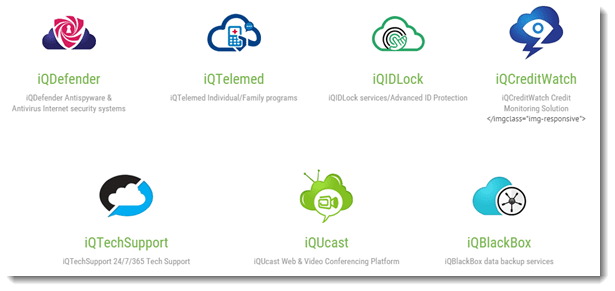 One problem is that the company doesn't offer any links to these various services. Instead, the best you can do is hover over them to get a short description of what the service is supposed to be.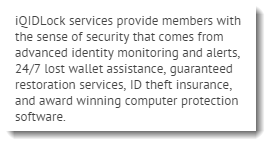 The information is far too vague to be of any real use, especially as there isn't any information about pricing or specifically what you do and don't get. For example, in the description above, what exactly does 'guaranteed restoration services' even mean? Whatever the term refers to, it probably has multiple restrictions that aren't discussed in that small description. That really isn't encouraging.
Looking up the terms in Google isn't a lot of help either. For example, I found the site for iQUcast, but it is just a white page containing the logo. So, there really isn't any information available on what the services are or why they are worth bothering with.
Opportunity Breakdown
Information on the opportunity is also pretty scarce. The company does have a link to its compensation plan, but this is simply a two page document that doesn't offer a whole lot of information.
On the first page, they offer up this information.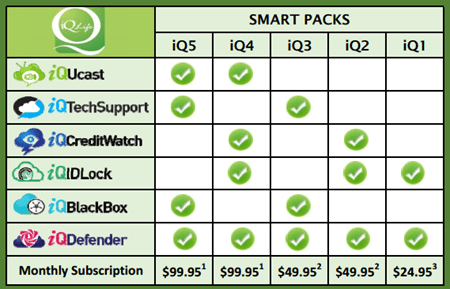 This information seems to be referring to different packs you can buy, what they contain and how much they cost. At least, that's what I assume, because the site doesn't describe the image.
The only real thing the company does describe about it is that the pack you purchase determines which bonuses you can receive. Basically, the most expensive one lets you earn a 50% matching bonus in the first 180 days. The next one down is a 25% bonus for 120 days and the last one is a 10% bonus for 90 days.
However, there is still no information about what those services even are.
Based on what is provided, I'm guessing that anyone you are selling to has the option of buying one of those packs, rather than any of the services individually. But again, the site simply doesn't say, so it's hard to know.
The other information that the plan offers concerns the different ranks. In this case, there are five different ranks, which is actually relatively little for a MLM.
It isn't clear what you need to progress from one rank to the next, but it may simply be connected to the number of people that you recruit.

As is always the case, the further you get in the organization, the more levels you can earn money from. The idea is that you create a downline under you so you can earn money off the people you recruit, their recruits and so on.
The structure always sounds amazing. After all, you are earning money from what other people are doing as well as from your own work. It's trickier than it seems though, especially as iQ Life isn't the most appealing company to try and recruit people into.
There are a few other aspects to the ranks that the site shows. For example, all but the first level get bonuses on sales made within 30 days of enrollment. Matching bonuses are also offered, but the information offered on these is almost nonexistent.
That really is it. What I've talked about is all the information the site offers about the opportunity. What's more, you need a sponsor to even be able to sign up to the company. There is a form to request one, but who knows how long that would take.
Even the FAQs for the site is pretty bare:
Other Comments
MLMs are a pretty complicated way to make money to start off with. Trying to earn through one that provides only the most basic information is a sure-fire recipe for disaster. To make matters worse, the people you are trying to sell to probably haven't even heard of the company.
MLM VS Affiliate Marketing
MLMs can sound easy, because you don't have to own a product to make money. But, there are other ways to achieve the same goal. In particular, affiliate marketing lets you earn commissions by making sales of products from a vast range of companies. There are key differences though.
Unlike a MLM, with affiliate marketing you aren't relying on a company. Instead, you can promote products from many different companies. Even if a company that you are promoting for goes out of business, you can simply choose new businesses and products to focus on.
The approach is particularly powerful, because you are selling things that people are already interested in. At the same time, there are many people online looking for reviews of products, something that affiliate marketers readily provide. There really is a lot of potential in the field and it isn't as hard to learn as it seems.
Final Review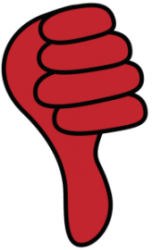 Whatever type of product you decide to promote, it's important to own your own website to grow your business.
Parties only work if you have a network of friends with money in their pockets. Network marketing only works if your friends are interested in joining business opportunities.
With a website you can reach the entire world, and only promote great products to people interested in what you have to say. Plus, you open up doors to multiple streams of revenue like affiliate sales, ad click revenue, paid advertising, and even selling your own digital products.

What's up ladies and dudes! Great to finally meet you, and I hope you enjoyed this post. My name is Nathaniell and I'm the owner of One More Cup of Coffee. I started my first online business in 2010 promoting computer software and now I help newbies start their own businesses. Sign up for
my #1 recommended training course
and learn how to start your business for FREE!

Latest posts by Nathaniell (see all)